Las Vega in Nevada s is home to a lot more attractions than most people realize. It's easy to assume that Vegas only really offers gambling, but it's actually quite a varied place with a lot of unique sights, sounds, and experiences to offer that you can't quite get anywhere else.
Aquariums are a great place to visit on your vacation, whether you're going out of personal interest or just want something to enjoy with your family. No matter what you're looking for, Las Vegas has some surprisingly high-quality aquariums on offer – some of the best in the country, in fact.
If you have any interest in marine life or have family members with you that would love to enjoy some carefully-crafted aquarium experiences, then you have a wealth of options to choose from. Just like many things in Las Vegas, the aquariums on offer are incredible, and it can be hard to decide which one you want to visit first.
Why not also check out our guide to the most fun things to do with kids in Las Vegas for more inspiration?
Shark Reef Aquarium at Mandalay Bay
Shark Reef Aquarium is part of the Mandalay Bay Resort and Casino and is probably the most famous of all aquariums within Las Vegas itself. It often gets called a 'sunken temple,' mostly thanks to the fact that it aims for that exact style in the way that it's constructed and decorated.
The top portion of the aquarium gives you an easy way to see all kinds of unique land-dwelling or amphibious creatures, from simple snakes to golden crocodiles and komodo dragons. As you get deeper in, though, you'll begin to sink below water level, and that's where the aquarium really begins.
With over 100 sharks across 15 species, a range of exotic fish, schools of flesh-eating piranhas, and multiple types of turtle, the massive aquarium is a great place to encounter animals that you've never even seen before. There are over 2,000 individual animals present in the aquarium itself, which is a lot more than your typical aquarium will host.
The 14 different exhibits are all excellent in terms of both educational value and scope, and you can always turn to the touch pool to get a feel of those animals with your own bare hands. If you want to ramp things up a little, then you can even book personal encounters with much more impressive creatures, such as stingrays or sharks.
Going diving with – and feeding – some of these creatures can be a highlight of many trips to Las Vegas. Of course, if you want something slower, the aquarium has a lot of educational or entertaining experiences that let you take a passive role instead.
As with many aquariums, a lot of Shark Reef Aquarium's work goes into research and conservation programs. By visiting and spending a little money, you're not just getting a great experience, but you might be helping to fund some fairly important work involving endangered animal species.
The Shark Reef Aquarium is open 7 days of the week, from 10 AM to 8 PM. On Fridays and Saturdays, you can stay a little longer, between 10 AM and 10 PM.
SeaQuest Interactive Aquarium
SeaQuest Interactive Aquarium, also known as SeaQuest Las Vegas, is the ideal place for a family visit. This fully-interactive attraction is a great source of education for younger children, but it also has plenty of ways to get up close and personal with the weirder creatures on offer.
With over 1,200 animals inside the aquarium itself, spread across 300 different species, there's plenty of variety to enjoy. The open-top aquarium and its glass sides mean that it's very easy to get a good look at every marine creature from multiple angles, all while staying perfectly safe.
From colorful tropical ocean fish to a range of freshwater fish, you can easily experience new creatures that you would otherwise never have seen and can get in-depth educational breakdowns about what they are and the way that they live. Even as an adult, it's easy to learn something.
SeaQuest Las Vegas also covers a range of different environments and habitats, explaining a lot of the important details about Earth's oceans and the animal life within. It's a good place for children to learn more about the world and to get an understanding of how diverse underwater life can be.
With so many different ways to engage with, feed, view, and even touch the animals (as well as multiple out-of-water creatures like toucans and snakes), it's easy to turn the visit into a family event, and you'll probably walk away with an urge to go back and see more.
Siegfried and Roy's Secret Garden and Dolphin Habitat
Siegfried and Roy's Secret Garden and Dolphin Habitat is an interesting zoo-style habitat that hosts a lot of desert wildlife. While only part of the site is an aquarium, it's still a very varied place to visit, with a nice mixture of water-dwelling and land-dwelling creatures to enjoy.
From white tigers and panthers to bottlenose dolphins, there's a big cast of animals to watch, letting you get fairly close with some creatures that you would otherwise never even go near. You can even watch them feeding during the public feeding times or be seated at the dolphin show to enjoy something much more audience-focused.
Of course, the core part of the Secret Garden and Dolphin Habitat is the tours. These VIP tours can completely change the way that you see dolphins, such as the Dolphin Trainer 101 tour breaking down every step of interacting with (and caring for) a dolphin in captivity.
Painting with the Dolphins is another interesting experience, one that lets you hold a canvas while a dolphin actually paints something before your eyes. Alternatively, you can swim with them directly or tour their habitat to see what kind of conditions are needed for them to stay healthy.
Siegfried and Roy's Secret Garden and Dolphin Habitat is a very interesting place to spend an afternoon or two, and it's the perfect option for getting your kids involved in the world around them. Even if you're just going alone, though, you can always use it to check 'swimming with dolphins' off your bucket list or learn the inner workings of how they're cared for.
The habitat is open from 10 AM to 7 PM every day and has a major focus on conservation and education. If you go there, then you're almost guaranteed to learn something entirely new during your short visit.
Bass Pro Shops Outdoor World Aquarium
Bass Pro Shops Outdoor World Aquarium is a massive store full of outdoor-related gear and equipment – one that just happens to have a massive 40,000-gallon aquarium right in the middle. This is a very novel place to see natural fish, but it manages to pull it off perfectly.
The border of the aquarium itself is an impressive recreation of Red Rock Canyon, with fake waterfalls and artificial barriers that really make the space look like an actual habitat. That's because it is one, and it contains everything from bass to channel catfish. A smaller secondary aquarium, full of trout, sits off to the side.
While it might be strange to have an aquarium in the middle of an outdoor-gear shop, it really adds to the atmosphere, creating an excellent interior space that actually has a purpose to it. Even better, since the aquarium is right in the middle of the shop, it's a free attraction.
This is a great place to stop by with the family, especially if you're already planning on going shopping anyway. The novelty doesn't wear off, and it's a much calmer, less intense kind of aquarium for people who don't have much time to spare.
You can visit the aquarium (and the shop itself) from Monday to Saturday between 9 AM and 9 PM. It's a good chance to stock up on other gear and tools if you're planning on taking some tough walks or exploring some natural spaces later, too.
The Chart House Aquarium Restaurant and Bar Las Vegas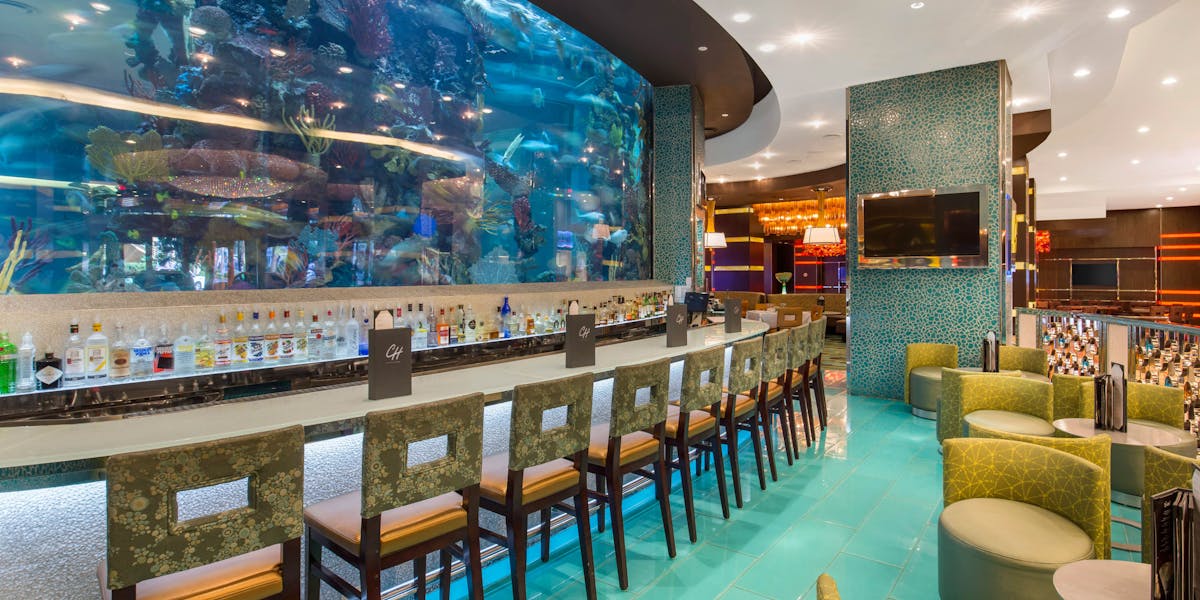 The Chart House Aquarium Restaurant and Bar, located at the Golden Nugget Casino, is a great balance between an aquarium and a bar. While it might not be the ideal place to bring your entire family, it can be a great solo or couple's outing and a nice way to wind down.
Even if you aren't playing at the casino itself, you get to see a 75,000-gallon fish tank with a huge range of tropical creatures inside it, all of which are clearly visible from over the bar. However, if you turn the corner into the main dining area, then you get an even clearer view of the tank itself.
Whether you want to sit away from the curved tank or right up against the glass, it can be a great dining experience and an ideal place to spend your evening with somebody special. While it isn't free to access (unless you just want to glimpse it as you pass by), it's still an excellent sight to behold.
The aquarium restaurant has very specific opening times, but it usually opens from 11:30 AM to 11 PM. Be sure to check ahead for the exact opening times for that day, as well as upcoming events like happy hours.
Atlantis Aquarium at the Forum Shops
Atlantic Aquarium offers a 50,000-gallon circular aquarium slap-bang in the middle of the Forum Shops found at Ceaser's Palace. If you were already heading there to go shopping, or just wanted to explore, then it can be a nice way to cap off your trip or reinvigorate your love of the natural world.
The walk-around design of the aquarium makes it easy to see the fish from all angles, meaning that you won't end up struggling to peer over the side because the fish are all below you. It's a simple shape, but it works extremely well.
You can go at any time and get some great sightseeing done, but it's always a good idea to try and catch the Atlantis Show, which starts every hour on the hour from 11 AM onwards. This completely free show is only 10 minutes long, but it has a combination of flames, animatronic characters, and other effects that just scream Las Vegas.
If you're looking for something that's very straightforward and easy to enjoy, then this is a good option. The shows spice it up, but you aren't expected to pay beforehand and won't need to book ahead of time, making it a nice addition to your shopping spree.
The Aquarium at the Silverton Hotel
The Silverton Hotel's aquarium is surprisingly large, holding over 110,000 gallons of water and a huge range of different fish. While it's only a small part of the hotel, rather than a full aquarium experience, the tank has a huge variety of things to offer even the most casual viewer.
For example, you can enjoy seeing multiple species of shark and stingrays all coexisting and even watch the fish getting fed while the scuba-clad feeders answer questions directly from the assembled crowds. Even better, you can do it while staying warm and dry, or you can even grab a drink.
With over 4,000 tropical fish in one tank, it can be a very impressive sight, especially when you realize just how much coral and other forms of natural life exist there. It might not be educational, but it can be a very fun experience and one that the whole family can enjoy.
This isn't all that the aquarium has on offer, though. Special events and shows are quite common, such as a live mermaid swim that involves multiple performers taking themselves into the tank directly. If you want something smaller-scale, this is the perfect way to get it.
If you were already planning to stay at the Silverton Hotel, then this becomes even more convenient. It's not hard to quickly head downstairs to catch scheduled shows or to take a peek at the aquarium on your way back to your room – and it's all completely free.
Aquarium Tank at the Golden Nugget
The Golden Nugget Hotel offers an aquarium tank inside a three-story pool complex, something that very few people could ever really picture until they visit it. While you aren't swimming with the sharks themselves, you can get right up to the glass, making it feel like you share the same space.
That isn't all that's on offer, though. The Golden Nugget has leaned into the swimming-with-sharks idea: the waterslide on the top of the complex goes right down the middle of the tank, letting you go straight through the tank at lighting fast speeds while catching a glimpse of all the fish swimming above you.
Of course, this tank isn't the only thing on offer. It's a massive swimming complex with so many other features in store, making it a great place to go swimming either alone or with your family. It might even be one of the best swimming complexes in the country, and the live shark tank is just the icing on the cake.
You can relax in submerged poolside lounge chairs, enjoy the real waterfall built into the complex, get some drinks from the pool's bar, or even just explore the complex to your heart's content. There are a lot of things to do and no set order to do them in, making it the perfect place to enjoy at your own pace.
There's also the option of taking a guided tour through the behind-the-scenes portion of the shark tank, seeing the feeding process, and learning about how it all works. If you're lucky, you might even get to take a shark tooth home as a reminder of your visit.
If you're a guest of the Golden Nugget already, then you can access the entire complex for free. It's also open to the public for a fee, though, meaning that there's always a way to enjoy the shark tank. Pool hours can vary depending on the season, so keep that in mind and research the opening hours ahead of time so that you don't miss your chance.
The Aquarium at the Mirage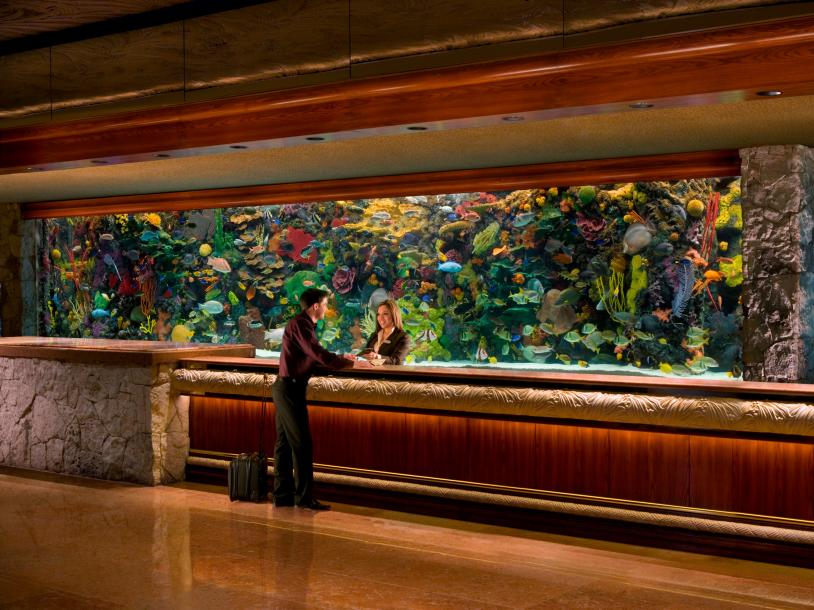 The Mirage Las Vegas has an incredibly impressive aquarium behind the front desk, standing more than 50 feet wide and filled with all kinds of tropical fish. While no real coral was used in the design, the interior still looks very authentic, just like a real-life ocean coral reef.
Containing over 20,000 gallons of water and 450 individual fish from across 85 different species, you get a huge variety in what you can see, and it only adds to the exotic feel of the space. Each fish chosen for the aquarium was picked specifically because it could cohabitate with the others, creating a very peaceful and comforting atmosphere.
There isn't anything to explore here, and nothing to learn, but that doesn't make it a bad place to stop for a while and enjoy the view. The aquarium is actually completely free and open to the public, so you don't need to be a customer of the Mirage to enjoy it, and you can stop by at any hour of the day or night.
Choosing an Aquarium
Finding the ideal aquarium in Las Vegas for your interests isn't as easy as it might sound. While there are a lot of them, most of them serve particular niches or have a certain style to them, meaning that you can't treat many of them like conventional educational aquariums.
Location
Do you want to go further for a very specific kind of aquarium, or just head to the nearest one? While there are many to choose from, you can't go to the Mirage's aquarium and expect it to be the same as SeaQuest Las Vegas, for example.
A lot of the best Vegas aquariums are parts of other buildings, whether that's hotels, casinos, or even in stores. If you were already planning to head there anyway, then it can be a good opportunity to look at the aquariums for yourself and enjoy what they have on offer.
On the other hand, you might be willing to travel a little further to get something specific, like SeaQuest's educational value or the Golden Nugget's swimming experience. It all depends on your mood and personal preferences, as well as how available transport would be.
Family
Some of these aquariums are within casinos or other buildings that aren't that receptive to children. For example, you might not be able to bring a child into the Chart House Aquarium Restaurant and Bar, an experience that's mostly meant for dining groups of 2-4 people.
On the other hand, some of these aquariums are heavily focused on family trips, offering multiple different experiences that are ideal for children who want to learn more or experience marine life up close.
There are also plenty of options that don't lean too far either way, usually the ones that you can access by simply going to them. These are a nice middle ground, a much calmer way to experience underwater life without being pressured into any particular kind of activity.
Experiences
Of course, every aquarium is different, including the attractions and experiences that they can offer. You can swim with sharks, spend time with dolphins, reach out and touch amphibians, or simply sit and watch the fish all swimming about overhead.
There is no ideal way to experience an aquarium, but all of them host brand new events that can really make them more appealing to the right people. Some are family-friendly, others might only be accessible to adults, but all of them are worth your time.
Even better are the events that you can catch for free, such as feeding time or free shows that run multiple times a day. These can be a small part of your daily routine, but they often make a huge difference and can be a lovely thing to stumble across if you weren't aware that they would be happening at all.
Other fantastic aquariums that the whole family will enjoy
If you're hoping to find other incredible aquariums that the kids will be sure to love, look no further than our round-up below!
More about our TFVG Author
A seasoned traveller, Dad, and avid sports tourist, James foundered The Family Vacation Guide to share his expert vacation experiences- especially when it comes to being a travelling family man.
Featured in Travel articles such as Travel + Leisure, TripSavvy and SFGate, you know you're reading some of the best vacation tips online.