If you're planning a trip to Brooklyn, New York, mini-golf may seem like too common of an activity. However, these mini-golf courses shine through the clutter and refuse to be ignored.
Brooklyn's endless list of things to do can be intimidating. There are hundreds of options for everything, and this city-wide abundance includes mini-golf. To help make your planning easier, we've compiled eight of the best places to go for mini-golf in Brooklyn.
Please note that many of these venues closed due to COVID-19 outbreaks. You can check their websites to make sure they are open during your visit.
Laser Bounce
Laser Bounce is a highly revered party center, coupling indoor mini-golf with laser tag, an arcade, bowling, and more. If you have young children, it may quickly turn into their favorite destination for your vacation.
Located at 2710 Hempstead Turnpike, Laser Bounce accommodates walk-ins and scheduled birthday parties. With the plethora of activities available, Laser Bounce will be a hard place to leave.
Prices: 20 credits* per attraction
*see their walk-in package pricing options for more information
Open from:
Monday-Thursday, 3 pm-9 pm
Friday, 3 pm-11 pm
Saturday, 11 am-11 pm
Sunday, 11 am-9 pm
Shipwrecked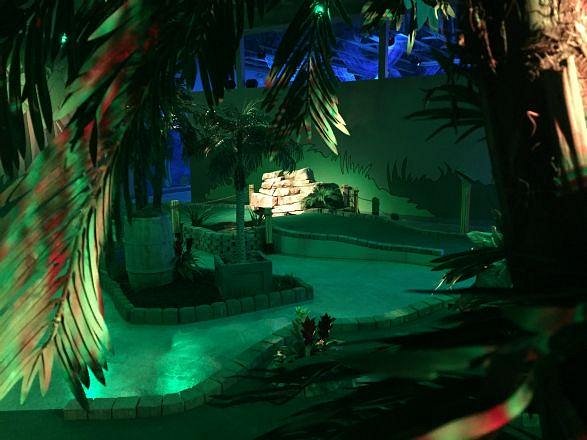 Shipwrecked is an indoor pirate-themed mini-golf course, with an arcade and an escape room. Boasting incredibly well-lit and decorated rooms, Shipwrecked immerses its customers in its setting and leaves lasting memories.
While kids are welcome and birthday parties are available, as well as a few food options, Shipwrecked offers five-dollar drinks outside on the terrace for adults, and adult nights every Thursday.
If you can plan the trip ahead of time, Shipwrecked is an amazing place to bring out your inner pirate. The building is located on 621 Court Street's second floor (a short walk from the subway).
Mini-golf prices: $21.99 for ages 13+, and $16.99 for ages 12 and under. Free for ages 2 and under.
($19.99 for Seniors/Military/NYC employees/Teachers, with ID)
Open from:
Monday-Wednesday: Closed
Thursday, 6 pm-11 pm
Friday, 3 pm-11 pm
Saturday, 11 am-11 pm
Sunday, 11 am-10 pm
Pixar Putt
Are you traveling with a Toy Story or Monsters Inc fan? Want to enjoy the waterfront alongside a great view of the Statue of Liberty? If so, Pixar Putt would be a wonderful experience.
It's an outdoor course, featuring numerous holes with different Pixar movie themes. While kids are certain to love it, the course also has adult-only hours making it perfect for date nights. Located on Pier A, 22 Battery Place, Pixar Putt is a nice place to spend a spare hour before or after visiting the Statue of Liberty.
Prices: $39.50 for adults, $29.50 for kids ages 3-12, and free for kids under 3.
Open from: Monday-Friday, 3 pm-10 pm
Saturday-Sunday, 10 am-10 pm
"Pixar After Dark" hours:
Wednesday and Sunday, 8 pm-10 pm
Thursday-Saturday, 7 pm-10 pm
Putting Green Minigolf
Putting Green Minigolf is a course made by the local community, hoping to spread awareness of environmental issues with their solutions. However, we promise that this doesn't stunt the designs of the course or the fun you'll have on it. With holes designed by local artists made from recycled materials, attending this course has the added benefit of helping a local community prosper.
Located by the water on River Street, this outdoor course only allows walk-ins. If you can be there earlier in the day, it's the most price-efficient option on this list.
Prices: $10 for adults. $5 for kids and seniors.
(On Wednesdays before 5 pm and Saturdays before 1 pm: $5 for adults and $2 for kids and seniors.)
Open from: Monday-Wednesday, 12 pm-8 pm
Thursday-Sunday, 10 am-8 pm
Aviator Golf Center
Mini-golf is fun, but what if you want to see how far you can slam a ball? Aviator Golf Center comes with a driving range, a full-sized par-three golf course, and a mini-golf course to enjoy. With $5 driver rentals and $10 buckets, Aviator schedules all customers in advance to assure they will never be overcrowded. The center is located at 3200 Flatbush Ave, comfortably outside the hustle and bustle of the city.
Open from: Monday-Friday, 2 pm-8 pm
Saturday-Sunday, 9 am-8 pm
Mini-golf prices: $10 for adults. $7 for children under 12.
Bushwick Country Club
Don't let the name fool you; this bar is far from an exclusive country club. If you'd prefer mini-golf to be a side activity to a night of drinking in Brooklyn, the ironically named Bushwick Country Club is a homey-feeling bar with a comfortable atmosphere. This spot doesn't have the most creatively designed course, for sure.
However, the food and drinks easily top the other options on this list. You'll also get the chance to interact with some locals, getting a better idea of what it means to be from Brooklyn than most other places can give. The club is at 618 Grand Street, one building off from the corner of the block.
Prices:$10 per person
Open from: Monday-Friday, 5 pm-4 am
Saturday-Sunday, 3 pm-4 am
Pier 25
For a calming day by the water, Pier 25 is another lovely choice. Alongside their mini-golf course, Pier 25 also offers a playground and a volleyball court, with the option to reserve a court six days in advance.
The whole design does not have any particular theme, embracing a neutral feel to let you truly take in the Brooklyn air. The snack bar offers a variety of tasty treats that appeal to any palate. You'll find it at 225 West Street.
Open from: Monday-Sunday, 10 am-9 pm
Mini-golf prices: $5 for kids under 12. $10 for everyone 13 and up.
Adventurer's Family Entertainment Center
Out of all the options for mini-golf in Brooklyn, Adventurer's Park is where you can spend a whole day. The center is more of an amusement park than just a mini-golf course, filled to the brim with rides for young kids.
You'll find that the mini-golf course is simple and adorable, like a child's playroom. It is not the best option for a date, but the Adventurer's Family Entertainment Center is a perfect place to bring young children. The pack is at 1824 Shore Parkway.
Open seasonally. See the calendar for more information.
Mini-golf prices: $8 per person
Summary
With so many options for mini-golf in Brooklyn available, it can be hard to pick just one! If your time is limited, consider your traveling companions as your guide to choosing the right destination.
The Adventurer's Park or Laser Bounce are great places to bring your family for many hours. These parks will be treasured memories for young kids and tire them out before bedtime. In contrast, Pixar Putt and Putting Green Minigolf are fast experiences, perfect for planning more than one activity in a day.
If you're looking to have a fun night out with friends, taking in the culture of the city, the Bushwick Country Club may be perfect for you! If you prefer a complete mini-golf experience, with a stunning theme and no punches pulled, Shipwrecked's beautiful decorations, lighting, and atmosphere are hard to beat.
At the end of the day, no matter where you go for mini-golf in Brooklyn, you're in for a unique experience. Breathe in the culture, take in the city sites, and get that hole in one!
More about our TFVG Author