Philadelphia is full of fun and exciting things that will be a treat for the whole family. It is the biggest city in Pennsylvania, USA, full of stunning gardens, parks, museums, historic sites, and more.
With so much to do, you'll be spoilt for choice, and the best part is that most of them won't even cost you a cent!
Here are some of the top free things to do in Philadelphia, Pennsylvania:
Top 22 Things To Do In Philadelphia
Philadelphia has tons to offer, from nature and history to culture and fun. You can find just about anything to do in this city, and it does not need to cost you a thing. It is also fun for the whole family.
The city has the perfect balance of educational learning and exciting activities. It will surely make your time there fun and unforgettable. We trust that this list gives you all of the inspiration you need to have an amazing time in Philadelphia!
1. Spruce Street Harbor Park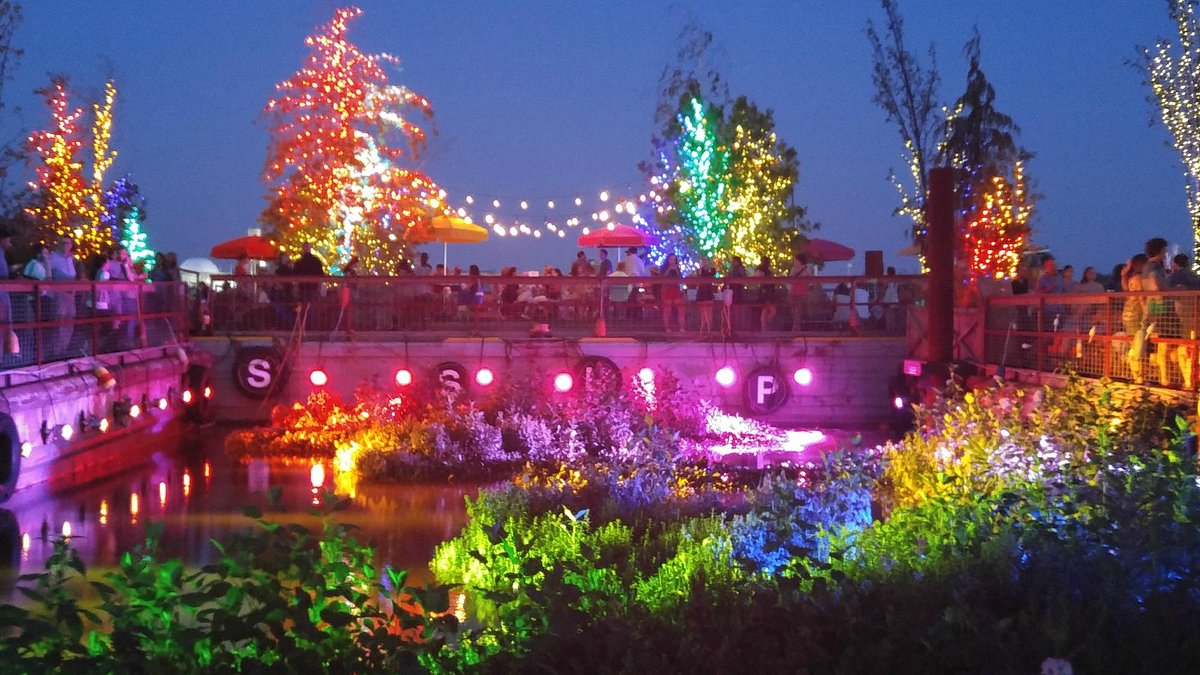 This is one of the most incredible parks you'll find in the country. It is so picturesque and has a very relaxing atmosphere, making it the perfect place to go and unwind after a busy day of exploring.
It's also great if you want to spend your whole day there picnicking, playing games, and spending quality time together as a family. Spruce Street Harbor Park is right by the waterfront and has the most spectacular views.
It is the perfect spot to take a scenic stroll by the Delaware River and even make your way toward Benjamin Franklin Bridge. There are tons of beautiful gardens to be explored around Spruce Street Harbor Park. It's also a lovely spot to spend the day, and you can set up games like Jenga, bocce ball, shuffleboard, and more.
The park is beautiful throughout the whole day, but the best time to go is just before sundown. You'll be able to catch a lovely sunset and watch the park come alive as all of the lights brighten up in the trees and on the boardwalk.
2. Independence Hall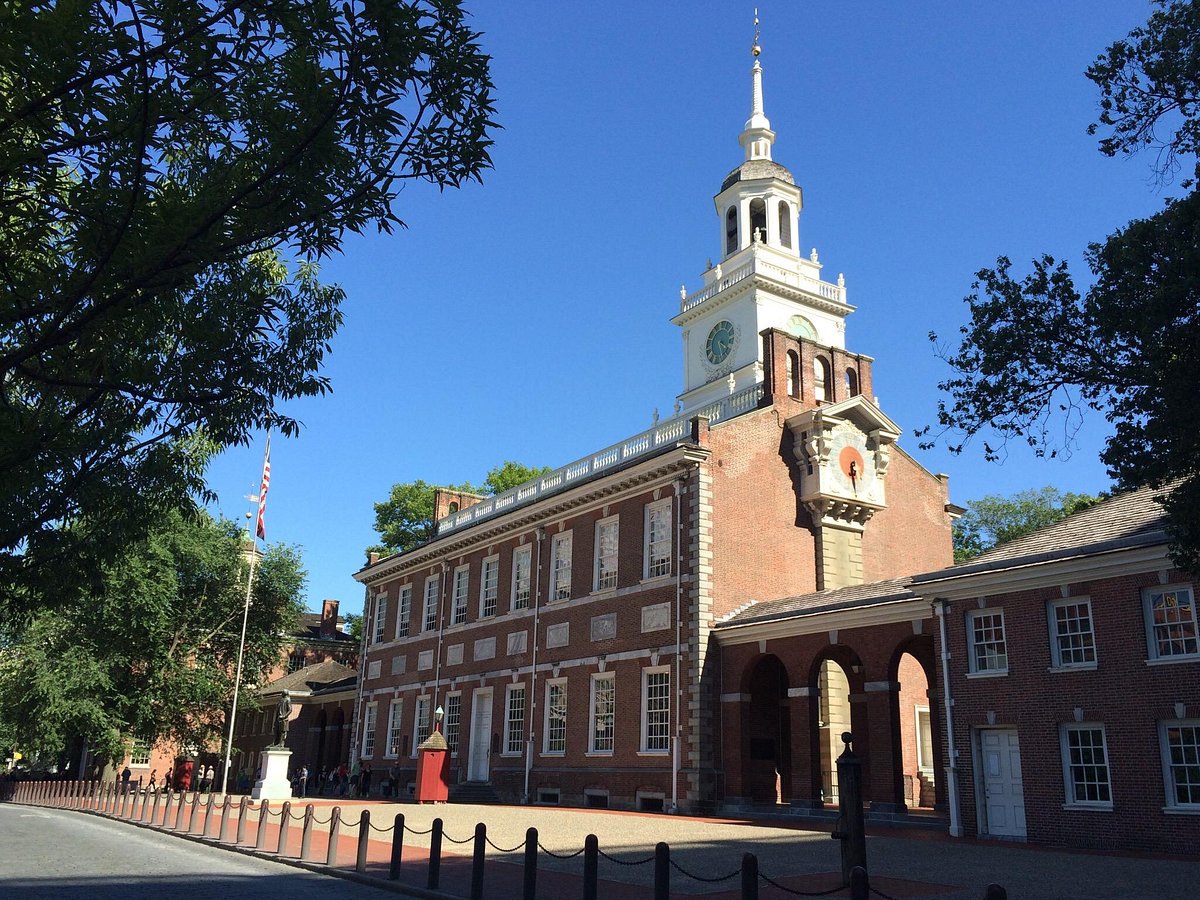 This UNESCO world heritage site is a must-see when in Philadelphia. The Independence Hall was first established in 1753. It is the birthplace of the United States Declaration of Independence and the United States Constitution.
Not only will this make for a fun day out, but it will also be an educational one. As a family, you can go on a short tour around the facility and learn about its role in the history of the United States. You can also grab loads of free pamphlets that will fill you in on all of the information you need to know about Independence Hall and more.
They also offer tours with ASL interpreters for those who need them. It's a great way to spend some time learning more about America. We do, however, suggest that you book your free tour at least two weeks in advance to avoid disappointment.
3. The Liberty Bell Center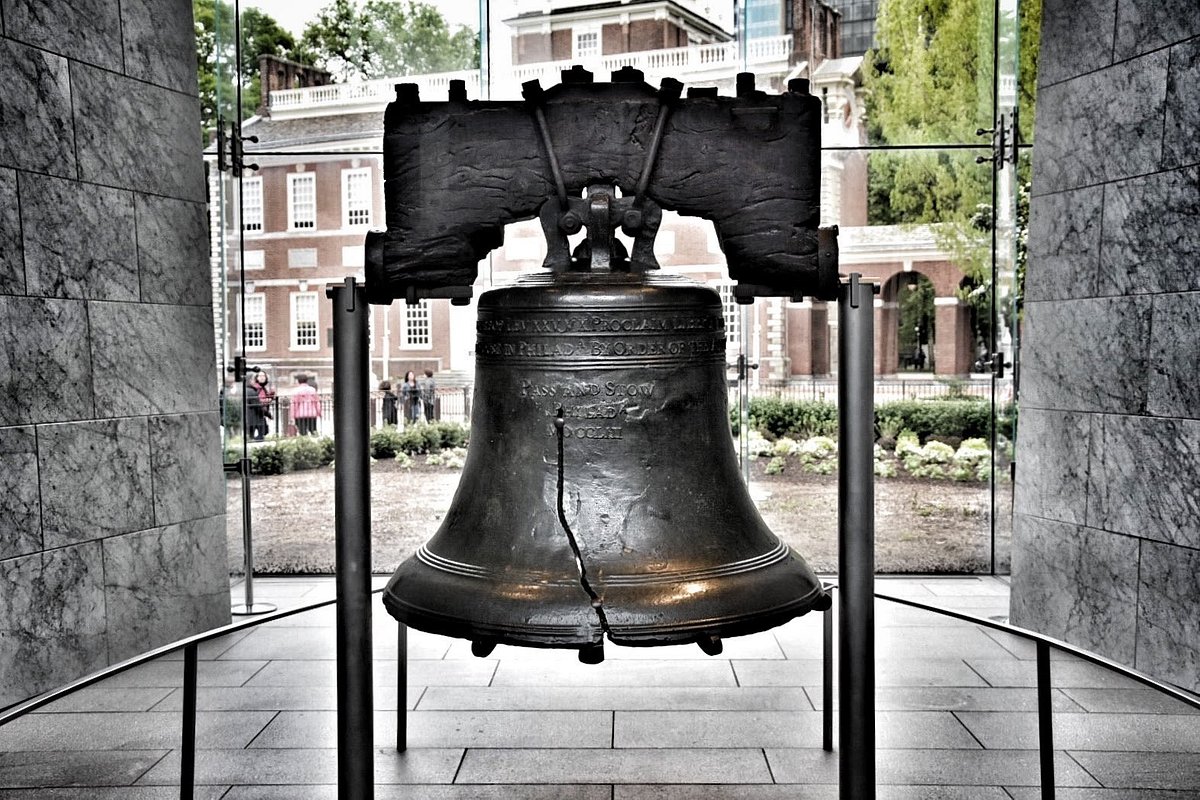 One cannot visit Philadelphia and miss out on the city's claim to fame. Philadelphia is known for the famous Liberty Bell, which is an iconic tourist attraction. The Liberty Bell Center was previously known as the State House Bell or the Old State House Bell.
It was a herald of liberty during the 1900s and is a symbol today of American Independence. It is always good to learn about some history when visiting a new city. We also suggest that you visit the Centennial Bell and the Bicentennial Bell while you are at it.
The Centennial Bell was made to celebrate America's 100th birthday. While the Bicentennial Bell was given to the USA in the 1970s as a gift from Great Britain. The Liberty Bell Center is a must-see if you're looking for free things to do in Philadelphia!
4. Institute of Contemporary Art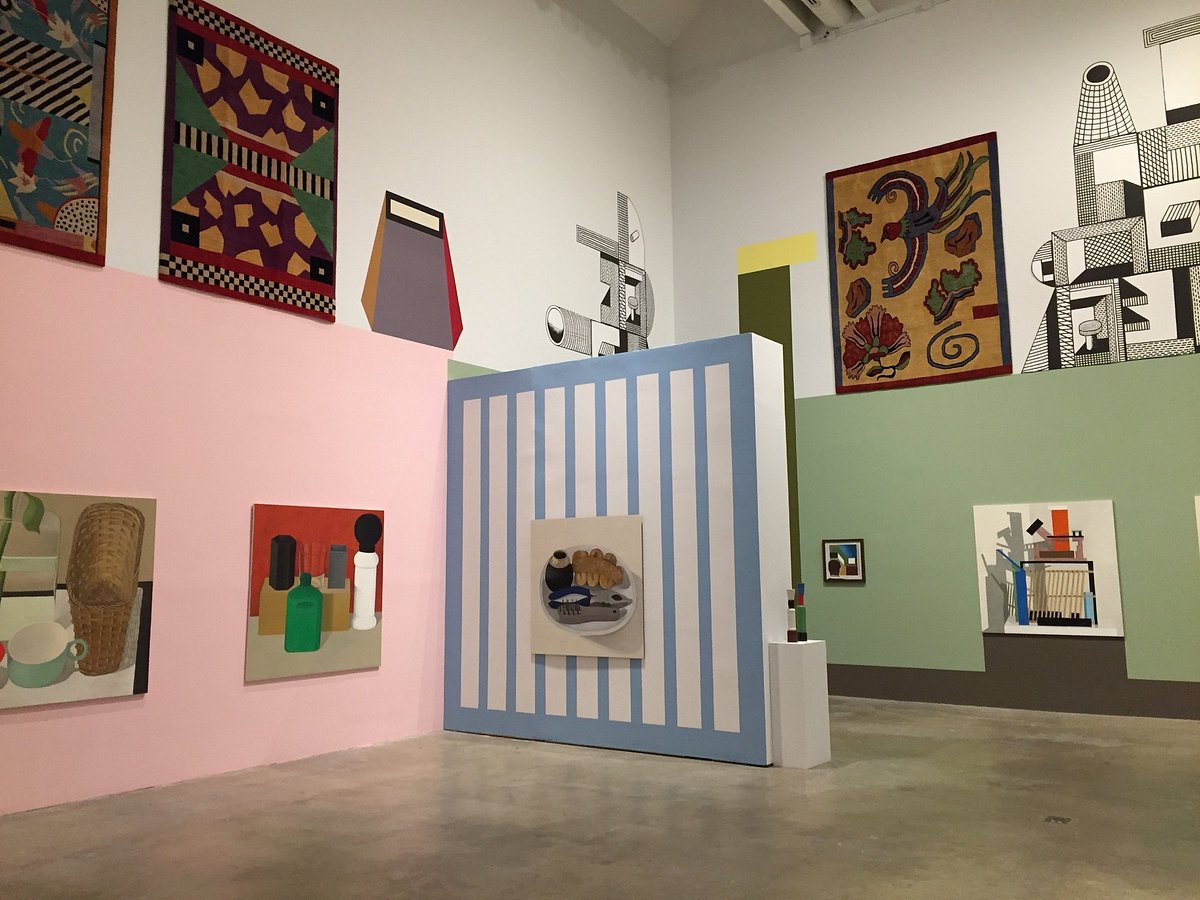 This museum first opened its doors in 1963 and is one of the top museums in the states that are fully dedicated to exhibiting innovative art. The Institute of Contemporary Art makes for a great outing whether you are an art lover or not. The museum has housed the work of various internationally acclaimed artists, including Robert Indiana, Andy Warhol, and Agnes Martin.
With free admission, you can spend your time browsing the various different galleries. You will be taken aback by the awe-inspiring, jaw-dropping, and exciting contemporary art this museum holds.
If you are driving around and are getting to the museum by car, then we recommend you park in one of the nearby public parking lots. This way, you can avoid paying any parking fees.
5. Smith Memorial Playground & Playhouse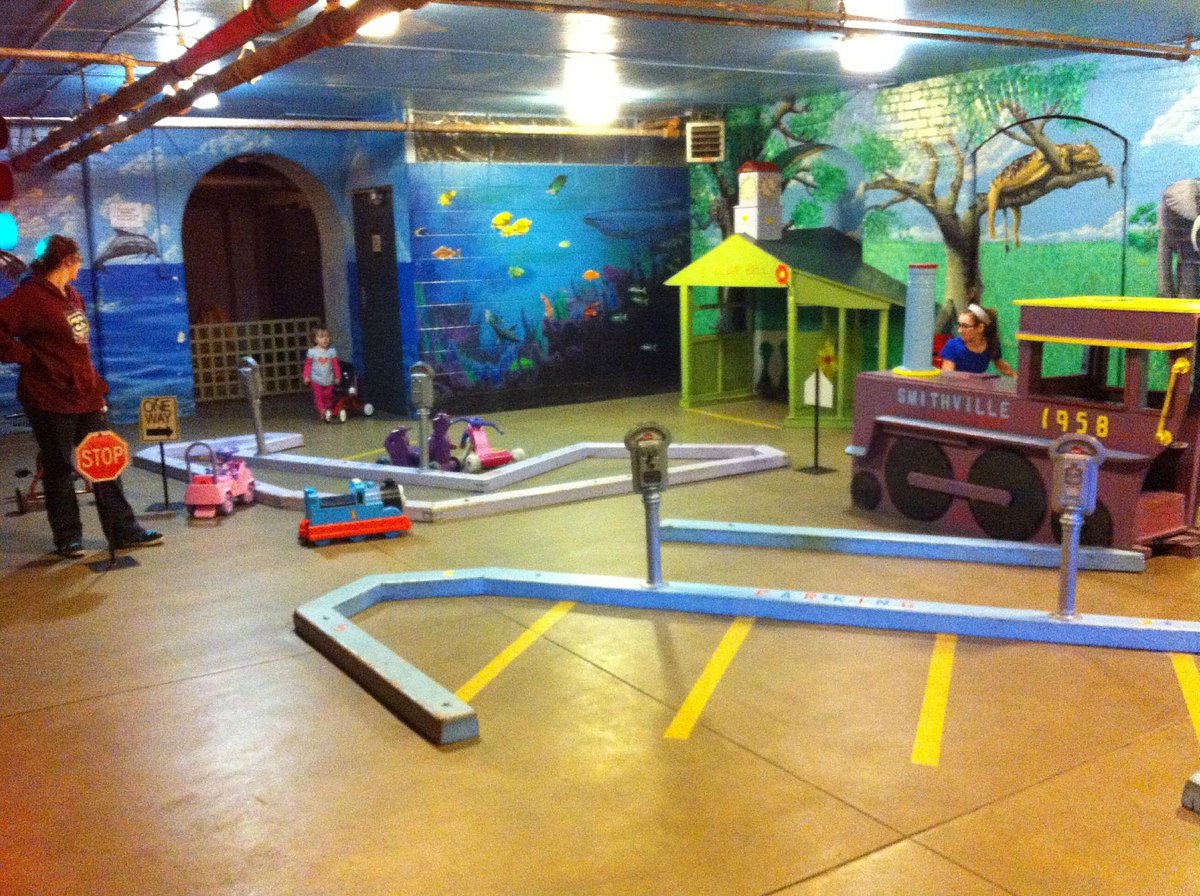 Smith Memorial Playground & Playhouse is a fantastic choice, especially if you have young children. It is an award-winning playground and is very popular among tourists and locals. It offers loads of free amenities and is jam-packed with loads of fun.
The playground is friendly and very colorful, creating the perfect environment for the little ones. The playground also offers fun and interactive programs that are all free, and your children are bound to love them. A popular one is Everyday Literacy, where the little ones can learn through fun activities and art projects.
6. LOVE Sculpture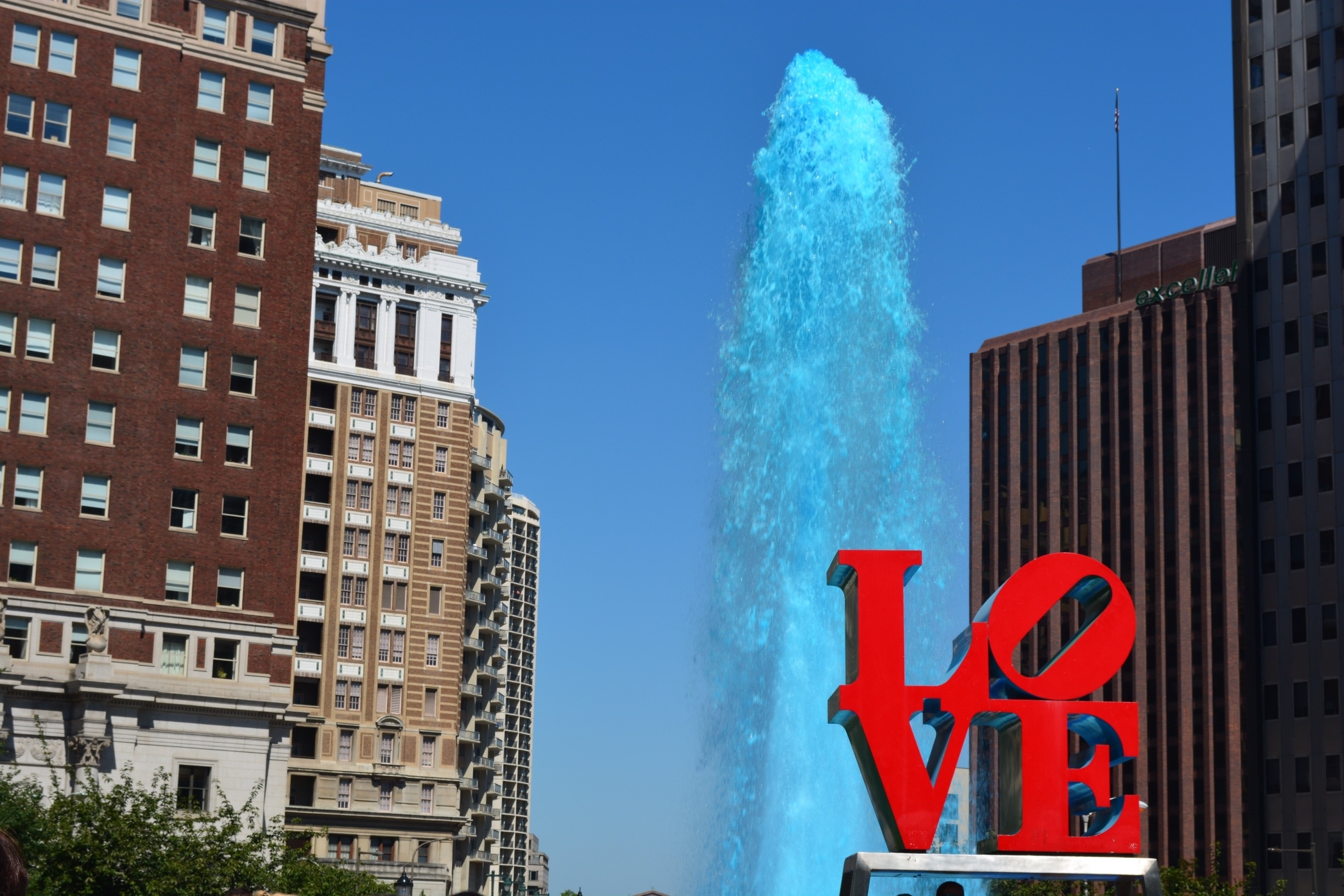 Everybody knows the iconic LOVE sculpture in Love Park. It is a popular landmark in the city and can be found in John F. Kennedy Plaza. The sculpture was done by Robert Indiana, and you cannot miss the four-letter word in its striking red coloring. In 2018, the entire sculpture saw a restoration, reviving back its iconic and much-loved look.
The whole of Love Park was also redesigned with the addition of more greenery and a stunning high-tech water feature. You can also head over to Sister Cities Park, where you can find the Spanish version, AMOR. You may have to wait in a bit of a line, but your Instagram-worthy selfies will make it worth the wait!
7. Science History Institute
The Science History Institute is a must-do for the history buffs out there, and it is among the many free things that you can do in the city. More than five centuries of incredible scientific discovery lie between the walls of the Science History Institute.
It houses a permanent exhibition that amazingly showcases loads of artifacts that date between the 18th and 20th centuries. These artifacts tell stories of the failures, successes, and surprises behind some of the most groundbreaking scientific discoveries that changed the world.
We highly recommend going to look at The Whole of Nature and the Mirror of Art. This exhibit features stunning glass-mounted photo reproductions of various engravings from 17th-century alchemical books. This is one of the best free things to do in Philadelphia!
8. Independence National Historical Park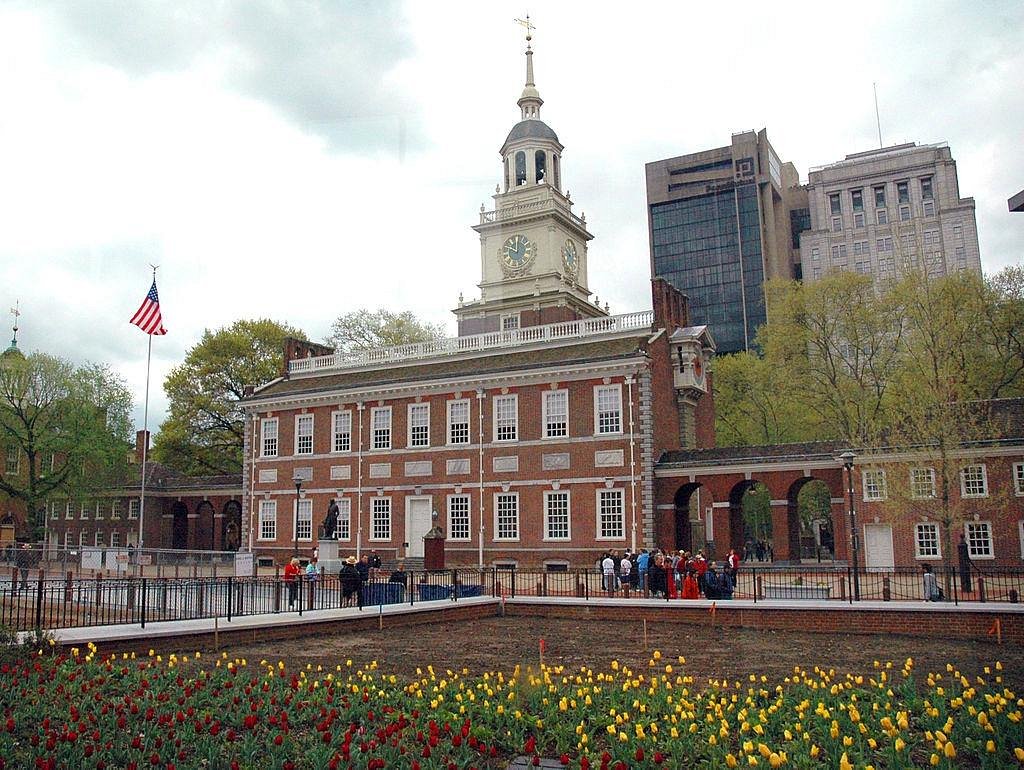 We suggest that you start your day of touring off at the Independence Visitor Center. Located in the heart of the amazing Philadelphia's historic mile, the park is home to some of the most historical sites that Philadelphia has to offer.
Here you can find multilingual representatives to guide you. There are also historical films, brochures, maps, WiFi, and various other free things. You can find the Independence Hall here as well, which we mentioned earlier on in this list.
We also recommend going to the Congress Hall when you are in the Independence National Historical Park. This is where George Washington was inaugurated as the very first president of the United States of America.
9. John Heinz National Wildlife Refuge at Tinicum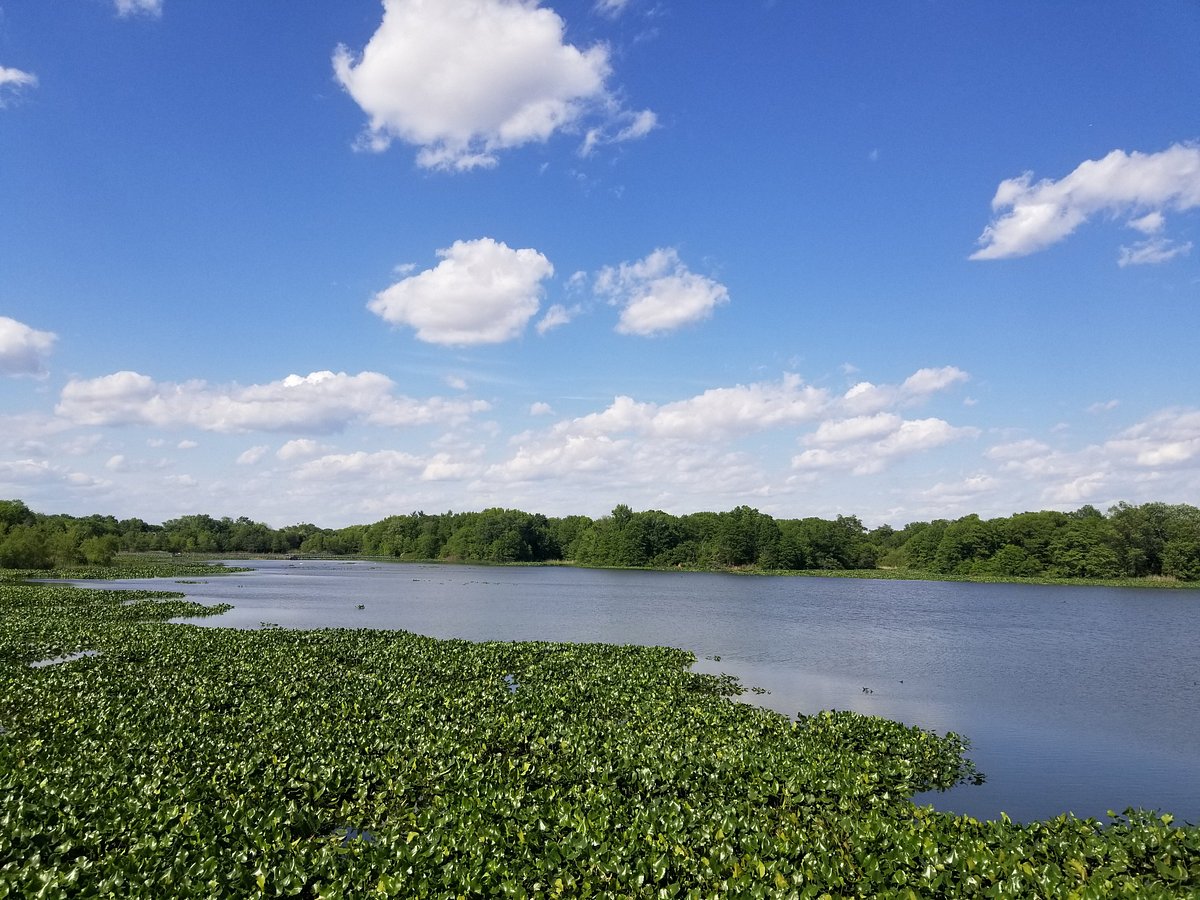 If you want to spend your day immersed in nature away from the hustle and bustle of the city, then the John Heinz National Wildlife Refuge is the place to go. It spans around 1,200 acres and boasts the most incredible views.
You can indulge in loads of different free things at the John Heinz National Wildlife Refuge. What could be better than a stunning nature retreat?
You can bike through the many trees, choose between various scenic hiking trails, and watch the various animals and birds pass by. You might be lucky and spot some foxes or deer! There is also a creek that you can canoe through and go fishing.
10. Independence Visitor Center
This is where to start if you are looking for all things Philadelphia. The Independence Visitor Center is the best starting point when wanting to explore the city and all of its attractions, such as the Liberty Bell, Independence Hall, and more.
You will get a comprehensive and free orientation to Historic Philadelphia. The orientation will include culture, history, dining options, shopping, and more. You'll know everything you need to know to make your time in Philadelphia exciting, educational, and budget-friendly, as well as memorable!
11. Elfreth's Alley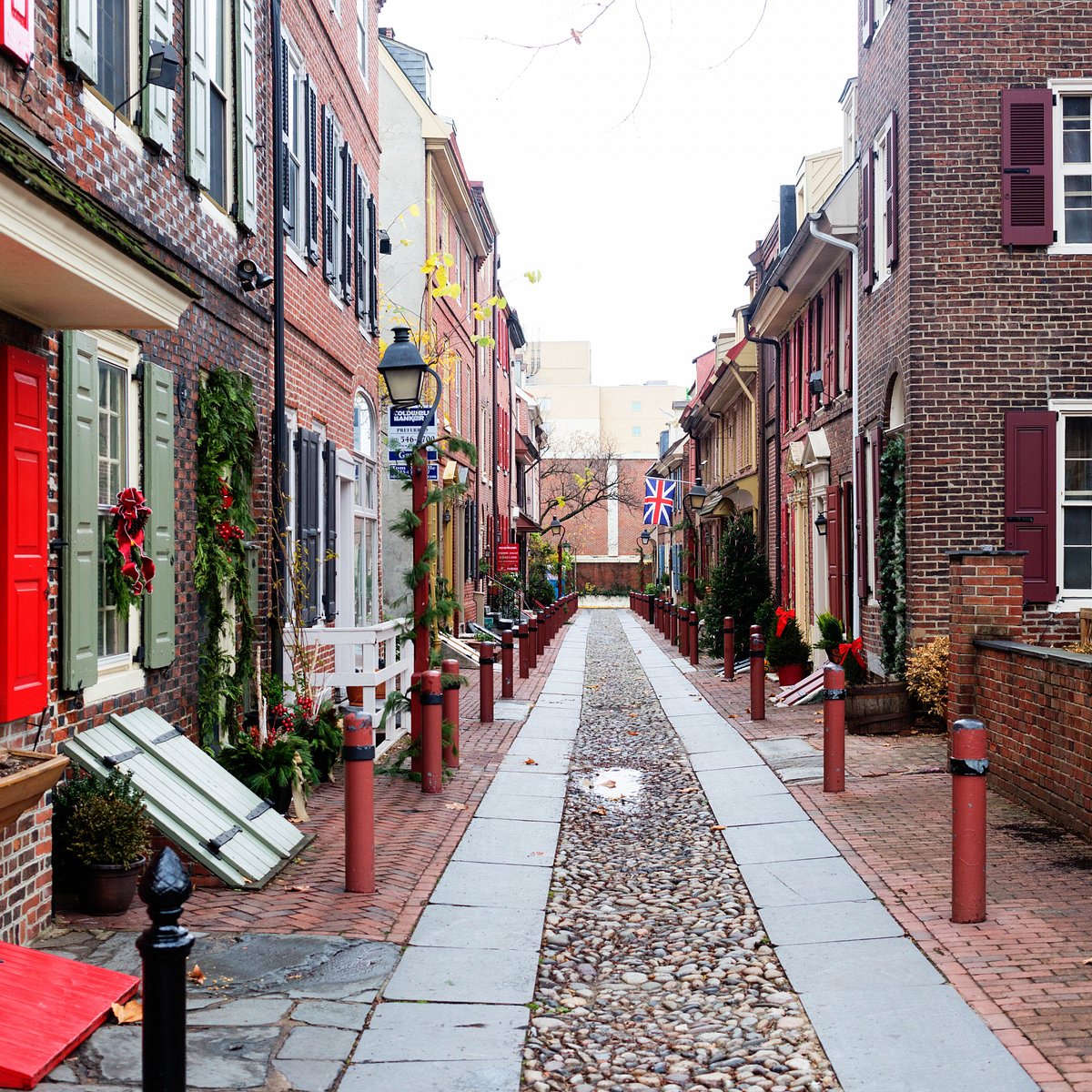 Elfreth's Alley is lovely, especially if you are looking for a relaxing stroll. The Alley was home to 18th-century tradespeople and artisans. A whole modern city has been built around the Alley, but the Alley preserves three incredible centuries of evolution.
Various citizens in Philadelphia occupy the houses on this street. All of the homes boast old-fashioned shutters, flowerboxes, and Flemish bond brickwork. They also feature some other special architectural details. One of the houses built in 1755 has now been turned into a Philadelphia museum and is open to the public.
We also recommend taking a small detour onto Bladen's Court, an alley within the Alley. It is between two of the homes on the street, and it was named after a known biscuit maker.
12. Once Upon A Nation Storytelling Benches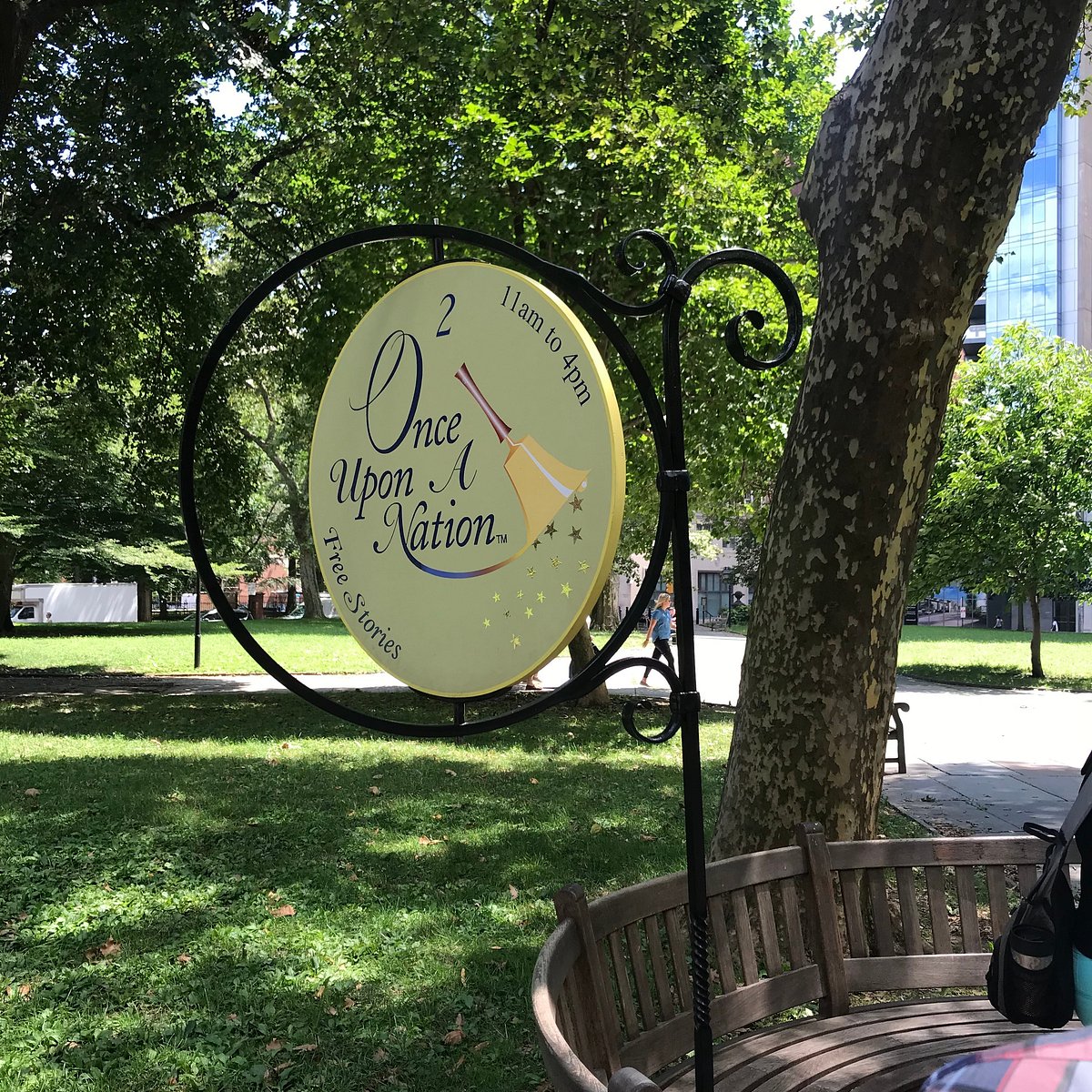 The Once Upon A Nation storytelling benches are a must while in Philadelphia! They open at 11 am and close at 4 pm. These lovely benches can be found in thirteen different stations throughout Historic Philadelphia.
These benches make for a great free activity for adults and children. As you stroll through the city, take some time to sit down at one of these benches and listen to some of the most incredible, award-winning storytellers.
These energetic storytellers will teach you about the city's history as they share their engaging and exciting tales with you. Even the youngest children will find themselves intrigued by the history of this wonderful city!
13. Bartram's Garden
This garden was once a farm and was founded in 1728. John Bartram and his amazing family turned the farm into one of the first gardens in the United States. The garden is a lovely space to spend your day. Dotted with beautiful 18th-century farm buildings, you'll feel as if you've traveled back in time!
You can spend time exploring the meadow of wildflowers along the river. You can also walk through the aromatic gardens or settle down and have a fun picnic. The scenery is amazing, and there is a fun playground to keep the little ones entertained.
14. Franklin Square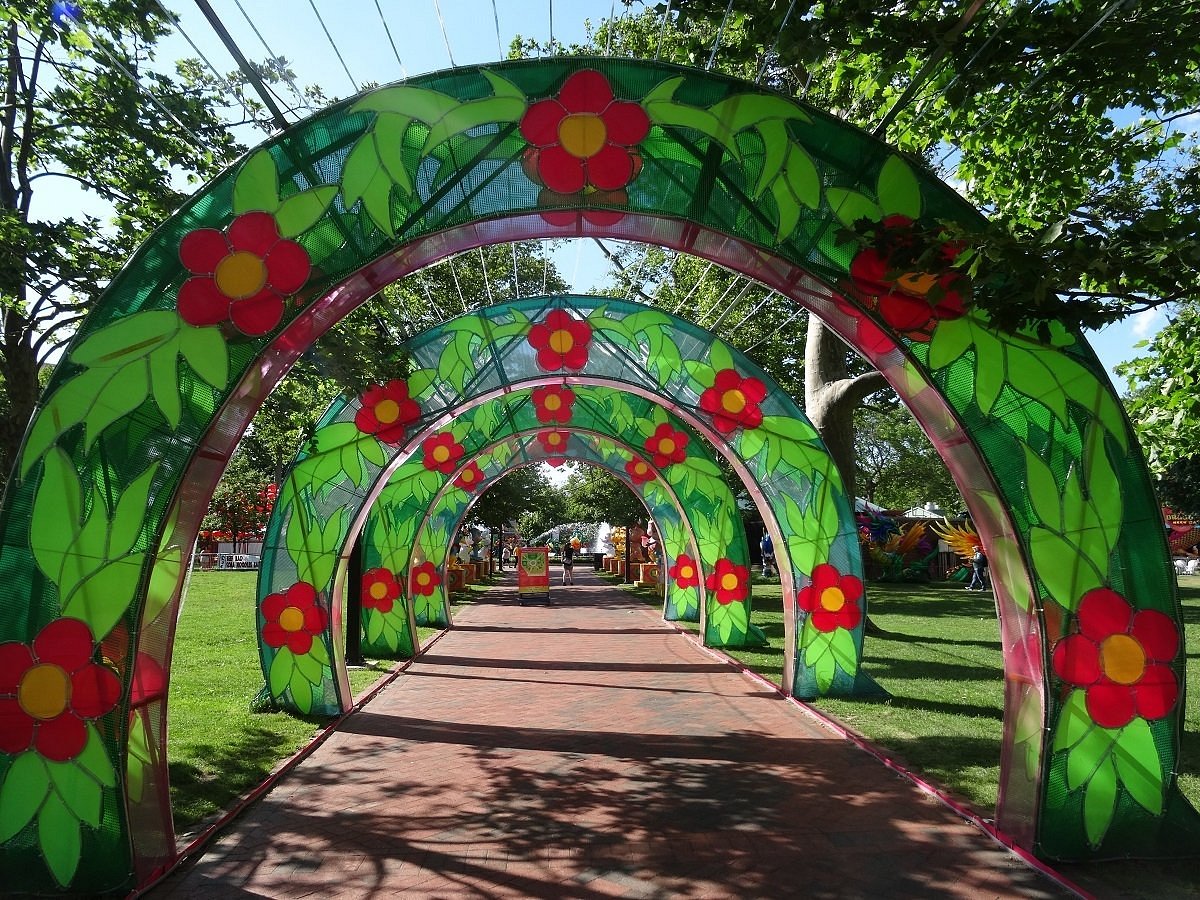 Previously known as the North East Public Square, Franklin Square is a stunning public park and one of five original public squares found in Philadelphia. Dating all the way back to 1683, the park holds plenty of history.
It is the perfect place to relax and enjoy the fresh air after a busy day of exploring and touring. It is family-friendly and has two amazing playgrounds, with one better suited to older kids and the other specifically for toddlers. The park playground has a carousel, a miniature golf course, and various food and drink options.
We highly recommend going to Franklin Square at either 13:30 or 18:00, as this is when you can catch a jaw-dropping show from the 100-year-old fountain. It features music, dancing water, and colorful lights. This is a performance you do not want to miss!
15. The President's House: Freedom and Slavery in the Making of a New Nation
The President's House is one of the free things you can do in the city. It is an open-air museum that offers free admission, and it is open every day. It is on the site of an executive mansion where John Adams and George Washington stayed when they governed the country.
History buffs will thoroughly enjoy this Philadelphia museum. The outdoor exhibits examine stories of the enslaved people who lived and worked here. The text panels shed light on the slave trade and how things were during Washington and Adams's governance.
Some other nearby attractions also offer free admissions, such as The Christ Church Burial Ground and the Liberty Bell.
16. Free at the Kimmel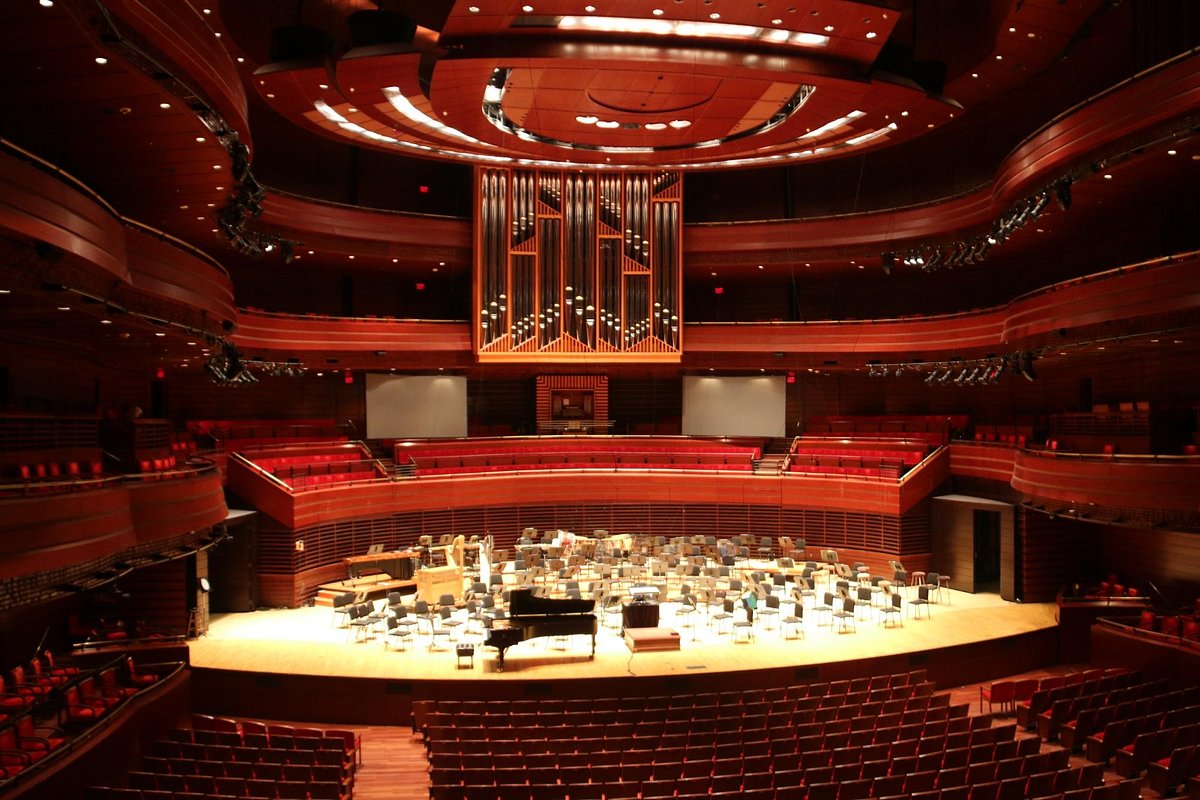 The Kimmel Cultural Campus has expanded its program with its Plaza series, which is free of charge. It includes Lunchtime Unplugged, Family Fundays, Nightlife at the Kimmel, and Happy Hour Sessions. All of these performances showcase some of the best artists in the city.
Family Fundays was specifically designed to engage all families through interactive activities and playful arts presentations. Lunchtime Unplugged is great. If you want to have a lovely little picnic in the Plaza, be sure to pack some lunch.
You can enjoy some incredible live entertainment during their Happy Hour Sessions, as well as a party and free concert during their Nightlife at the Kimmel event.
17. The Fabric Workshop and Museum
The FWM's main focus is contemporary art, a stunning creative space. The Fabric Workshop and Museum is the only one of its kind, so it is a must-do when you are in the city (even if you are not a fan of art).
There are so many exciting things that you can enjoy at this Philadelphia museum. It has a wide range of unique artworks from various amazing artists. There are also some fascinating video presentations, and you might even be able to see some of the artists create masterpieces!
We recommend checking out their website before visiting. The FWM often hosts very interesting programs that you may want to plan your visit around so that you can participate.
18. Curtis Institute of Music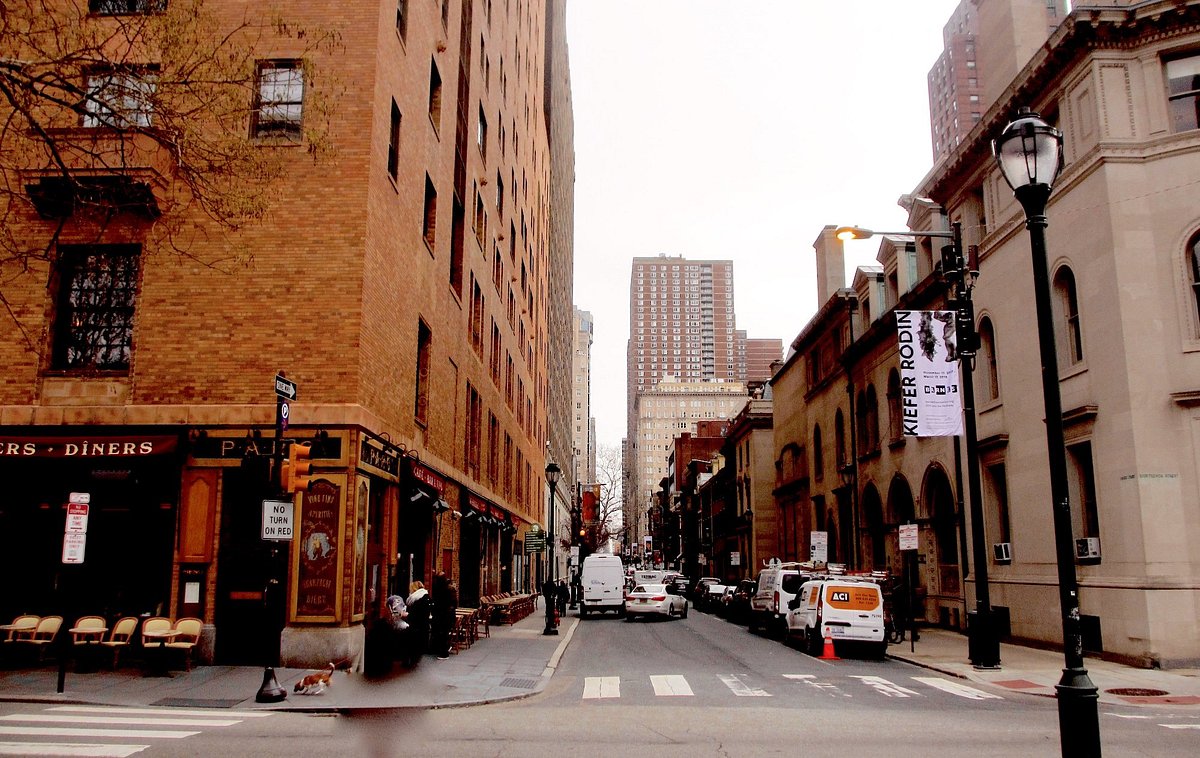 This is a bit of a different one on our list. The Curtis Institute of Music is actually a private conservatory. The institute offers excellent study courses to people who want to obtain a diploma in performing arts – specifically in opera and music.
They have free student recitals, and you can visit the institute to watch some of Philadelphia's most talented students perform classical concertos and operas on stage.
These recitals generally take place at 6 pm on Mondays and 8 pm on Wednesdays and Fridays.
19. Self-Guided Public Art Tours
A self-guided tour is another fun way to enjoy Philadelphia for free! The Association for Public Art and Mural Arts Philadelphia offers stunning digital maps that send you on a self-guided tour of the amazing collection of public art that Philadelphia has to offer.
You can find more than 4,000 murals and stunning pieces of art sprawled across every neighborhood in this wonderful city. You will quickly get your bearings and be able to explore the walkable communities in the city.
20. Weitzman National Museum of American Jewish History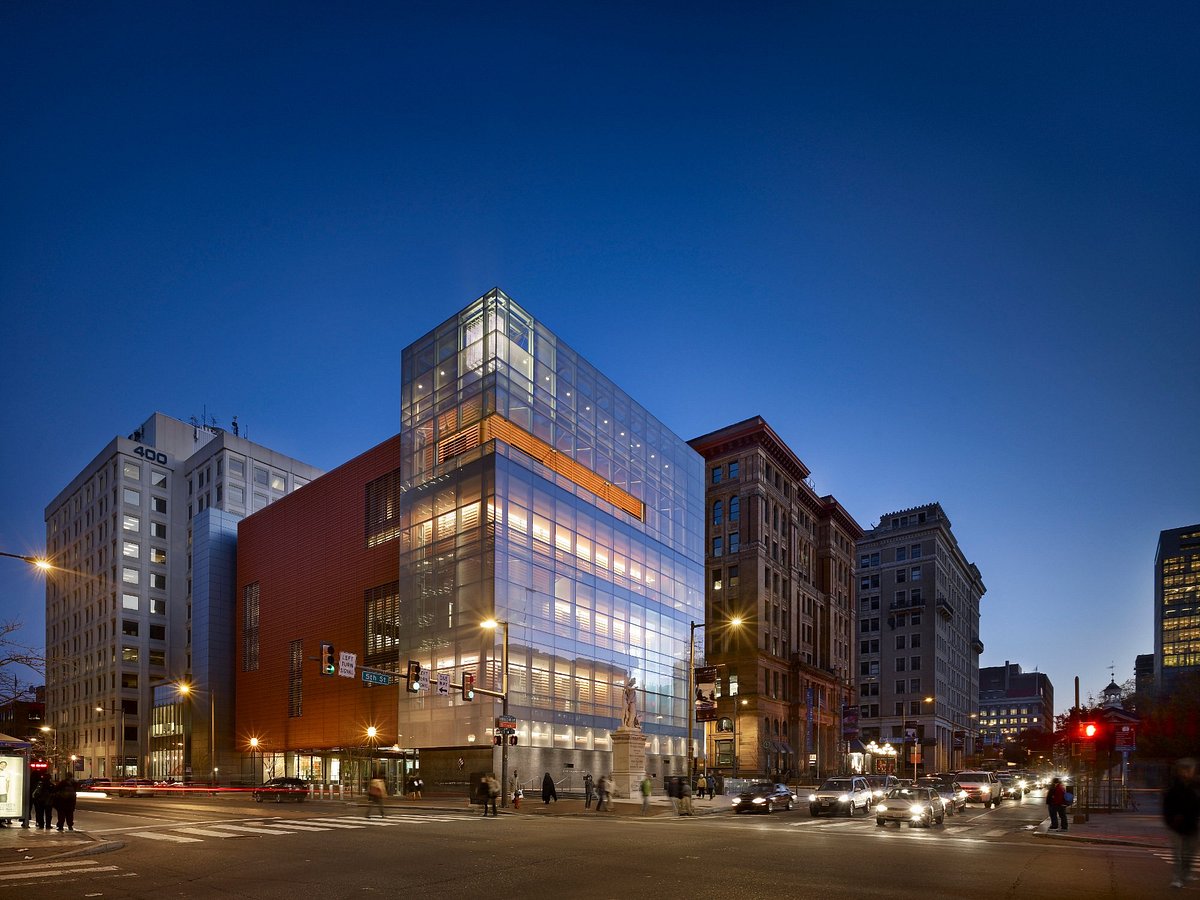 This five-story, 100,000-square-foot museum explains the history of Jewish people in the United States. The museum holds around 1,200 documents and artifacts, including Steven Spielberg's first camera, Irving Berlin's piano, and Albert Einstein's pipe!
Deborah Kass's OY/YO sculpture can be found outside and should not be missed. There is free admission to the museum, and it makes for a fun educational day out!
21. Penn's Landing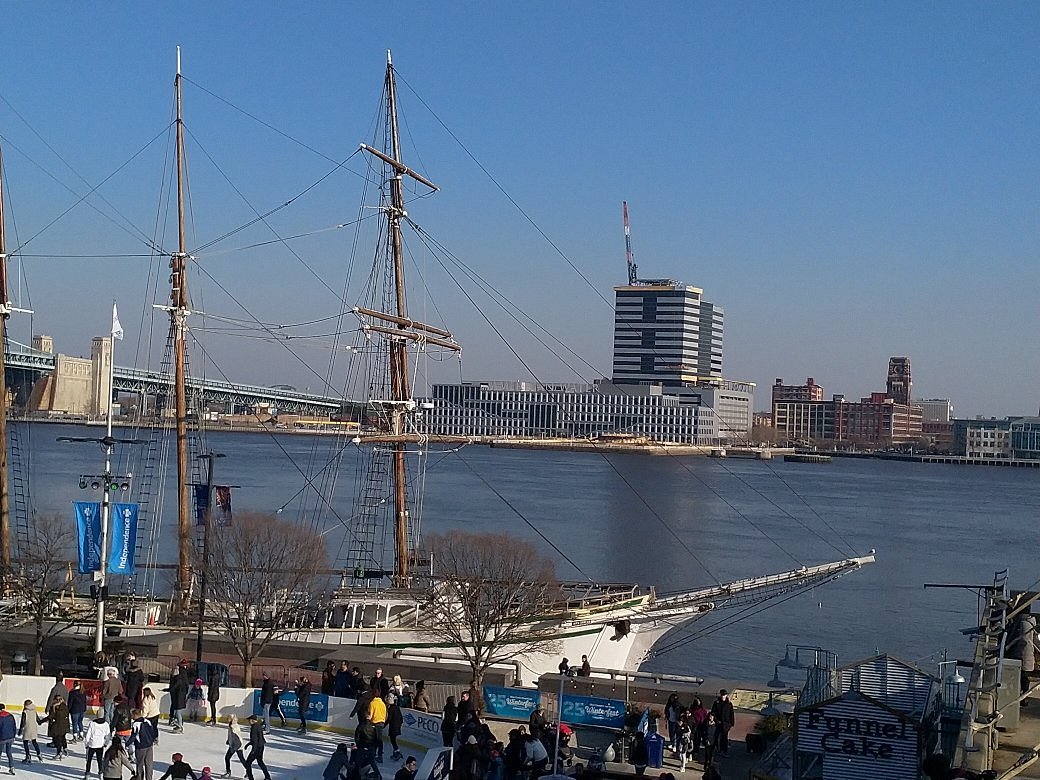 You can find a number of free public amenities along the Delaware river waterfront. You can start exploring this 3.3-mile stretch at South Philly's Pier 70 that stretches all the way north towards Fishtown's Penn Treaty.
You can see the amazing Spruce Street Harbor Park and the hammocks. You can also get involved in some family-friendly programs at the Festival Pier and BlueCross RiverRink. They often host free events and performances, so it is worth checking your calendars while you are in the area.
22. The Rocky Statue and The Rocky Steps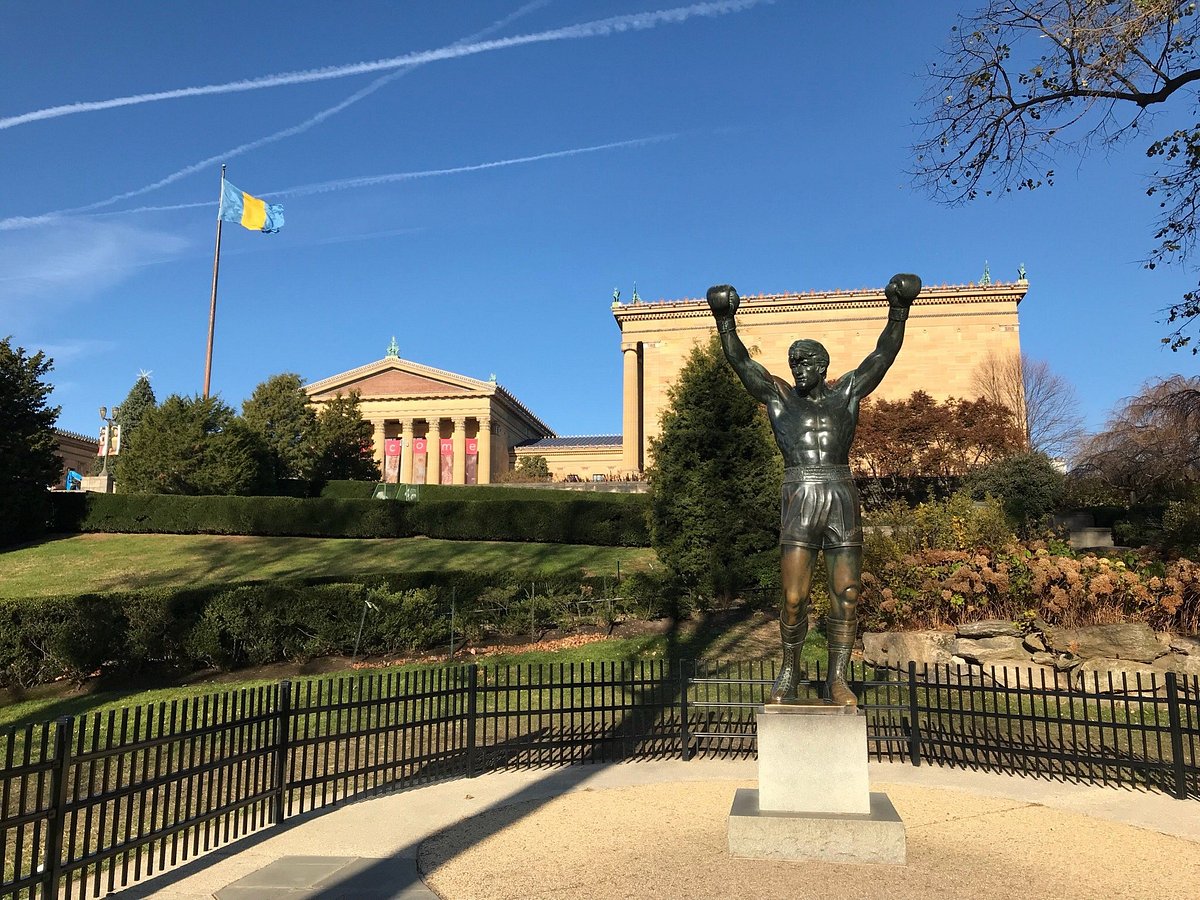 These are two of the most popular attractions in Philadelphia. This monument commemorates the well-loved and popular fictional hero Rocky Balboa.
Dubbed Philadelphia's unofficial underdog mascot, the Rocky Statue was originally created for the movie Rocky III in 1982 and has now become one of Philadelphia's most famous pieces of public art.
The Rocky Steps include 72 stone steps leading up the statue and symbolize the fictional boxer's routine of ascending the steps to the Philadelphia Museum of Art after his morning run.
Here, you can hustle up the museum's grand stairway to take a memorable picture with the statue. You don't have to have watched any of the Rocky movies to appreciate this iconic monument!
FAQs
Are there any free tours in Philadelphia that are suitable for families?
Yes, Philadelphia offers several free tours that are suitable for families, such as the self-guided Independence National Historical Park Tour and the self-guided Public Art Tours.
Where is the Independence National Historical Park?
The historical park can be found at 1 N. Independence Mall, Philadelphia, PA 19106. It is a federally protected historic district.
What are the opening times of the Weitzman National Museum of American Jewish History?
Opening times will depend on the current situation and policy. The museum is usually open from Friday to Sunday from 10 am to 3 pm. We recommend checking the official website for the most up-to-date information.
More about our TFVG Author