Finding the best beaches for your family to visit near Philadelphia can be a tedious task. It all comes down to the family trip itinerary. Are you looking for something that offers carnivals and lots of food options? Or are you looking for something more adventurous? Maybe you want to lounge on a quiet beach and enjoy the ocean views without too many other people around.
Regardless of what activities you are looking for, these are 11 of the best beaches near Philadelphia for families. With plenty of attractions and lots of options available, one of these beaches guarantees fun for the whole family. 
Ocean City Beach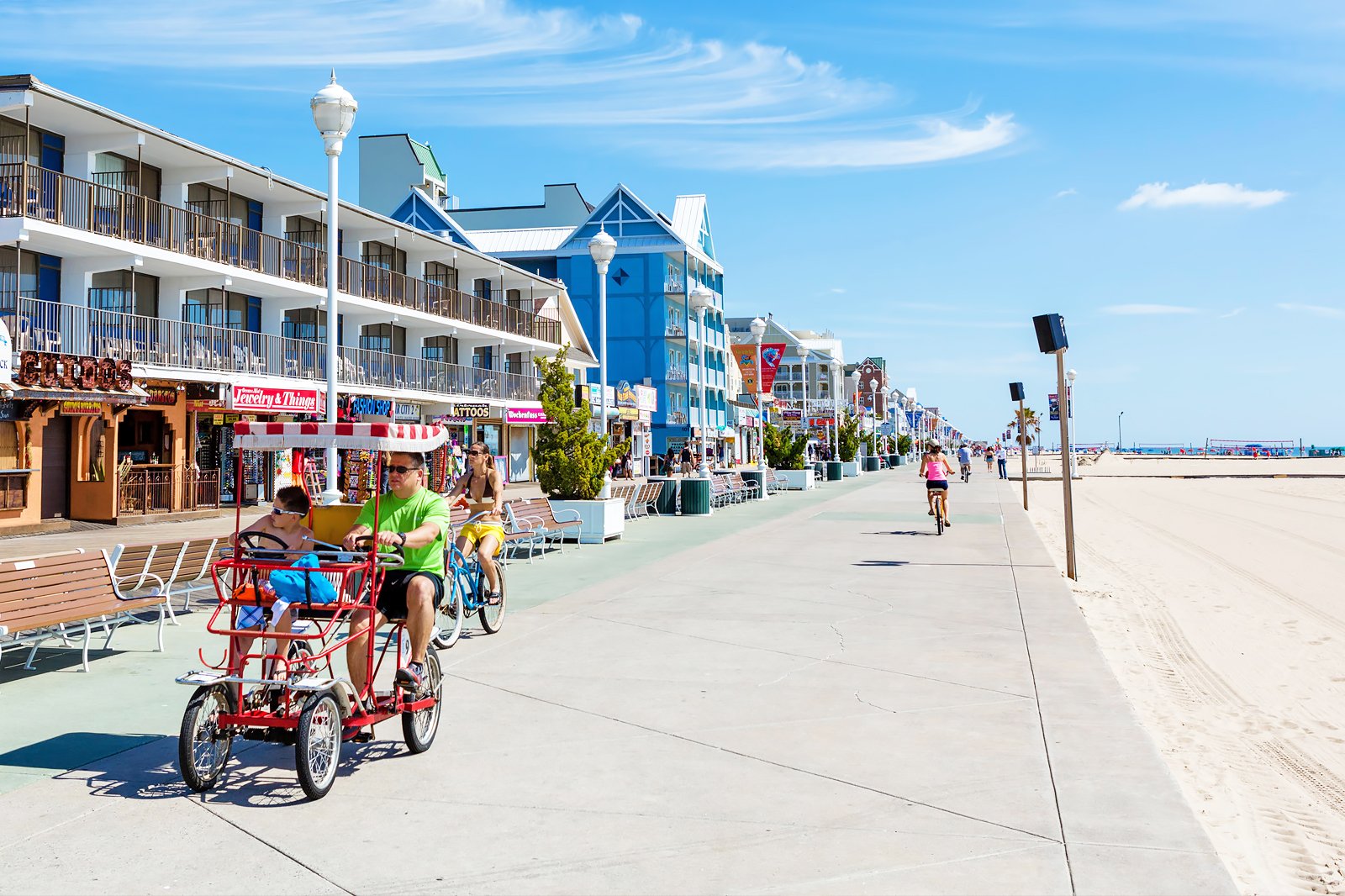 Located on Maryland's coast, Ocean City Beach is just over a three-hour drive from Philadelphia. A popular destination no matter what time of year it is, this beach is guaranteed to be fun for the whole family.
Ocean City Beach is widely considered Maryland's best beach, and it's not hard to see why. Plenty of activities will keep visitors busy for days. And with 10 miles of perfectly manicured, clean sand, it's no wonder that people leave this place dreaming about the day they can come back.
Whether you want to swim, bask in the sunlight on the beach, surf, or enjoy the wide variety of fishing options, there is something for everyone in your family at Ocean City Beach. You could rent a canoe or a kayak and paddle out into the Atlantic, or you can enjoy a summer event like a movie or a concert.
The beach is known for its soft sand, its cleanliness, and the professional lifeguards on duty. Not only one of Maryland's best beaches, but it's widely considered one of America's top beach destinations. No matter how old your kids are, they will have the time of their lives at Ocean City Beach.
If you get tired of the beach, hit up the boardwalk, where you can explore local shops and fine eateries as you soak up the sun and ocean views.
Long Beach Island
This New Jersey oceanside destination sits just under two hours east of Philadelphia. Long Beach Island claims to have some of the very best beaches on the entire East Coast, and it's a great place to take the family for a fun getaway.
With various activities available for people of all ages, the beach will keep visitors occupied with its swimming, boating, fishing, and more.
Check out the peaceful scenery at Barnegat Light, a neat lighthouse in the Borough of Barnegat on the island's north side. You can take a load off and rest on the sandy beaches at Holgate. Enjoy the dunes that line the shore, but don't let the kids climb on them!
Easily accessible from the bridge, Surf City and Ship Bottom are two great spots to chill in the sand and watch the waves roll in. All along the shoreline, there are plenty of quiet and secluded areas where you can enjoy some peace, read a book, or watch the sunset.
At Long Beach Island, there is plenty to do for the whole family. An amusement park nearby is guaranteed to keep the kids occupied, and plenty of local shops and family-friendly activities are available to make your visit a memorable one.
Avalon Beach
Located about an hour and a half south of Philadelphia, this New Jersey beach bustles with fun for people of all ages and stages of life. Avalon Beach is a place to enjoy with your loved ones, but come ready to move! With so much to do, you're going to want to cram it all in.
White-sand beaches backed by beautiful scenic dunes overlook the vast expanse of the Atlantic Ocean. The town of Avalon is a picturesque beach town that will offer a respite when the beach gets too hot.
With lots of shops and amenities to enjoy, Avalon beach is the perfect quiet getaway that your family has been needing. You can rent bikes and go for a ride down the scenic streets. You can kayak in the ocean or hit the waves if surfing is your jam.
More than water activities are available for visitors to Avalon Beach. There are tennis and basketball courts where your kids can run off some energy, a skate park, and plenty of playgrounds.
Wildwood Beach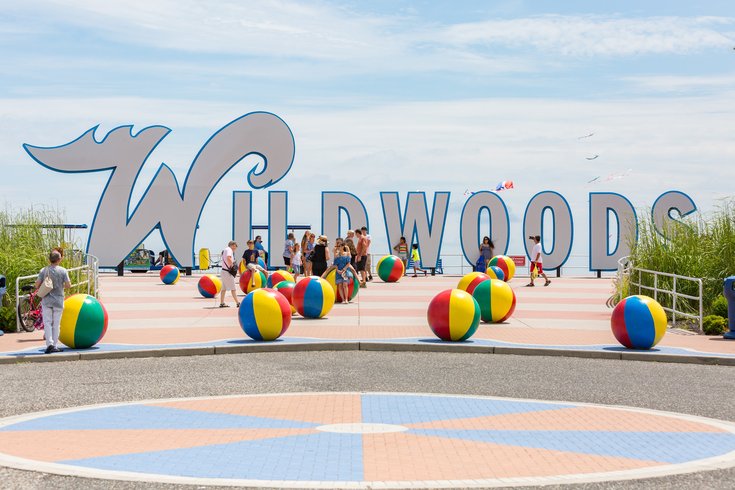 This New Jersey beach is located just under two hours south of Philadelphia. A beach and dog park graces the southern shoreline of the state, where Wildwood Beach bustles with activity for all the ocean goers out there.
Five miles of soft, white-sand beaches stretch across the New Jersey shoreline at Wildwood. Completely free and well taken care of, there is no shortage of fun to be had here. You can hit the waves with a surfboard or boogie board, depending on your preference. Frisbee on the beach is bound to keep the kids occupied, and volleyball is a great bonding sport.
Not far from the beach, the Wildwoods Boardwalk offers 38 blocks of different rides, activities, and attractions that will entertain the family for hours on end. Events take place throughout the active season, like kite festivals and lacrosse tournaments.
Naps are encouraged in this part of the world, and it's not uncommon to see visitors snoozing by the beach at any time of day. Reading a book in the shade is also highly recommended.
With so much to get involved in and plenty of activities to keep the kids occupied, it won't be long before Wildwood feels like a second home.
Brigantine Beach
Located one hour and twenty minutes south of Philadelphia, Brigantine Beach is practically a straight shot down the Atlantic City Expressway. One of New Jersey's finest attractions, this beach is a great, family-friendly vacation spot for people of all ages.
With miles of shoreline to explore and enjoy, it's not hard to find yourself getting sucked into the magic of this oceanside getaway. Fishing, boat rides, and scenic ocean views will keep you occupied and satisfied as you spend your vacation in absolute luxury.
Canoeing in the ocean is a great way to pass the time. Hiking along the sandy paths will help you stretch your legs. Swimming in the ocean never gets old, and relaxing on the beach is the perfect way to recharge. And don't forget to hit up the town for a night of fun.
The clear water at Brigantine Beach is perfect for some rod action if you have any avid anglers in your family. Flying kites on the beach with the kids will leave them with memories they'll never forget. Rent some jet skis, hit the waves for some surfing, rent a boat – there's almost nothing you can't do here.
Brigantine Beach makes a place for the furry family members you might want to bring along. For part of the year, the beach is open to dogs of all sizes.
Sea Isle City Beach
Located only an hour and a half south of Philadelphia, Sea Isle City Beach offers family activities on the water and the beach. With plenty of fun to be had, it's no wonder that this is such a popular family destination spot.
For the water lovers in your group, there is plenty to do. Boating, kayaking, kiteboarding, rafting, surf-fishing, and surfing are just a few of the exciting things that can make your trip to Sea Isle City Beach a memorable experience.
There are specific beaches for sand volleyball, which means you can get the full beach experience with a tournament or two. And if the beach is too crowded, it's only a short jaunt to the Townsends Inlet Waterfront Park. Here you can get away from the hustle of beach activity and still enjoy the beautiful scenery of the Atlantic Ocean.
Yoga on the beach is the activity of choice here. It doesn't matter how old your group is, and there is a place for you on the sand in this paradise. And if you have any golfers in your family, there are plenty of courses to keep them entertained for the whole trip.
Whatever your preference, whatever your favorite vacation activity, you are bound to find something to love at Sea Isle City Beach.
Cape May Beach
Located nearly two hours south of Philadelphia, Cape May Beach is America's original seaside resort. There is plenty for you and your family to enjoy on the southern tip of New Jersey's eastern shoreline. From the unique architecture to the carefully manicured sandy beaches, Cape May Beach will be a trip to remember.
Family-friendly, fun, and clean, there are many amenities available to make your visit deeply enjoyable. The beaches at Cape May run together in a two and half mile stretch that offers a collection of good times for any visitor.
Check out the attractions at the Madison, Windsor, or Decatur beaches. Don't forget about the Cove at the end of the promenade, a beautiful spot to watch the ocean dance on the horizon. Or you can hit up Broadway beach for some relaxation.
Skimboarding is a big attraction at Cape May, and surfing, kayaking, fishing, swimming, and the classic sand volleyball. It's the perfect place to take the family on a picnic or even build some sandcastles. Just make sure you fill in your holes before you leave.
At Cape May Beach, there is no shortage of fun things to do. Bringing your family to America's original seaside resort is guaranteed to be a lasting memory. And you might just find yourself wanting to come back again next year.
Dewey Beach
Located in the great state of Delaware, Dewey Beach is just over two hours south of Philadelphia. This sandbar community has beautiful scenic views, sandy beaches, and fun activities for kids and adults.
Surfing is a popular pastime at Dewey Beach. It's a great place to ride the waves and practice your moves out on the ocean. However, if surfing isn't your game, sailing is always an option. Nothing makes you feel more connected to the sea than gliding along the water in an expertly piloted sailboat. And if you want something a little more subtle, paddleboarding is never a bad idea at Dewey Beach.
Even in the off-season, there is plenty available to keep the family entertained at this Delaware beach. If you know where to look, you might even have the chance to see dolphins swimming along the shoreline.
The beaches are clean, and they are taken care of at Dewey. The sand is fine and beautiful, and it is easily accessible for visitors of all ages. The best part of Dewey Beach, however, is that it is never too crowded. So if you're looking for a getaway that's a little quieter, this might just be the place to go.
Asbury Park Beach
Located in Asbury Park, New Jersey, Asbury Park Beach is just an hour and a half northeast of Philadelphia. During the season, all visitors require beach passes. But during the off-season, the beaches are free and easily accessible.
Asbury Park Beach caters to families at every stage of life. With only a mile of sand, there is plenty to do regardless of your preferences. Spend some time relaxing in the sun, or go for a dip in the Atlantic Ocean. Fishing, boating, and surfing are available for those interested, and those who would rather observe will be in for a treat.
A splash park is nearby for the little kids if the ocean tides prove too rough for them. In addition, there are dog-friendly beaches available for the furry friends in your life, and a summer surf school operates in the neighborhood for those interested in getting out on the waves.
If the beach gets too crowded, there's plenty to do all around Asbury Park. Known as the pinball capital of the world, stopping by the Siverball Retro Arcade is a necessary addition to any vacation itinerary.
Local shops and breweries will give you a taste of the local fare, and there are plenty of historic houses that you can visit for some culture. Of course, strolling along the Asbury Park boardwalk is essential, and the antique lovers in your life will be thrilled to swing by the Antique Emporium.
The great thing about Asbury Park Beach is that there is always something to do. No matter the time of year, this beach will keep you entertained.
Seaside Heights Beach
Seaside Heights Beach in New Jersey is split into two sections just under two hours east of Philadelphia. The first section is between Funtown and Casino Piers, and the second is north of Casino Pier, running up to Hiering Avenue.
Weekends are busy at Seaside Heights, where locals and new visitors alike flock to enjoy the beaches and the oceanside activities offered. There's so much to do at Seaside Heights, and it is worth braving the crowds to participate and maybe even make some new friends along the way.
With plenty of space to sunbathe, you can work on that tan while you're out on the beach. So jump in the ocean for a quick swim, and be sure you make use of the many beach rentals available. Boats, chairs, and umbrellas will help make your experience at Seaside heights one to remember.
There are plenty of great local hole-in-the-wall spots to grab a quick bite or a tasty sweet treat. The Seaside boardwalk is filled with fun activities, many kid-friendly, including arcades and amusement rides. In addition, specialty gift shops allow you to find something unique to take home as a memento of your great time at Seaside Heights Beach.
Rehoboth Beach
Located on the Delaware coast about two and a half hours south of Philadelphia, Rehoboth Beach is known as one of the best family beaches on the East Coast. Open all year long with festivals and fun events, there is always something for you and the kids to enjoy during your stay.
One mile of sand and shoreline brings people from all around the world to this charming little place, an old resort town that dates back to the 19th century. Growing in size and popularity every year, Rehoboth Beach has plenty to offer.
The boardwalk is a fun spot to explore the area and take in the sights. With amusement rides and local shops, you'll find yourself quickly running out of time before you have a chance to see everything.
Spunky eateries will give you a taste of fresh seafood and local cuisine, with plenty of variety for the picky eaters who might be with you.
The soft sand and natural dunes make this iconic beach a beautiful place to spend your vacation. However, you might find yourself not wanting to leave after a couple of days relaxing on the sandy shores of the ocean.
The Great Beach Getaway
If you're looking for a great family beach near Philadelphia, one of these is bound to meet your needs. With so much to do and so much to see, what's stopping you? All within driving distance of Philly, each beach offers unique experiences guaranteed to make you and your family fall in love with the beach scene. Good luck getting back to real life once you've spent some time relaxing by the ocean on one of these beautiful beaches.
More about our TFVG Author
A seasoned traveller, Dad, and avid sports tourist, James foundered The Family Vacation Guide to share his expert vacation experiences- especially when it comes to being a travelling family man.
Featured in Travel articles such as Travel + Leisure, TripSavvy and SFGate, you know you're reading some of the best vacation tips online.