Finding the right family fun adventure can be challenging. However, Gatlinburg has dozens of options to choose from – especially when it comes to ziplining. Although ziplining has become more popular and accidents are happening more frequently, it can still be a fun and exciting adventure when choosing the right location.
Our top ziplining locations in Gatlinburg, Tennessee use the best equipment and safety standards to give you and your family the most thrilling journey through the many mountain ranges available. Not only will you and your family get the best bird's eye view of the forest and mountains, but you'll have an experience you'll never forget.
The Smoky Mountains have been home to Cherokee Native Americans and settlers for hundreds – if not thousands – of years. While this area is largely untouched by modern life, there are several cabins, adventure parks, and designated view zones to get a look at the natural beauty that Gatlinburg has to offer. Ziplining is only of many ways to soak in the sights of the mountain ranges from an aerial view.
Smoky Mountain Ziplines
Smoky Mountain Ziplines are by reservation only and include two hours and seven unique ziplines for you to travel across. On these zip lines, you can travel at 25 miles per hour through the trees of the Smoky Mountain Forest and get a stunning view of the landscape beyond.
Professionally-trained guides will be with you and your family every step of the way to point out wildlife, take precautions, and keep you safe.
Rafting in the Smokies
While this location is called Rafting in the Smokies, rafting isn't all that is offered here! In addition to rafting, this location offers family floating on the water, a ropes challenge course, a zipline canopy tour, a picnicking and pavilion area, and a family adventure island.
The zipline canopy tour allows you and your family to access six ziplines and two sky bridges more than 60 feet above the ground. For only $39 per person, you and your family can experience the stunning view of over 2,400 feet of zip-lining forest.
Wildwater Pigeon River Canopy Tours
Wildwater Pigeon River Canopy Tours can accommodate children as young as eight years old for only $56 per person. This tour includes access to a zipline over the Big Pigeon River and will take you and your family 120 feet in the air. This soaring experience offers only the best safety equipment and straps to ensure that you and your family are safe for your travel over the river.
Wildwater Pigeon River Canopy Tours offers the only zipline over the Big Pigeon River and is the highest and longest dual zipline in Tennessee.
SkyZip Dollywood Ziplines
Built in 2009, the SkyZip Dollywood Zipline is located within Dolly Parton's iconic theme park, Dollywood. This zip line will take you all over the 150 acres of land that encompass the Dollywood theme park and give you access to a vibrant and refreshing view of all the rides and attractions.
This zip line takes an hour to complete and includes a 100-foot-long swinging sky bridge.
Foxfire Mountain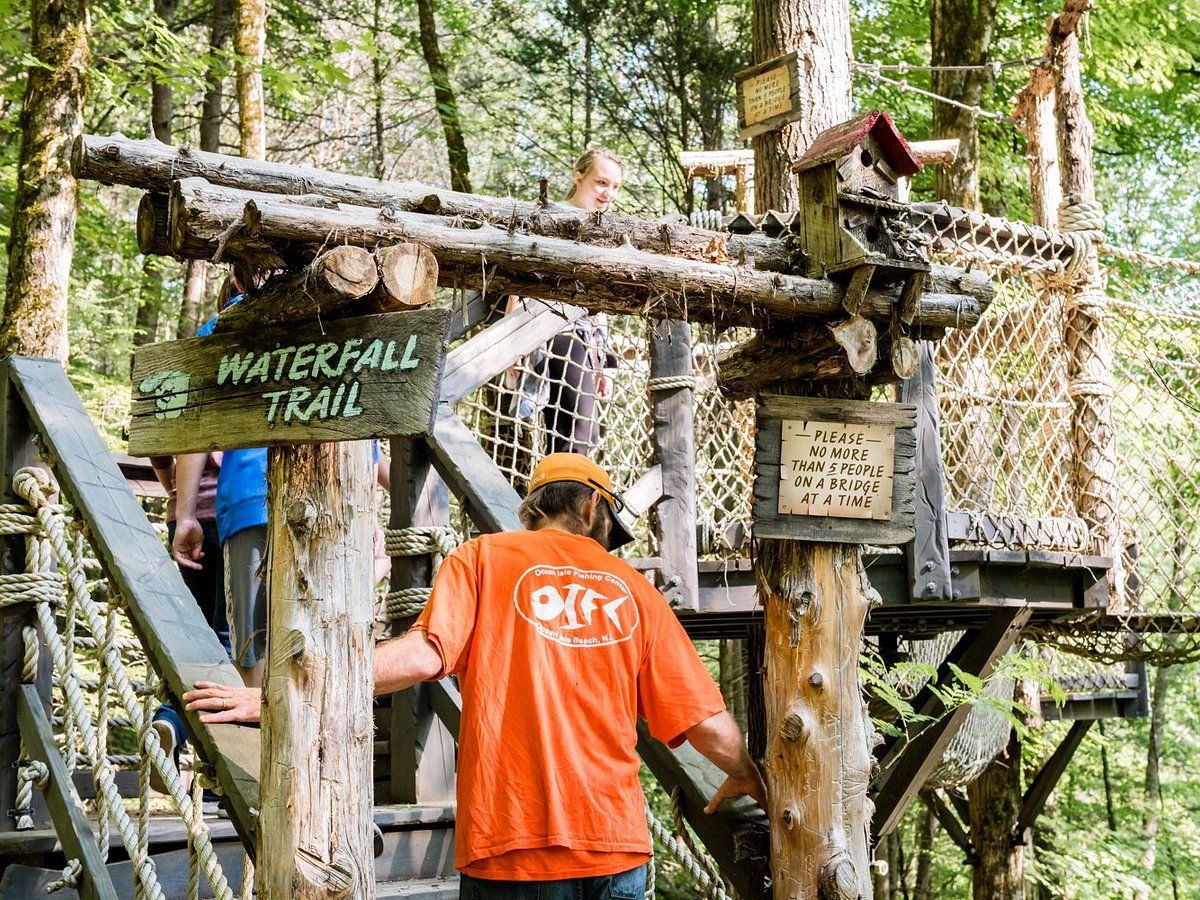 Foxfire Mountain Adventure Park has two unique zipline courses to trek, including one with waterfalls views. The Waterfall Canopy Zipline Tour includes seven zip lines and two sky bridges that allow you to fly through tree canopies and get an up-close view of the waterfall.
The Goliath Zipline Tour has five fast and long zip lines that will take you 60 miles per hour and 500 feet in the air.
Adventure Park Ziplines
Adventure Park at Five Oaks offers more than zip lining, but also offers horseback riding and hours of fun in one convenient location. The zip line tours at Adventure Park at Five Oaks cross 70 acres and contain seven unique zip lines that cover over 2,000 feet of acreage.
Paula Deen's Lumberjack Feud
The zip line at Paula Deen's Lumberjack Feud is more than just a zip line – it's a cable-to-rail zipline roller coaster. This zip line opened in 2019 and has been giving families all over the country excitement and aerial views since. This zip line takes riders on a 1,000-foot trek at 80 feet in the air. Riders will drop, soar, and swing through the air as they get unique and stunning views of the area beyond.
Legacy Mountain Zip Lines of the Smokies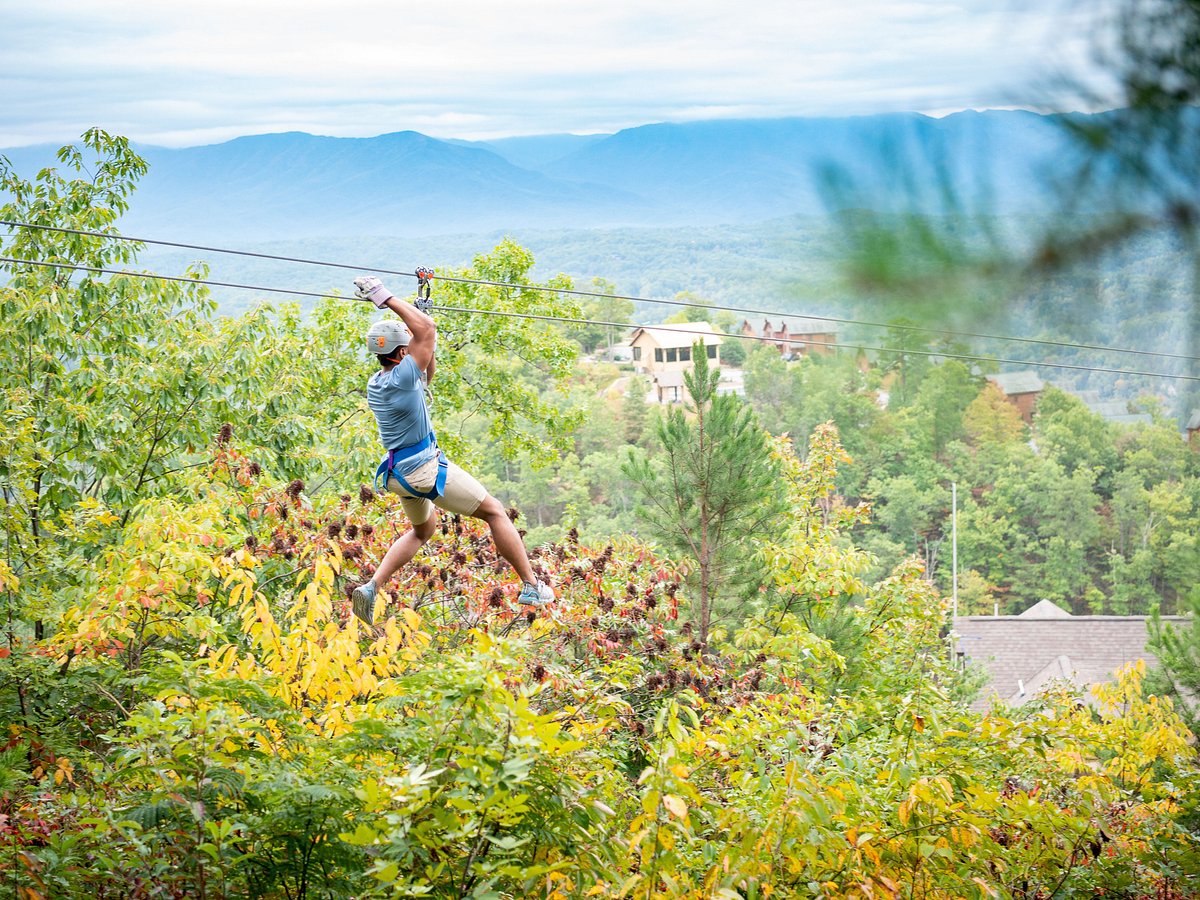 Legacy Mountain Zip Lines of the Smokies contains seven unique zip lines to choose from and will take riders over 500 feet above the ground to see the most stunning and awe-inspiring views of the Smoky Mountains. This zip line will have you and your family traveling at 50 miles per hour between mountaintops and through trees.
Wahoo Ziplines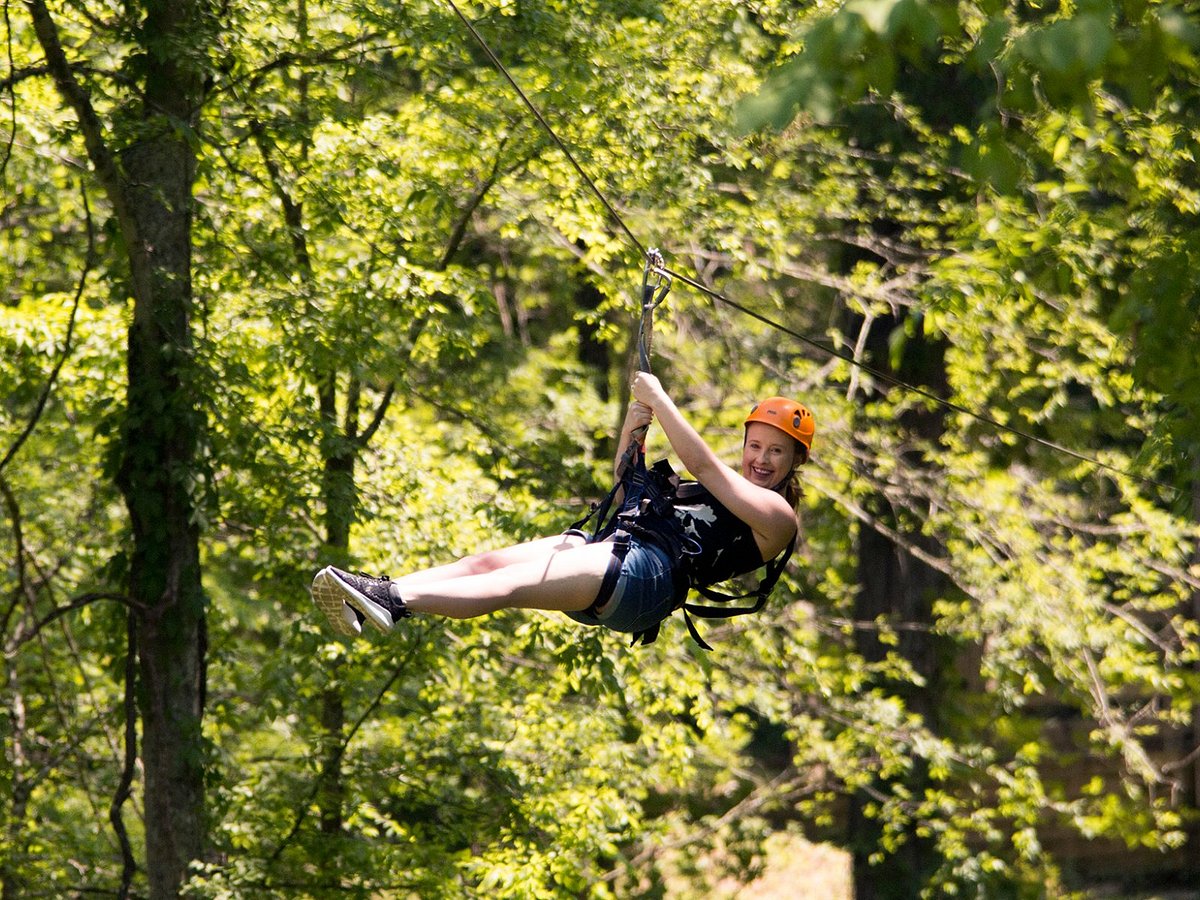 Opened in 2008, Wahoo Ziplines was one of the first zip lines to open in the Smoky Mountains. This zip line contains two miles of braided cable that will take you and your family through beech and oak trees and varying levels of elevation. The sights to be had at Wahoo Ziplines are unforgettable and thrilling for all ages.
Wahoo Ziplines has adventurous courses for children as young as five and contains speed regulators along the zip line to make sure young children do not slow down unexpectedly or speed up too much. Children will also enjoy spinning 360 degrees on these zip lines, which will enable them to have an all-encompassing view of the mountain ranges beyond.
CLIMB Works
Many zip lines do not offer 360 spinning views of the mountain ranges, but CLIMB Works is unlike others. Alongside a 360 view of the mountains, CLIMB WOrks also offers guided tours that are immersive and educational. Located just a few miles from the closest National Park, CLIMB Works is dedicated to offering education and entertainment with their mountaintop tours.
CLIMB Works is dedicated to fostering safety and vows to put the safety of its users above all else. All of the equipment used at this location exceeds the industry standard.
Jayell Ranch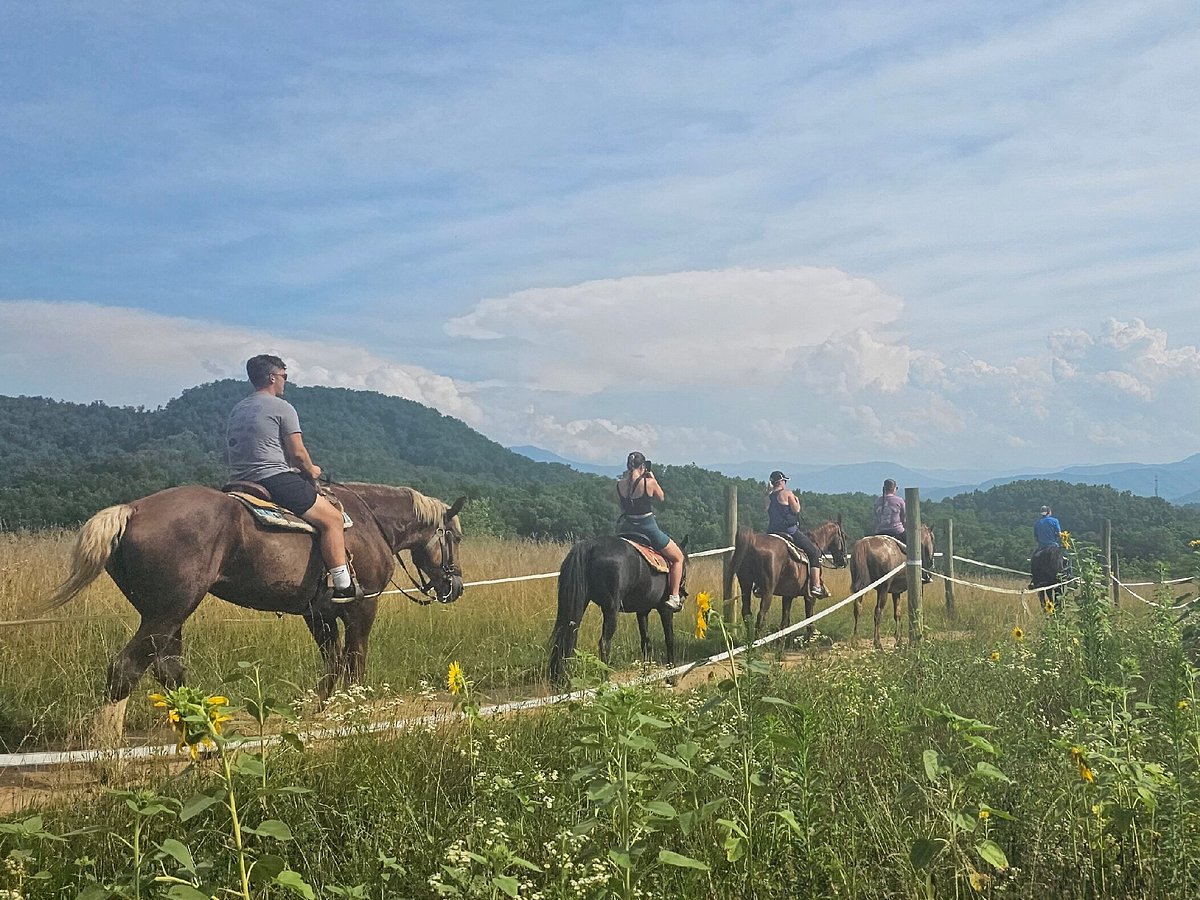 In addition to zip line tours, Jayell Ranch offers horseback riding, ATV rides, extreme mountain slides, and a monkey and exotic bird experience. These adventures will guarantee fun for all family members, regardless of age.
No reservations are required to experience the longest ziplines offered in the Smoky Mountains at Jayell Ranch. Additionally, this zip line course offers two miles of high-flying adventure and six unique zip lines with stunning views.
Safety is a primary concern at Jayell Ranch, and the equipment used is the industry standard. Furthermore, all staff is trained and experienced to handle the safety gear and emergencies as they arise. You and your family can experience a full course for only $69.99.
Final Thoughts
Whether you are looking for a small zipline adventure or a course with more than 15 unique ziplines to traverse, Gatlinburg has everything you need to get a unique and stunning view of the Smoky Mountains and the miles of forest beyond.
Gatlinburg is rife with National Parks and other designated historical locations that you and your family can visit. However, nothing beats getting in the air and seeing the world from above the ground. Although it can be challenging to find the right ziplining company and location for you and your family's needs, one of our top 11 areas can help you get an unforgettable experience.
There are several options for adult ziplines or child-safe courses that can let your little one experience adventure while remaining protected. With safety and precautions at the forefront of attention, these locations can keep you safe, comfortable, and ready for a great adventure that you and your family will never forget.
More about our TFVG Author