They say everything in Texas is huge, and that includes the water parks! But did you know some hotels offer water parks right on their property?
You can stay cool all summer long without even leaving your hotel. Here are some of the best Dallas waterpark hotels in and around the city:
Waterpark Hotels in Dallas
A waterpark hotel can be near a water park or feature an onsite waterpark! Here are three onsite waterpark hotels in the Dallas area.
Hilton Anatole
The Hilton Anatole is a popular 4-star hotel with a waterpark that includes multiple pools and slides.
The park is called JadeWaters and features fun areas for kids and adults. There's a splash area for the young ones, 180-foot slides for the adventure seekers, and a lazy river for those in the family who just want to relax.
A swim-up bar and luxury cabanas will ensure you can stay all day with ease.
The resort itself has three different onsite dining options, a fitness center, a business center, an arcade, and a spa. There are also numerous things to do around the resort, including the Dallas Zoo, the Arts District, and the Dallas Aquarium.
Great Wolf Lodge Grapevine
Great Wolfe Lodge is an exciting, adventure-driven 3-star hotel in Grapevine, a city in the Dallas-Fort Worth metroplex.
Your whole family can have loads of fun at Great Wolf, in part because of its massive 80,000-square-foot waterpark that's all indoors!
The waterpark features a treehouse-inspired water fort, a wave pool, a lazy river, several slides, and tube rides, two hot springs sections, and even a basketball area in the pool!
In addition to the waterpark, Great Wolf offers spacious suites, eight different dining options, and non-waterpark family activities such as MagiQuest, a scavenger hunt exploration through the lodge.
If you don't want to stay at the lodge, you can book a day pass just for the water park.
Gaylord Texan Resort
The Gaylord Texas Resort and Convention Center is another Grapevine hotel providing 4-star, highly-rated, and highly versatile accommodations.
Gaylord is a massive entity, so it's no surprise their waterpark — Paradise Springs Water Park — spans 10 acres. Paradise Springs has a giant playhouse for the small kids, thrilling water slides, a 600-foot lazy river, and a 6000-square-foot lagoon so all families to find a place to hang out and splash around.
This resort also features a spa, fitness center, and an impressive number of dining options — 10 to be exact! You'll have the pick of eating casual sandwiches, juicy steaks, sophisticated Italian fare, elevated bar food, and more.
With so much to do (and eat), you'll never get bored at this resort.
Waterpark Hotels Near Dallas
Not all the best waterpark hotels in the area are in Dallas, but you may also want to consider these options if you're willing to travel outside of the Dallas area.
Here are the best waterpark hotels outside of Dallas:
Holiday Inn Club Vacations Villages Resort – Lake Palestine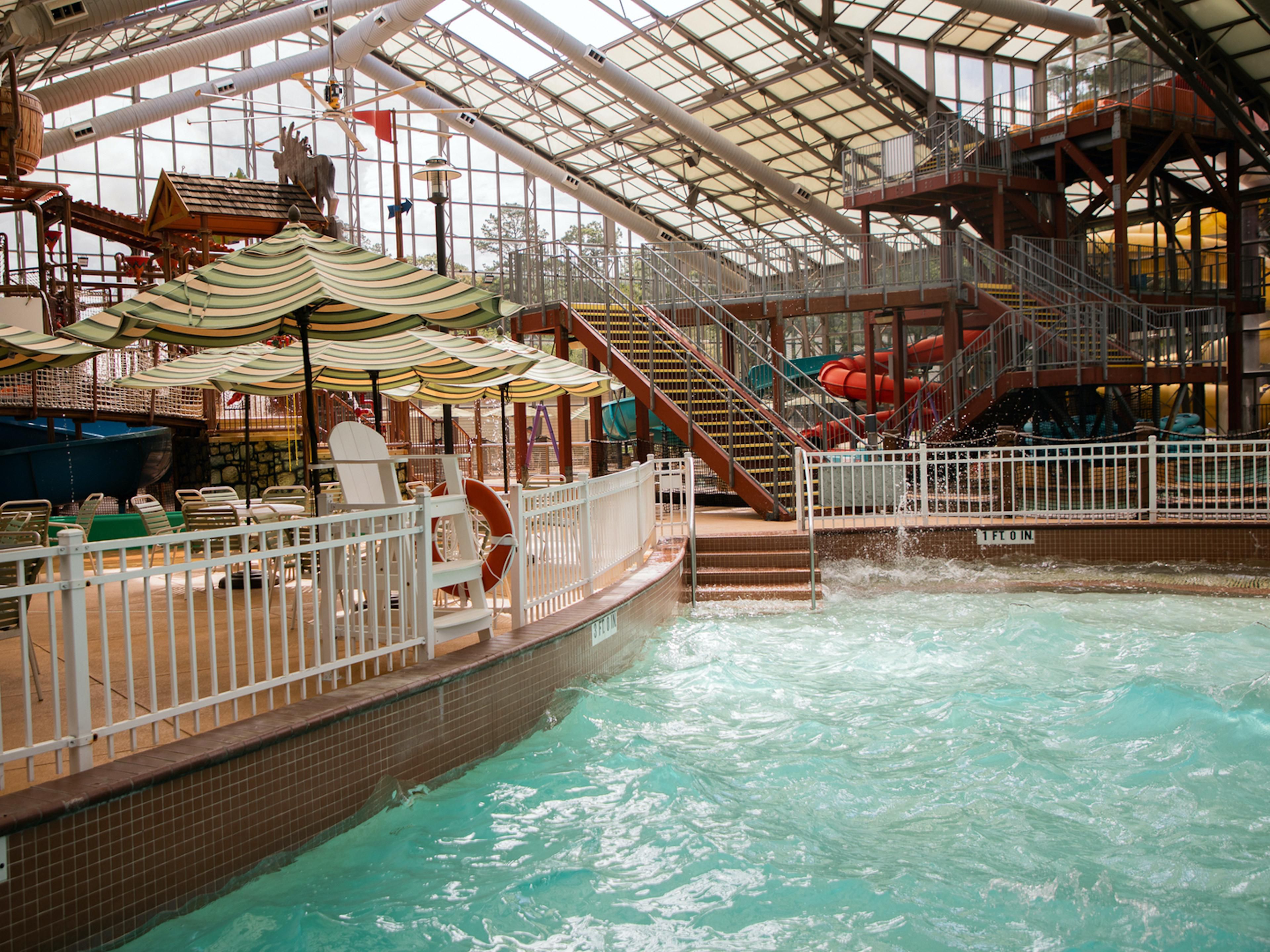 The Holiday Inn Club Vacations Villages Resort on Lake Palestine is in Flint, Texas, under two hours outside of Dallas.
This resort offers plenty of outdoor adventure fun for the family, including horseback riding on the grounds, visiting black-footed penguins at the zoo, walking through the blooms at Tyler Rose Garden, and, of course, playing in the water at the onsite water park.,
Their waterpark has tube slides, body slides, a lazy river, and exciting rope bridges. They also have three additional slides specifically for younger kids.
The Holiday Inn's waterpark at Lake Palestine is also a fantastic location for a group birthday party or other special events, especially for kids. They have special discount pricing for groups and designated rooms for parties and events.
The Woodlands Resort
The Woodlands Resort is a highly-rated 4-star hotel in the Woodlands, an area in the greater Houston area that's around three hours southeast of Dallas.
The Woodlands is an excellent choice for a waterpark resort because their onsite waterpark — called Forest Oasis — has a more relaxing atmosphere than some of the other parks on this list. Even with the more easygoing vibes and massive lazy river, you'll still find a huge water slide and waterfall area that the kids will love.
The resort also features a tennis court, fitness center, business center, two championship golf courses, and three dining options, including room service.
Kalahari Resorts and Conventions
Kalahari Resorts and Conventions is located in Round Rock, about 2.5 hours from Dallas. In 2020 it held the title for the largest indoor water park in the States, and although it's been outranked since then, it's still an impressive 223,000-square-foot space.
The waterpark features several water slides, a zero-entry lazy river, a wave pool, and a kids' pool. But the most exciting aspect of this park to many people is the flow-rider, an attraction where people get to simulate surfing!
Kalahari is all-inclusive, so you won't be surprised to see an array of additional entertainment here, from an arcade to a bowling alley to an escape room! The fun and adventure don't end at Kalahari.
Hyatt Regency Lost Pines Resort and Spa
Hyatt Regency Lost Pines Resort and Spa is a 4-star Cedar Creek resort, 3.5 hours south of Dallas. This resort spans over 400 acres and offers a massive, intricate, and supremely fun waterpark.
The Crooked River Water Park features a 1,000-foot lazy river, a splash pad, kiddie pools, and a winding, two-story water slide.
Something unique about this waterpark resort is that there's an adult-only pool section with special cabanas. This way, you can enjoy the waterpark without worrying about rowdy kids while the rest of your group keeps an eye on them.
This Hyatt also offers many ways to stay active — horseback riding, trail riding, archery, hiking, tennis, bike rental, fishing, and an onsite gym. It's the perfect getaway for active families and groups of friends.
Lakeway Resort and Spa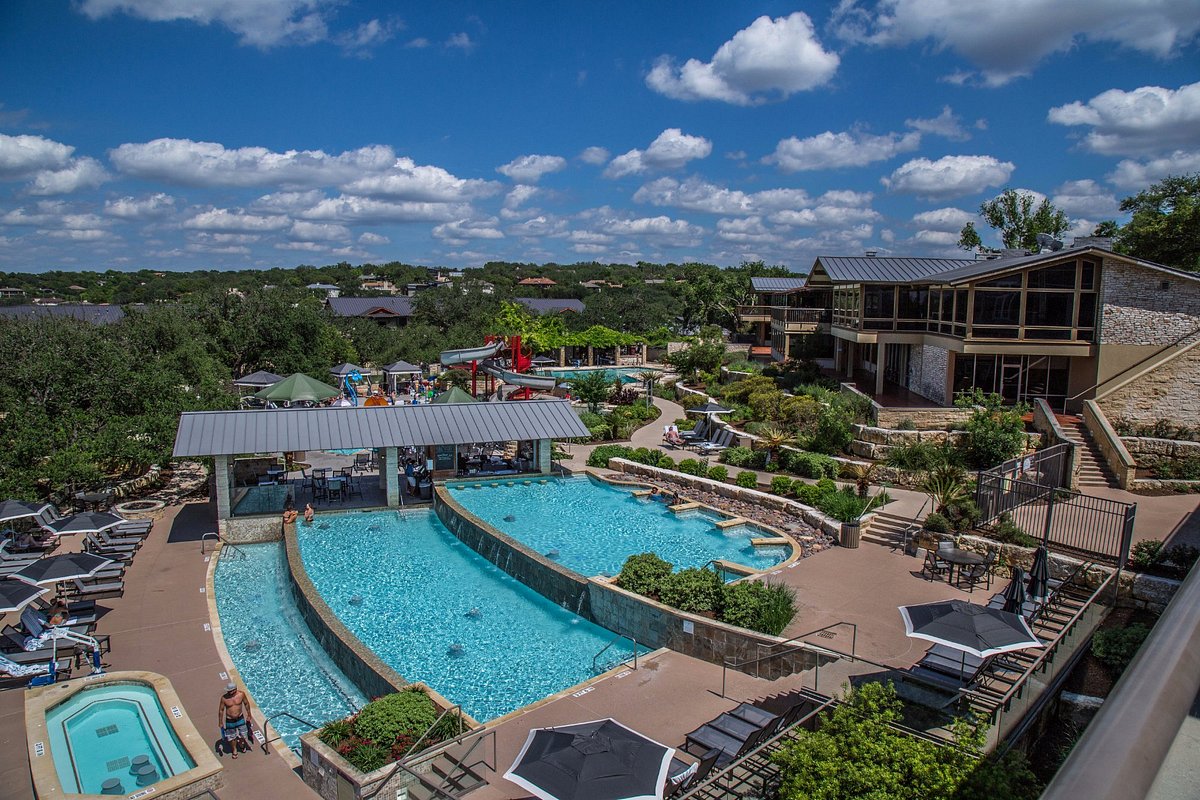 In Lakeway, Texas, around 3 hours southwest of Dallas, you can find Lakeway Resort and Spa, a 4-star hotel right on Lake Travis.
This resort is unique because it has a three-tier pool with a swim-up bar. The resort also features four golf courses, incredible lake views, and a sectioned kids' pool area with a 42″ water slide.
There are several dining options to ensure you can eat wherever you want, in the cozy interiors, the fun, and sunny outdoor pool areas, or right in your room.
Hotels Near Dallas Water Parks
Now that you have some options for onsite water parks in and around Dallas, here are some options for hotels that don't have water parks themselves but are close to some of the best water parks Dallas has to offer.
Four Seasons Resort and Club Dallas at Las Colinas
The Four Seasons Resort and Club is a 4.5-star hotel that's just a 20-minute drive away from Dallas' Six Flags. It's also near the Frog Pond Water Park and Aquatic Center.
The resort itself has three large swimming pools as well as a world-class 18-hole golf course, a fitness center, and art museum tours.
This Four Seasons resort is a great option for families because it has a kids' program offering swimming, arts and crafts, yoga, and dodgeball activities.
This Four Seasons also has five dining options, including an upscale cocktail room and a private dining option.
W Dallas Victory
W Dallas Victory is a lovely 4-star hotel near the JadeWaters water park at the Hilton Anatole.
If you'd rather stay at the W, perhaps due to its sophisticated design, floor-to-ceiling city-view windows, or elegant spa called "Away," but still want access to a fun water park, the W Dallas Victory is a great option.
They have two bars, one with a stunning cityscape and infinity pool view and the other in a cozy, living-room-inspired setting. They also have an onsite French-inspired restaurant that your whole party will love.
In addition to visiting a waterpark, you can set up outings to go hiking, bowling, and shopping. You can also visit the Dallas Aquarium, just steps away from the hotel.
The Ritz Carlton Dallas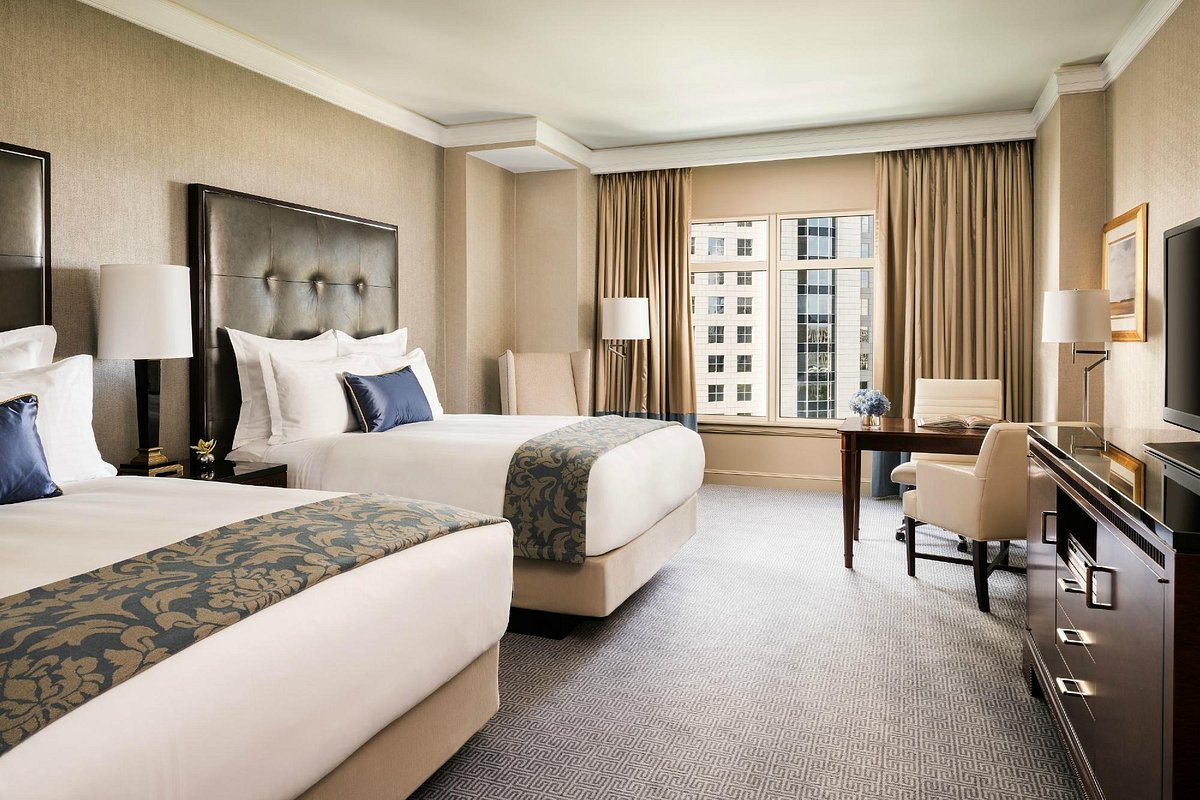 The Ritz Carlton is well known for its luxury, and the Ritz Carlton in Dallas is no different. It's a 5-star hotel that's also near the Hilton's JadeWaters waterpark.
As you might expect, this luxury hotel offers a spa, fitness center, and many opportunities to explore art, sports, and attractions in the surrounding area. They also have an interactive program for kids called Ritz Kids.
The rooms and suites are what make the Ritz stand out. After a day at the waterpark, you're sure to be quite tired. The Ritz provides modern, spacious, and ultra-comfortable rooms so that you can unwind from a day of fun.
Frequently Asked Questions
Here are some questions and answers related to Dallas Waterpark hotels and the Dallas area in general. Hopefully, these answers will help you plan the perfect trip!
What's the best hotel in Dallas with an onsite waterpark?
The best hotel in Dallas with an onsite waterpark would have to be the Great Wolf Lodge. It has several pools, a wave pool, a lazy river, and a water structure for kids.
The Hilton Anatole and the Gaylord Texan Resort are two other fantastic options for hotels in Dallas with onsite waterparks.
What's the best hotel in Dallas with a water park nearby?
If you don't want to stay at a hotel with a waterpark but prefer to simply have access to one, we suggest staying at the Four Seasons Resort and Club Dallas at Las Colinas.
You'll get plenty of options for activities on the grounds of the resort while still being close to the Frog Pond Water Park and other parks. Plus, you'll be 20 minutes away from Six Flags Over Texas, a highly popular attraction for family vacations.
What are things to do in Dallas for families?
There are many great attractions for families in Dallas, including but not limited to the following:
Dallas World Aquarium
LEGOLAND Discovery Center Dallas
Bahama Beach Waterpark
Conclusion
There are many great hotels in Dallas, but the ones we've listed here are some of the best Dallas waterpark hotels.
Whether you want to stay directly in Dallas, have a waterpark directly onsite, or don't mind being in the outer Dallas area for more space and options, there's a Texas waterpark hotel that'll surely be perfect for your family or friends.
More about our TFVG Author