Also known as the Lone Star State, Texas is famous for its hot weather, live music, and smoked barbecues. The state is also home to several world-class cities, parks, and attraction sites.
If you want to explore Texas with your family, it makes sense to stay at a family-friendly resort so that you can enjoy your vacation whether you go out or decide to hang out at the resort.
Without further ado, here are the best family resorts in Texas.
JW Marriott San Antonio Hill Country Resort and Spa, San Antonio
There is no better way to enjoy the warm Texas sun than in a swimming pool. Well, JW Marriot San Antonio not only has a swimming pool, but the resort boasts a 9-acre water park named the River Bluff Water Experience.
Guests at the resort get four entry wristbands per room, which give full access to the water park. The park includes two 275-foot-long tube slides that begin on a 35-foot-high platform and two body slides that plunge from 60 feet in the air, making you reach speeds of up to 20 mph.
Perhaps one of the best features is the 1100-foot lazy river, which takes you around the park and gives the best leisure floating experience while enjoying the Texas weather.
For kids, there is a smaller kiddie pool with three slides and a zero-depth entry point. You can also enjoy some time with your little one(s) building sandcastles at the sand beach pool. There's much more this water park has to offer, so your amily is in for a treat.
The resort is not all about water activities, though. The resort covers 600 acres in total, and a big part of it contains two 18-hole championship golf courses: the Canyons and Oaks golf courses.
You can also play a game of tennis or basketball as a family in the beautiful outdoor courts, then take some time off with your wife at the end of the day to curate your well-being in the spa and fitness facilities.
Hyatt Regency Hill Country Resort and Spa, San Antonio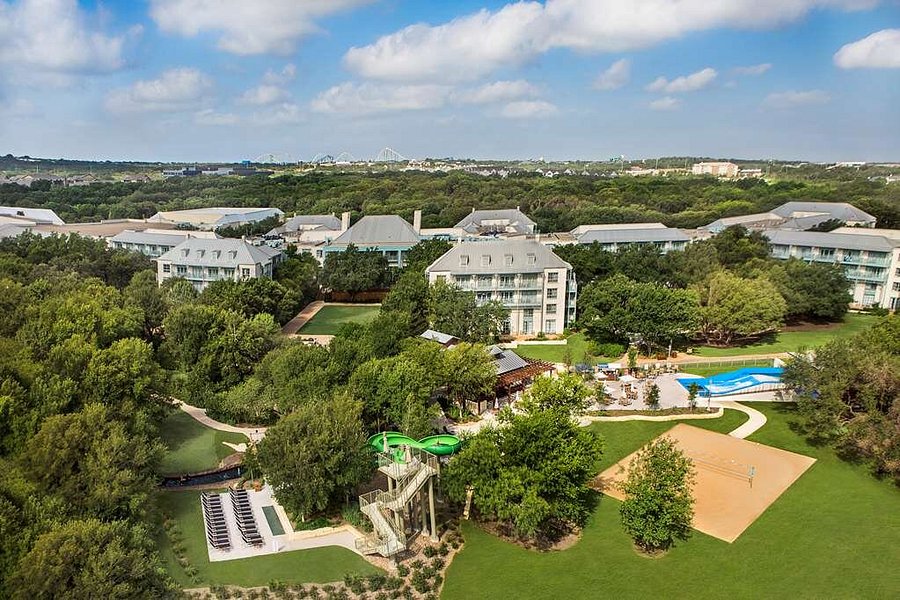 Nestled on 300 acres of ranch land, this secluded resort offers plenty of space for you and your loved ones to play, reconnect, unwind, and relax. You can also bring your dog because the rooms are pet-friendly with dog beds, water bowls, and food.
There are tons of on-site activities to try with your family, such as biking or taking walks on trails around the property. If this is not enough for you, wildlife feedings and guided nature walks will give you the real outdoor experience.
Golf fans are in for a treat because the resort features a 200-acre, 27-hole championship golf course designed by Arthur Hill and Associates. The golf club has training facilities with professional instructors who can train your family as you play while networking with other golfers.
The icing on the cake is a 5-acre heated water park that is open all year round. It has a lazy river that winds around the park, multiple pools, and a FlowRider Wave Machine where you can test your surfing skills.
Although the resort seems isolated, it is close to various theme parks and museums, such as SeaWorld and Aquatica, Six Flags Fiesta Texas, Alamo, DoSeum, and Morgan's Wonderland. All these are within a 24-mile radius, so you can take a day trip to explore San Antonio.
The Woodlands Resort, The Woodlands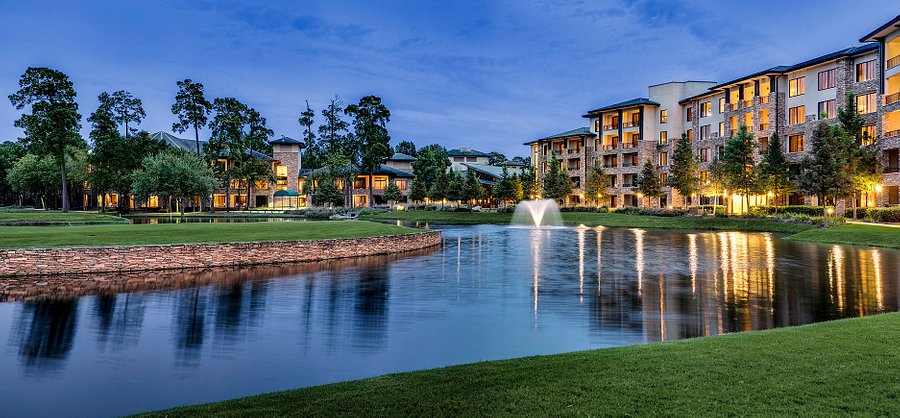 The Woodlands Resort is the perfect home away from home for nature lovers because it is right in the heart of the Texas Piney Woods. Couple this forest setting with delicious cuisines and multiple leisure and business activities, you get a genuine Texas experience.
However, it was not always like this. The resort has a long history, beginning as a 218-room inn in 1973. The founder, American real estate developer, philanthropist, and business developer George Mitchell had a visionary idea of building a property where people could live and work in a natural environment.
The inn was a concept to test his idea, and fast forward to more than four decades later, the vision is a reality.
After multi-million-dollar investments into the resort, it now boasts of having 402 deluxe guest rooms and suites to ensure you and your loved ones live comfortably. Additionally, there is a water park with water slides and a lazy river to help you relax and enjoy the warm Texas weather.
You can host a birthday party for your kids using the birthday party package or let them enjoy video games at Game On, which is open from 9 am to 10 pm.
As for work, the resort has over 75,000 square feet of meeting space in the piney woods, so you can bring your family along when attending a conference or corporate retreat.
Gaylord Texan Resort & Convention Center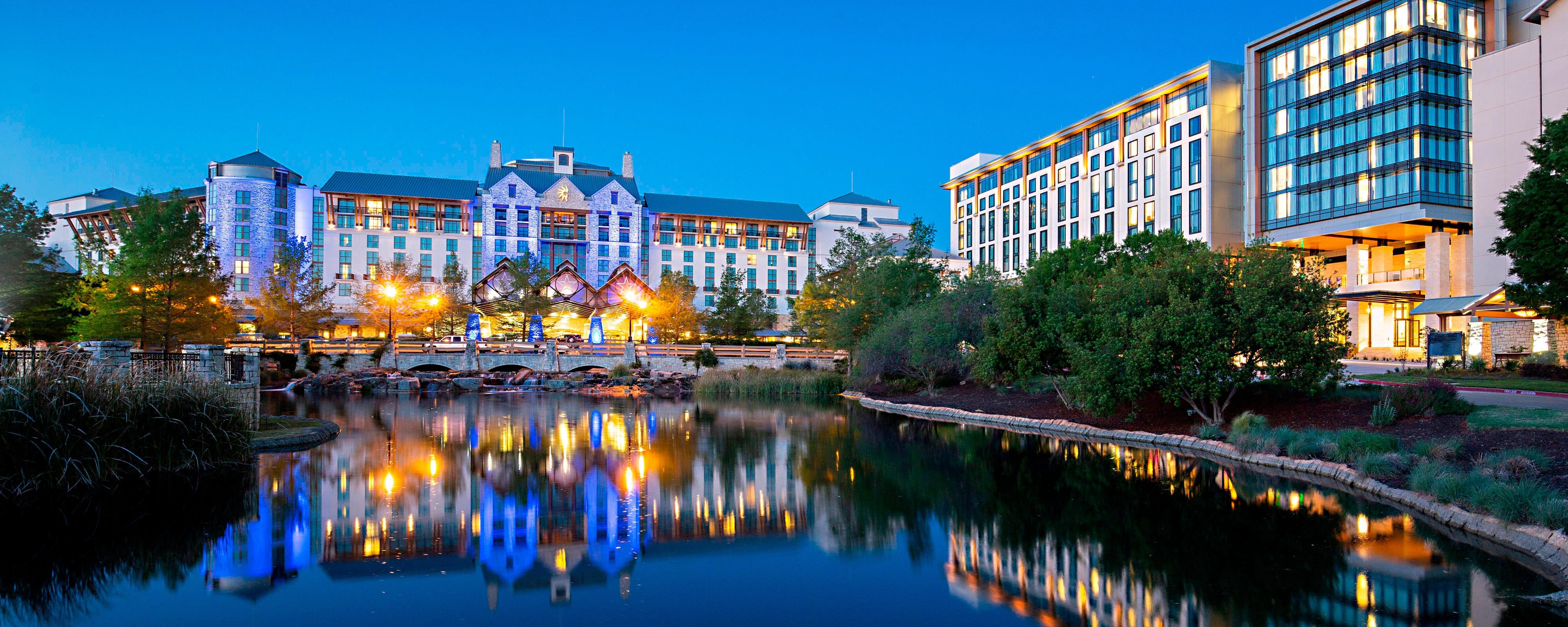 Gaylord Texan Resort takes entertainment and family-friendly activities to the next level with its 10-acre western-themed Paradise Springs Water Park. The outdoor complex features four winding waterslides, a 600-foot-long lazy river, a large water playhouse, and a 6000 square-foot lagoon.
The fun doesn't stop there because there is a themed scavenger hunt, Goblins and Giggles activities with trick-or-treating missions, and Monster Mash Bash party with dancing. Additionally, there is a 4.5-acre climate-controlled indoor garden atrium, which is perfect for those who enjoy green spaces.
As your kids explore these spaces, you and your wife can enjoy soothing treatments at the world-class Relânce Spa, which has saunas, steam rooms, and 14 treatment rooms.
If your stay coincides with the weekend, the Glass Cactus Nightclub will get you dancing to live music as you take in the local cuisine, cocktails, and Texas sunset.
There are extra activities to enjoy off-site, such as golfing at the Cowboys Golf Club, Lake Grapevine watersports, or visiting Legoland Discovery Center.
Great Wolf Lodge Grapevine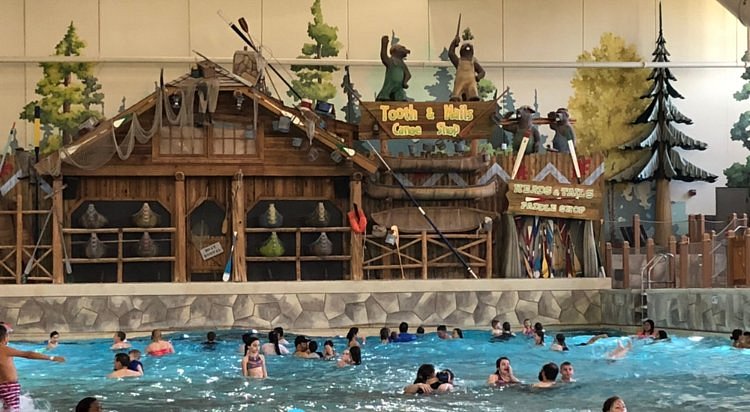 A stay at the Great Wolf Lodge Grapevine includes waterpark passes and free kid's events, so there's no way your family will get bored.
The waterpark here is quite different because it is indoors, but that doesn't mean it is boring. A four-story treehouse named Fort Mackenzie is the highlight section for toddlers as it is full of splash-loaded fun.
For teens, the Alberta Falls tube ride, Slap Tail Pond wave pool, Howlin' Tornado slide, and Chinook Cove are better suited for them because they are faster and more thrilling. You can take some time off from your kids by visiting the North Hot Springs, a secluded area for adults over 21 only.
Kids and teens can try out MagiQuest, a live-action game where they star in the imaginative realm known as Vellara.
All these activities will make you hungry at some point, and the resort has everything you need to indulge your cravings. Six restaurants serve a wide variety of meals, ranging from pizza, pasta, salads, sweet treats, dinner, drinks, and Starbucks coffee.
La Cantera Resort & Spa, San Antonio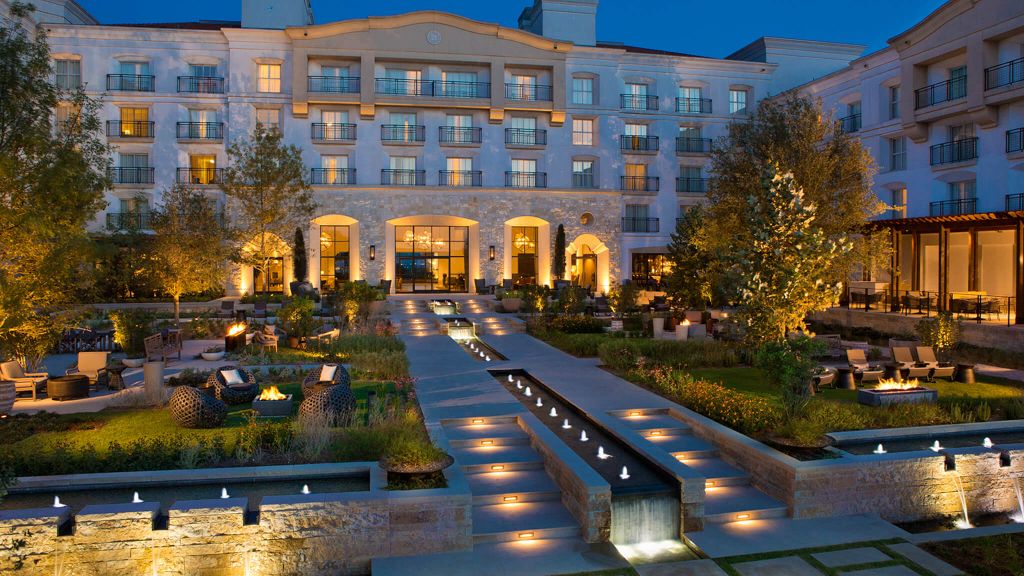 Aside from the pools and water activities, La Cantera Resort & Spa has various kid-and-parent friendly activities that make it perfect for the entire family.
For instance, it has a kid's club (ages 4 – 12) that immerses them in fun activities to sharpen their creativity and imagination. Additionally, a Naturalist Program takes place every Saturday to help the kids track and discover nature around the resort.
If your child is more into arts and crafts, La Cantera holds these activities every Saturday and Sunday to sharpen their skills.
There is also an arcade that is open to all ages. You can head there with your kids to enjoy some classic or modern video games. Wind down the day by roasting marshmallows and eating s'mores while having a family movie night.
Wine lovers will enjoy their stay here because the resort overlooks the Texas Hill Country, home of over 50 unique wineries. You can book a wine tour with your loved one to get a taste of Italian to Rhone-style wines, then head over with the entire family to SeaWorld or Six Flags to enjoy a theme park experience.
Hyatt Regency Lost Pines Resort and Spa, Cedar Creek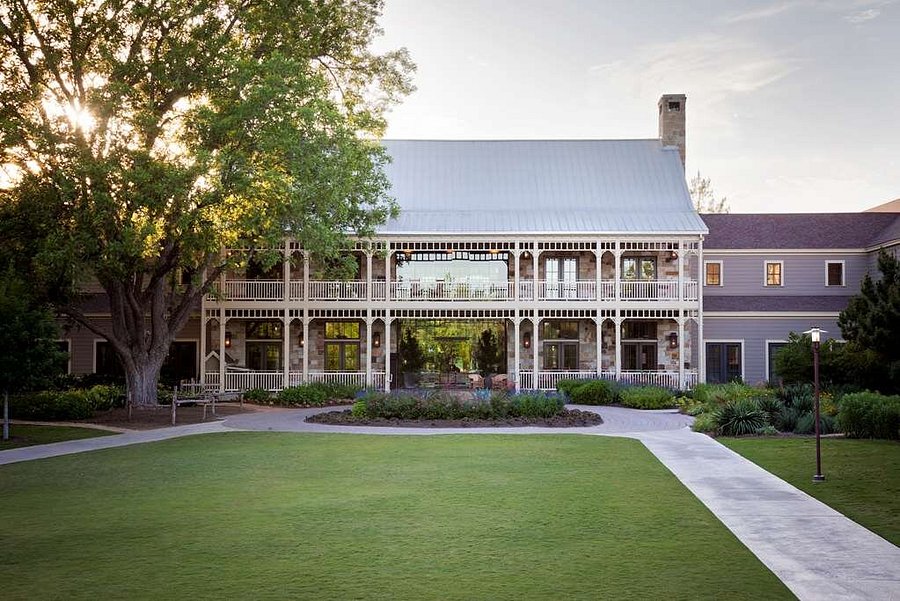 Like the Woodlands Resort, Hyatt Regency Lost Pines is unique in that it gives guests one of the best experiences with nature. The resort sits on 405 acres along the Colorado River, where you can hike, read, relax, or fish along its banks.
However, a better way to explore the outdoors at the resort is to take on the Renegade Trail Ride on a horse. It takes about an hour to journey through the paths under the trees while seeing what nature has to offer.
The property has several mascots, such as alpacas, goats, longhorns, and miniature horses, which will give you and your family timeless memories of the Texas experience.
A 13-acre, 18-hole golf course rounds up the outdoor experience as it offers picturesque landscapes of the hill country.
Back indoors, the resort rooms blend in with the landscape by viewing out to the surrounding rolling hills.
After the day's activities, you can relax with your family while enjoying live Austin music at the Lost Pines under the clear Texas sky.
The San Luis Resort, Galveston Island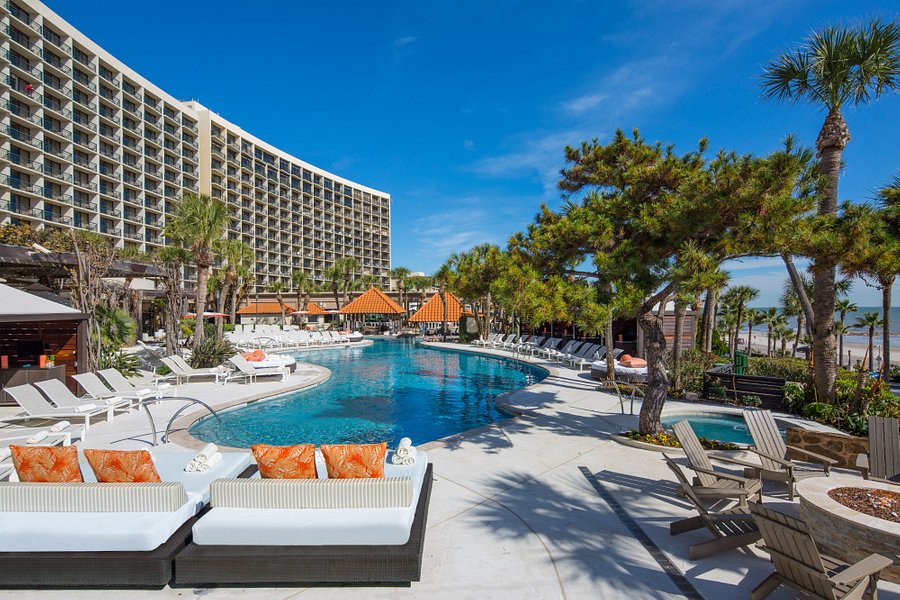 Texas has a 367-mile coastline, and part of this includes Galveston Island. The barrier island consists of more than 30 miles of beautiful beaches, and the perfect place to enjoy all this is at the San Luis Resort.
The beachfront hotel rests on 32-acres and gives breathtaking views of the Gulf of Mexico. If you get tired of the ocean water, take a dip into The Cove pool or relax on the poolside daybeds, sun loungers, or private cabanas.
Since the resort mostly gives the best of the sun, sand, and water, you can explore the island with your family to get a different experience. For example, you can visit the Moody Gardens to see the aquarium pyramid and 10-story glass pyramid rainforest.
There is a country club on the island for golf lovers, harbor tours, carriage rides around town, an opera house, a historical museum and district, a waterpark, and many other attraction sites nearby.
The Westin Stonebriar Hotel & Golf Club, Frisco
Originally an ideal retreat center for business and leisure travelers, The Westin Stonebriar hotel added a family kids club to improve its family friendliness. Combine this with the splash pad and water slide, and you have the perfect playground for kids and teens.
The resort also features a workout fitness studio to make sure you start your day on a high note. It also features a Well & Being spa for relaxing treatments like massages, facials, and steaming after a long day.
Apart from the swimming pool, you can try out some of the games at the Activity Lawn or play tennis. If the kids are big enough, rock climbing is also an option.
However, the most outstanding feature is the beautiful 18-hole championship golf course that has a dramatic backdrop. The Tom Fazio-designed course has multiple water features, artfully integrated bunkers, tall trees and grasses, and gently contoured greens.
You can try a nine or 18-hole game as your family trains on the driving range to play the gentleman's sport. The director of instructions at the course specifically trains young kids through a Junior Golf Program, and your young ones can learn a lot if they take part.
The Resort at Schlitterbahn, New Braunfels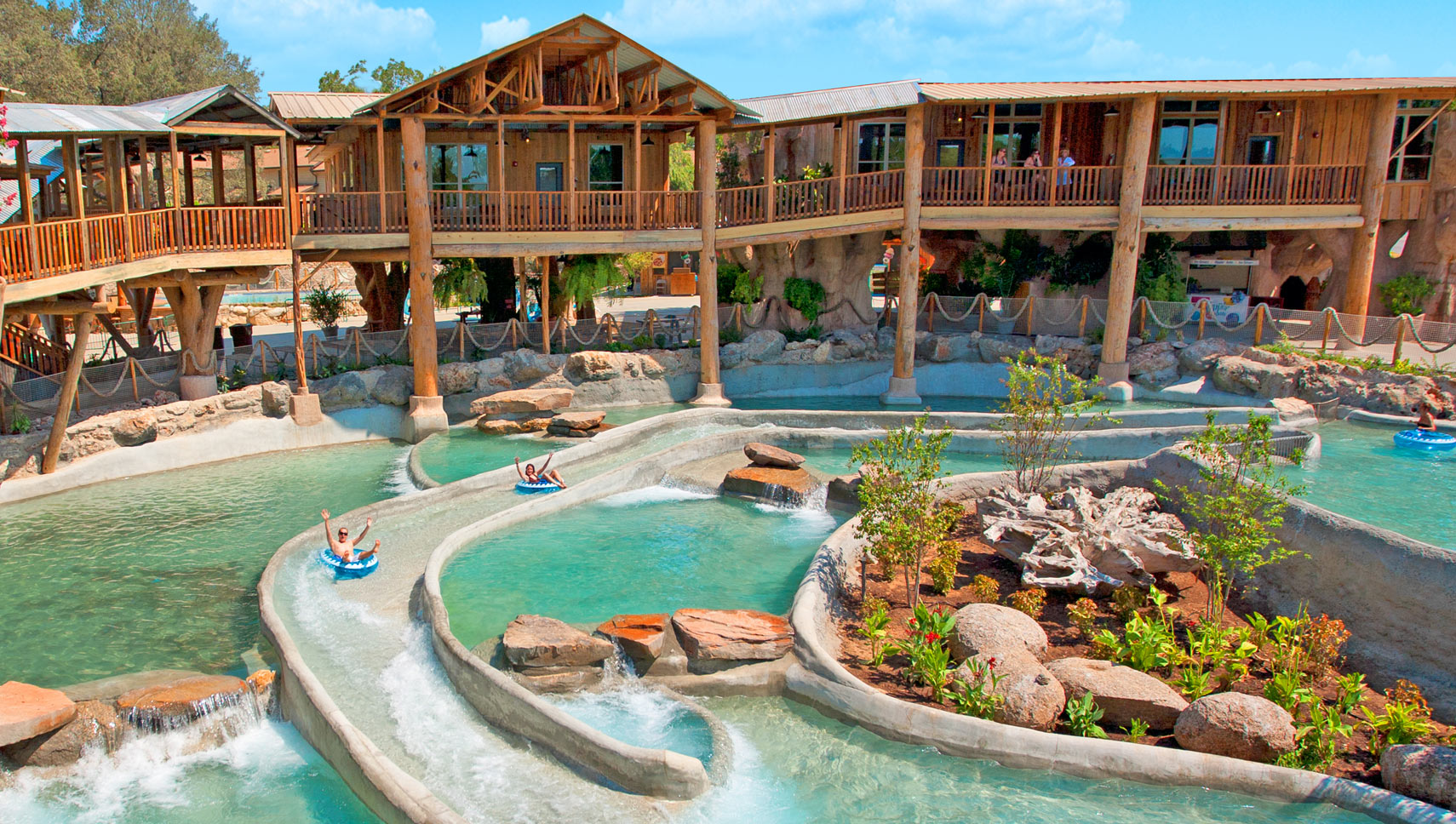 The Resort at Schlitterbahn boasts of a wide range of accommodation options to fit any budget and type of vacation. They include cottages, cozy hotel rooms, condos, lofts, luxury suites, vacation homes, etc. If you have a big family, it is economical to stay in one of the vacation homes.
Once you check in, almost all family activities occur at the water park (there are several rides, chutes, rivers, and slides). Upper river sections run on spring water from the Comal River, making it feel real and natural.
Most of the park playgrounds are open to guests of all ages, so you can bring toddlers with you. However, thrilling sections like the double loop body slides are not suitable for kids. They are scenic because they take you on a journey around trees as you descend from the top.
Everyone is bound to starve after such activities, but you can get almost any type of food at the park.
Fancy a treat? There are a variety of cakes and hand-scooped ice cream shops around. Thirsty? Want a burger or barbecue? All of these are available.
There are over 30 locations to check out, including some with healthy options.
Hilton Galveston Island Resort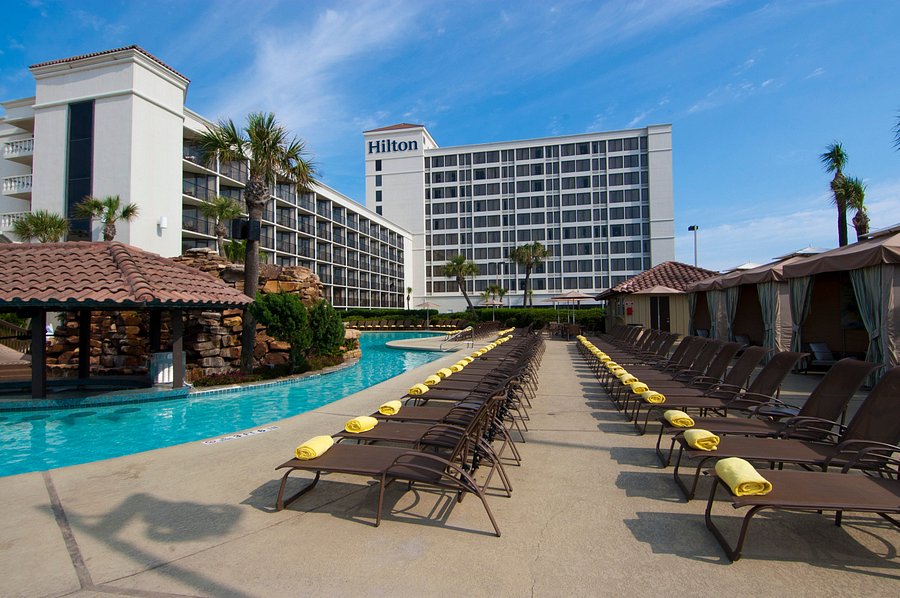 Located along the Gulf of Mexico, this resort is less than half a mile from the sandy beach, Galveston Island Convention Center, and fishing pier. The hotel rests on 35-acres of the Seawall Boulevard and features an outdoor pool with poolside cabanas and a swim-up bar.
If these don't get your family excited, the Pleasure Pier, Grand 1894 Opera House, and Moody Gardens are within a 10-minute drive from the resort.
Food is also a big part of vacations, and this resort has three dining options to help you fill up. First is 24-hour room service, and there is an in-room menu in guest directories. The second is a lounge, which serves up light snacks and exotic tropical drinks. The third option is casual breakfast, lunch, or dinner at the Palm Court.
If you want to mix work and play, the hotel has 13 meeting spaces indoors plus a terrace for outdoor events. Therefore, you can tag your family along during corporate retreats, conferences, and even weddings.
Pelican Bay Resort
The Pelican Bay Resort is quite similar to The Resort at Schlitterbahn due to its wide variety of accommodation options. You have the option of choosing between mini-suites by the pool, New England-style one-bedroom cottages, or a three-bedroom lodge.
The three-bedroom two-and-a-half-bath lodge is particularly ideal for large families as a budget-friendly home away from home.
Nestled under oak trees, a stay at any accommodation option brings you close to nature and closer to a swimming pool and hot tub. If you want to take a dip when it is hot outside, these water features will keep you refreshed and relaxed.
Guests get access to a 450-foot lighted fishing pier with beautiful views of Aransas Bay and a clubhouse /meeting room for catching up at the end of the day.
There is free Wi-Fi all around the property, so you can stay connected to the outside world or stream your favorite shows.
The resort is close to downtown Rockport, so you can leave to explore the shops in town or drive to Blue Wave Beach.
Wrap Up
Texas has it all. From luxurious resorts with premium suites to budget-friendly residences with cottages and lodges, there are several family-friendly vacation options to enjoy with your family. Whichever the case, ensure you stay at a resort with a pool to cool off under the hot Texas sun.
More about our TFVG Author
A seasoned traveller, Dad, and avid sports tourist, James foundered The Family Vacation Guide to share his expert vacation experiences- especially when it comes to being a travelling family man.
Featured in Travel articles such as Travel + Leisure, TripSavvy and SFGate, you know you're reading some of the best vacation tips online.