If you are heading up to Houston as part of a family trip, or have family in Houston that you want to spend time with, then there is nowhere better to grab food than a family-friendly restaurant. However, that also means choosing a restaurant to visit, and not all of them are created equal.
Eating out with family, especially when children are coming too, can seem like a lot to arrange. However, there are some amazing kid-friendly restaurants in Texas, especially Houston, worth vising – you just need to know where to look.
Family Restaurants in Houston
Family restaurants are not just about good food – they are a place to spend time with family, eat with your kids, and generally just have a nice time. Of course, the food also plays a major role, and great food will improve the entire trip if you plan it out properly.
It is always helpful to know where you can find family-friendly restaurants in Houston. You never know when your children may get hungry, or you might want a quick bite to eat, and knowing a few nearby kid-friendly restaurants can help satisfy those hunger cravings in a pinch.
But which kid-friendly restaurants are worth looking into, and how many are there? Here are some of the most notable family-friendly restaurants in the Houston area, as well as some details about what you should expect from them.
1) Crisp
Crisp is a great place for both kids and parents, combining a kid-friendly atmosphere and play area with over 100 wines for the grown-ups to enjoy. You can enjoy stone-fired pizza, along with a menu full of countless interesting meals and sides to enjoy if you are interested in them.
The Crisp's Critters menu includes a variety of all-natural and unprocessed fare, paired with fresh apples, raisins, and other healthy fare to keep your children satisfied. Overall, this is a great place to go, and it can appeal to any kind of child – especially thanks to Crisp's expansive garden.
2) Niko Niko's Greek & American Cafe
This cafe has all of the Greek food that you would expect but combines it all with city-center-style American food that can give locals a taste of home. The whole family can find something they want here, no matter if they are adventurous eaters or just want to stick with the classics. Located in Downtown's Market Square Park, it is easy to reach.
Thanks to the Little Greek menu, children can choose between Greek meals or delve back into familiar pita pizzas and chicken strips. Either way, you can get a 10% discount if you have a Children's Museum ticket stub, so it is a good place to stop if you are heading to the museum anyway.
3) Jimmy Changas
Jimmy Changas offers an excellent Little Jimmy's kids menu that features multiple Tex-Mex options, all of which are adapted to be more palatable to children who might not handle spice that well. Alongside that are multiple options of soft-serve ice cream, as well as other desserts, and a tasty margarita menu for the adults.
All Jimmy Changas locations have their own Jimmy's Jungle play area, meaning that younger children will have plenty of time to exercise and play on their own terms. The fairly central location means that it is also easy to reach the Houston location quickly.
4) Mia's Table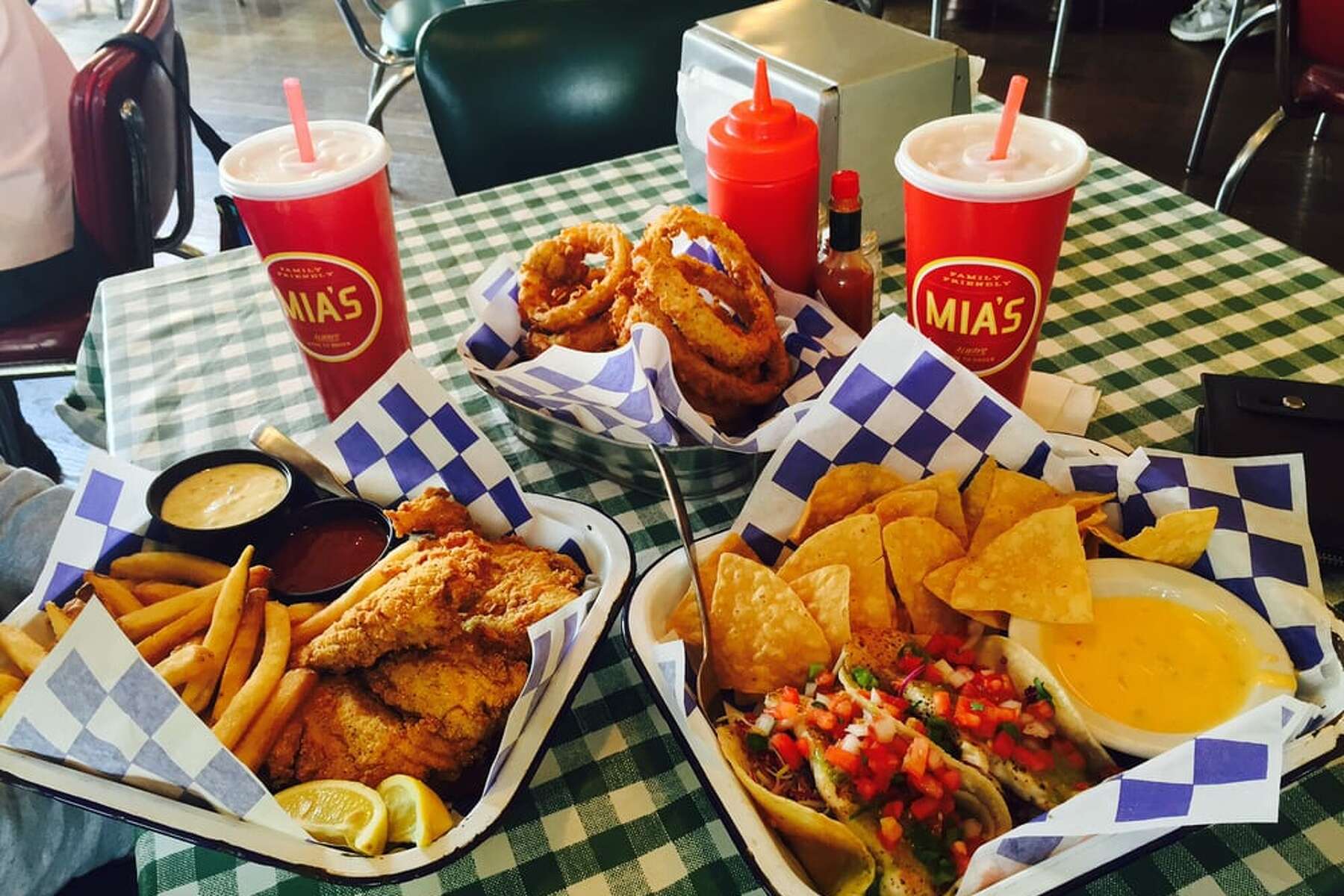 Mia's table aims for a country comfort-style of service, with small patio seating areas and free soft serve to keep everybody cool. The fried chicken is just one of the excellent options that you can get here, and there are plenty of drinks to choose from, including freshly squeezed lemonade.
The old-fashioned setting does not stop it from offering great children's meals, including grilled cheese or hand-dipped corn dogs. If you want somewhere that you can feel cozy, then this is a great option, and it is right near the city center.
5) Natachee's Supper 'n Punch
Natachee's Supper 'n Punch offers up plenty of southern comfort food, from all-day breakfasts to individual snacks. The classic setting and excellent retro-style extend to the tables themselves, with the restaurant even using a retro tin lunch box to serve certain food items.
This all makes for a very classic feel, but kids are just as welcome. Between the call-backs, to years past are trivia cards and coloring books, as well as great food that is suitable for all ages.
6) Luna Pizzeria
Luna Pizzeria offers a massive range of different pizza options, making it a great place to go if you are looking for something that you can rely on. Each table holds a basket full of puzzles and games to keep kids entertained, as well as leading to a more casual family dining experience.
There is not much else to say about Luna Pizzeria – it is a great place to eat, offers some fantastic food, and can fit into nearly any trip. If you want pizza, then it is the place to go, especially near Houston's center.
7) Barnaby's Cafe
Barnaby's Cafe has multiple locations, and the Museum District location is one of the most child-friendly places you can take your kids. Amazing food, toy robots for kids to tinker with, and a great outdoor space that allows for a lot of play activity.
Parents will also enjoy the fact that the restaurant is close to a lot of other major hotspots, making it a prime place to visit if you want to grab some food before exploring. No matter why you are in Houston, you will probably pass the cafe at least once – and you can always stop in to get some kids menu mini corn dogs.
8) Punk's Simple Southern Food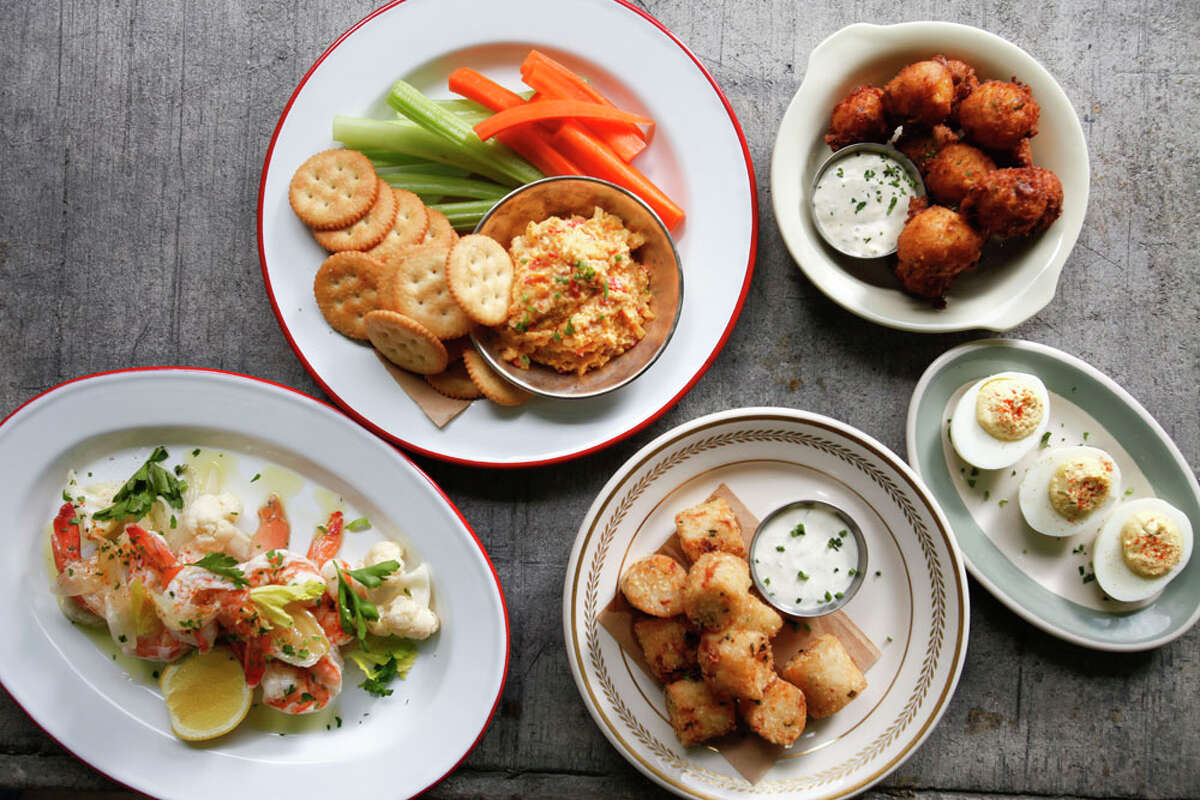 Punk's Simple Southern Food is a very straightforward southern restaurant, offering their famed buttermilk fried chicken to anybody who is interested in trying it. As you would expect, everything here is southern, so you are going to get a lot of excellent meal options – and so will your kids, such as the cracker lunch pail.
The amazing food is backed up by a grassy play area, perfect for kids who want to stay active or parents that need some fresh air. Indoors or outdoors, there is plenty to enjoy here, and the food only gets better every time you visit.
9) Christian's Tailgate
Christian's Tailgate is the perfect place to grab something to drink while still bringing your children along on the trip. A great kids menu and an outdoor enclosed playground allow them to stay well-fed and active while you enjoy a drink of your own, and the food there is perfect for any age range.
The West U location in Houston is a great choice, and it is somewhere that you can enjoy eating at throughout all four seasons. Thanks to the fairly extensive menu, it can also cater to a lot of tastes, so you will not struggle to find something that you will want to eat.
10) Little Matt's
Little Matt is both kid-friendly and fun-focused, offering a huge amount of entertainment for the whole family – but especially the kids. iPad stations, candy counters, photo booth options, and even a full arcade ensures that kids are always enjoying themselves, no matter their age.
Adults can get some great food and even greater drinks while they are there, either letting the children have fun on their own or joining in the fun. Either way, there is some great food on offer, and no child can complain about how entertaining their time here will be.
11) The Original Ninfa's
The Original Ninfa's manages to stand out way more than most other kid-friendly restaurants in Houston, offering a combination of great Mexican food, a lot of space, and some great drink options. The delicious food is only a small part of the appeal, though, because it is a restaurant with a very home-like feel.
If you are at the Original Ninfa's, then you are going to see a lot of appealing decorations and people taking in the atmosphere. Whether you just care about the food or want to enjoy every second of your time there, you will not be disappointed.
12) Jenni's Noodle House
Jenni's Noodle House offers a very Vietnamese fare, with a lot of noodles and curries to enjoy. The meals here are far better than those you might find in street food trucks, but just as filling, making this a great one-stop-shop for all of your noodle needs.
As you would expect, there are a lot of options for kid-friendly food here, especially since noodles are generally easy to eat anyway. There is not a kids' menu, but there does not need to be one.
13) No Label Brewing Co.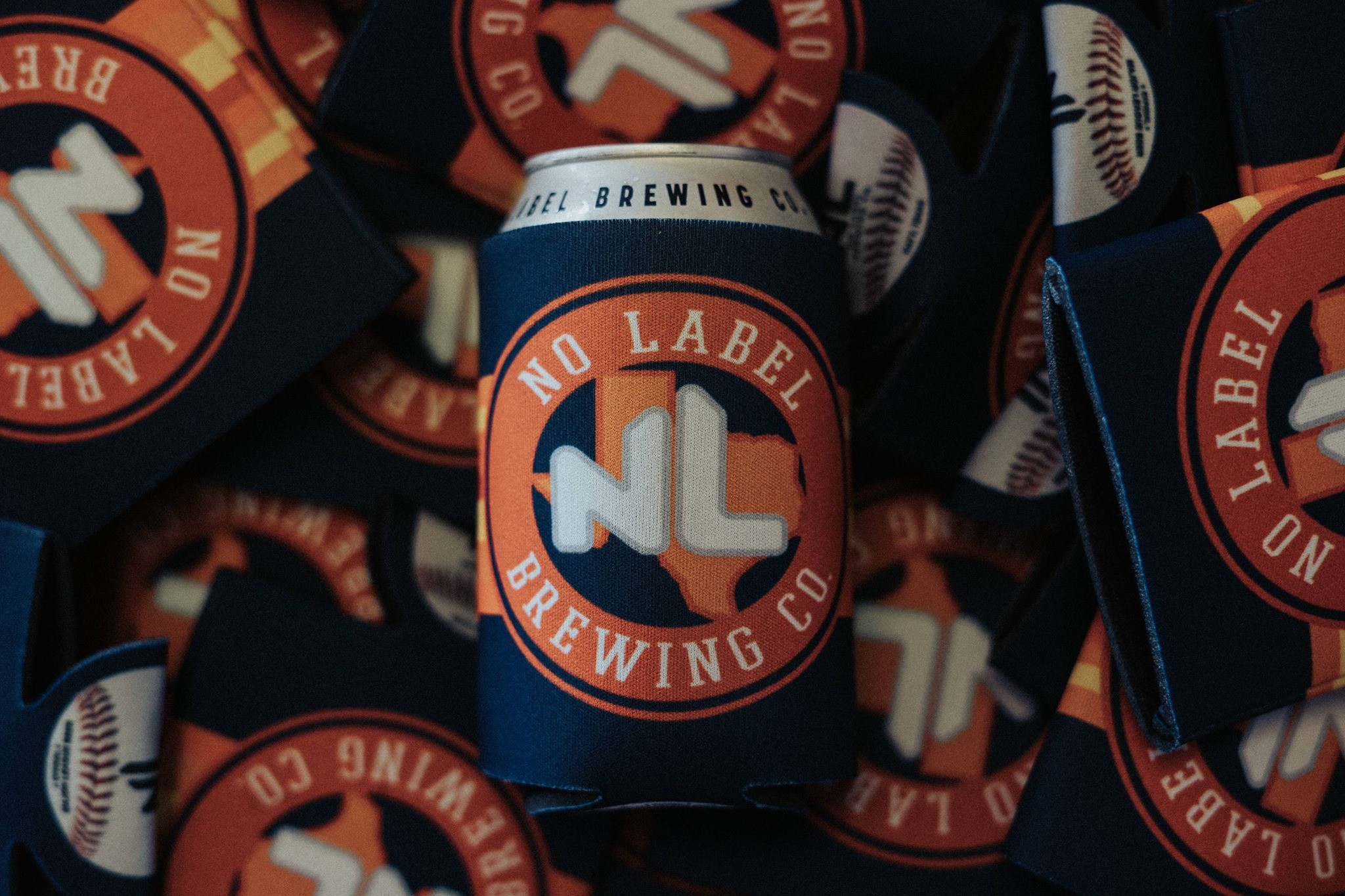 With Katy craft beer on tap and an outdoor dining area handled through picnic tables, this can be a great place for adults to grab a drink and relax after a hard night managing the kids. However, the kids are also welcome here – and they can get plenty to eat.
Food vendors provide a lot of excellent treats, and the outdoor space makes it ideal for summer dining. The two separate indoor and outdoor picnic areas mean that you and your kids can still get a bite to eat during bad weather, though, so consider stopping by if you are hungry.
14) Hubcap Grill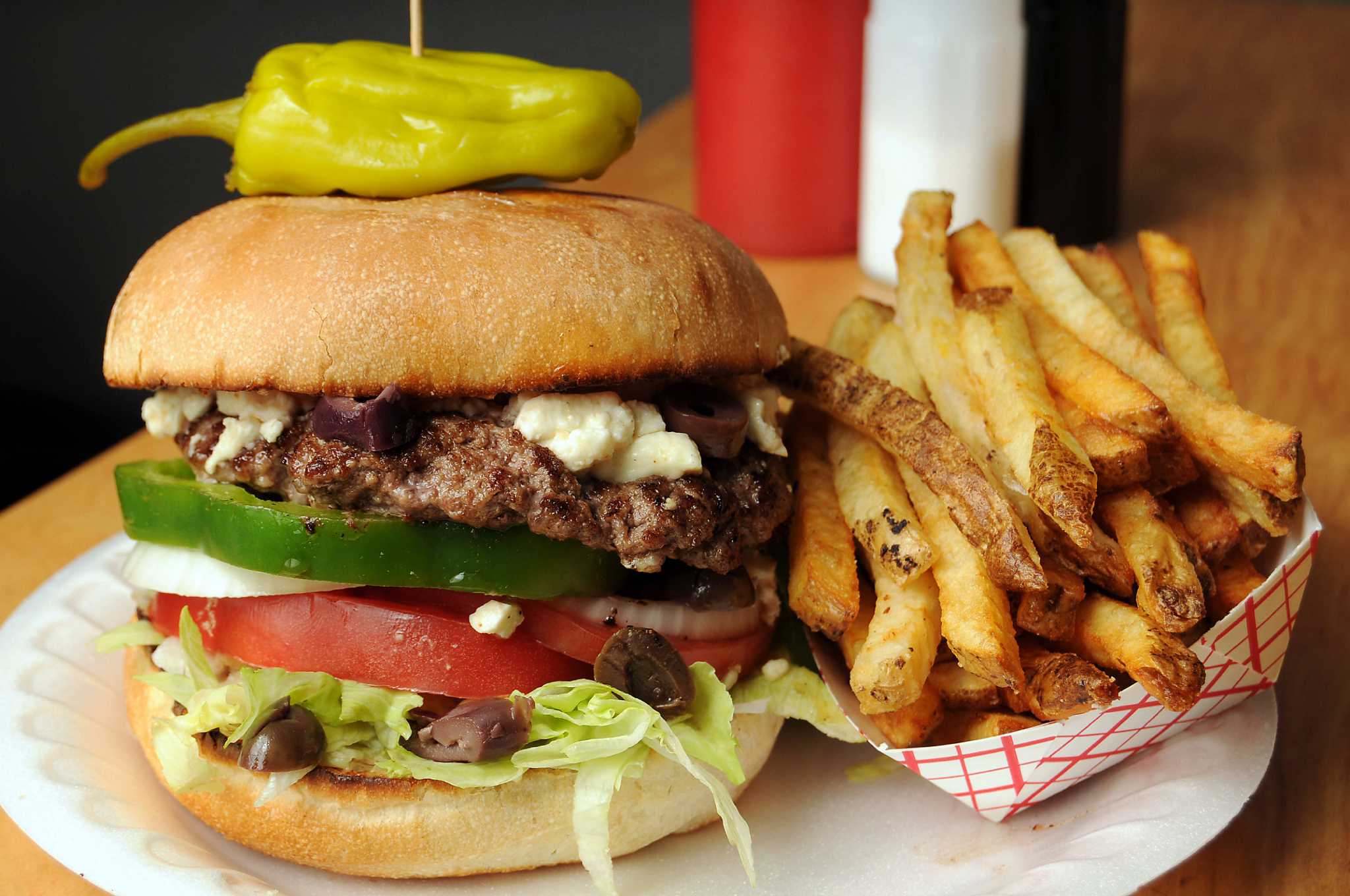 Hubcap Grill's Heights location is a laid-back restaurant with a window-serve system, meaning that you can get over sized burgers delivered right into your hands. The great patio seating functions as both an outdoor eating area and a place for kids to roam, with a jukebox, included to keep the music flowing.
The outdoor patio might be just one patio area, but it is a huge one, and the quality of the food is more than just your average burger joint. If you are hungry for a thick burger, then this can be the ideal place to stop in the Houston area.
15) Bellagreen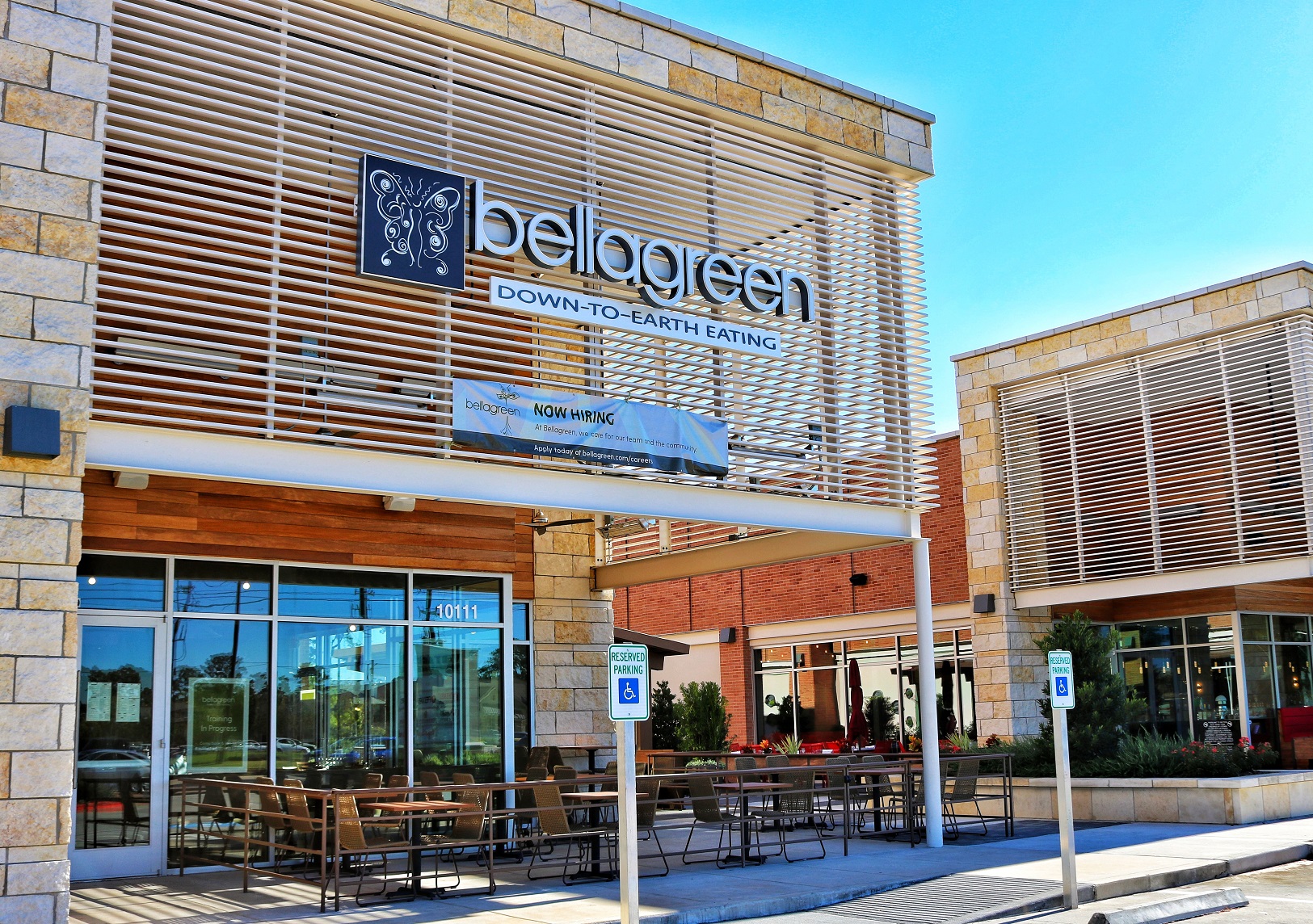 Bellagreen is a health-focused location that offers a huge range of vegetarian, vegan, and gluten-free items that anybody can enjoy. Not only is there a lot of delicious yet healthy food here, but it also has plenty of green space and outdoor seating, even if it is just the side patio.
This green space is a rarity among certain Houston businesses, and having so much gives kids a lot of space to play and exercise. Among kid-friendly businesses, this is definitely one of the better ones, especially if you are concerned about your children's health.
16) Molina's Cantina
Molina's Cantina provides plenty of interesting Mexican food to its customers, serving some of the best Tex-Mex you can find in all of Houston. Children are welcome, and rather than a kids menu, this Mexican restaurant focuses on offering up enough meals to satisfy any customer.
This makes Molina's Cantina a fairly unique experience, but somewhere that you will want to try eating at least once, especially if you are sick of hot dogs and other conventional American foods. Going here gets you some of the best Mexican food you can find in the area.
17) Live Oak Grill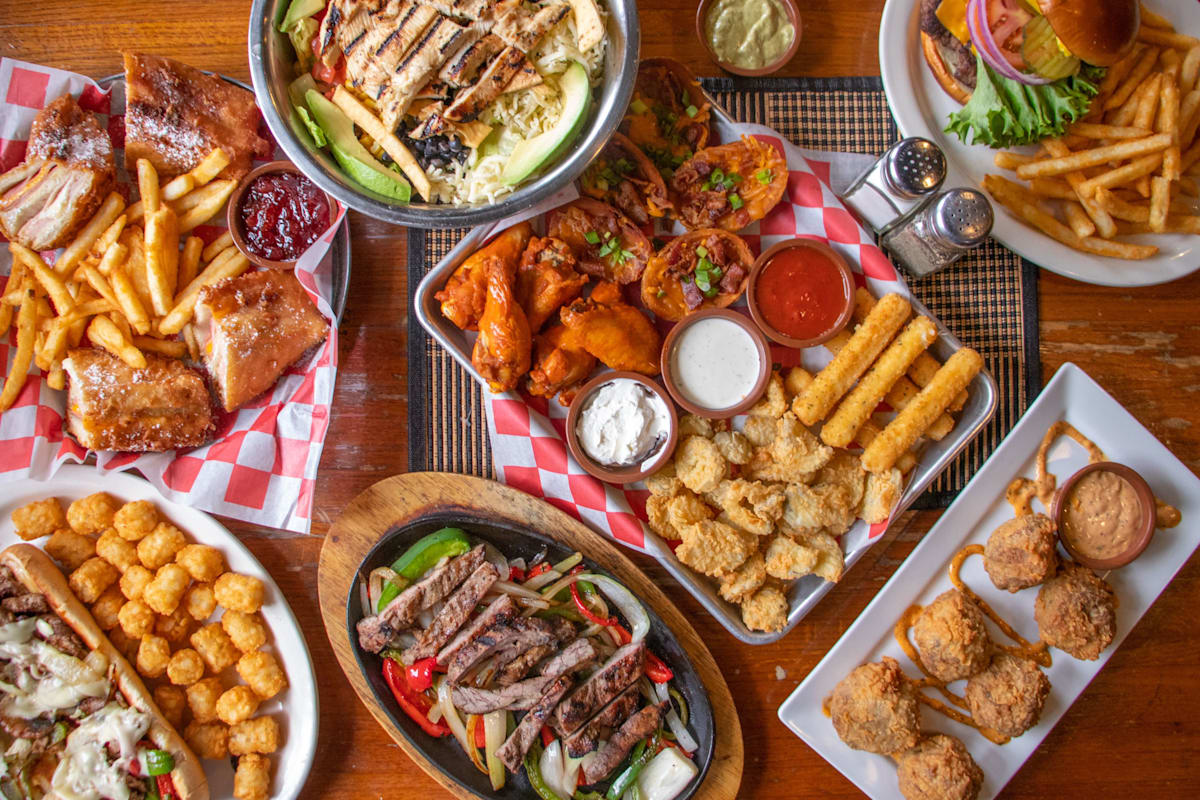 This club-like hangout offers both food and dancing, with two distinct outdoor patios to allow for plenty of extra space. Play equipment can help keep your children entertained before their food arrives, and there is an extensive kids menu that can offer them a lot of excellent choices – from chicken fingers to mac and cheese.
Parents will also enjoy their time at Live Oak Grill, making it a great family-friendly option for people who want something more without going out of their comfort zone. It has also got some extremely good food, no matter what you are in the mood for.
18) Karbach Brewing Co.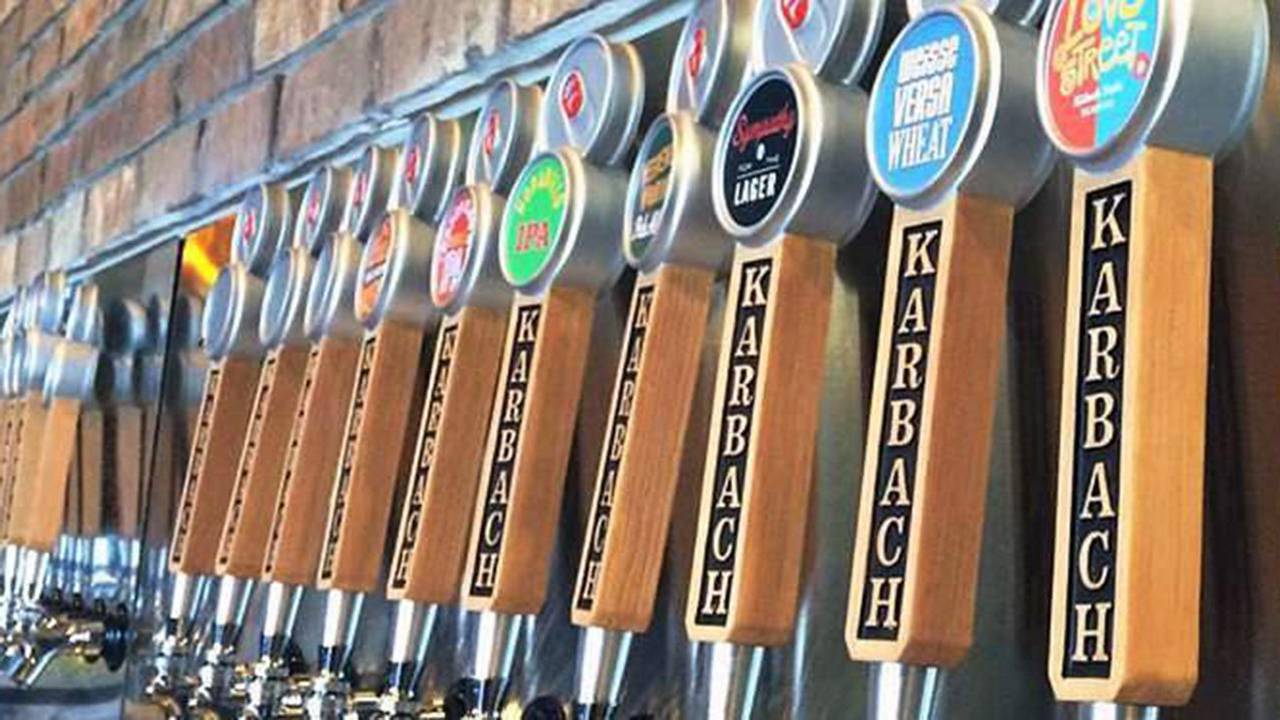 Karbach Brewing Co. is able to boast amazing craft beer, as well as a dynamic and high-quality set of food that pairs almost perfectly with all of the craft beer options they have available. Not only are the meals excellent, but parents can have as much (or as little) alcohol as they need to wind down the afternoon.
The exterior has its own patio area that is perfect for letting kids play safely, either before or after they eat. While not everything here is kid-friendly, it is easy to tell which things contain alcohol and which do not.
Finding the Best Kid-Friendly Restaurants in Houston
Tracking down the best kid-friendly restaurants in the area might sound easy, but there is a lot to consider before you track down the exact place that you want to eat at. Choosing your own restaurant for the whole family can be tough, and sometimes even become a major problem.
It is not just about whether the location accommodates families – although that definitely matters – but also about how family-friendly it would be for your family. Preferences matter when you are looking for a restaurant that you and your kids can enjoy.
The Food
Food is obviously a major part of where you should eat, but it plays a major role in the one that you pick. Some people will be happy to get a grilled cheese sandwich for lunch, but for many families, eating at a restaurant should mean world-class cuisine.
Preferences such as Mexican restaurant food also become relevant, since not everybody likes the same kind of food. A kid's menu at a Mexican restaurant is usually still going to be mostly focused on Mexican food, which they might not have any interest in eating.
Smaller details, like the sizes of burgers at a burger joint or the cream cheese flavors that a certain restaurant offers, are not as important to pin down. However, they also usually are not that important unless some of your children are very picky eaters.
The Deals
Keep an eye out for any deals on food, whether that is kids-eat-free deals at certain times of the day or more specific things like free ice cream with certain types of meal. If you are on a budget, then this can be a good way to avoid paying quite as much for something you wanted anyway.
Discounts are never a bad thing, and family-friendly restaurants often have them available as a way of competing with other restaurants in the same area. If you can find a deal that perfectly matches your child's food preferences, then you are having a major stroke of good luck.
Remember that these free ice cream deals may be attached to more expensive purchases, so you might want to think carefully about what you do. Spending more than you were planning just to earn a small bonus ice cream can be a major drain on your budget.
The Family-Friendly Restaurant Atmosphere
The style and atmosphere of a restaurant can completely change how it feels to eat there. The best kid-friendly restaurants are the ones that your kids feel comfortable eating at and that you feel comfortable vising with your kids.
Always make sure that you are going to a restaurant that you feel happy with, and do not force yourself to go anywhere that you might not completely trust. The safer you feel with your kids there, the better the experience will be since you are not constantly looking over your shoulder.
This includes things like the general tone of the place, how it looks, and even the kind of music or noise playing there. If your kids are easily overwhelmed, then choose a quieter place – and always make sure that you will be able to keep an en eye on them.
The Seating Arrangements
Do you prefer indoor or outdoor seating? Some people have a solid preference for one or the other depending on their meal, while others may prefer to use whatever fits the weather best, regardless of what they are eating. Of course, not all restaurants have both, either.
Indoor seating is more common than outdoor seating. Sometimes a side patio functions as an outdoor space, but there may still be fewer tables than indoors. The one you choose depends on availability since some restaurant hotspots have a lot of popular outdoor playgrounds and exposed spaces.
Remember that your children matter here, too. Even if they want to sit outside, it may be too risky since younger children can tend to wander off and might get lost if they stray too far. On the other hand, some may need the room to run around and play without disturbing other diners.
The Location
If you are trying to get to a restaurant, then you want to be sure that you can actually reach it in a reasonable amount of time. Many people who are not familiar with Houston will make assumptions that take them to the wrong place or send them in the wrong direction.
For example, knowing the limits of what is considered to be Downtown Houston can be important since it might help you figure out where you are and where certain restaurants are located. Even with a map, it can take some time to double-check directions and distances.
It is a good idea to look for pictures of the location's exterior, too. A famed green space or distinct sign makes it easier to locate a certain restaurant if you are constantly on the move and stops you from having to double back or make awkward detours to check the same street twice.
What Next?
There is no perfect way to choose an ideal restaurant for you and your family, but you can always try to choose a few that fit your needs and preferences the most. Dining out should be a fun and enjoyable experience, and that means that you will want to spend time and effort preparing for it.
Family-friendly restaurants are the best place to take your kids since it ensures that both you and them can get the food that you will want in a safe, child-appropriate environment. If you're looking for somewhere to stay while you're visiting, we've rounded up the best family hotels in Houston that are worth staying in.
More about our TFVG Author
Karly is a The Family Vacation Guide guest travel contributor.