When it comes to finding a great place for the family to stay in South Texas, then Houston, we have a problem. The problem is that there are so many options to choose from you may have a difficult decision picking one.
With that in mind, read our list of the 15 best family hotels in Houston, Texas. You'll find some in every budget range with a wide variety of amenities for young children, teens, and adults. They are also spread throughout the city. So, if you're visiting Houston for a specific purpose, you can find one close to your destination, family, or attraction.
Before you enjoy a family trip to Houston, however, try looking through this list first. It will steer you in the right direction toward a fun-filled stay in one of America's great cities.
The Lancaster
The old-world charm of the Lancaster is a sophisticated favorite of families who come to experience the finer side of Houston hospitality. It's the only hotel situated in the city's Theater District, so plays, musicals, symphonies, and operas are only steps away.
It's also a quick walk to Minute Maid Park, where the Astros play. The Lancaster offers game-day treats for its baseball-loving families, as well as a comfy night's sleep after the game and fireworks are over.
Parents can enjoy a private walking tour of the hotel's Contemporary Art Collection, boasting more than 200 pieces from Texas-based artists. Meanwhile, kids will love the big-screen TVs in each room with streaming and gaming options.
And when the family wakes up refreshed, there's an in-room Nespresso machine for that early morning cup of coffee and a gourmet breakfast buffet awaiting in the dining room.
Then, work off the calories in The Lancaster's cardio fitness room, where Peloton bikes and the intense video sessions that come with them are waiting for you.
Four Seasons Hotel Houston 
Normally known as a business hotel, the Four Seasons has recently renovated its guest rooms and created some of the best family-friendly hotel amenities. For example, families can stay in a cabana room with a private patio to the hotel's rooftop pool. Parents may relax on the outdoor sofas and chaises while the kids splash around.
Have a budding golfer in the family? The Four Seasons sports the first Topgolf Swing Suite, where groups of up to six can watch each other tee off on a virtual fairway with food and beverages – no cart needed.
Parents, don't forget to try some bourbon in the hotel's lobby bar. Or ask for the Four Season's signature drink mixed with blended scotch, vermouth, and apricot brandy. When it arrives at your table, they will finish it with some tea smoke.
And when it's time to relax, call down to the lobby and ask the hotel's concierge to bring your family some popcorn and sodas to watch a late-night movie.
Comfort Suites Northwest Houston at Beltway 8
If your family has a long travel day to get to Houston, try this all-suite hotel near George Bush International Airport. Get there quick and let everyone unwind on the comfy beds or in the outdoor pool.
Buy your tickets ahead of time because the Comfort Suites Northwest is perfectly situated near all the professional sports teams in Houston: NRG Stadium (Texans), Minute Maid Park (Astros), and Toyota Center (Rockets). It's also just a mile from watching thoroughbreds run at Sam Houston Race Park.
In addition to free in-room microwaves, refrigerators, flat-screen TVs, and WiFi, this hotel offers an electric vehicle charging station for eco-conscious travelers. There's also onsite laundry, so if the kids get a little dirty, you can clean their clothes in no time.
If you and your family enjoy a slow morning and don't want to run out to get breakfast in the city, the hotel offers a completely free breakfast for guests. Whether you need to catch up on a few business calls or stick to your exercise regime, this hotel offers amenities for the whole family, with a business center and fitness center right on site.
InterContinental Houston – Medical Center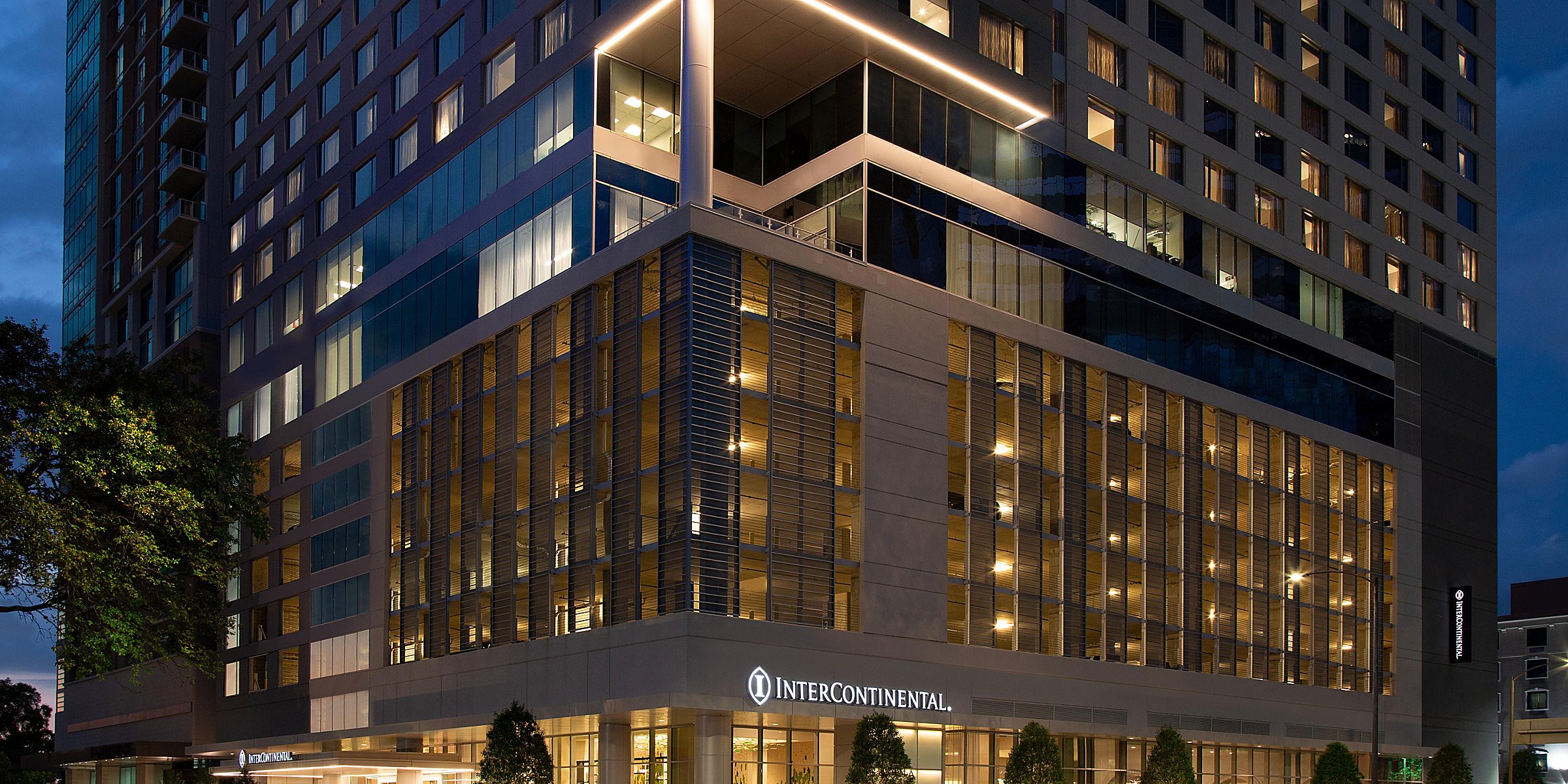 This hotel is amidst Houston's world-class and world-renowned Texas Medical Center district. Here, more than a dozen top-flight research centers are working day and night on various cutting-edge treatments and cures. More than 160,000 visitors come each day to learn more about these advances in medical science.
If your family is in Houston seeking treatment, this is one of the best hotels Houston has to offer because it provides a special medical rate.
The InterContinental is also just a few steps away from METRORail, Houston's public transit line that connects the medical district to downtown, the theater district, shopping malls, professional sports venues, and other attractions.
Does your family love animals? If so, the InterContinental is the place to stay. They offer a special package for animal lovers that comes with a luxurious room, up to four tickets to the Houston Zoo, and two stuffed animals to cuddle.
Hotel ZaZa Memorial City
Here's an offer you can't refuse. Book a night or three in the Godfather, one of eight individually themed suites your family can use as its base of operations to enjoy an indulgent stay. Other suites include Asian Beauty, Black Gold, French Connection, and Passage to India. Expect bold color palettes and textures to accent any of these thematically designed rooms.
You'll have great views of Bayou City, especially the Memorial neighborhood. This urban oasis is where midcentury homes and office buildings meld with the 12-mile-long Terry Hershey Park and the Edith Moore Nature Sanctuary. Parents might want to bring their binoculars for birdwatching while the kids enjoy touring a historic log cabin along the trail.
Back at Zaza Memorial City, parents should opt for the Perfectly Pampered special, which comes with a $200 spa credit. Do we hear a couple's message?
Plus, kids can have fun at The Beach Club, the hotel's rooftop pool. The whole family may enjoy the theatrical yet cozy ambiance of the hotel, which is full of tasteful and unique artwork and design.
Red Roof Inn Houston – Westchase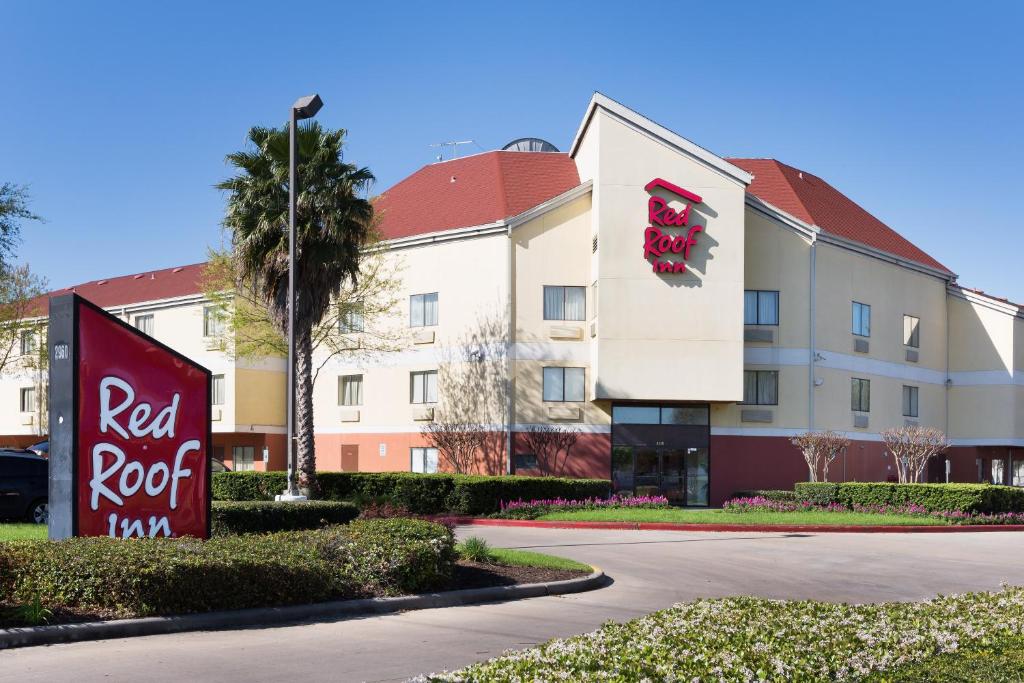 Don't just bring the kids on your vacation. Your dogs are just as much a part of the family, so bring them along to this pet-friendly hotel on the Sam Houston Parkway. Your family room comes complete with a 42-inch flat-screen TV and an expanded cable package that features HBO.
This hotel is another option right near Memorial City with its lush, inner-city forest and access to several oil company headquarters. It's also a quick jaunt to the convention center, conference center, and access to the 88-mile Houston Beltway that encircles the Bayou City.
Kids can splash around in the outdoor pool while mom and dad catch up on their social media or email by utilizing the hotel's free WiFi.
Days Inn & Suites by Wyndham, Houston Hobby Airport
Deep in the heart of Houston lies this hotel, located just a stone's throw from William P. Hobby Airport and the nearby Port of Houston. From here, families have centralized access to all of Houston's attractions, including the Downtown Aquarium, the Lyndon B. Johnson Space Center, San Jacinto State Park, and the famous Schlitterbahn Waterpark.
After a day at one or more of these tourist venues, come back to the hotel and relax on a comfy bed or take a dip in the outdoor pool. Need to work off some extra energy or too much food? The onsite fitness center has enough weights and cardio machines to get a good sweat going.
And when it's time to return home, take the courtesy shuttle back to the airport.
The Houstonian Hotel, Club & Spa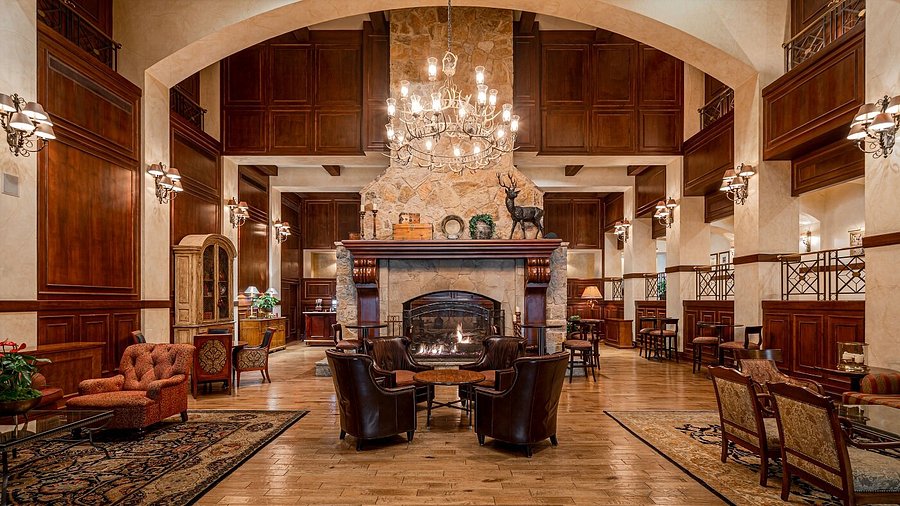 A recent multimillion-dollar renovation to this Houston hotel staple has redefined Texas elegance. Visitors receive a blue, cream, and gold palette that provides a relaxing atmosphere upon arrival. New art has been installed to celebrate the Houstonian's 40th birthday.
But the core of one of the best hotels in Houston remains – a wooded urban oasis that provides a respite from the hustle and bustle of everyday life.
Small families can take advantage of the hotel's picnic options. They'll provide the food in an ornate basket, a checkered tablecloth to sit on, and the canopy of a lighted oak tree. Talk about a special memory!
Or wait to come during the holiday season. Here, the hotel staff takes it seriously. Kids will fall in love with the mammoth gingerbread mansion displays and the super tall Christmas tree, with all the lights and ornaments you would expect. Relax in deep leather chairs and listen to the sensational sounds of Christmas as carolers and other pros bring holiday music to life.
The Whitehall Houston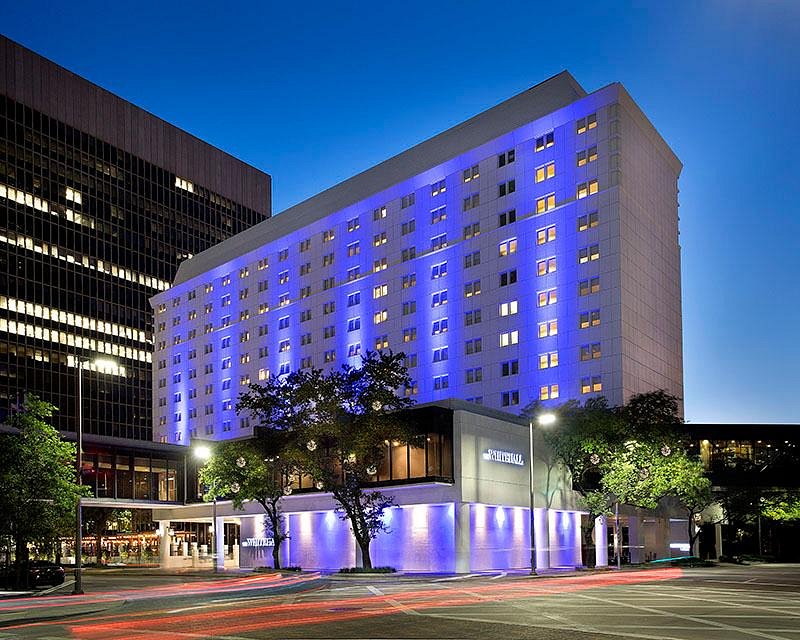 Any family trip to Houston would be incomplete without a stay at the award-winning Whitehall, which was among the first of downtown's landmark hotels. The lobby's impressive spiral staircase reminds one of being on a cruise ship. So do the sumptuous meal choices and poolside cabanas.
The pet-friendly Whitehall will shuttle your family to any of the downtown Houston destinations your heart desires. Whether it's the Dr. Seuss Experience, the Mural Tour, or the "Bites & Sites" food tour, your driver will take you there (and bring you back) in style.
And if you don't know where to go, the hotel's concierge will guide you to the hot spots and hidden gems of Bayou City.
Then, take a moment to check out the hotel's original art collection. Resident artists from the nearby Savannah College of Art and Design created the works.
Hilton Americas – Houston
A skywalk connects this mirrored-glass behemoth hotel to the George Brown Convention Center and borders both Discovery Green Park and the Toyota Center. So, if your family loves NBA basketball, this is the perfect hotel to catch a Rockets game.
The indoor pool and spa complex is a family favorite, and it comes complete with a gorgeous bird's eye view of Houston's high-rise skyline.
You'll appreciate the modern art that adorns your room's partition between each sleeping and restroom area. But once you turn the lights off, you'll quickly fall to sleep in the plush bedding and on the comfy mattress.
Take advantage of the various dining options here. There are buffets and more formal options, as well as a sophisticated bar.
Hotel ZaZa Houston Museum District 
Like its sister hotel, the Zaza Museum District has developed a series of entertaining suites, and each one is individually decorated. The largest is the 1,996 square foot Warwick Apartment.
Others are named after the movies "An Affair to Remember" and "Casablanca." And kids should enjoy the space-themed suite called "Houston We Have a Problem."
Clearly, the owners of Zaza have a sense of humor – and eclectic taste.
They have also gone the extra mile to provide upgraded amenities throughout this pet-friendly hotel. Rooms include 55-inch to 65-inch flat-screen TVs, Italian bed linens, Egyptian cotton bathrobes, and a fully stocked fridge. A few rooms feature deep soaking tubs, kitchens, and washer-dryer combos.
Best Western Plus Downtown Inn & Suites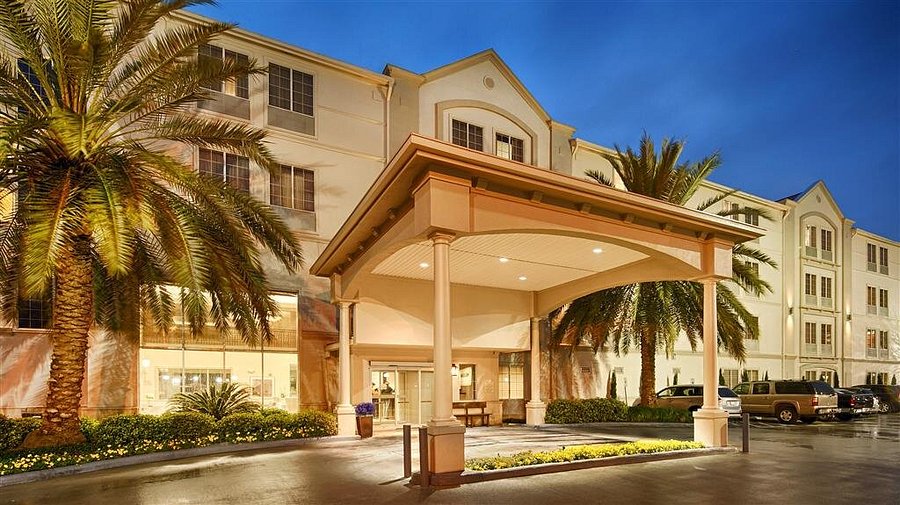 This urban refuge is well situated to every downtown event center and nightlife excursion any family would want to take. Plus, it offers free parking, which is rare for downtown hotels in Houston.
Standard rooms come with standard amenities: fridge, microwave, individual cup coffee maker, pillow-top mattresses, and 100+ cable channels. Families can relax by the covered outdoor pool and spa.
Whether your family is large or small, you'll enjoy the Best Western Plus's location close to hiking trails at Eleanor Tinsley Park or the Buffalo Bayou running path. It's near the Cockrell Butterfly Center, the Mural Tour, and the Underground Tunnel Tour. And if you hit it right, you can catch a free outdoor movie at Market Square Park.
The Westin Houston, Memorial City 
Another hotel with a nifty rooftop infinity pool, the Westin Houston, Memorial City, gives each of its visitors a chance to gaze as far as the eye can see. More than 20 restaurants are located within three miles of the hotel. Families have options when it comes to figuring out how to feed their finicky crews.
Rooms are decked out with stainless steel hardware to give a cool, elegant, yet futuristic approach. Ambient lighting, inviting beds, and other touches help visitors calm down after a busy day of sightseeing.
If you're staying for a while, consider upgrading to one of the hotel's apartment-like suites. They have kitchenettes (so you don't have to buy every meal out) and extra seating spaces to unwind.
Houston Marriott Medical Center/Museum District 
This hotel is connected to the Texas Medical Center by a sky bridge, and it's only a short walk to Methodist Hospital. The METRORail's red line stops right in front of the lobby, so your family doesn't have to drive downtown (and find a place to park) or to NRG Stadium for Texans games.
Plus, the hotel's shuttle drivers will kindly take you to and from other medical center hospitals, the zoo, Museum District, or Rice University. When your family needs some downtime, stroll through Hermann Park and enjoy a moment of serenity at the Jones Reflection Pool.
Back at the Marriott, visitors enjoy the indoor pool, the 24-hour fitness center, and the austere beauty of each guest room. Head down to the onsite restaurant or order in. They'll happily bring you breakfast, lunch, dinner, or a late-night dessert.
Homewood Suites by Hilton Houston Downtown
Four days each week (Monday through Thursday), guests are invited to a complimentary evening social. It's a great way to de-stress from a busy day of sightseeing, thrill-seeking, or kid chasing. Each morning the breakfast is also free at this hotel, as is the WiFi.
Positioned smack dab in the middle of downtown, this hotel is close to every attraction you'd expect: all the tours, meeting centers, watering holes, and touristy places.
The décor in this pet-friendly hotel's open spaces, such as the lobby and onsite restaurant/bar, is quite colorful and emits a warm, uplifting vibe to the whole venue.
This time the pool isn't on the building's roof. It's on the parking garage roof, four floors above the street. Guests on the upper floors can watch you practice your backstroke or play Marco Polo.
Final Thoughts
As the fourth-largest city in the U.S.A., Houston has an array of options for first-time guests or seasoned visitors. This is especially true for families. Museums, tours, pro sports, and world-class medical centers are scattered throughout Bayou City. Bring your cameras and juice up your phones for those unforgettable shots.
And when you get done for the day, remember a plethora of great hotels make staying here a relaxing and restful experience for adults and children alike.
So, if you ever find yourself visiting Houston, use this guide to the best family hotels to help you and your family experience a fun-filled stay. You'll be glad you did.
More about our TFVG Author
A seasoned traveller, Dad, and avid sports tourist, James foundered The Family Vacation Guide to share his expert vacation experiences- especially when it comes to being a travelling family man.
Featured in Travel articles such as Travel + Leisure, TripSavvy and SFGate, you know you're reading some of the best vacation tips online.