Beyond cowboys, cowboy hats, and that distinctive southern accent, Texas is home to some of the most breathtaking state parks. Texas is scorching hot pretty much throughout the year. But make no mistake, the weather is never a deterrent for families eager to unravel what this lone star state offers.
There are a whopping 8 million people who visit Texas, USA parks annually. Texas's high mountains and vast dry land blended with piney woods make the perfect playground for families who treasure hiking, mountain biking, camping, horse riding, star gazing, rock climbing, etc.
The best State Parks in Texas for families feature magical waterfalls, canyons, and vast underground caves. Your kids probably can't wait for their next vacation. Curious about what Texas has in store for you?
Here are 12 of the best State Parks in Texas for families with kids.
The Hueco Tanks State Park gives all visitors the pleasure of going back in time to experience how the Natives lived here thousands of years ago. You and your loved ones can see vivid images of the park through petroglyphs and pictographs.
This state park has been a historic area where numerous cultures have since lived. The land boasts an enchanting landscape and vast rainwater deposits that make this the best site for animals and humans to thrive.
In their quest to preserve the fragile ancient markings spread across the state park, a limited number of people are allowed to visit Hueco Tanks State Park each day. Be sure to call in advance to confirm and schedule an ideal time for a family visit.
Avoid traveling to this park between March and November when there's an influx of people seeking to get a glimpse of this beautiful place. Besides taking a trip down history lane, your kids can also enjoy rock climbing at Hueco Tanks.
Big Bend Ranch State Park sits on a whopping 300,000 acres of land. It is the largest state park in Texas, offering visitors tons of fun and unending desert terrains as far as the eye can see. If your kids are curious, The Big Bend Ranch State Park is like a paper chase with many jewels and memories to collect.
This state park is found in west Texas, right on the US-Mexico border. Families come here for activities like horse riding, hiking, mountain biking and fishing, and boating in the Rio Grande within the park. It's also a hideout for visitors eager to view the stunning sunsets and stargaze. The Big Bend State Park is declared an International Dark Sky Park where many people visit to see constellations, shooting stars, and more.
Camping is the next top reason why families with kids visit the Big Bend Ranch. You may choose to camp the old-school way with your tent and a few personal items or secure some slots at the Sauceda Bunkhouse, where you can still camp but have several modern bedding options for you and your loved ones.
Note that Big Bend Ranch State Park and Big Bend National Park are not the same. Big Bend National Park is right next to the Big Bend Ranch.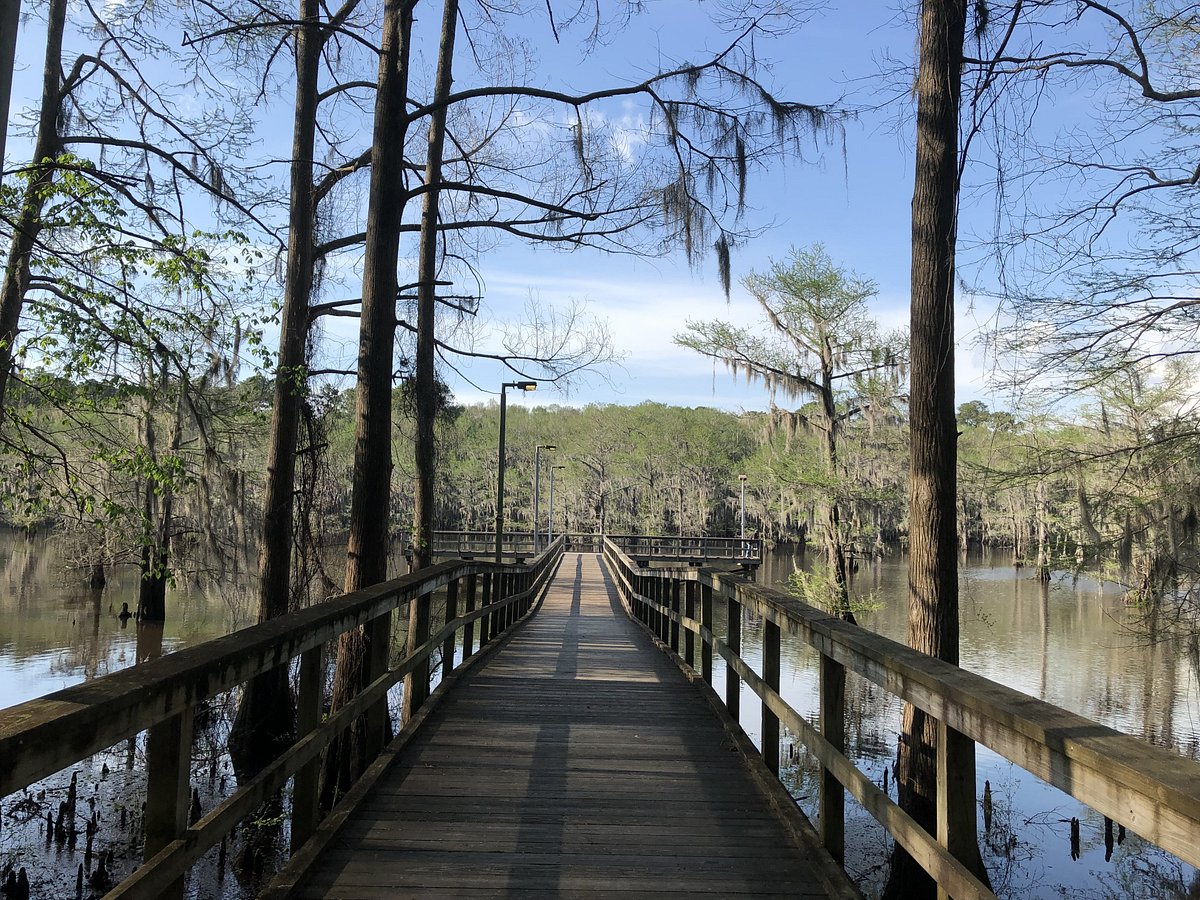 Do you like catching your dinner? If yes, what better way than visiting Caddo Lake State Park? It's an angler's haven with over 70 different species of fish and over 26,000 acres of space. The park comes complete with a boat ramp and a fishing pier available for visitor use.
Caddo Lake State Park is adorned with hundreds of naked cypress trees covered with moss. The outskirts of the lake are dotted with ponds, swamps, and bayous. You could rent fishing equipment or bring your kayak or canoe to paddle throughout the lake to explore the lake. There are over 50 miles of paddling trails for you and your loved ones to explore during a friendly competition of 'who can catch the biggest fish.' Watch out for alligators and other wildlife which also thrive here.
This state park is also an excellent choice if you love hiking. There are miles and miles of trails meandering through the cypress trees all over the park. During your hiking trip, you'll notice conspicuous stone structures. These are historic leftovers built by the Civilian Conservation Corps many years ago.
There's nothing more enchanting than a large canyon full of wonders and surprises in store for your tiny adventurers. Palo Duro Canyon State Park is home to the second-biggest canyon in Texas.
Bring some comfortable shoes, a bike, and some water because Palo Duro Canyon State Park has over 30 miles of trails perfect for hiking, biking, and walking. The vast collection of birds makes this an ecstatic haven for birdwatching and other exciting activities like glamping and geocaching.
This enormous state park is located a stone's throw away from Amarillo and is otherwise known as the Grand Canyon of Texas. The park is famous among kids and adults who love hiking, biking, camping, and horse riding.
On top of the canyon, you'll see panoramic views of the state park and the most magical landscapes. The sunsets here are mind-blowing. Before day-end, follow the park road conveniently built by the Civilian Conservation Corps to find the best camping spot. The same park road connects several day-use areas and hiking trails.
Suppose you'd rather have an activity that has nothing to do with breaking a sweat. In that case, the Texas Outdoor Musical at the Pioneer Amphitheater inside the park has plenty of enjoyable shows. Fan-favorite shows many come to see our shows about Texas settlers. There are numerous singing, fireworks, and dancing performances that your family will love.
Did you know that adult bull Bison can grow beyond 6 feet tall and weigh over 2,000 pounds? If you've never seen one up close, this is your chance to see gigantic bison herds. Caprock Canyons State Park harbors the largest bison herds.
As you drive through the park, you'll come across many. Note that they won't bother you if you don't bother them. Take caution throughout your time here and avoid honking or approaching the bison.
Over 90 miles of safe hiking and biking trails spread across Caprock Canyons State Park. The trails lead to Lake Theo, where your family can swim, fish, and try no-wake boating. What makes this one of the best State Parks in Texas for families is that it permits camping for RVs and tents. Even better, you can also bring in supplies for camping or hiking.
Ensure you confirm availability for camping space and make reservations before visiting the state park. The Caprock Canyons State Park is full of people thanks to its accessibility whether you are coming from Austin, Huston, or Dallas cities. It's a welcome escape from the fast, noisy city life.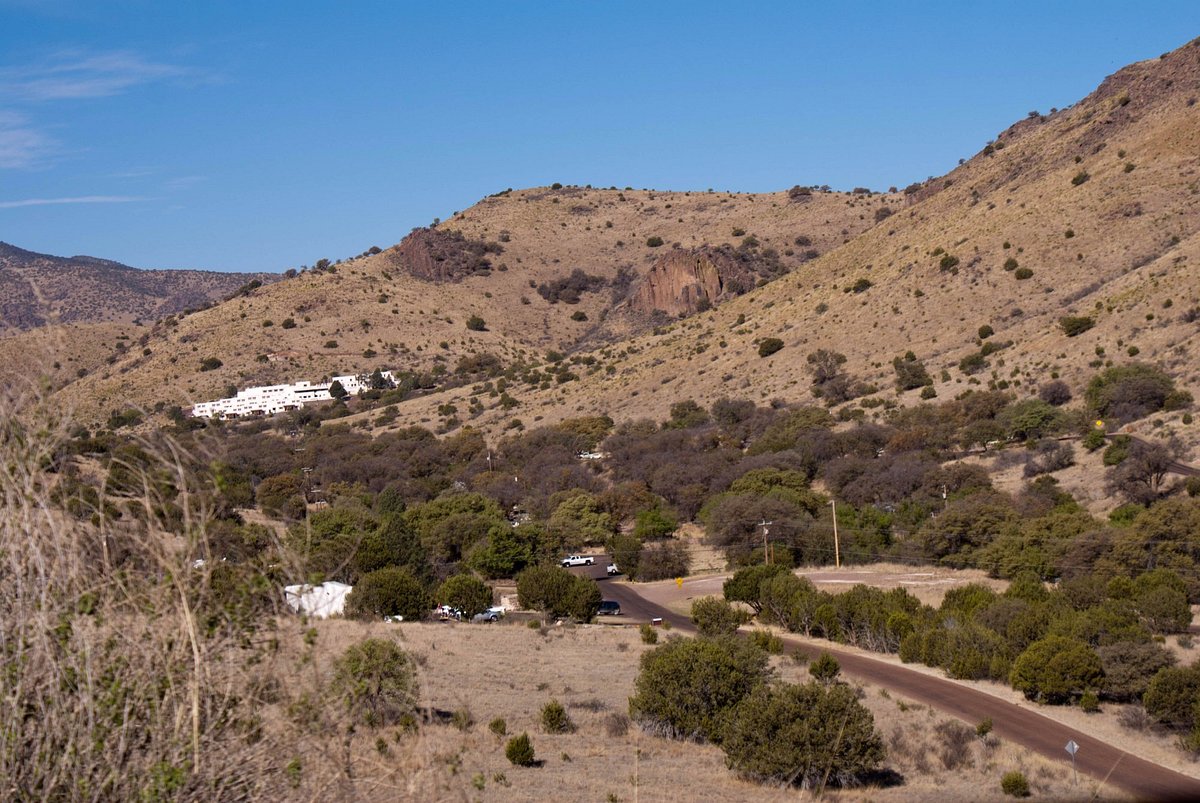 The vivacious Big Bend National Park unmistakably has a lot to offer, but if you are looking for more, Davis Mountain Park 100 miles north will, no doubt, scratch your itch. This park's landscape is higher up, giving visitors a chance to see clearer, bird's eye view perspectives of Texas.
It's yet another state park where the Civilian Conservation Corps left another mark of its presence and positive influence. This includes the Indian Lodge which remains operational to date. The Indian Lodge has 39 rooms for accommodation and a temporary escape from the scorching summer sun in Texas.
Kids have plenty of energy to burn. The hiking trails crisscrossing the Davis Mountains State Park, especially the Skyline Drive trail, will undoubtedly get them in high spirits. Before you leave, don't forget to pass by the Fort Davis National Historic Site for a free history lesson. Near the park also is the Balmorhea State Park, with the largest natural swimming pool in the world, whose water comes from nearby springs.
The Davis Mountain State Park Boast a wide array of bird species that you can view from the popular bird blind that has bird watchers from all over the world coming here to explore.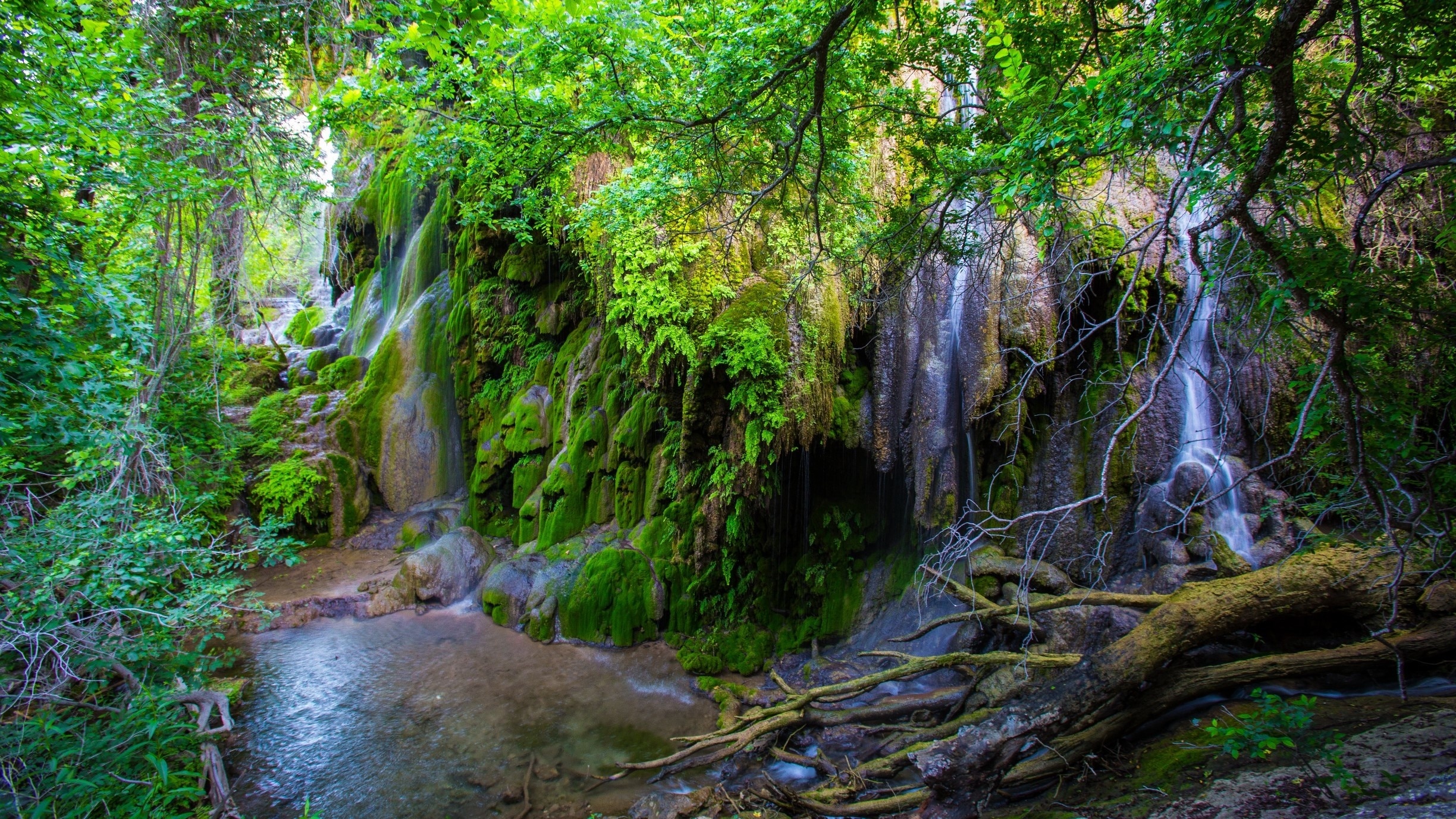 If you are tired of the monotony of what most state Parks have to offer, you will love what Colorado Bend State Park has in store for you. It's like an all-you-can-see buffet for your little explorers. At Colorado Bend State Park, you have over 5,000 acres of land at your disposal. This is excluding an additional six-mile- Colorado River shoreline.
No one will dictate what you must do here, provided you stay out of other people's way and remain responsible and respectful; you and your family are free to adventure-seek all you want. It's an attractive destination for underground, water, and land activities.
Camping is the top reason why most people visit Colorado Bend, State Park. Families with kids also visit the state Park to ride their mountain bikes and hike up and down over 30 miles of trails. Follow the Gorman Falls to get to the most stunning waterfalls, including a 70-foot-tall waterfall, for a chance to pause and cool off.
For a comprehensive experience, guided tours venture deep into the caves where you can learn about the exciting things that happened here years ago.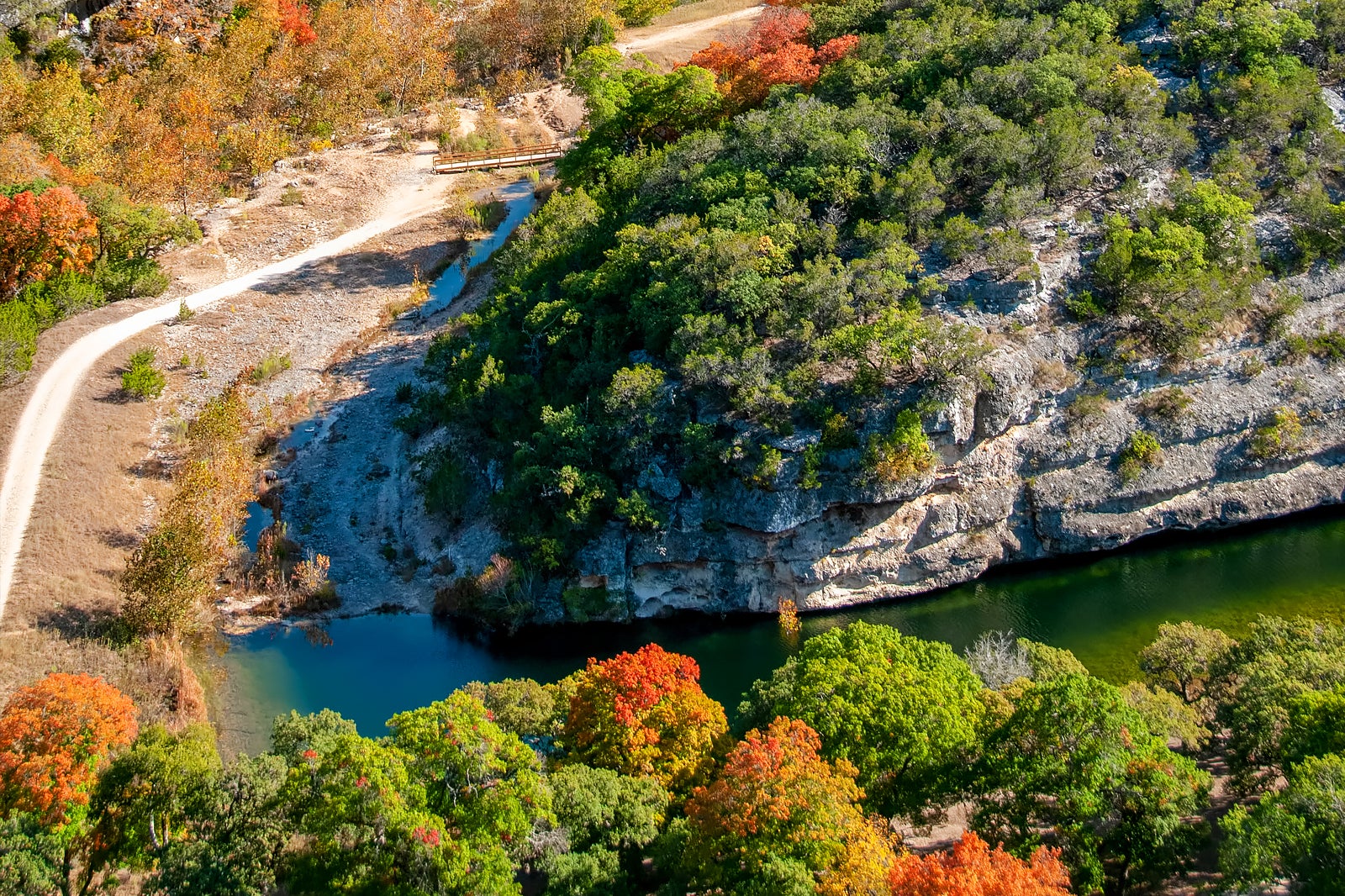 This is by far one of the best State Parks in Texas for families because of its easy accessibility and pleasant atmosphere. The Lost Maples State Natural Area is a protected area with numerous trails and open spaces.
If you love hiking, take up a challenge and climb up the steepest path leading to the tallest cliff in the park, measuring 2,200 feet. A day is not enough to see every part of this state park. Conveniently, there are over 30 campsites with enough electric supply.
Your family can enjoy other activities at the Lost Maples State Natural Area like stargazing, photography, and fishing. This park has a vast collection of maple trees that make it the best place to visit, especially when you want to day-hike without enduring the Texas heat.
Nearby is the Garner State Park, where you can pass by as you look to leave no stone unturned in Texas.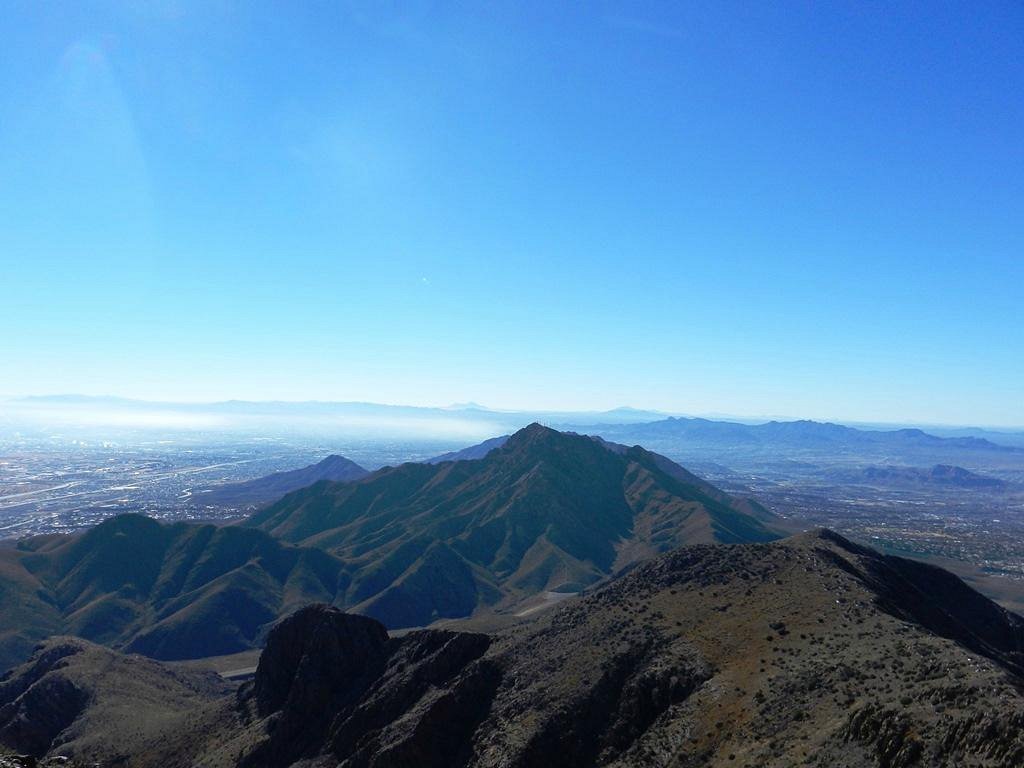 At Franklin Mountains State Park, it feels like you are on top of the world. This gorgeous place is a short distance from the Infamous El Paso City in West Texas and boasts elevated landscapes that go as far as 27,000 acres.
You and your kids can do fun activities together like rock climbing, camping, mountain biking, and hiking. Over 100 miles of trails connect the rough patches that dot the state park. This is the ideal hideout for your kids to get the real Texas experience.
When you want to spend some time at the park, the Tom Mays Unit bordering El Paso has many campsites where you and your loved ones can seek accommodation. A couple of trails from the Unit lead into the State Park if you are up for a walk.
Also, you can always camp deep in the wild, but the developed camping facilities at Tom Mays Unit are far more alluring, especially when you have kids in tow.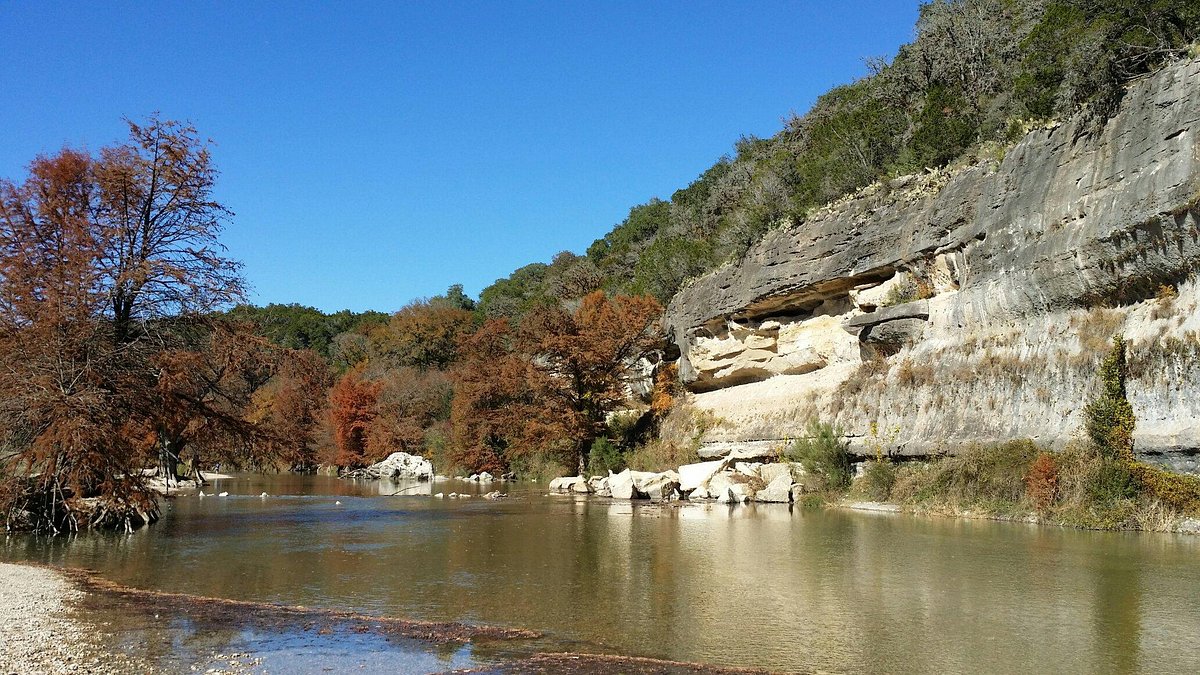 Offering plenty of diversity and family fun, Guadalupe River State Park has a host of engaging activities that can make even the most laid-back member of your family burst out joyfully. It's the best state park in Texas for families with kids when you want to enjoy both dry land and water sports activities.
The rugged landscape is a welcome contrast to other landscapes in most parks that appear tailored and unnatural. Visit this state park with your family if you enjoy mountain biking, camping, hiking, and rock climbing.
Alternatively, you can enjoy picturesque river views or try swimming, tubing, or fishing therein. Wait until the evening when the wildlife comes out to graze and the setting sun starts to show off. If at all you are confused about when to take some memorable snapshots of your time here, evenings have the best lighting and backgrounds.
Take your kids to the Discovery Center in the Park for lessons on their environment. The State Park has 80 campsites near the river where you can pitch tents or park your RV. When night strikes, you'll have the most unforgettable time in the wild, sleeping to the tune of the natural sounds of animals and birds.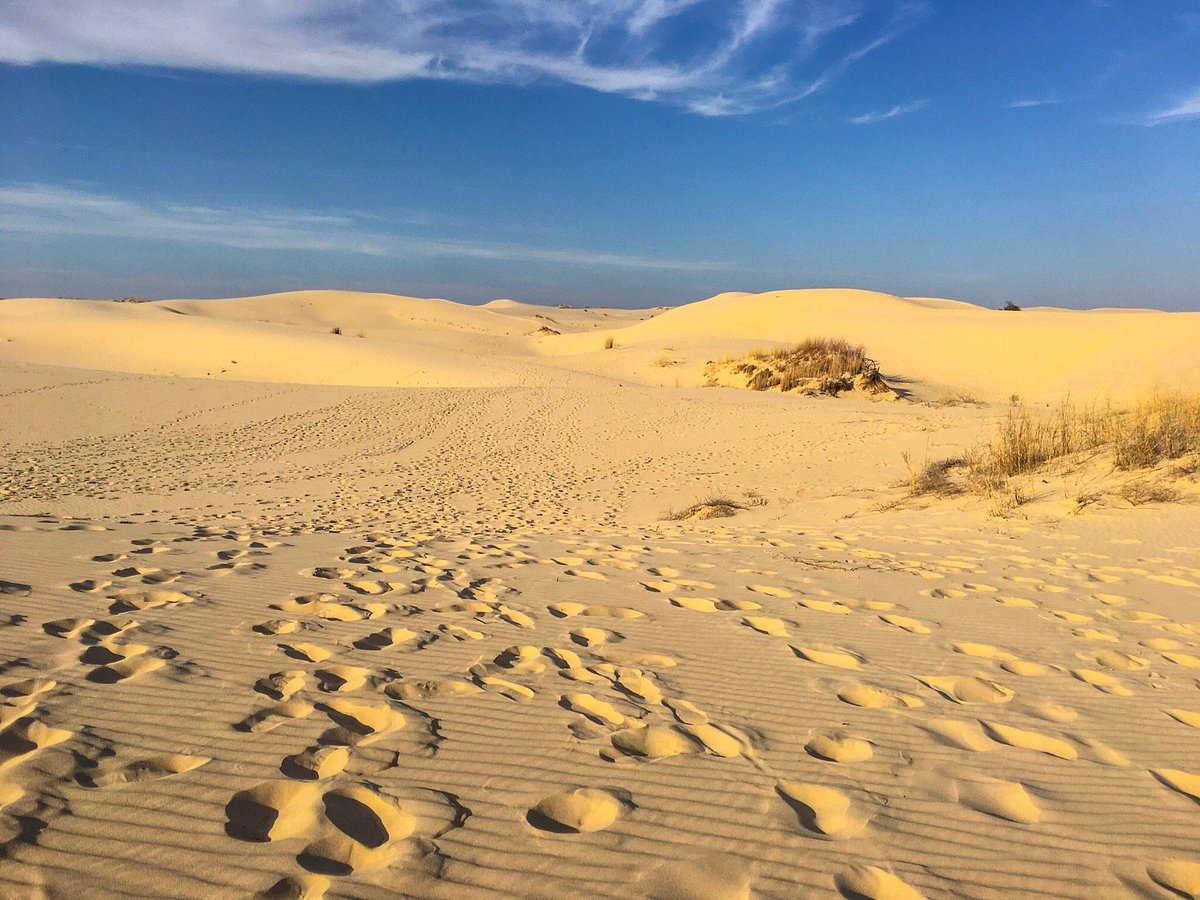 Imagine watching the entire landscape shapeshift right before your eyes. Nowhere else can you witness such magic as you will at the Monahans Sandhills State Park. The magnificent dunes spread across the State Park. Some dunes go up to 50 feet high. After a couple of hours, you stare back, and the same dune disappears and forms into a different shape.
Upon entering the park, you may be confused about where to start your adventure. Well, start anywhere! Owing to the rapid landscape sifts, there are no trails; hence not the best place to visit if you want to go hiking. However, if you crave something different, The Monahans Sandhills state park has many surprises for you.
You can try exhilarating activities like sand surfing and picture taking. There are more than enough sand discs for rent if you want to surf. Be sure to bring enough water and other supplies. It's easy to get dehydrated when you spend hours under the sun with no tree or shade structure in sight.
No need to worry about where you'll spend the night, there are 26 campsites in the Park, complete with fire rings and electricity.
The Longhorn Cavern State Park is like a massive treasure hunt with so much to see below and above the ground. It is here where the geologic nature and cultural history of Texas come alive. The area has been preserved very well and has remained unchanged for centuries.
Experienced guides will patiently explain and churn out information about each cave and rare stone. They'll tell you of a time when the entire place was covered with water as part of an ancient sea.
The seemingly misplaced steps leading down one of the caves are evidence of the existence of the Civilian Conservation Corps. The steps are said to have been built in the 1930s. You will see different structures, some natural and others designed to mimic other surrounding natural structures.
The stone Observation Tower is a nature-inspired structure where visitors see panoramic views of the Texas Hill Country. Note that the Longhorn Cavern State Park only allows visitors during the daytime. If you prefer to spend the night here, the Inks Lake State Park, not too far from the Longhorn Caverns, has 200 cozy campsites and cabins.
The Best State Parks in Texas for Families: Final Say
There's proof that humans have lived in Texas for over 13,000 years. Therefore, it's unbelievable that many parts of Texas remain the same. It shows that human existence doesn't always come with destroying one's surroundings.
Texas State Parks offer the best opportunity for kids to enjoy learning history, cultural, and geological lessons while on vacation. From desert mountains to underground caves, tall canyons, and dinosaur tracks, above are the 12 best State Parks in Texas for Families.
More about our TFVG Author