The United States National Park Service operates a total of 423 national parks.
These parks range from individual homes with historical value to massive outdoor spaces.
Two of the biggest national parks in the US are Yellowstone, located in Wyoming, and Yosemite, which is located in California. 
History
Yellowstone and Yosemite both have long and rich histories. Although a history lesson might not be the most fun thing to do before a vacation, your kids might enjoy learning a bit about why these parks are considered so important.
Yellowstone History
Established in 1872 by Ulysses S. Grant, Yellowstone National Park is a long-dormant volcano and the United States' first national park. It spans across Wyoming, Montana, and Idaho, although the bulk of the park lies in Wyoming. The park is named after the Yellowstone River, which is an English adaptation of the Hidatsa name, which translates to "Yellow Rock River."
The park was inhabited by Native Americans for approximately 11,000 years before it gained its park designation. It was a fertile hunting ground, as evidenced by the rich wildlife that still exists and the obsidian spear tips and arrowheads explorers have found there.
In 1880, gamekeeper Harry Yount took steps to limit the amount of poaching and vandalism in the park. However, with limited manpower, it was a bit difficult. Tourism increased in the early 1880s when a train station was built nearby.
It wasn't until the Civilian Conservation Corps (CCC) came about that Yellowstone saw significant development. The CCC workers were able to make the park a more hospitable place for visitors while also making it safer for the various wildlife that called Yellowstone home. Mission 66 kicked off in 1966, further expanding and improving the park.
Yosemite History
Given National Park status in 1890, Yosemite National Park sits on nearly 1,200 square miles of California land. The area was a haven for gold miners and explorers, so President Lincoln took steps to ensure the site was preserved in 1864 when he designated it a public recreational space.
Initially inhabited by the Ahwahnechee tribe some 3,000 years ago, the area was settled by Europeans in the late 1800s, effectively pushing much of the existing indigenous population out. The park's name comes from the Miwok word for "killer." Earlier, the area was known as Ahwahnee by the locals.
The earliest tourists to Yosemite arrived in 1855 and were primarily responsible for its rise to fame. Galen Clark built the first hotel in Yosemite in 1879. In the following years, the park saw an increase in roads and lodging built to draw more people to the area. Then, in 1884, the Degnan family built the park's first concession, solidifying it as a place for visitors to come spend the day.
Natural Features and Wildlife
Yellowstone and Yosemite have some of the world's most breathtaking natural features and diverse wildlife populations. The combination of beautiful scenery and wild animals will be a blast for you and your family to explore and learn about. 
Yellowstone
Yellowstone sits atop a dormant volcano that saw its last eruption approximately 70,000 years ago. The presence of the supervolcano provides some of Yellowstone's most recognizable geothermal features, including geysers, hot springs, and mud pots.
As beautiful as these features are, though, it's important to remember that they're each incredibly hot, not to mention filled with toxic elements. The park has installed boardwalks specifically designed to keep guests a safe distance from all of its features to avoid injury.
Old Faithful
Discovered in 1870, Old Faithful is the most recognizable of the park's geothermal features and one of the park's more than 1,200 geysers. It erupts roughly 20 times per day at semi-regular intervals.
Kids and adults alike alight at the massive jets of steaming water that burst through the surface every 60-110 minutes. Each eruption sends anywhere from 3,700 to 8,400 gallons of scorching water more than 100 feet into the air.
Mudpots
Children will get a kick out of watching mud bubble up out of the ground in Yellowstone's famed mudpots. Although your kids may not be crazy about the smell, the mudpots are a beautiful bit of Yellowstone's landscape that highlights the ever-changing shifts caused by the underground magma chambers.
Hot Springs
By far, some of Yellowstone's most striking natural features are its hot springs. The vivid colors provide an excellent opportunity to give your kids a quick science lesson about the microorganisms that cause the rainbow shades they see in the water. Not to mention, they're fun to look at.
Wildlife
One of Yellowstone's most notable wildlife populations is its bison herd, which is the oldest and largest herd in the US. However, you can also find wolves, bears, elk, and smaller animals throughout the park, including birds, snakes, and lizards. Always remember to give wildlife, especially bison and predators, at least a 100-yard berth.
Yosemite
Although far smaller than Yellowstone, Yosemite is home to countless incredible natural features. Whereas Yellowstone sits atop a dormant volcano, Yosemite was carved by glaciers through the peaks of the Sierra Nevada mountain range. As a result, the valley is surrounded by steep cliffs, towering waterfalls, and granite monoliths, including the famed El Capitan.
The foliage of Yosemite is also one of the park's biggest attractions. The redwoods and wildflowers that cover the land draw millions of tourists each year.
Mariposa Grove
The grove of towering sequoias known as Mariposa Grove sits at the southern section of Yosemite. Your kids will love standing in the shade of some of the world's largest sequoias, including the Grizzly Giant and the Washington tree, and crossing through the tunnel in the California Tunnel tree.
Not only are these giants breathtaking to view, but trees such as the fallen Wawona Tunnel tree offer a great lesson on the importance of conservation, too.
Wildflowers
If you'd like rainbow views of wildflowers, Yosemite has plenty to offer. You can find blooms year-round, making it a great destination if you or your kids enjoy flowers. Kids will have a great time identifying flowers using the drawings done by John Muir Laws.
Waterfalls
The steep cliffs of Yosemite are the perfect home to towering waterfalls. Yosemite Falls, a three-part fall system, is one of the world's tallest waterfalls. The falls are visible from almost anywhere in the park, so you and your family can take them in from a distance or plan a hike to get a closer look.
Wildlife
You'll find more than 400 species of wildlife throughout Yosemite, making it an incredibly diverse park. When you tour the park, be sure to keep an eye out for grizzlies, the elusive big-horned sheep, and red-legged frogs.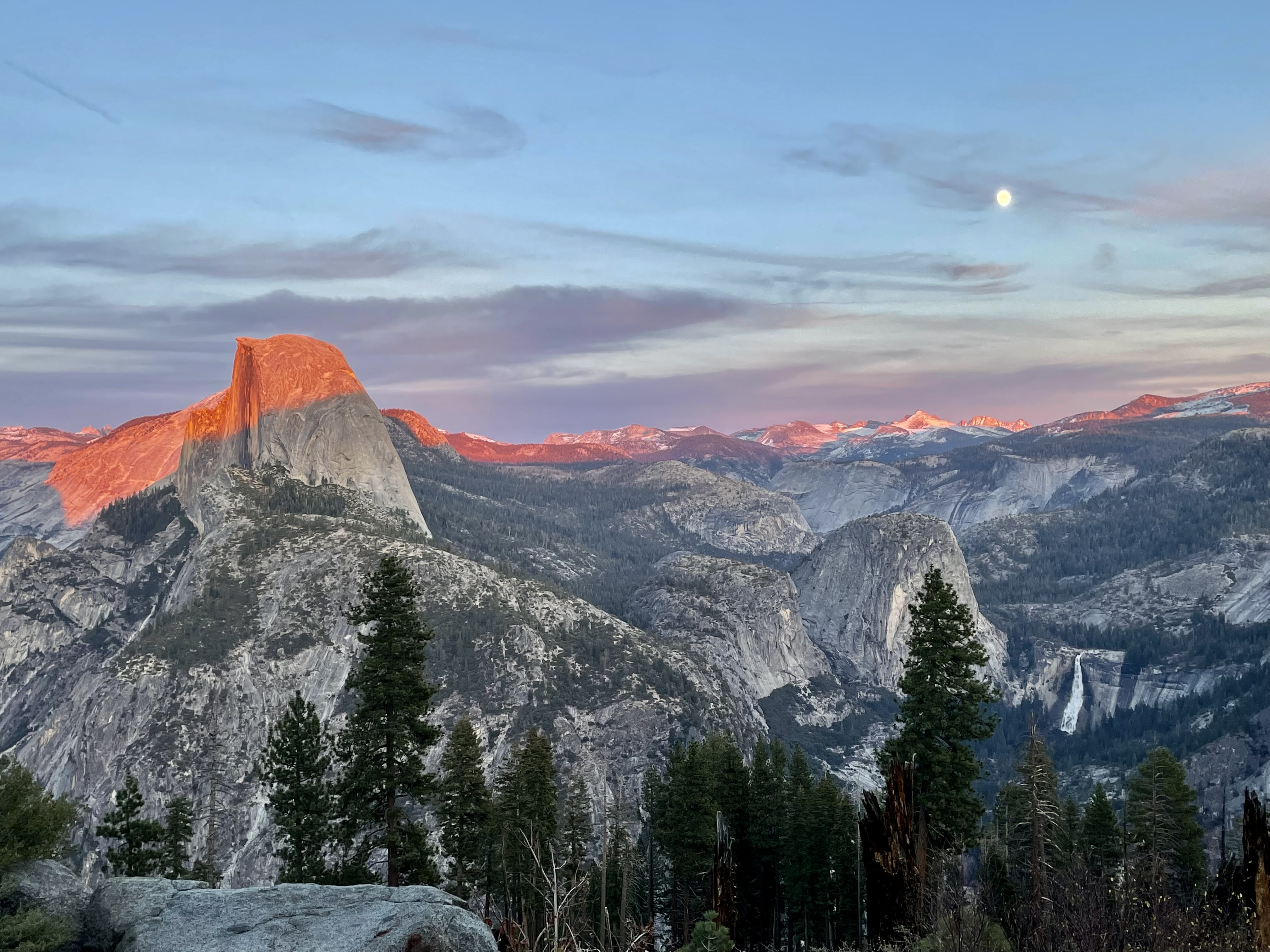 Activities For Kids
No matter which park you ultimately choose, earning a Junior Ranger badge is one of the most exciting activities for kids (and adults). Both Yellowstone and Yosemite offer Junior Ranger programs that let kids and families participate in an interactive educational experience.
Yellowstone also offers Exploration Themes that allow kids to customize their visits to their own interests. Themes focus on history, geology, hydrothermals, wildlife, and preservation. Children 5 and older can also become Young Scientists by completing a self-guided tour of the park focused on solving scientific mysteries.
Seeing the Park
Both parks offer a variety of guided and self-guided tours to choose from. In addition, Yosemite provides four separate bus tours that start in Yosemite Valley and travel to various points throughout the park. There are also custom adventures you and your family can take if you want to personalize your trip.
Yellowstone offers a variety of guided tours that need to be booked off-site through one of the park's partners. These include hiking, boating, skiing, and walking tours. The best way to see the park is on foot using the park's long and winding boardwalk system.

Best Time of Year to Visit
Yellowstone and Yosemite both have their peak and off seasons, so the time of year you wish to travel will impact which park is best.
Yellowstone
Yellowstone's peak season is summer, so you'll want to plan accordingly if you want to go at that time. Crowds will be at their highest during the summer months, during which time most of the park's 4 million annual visitors arrive.
The shoulder seasons or winter are better options if you'd rather avoid crowds and aren't fussy about the weather. Wyoming winters can be pretty brutal. However, spring and fall are temperate enough that you and your family can have an enjoyable experience that won't be hampered by crowds or uncomfortable weather.
If you want to visit during the summer, try to get to the park early, avoid main attractions between the hours of 10 and 3, or stay a bit later and enjoy the park closer to dinnertime.
One great way to kill time is to go on a hike. If you and your family decide to venture out onto the trails, be sure to pack bear spray and practice proper bear-country safety, including sticking together and giving all wildlife a wide berth.
Yosemite
Like Yellowstone, Yosemite's busiest season is summer. However, since Yosemite is far smaller than its volcanic counterpart, the park might feel more crowded during peak season. If you want to maximize your time outdoors and have the best chance of nice weather, summer will be the best time to visit.
However, if you want to avoid summer crowds, your best bet is to visit during the shoulder months of May or September. Not only will crowds be smaller, but you also won't run the risk of weather-related park closures due to snow or winter storms.
The best time of year to view Yosemite's striking waterfalls is May or June, which is when the fresh snowmelt starts to flow. However, if your family is interested in heading to the park for some hiking and exploring, September offers smaller crowds and more favorable temperatures.
Logistics
In order for your family vacation to go off without a hitch, you'll need to consider things like lodging, food, and parking. Whether you choose Yellowstone or Yosemite may depend on which park is easier to manage logistically.
| | | |
| --- | --- | --- |
| Feature | Yellowstone | Yosemite |
| Nearest Hotel | On-site | On-site |
| Campgrounds | On-site | On-site |
| Parking | Multiple lots on-site | Shuttle recommended |
| Refreshments | On-site | On-site |
| Tours | Book off-site | Book on or off-site |
| Size | 3,500 square miles | 1,169 square miles |
| Hours | Vary | Daylight hours |
| Best Time to Visit | Spring or Fall | May, June, or September |
| Nearest Town | West Yellowstone, WY | El Portal, CA |
| Entrance Fee (7 Day Pass) | $20/$35 (Person/Vehicle) | $20 (Person/Vehicle) |
| RV Parking? | Yes | Yes |
In addition to lodging and other logistics, here are a few more things to keep in mind when traveling to the parks.
Cell Service
One of the major downsides to a day at Yellowstone is the lack of cell service in the park. Connectivity is minimal, so if you have concerns about being able to make phone calls, keep that in mind. Yosemite's cell service is pretty decent in most park areas. However, there may be areas with spotty coverage, so be prepared, just in case you lose service.
Dangers
Both parks are home to ample forms of wildlife, so you should equip yourself with bear spray and learn the best way to interact with any wild animals you might see. Yellowstone, in particular, is home to bison, black bears, and grizzlies that aren't shy about making their presence known.
The other thing to remember about Yellowstone is that stepping off the boardwalks or paths can quite literally be the difference between life and death. The ground beneath the boardwalks and surrounding the thermal basins is incredibly thin. Its fragile crust can and has caused curious travelers to fall into hot springs.
The Winner
Both parks have their own unique natural features. However, Yosemite's hiking, birdwatching, and wildflower fields seem more geared toward adults. When it comes to vacationing with kids, Yellowstone is the clear winner. The mudpots, geysers, and wildlife make this park a veritable natural playground for kids. They can learn about the geology and science of the world while also marveling at the ever-changing landscape.
More about our TFVG Author
A seasoned traveller, Dad, and avid sports tourist, James foundered The Family Vacation Guide to share his expert vacation experiences- especially when it comes to being a travelling family man.
Featured in Travel articles such as Travel + Leisure, TripSavvy and SFGate, you know you're reading some of the best vacation tips online.