Texas, the Lone Star State, is famous for many things. It's popular for being extremely large, an oil-producing state, and its delicious barbecues. Besides that, the state is home to many fun-loving people of all ages. Many families are living in Texas, and people relocate there every day.
They say everything is bigger in Texas, and their amusement parks are no different. If you're new in Texas and you're looking for the best amusement parks to take your family, or if you need a place to take your friends or even a date, this article is for you.
Keep reading for fourteen of the best amusement parks in Texas or why not check out our other guides to the best indoor water parks in Texas and the best waterpark resorts in Texas for more inspiration?
Six Flags Fiesta Texas in San Antonio is one of the most popular and biggest theme parks. It contains shows, thrilling rides, and activities. There are about forty different rides, each as exciting as the last.
Six Flags Fiesta Texas was opened in 1992 as a theme park full of thrilling rides for families and friend groups. This theme park has five different sections: a boardwalk, a German-themed village, a 1920s-themed western town, Los Festivales, and a 1950s-themed section that also has a high school.
Fiesta Bay Boardwalk hosts the Pandemonium, a spinning roller coaster that has made those with weaker stomachs lose their lunch. The German Village houses one of the world's first roller coasters without a floor, the Superman: Krypton Coaster.
The 1920s-themed section, Texas Boom Town, features a Six Flags Fiesta Texas's highest roller coaster, called the Iron Rattler. Los Festivales, the Spanish-themed section of the park, is home to several theaters where many shows are hosted all around the year.
Rockville is the 1950s-themed section of the amusement park, and it hosts a high school. It is also home to one of the most popular rides, Batman: The Ride.
All five sections of the park have many restaurants and rides, and some of the most popular rides are the whitewater rapids ride, the Goliath roller coaster, and the 4D Batman roller coaster.
Cactus Jack's Snack Shack, Fireball Snacks, Johnny Rockets, and Sangerfest Halle Food Court are some of the most popular restaurants. Six Flags Fiesta Texas also hosts a Fright Fest from mid-September till the 31st of October, Halloween day.
This is San Antonio's busiest and most popular park, and it is terrific for families, individuals, dates, friendship hangouts, and many other occasions.
See our guide to Six Flags locations in the US to learn where else these parks are.
Six Flags Over Texas is the second Six Flags on this list and is one of the best amusement parks in Texas. It is a 212-acre wide theme park that is in Arlington, Texas. It is about 15 miles away from Dallas, Texas. Six Flags Over Texas was the first of the Six Flags chain in the United States.
This amusement park has over a hundred thrilling rides, shows, restaurants, and attractions that will keep everyone interested. Some of its most popular rides are New Texas Giant, El Diablo —the world's largest Loop Coaster—La Vibora, and Titan.
It is one of the best places to take your family and friends for recreational hangouts and activities. It even has an area allocated just for children, which gives them a safe environment to play and have fun. There are also live shows held regularly to keep everyone entertained when they aren't on rides.
Some of the most popular restaurants in Six Flags Over Texas are All American Cafe, Casa De Churros, Cheetos Popcorn Mix, Macho Nacho, and Texas Taco.
SeaWorld San Antonio is another one of the best amusement parks in Texas. It provides attractions and activities for the whole family.
They have a merry-go-round for children, thrilling roller coasters, Aquatica —their new water park that allows you to see animals up close. SeaWorld allows your children to see and learn about many animals like dolphins and sea lions. They even allow your children to feed them.
Its price is a little on the higher side, but it will provide enough fun for you and your family. Make sure to get there early enough, so you can see and experience all the attractions before the park closes.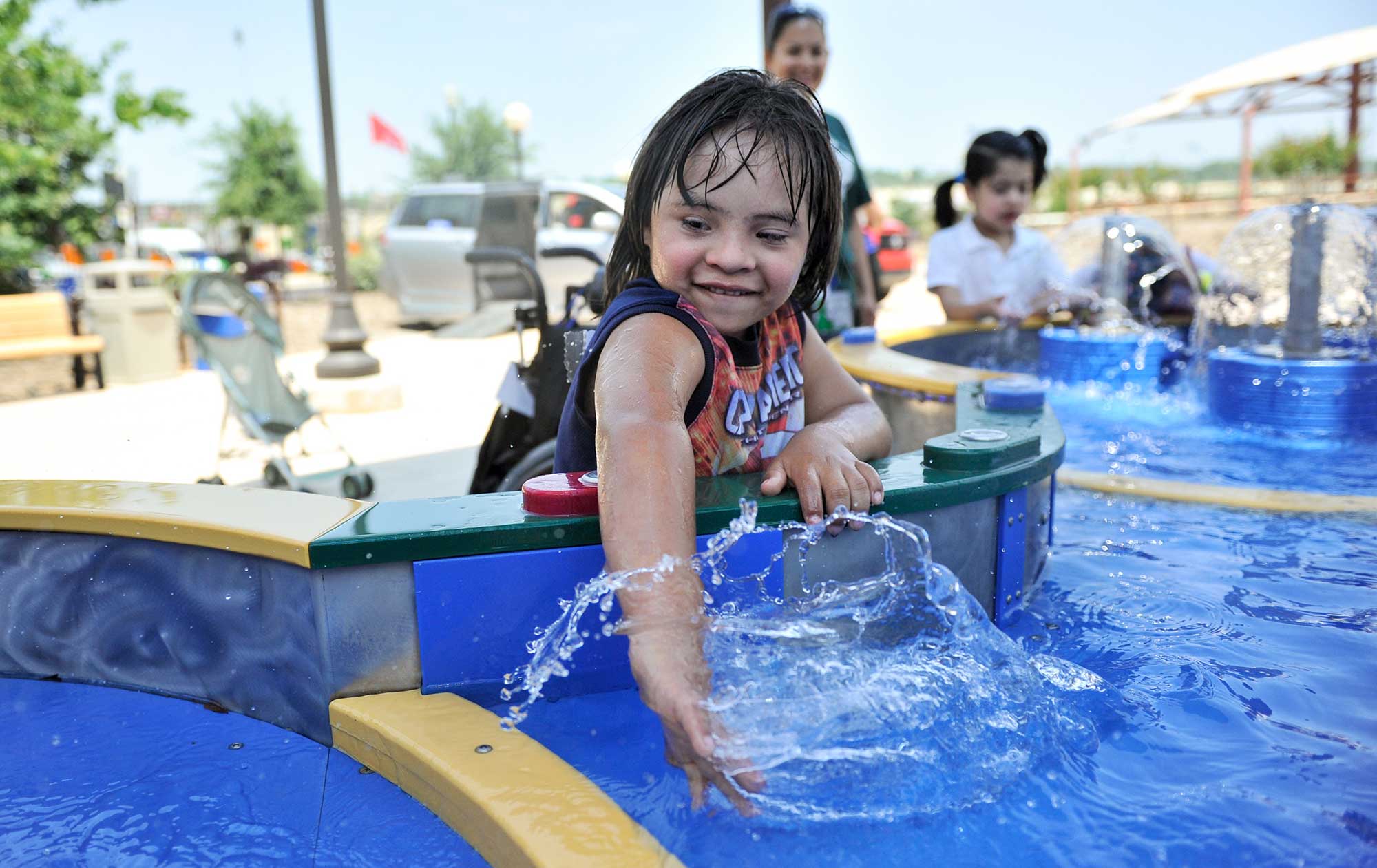 Morgan's Wonderland is one of the best amusement parks in not only Texas but the whole world. It was designed specifically for people with special needs because everyone deserves to have fun while safe and protected.
The amusement park aims to create an all-inclusive fun experience accessible to everyone, regardless of their abilities and ages. It is known as the first ultra-accessible amusement park.
Morgan's Wonderland is located in San Antonio, and it features many inclusive and accessible rides and attractions such as the Ferris wheel, wheelchair swings, and the Butterfly Playground.
It was developed and founded by Gordon Hartman, an ex-home builder and philanthropist, driven by his daughter Morgan's special needs. The goal was to help other children with the same problem.
The park's focus is to provide recreational services to people regardless of their needs and help them have fun, and they do this by granting free access to people with special needs. The amusement park also has live shows that focus on inclusivity and awareness.
Some restaurants close to Morgan's Wonderland are Ericks Tacos, Tacos El Regio, Thousand Oaks Cafe, and Rick's Cabaret.
The Zero Gravity Thrill Amusement Park is the only type of thrill amusement park globally that boasts zero gravity. It features five main attractions that are all highly thrilling and have a high intensity.
One of the five attractions, the Nothing but Net ride, takes you up sixteen stories and then stops you without cords, straps, or a parachute. All you have is a net that catches you at the bottom of the 130-foot fall.
This amusement park is not for you if you have a weak stomach or are scared of heights, but its thrill factor is precisely what makes it one of Texas's best amusement parks.
It's perfect for an outing with friends, family, or your boyfriend/girlfriend, especially if you are the adventurous type.
Some restaurants close to Zero Gravity Thrill Amusement Park are The Wild Turkey Dallas, The Sound, and Kepler's Drive-In.
Kiddie Park is located in San Antonio and was opened in 1925. It is the oldest amusement park for children in the United States. It's one of the most popular amusement parks in Texas, and with good reason.
Although new features like modern rides and arcades have been added, most of the park's original rides are still up and running properly. Some of these rides are the miniature Ferris wheel, the flying saucer ride, and the carousel.
Even though it is named Kiddie Park, it has many rides for adults and teenagers who frequent it. It is a great place to take your children for a fun time with the family.
Some restaurants close to Kiddie Park are: San Antonio Pig Stand, Earl Abel's, and Cheesy Jane's.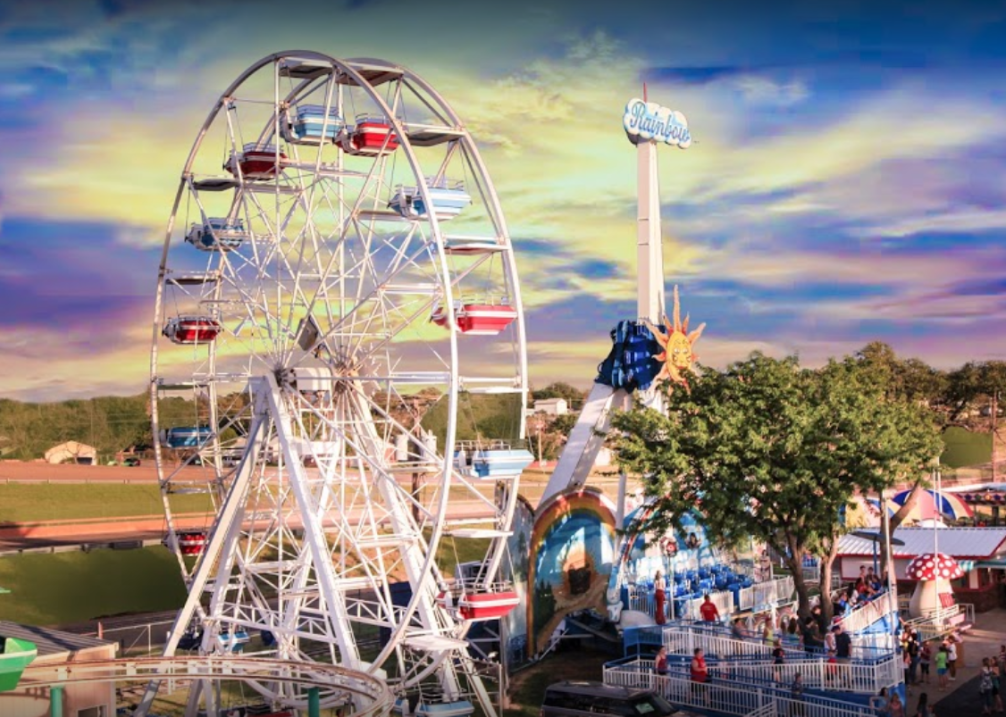 Wonderland Amusement Park is located in the Thompson Memorial Park in Amarillo. It is a family-owned amusement park, but that doesn't mean it's any less exciting or enjoyable than the other amusement parks.
Wonderland Amusement Park is a regional landmark, and it has attractions, rides, and activities for people of all ages. One of their most popular rides is the Texas Tornado —a double-loop steel roller coaster. It is one of the country's most popular roller coasters.
Besides all the rides and attractions, you can play video games in the arcade or play mini-golf.
Some restaurants close to Wonderland Amusement Park are Calico County Restaurant, Bubba's 33, and Texas Roadhouse.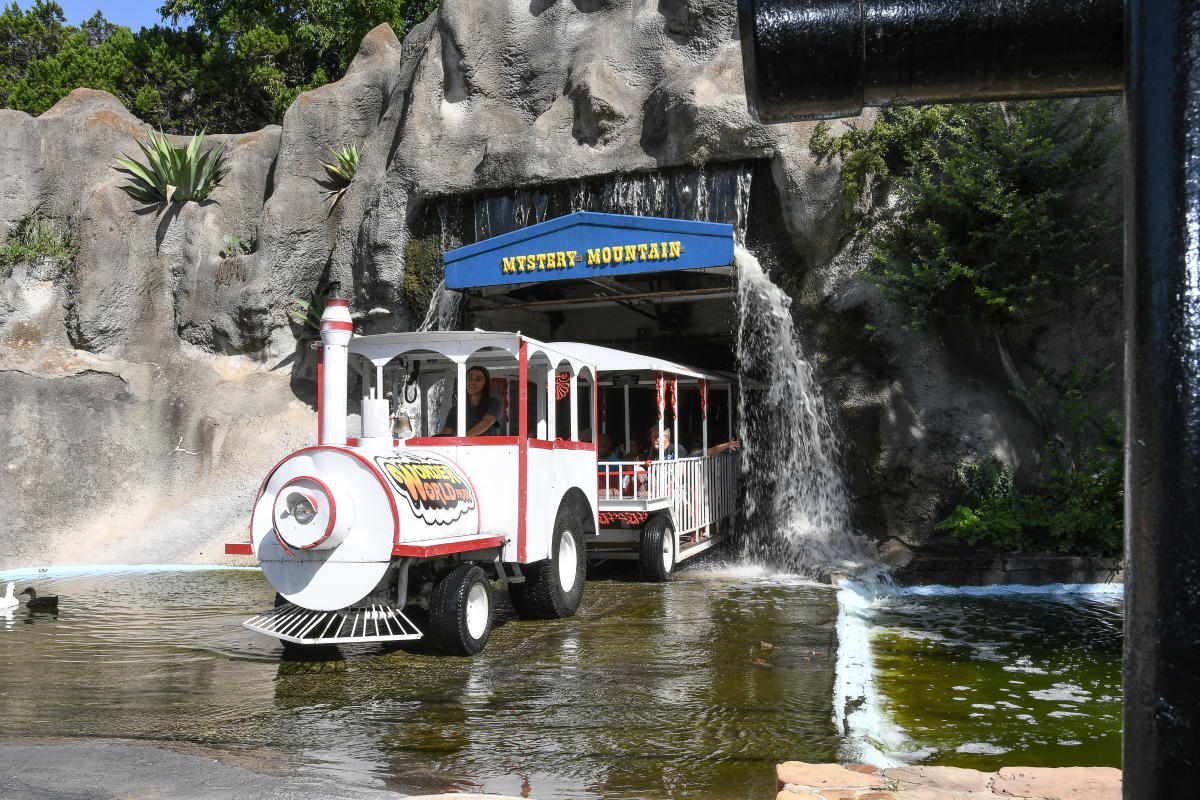 Wonder World Park is located in San Marcos, Texas, but it doesn't have the most common features for an amusement park. Wonder World Park was first famous because of its unique cave show, which was the first kind of cave show in the state.
Later on, Wonder World Park grew popular because of its theme park. Although it doesn't have roller coasters, it has an arcade room filled with video games, a petting zoo with a passenger train, and fossilized prehistoric exhibitions.
The theme park has an Observation Tower that goes up to 190 feet above the ground. The Observation Tower is linked to the caves via the park's Stratavator, which takes them to the top of the tower and provides a beautiful eagle-eye view of the surrounding area.
Some restaurants close to Wonder World Park are Taiwan Bowl, The Halal Club, and Figaro's Pizza & Pub.
If you happen to be in Corpus Christi, this amusement park is a perfect destination for you. In The Game Funtrackers is a beautiful amusement park with many attractions and rides for you and your family.
You can play games in the indoor arcade, go bowling, play in the batting cages, try your hand at ax throwing, ride in go-karts, play on the 18-hole miniature golf course, ride on the mini roller coaster, go on bumper boats, or go in the laser maze!
Some restaurants relatively close to In the Game Funtrackers are Boardwalk Cafe, Black Diamond Oyster Bar, and The Lucky Buffet.
ZDT's Amusement Park is in Seguin, Texas. It is located on ten acres, and the acronym in its name is from the first letters of the owners' three children's names—Zac, Danielle, and Tiffany.
ZDT's first roller coaster opened in 2015 and is called the Switchback. It is a relatively new amusement park, but that doesn't make it less fun or less popular. It is a perfect et destination if you want to have recreational activities with your family.
The amusement park also has many other attractions and activities for people that don't particularly like roller coasters. Some of these attractions are their numerous water rides, an arcade, the rock wall, and go-karts. Although the park is open throughout the year, the water rides are only available in some seasons.
Galveston, Texas, has a popular amusement park named after it; the Galveston Island Pleasure Pier. This amusement park is a great place to stay if you are bored of lying on the beach. It is on an old pier over Galveston's water and features many thrills and water rides that make it one of Texas's best amusement parks.
One of its most popular and thrilling rides is the Iron Shark. It's a roller coaster that provides a 100-foot drop at 50 miles/hour. You can also get spun on the Texas Star Flyer, take a ride and get drenched on the Pirate's Plunge, or take a ride on the Cyclone coaster that boasts of a 60-foot drop.
Most of these rides don't sound too child-friendly, but the Pleasure Pier also provides kiddie rides like the Frig shopper, the carousel, the Big Wheelin', and the Texas Tea Cups.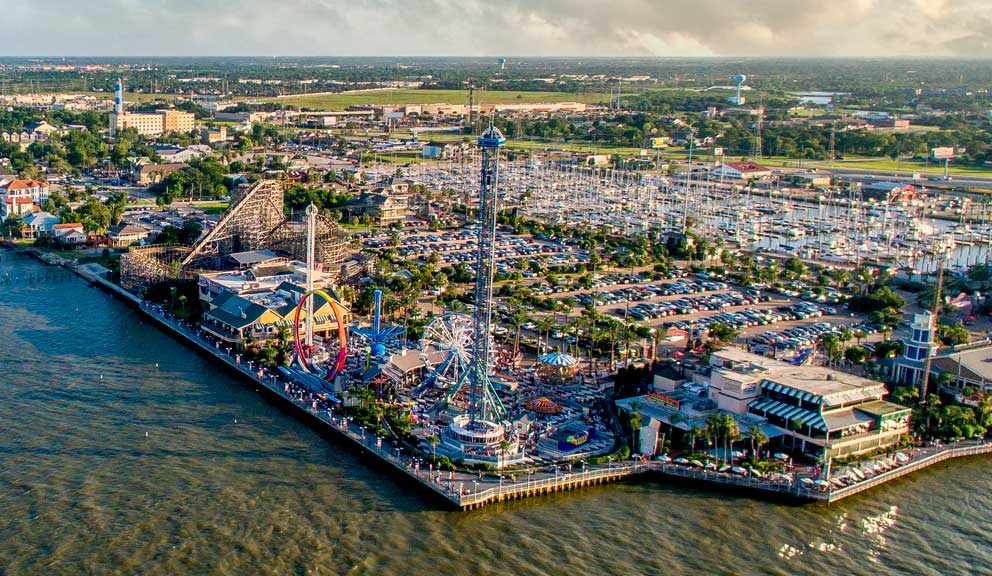 Kemal Boardwalk is about 20 minutes away from downtown Houston, and it overlooks Galveston Bay. It has many attractions, one of which is its Ferris wheel.
If you don't want to go on the Ferris wheel, you can ride the train that goes around the boardwalk, swing on a zip line over the boardwalk, or ride the Boardwalk Beast. This ride takes you about 4 miles into Galveston Bay while spraying you with water at 40 miles per hour.
The boardwalk hosts many restaurants and shops. Admission is free, although you will need to buy either individual or all-day tickets for the rides.
Joyland Amusement Park is located in Lubbock, Texa. It features over thirty exciting rides for the whole family. It even has a section just for children, as well as thrill rides—their most popular one being the Sandstorm that reaches up to 30 feet— and water rides.
The park also features rides that the whole family can ride together and is close to many restaurants.
YesterLand Farm Amazement Park is perfect for any family that wants to relax and calm down. This farm allows every family member to unwind and have fun with all the attractions.
During fall, you have the opportunity to pick pumpkins and carve Jack-O-Lanterns. The park is also open every weekend for Bunnypalooza, Christmas Playland, and Fall Festival.
The farm has many attractions, some of which are Candy Cannon, Live Duck Races, and Westerland Village. Some of the rides in YesterLand Park are the Super Slide, Yesterland Express, Swing Ride, and Super Gyrosphere.
Conclusion
Everything's bigger in Texas, and the amusement parks are no different. If you're living in Texas or just visiting, you now know which ones are the best amusement parks in the state!
Looking for some more family fun in Texas? We have created some awesome guides on the best water parks in Texas and the best indoor water parks in Texas that might take your fancy!
More about our TFVG Author
A seasoned traveller, Dad, and avid sports tourist, James foundered The Family Vacation Guide to share his expert vacation experiences- especially when it comes to being a travelling family man.
Featured in Travel articles such as Travel + Leisure, TripSavvy and SFGate, you know you're reading some of the best vacation tips online.