When you hear Italy, the first thing that comes to mind is Italian food. But beyond its world-renowned delicacies, Italy boasts some of the world's most beautiful islands and vacationing spots.
Sardinia is a small island in Italy's Mediterranean Sea. The island is a popular holiday destination that receives over 1.5 million tourists annually.
No doubt, Sardinia is a popular vacationing destination for anyone who wants to experience this part of Italy. But how accommodating is it for families with kids? There's such a wide array of family resort options across Sardinia that you'll be lost for choice.
Wondering which resort to choose? Don't fret! Below is a detailed look into the nine best family resorts in Sardinia.
Forte Village
Whether yours is a limitless budget or you're trying not to overspend during your family vacation, Forte Village has several holiday packages to accommodate any visitor.
Located in Santa Margherita di Pula, Forte Village is an award-winning, world-renowned family resort sitting on a 50-hectare space tucked away on Sardinia's south coast.
The resort flaunts lush gardens, a white sandy beach, eight five and four-star hotels, and 13 luxury villas complete with private pools.
The resort offers many activities for couples, individuals, and families with kids. Popular amenities at the Forte Village Resort include a piazza that houses different entertainment spots and fashion boutiques. The resort also has sports courses, an aqua park, and a center for kids' art and crafts activities.
This place has established itself as a one-stop shop for all types of fun and relaxation activities to accommodate every family member, irrespective of age.
Falkensteiner Resort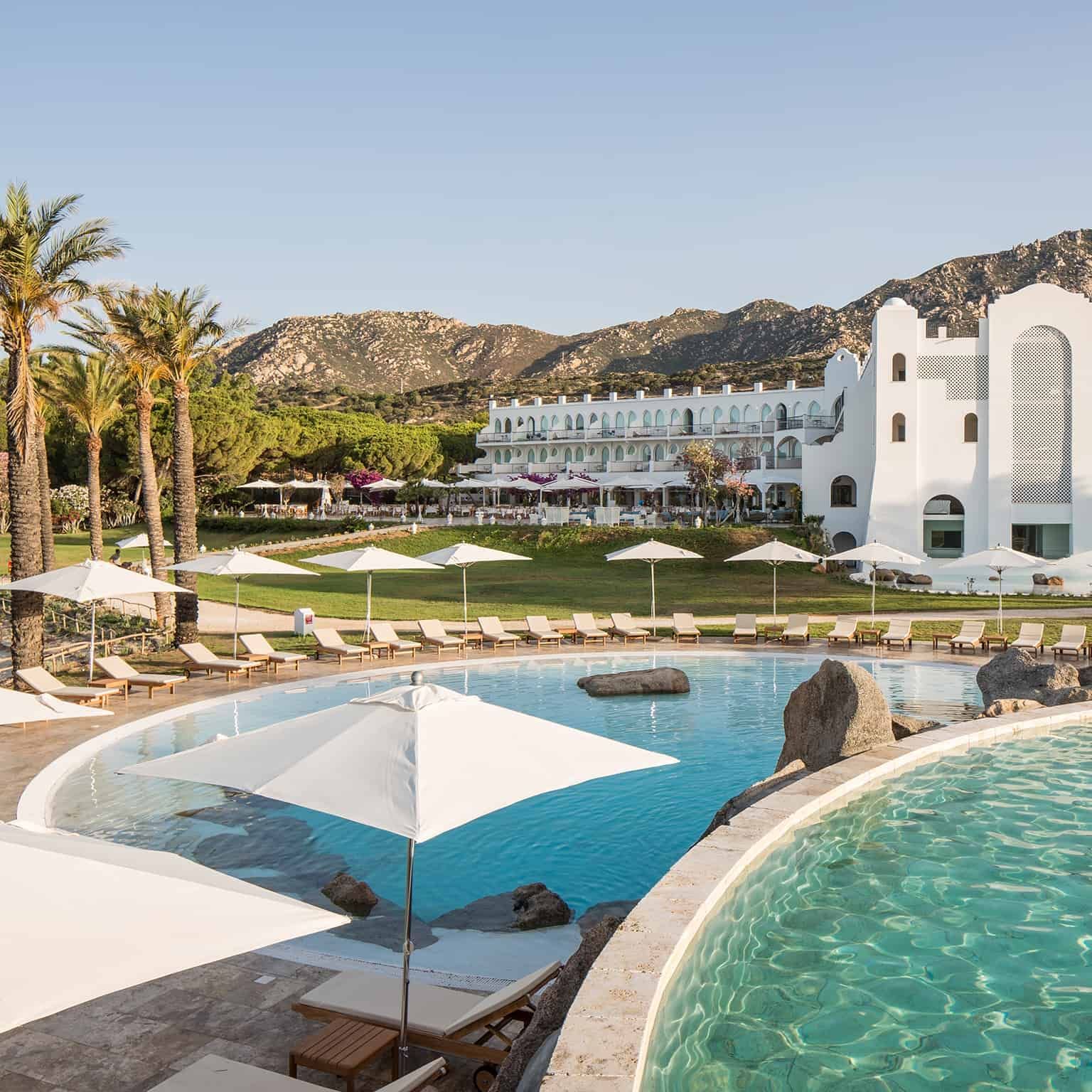 Falkensteiner Resort is one of the most luxurious hotels in Capo Boi, Sardinia. Capo Boi is one of the marine protected areas with a unique collection of marine life.
Falkensteiner Resort is your best bet if you are looking for a hotel that's not too expensive or crowded, even during peak holiday seasons. The resort guarantees an exclusive experience for vacationing seniors, adults, teens, and toddlers. Falkensteiner Resort has a private beach, expansive rooms, free Wi-Fi, free parking, and so on.
There are numerous activities tailor-made for kids' entertainment and learning. These include driving courses, soccer school, and photography programs. Babysitting services are also available on request should the parents wish to spend some time away.
This is one of the best family resorts in Sardinia when you want your family's vacationing experience to be fun and educational.
Lantana Resort
As expected, hospitality comes into full effect at the Lantana Resort. With the garden breakfasts, sunbathing at the beach, swimming in the sea, and biking in the park, what more could you ask for?
Lantana Resort is located at the centre of a park in Pula, where nature thrives a short distance from the beach. The famous Nora Ruins lay close by. Families vacationing here have plenty of exciting activities and places in and around the resort to visit.
Parents with kids can breathe easy knowing there'll always be someone watching over them in the pool, thanks to the resort's round-the-clock supervision. Other exciting activities you may want to indulge in during your stay here may include visiting the Pula Village to get a glimpse of the people's way of life in this part of Sardinia.
Free Beach Club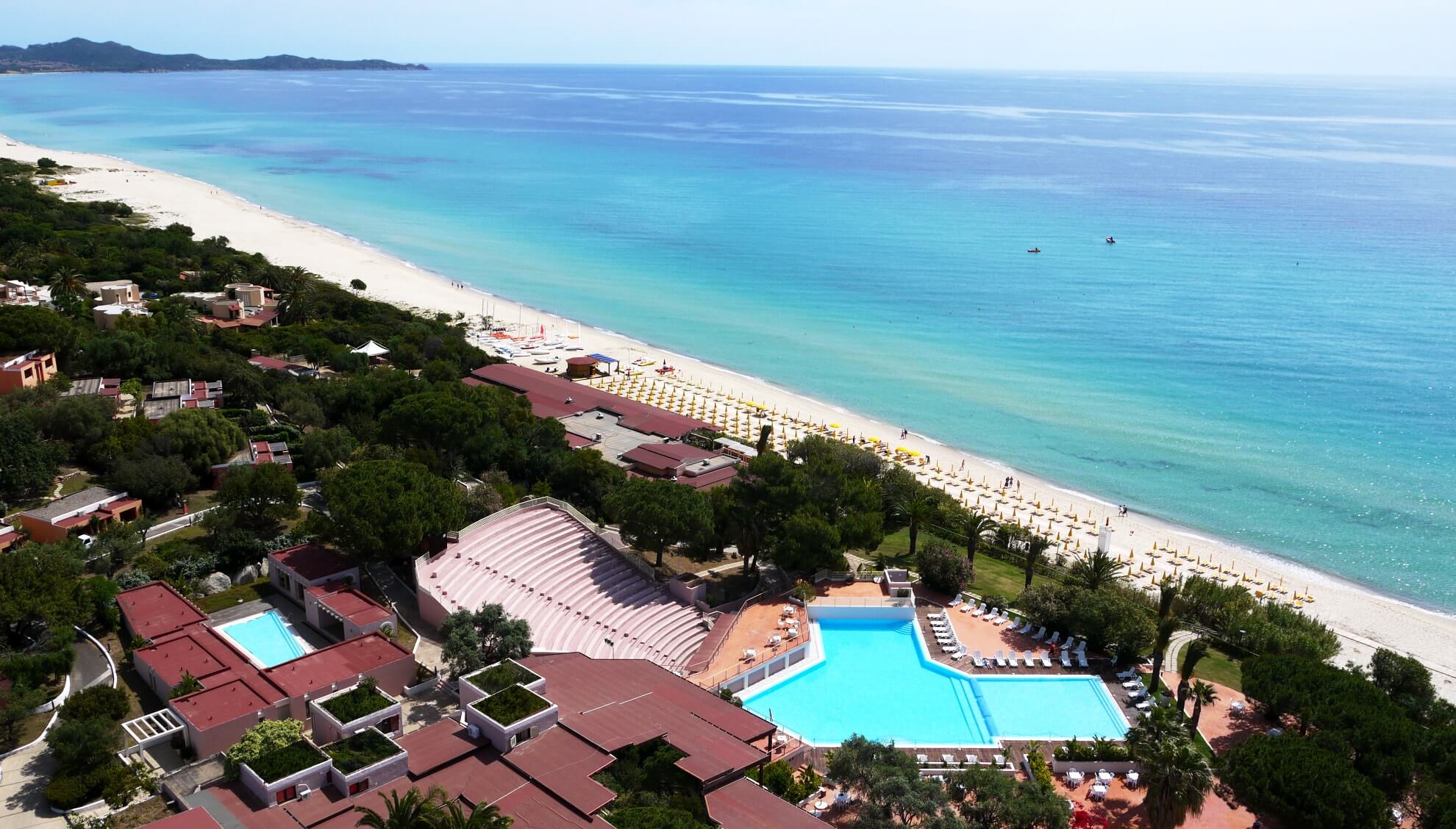 This list wouldn't be complete without at least one entry that assured vacationing families days full of enjoyable activities on Sardinia's coastline. Free Beach Club is one of the most famous and best family resorts in Sardinia because of some exclusive things guaranteed for visitors.
First, Free Beach Club is conveniently located near major attractions like the Museum of the Territory and Villasimius City Hall. You have a few miles of space for you and your kids to unravel here. The family-friendly resort is located in Costa Rei, where there are plenty of other family resorts you could explore.
The family resort has the most expansive beach line and small coves you and your kids will enjoy visiting. The resort has mini-club activities designed for kids of different ages. During your vacation, the kids will complete specific courses while making new friends with other kids.
Free Beach Club ranks pretty high in the list of most preferred family resorts because here, families are guaranteed a super enjoyable experience and packed full of activities for kids and grown-ups alike.
Pullman Timi Ama Sardegna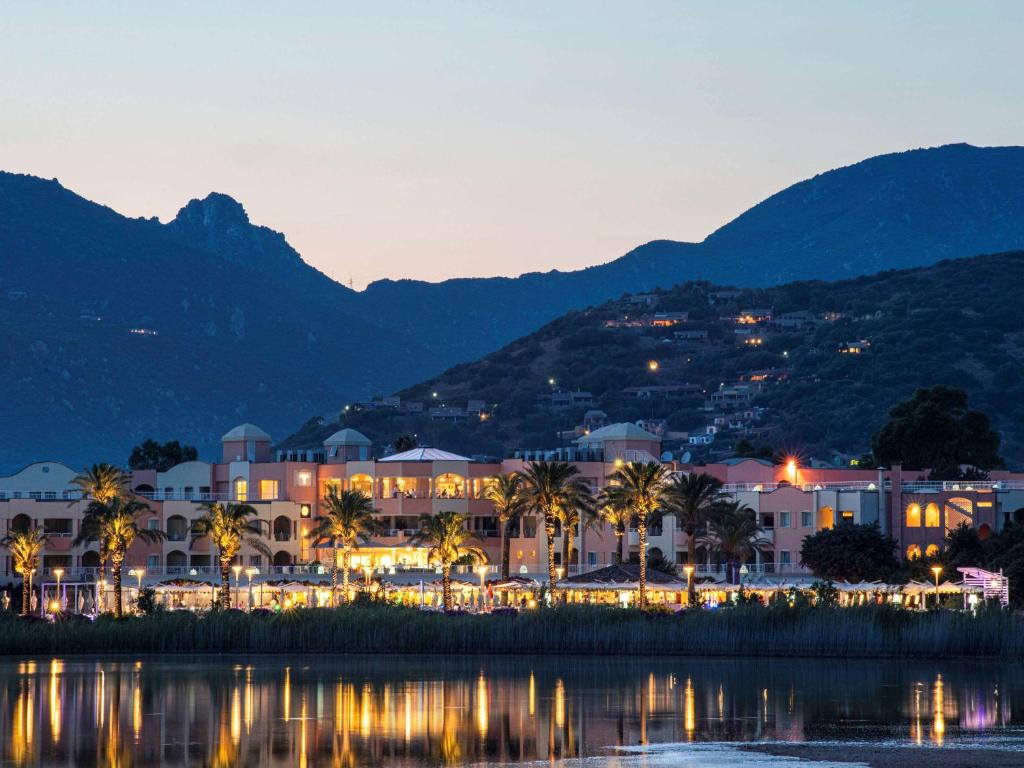 It's easy to fall in love with Pullman Timi Ama Sardegna because of its beautiful exteriors, which match the undeniably pleasant experience you'll have during your stay.
Located in the renowned town of Villasimius in southeast Sardinia, this family resort is where you will find crystal clear blue waters, the whitest sandy beaches, excellent food, and the most convenient accommodation facilities.
This family resort is located inside an 11-hectare park which you'll have at your disposal the second you become a guest here. The establishment bends backward to ensure a trouble-free, super exciting stay for everyone. Their hospitality is unparalleled.
If you are looking for a safe space for your family and versatile enough to suit your needs, look no further; Pullman Timi Ama Sardegna is one of the best family resorts in Sardinia that can meet all your demands.
Sant'Elmo Beach Hotel
There's nothing as annoying as a crowded beach that you and your family can barely enjoy during your visit to Sardinia – this is a secret that Sant'Elmo Beach Hotel seems to have let on about because visitors here can enjoy a private beach. Here, you'll never have to worry about losing track of your kids on the beach. There's plenty of space and a manageable number of visitors with whom you will be sharing the expansive coastline.
Located in Costa Rei, Sardinia, this family resort offers top-notch facilities for all its guests, including an outdoor pool, free parking and Wi-Fi, pet-friendly surroundings, and spacious, air-conditioned rooms ideal for larger families.
The hotel also has a mini club and junior club where your kids can have tons of entertainment with a full itinerary of delightful things to do daily. A sports club serves as a welcome option for adults and older kids.
Park Hotel Cala di Lepre
Palau is a small part of North Sardinia that remains unexplored and untampered with, as is the case with most holiday spots receiving an influx of people annually. Therefore, it is no surprise that Park Hotel Cala di Lepre, another hidden gem, is located here.
Park Hotel Cala di Lepre is an enchanting family resort a stone's throw away from the vivacious La Maddalena Archipelago, a group of islands visitors and locals love exploring.
The area is surrounded by the most stunning beaches you and your family can survey during your stay. In addition to plenty of activities for adults, this family resort has an excellent collection of activities, including engaging animation classes to keep your kids thoroughly entertained.
It's one of the best places to be because you and your kids will always be within arm's length of attentive staff members eager to tend to your needs.
Agrustos Club
Argustos Club is a laid-back family resort that manages to feel so much like home. Their goal is to provide a space where you experience utmost relaxation. This family resort assures your family of the best time and offers comfortable accommodation, food, and other convenient facilities.
The rooms are large enough to accommodate a large family. Each room has air conditioning, a refrigerator, paid internet, and a comfortable sitting area. All guests can enjoy privileges like free parking and unlimited access to the pool and restaurant.
Near the resort are pubs like Risto Pizza da Tony and Panelentu, where adults can sneak away as their kids remain engaged at the hotel's kid's club center.
Argustos Club is an incredible family resort on Sardinia's coastline where you are allowed to forget about the rest of the world. The moment you get here, you'll be so obsessed that you'll never want to leave!
Chia Laguna
Chia Laguna offers top-tier hospitality and boasts the most intricate collection of marine life. Few places can beat this family resort if you want to explore and study the sea.
Chia Laguna has tailor-made packages and activities ideal for adults traveling with kids. The resort is located on a particular part of the sea on a lagoon. Here is where the rarest collection of birds in the area exists. This resort will leave you in awe if you love bonding with nature and enjoy listening to and watching birds.
Some amenities you'll enjoy here include free Wi-Fi, fun games for kids, free parking, and a restaurant with an exclusive kid's menu.
The glistening sea waters, sandy beach, and sea excursions force you and your loved ones to forget about your daily life routine to indulge yourselves in this little piece of heaven fully.
The Best Family Resorts in Sardinia: Final say
There's no telling how amazing your time in Sardinia can be for vacationing families. But wait, this is on condition that you find a family-friendly resort that will have no problem catering to you all.
Ready to have the best time of your life in Sardinia? Above are nine of the best family resorts in Sardinia, where you and your family are assured of an unforgettable experience!
Check us out for more insight into planning your next family vacation.
More about our TFVG Author