There are hundreds of unique all-inclusive resorts for families across the United States and further afield, and many of them provide access to large, gorgeous shared pools.
But some families wish to take things up a notch by staying in resorts where they will have access to their own private pool. And there are many excellent options for this luxury preference as well.
Because there is a wide variety to choose from, we've outlined the best all-inclusive resorts with private pools for families. Keep reading to see which resort best suits your family vacation preferences and desires.
Top All-Inclusive Resorts with Private Pools for Families
Having a private pool allows you to spend quality family time without having to worry if there'll be enough space for the whole family to enjoy pool time. Additionally, it will enable you to be quiet or a little louder and playful without having to worry about interrupting anyone else's pool time.
Many of these pools are connected directly to your suite, providing easy and convenient access as well. Here's a look at the top picks!
1. Bluefields Bay Villa — Jamaica
Bluefields Bay Villa in Jamaica offers families private cottages, houses, and villas — all of which include private pools. Each of the private pools is in front of the sea, giving you incredible ocean views and private beach access.
And there's space for everyone no matter the size of your family because there are villas that are two bedrooms to accommodate smaller families and up to six bedrooms to fit large family gatherings and even reunions comfortably.
Further, it's easy to make Bluefields your home away from home.
In addition to private pools, the family accommodations also include full kitchens, living areas, and dining areas which provide a convenient, welcoming, comfortable, and home-like feel to your vacation.
But don't worry if you would rather not cook your own meals on vacation. Bluefields treats its guests to private chefs and butlers as well.
They can consider your dietary preferences and make three made-to-order meals each day, as well as provide appetizers and snacks in between meals.
Ultimately, if you choose to stay at Bluefields, your family can expect luxury, white-glove service, gorgeous Jamaican views, delicious cuisine, and lots of activities that both the adults and kids will enjoy. You can scuba dive, go hiking, and partake in a range of water sports.
Plus, there are experienced, trustworthy nannies available around the clock to watch over the kids if you and your partner need some well-deserved alone time.
2. Jewel Runaway Bay Beach & Golf Resort – Jamaica
The Jewel Runaway Bay Beach is another all-inclusive Jamaican resort that offers private plunge pools for their guests, along with outdoor showers, butler service, and postcard-worthy views.
The junior suites and the one-bedroom suite offer private pools, while all of the rooms provide a well-decorated retreat just steps away from the gorgeous Jamaican turquoise waters.
Families love this resort due to the clean rooms, tasty food, and exceptionally friendly staff. Families who stay at the Jewel Runaway tend to feel supremely taken care of.
Additionally, families get access to both land and water sports, a health and fitness center, and the rejuvenating Radiant Spa.
This resort also has an onsite PADI dive center if you or someone in your family is thinking about getting a scuba diving certification. And of course, the golf lovers in your family will love to stay at this resort as well,
3. Windjammer Landing Resort – St. Lucia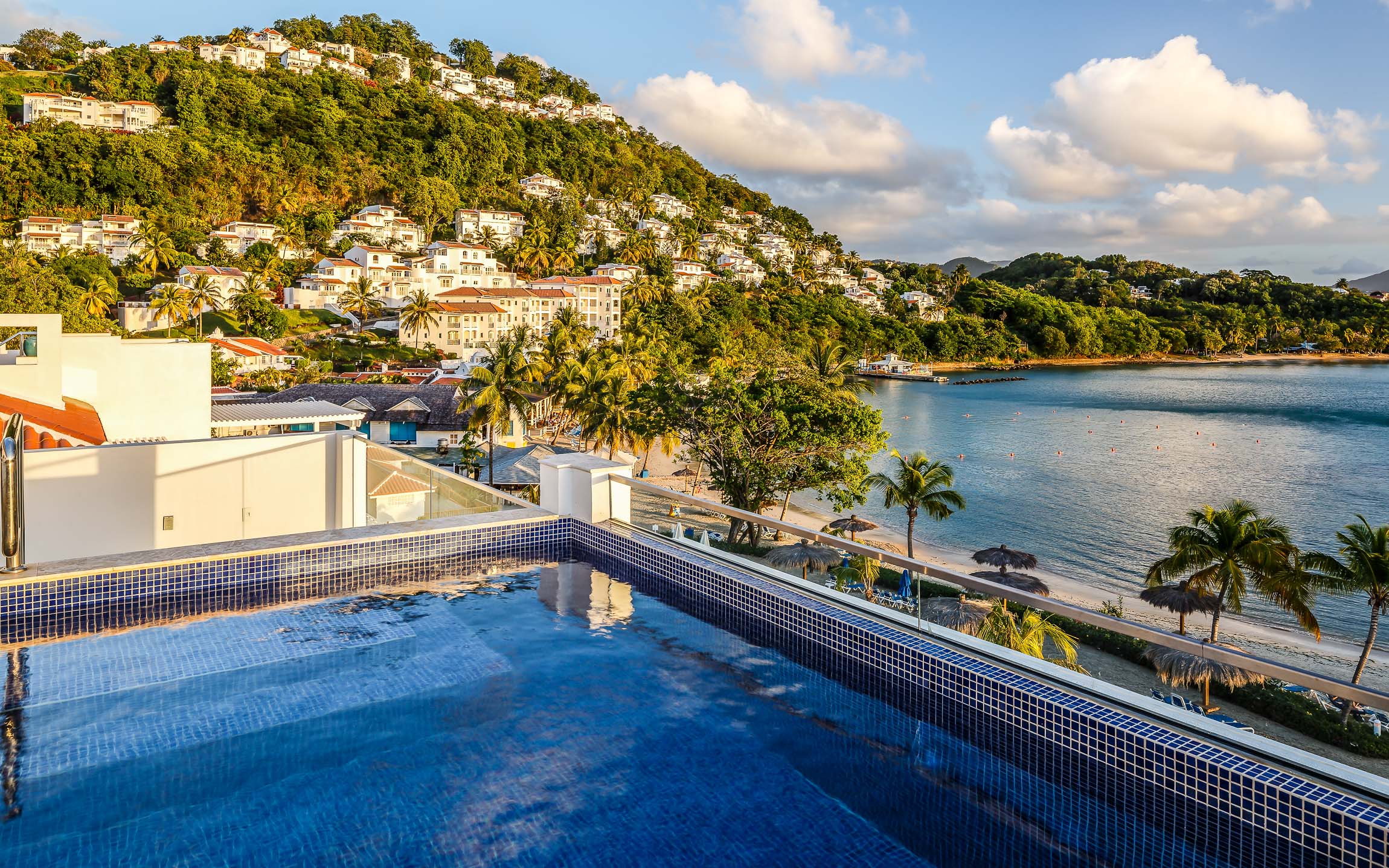 At the Windjammer Landing Resort in St. Lucia, you can find two-to five-bedroom villas that all come with private, full-sized pools for the whole family to enjoy. Just make sure you book a "Premium" villa if you want to get the private plunge pool.
In their premium villas, you'll also get kitchen facilities, room service, a balcony, and incredible views of the ocean.
Plus, Windjammer Landing is a highly rated four-star resort that gives guests exclusive access to everything the Mediterranean Village in St. Lucia has to offer.
Besides being able to soak in your own private family pool, you'll be able to participate in motorized sports, eat at world-class restaurants, enjoy the view in their hammocks, or relax at the spa.
Your kids will love this resort because there are various kid-friendly activities and events such as pizza parties and dance lessons. They even have other unique and vacation-specific events, like coconut bowling!
Both you and your kids are sure to have an incredible, memorable time at the Windjammer Landing Resort.
4. Jade Mountain Resort — St. Lucia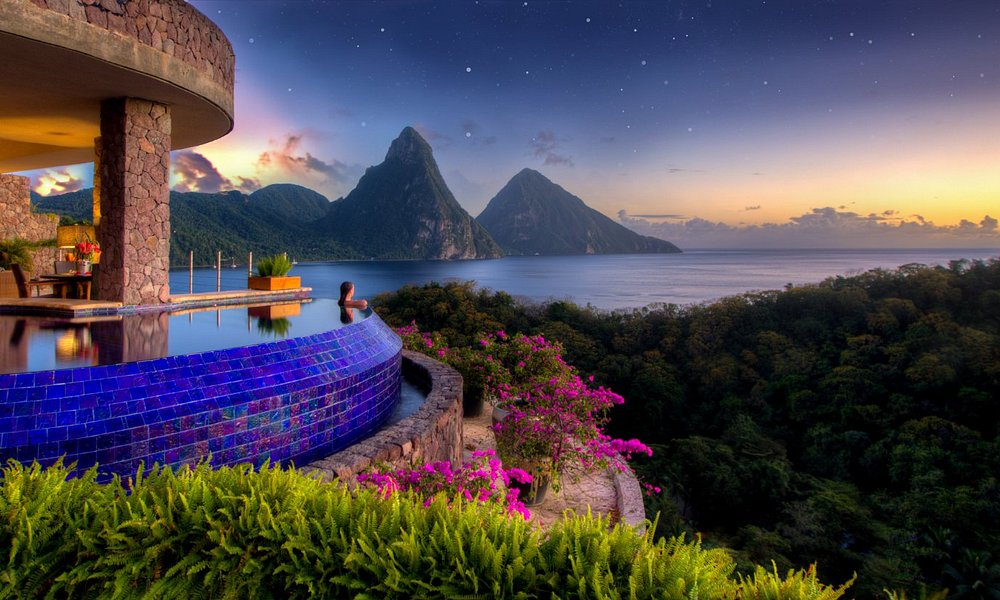 Another St. Lucia all-inclusive resort with private pools for families is the Jade Mountain Resort.
This stunning, architecturally brilliant resort is located on the southwestern Caribbean side of St. Lucia and offers fantastic scenic views of the island.
There is a magnificent shared infinity pool at this resort, but you can also have your own private infinity pool.
Their rooms, which they dramatically yet appropriately call "sanctuaries," are spacious and open-air, inviting sunlight, breeze, and panoramic views. Galaxy, Sun, Moon, and Star all offer exceptional private infinity pools.
Outside of enjoying the brilliant design aspects of Jade Mountain, you and your family can partake in many activities such as hiking, scuba diving, snorkeling, jungle biking, sailing, windsurfing, and kayaking.
You can even spend the day sailing on one of the resort's privately owned yachts.
If you're looking for a truly luxurious yet naturally immersive experience with your family, then Jade Mountain Resort is an excellent choice.
5. Beach Enclave – Turks and Caicos
The Beach Enclave is a secluded, gated four-star hotel that provides an incredible beachfront escape for families of all kinds.
You can book a four, five, six, or even seven-bedroom villa and have it all to your family, and request a private chef so that you don't have to lift a single finger during your stay.
Instead of cooking, you can chill out in your private pool or go kitesurfing, paddle boarding, or sailing.
If you're getting a little too wrinkly from the pool and the beach, this resort also offers land activities such as ATV adventures, horseback riding, and golfing.
The Beach Enclave Experience promises a relaxing, comfortable stay with top-of-the-line hospitality, so you don't have a worry in the world while you're there.
This resort does not have as many reviews as some of the other resorts on this list, but the reviews it has gotten thus far are notably high and sing praise to the resort's style, views, cleanliness, and excellent staff.
6. Beaches — Turks and Caicos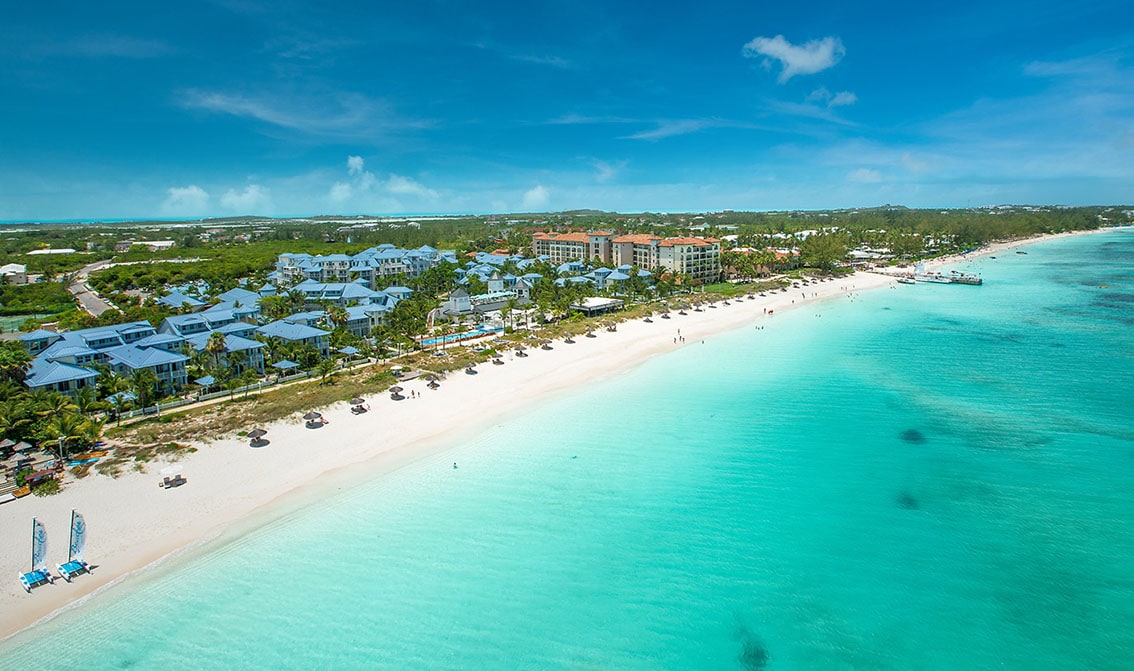 Beaches is a luxury hotel chain that offers an extensive list of inclusions at their resorts, including but not limited to up to 21 restaurants, stocked bars, airport transfers, land and water sports, and a Kids Camp with certified nannies.
Specifically, their Turks and Caicos location has an option called the Key West Oceanview Two-Story Bedroom Butler Suite. It's a mega-spacious, four-bedroom, butler-serviced villa that's a stone's throw away from the beautiful Turks and Caicos beach.
Plus, it has a sizable private pool and access to the resort's larger shared pool.
Adventurous and thrill-seeking families will especially enjoy this resort, as it offers a comprehensive scuba diving program for families and easy access to other water sports.
And if having your own private pool doesn't quite meet your water needs, they also have a waterpark called the Pirates Island Waterpark.
This exciting park has swim-up soda bars, whirlpools, and lazy rivers so that you can have both a playful and a relaxing time.
Speaking of playfulness, if your kids are lucky, they could run into Sesame Street characters at this Beaches resort.
And beyond characters, this resort offers several Kids Programs that provide tailor-made entertainment for your young ones. There are different age-appropriate activities so that both your toddler and your teen can have loads of fun.
For teens, they even have an Xbox lounge and a teen-only dance club called Club Liquid.
All of these offerings demonstrate why Beaches Turks and Caicos is undoubtedly one of the best all-inclusive resorts with private pools for families.
7. The Farmhouse at The Farmstead at Royal Malewane – South Africa
South Africa is a beautiful family destination, and The Farmstead at Royal Malewane is a newer five-star all-inclusive resort that can ensure your trip is one for the books.
You can stay in the Africa House, which is an exclusive villa that can sleep a large family or group — up to 12 guests!
Or you can stay at one of the three Luxury Farm Houses at the Farmstead, which have large verandas in the front and back and scenic private pools overlooking the bush.
Staying here will grant you private services such as a butler, housekeeper, chef, and a private safari vehicle with a ranger and a tracker.
You'll be all set for an adventure of a lifetime, and the Royals Malewane ensures that your safari will be planned and executed by a top-notch guiding team.
Near the resort, you can take a helicopter over the Panama Route, take a hot air balloon ride over the Blyde River, go on a canyon cruise of this same river, golf, go horseback riding, explore the local neighborhoods, and more.
Unsurprisingly, the resort recommends staying at least three nights to fully immerse in everything the location has to offer.
However, an important note about this accommodation is that your children must be at least ten years of age to stay in a Luxury Farm House. Thus, if you have younger kids, it's best to look at a different all-inclusive location on this list.
8. Hotel Le Toiny — St. Barth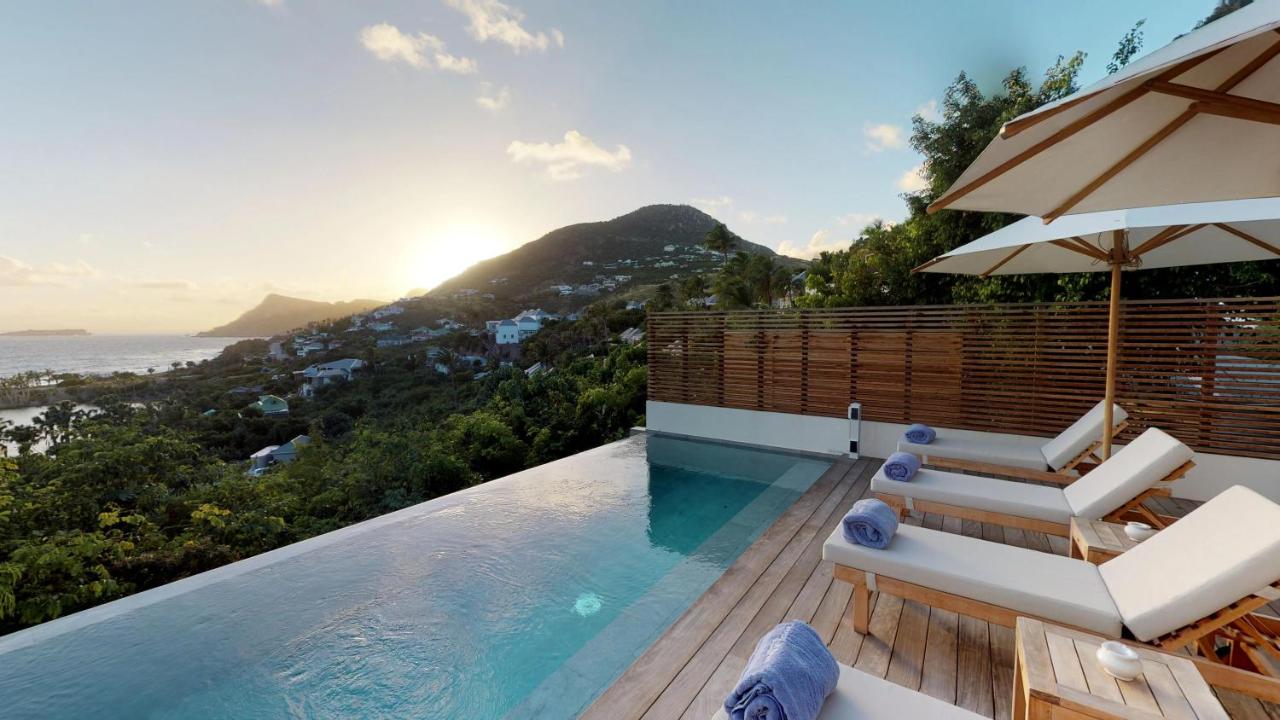 Hotel Le Toiny is a prestigious resort in St. Barth that offers 22 luxury villas surrounded by beautiful beaches and luscious tropical hills.
It's not common for a resort to have accommodations with private pools, and it's especially not typical for all of the accommodation options to have them.
But lo and behold, each and every one of the villas at this resort has a sizable private infinity pool for you to enjoy the stunning ocean views while immersed in cool water.
The modern villas are also spacious, roomy, and very comfortable. However, if you need a villa that's larger than two bedrooms, you may have to check out this resort another time, as they only offer one or two-bedroom villas.
You'll also be able to access two highly-esteemed restaurants, the signature Le Toiny restaurant, serving fine French cuisine, and the outdoor Beach Club, offering a variety of delicious food and drinks.
We recommend this stay for older families who are mainly looking for a relaxing, elegant time on their family vacation.
9. Tadrai Island Resort – Fiji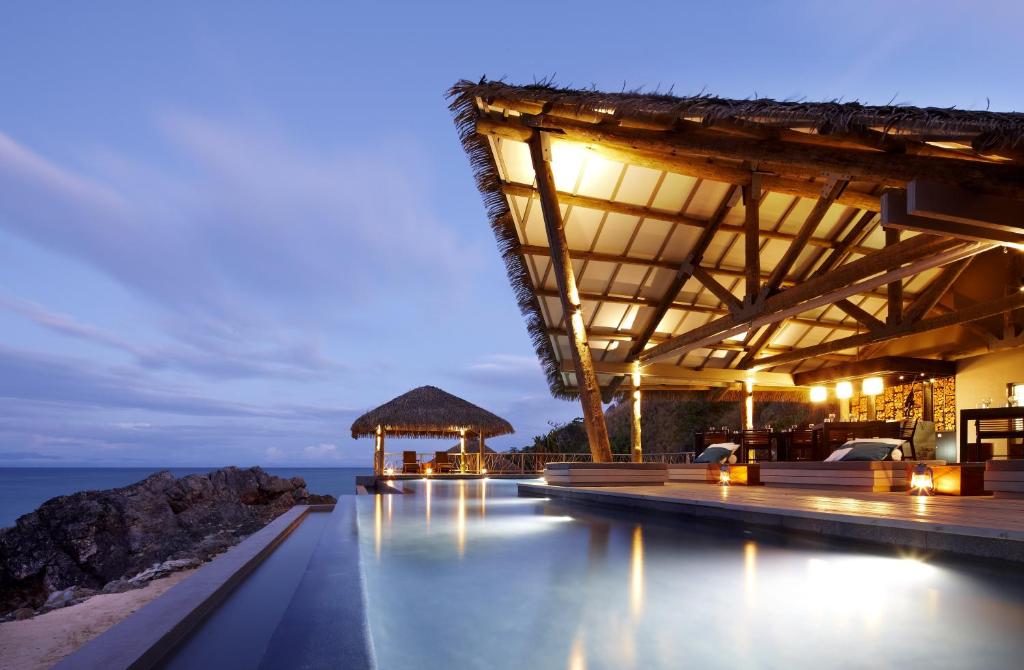 Tadrai Island Resort provides a small, intimate, and highly exclusive experience for its guests.
Offering only five private villas among its grounds, it's perfect for families who want to prioritize both privacy and luxury.
All of the villas are beachfront, giving you immediate access to a fun and relaxing day on the sand or in the sea. The resort also faces west, providing beautiful, memorable sunsets each and every day.
For activities, you can go hand-line fishing, snorkeling, island hopping, or simply walk around the beautiful island of Fiji.
However, the villas are only 100 square meters and are usually booked by couples, so we only recommend this resort for small families with one kid.
Alternatively, if your kids are older and can stay in a separate villa, you could book their own villas for them. That would certainly be a treat for them!
10. Grand Velas Riviera Maya – Mexico
If you want a private pool at the Grand Velas Riviera Maya in Mexico, you can book one of their Ambassador Suites with its own private pool.
The biggest option is the Ambassador Presidential Ocean Front, which can hold four adults, four children, and two infants. However, if you don't need that much room, there are smaller Ambassador Suite options that still offer private pools.
The Grand Velas Riviera Maya is a well-rated and top-notch five-star resort. It's even been rated Trip Advisor's Top 3 resorts in Riviera Maya since 2016, and we can see why.
They have eight internationally inspired restaurants, offer luxury suites, and provide unique vacation experiences.
Plus, this resort is an excellent option for families with its Kid's Club, Teen's Club, bike rides, kayak tours, snorkel tours, and beach games. They even offer opportunities to swim with dolphins!
Finally, if you're looking to relax, stretch, unwind, or shake out some stress during your vacation, not only do they offer a spa, like most all-inclusive resorts, but they also offer yoga, Zumba, and pilates classes.
You can be sure that no one in the family will get bored at the Grand Velas.
11. Dreams Playa Mujeres Golf & Spa Resort – Mexico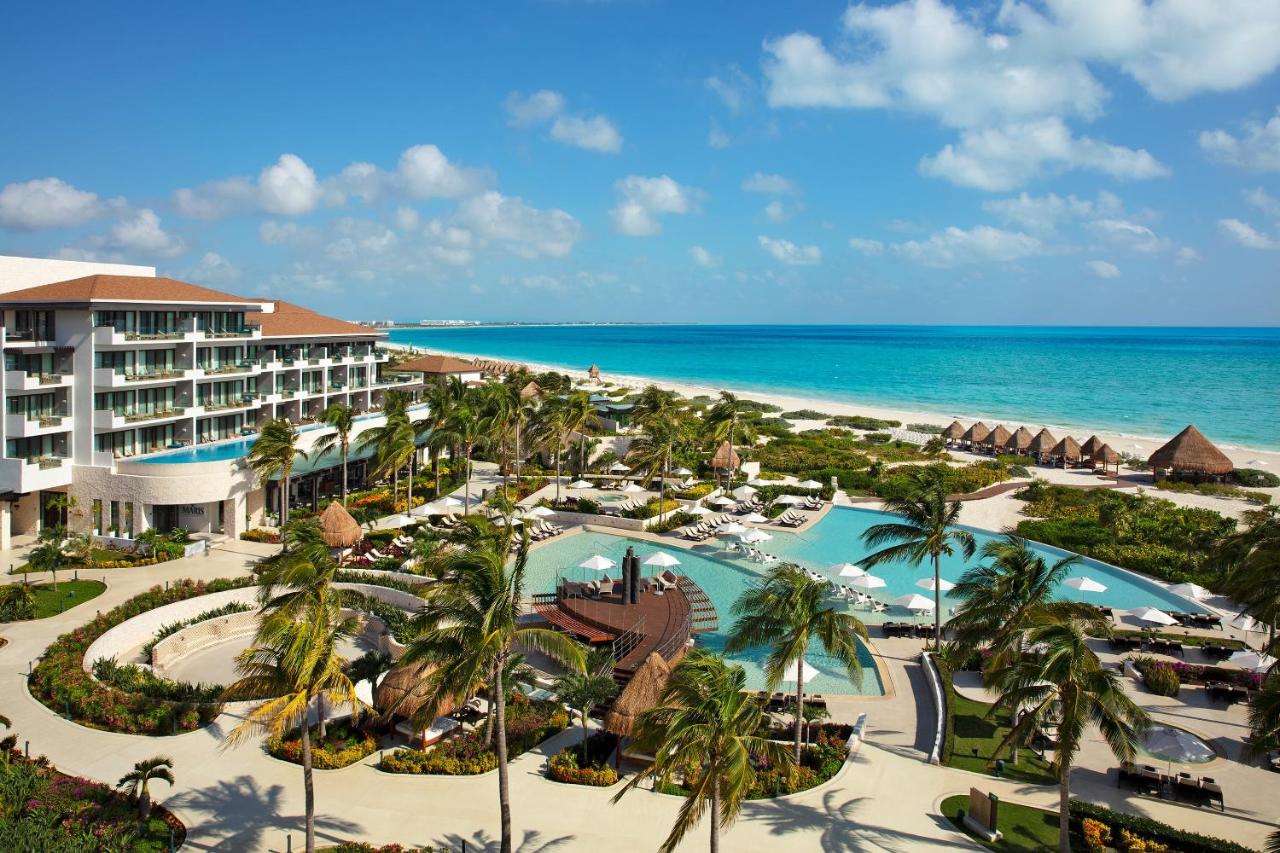 Another popular all-inclusive resort in Mexico with primal pools is the Dreams Playa Mujeres Golf and Spa Resort.
The Preferred Club Family Presidential Suite is the accommodation you want to book if you want your own private pool for the family. This suite can accommodate up to eight guests and has everything you need for an enjoyable stay.
You can only stay in this suite if you are in or sign up for the Preferred Club. Being in the Preferred Club will grant you access to more luxurious suites and elevated concierge service, an exclusive lounge, and upgraded room amenities.
Further, there is an onsite water park at this resort, as well as spas, live entertainment, and of course, a world-class golf course. Also, this resort is in a great location, giving you access to a range of beautiful beaches along the Yucatán Peninsula.
If you purchase the Dream Big package as an add-on, you'll get perks like a family welcome gift and a family photo session. Plus, there's a 25-minute massage just for the parents!
12. Curtain Bluff – Antigua
Curtain Bluff is an intimate and welcome five-star resort in Antigua. Get a Hulford Collection Suite to enjoy a relaxing private plunge pool.
Outside of the room, there are many activities for both the kids and the parents to enjoy.
And what's special about Curtain Bluff is that they strike the perfect balance between the parent-focused vacation that is very dry and boring to kids and the kid-focused vacation that is very unrelaxing to parents.
At Curtain Bluff, you can send your kids to entertaining kids activities, like the Cee Bee Kids Camp, while casually relaxing on a hammock nearby.
Activities at the Cee Bee Kids Camp include crab races, arts and crafts, snorkeling, Hobie Cat sailing, water sailing, court sports, computer games, and board games.
You can also hire child care staffers to watch your kids in the room while continuing to enjoy a tranquil vacation or instead go out for an evening boogie!
13. Nickelodeon Hotels and Resorts Punta Cana – Dominican Republic
Nickelodeon Hotels are a family favorite in the resort world due to their emphasis on family bonding, fun, and excitement!
You and your family can do a lot at the Nickelodeon Resort in Punta Cana, such as eat at a Character breakfast so your kids can meet their favorite Nick characters, dance at dance parties, visit the theater, and more.
But if you get a bit tired from all the Character meet and greets and just want some undisturbed family bonding time, a private pool can make that time even sweeter.
Some of their swim-up suites are attached to a shared pool, but you can book a Swank Plunge Pool Suite, the Pool Super Villa, or the Spongebob-inspired Pineapple Suite!
If you stay at the Pool Super Villa, you'll get a private pool right in the entry hallway as well as an outdoor infinity pool. Plus, you'll have marble bathrooms, a smart TV, sunbathing beds, and private butlers to cater to your needs.
In the Pineapple Suite, you'll get all the same luxury, just with Sponge-bob-inspired twists that your kids will surely love!
14. Royalton Bavaro All-Inclusive Resort & Spa, Dominican Republic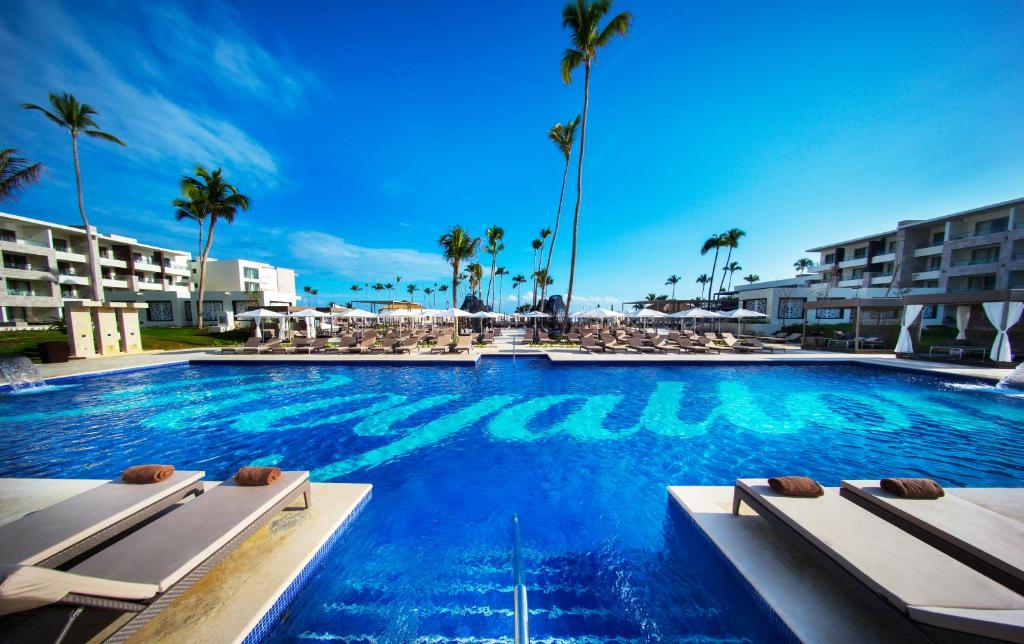 If you don't need a private pool for your family but would simply appreciate a more exclusive pool, the Royalton Bavaro All-Inclusive Resort & Spa has you covered — as long as you are a Diamond Club member.
Diamond Club members get access to their own private pool, which means you'll still be sharing, but with a much smaller number of people.
At the Royalton, you can get elegant suites, reservation-free dining, and five-star hospitality.
And as a Diamond Club member, you'll also get additional benefits for being a member, such as a butler service, exclusive beach areas, upgraded robes, complimentary check-in and check out, nightly turndown service, and more.
This resort is an excellent option for older families and people who love having the choice to hit up the Casino on their vacation.
However, if you have younger kids, they'll undoubtedly enjoy this resort's children or teen programs, the lazy river, and their surf wave machine called the "Flowrider."
Are You Ready to Visit These All-Inclusive Resorts with Private Pools for Families?
If you're looking for the best all-inclusive resorts with private pools for families, we hope this list has helped you discover some of the top options across the globe.
All-inclusive resorts are known for offering guests everything they need and more, but having your own private pool can take your family vacation to an even greater level, ensuring that it's one you and your kids will never forget.
In addition to private pools, these resorts may offer white-glove butler service, personal chefs, and a wide range of land and sea activities.
And if you're coming with young ones — and perhaps want to get away from them for a bit — many of these resorts offer kid's clubs, child-friendly activities, and nanny services.
All in all, we're sure that you'll have a fantastic stay at any one of these all-inclusive resorts with private pools. You simply have to select the one that suits your and your family's needs and preferences above the rest!
More about our TFVG Author
A seasoned traveller, Dad, and avid sports tourist, James foundered The Family Vacation Guide to share his expert vacation experiences- especially when it comes to being a travelling family man.
Featured in Travel articles such as Travel + Leisure, TripSavvy and SFGate, you know you're reading some of the best vacation tips online.