France is a prime skiing spot in Europe – it has a vast range of ski resorts, and the ski areas are well-linked, allowing you to clock up many ski miles easily.
If traveling with your family, you want a ski resort that caters to all your family members' needs regardless of age. You'll likely need a resort with a ski school to keep the kids busy, a variety of easy-to-reach pistes to challenge the adults, and activities you can enjoy together.
We've hand-picked the best family ski resorts in France to help make your decision-making easier.
Avoriaz
Avoriaz is one of the best ski resorts for families in France. Its car-free environment means you can leave the kids behind and embark on a thrilling skiing adventure on the snowy slopes. If visiting with kids under five, don't fret. There's a Children's Village, commonly referred to as Village des Enfants where kids are looked after all day until 5:30 p.m.
Older kids can enroll in skiing classes at Avoriaz Alpine Ski School with experienced instructors to help them learn the sport. After the day's hustle and bustle, you can wind down by watching a movie at the cinema or bowling at the bowling alley. Other all-inclusive family activities include donkey trekking and hot air ballooning.
Meribel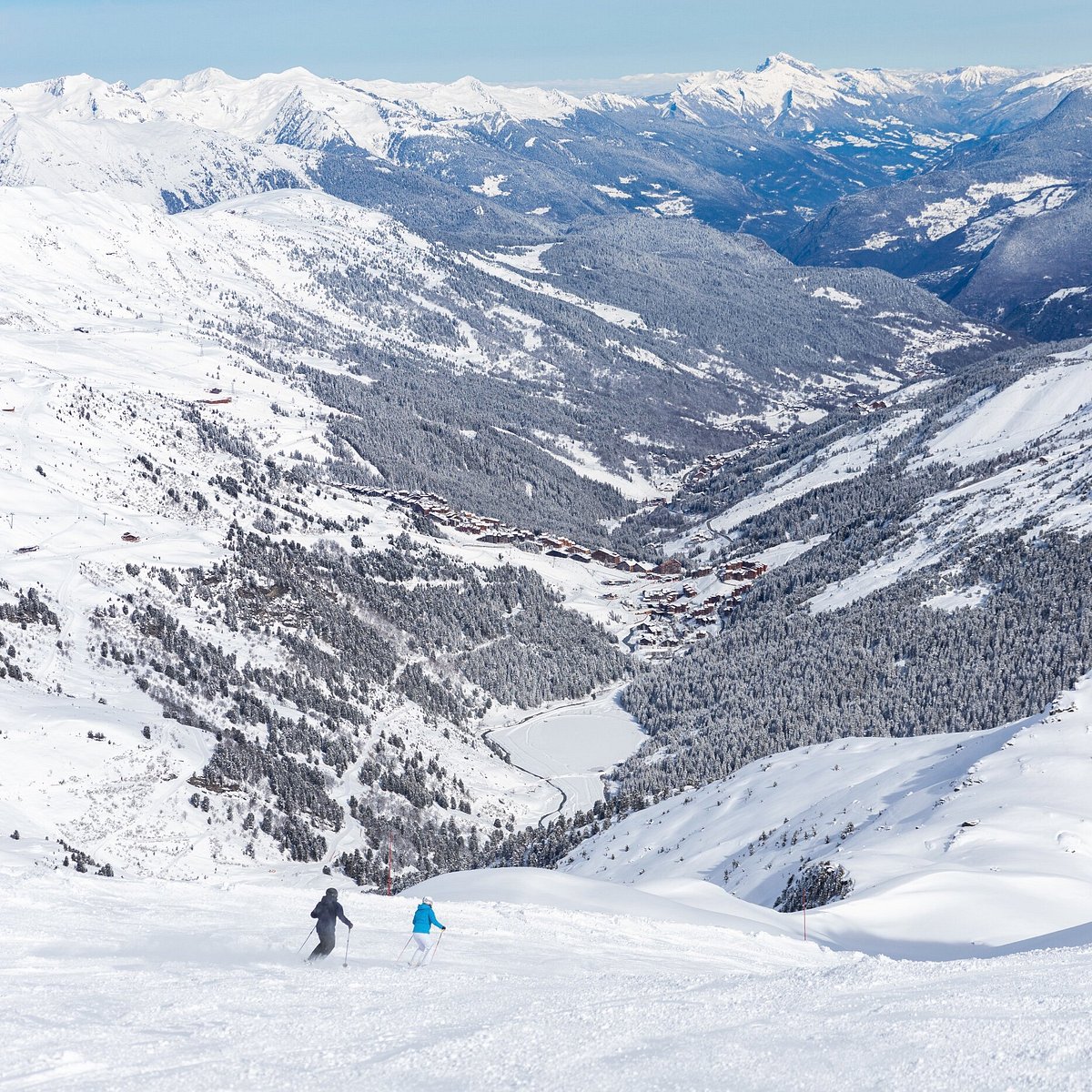 Located at the heart of La Tania, Val Thorens, and Courchevel valleys, Meribel is a great place for families that love skiing. With independent ski schools like Parallel lines, beginner-only Zen Zones, and the New Generation, it's an excellent place for kids starting their skiing careers.
Meribel was recently awarded a Famille Plus label, a stellar award for the best family ski resorts in France. To get the award, the resort has to set up special events and financial incentives that attract adults to their pistes.
Meribel meets all such requirements, given the many family-friendly events at the resort. The Inuit Village hosts Arctic-themed games, snowball fights, and the igloo building. A walk inside the village will get you to Altiport Forest, where families explore a little more about the resort. Then, there is the Moon Wild area on the slopes, a kid-friendly spot with lots of wildlife and large animal sculptures.
Les Gets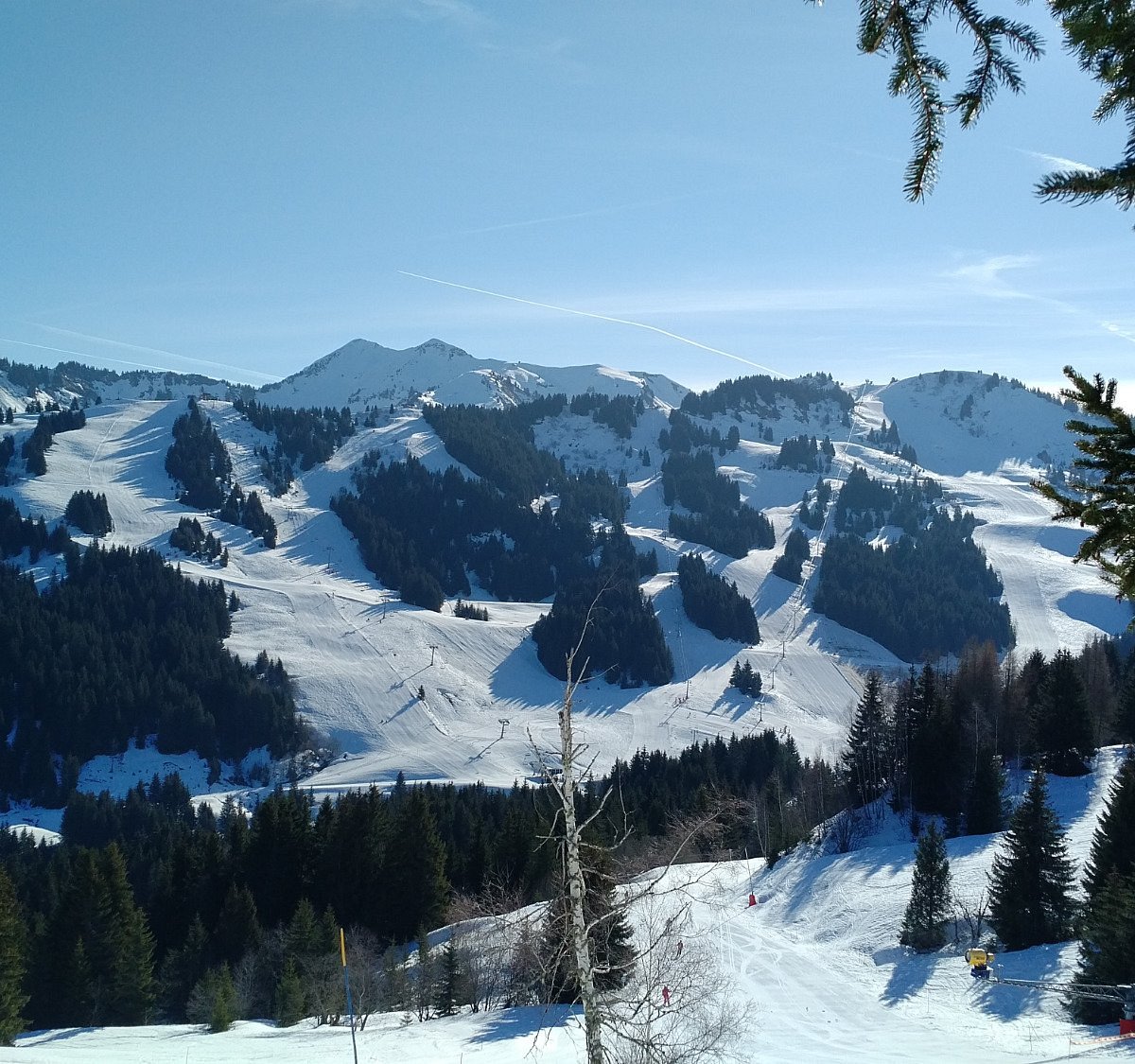 Located next to Morzine, this age-old resort is a must-stay for families. Les Gets boasts some of the most accessible slopes in the French Alps, accommodative of all skiers regardless of their skill level.
In the middle of the resort is an ice rink, and at the bottom of the Chavannes is a sledding piste for adults, teens, and pre-teens alike to test their skiing skills. Newbies learn how to plow on the fun Pister des Indians slopes.
If bringing younger children (less than six years), take them to the child-friendly Le Grand Cray area. This themed section is dedicated to kids, with gentle slopes offering a safe place to learn skiing away from the adult pistes. It also has a mix of treasure hunts and drawing competitions to keep kids busy.
At the end of an eventful day, wind down with a plate of tartiflette, the region's staple dish. It consists of potatoes roasted with reblochon and lardons to warm up your body for the next day's events.
La Plagne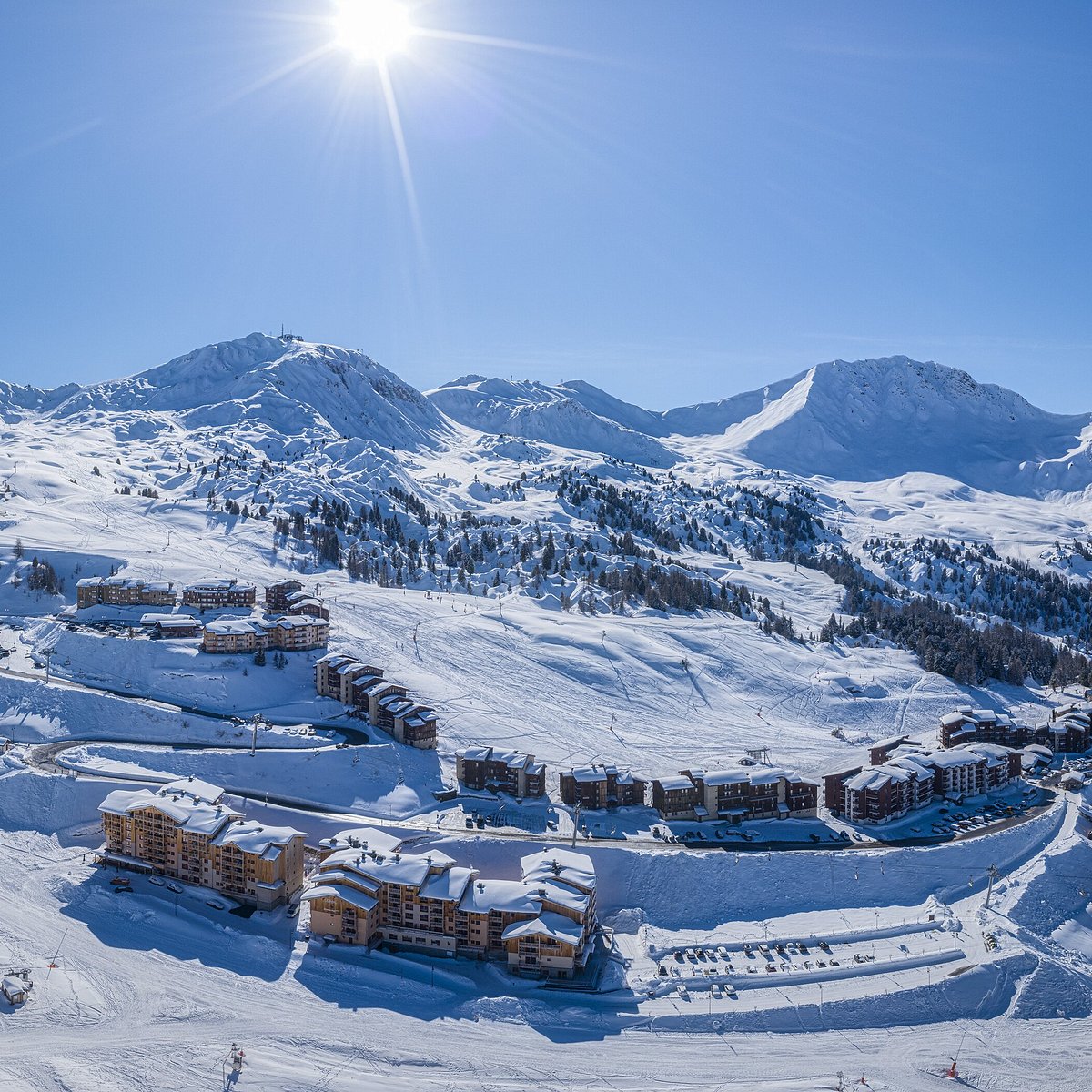 Attracting more than 2.5 million skiers yearly, La Plagne is one of France's best family ski resorts. It has 11 villages rolled into one to allow visitors to choose the most suitable accommodation for their families. Whether you're looking for a quiet outpost near the blues, a chalet, an apartment, or a central place surrounded by nursery slopes, La Plagne has all that and more.
The area's highlights are the high-altitude villages at Plagne Center, Belle Plagne, and Plagne Bellecote. There's a great variety of ski-in, ski-out, and family-friendly accommodation here, accessible by free buses or cable cars if heading to Belle Plagne. Jean-Luc Cretier ski stadium, the artificial frozen waterfall, also stands out for those who love night-time skiing.
You'll also find villages with the esteemed Famille Plus accommodation like the Montchavin. It has a dedicated club for kids called the Baby Club Montchavin, offering a variety of kid-friendly activities, including snowman building and art.
Another kid-friendly area is the Les Coches woodland village. It has two nursery slopes for kids learning to ski and an ice rink for advanced skiers. Christmas is the climax of all festivities at La Plagne, with markets and parades taking over the villages.
You can also catch up on the Easter holidays with feasts like the Subli'Cimes festival. During the festival, the five peaks of the resort spot different themes, including winter-like ice-grottos and tropical paradises. There are lots of family-friendly activities too.
La Rosiere
Located five hours from Paris is La Rosiere, also referred to as the children's paradise. The lesser-known resort sits at a relatively high peak, the most snowsure resort in France.
It has a snowboarding school for kids aged seven years onwards, 77 pistes (33 for kids and beginners), and a range of non-ski activities for kids. The ski school has experienced instructors ready to teach skiing lessons regardless of skill level.
The famous Espace San Bernado ski area is located here. It's a great ski spot for families looking for a more chilled spot. It has nursery spots for kids to learn skiing, but if your kids don't love the snow, head to Les Galopins Club – there are plenty of kid-friendly activities here. Child-friendly restaurants are also plentiful in La Rosiere.
Morzine
This is another ski resort that checks off all the boxes for skiers looking for the best spots for family trips in Europe. Morzine is located between Les Gets and Avoriaz, interconnecting both resorts. The resort has the Familles Plus accreditation, which means the resort offers:
Entertainment for all visitors, regardless of their age
Personal welcome for families
Professionals to take care of kids
Family-friendly services and shops
Family-friendly activities for adults and kids
However, Morzine has a relatively low altitude of 1,000 km, so the temperatures are not freezing as in other resorts. It stretches on a vast 600 km of land providing lots of terrain for skiers to cruise. There are 80 skiing trails, 52 for intermediates, 9 for beginners and experts.
Plenty of non-ski activities keep you busy if you don't love skiing. You can watch a movie at the cinema, play ice hockey, go ice skating or swimming at the indoor pool. The accommodation options are vast, too, as skiers can choose from luxurious chalets, rustic lodges, and purpose-built hotels.
Megeve
Megeve is a great ski resort for families traveling with older kids. It's one of the oldest ski resorts in the French Alps and retains a characteristic charm reminiscent of medieval times.
The cobblestone streets add a village vibe to the resort, albeit having modern ski facilities. Rich Parisians came here to ski in the early days, but the resort has since grown from that exclusive enclave to an all-around place for the public.
There are three ski areas with slopes for varied runs – for those still learning how to ski and intermediate skiers. The resort's highlight is three new six-person chairlifts replacing smaller lifts and the J-bars. You can also go for a gondola ride from the village to Rochebrune slopes, then board a cable car heading to Mont D'Arbois.
Flaine
An hour and a half drive from Geneva will land you at Flaine. It adds to the lesser-known resorts making it an excellent spot for families that don't love crowds. You'll find a variety of pistes here, including gentle slopes for kids and vertical ones for advanced skiers.
Flaine is also home to two ski schools – Le Rabbit Club and Piou Piou Club – and with the well-linked lifts, you can get back to the schools to pick up the kids on time. There are lots of non-ski activities here, too, including dog-sledding.
The nightlife here is pretty quiet, making it easy for families to relax after a long day on the slopes. The restaurant choice is also satisfactory, with most offering kid-friendly snacks and menus. As for the accommodation, you can choose between apartments, chalets, and hotels.
Serre Chevalier
This ski resort is a combination of three villages – Monetier les Bains, Chantemerle, and Villeneuve la Salle. Together, they provide vast ski areas for beginners, intermediate, and advanced skiers.
Serre Chevalier has the most pleasant weather in France as it experiences 300 days of sunshine a year, albeit having large snowfalls. Surprisingly, the crowds are pretty thin here, and with 80% of the slopes above 2,000m, the snow provides a soft landing all season.
There are kid-friendly slopes for children and adult beginners, but if you bring youngins, you can leave them at Club Piou-Piou. It has lots of kid-friendly activities and care professionals.
Les Karellis
This car-free ski resort is an excellent spot for families with young children. There's a ski school for kids aged four and above, and if you're out skiing at the end of your child's lesson, a staff member takes them to Jardin des Neiges where they're looked after.
What stands out about Les Karellis is the vast range of accommodation options. With up to seven holiday villages, there's plenty to choose from – chalets, hotels, apartments, and more. The resort focuses on making your stay here comfortable, especially for parents bringing toddlers.
For free, you can access kid-friendly equipment, including baby baths, cots, and high chairs. In addition, toddlers aged three months and above are accepted at the child minding center without additional charges.
Alpe d'Huez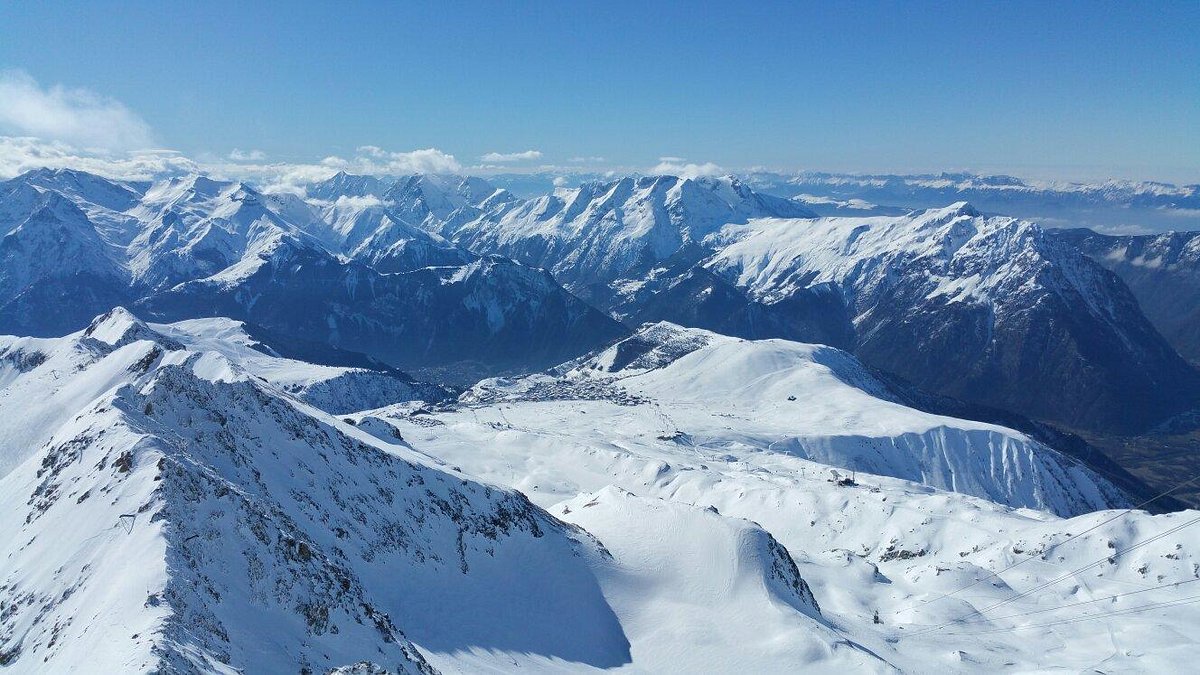 This grand ski resort combines six other resorts connected into one playground. Alpe d'Huez stretches over 249 km of land with 34 blue, 41 green, and 40 red pistes. The resorts are readily accessible using the 84 lifts connecting the base villages.
What stands out is the 16-km La Sarenne ski run, the longest in France. Only advanced skiers can cruise this one, but intermediate and beginner skiers have lots of pistes and slopes to try out.
The seven villages provide vast accommodation options, but it's best to stay at the main resort for better accessibility. All the villages are equipped with access lifts and a trail network to connect to each one of them easily.
So, Which Is the Best Family Ski Resort in France?
This guide makes it easy to find the best family ski resorts in France. Whether you're looking for a ski resort with the Famille Plus accreditation or a less-crowded one, there's plenty to choose from.
The beauty of most of these French resorts is that they're equipped with kid-friendly amenities. Avoriaz ski resort, for example, is 100% ski-in-ski-out to eliminate the need for hauling kids' gear, and with the Village des Enfants facility, young skiers are busy all day.
Are you looking forward to skiing with your kids on your next vacation? Check us out for more family vacation guides on skiing.
More about our TFVG Author