Getting everyone in your family to ski is such an incredible experience. If you want to make the most out of this experience, you need to know the top tips for skiing with kids. 
Before we let you in on some of the best skiing tips, remember not to be too tough on your kid on their first time trying the sport. It can be a fun experience for your entire family if you plan well. Encouraging your kids to learn how to ski can also be very rewarding.
After your kids finally get the hang of skiing, they will surely be keener on spending ski holidays with you.
The Best Tips for Skiing with Kids
Here are some things to keep in mind:
Practice Is Key
One of the top tips for skiing with kids is to ensure you don't shock them with the experience. If you have access to an artificial snow center in your home city, take them there first.
This idea may seem unnecessary if you want them to learn how to ski on real snow. But the goal of this step is to give your kids an introduction to basic skiing.
After you take them here, they will know what it feels like to ski on snow. Snow domes lessons are also very helpful in allowing your kids to understand the principles of skiing affordably.
Don't Start Your Kids Too Early
If you've seen viral skiing videos on social media, you may have come by clips of toddlers conquering the slopes. However, not all children are the same.
Some kids can handle skiing at a very young age. But others are not comfortable doing so while they are still toddlers. If this is the case, don't worry too much about it. Just be prepared to pull back.
Remember that there's nothing wrong if your child doesn't feel like learning how to ski at such a young age. Eventually, your kids will become more comfortable with it as they grow older. Remember that some pro skiers started their careers late.
One example is Sarah Hoefflin, who was already in her early 20s when she learned to ski. Now, she's already won an Olympic Gold Medal.
With this step in mind, skip out on splurging for a season pass for your kid, especially if it's their first time skiing. You may still get a season pass for you and your partner, though. 
Research the Ski Resort Well
Just like all things, ski resorts are not equal. This understanding is one of the most important tips for skiing with kids. Make sure to do research beforehand so you can enjoy all the amenities you need for your child.
Another top tip for skiing with kids is to stick to large-scale resorts. These resorts usually have full-service accommodations and family-friendly amenities.
These perks include:
On-site childcare
Ski schools
Menu choices for kids
Activities off the slopes
Make sure to research well because popular resorts may have large villages, long queues, and distant parking lots.
What you can do is to consider small and local hills for younger kids who are still starting to ski. This trick is also a great tip for families who cannot afford expensive lodging in big resorts.
Just like other vacations, make sure to book in advance. Ski vacations with your family will be more fun if you plan them thoroughly. For instance, lift tickets are more expensive when booked at the ticket booth on the same day. This trend is also the case for ski schools.
While saving is a major advantage of booking in advance, there is one more benefit you can get from this: availability. Many resorts do not have enough staff or instructors to meet the demands of their customers, especially on a holiday or weekend.  
Why not check out our guide to the best family ski resorts in the US to inspire your next trip?
Skip Skiing During the Peak Season
Even if there are close to 500 ski resorts in the US alone, ski resorts can be crowded if you don't plan your visit well. Parents that have kids who are not yet at school can take advantage of their flexible schedule and go skiing during weekdays.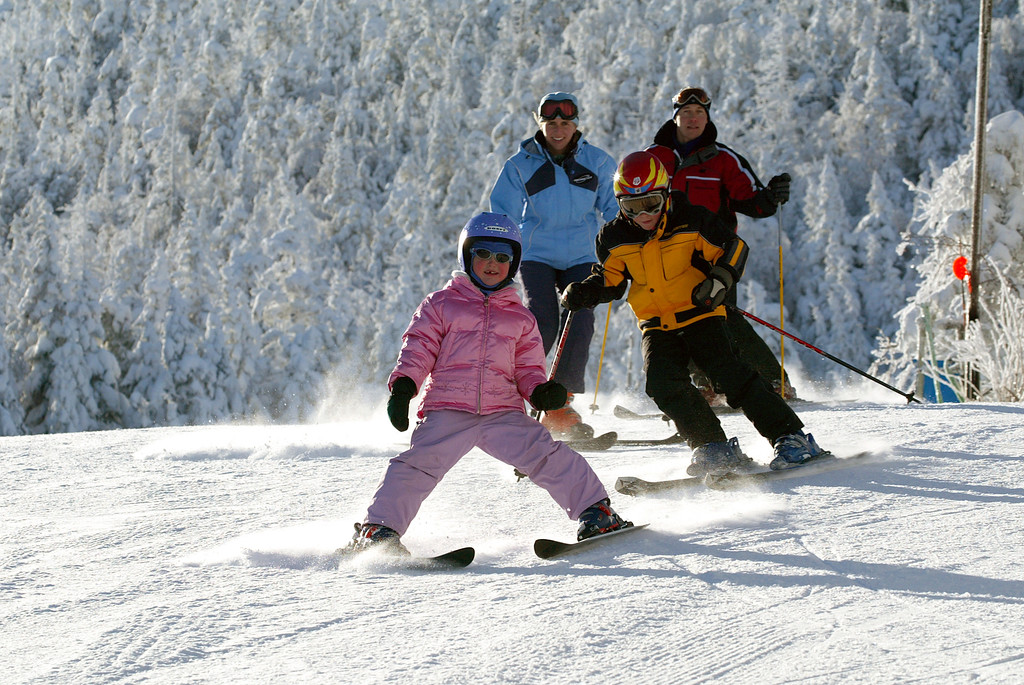 Have a Map with You
If you want to enjoy a skiing holiday with your family, prioritize your kid's experience first. Before your vacation, pick up a map of the resort and its surrounding mountains. This way, nobody will get lost.
Check out the map and try to see where the trails are. A green dot means trails for beginners, blue squares are intermediate trails, and lastly, black diamonds are trails for experts.
If you are bringing older kids, make sure to designate a certain meeting point where you will reconvene after skiing.
Think About Ski Schools
If you want to put your kid through ski school, be prepared to spend money. This is one of the most expensive aspects of skiing with your family. On average, families have to spend over $2,000 per year for children who ski or snowboard.
However, remember that attending a ski school is a necessary thing to do. If you're serious about helping your kids to learn how to ski, this expense will pay off because professional instructors are trained to meet every need of your child.
The New York State recommends children take one or more lessons from an instructor when it comes to skiing.
If you don't want to enroll your kids in a ski school, you can teach them how to ski yourself. However, this should only be done if you have the patience to teach your kid and you consider yourself a great skier.
Don't forget that if you choose to go this path, your main goal should be for your kid to enjoy the snow, as well as get used to using ski gear. As long as you make the activity fun, they will be driven to practice the sport. Just remember to be patient.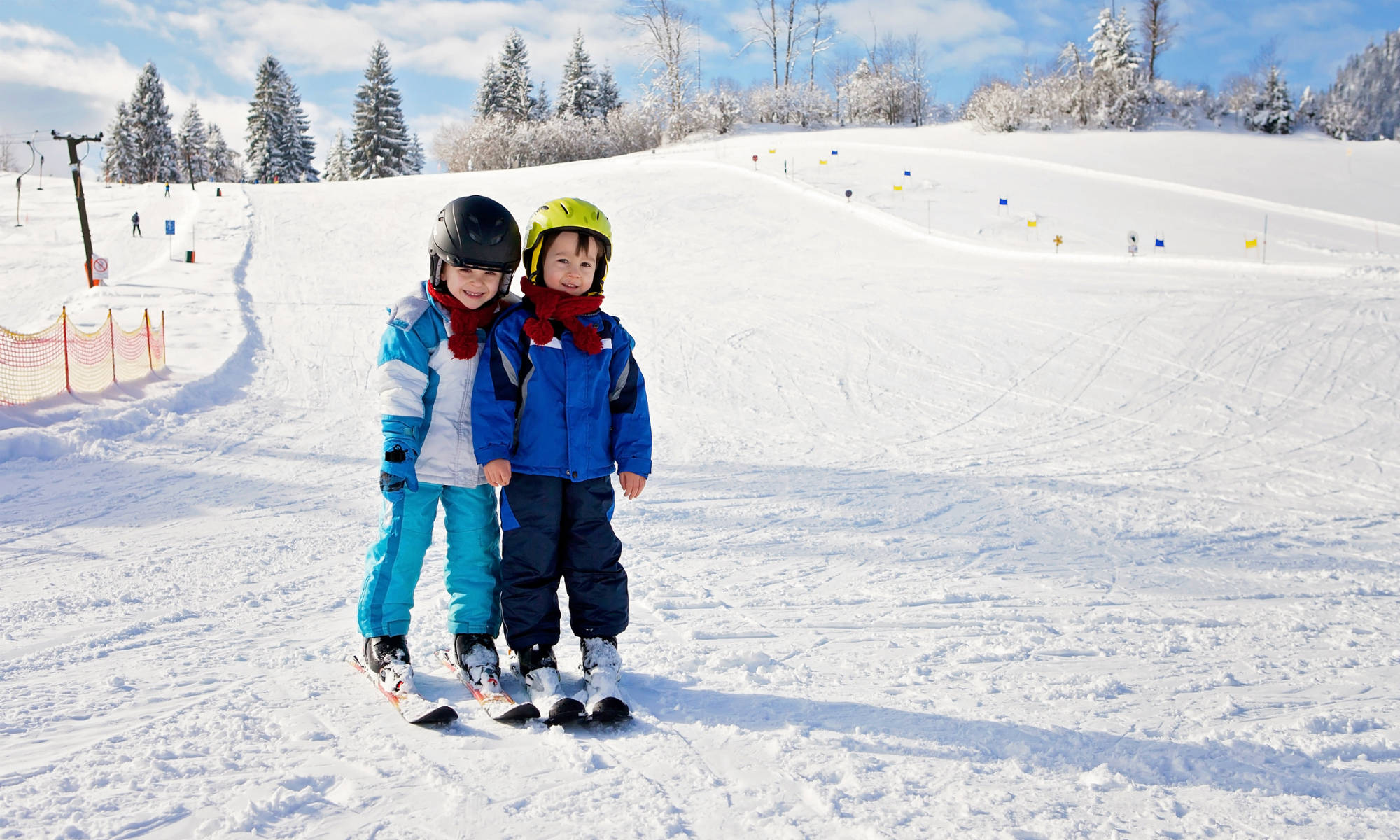 Consider Your Kids' Gear
No matter how tempting it may seem, do not skimp on ski gear and clothing. If kids are wearing the right gear they will feel more comfortable and will be adequately protected in case of a fall.
The importance of protective gear in skiing cannot be understated. Get goggles and helmets in advance to protect your child. This will also keep them dry if it is snowing, and it will help them to see better on the slope.
When it comes to children, neck and face warmers are also better to use compared to scarves. This is because scarves have a better chance of getting lost.
Another piece of clothing you should not miss includes socks. This will help your kid avoid blisters on their feet. When they have the right socks, they don't need to layer multiple socks, which could be uncomfortable. Good-fitting warm socks that are made of wool are a must-have.
Additionally, your children must be comfortable at all times. For example, you can wear ski boots when you're in the lodge, but when you travel from your car to the lift, it is recommended to let your child wear regular shoes. Just like your kid, you also need to be comfortable, so wear sturdy shoes as well.
One tip in getting the right gear or clothing without spending too much money is to buy gender-neutral stuff. This way, siblings can pass it down.
You can also buy at the end of the ski season because this is when stores offer discounts. You may even borrow from friends. Ski equipment rental is also available. However, keep in mind that this is cheaper in off-mountain locations compared to resorts.
Although buying ski gear may be cheaper in the long run, it is recommended to simply rent gear if you just rent it unless you plan on skiing with your child every weekend. This is because your kid's body will change over the skiing season.
Don't Forget to Play in the Snow
When it comes to enjoying ski holidays with your family, one of the best things you shouldn't miss is to give your kids time to play in the snow. Some of the best free activities you can enjoy with your family include building snowmen.
Keep in mind that snow is very fun for kids. The best part is you don't have to worry about getting rid of it on your driveway. If you don't live somewhere cold, snow can be considered a novelty. Therefore, your kids will surely not forget this experience.  
Bring Food
If you are just hitting the slopes for a day, one of the things you can do to save money is to bring snacks for your kids. Ski resorts are notorious for expensive offers, including food. Prepare sandwiches and snacks before your kids head off to the mountains.
If you are staying in a hotel that has a kitchenette, prepare easy meals so you can save money. Usually, lunch comes with a package of ski lessons for kids, so keep this in mind when booking.
Kids become so tired after a long day of playing and skiing that it's easier to give them simple foods like sandwiches instead of comfort food.
Always Be Organized
Family trips are the bane of unprepared parents. If you are not organized, you may find your kid always asking you where their things are. Do not miss this tip for skiing with kids because it will surely make your life easier.
There are tons of things you need to consider on a ski trip. What you can do is to develop a system on how to organize things and clothing and teach it to your kids.
For example, if the hotel room or lodge you are renting has hooks, assign one to your kids. If not, assign them a place where they can put their stuff. If they follow your instructions, their things should be there when they need them next.
Another thing you should keep in mind is to purchase gloves that have clips to hook them together. This way, you won't have to deal with lost mittens.
There are also glove styles that have elastic rings and clips to keep them attached. Leverage this to tie the gloves together. You can also tie their gloves on their coats.
Organization always starts at home. Before your ski trip, have your kid try on their gear and clothing and see which fits and what needs to be replaced. To make packing belongings easier, you can bundle together all their clothes and underclothes.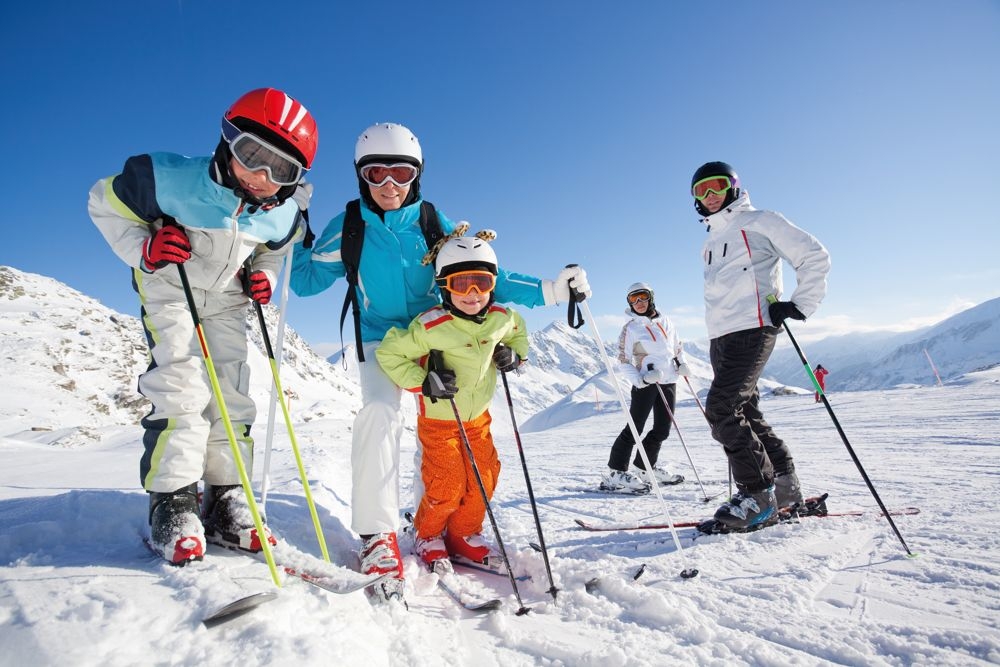 Resist Overpacking
It's easy to overpack if you want to go on a skiing trip. For example, your kids need snow clothes when they ski, a swimsuit if they want to enjoy the pool, pajamas, and something nice to wear for dinner.
What you can do is prepare a bag that contains water, nuts, granola bars, and other portable snacks. You can also pack another bag that contains essentials like sunscreen, a first aid kit, or tissues.
Take Breaks
Although you came to a resort to enjoy skiing, make sure you don't forget to factor in time for breaks and relaxation. Schedule a lot of breaks so your children can rest.
If you are staying in a ski resort that offers amenities for kids, there will be a lot of options for them to relax and enjoy. If not, there's no need to worry. You can just treat them with a comforting cup of hot chocolate or go back to your room so they can take a nap.
Kids, toddlers, and children aged one to five years old need 11-14 hours of sleep each day. So be sure not to overdo it on the slopes when your kids are this young. 
It's Time to Hit the Slopes
Now that you know the top tips for skiing with kids, you'll be more prepared for your ski trip. Whether you want to go to La Plagne, the most visited ski resort in the world, or somewhere more low-key, you need to remember the tips mentioned above to make your trip awesome.
Remember that winter is such a wonderful season that you can enjoy with your family. As long as you prepare for it well, you will not encounter major issues. The most important thing is to let your kids enjoy themselves. Regardless of how old your children are, they can enjoy the snow in many ways.
More about our TFVG Author
A seasoned traveller, Dad, and avid sports tourist, James foundered The Family Vacation Guide to share his expert vacation experiences- especially when it comes to being a travelling family man.
Featured in Travel articles such as Travel + Leisure, TripSavvy and SFGate, you know you're reading some of the best vacation tips online.