When it comes to accommodations, Tenerife provides choice and also quality. The island fulfils the requirements of a diverse range of vacationers with equal aplomb.
The expansive south coast resorts are ideal for kids and couples. You'll discover enormous beachfront villas that cater to both markets, ranging from budget-friendly to luxurious all-inclusive options. Tenerife has a wide selection of beautiful hotels, so you may attend the renowned Carnaval de Santa Cruz or unwind on the picturesque beaches.
While many adult-only hotels are brimming with five-star facilities, family-friendly resorts offer much-needed poolside tranquillity and a chance to bond with your loved ones. Give yourself a treat and book a room at one of the best family hotels in Tenerife!
The 15 Best Family Hotels in Tenerife
Tenerife, the largest of Spain's Canary Islands, is one of the world's most prominent tourist attractions. It's also well-known for being one of the most family-friendly places in Spain. To assist you in choosing a place to stay, we've compiled a list of the best family hotels in Tenerife.
Hotel San Roque
The beach is only a few minutes' walk from this hotel. Hotel San Roque boasts bright, distinctive architecture and is located in a lovely 18th-century property only 5 minutes' walk from Garachico Beach. It offers a balcony, an outdoor pool, and magnificent sea views.
Charles Rennie Mackintosh's furniture may be seen in the modern rooms of Hotel San Roque. All rooms offer:
A hydromassage tub
A flat-screen TV
Complimentary WiFi
Private balconies
Lounging areas
Travelers may savor a daily breakfast buffet. And Mediterranean and Canarian cuisine is served at the poolside Restaurante Anturium.
Additionally, the hotel provides massage and spa services. It takes around 15 minutes to get to Buenavista Golf Club by car. Mount Teide National Park is 53 kilometers away, and the region is perfect for horseback riding and trekking.
Getting to the hotel isn't a problem as the Tenerife North Airport is a 40-minute drive away.
Bahia del Duque, Costa Adeje
The original grand dame hotel on Tenerife scored a fantastic spot with grounds that spanned 15 acres and ended at Playa del Duque's stunning dunes. Four freeform pools and pastel-colored Spanish colonial structures are situated in lovely gardens with beautiful dragon and jacaranda trees.
Both the main hotel and Casas Ducales, a luxurious section next to the shore with butler service and additional perks, provide rooms and suites in soothing marine colors. Properties with private pools are tucked away behind the hotel if you're hoping for a more tranquil experience.
The Michelin-starred restaurant stands out among the bewildering array of 21 restaurants and bars, while kids might enjoy the enormous sundaes at La Heladera.
Among the many amenities available are a pitch-and-putt golf course, tennis courts, one of the island's largest spas, and even an observatory for stargazing. There's something for everyone at this incredible hotel.
Royal Garden Villas & Spa
Exquisite Balinese-style dwellings with heated private pools can be found at this 5-star resort. Royal Garden Villas, which are surrounded by gardens, has:
A spa
A gym
Stunning sea views
Each space is uniquely designed with stylish furnishings made of wood. Each villa has a patio, a DVD player, a flat-screen TV, and a fully functional kitchen. They all have hydromassage showers and bathtubs.
The Jardin Restaurant in The Royal Garden serves à la carte meals and a variety of Spanish specialties in a chic setting with elaborate wooden latticework. Various beverages and light fare are also available at the Tucán Tucán Pub.
Turkish baths and an indoor swimming pool are available at the Oriental-themed Golden Pond spa. Additionally, it contains a hot tub, gym, squash court, an ice fountain, and several spa services.
Royal Hideaway Corales Beach
The beach is a short stroll from this house and is situated in Adeje in the southern part of Tenerife. It offers a variety of amenities, including three pools, restaurants, bars, and a wellness center with lots of fitness and fun activities. Two of the pools are adult-only, allowing you to relax without any worries while your kids explore the grounds.
Some rooms have a patio with ocean views. All the bathrooms include a tub, luxurious fixtures, and a separate shower. Free WiFi is available throughout Royal Hideaway Corales Beach.
The establishment provides a variety of dining alternatives for adults only, including the Michelin-starred restaurant – El Rincon de Juan Carlos. A buffet-style restaurant serving breakfast and dinner and an à la carte restaurant focusing on Nikkei fusion cuisine are also available to guests.
Many therapies and treatments are available at the spa and wellness center with a personal wellness assistant. The facility features:
A spa shop
A hydrotherapy circuit
A steam room
A sauna
It also has seven opulent spa rooms, a gym, a barber, and a beauty store. So, you can look as good as you feel!
Hotel Botanico y Oriental Spa Garden
The beach is only an eight-minute walk from this house. With views of the Atlantic Ocean and Mount Teide, the Hotel Botanico y Oriental Spa Garden has three outdoor swimming pools and opulent lodgings. Any visitor older than 16 gets free, unrestricted access to the spa.
Rooms of the Hotel Botanico Tenerife come with:
A large furnished bathroom
Sea views
Mountain views
Hotel gardens
Air conditioning
An indoor pool, an outdoor pool, Turkish baths, and a Japanese sauna are all included in the spa. There are provided beauty services, including aromatherapy and massages.
The four restaurants on the resort provide Italian, Asian, and Spanish cuisine. The restaurant La Palmera's garden has an exquisite cocktail bar and an outdoor dining area.
Fantasia Bahia Principe Tenerife
Bahia Principe Fantasia Tenerife is a hotel with on-site parking, a bar, a common area, and a garden. It's located in San Miguel de Abona, more than a kilometer away from Playa de San Blas. This establishment has a restaurant, an outdoor pool open all year round, and a front desk available around the clock. The hotel is perfect for families as it offers dedicated family suites.
The hotel has air-conditioned accommodation, a balcony, a flat-screen TV, a safety deposit box, a refrigerator, a kettle, and a shower room. The rooms of Bahia Principe Fantasia Tenerife are furnished with linens and towels.
A buffet breakfast is available to all guests at the hotel. Your kids will be entertained throughout their stay as there is a children's playground on the grounds.
Hotel Jardin Tropical
Dreams Jardin Tropical Resort & Spa in Costa Adeje provides breathtaking views of the Atlantic Ocean and La Gomera island. Numerous extravagant amenities, such as a saltwater pool cut into the rock and 12,000 square meters of gardens, are available.
The apartments are well furnished and include a decorated patio. They come equipped with:
Free WiFi
A minibar
A safe for your valuables
A flat-screen satellite TV
A hairdryer and a bathtub or shower are included in the gorgeous private bathroom.
Some properties have access to exceptional Club amenities, including concierge services, open bars, and the private zone of Las Rocas Beach Club. These lodgings, which come with a concierge service and a tropical shower, provide access to the Sunset neighborhood. Deluxe toiletries are provided in this room type.
H10 Tenerife Playa
The beach is a short stroll from this hotel. In Puerto De La Cruz, H10 Tenerife Playa is located next to Martiánez Lake and 50 meters from the ocean. This chic hotel has an outdoor pool and two restaurants.
The Tenerife Playa has air conditioning and sunny rooms throughout. A TV and a complete bathroom are provided in every room.
While El Lagar features poolside eating, El Drago boasts live show cooking and has a view of the ocean at the Tenerife Playa. Customers may have drinks at the El Tinerfe bar or on the terrace.
The Despacio Beauty Facility Wellness center, which has a fitness center and a sundeck, is located on the top level. Additional fees apply for the use of the sauna, spa services, and jet showers.
The Playa is about ten minutes from Puerto De La Cruz's downtown and two kilometers from the closest golf course. Driving takes 40 minutes to get to Mount Teide National Park, so there's plenty to do during your stay.
Finca El Picacho
Finca el Picacho, located in the Pico Bermejo Valley, has wholly furnished apartments with a pool outside. Tejina is about 1.5 km away, while Playa Bajamar Beach is 5.5 km away from the complex.
Each apartment at Complejo Rural Finca el Picacho has a furnished terrace with views of the surrounding valley and a rustic-style interior with tiled floors. Each has a completely furnished kitchen, a washing machine, and barbeque facilities.
The nearby village of Tejina, which is only 5 minutes away by car, has several stores, pubs, and restaurants. At Finca El Picacho, visitors may play sports or unwind by the pool and enjoy the breathtaking mountain views.
More information on outdoor activities in the local area may be obtained from the staff. Teide National Park is roughly an hour away by car but is a worthwhile journey that the whole family will love.
Hotel La Casona del Patio
La Casona del Patio in Santiago del Teide boasts stunning rooms and provides WiFi, a restaurant, air conditioning, and breathtaking views. Teno Rural Park is a short 5-minute drive from the property.
The airy, plainly decorated rooms offer:
A flat-screen TV
A shower and bathtub
Complimentary amenities
The rooms are light and airy. In addition to a bar and restaurant with a patio, the hotel includes a fitness facility.
There is a tour desk at La Casona del Patio. The property's location is perfect for outdoor activities like horseback riding because it is surrounded by nature. The hotel is 30 kilometers from Tenerife South Airport, approximately five minutes walk from a neighborhood with pubs and restaurants.
La Laguna Gran Hotel
The renowned Leal Theatre is 600 meters from this hotel, which is situated in La Laguna. The non-smoking rooms at the property come with easy check-in and check-out, free WiFi, a seasonal outdoor pool, and a garden. Additionally, there is a restaurant, a gym, a bar, a 24-hour lobby, concierge services, and tour planning assistance.
The La Laguna Gran Hotel's rooms have a flat-screen TV, a closet, and an exclusive shower room. Every morning, the resort offers a delicious continental and buffet breakfast with dishes for every member of the family. A patio is available at La Laguna Gran Hotel, and there are also amenities for bicycles.
GF Gran Costa Adeje
The beach is only a few-minute stroll from this hotel. It offers free parking and a spa. The balconies of the hotel rooms offer views of the sea, the pool, or the mountains.
A rooftop pool for adults with stunning views of Costa Adeje and Playa Fabe is part of the GF Gran Costa Adeje's three swimming pools, encircled by a sun terrace and tropical plants. Two locations are explicitly reserved for naturists.
The hotel spa has:
A jacuzzi
Heated pools
Turkish bath
A gym
Tennis court
Mini-golf courses
The hotel has three pubs, two à la carte restaurants, and a buffet restaurant. Additionally, it provides a complete entertainment schedule that includes games and live performances. You'll never get bored staying at this bustling hotel.
Hotel Tigaiga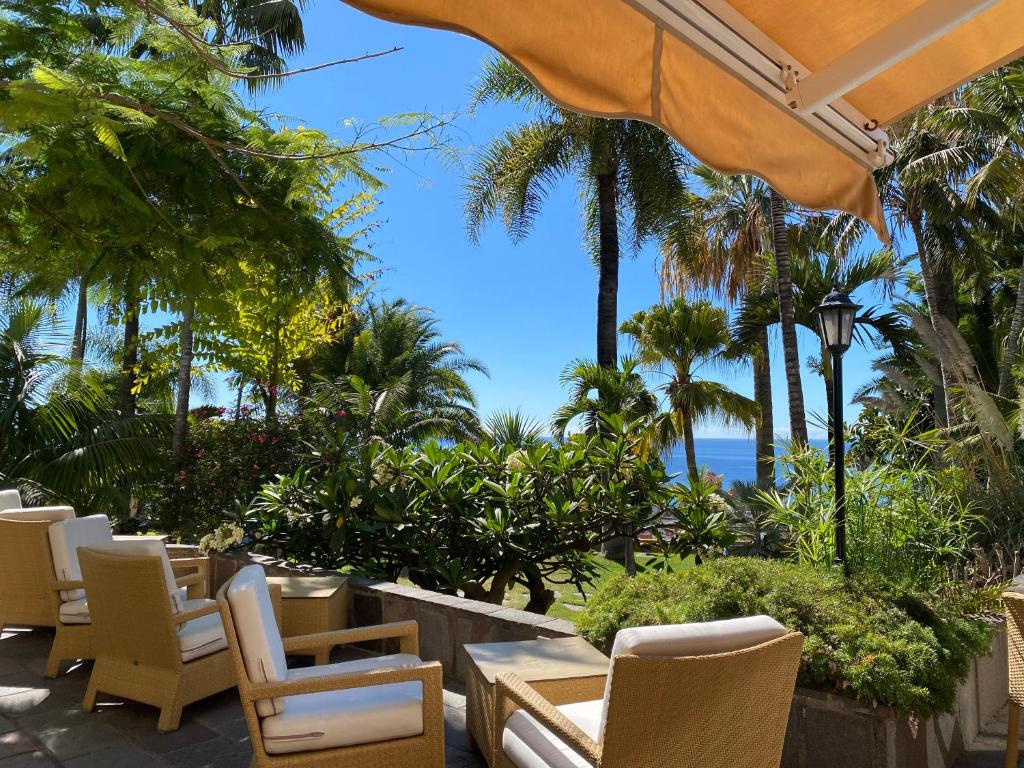 The Hotel Tigaiga has a restaurant with a patio and is surrounded by tropical plants. Private balconies with views of the sea or mountains are included in each air-conditioned accommodation. Free WiFi is also offered.
Next to Taoro Park in Tenerife's Puerto de la Cruz, the Tigaiga Hotel is located in a peaceful neighborhood. Martianez Lake is a 30-minute walk from Playa Jardin Beach, which is 900 meters distant. It's 40 kilometers from Teide National Park.
Visitors to the Tigaiga may unwind in front of palm trees while getting a massage or using the sauna. A lounge and a table tennis table are perfect for teenagers.
The tour desk at the Tigaiga provides details about the neighborhood, including trips to Mount Teide. Rental cars can be arranged via the reception staff, and on-site parking is cost-free.
Melia Jardines Del Teide
A sizable pool complex and tropical gardens are the focal points of the Meliá Jardines del Teide. It provides stunning views of the mountains, particularly Mount Teide and the seashore.
The hotel's rooms are large and well-lit. Each one features a balcony or patio with sights of the pool, the ocean, and the mountains. All across the place, there is free WiFi.
It features:
A daily drink
A private pool
Suites with various pillows
A coffee machine
An exclusive lounge
Complimentary coffee and tea
There are two swimming pools at the Meliá Jardines del Teide, one of which is just for customers of The Level services. Children may use the hotel's paddle pool, which also has a kids' club.
There are three on-site restaurants: a buffet, an à la carte restaurant, and a snack bar. You're welcomed in the lobby with a bar as well. In the south of Tenerife, the Playa del Duque beach is only a 5-minute stroll from the hotel. 1.5 kilometers distant lies Costa Adeje Golf Club. A local retail center is accessible by a free shuttle service, and on-site shopping options are also plentiful.
Luz Del Mar (Los Silos)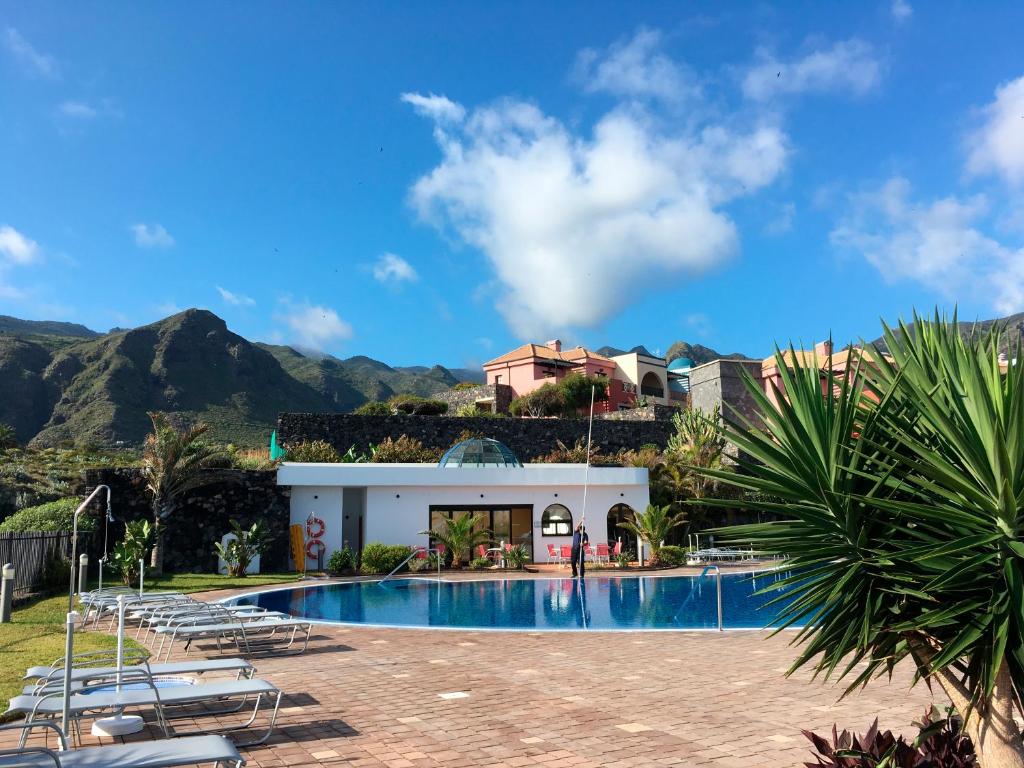 This spa hotel features a tropical garden and a swimming pool heated by solar energy. It's situated in the historic village of Los Silos. There is access to free WiFi in the area, and the hotel's wellness suite has:
An organic sauna
A room for relaxation
Adventure showers
A fitness center
The Teno Mountains and El Teide National Park are visible from where the Hotel Luz del Mar is situated on the island of Tenerife. Guests don't have to pay for the use of the public parking lot on the premises, and they can walk to the beach in a matter of minutes.
It only takes a few minutes in the car to reach the 18-hole golf course at Buenavista. The Luz del Mar can be found in the Isla Baja region, known for the many traditional farmhouses.
The hotel has a sizable patio that's sheltered from the wind, and each guest room has a private veranda. In addition, there is also a Chimney Lounge, which has a fireplace that's open to the public.
So, What Are the Best Family Hotels in Tenerife?
Tenerife offers various five-star family-friendly resorts, opulent boutique getaways, and enormous hotels. There are several possibilities for hotels that it could be difficult for you to choose one.
We hope our list of the top family hotels in Tenerife is helpful to you. Each hotel is perfect for families, whether you have young kids or teenagers. Every member of the family will love these hotels, and you'll be able to make beautiful memories with your loved ones. Trust us – you'll never want to leave any of these hotels after only one night!
More about our TFVG Author