Not every theme park can be Disney World, designed especially for small children, but paying for a theme park with only a tiny section for toddlers is still disappointing.
These are some of the best theme parks for toddlers in the UK because they have large sections designed especially for the smallest kids. In many cases, most rides are suitable for kids 3 to 5 riding with an adult, and they have plenty of other options for kids under 3.
The parks are great for family UK vacations because they also have a range of rides and plenty of attractions for older kids, teenagers, and adults.
Toddlers and kids who grew up watching Thomas the Tank Engine will love Thomas Land at Drayton Manor in Staffordshire. This part of the theme park has almost 30 Thomas-themed rides and activities suitable for kids under 3 feet tall.
Adventure Cove, the Vikings area, and the 15-acre zoo offer more fun for toddlers, like the Dino Trail and Crazy Golf. The park has over 100 attractions and rides, including several thrilling rides for older kids and adults.
The park offers Stay & Play packages with stays in their 4-star hotel with the option to book a Thomas or Vikings-themed room. Drayton Manor is one of the best-value theme parks in the UK, and children under 2 get into the park free.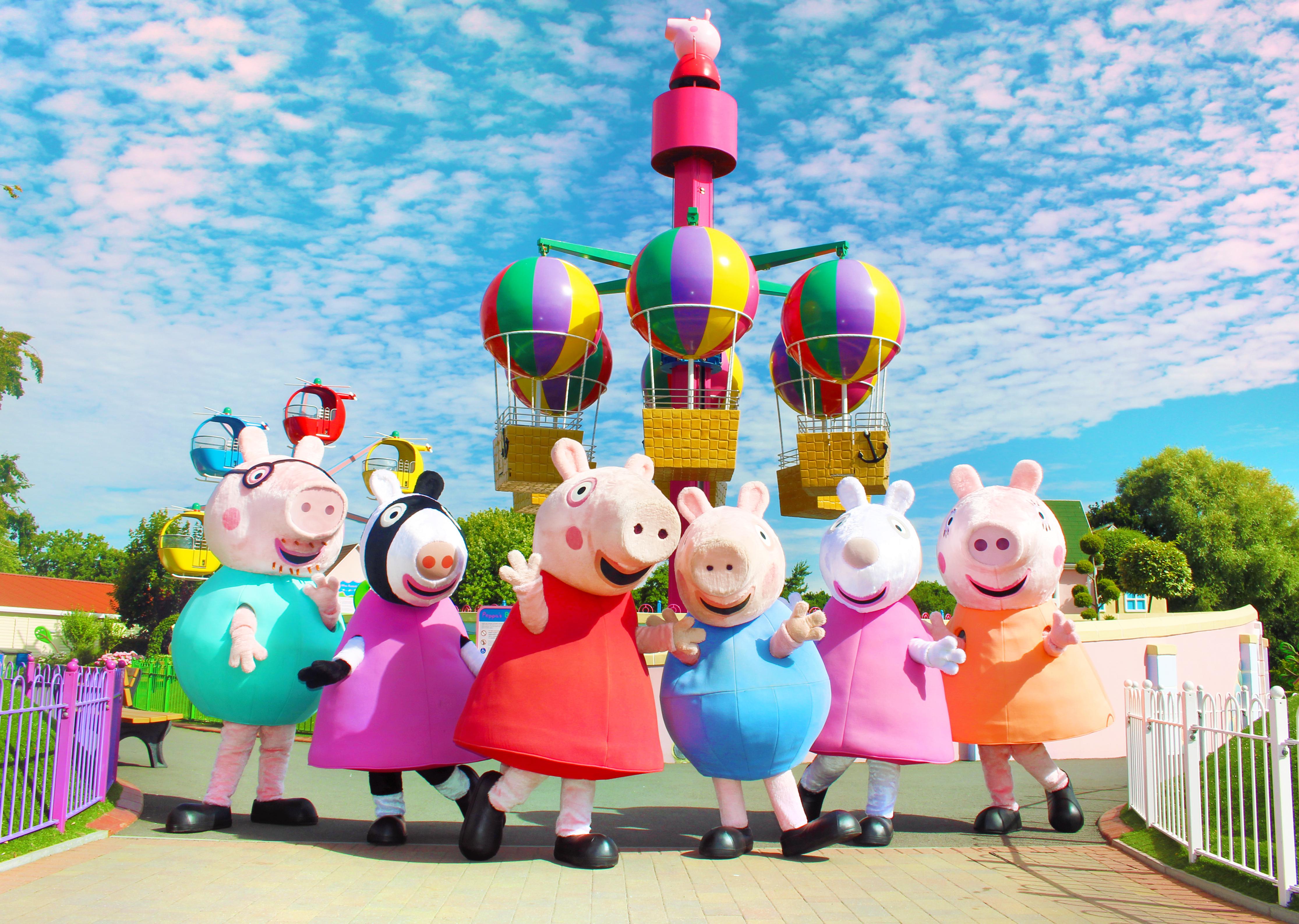 This park in Hampshire features over 70 rides, from gentle children's rides to roller coasters and other thrill rides to provide fun for the whole family. Children under 1 meter tall get in free.
Paultons Park features five themed worlds, including Peppa Pig World. Peppa Pig World includes nine Peppa-themed rides and attractions for toddlers and young children, including a boat trip, Peppa's favorite muddy puddles, and a replica of Peppa's house.
Families will find more rides suitable for little kids in Critter Creek and the Lost Kingdom, their dinosaur theme park. Little Africa features African animals like meerkats and porcupines with a walk-through aviary that's fun for people of all ages.
The range of attractions for the littlest kids makes Peppa Pig World one of the best theme parks for toddlers in the UK.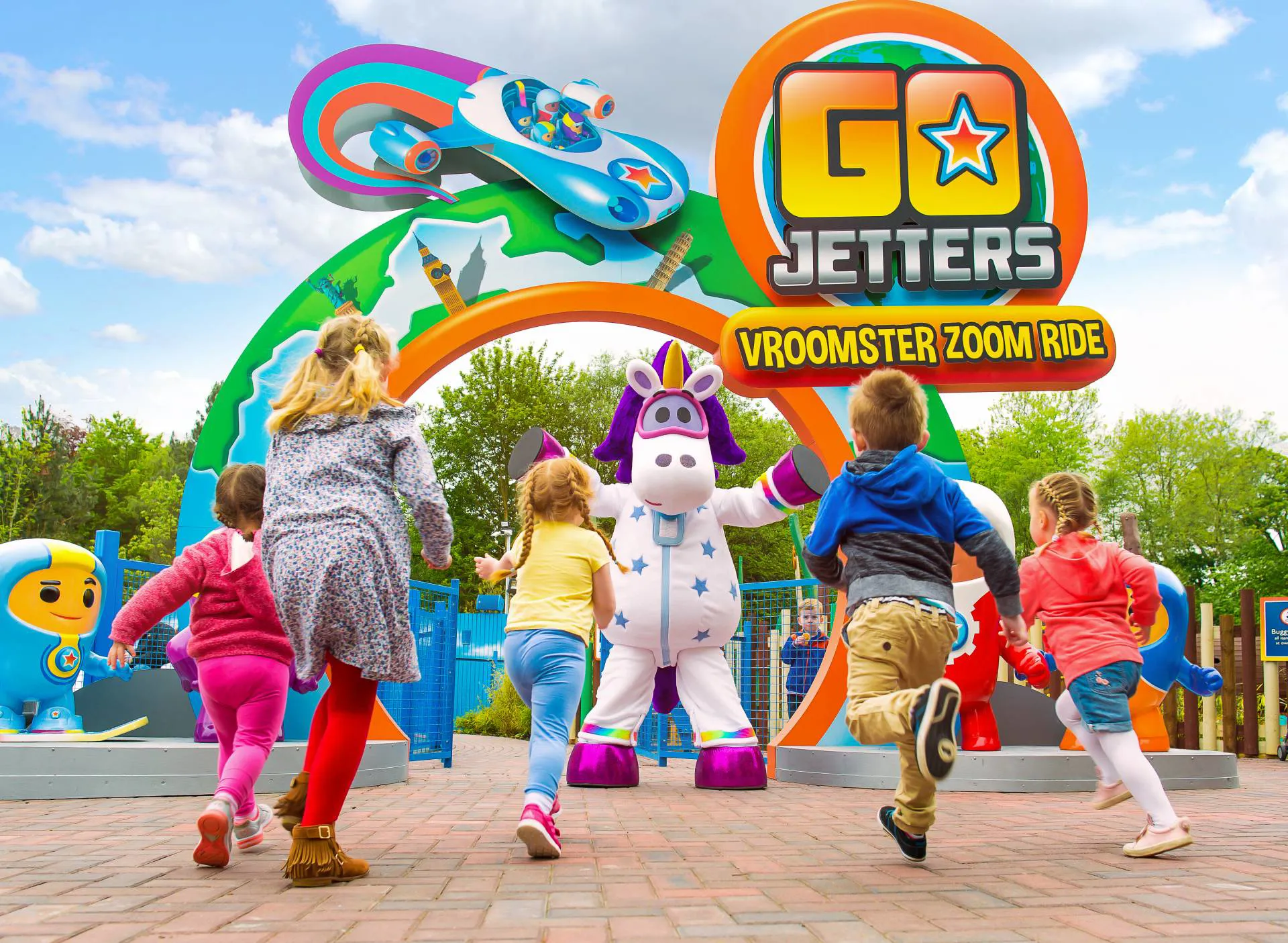 The Alton Towers theme park in Staffordshire has over 40 attractions and rides ranging from toddler-friendly to heart-pounding rides for thrill-seekers. Small children will love CBeebies Land, the special section of the park made especially for them. Tickets are free for kids under 3.
Shows, rides, a photo studio, and a sensory garden are fun activities for toddlers. Some rides have a 0.9-meter minimum height restriction, but most are for any size or allow kids under 1.1 meters to ride with an adult.
The Alton Towers Dungeon for older kids and adults who want a screaming good time and the Extraordinary Golf crazy golf park require separate tickets. The water park also has individual admission and is suitable for families of all ages.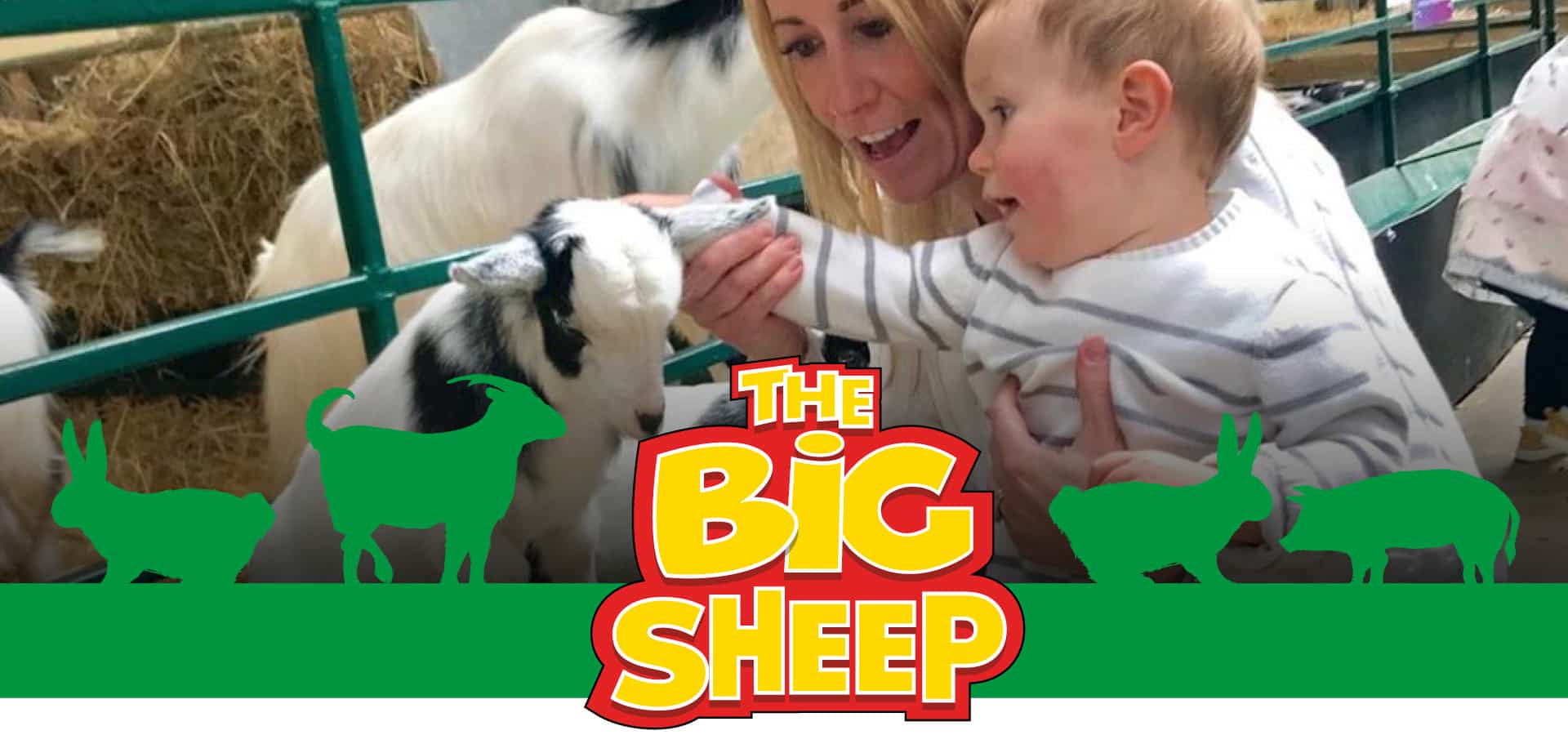 This theme park used to be a family-owned working farm in North Devon that let people come to see feeding times and experience the day-to-day experiences of farming life. Later, rides like the area's largest roller coaster, farm-themed events, and shows drew larger crowds.
Toddlers and people of all ages can enjoy sheep racing, sheep shearing demonstrations, a duck arena, and baby lambs kids can bottle-feed. Live shows that feature the animals and help kids learn about them are suitable for curious kids.
A train ride, the Swan Lake Pedalos, swing boats, and slides are only some of the rides and activities for little kids at The Big Sheep Farm.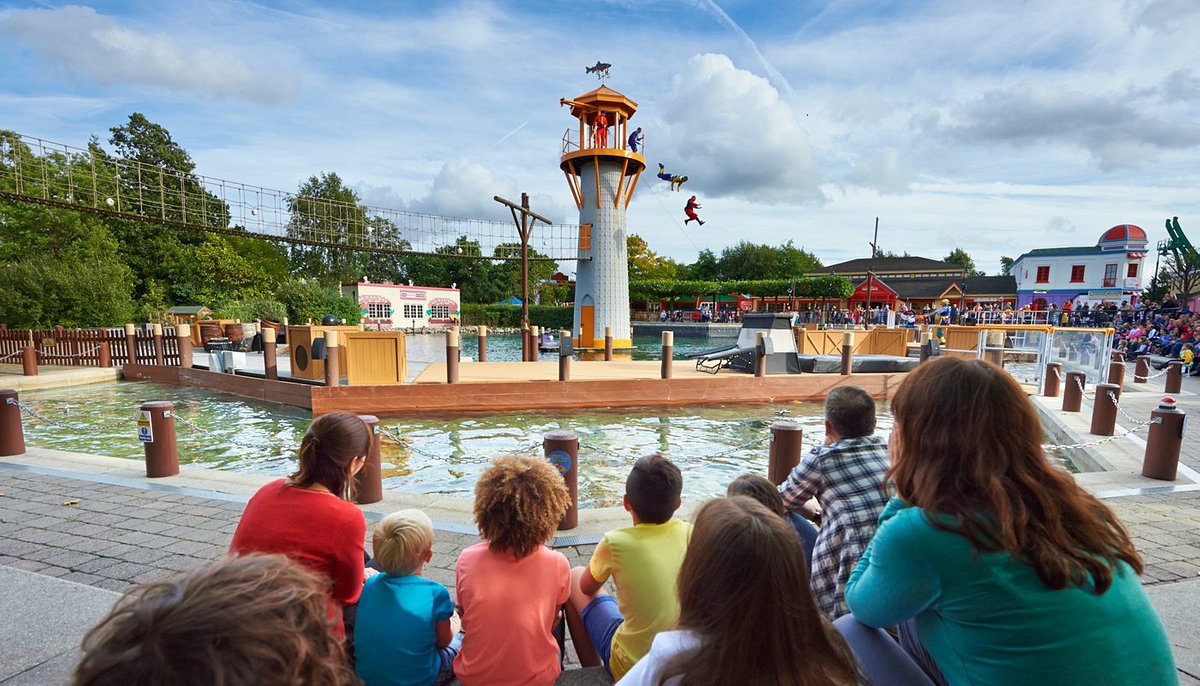 Kids 3 and up can enjoy the dozens of rides, attractions, and shows at LEGOLAND in Berkshire, with free tickets for kids under 90 centimeters tall.
Families can book packages for overnight stays in the LEGOLAND Resort or Castle Hotels for more time to discover everything LEGOLAND has to offer.
The park features over a dozen attractions, shows, and activities without height restrictions, like DUPLO Playtown's interactive village, the Castaway Camp pirate play area, and the Splash Safari for kids who want to play in the water.
Many more rides and activities, like the Laser Raiders ride, the LEGOLAND Express train, and the hot air balloon ride, have no minimum height restriction as long as the kids ride with an adult.
Most little kids love big, eye-catching machines like trains, dump trucks, and tractors. They'll love this park themed around dirt diggers and heavy equipment.
At Diggerland, they can enjoy riding the train, playing in the indoor soft play area, going on a safari, and even operating a dirt digger to find buried treasure. All locations have a special Little Tikes section for kids under 5. These sections have Little Tikes toys like cars, trucks, and diggers.
Diggerland has locations in Devon, Kent, Durham, and Yorkshire. Each site has different games and activities in the soft play area suitable for toddlers.
Kids who measure under 90 centimeters tall at the gate get in free.
Every Gulliver's Theme Park location has rides and attractions suitable for toddlers and small children. Little kids can enjoy most rides and events as long as they ride with an adult.
Gulliver's has parks in Cheshire, Derbyshire, S. Yorks, and Bucks, each with 20-25 rides and many more attractions in several themed sections.
Ball pits, mazes, sand digs, slides, and a walk through an enchanted forest filled with animals and talking trees are only some of the park's fun activities for little kids. A few rides for small children include the tea cups, a jungle river ride, a barrel ride, and The Silver Mine.
They also have a location in Milton Keynes, Bucks, with a Dinosaur and Farm Park where kids can see huge statues of prehistoric creatures and enjoy baby animal encounters.
Kids under 90 centimeters tall get into all Gulliver's parks free.
Flambards in Cornwall is one of the best theme parks for toddlers in the UK, with dozens of rides, activities, and indoor themed attractions to satisfy visitors of all ages.
Ferdi's Funland has rides like the tea cups and a Dino Express train that leads them past life-size dinosaurs. The park also has an outdoor play area and the indoor Coolzone play area, with a special Tots Zone for the smallest kids.
The park also features thrill rides and other attractions for older kids and adults. Collections of classic motorcycles and vintage wedding dresses, aviation replicas, and a war gallery will fascinate history buffs.
Enjoy more historical details in the Victorian Village and a London street replicating Britain during the Blitz. Another attraction displays a carefully preserved chemist shop from 1909.
Kids under 95 centimeters get into Flambards free.
With four themed areas at Folly Farm in Wales, every family member will find something fun to do. Tickets are free for kids under 2.
A vintage fairground features classic fair rides like a 25-meter big wheel, a carousel, dodgems, swings, and toddler rides like a train, mini-carousel, and the Muffin Ride, themed after 1950's character Muffin the Mule.
The zoo at Folly Farm houses over 100 animal species and offers webcams so the public can watch the penguins, lions, sloths, giraffes, and barn animals from home.
The Jolly Barn is perfect for the tiniest kids to watch and enjoy the farm animals, with a land train that takes visitors on a tour and a nature trail to explore.
Eight adventure play experiences with different themes will keep little kids busy indoors or outdoors. Pedal tractors, a playground, a pirate adventure, and a go-kart race track are only part of the fun.
This theme park in Motherwell, Scotland, offers fun for all ages, with several rides suitable for toddlers and small children. Theme park admission for kids under 3 is free.
Mini dodgems, a pirate train, the Big Apple caterpillar coaster, and several rides meant for families make M&D's Scotland's Theme Park one of the best theme parks for toddlers in the UK.
A separate admission soft play area for kids has a section for kids under 3, and an indoor rainforest called Amazonia contains over 70 species native to South America. Kids can handle snakes and other reptiles or enjoy watching monkeys, tarantulas, bats, and scorpions.
Conclusion
Most of the best theme parks for toddlers in the UK offer free admission for the smallest children. Many also sell season passes, wristbands, and other packages to help make family vacations and day trips more affordable.
Whether little ones want to enjoy classic carnival rides, explore sandboxes, jump in ball pits, or go on themed adventures, these parks offer dozens of fun activities for them to enjoy. 

Make time to visit one or more on your next UK family vacation!
More about our TFVG Author