Visiting Walt Disney World in Florida is something that every child should get to experience. It's also a delight for parents to watch their children have the time of their lives in the most magical place on earth.
Because of how potentially fantastic this trip is, you want to do it at the right time when your kids are a perfect age. But what is the best age to take kids to Disney World?
The truth is that there is no magical, perfect age. We recommend taking kids to Disney World when they're between ages 3 and 12. That's a broad range, and each year has benefits and downsides.
Let's look at three different age groups and what makes Walt Disney World so great for kids who are in them, as well as potential pitfalls to avoid. We'll look at various factors, including stamina, rides and attractions, and belief in the magic. That way, no matter how old your kids are, you can plan the perfect family vacation.
Taking Preschoolers (Ages 3-5) to Walt Disney World
There are pluses and minuses to taking your preschoolers to Walt Disney World. On the one hand, they'll never experience magic in quite the same way that they will when they're little. But on the other hand, it's more work for you as parents.
They Believe in the Magic
One of the best things about Disney World is how amazing it is to see through the eyes of young children, and this is because they genuinely believe in all of the "magic" happening around them. Don't get us wrong, Disney goes to incredible lengths to make your vacation memorable and magical for kids and adults of all ages, but there's something about little kids that makes it even more so.
When they meet the characters, they don't know they're actors in costumes. They believe they're transporting to an African savannah or Neverland when they ride these rides. There are real mountains, castles, and journeys under the sea everywhere they look. It's a sheer delight for parents and older relatives to experience this wonder through their eyes.
There Are Plenty of Rides and Attractions for Them
Disney is a family destination, and as such, they have dozens of rides and attractions in all four parks that are more than appropriate for preschoolers, even if they can't tackle Space Mountain just yet. There are boat rides like "It's a Small World" (Magic Kingdom), 3D shows like Mickey's PhilharMagic (Magic Kingdom), and track rides like The Seas with Nemo and Friends (Epcot).
They'll get to see so many of their favorite characters on these rides. Mickey and Minnie's Runaway Railway (Hollywood Studios) stars this original dynamic duo. They'll encounter exotic animals on the Kilimanjaro Safari (Animal Kingdom). Meet princesses, Pixar heroes, and even Star Wars favorites on rides, character meet-and-greets, and more.
Disney offers a Rider Switch program if the parents or adults in the group are thrill-seekers. One of the parents rides the ride while the other stays with the kids. Once the first parent rides, the other parent "swaps" places with them to ride while the kids are safe, too.
You'll Save Some Money
While children three and under get into the parks for free, children under ten are eligible for reduced pricing on park admission and children's pricing on other things, such as dining plans and meals.
Kids this age also eat and drink less and are better satisfied with less expensive "stuff" than older kids.
They Probably Can't Go All Day
It's a common sight when naptime arrives: preschoolers in the parks having complete meltdowns. Truth be told, it's unreasonable to expect a child this age to go all day in the parks, especially if they're accustomed to mid-day rests.
In addition, you'll need a stroller. Even if they don't often use one at home, you'll be walking miles in the parks, and it's just too much for their little legs and feet. Plus, it will always give them a place to sit down while in lines or waiting for a parade, and even lay down and take a nap. You can easily bring your own or rent a stroller directly from Disney or a Florida-based local company.
If you bring your preschooler to Disney World, plan for considerable downtime back at your hotel. You just won't get the mileage out of park tickets with little tykes in tow. However, it might be a more restful vacation for you as well.
They Won't Remember It
Undoubtedly, you'll take lots of pictures and regale them with stories to last a lifetime, but it's improbable that they will have memories of their own from the trip. If it's important that your kids have their own memories of their vacation, then we suggest waiting.
That being said, the positive experience will live on, and their parents and families will remember their delight for years to come. Sometimes, it's more about creating memories for mom and dad than anyone else!
Taking Elementary Schoolers (Ages 6-9) to Walt Disney World
Our middle group isn't just in that position regarding age. In many ways, they're in between when it comes to believing in magic, doing the rides, and more. This can be the perfect balance between little kids and big ones, making it one of the best ages to take kids to Disney World.
They Still Get Child Pricing
That's right! As long as they're under 10, they still get child pricing on everything, from park tickets to meals and more. It won't save you a ton of money, but every little bit counts on a trip to Disney World. What's more, you can better negotiate when it comes to purchasing expensive souvenirs than you can with tiny kids.
Lots of Rides and Attractions
Kids this age are great when it comes to rides and attractions. They're young enough to still enjoy all the rides appropriate for toddlers and preschoolers but big and brave enough to tackle some of the more adventurous attractions, making the trip much more enjoyable for parents.
Some will either be too small or not quite ready for rides like Flight of Passage (Animal Kingdom) or Rock'n Roller Coaster (Hollywood Studios). Still, they might enjoy Big Thunder Mountain and Splash Mountain at Magic Kingdom, Dinosaur! (Animal Kingdom), and others.
Generally speaking, Disney has four different height requirements for their rides:
Any height: guests can ride no matter how short or tall they are
Thirty-eight inches: this requirement is used for the more mild thrill rides, such as Slinky Dog Dash (Hollywood Studios), Kali River Rapids (Animal Kingdom), and Seven Dwarfs Mine Train (Magic Kingdom).
Forty inches: rides at this requirement include Splash Mountain (Magic Kingdom), Test Track (Epcot), Rise of the Resistance (Hollywood Studios), and Dinosaur! (Animal Kingdom).
Forty-four inches: this height is required for the most tumultuous rides, often those with the biggest thrills, including Space Mountain (Magic Kingdom) and Expedition Everest (Animal Kingdom).
One or two rides require slightly variant heights, but most cast members will let kids through if they're a hair or two shy. Visit their website to better plan your stops in the parks.
They Will Engage with the Magic
Especially as kids approach the double-digits in age, they won't believe as strongly as they did when they were little. That being said, there will still be many things that bring them incredible awe and wonder that will fade as they get older.
They'll also be able to engage more with the educational and interactive aspects of the parks, such as the games and activities in the queues for some of the most popular attractions.
What's more, kids this age are less worried about what people think of them and more apt to be silly and engage with magic. They'll still want to get characters' autographs and sing along to their favorite tunes, as well as dance during parades and fireworks.
They Have Better Stamina
One of the best parts about taking older kids to Walt Disney World is undoubtedly their stamina. While it may not be as good as the big kids, it's certainly better than preschoolers.
The vast majority of kids this age aren't accustomed to and don't need to nap during the day. They're also out of strollers, which can be a significant hassle and headache for parents.
That being said, if you don't give them some downtime, they're very likely to lose control of their behavior. We recommend doing either early morning or a late night in the parks with this age group. Also, taking a day off after a couple of days in the park to lounge by the pool can work wonders for them.
They'll Remember It Mostly Through Pictures and Stories
Kids this age are better able than their younger counterparts to make lasting memories. The chances are good that there will be at least a couple of things they remember, whether it's summoning the courage to ride their first roller coaster or getting a big hug from their favorite Disney character.
The pictures and stories you tell will also help them form lasting memories and positive associations with the vacation. However, most of their memories will be made this way after the fact. That's okay; they'll have happy feelings about it later, even if they don't remember a lot of the joy they felt at the time.
Taking Big Kids (Ages 10-12) to Walt Disney World
While there's nothing like seeing the magic of Walt Disney World through the eyes of a little child, taking tweens can be oodles of fun because parents get to let loose and relax more and connect with their kids. While they don't necessarily believe in Disney magic, they'll want to do all the rides and go, go, go!
They Can Go All Day
Finally! Your kids can last as long (or perhaps longer) than you do in the parks. If they're enthusiastic about the trip, they'll be up with you for rope drop in the morning and stay until fireworks at night.
Even though their tickets cost more money (see below), you'll get more mileage out of them. Kids this age are powerful, capable of being on their feet for hours. They might even outlast their parents.
You could potentially save money by purchasing a 3-day Park Hopper ticket instead of a 4-day, for example, because they can last all day in the parks.
They Will Make Lasting Memories
As they near their teenage years, kids' brains are more fully developed and capable of making lifelong memories. What better time is there to bring them to the happiest place on earth?
In addition, it can be challenging for families to connect when kids are this age. They develop interests of their own that rarely align with those of their elders. Disney is good at recognizing this gap in connection and finding ways to help you fill it.
It's more important now than ever to foster positive relationships with your kids, and a trip to Disney World can help you do it.
They'll Dig the Thrill Rides
You might have a harder time getting your 12-year-old to ride The Many Adventures of Winnie the Pooh than you used to, but they'll likely be dying to ride all the exciting attractions that they used to be too little for.
What's more, Disney Imagineers have worked diligently over the past decade or so to really wow thrill-seekers with new and unique attractions. These include Flight of Passage (Animal Kingdom), Mission: Space (Epcot), and the Rise of the Resistance (Hollywood Studios). The adults on your vacation will get to ride all of these exciting attractions, too.
It isn't just the new rides, either. You'll finally be able to take them on classics like Space Mountain. So many parents relish riding their childhood favorites with their kids, and now you can do them all.
Magic? Not So Much
We won't lie; one of the worst parts about bringing older kids to Walt Disney World is that they don't have the same belief in magic that they used to. What's more, they might be "too cool" to play along. It's a natural–if sad–part of aging.
Still, most aren't too old to be a little goofy and enjoy a lot of the wonder. They'll marvel at some of the other things to do. What's more, Disney has gotten good at capturing this age group with new Star Wars and Marvel attractions, so there's plenty to hold their attention.
They're More Expensive
Another downside to bringing older kids to Walt Disney World is their cost. Not only are they no longer eligible for children's tickets (regular admission tickets are for people ten and up), but they eat more and want bigger and better toys and souvenirs.
Still, this downside has a silver lining. While it costs more to keep them fed, they might be more adventurous and certainly better behaved, and able to sit through a sit-down meal. You might finally be able to try that restaurant you've had your eye on without getting a babysitter.
They're also better at delayed gratification and understanding budgets. You can give them a set amount of spending money and even load it on a gift card for them, and they'll be able to understand those limits and how they work.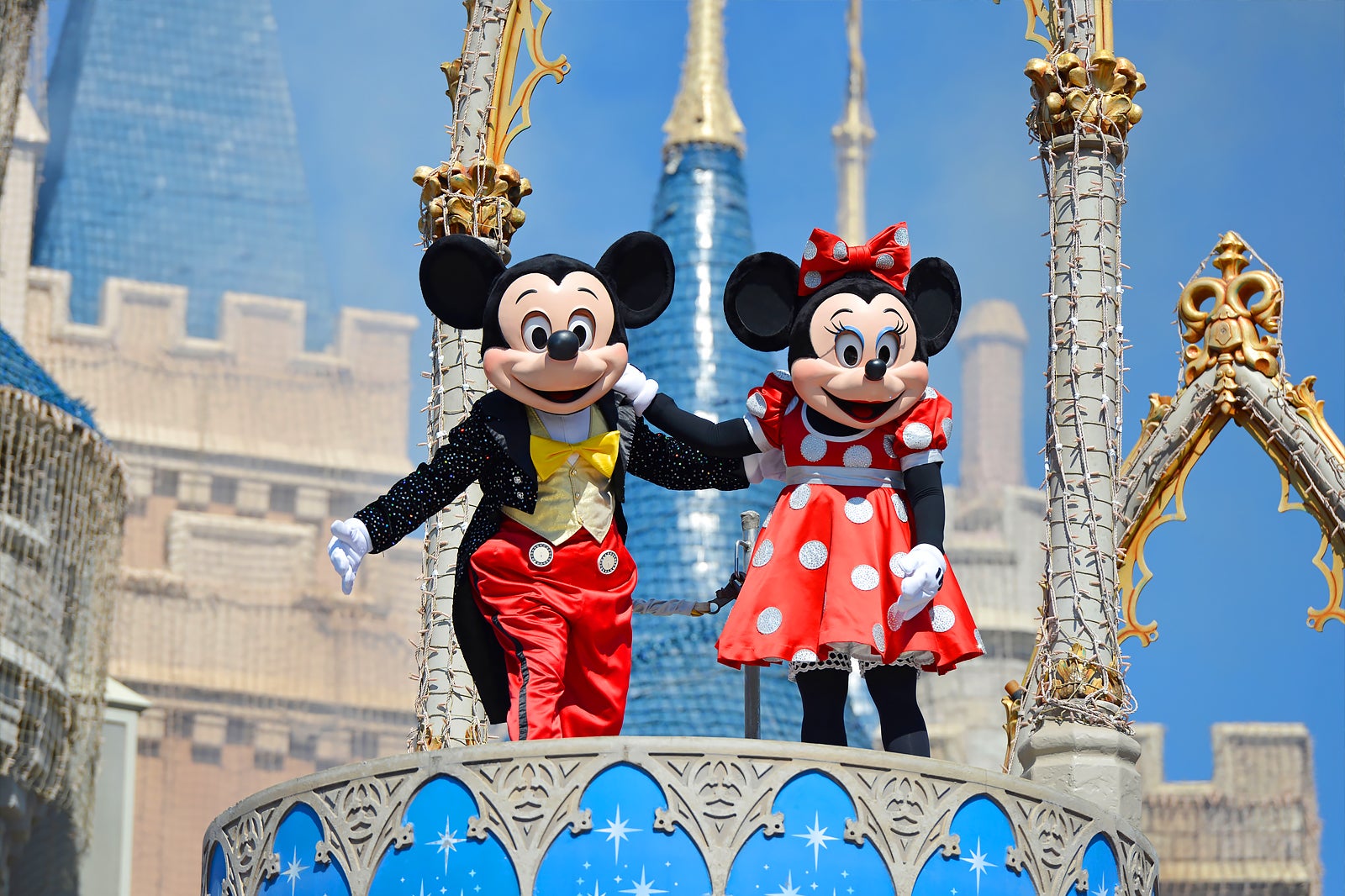 How to Decide What Age to Take Kids to Walt Disney World
We've laid out several factors to consider when deciding what the best age to take kids to Disney World is:
Will they believe in the magic that Disney creates, or are they too old to suspend their disbelief?
Will they enjoy enough of the rides and attractions to fill up your days in the parks?
Will they remember the trip, even if it's through your stories and photographs?
How long will they last in the parks, and how much downtime will they need to avoid meltdowns and tantrums?
How much money will it cost to bring them? Be sure to consider ticket prices, food, and souvenirs, and how much use you can get out of each day in the park.
In the sections above, we've shared our experiences with these questions and provided some general guidelines around how children in three age groups generally cope with a vacation to Disney World: preschoolers (3-5), elementary schoolers (6-9), and big kids or tweens (10-12).
However, you know your children better than anyone! It might be the case that you have a particularly energetic 4-year-old who can last all day in a theme park or a 10-year-old who has held onto their sense of wonder and belief in the unbelievable.
There are pros and cons to bringing children of all ages to Walt Disney World. The most important thing is that you meet them where they are in terms of their abilities and tailor the trip around what they enjoy most. If you do, you're guaranteed to have a fantastic family vacation, no matter what their age. And who knows? You might be inspired to take another trip soon!
More about our TFVG Author
A seasoned traveller, Dad, and avid sports tourist, James foundered The Family Vacation Guide to share his expert vacation experiences- especially when it comes to being a travelling family man.
Featured in Travel articles such as Travel + Leisure, TripSavvy and SFGate, you know you're reading some of the best vacation tips online.