If you are one of those people who strive to achieve 10,000 steps every day, you will reach that in no time with a visit to one of the many Disney parks worldwide. Disney theme parks pack a ton of immersive Imagineering experiences, jaw-dropping rides, and unforgettable scenery into their attractions, no matter the square footage.
In this article, we rank the sizes of 12 of the top Disney parks, from Walt Disney World to Disneyland Paris and Tokyo Disney. It is amazing to think about how many memories are made within the confines of these unforgettable parks.
Keep reading to discover more about the sizes of each Disney park and more details to inform your next visit to these happy vacation destinations.
So, Which Disney Park is the Biggest?
Disney's Animal Kingdom ranks as the vastest Walt Disney theme park located anywhere in the world. As this park serves as an amusement park and an operating African safari, there is a high demand for space within this park for new attractions. Disney's Animal Kingdom park stretches 300 acres of fun attractions, gorgeous scenery, and thrilling wildlife.
List of Disney Parks, Largest to Smallest
Animal Kingdom, Walt Disney World Resort
Epcot, Walt Disney World Resort
Disneyland Paris
Tokyo Disneyland, Tokyo Disney Resort
Hong Kong Disneyland
Tokyo DisneySea, Tokyo Disney Resort
Magic Kingdom, Walt Disney World Resort
Disney's Hollywood Studios, Walt Disney World Resort
Shanghai Disneyland
Disneyland
Disney California Adventure
Walt Disney Studios Park, Disneyland Paris
Animal Kingdom, Walt Disney World Resort
Walt Disney World's Animal Kingdom is not only the largest Disney park but also the world's largest theme park. Disney World built Animal Kingdom on Earth Day in 1998 to further celebrate the mission of this park.
Animal Kingdom strives to promote awareness of environmentalism and animal conservation. These two principles were close to the heart of founder Walt Disney. Animal Kingdom was the fourth theme park built at Walt Disney World.
Animal Kingdom features hundreds of wildlife species living their lives within the confines of this 300-acre amusement park. Special provisions and design ideas are implemented to prioritize the well-being of these wild animals above all else. Elephants, antelopes, crocodiles, pelicans, and many more species populate this park.
The icon for Animal Kingdom is the Tree of Life, a 145-foot tall and 50-foot wide fake baobab tree, a distinctive tree indigenous to Africa.
Also located within Animal Kingdom is a theme park dedicated to the movie Avatar and a dinosaur-themed land. Animal Kingdom has dethroned Magic Kingdom as the most popular Walt Disney World park for tourists to visit.
Shanghai Disneyland
Shanghai Disneyland opened in 2016 and features seven appealing themed zones, including Fantasyland, Treasure Cove, Adventure Isle, Tomorrowland, Gardens of Imagination, Mickey Avenue, and Toy Story Land. This park spans nearly 290 acres within the heavily populated region on the central coast of China.
Touches of Chinese culture are sprinkled throughout Shanghai Disneyland. Sculptures of Chinese zodiac signs decorate the Gardens of Imagination, and eating areas are spacious and more relaxed to accommodate multigenerational families.
Attractions famous in Disney parks, like Jungle Cruise, It's a Small World, and Space Mountain, do not appear here to avoid cultural conflict.
Epcot, Walt Disney World Resort
Another Walt Disney World Resort location, Epcot attempts to give you the whole world within its 200-acre space. Walt Disney originally designed Epcot as a city of the future for 20,000 Floridians, but that design was abandoned after Disney's death in the 1960s. But, instead, Epcot became a celebration of science, innovation, imagination, and world cultures with its construction in the 1980s.
Today, Epcot stands as one of the most popular parks within the sprawling Walt Disney World Resort. Epcot is one of the few places adults can enjoy alcoholic beverages while visiting the resort. In addition, individual pavilions celebrate the food and culture of several nations, including Canada, Japan, Morocco, Italy, and Germany.
Disneyland Paris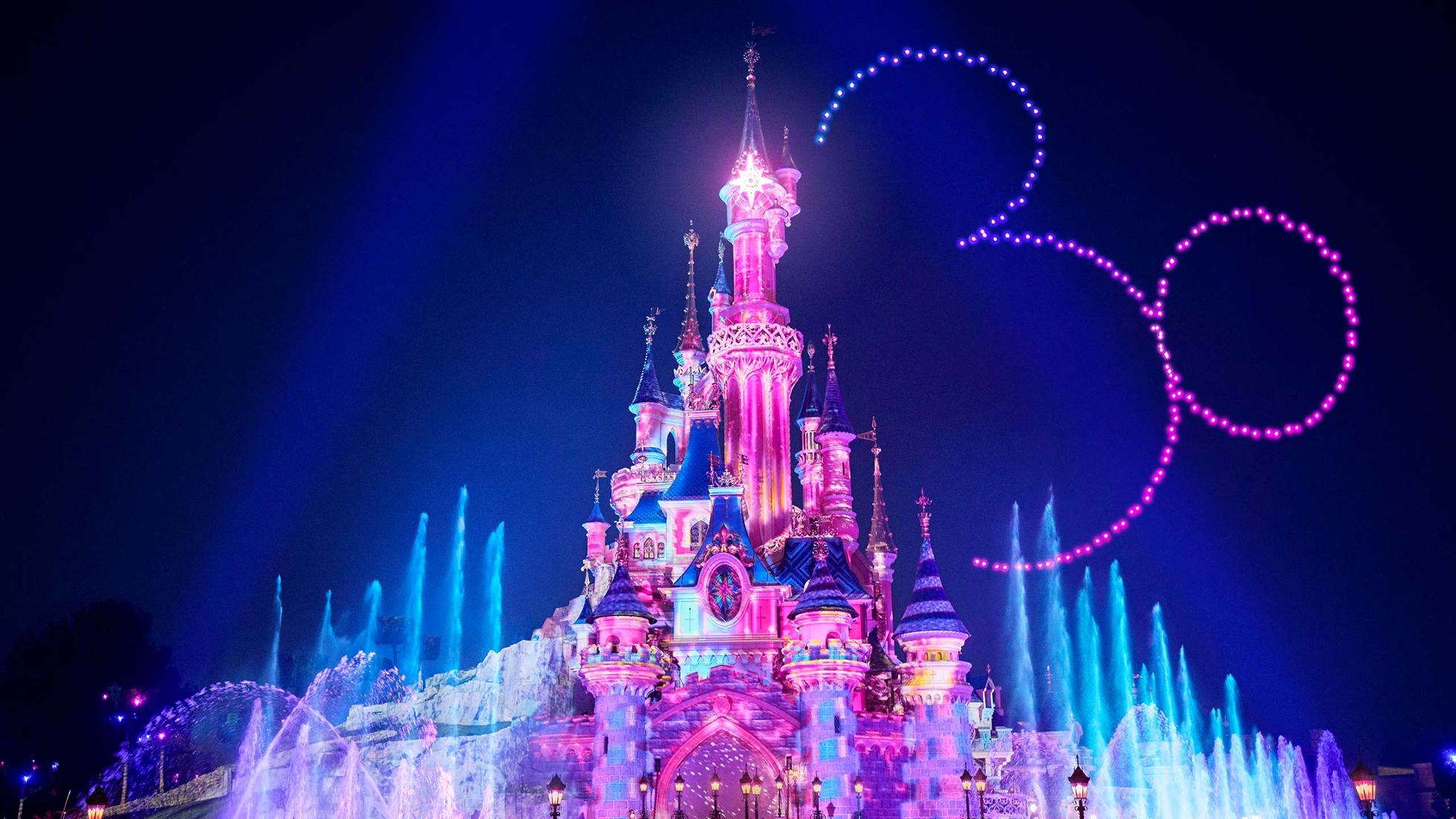 Coming in at about 190 acres, Disneyland Paris delivers a ton of signature attractions into its theme park located in Chessy, France, east of the City of Lights. Disneyland Paris has two theme parks, a golf course, entertainment, dining, shopping districts, and resort hotels.
This park opened in 1992 and is the second-largest location outside the United States and the only Disney park in Europe. In addition, six resort hotels are available for guests featuring extensively themed interiors, including Disney Hotel New York, Disney Sequoia Lodge, and Disney Hotel Santa Fe.
The most popular rides at Disneyland Paris reflect this resort's close replication of the popular Disneyland and Walt Disney World Resorts. Rides like It's a Small World, Big Thunder Mountain, and Pirates of the Caribbean can also be found in the California and Florida parks.
Walt Disney Resorts expects to invest heavily in Disneyland Paris within the 2020s. As the 2024 Olympics are scheduled for Paris, expect Disneyland to enjoy a significant facelift.
Tokyo DisneySea, Tokyo Disney Resort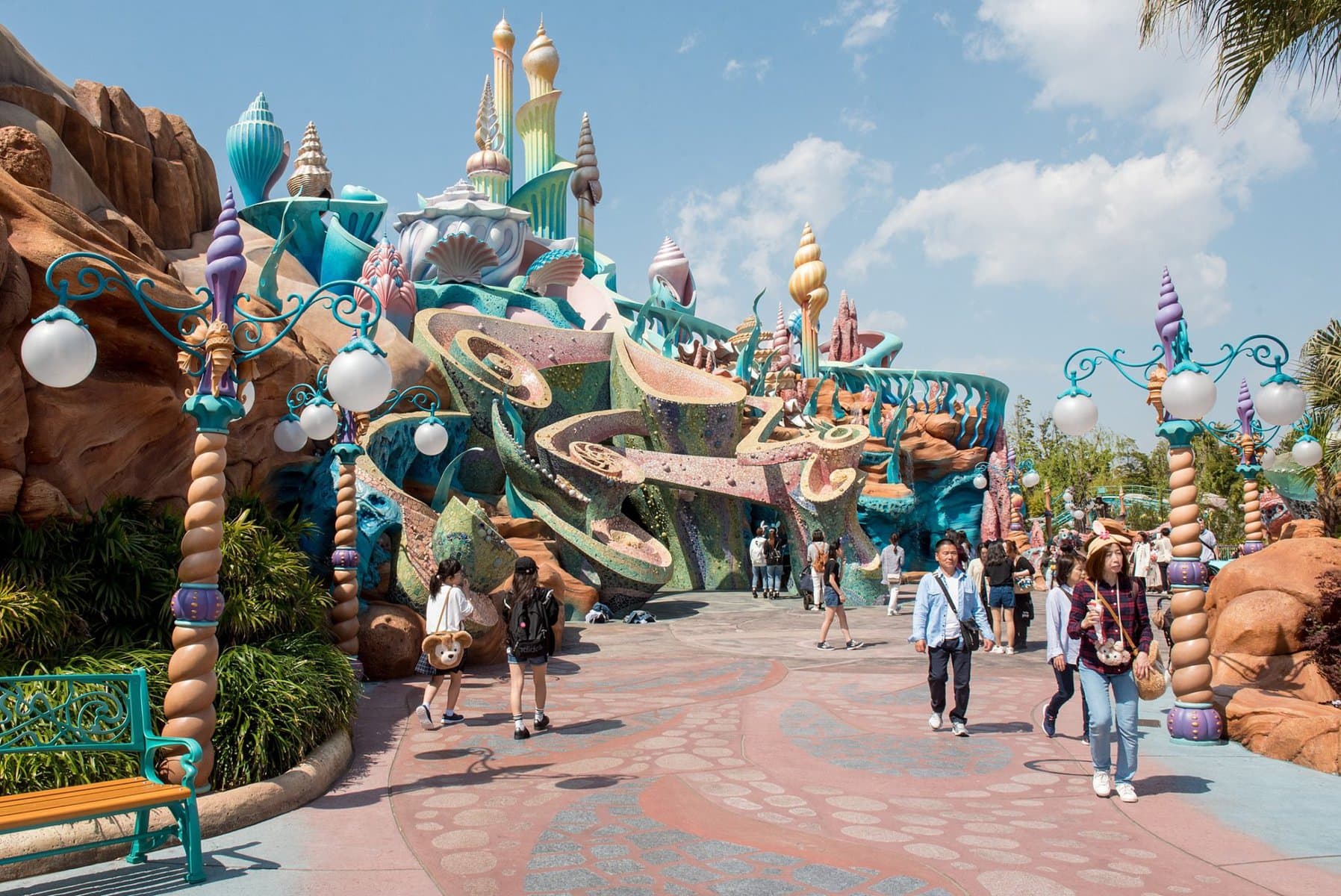 Tokyo DisneySea opened in 2001 to celebrate nautical exploration and the benefits of seafaring and coastal lifestyles. While Tokyo Disneyland was originally conceived soon after Tokyo Disneyland was built, it took decades for the project to finally come to fruition. This park, located on the coast of Japan near Tokyo, spans 176 acres.
Within a year of its grand opening, Tokyo DisneySea welcomed 10 million guests to the park, which remains a worldwide speed record to reach this attendance milestone. Tokyo DisneySea features award-winning designs for its architecture, construction, and overall innovative theme park concept.
The immersive lands of this theme park include Mediterranean Harbor, Mysterious Island, Mermaid Lagoon, Arabian Coast, Port Discovery, American Waterfront, and Lost River Delta.
Disneyland
The original Walt Disney creation, Disneyland, has become a cultural phenomenon. Located in the Southern California city of Anaheim, Disneyland takes advantage of the tourism and excitement of nearby Los Angeles to inspire and populate its thriving theme park. Disneyland opened in 1955 and still sits on its original 160 acres.
Disneyland holds a few different zones, including California Adventure, Disneyland Resort, and Downtown Disney. Signature rides like It's a Small World, the Matterhorn, Space Mountain, and the spinning teacups bring millions of visitors from all over the globe. Data from 2018 shows just over 720 million visits have been logged to Disneyland.
While relatively small in acreage, Disneyland's spirit inspired not only fellow Disney parks but all theme park attractions to come.
Disney's Hollywood Studios, Walt Disney World Resort
Originally conceived as a tribute to the product that made Walt Disney a household name, Disney's Hollywood Studios now serves as a more straightforward theme park. 
Initially, this park featured working film and animation studios, with themes celebrating the Golden Age of Hollywood. This park opened in 1989 as the third theme park within the Walt Disney World Resort.
Some of these Old Hollywood touches remain, with attractions like the Animation Courtyard, Echo Lake, and Sunset Boulevard. This space within the resort also houses the new and very popular attractions of Star Wars Galaxy's Edge. This park occupies about 135 acres.
Tokyo Disneyland, Tokyo Disney Resort
Tokyo Disneyland occupies 115 acres within this desirable Japanese location. This park represents the first Disney resort constructed outside of the United States.
Established in 1983, Tokyo Disneyland offers massive open spaces, reflecting the enormous crowds who visit the park and the minimalist Japanese design aesthetic.
Tokyo Disneyland delivers seven themed areas, with four distinct Disney park areas and two lands specific to the Tokyo park. Like other Disney parks, you will find Adventureland, Westernland, Tomorrowland, and Fantasyland at the Tokyo location. The World Bazaar, Critter Country, and Toontown are special to Tokyo Disneyland.
Magic Kingdom, Walt Disney World Resort
The Magic Kingdom within Walt Disney World Resort ranks as the most iconic Disney resort ever. At 107 acres, this park focuses on the enormous Cinderella's castle welcoming all visitors to its friendly boundaries. This park was built in 1971 and has earned the status of the most visited theme park worldwide for nearly two decades.
Magic Kingdom was the first park built within the eventual Walt Disney World Resort in Orlando, Florida. This park is divided into six separate zones, spiking out from the castle in the center like spokes on a bicycle. These lands include Adventureland, Frontierland, Main Street, U.S.A., Tomorrowland, Fantasyland, and Liberty Square.
Adventureland holds the famous Pirates of the Caribbean ride and Jungle Cruise. In addition, Frontierland offers a taste of the old West with attractions like the Big Thunder Mountain Railroad.
Space Mountain and the Carousel of Progress live within Tomorrowland, designed as a galactic city. And lastly, Fantasyland holds many of the most famous rides, like Dumbo's Flying Elephant, It's a Small World, and the Mad Tea Party.
Disney California Adventure
Disney California Adventure opened in 2001, the same year as the successful Tokyo DisneySea park. Co-located with Disneyland, this park celebrates the adventures and innovations of the state of California.
Imaginative creators like Marvel Studios, Pixar, and Disney properties are represented throughout the park, as well as rides and attractions to celebrate California's natural wonders. Disney California Adventure holds a footprint of 72 acres.
Ambitious Disney engineers redesigned this park in 2007 after only six years of operation. The fresh approach to California Adventure resulted in increased attendance and some of the most thrilling rides in the park, including an extensive Avengers Campus.
Hong Kong Disneyland
Coming in at only 68 acres, Hong Kong Disneyland represents a much smaller footprint than many of these Disney parks. However, this theme park, which opened in 2005, provides an atmosphere all its own.
About 34,000 visitors attend Hong Kong Disneyland daily, the lowest daily attendance of all Disney parks internationally. While this resort is comparatively small for a Disney location, this park hosts between six to seven million guests each year.
Chinese culture was carefully considered during the construction of this tourist attraction. Principles like feng shui and other customs dictated design choices and other additions to this resort.
For example, a bend in the road now appears at the entrance to the park. This costly addition expresses good feng shui and prevents good energy from flowing out of Hong Kong Disneyland and into the South China Sea.
Like Shanghai Disneyland and the Tokyo Disney locations, these theme parks are co-owned by the Walt Disney corporation and the governments of Japan and China. However, these resorts mark the only Disney properties not entirely owned by the Disney corporation.
Walt Disney Studios Park, Disneyland Paris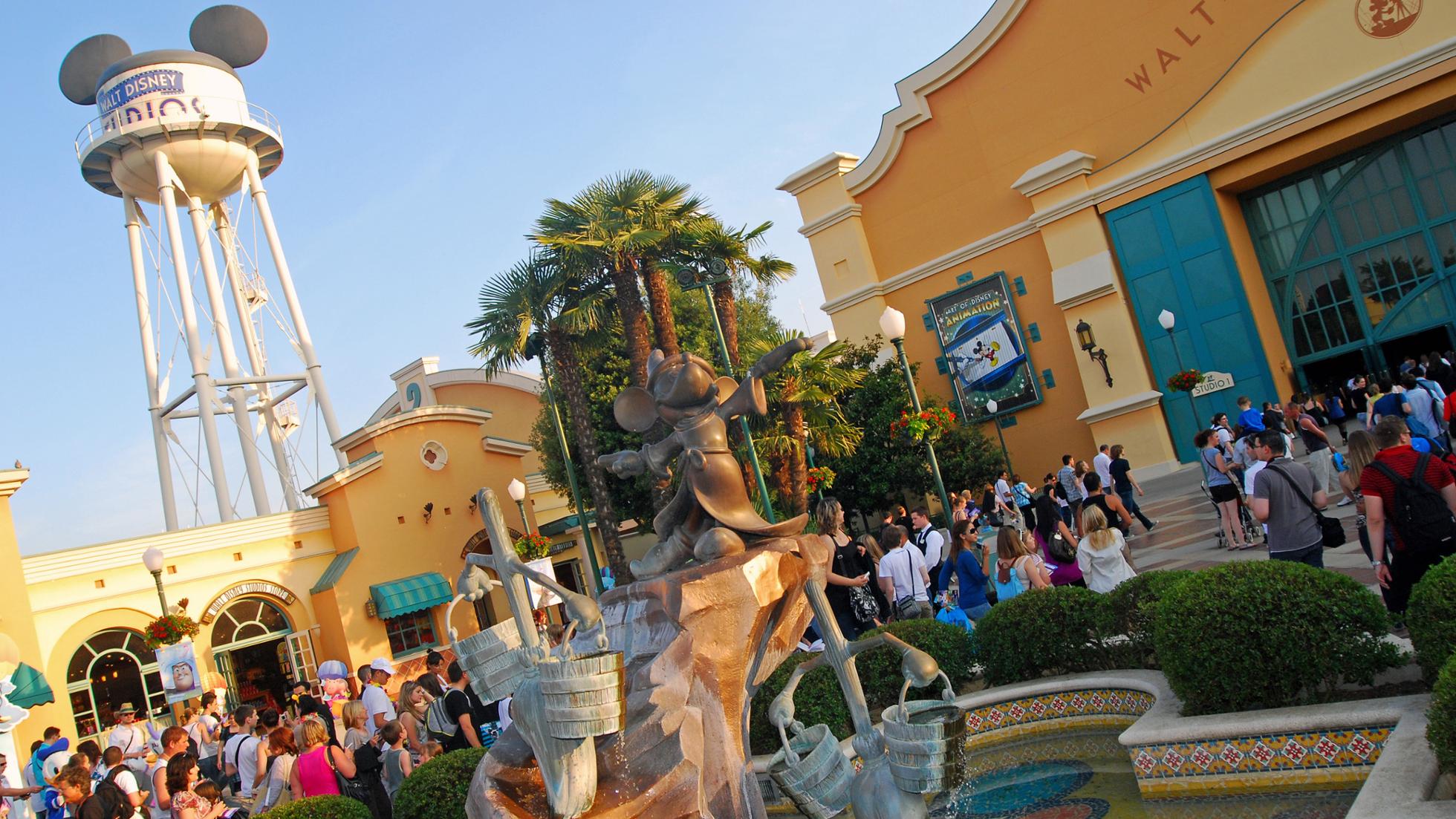 Walt Disney Studios Park within Disneyland Paris represents the smallest Disney park in the world. Built as the second theme park within Disneyland Paris, this tiny park opened in the spring of 2002.
This 62-acre location delivers what Disney's Hollywood Studios at Walt Disney World in Florida attempted to offer. This unique theme park gives visitors the feeling of stepping onto a live film set.
The approach of this theme park is to illuminate the processes of show business with behind-the-scenes access and insider attractions. Aspiring filmmakers, animators, and show business professionals of all ages will love this niche theme park in Paris.
This park is divided into five "lots" or different zones dedicated to the moviemaking process. These zones are called Front Lot, Toon Studio, Worlds of Pixar, Production Courtyard, and the Marvel Avengers campus.
As Disney now owns such massive properties as Marvel Comics, LucasFilm and Star Wars, Pixar, and its proprietary Disney characters, this park is getting more and more attention.
Conclusion
Whatever the size of the Disney park, there are boundless memories to be made within its acreage. Sometimes, the smaller parks like Walt Studios Park in Disneyland Paris or Shanghai Disneyland provide a unique experience in a tight location.
Others prefer the massive scale of Animal Kingdom and Epcot, which attempt to fit the whole world into the limits of their parks. At hundreds of acres apiece, both of these Walt Disney World Resort parks rank as the largest theme parks in the world.
More about our TFVG Author