If you want to visit Disney's Hollywood Studios, here's everything you need to know before making the trip, including a brief background of the popular destination, a look at ticket prices and how to get there, and a breakdown of some of its best rides, attractions, experiences, and shops.
A Quick Intro to Hollywood Studios
Hollywood Studios opened in 1989 as Walt Disney World's third theme park in Florida, United States of America. It was previously called the Disney-MGM Studios Theme Park since it was developed as a working production studio and theme park.
The studios within the park were the shooting location for many famous movies, including Lilo and Stitch, Brother Bear, and Mulan. After 2008, the park was reimagined around theater, music, and attractions.
Hollywood Studios is Disney World's center stage for theatrical arts and film. The theme park offers a wide array of entertainment, with dozens of attractions to get your heart beating faster and plenty of aesthetic creatives. It houses some of Walt Disney World's most popular rides, a major reason to visit this iconic attraction.
The theme park is divided into seven district lands. Each of the lands is a themed area, helping visitors plan their trip suitably. The seven district lands include:
Animation Courtyard: Home to Disney's animated movie characters.
Echo Lake: Miniature Lake in the middle of the park.
Grand Avenue, Hollywood Boulevard, and Sunset Boulevard: Los Angeles and Hollywood-themed districts.
Toy Story Land: Home to Disney's Toy Story characters and attractions.
Star Wars: Galaxy's Edge: Home to Disney's Star Wars characters and attractions.
Hollywood Studios Tickets and Reservation
Disney World is one of the most prominent attractions in the world. Millions of visitors from around the globe throng the location every year. The majority of the visitors want to tour all of the parks, making Disney one of the busiest attractions. Hollywood Studios ticket prices are as below:
Standard Ticket: $109 USD
1 to the 10-day ticket.
One theme park allowed a day.
Park hopper upgrade available for an extra 65 USD.
Over the past few years, significantly since Disney has upgraded many of its facilities, Hollywood Studios has become Disney's hottest park. As a result, the organization decided to open reservations and bookings to ensure that the visitors can have a smooth onboarding to the park rather than having to wait hours in lines outside the park. We highly recommend making a reservation at least 90 to 150 days before the date you wish to arrive at the park.
Not quite sure how to book your ticket? We're going to guide you step by step below:
Step 1: Check Availability of Dates
Step 2: Make Park Reservation
Step 3: Purchase Park Admissions Ticket
For an even smoother experience, download the My Disney Experience (MDE) mobile application from Google Store or Apple Store. This app is the ultimate guide to your stay at the Disney parks.
From park maps, times guide, and ticket reservations to food pre-ordering, the app is a viable way to make mindful selections.
Getting to Hollywood Studios
Part of Disneyland, the Hollywood Studios are situated at the following address: 51 S Studio Dr, Lake Buena Vista, Florida 32830.
If you're familiar with the area, you probably already know how to get to Hollywood Studios. However, if you're not, it is not a problem. The park has several different access points, making it easier for visitors to maximize time spent inside the park rather than outside. We have mentioned some of the popular ways of getting to the Hollywood Studios below:
By Car
The best way of driving to Hollywood Studios is by entering its address in Google Maps or Apple Maps. That is because the maps will show you the shortest route, or one with the least amount of traffic, making it easier for you to enter the park without wasting your precious time.
You can then access the park through the Victory Way, across from Disney's Art of Animation. The park has a vast parking lot, divided into five smaller lots for more accessible parking. These are Minnie Parking Lot, Mickey Parking Lot, Jessie Parking Lot, Buzz Parking Lot, and Olaf Parking Lot. Each of the five smaller lots offers trams to help visitors access the entry point without needing to walk too much.
By Bus
A bus station is located near the Skyliner Station, outside the Main Entrance of Hollywood Studios. That means you can take the bus from any location and into the park. Similarly, the shuttle bus runs between Hollywood Studios and Magic Kingdom, Animal Kingdom, and Resorts.
By Walk
If you're already at one of the Disney parks, the best way to reach Hollywood Studios is on foot. In fact, some parks do not have a lot of distance between each other.
Enter Hollywood Studios from the International Gateway Entrance, which connects Epcot to the Hollywood Studios. Similarly, you can reach Hollywood Studios from the Boardwalk Resort on foot and comfortably.
Hollywood Studios Rides and Attractions
While Disneyland is all about the magical experience, a big reason to visit Disneyland is the incredible rides and attractions each of the parks has to offer. Luckily, Hollywood Studios has an array of fast-paced and incredibly exuberating rides and attractions, warranting endless fun.
If you're on a time crunch, we can walk you through some of the best rides at the park so that you can maximize your time. Keep on reading!
Mickey's and Minnie's Runaway Railway
Mickey's and Minnie's Runaway Railway is the first Mickey Mouse-themed ride to open at Hollywood Studios. The attraction features a catchy theme song as it takes its riders through the world of Mickey Mouse, displaying the original story through a series of cartoon shots.
Rather than being a fast-paced ride, Mickey's and Minnie's Runaway Railway is a more family-friendly alternative. While this ride may not be on your bucket list of things to do in Hollywood Studios, it pays homage to classical Disney, pulling us into a pool of nostalgia.
Star Wars: Rise of the Resistance
Star Wars: Rise of the Resistance is one of the most popular rides at Hollywood Studios. With multiple ride systems, Rise of the Resistance is probably the most engaging attraction at Hollywood Studios. In fact, all the rides at the Star Wars-themed district are much loved and full of Star Wars fans of all ages.
Opened recently, this ride has been the buzzword for many tourists and adventure enthusiasts alike. Hence, making it one of the best things to do at the park. Consider paying for the fast Lighting Lane pass, as it will help you skip hundreds of fans to be first in line.
Twilight Zone Tower of Terror
Located inside the Hollywood Tower Hotel Structure, this ride has the aesthetics of a stroll through an old, dingy hotel from the past. Taking visitors to another dimension, the ride is slightly fast-paced but not enough to have you distracted from the views of the tower.
The guests buckle up in the elevator-style ride, entering the dusty lobby and into the twilight zone. The banging metal, snapping cable sounds, and eerie special effects will make you second guess reality during the entirety of the attraction. However, it is a ride not to miss.
Rock n Roller Coaster Starring Aerosmith
Showcasing the legendary rock band Aerosmith's music, the rollercoaster will make you go crazy, and quite literally, that. You surely Don't Want to Miss a Thing. Enough of the puns!
With lots of loops and twists to test your adrenaline, the roller coaster speeds up to 60 miles per hour along its many highs and lows, providing an exhilarating experience like none other.
You might get knots just by looking at the rollercoaster from the outside; however, the short ride is an inexplicably good experience. Climb aboard the limo-styled rollercoaster and buckle up for the ride of your life.
Millennium Falcon: Smugglers Run
Millennium Falcon is another great experience at the Star Wars: Galaxy's Edge theme park inside Hollywood Studios. It is a pure thrill ride housing many small drops with loud thuds to tie knots in your stomach, all while skyrocketing your adrenaline.
Face danger at every turn as this motion simulator ride makes you catch your breath in just five minutes. This is a must-visit!
Beauty and the Beast Live on Stage
Beauty and the Beast is one of the best movies to be produced by Disney, loved by people of all ages for years. If you're one of those people, hop on this incredible live-on-stage 30-minute experience like no other.
Relive the romance and magic of the story through a Broadway-style musical to warm your ears with sweet melodies. The colorful costumes and jaw-dropping performances by the actors will leave you stunned. Be sure to book this show a few hours before arriving at the Hollywood Studios as it is one of the difficult attractions to get a hold of without prior reservation.
Indiana Jones Epic Stunt Spectacular
Kids, adults, aged adults – everyone loves Indiana Jones! After all, it is a cult classic. Being one of the oldest shows to consistently run at the Hollywood Studios, showcasing for thirty years, the Stunt Spectacular has jaw-dropping performances.
Watch Indiana Jones save the day by acting out different scenes and stunts from some of the blockbuster movies of the series. Be wary. You might have to wait quite a bit to get a reasonable seat at the theater, especially as it is almost always overbooked due to its immense popularity.
Slinky Dog Dash
Tired of the fast-paced attractions? Try a more family-friendly rollercoaster that twists and turns past giant creatives while ensuring you have a blast with your eyes open and ears at ease!
The thrill ride consists of small drops, making it easier for you to snap a few memories (at your own risk) of the characters displayed from the Toy Story movie franchise.
Lightning McQueen Racing Academy
Are you visiting the park with your children and not sure where to start? Make your way to the Lightning McQueen Racing Academy at the Hollywood Studios. Don't worry! The attraction is just as fun for adults as it is for children.
The attraction houses a 10-minute show full of impressive effects, a dance party, and much more. Walk around the academy and choose the best seats in the house by arriving ten minutes before the start of the show. 
Hollywood Studios Fireworks and Nighttime Spectaculars
Disneyland lights up during the night with some of the most spectacular light shows, fireworks, night parades, and more. Hollywood Studios lives up to the same name. After all, it is truly the place where the magic happens.
Here are some of the most loved night shows that you do not want to miss out on:
Hollywood Tower Hotel
The Hollywood Tower Hotel is swiveled with colors and shimmers from the Golden Age of Hollywood for the viewers. The neon colors against the dark sky light up the whole theme park district, becoming a great view to snap. The grand tower hotel lights up typically around dusk. So, you should make your way towards the attraction around 6 pm, especially if you want to get a good view.
Wonderful World of Animations
Make your way to the famous Chinese Theater to view the Wonderful World of Animations shows at the theme park. The show features classic movie scenes from the last 100 years of Disney's cult classic history. Be amazed by the display projections, pyrotechnics, and lighting effects. While the show only lasts 12 minutes, the experience is worth staying till late at the park.
Fantasmic
The Fantasmic show is housed at the Hollywood Studios' main amphitheater. It features over fifty performers, including many secret appearances by Mickey Mouse himself as well as Pocahontas, Aladdin, and Lion King. Throughout the show, expect to be wowed by the famous 40-feet dragon, lots of colors, sparkles, and water displays.
Star Wars: A Galactic Spectacular
The night's most anticipated show, Star Wars: A Galactic Spectacular, is a journey of projections, lights, fog effects, lasers, and fireworks. The show is simply beautiful, lighting up the entire sky within minutes. The show is backdropped against the Chinese Theater.
Sunset Seasons Greetings
If you're planning a trip to the Hollywood Studios around Christmas, you're one of the lucky few that get to experience Hollywood Studios' Sunset Seasons Greetings. It is a seasonal show that projects the Hollywood Tower Hotel with holiday stories. Not only this, but the entire street is lit up with holiday festivities, snowfall, lights, and music.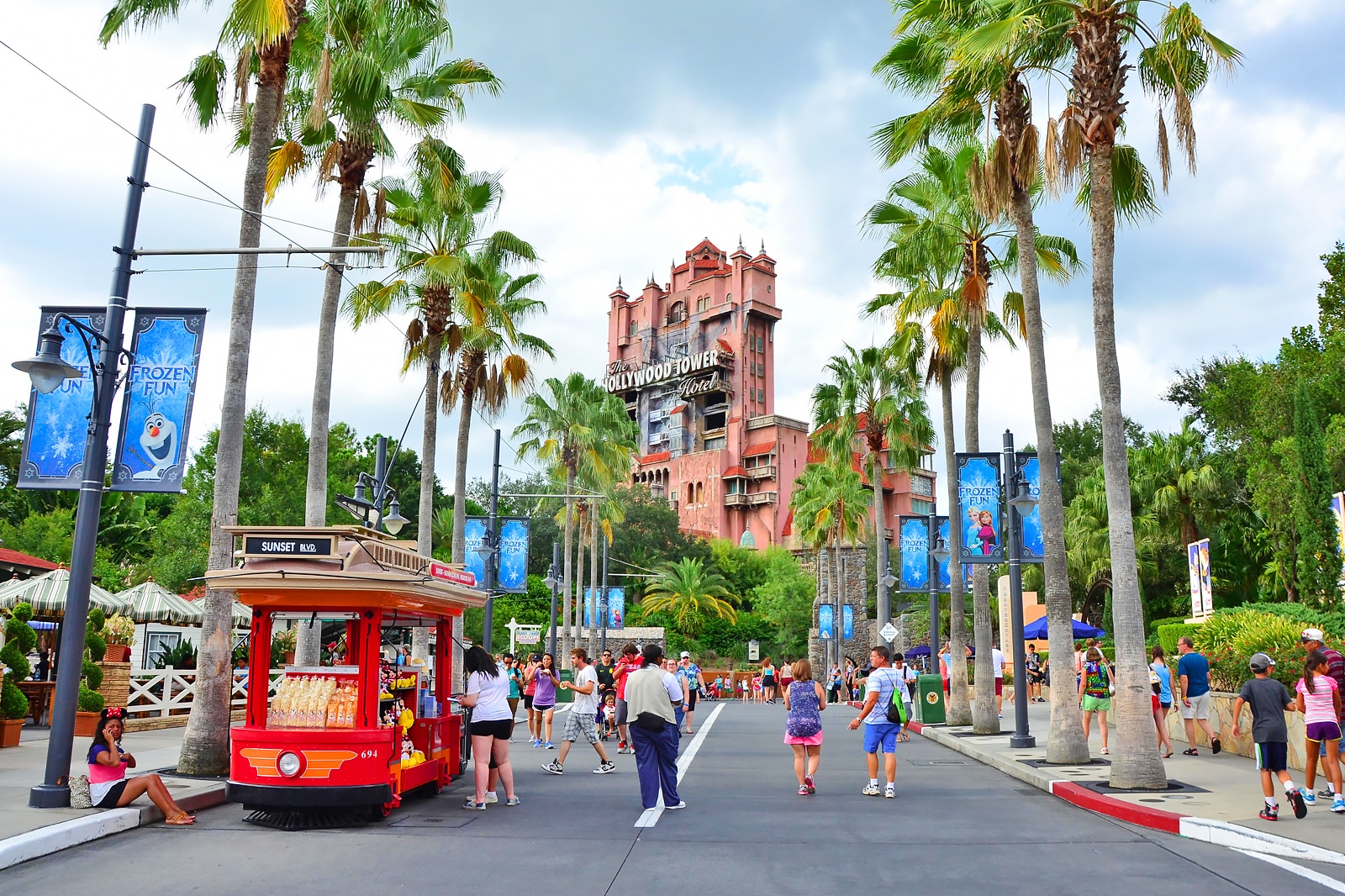 Hollywood Studios Restaurants
Between the thrilling rides and the jaw-dropping aesthetics and attractions, you are bound to feel your stomach rumbling due to hunger. There were days when this particular theme park got no limelight for its limited food options. However, those days are long gone, especially since Hollywood Studios has significantly stepped up its food game.
Currently, tens of restaurants and snack cafes are located around the park. Luckily, there is something for everyone, including exquisite fusion restaurants and even basic cheese pizza. If you've got uncontrollable hunger pangs (and rightfully so), we've got your back. We have listed down some of the best restaurants in Hollywood Studios.
To help you make the most bang for your buck, we have categorized each restaurant by its cuisine and cost, making it easy for you to narrow down food options.
Some restaurants listed are more popular than others, being quick to run out of space to serve their guests. Hence, be sure to make a reservation beforehand. We recommend booking at least 90 days before you plan on arriving at Hollywood Studios.
Moreover, if you want to further explore some cuisines offered in the theme park on your own, download a free copy of the park's guidebook available on Disney's official website.
A QUICK TIP: Download the MDE mobile application to place an order a few hours before you eat so that your service is prioritized during rush hours, such as lunch and dinner time.
Cost: Cheap and Affordable
Cuisine: Italian
When in a rush, there is nothing better than grabbing a large pizza slice and calling it a day. We think pizza makes for the perfect Disney snack in between lunch and dinner. Pizzerizzo is a bustling counter-service pizza parlor serving a wide range of flavors. Alongside, the restaurant is known for its wine and beer, all in a cheery atmosphere.
The restaurant is unlike any other at the Hollywood Studios, precisely due to its bizarre exterior and interior. The pizza is served in what seems to be an old banquet hall, full of lowlights and basic tables. Quite evident from their vintage menu card, the restaurant aims to take you back a few years, capturing the true essence of American food.
For all the pizza lovers, you must try Pizzerizzo's Pepperoni Pizza and Meatball Subs. Salads are available for those who wish to snack on something a little healthier.
Cost: Cheap and Affordable
Cuisine: American
Inspired largely by Toy Story, Woody's Lunch Box is an outdoor restaurant nestled in the Toy Story Land at the Hollywood Studios. The restaurant exterior is designed as a lunchbox, supported by an upside-down teacup and straws. Keep an eye out for the Toy Story characters as they often make surprise appearances at the restaurant, making it another attraction to visit.
Some of the food options we can recommend from the menu include Grilled Three-Cheese Sandwich and the BBQ Brisket Melt Sandwich from their sandwich collection. For a healthier alternative, try their Plant-based toasted sandwich. If you're looking for a light meal, order the classic fries with nuggets.
For the grownups, the restaurant has quite a cocktail collection. Woody's Lunch Box serves Moscow Mules, Crisp Apple Hard Cider, Bud Light Lager, Angry Orchard, and Vodka Lemonade.
Cost: Mid-range and Affordable
Cuisine: American
Located in Star Wars: Galaxy's Edge, this fast-paced restaurant is one of the best places to eat in Hollywood Studios. The menu is all American, ranging from fried chicken to BBQ ribs, pot roast, and everything in between. The BBQ ribs are marinated overnight and cooked to perfection, falling off the bones.
Hence, it is one of the best dishes served at the restaurant. Other than that, their fried chicken is worth a try. They serve the fried chicken with a garlic and herb dip, which makes the perfect gravy.
Not only does the restaurant serve mouth-wateringly delicious food options, but it offers a unique dining experience. As soon as you enter the restaurant, you're guaranteed to be stunned by the décor.
The indoor restaurant is designed inside a hanger, whereas the outdoor courtyard is covered with ample shade. The atmosphere warrants an exhilarated experience, making you realize that you're dining in Disney with every bite you take.
Cost: Moderately Priced
Cuisine: American
Being one of the higher-priced restaurants to dine in at the Hollywood Studios, 50's Prime Time Café is more than just a visit for food. Instead, it is an experience on its own. 50's Prime Time Café is a family-friendly food joint dishing hearty portions of comfort food from the 1950s but with a unique twist!
The waiting staff at the restaurant are quite a bunch. They purposely mistreat you for the fun of it. Don't worry, it's all part of the show, as it gives a more realistic feel of the 50s-era.
When at the café, you might feel you're being served at your grandmother's house from back in the day.
Try to get a table in the corner of the restaurant with the kitchen set, as it will further uplift your dining experience. Some of their best food options include comfort and home-cooked style food, including meatloaf, pot roast, pot pies, and fried chicken. Order their famous milkshakes too, especially the peanut butter and jelly milkshake.
Cost: Expensive
Cuisine: American Fine Dining
Hollywood Brown Derby is the most expensive restaurant at Hollywood Studios. While the fine dining restaurant may leave a dent in your wallet, the well-sized food portions and the high-quality taste will ensure you don't regret a single penny spent.
The restaurant is a clone of a famed Hollywood eatery with classic posh décor. It is inspired by original Los Angeles restaurants that would exclusively serve celebrities and big names in the industry. Expect to be served in a large dining hall with beautiful chandeliers hanging from the ceiling and plants near your table.
You might have a hard time picking what to eat as everything served at the restaurant is simply delicious. We recommend trying the Cobb Salad and the Shrimps and Scallops as a starter, Filet Mignon with Disney's Special Sauce, Lamb Duo, or Lobster Tail as the main course, and the Decadent Flourless Molten Lava Chocolate Cake as dessert.
The restaurant also serves a wide range of special cocktail mixes you might not find anywhere else. Try their Grapefruit Cake Martini and Jewel of Hollywood Cocktails.
Character Meets and Experiences
A big part of the Disney experience is meeting some of your favorite characters. Hollywood Studios is one of the best places to do this, especially as there is far less waiting time to meet the same characters as there is in any of the other parks.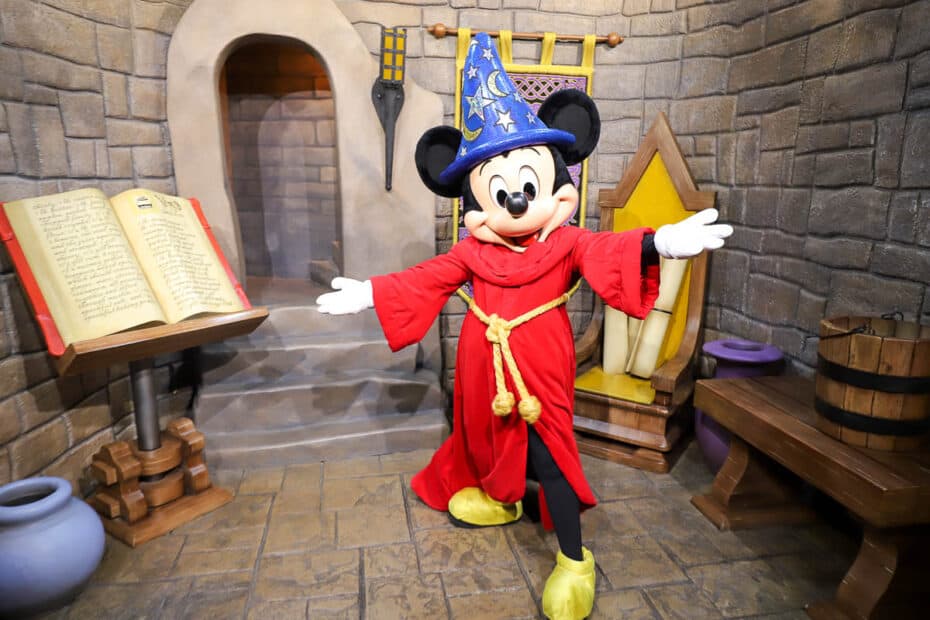 Here are some of the best character meets and experiences to live your Disney dream:
Mickey and Minnie Mouse
The meet and greet are located at Red Carpet Dreams, ABC Commissary. Once you enter the hall, you're going to meet Minnie Mouse in her dressing room. The next door will take you to Mickey Mouse, who will be dressed in his Fantasia outfit in his Sorcerer's wardrobe.
While both the characters are non-speaking characters, they will both sign autographs with your name, which is quite an exciting keepsake!
Donald, Daisy, and Pluto
If you want to complete your childhood Disney dream, we recommend meeting Donald, Daisy, and Pluto. Find both Donald and Daisy at Sid's Porch and kindly ask for an autograph. Meet Pluto at the Animation Courtyard between 10 am to 5 pm. Unlike other characters, Pluto is always full of energy, performing various tricks to please the crowds.
Pixar Motorcade
While far from a traditional meet and greet, the Pixar Motorcade is an exciting new way of interacting with all the famous characters without waiting in long lines. The motorcade begins near Guest Relations, Park Entrance, and goes down to the Chinese Theater. You're going to see characters including Mr. Incredible, Sulley, Woody, Buzz Lightyear, Lighting McQueen, and many more notable Pixar characters.
Hollywood Studios Shops
No vacation to Disney is complete without a beautiful souvenir, precisely because it is a great keepsake to instantly remember and cherish all the fun memories created at the park. Several unique stores offer handcrafted Disney merchandise, ensuring that you never forget the Disney magic, even long after you have experienced it.
Want to grab yours? Check out the following stores:
Toydarian Toymaker
This little store is nestled inside Star Wars: Galaxy's Edge. The store offers a range of handcrafted toys and Star Wars merchandise to take home from the park.
Frozen Fractal Gifts
Step into the world of Disney characters at the Frozen Fractal Gift shop. You're bound to find a range of frozen-themed plush toys and dresses.
Stage 1 Company Store
Located on the Studios' Grand Avenue, the Stage 1 Company Store has a massive range of Disney collectibles. You can purchase Disney shirts, cups, and caps, amongst other merchandise.
Rock Around the Shop
Accessible through the Rock n Roller Coaster Starring Aerosmith attraction, the Rock Around the Shop is a merchandise store selling items specific to the rock and roll culture. You can pick out customizable guitar picks, sling bags, and band logos.
Tower Hotel Gifts
After finishing the mindboggling ride of the Tower of Terror, you're going to quickly restore yourself at the merchandise shop. It doesn't just hold essential souvenirs, instead has keepsakes from different Disney parks and resorts, including Coronado Springs, Boardwalk, and other alternatives. You can even get a customizable "I survived the Tower of Terror" t-shirt.
Hollywood Studios: Top Tips for Enjoying Your Visit to the Park
From thrill rides to a wonderful lineup of stage shows, Hollywood Studios offers enough to visitors to make their experience unmemorable. The following are a few tips to keep in mind for a perfect day out before embarking on your epic adventure at Hollywood Studios:
Ditch the style! Go for the most comfortable clothing you own. Avoid wearing loose clothing. Opt to wear soft sneakers as you will have to walk a lot throughout the day.

Keep a small and lightweight backpack with you to safeguard your personal belongings.

If you're going in the hotter summer months, be sure to add a hand-held portable fan in your backpack to keep cool during the time spent at the park. It can get very hot and humid very fast in Florida.

Try to arrive at the park as early as possible so you can avoid extra long lines and unwanted delays.

If you have arrived early at the park, do not park hop. Instead, brainstorm your day the night before to avoid wasting time before the park gets crowded.

Some food options and restaurants, especially those that exclusively offer snacks, do not have mobile pre-ordering. That means you might have to wait in long queues for your food. Prioritize your activities accordingly.

Go for the popular rides and attractions near the closing time of the park, as that is when the crowd is spending their time relaxing and eating after the day's long activities.
More about our TFVG Author
A seasoned traveller, Dad, and avid sports tourist, James foundered The Family Vacation Guide to share his expert vacation experiences- especially when it comes to being a travelling family man.
Featured in Travel articles such as Travel + Leisure, TripSavvy and SFGate, you know you're reading some of the best vacation tips online.