Some of the best experiences on this planet are free and provided by Mother Nature herself. Take hot springs, for example, the perfect way to unwind and get the kids immersed in nature, it's like taking a bath in a pool heated to perfection by the crust of the earth!
There are hundreds across the US to discover, each with its own unique landscape to enjoy, so if you are hoping to have a memorable experience with your kids, what better way to see the beautiful sights of this great country by exploring nature's very own spas.
Grab your swimsuit and towel and come with us as we dive into the very best natural hot springs in the US has to offer.
Here Are 21 of the Best Hot Springs in the US
1. Gold Strike Canyon Hot Springs, Boulder City, Nevada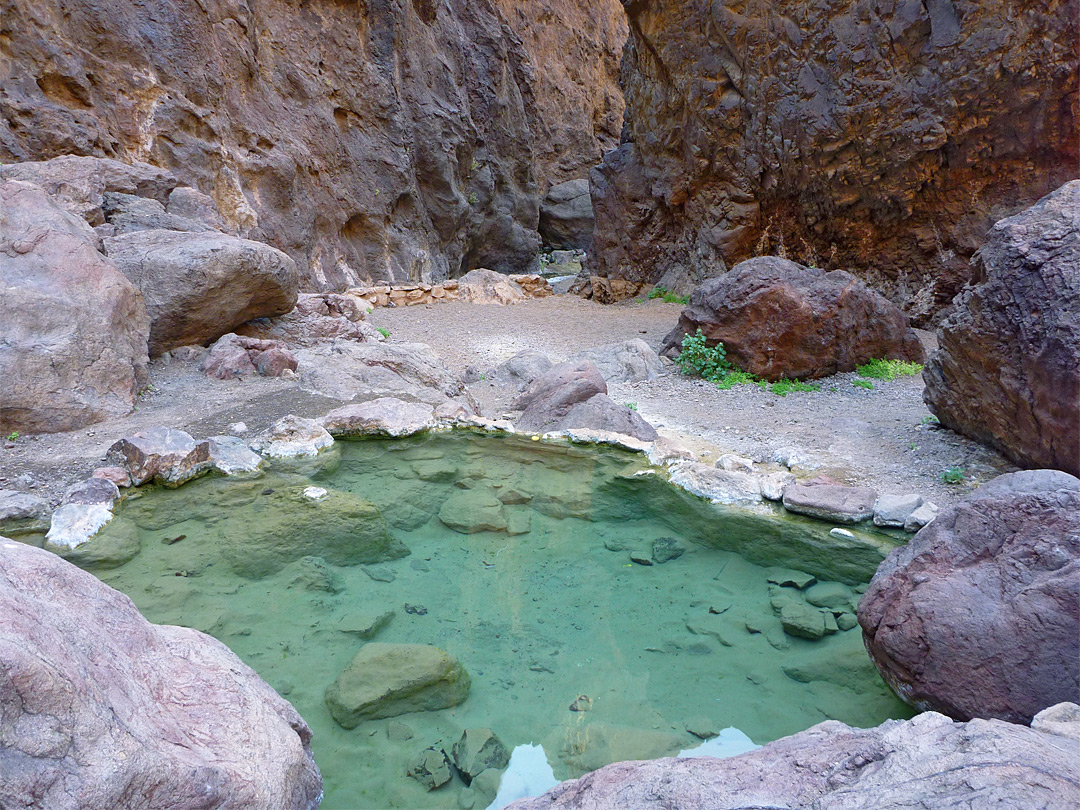 There are several ways you can get to these hot springs, located in Nevada. Firstly you have the option of parking for free at the start of the trail and then following a gravel path for about 2 miles. You will then come across several 20-foot rope climbs to descend, so access to this spring is hard work and not for the faint-hearted.
If you don't fancy the hike, you could kayak on the Colorado River through the beautiful Black Canyon. Due to its treacherous nature of getting to the springs, make sure you take all of the necessary safety precautions. Your payoff is the stunning thermal pools, grottos, and even hot waterfalls.
2. Buckeye Hot Springs, California
There are three hot mineral pools here fed by a hot springs waterfall. It is just a short trek from the nearby campsites available for those wanting to make a weekend of it. The views are picturesque as the pools sit next to a flowing creek.
You can visit any time of the year as the pools are even warm in winter, making for an unforgettable experience bathing in the springs with snow on the ground. If the warmer months are more your thing, be advised that there is a clothing-optional rule.
3. Chena Hot Springs, Alaska
This is a full hot springs resort with overnight packages, massage therapy, a pool house, and an activity center. The hot springs are at the center of this resort, but you can enjoy other activities, including viewing the Aurora Borealis or Northern Lights or grabbing a drink in the Aurora Ice Museum.
The natural hot springs here are very accessible and there is even a cafe and restaurant. There is a small charge for a pass to the hot springs but it includes the outdoor hot springs lake, indoor pool, indoor and outdoor hot tubs, and access to shower and locker facilities. The price is $15 for adults, $12 for children, but be advised that the hot springs lake is for adults only.
4. Hot Springs State Park, Wyoming
This hot springs park can be found in Thermopolis, where the mineral springs flow at a constant temperature and can be enjoyed all year round. Thermopolis is Greek for 'Hot City' which is very fitting as there are so many hot springs in this state park.
There is plenty to do here at this so-called day park including a bathhouse, playgrounds, hiking trails, picnic areas, fishing, and a boat ramp.
5. Granite Falls Hot Springs Jackson, Wyoming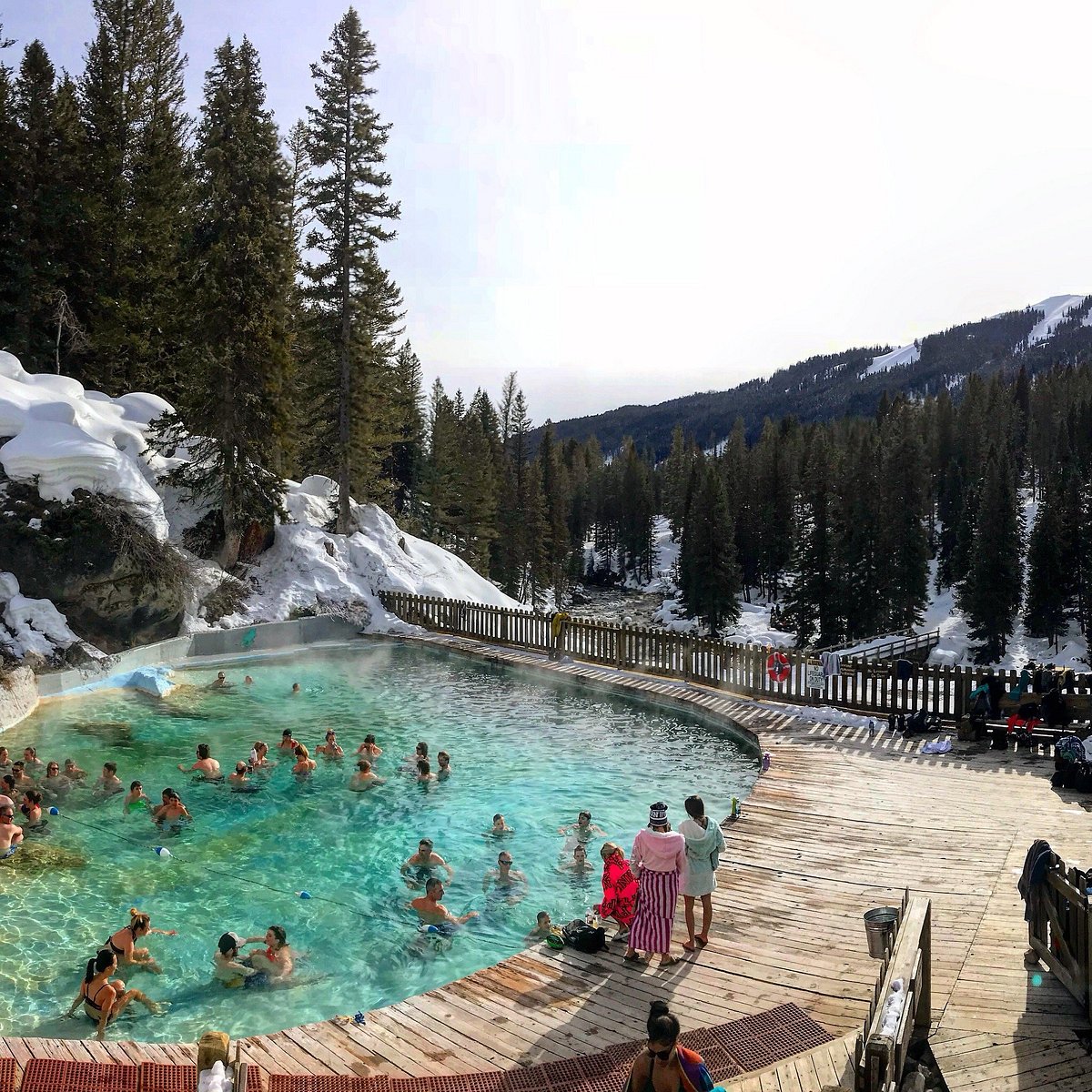 Hidden away in the Gros Ventre mountains is this natural hot spring. Alongside the hot springs is a swimming pool and soaking pool. There are also picnic tables and fire pits for you to use as well as camping so you can make a weekend of it.
There is a small charge of $8 for an adult and $5 for a child to use the pool, and the hot springs can be used in both the summer and winter months. The springs are surrounded by huge fir and spruce forests providing natural tranquility and can be accessed by sled in the winter adding to the adventure.
6. Conundrum Hot Springs, Aspen, Colorado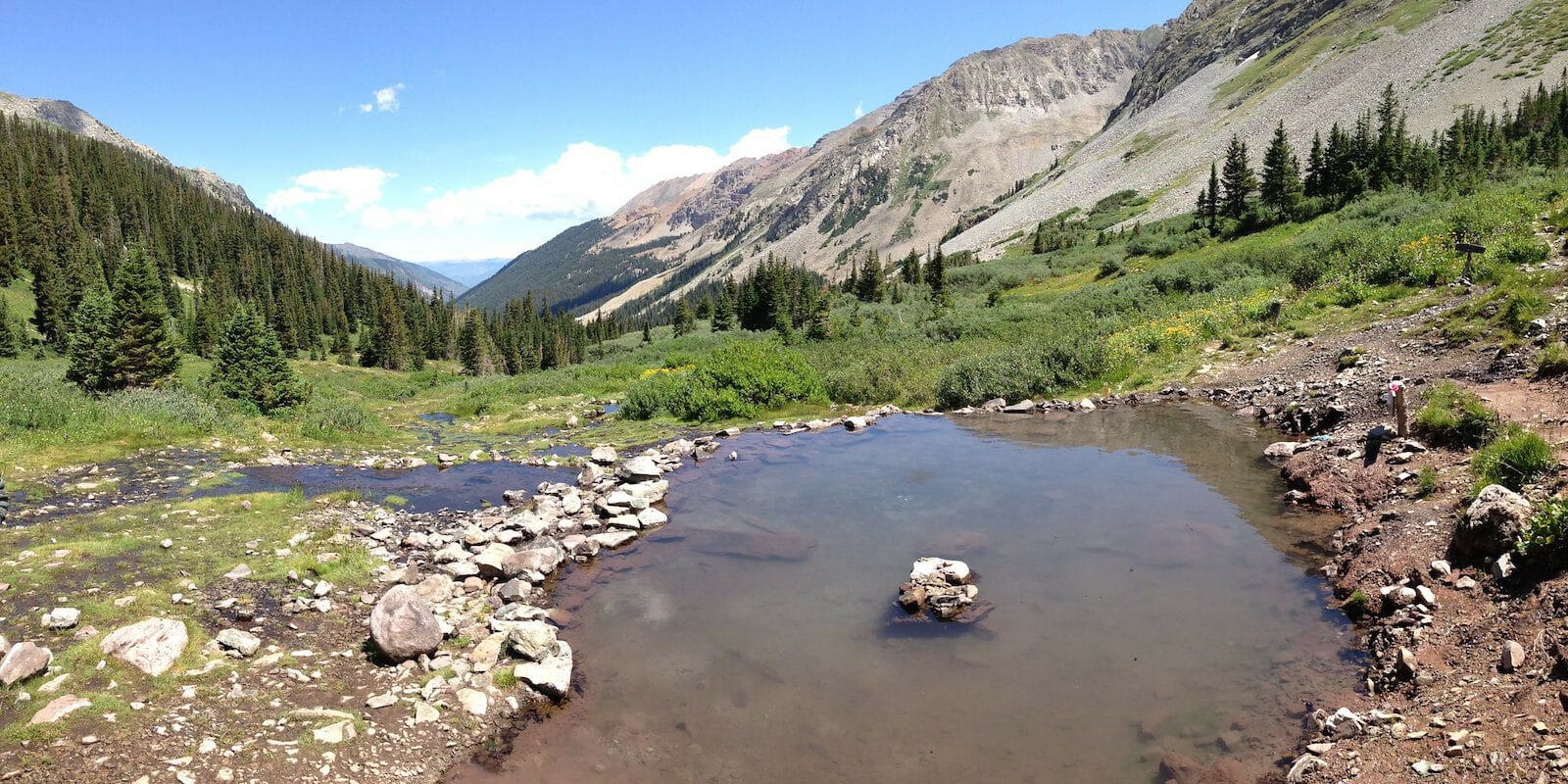 An 8-mile trek winding its way through Aspen trees and beautiful meadows leads you to these thermal springs also known as Valley view hot springs. Crossing three creeks gets you to the highest hot springs in North America at 11,000 feet high.
There are several pools to enjoy, differing in size and temperature. Enjoy the spectacular views of the valley you just hiked as well as waterfalls and stunning flora and fauna. There are 18 campsites nearby so you can relax here for the weekend. The springs are free to use and there is a clothing-optional rule to consider.
7. Mono Hot Springs, California
These are some of the best hot springs in the United States as they have everything you could wish for to make a real holiday out of your visit. It is hidden away in the remote wilderness of the Sierra National Forest and has so many hot springs and pools to choose from, varying in size and temperature.
You can also hike or go horseback riding. There is rafting on rubber rings for the kids to enjoy in one of the rivers and you can do a spot of fishing. This location also offers cabins to stay in and its own restaurant.
Here, you can treat yourself to a massage at the bathhouse and spa or light the fire in the firepits and marvel at the scenery. There are guides on-site to make sure you get the most out of your visit.
8. Hot Springs National Park, Arkansas
This hot springs National Park is the perfect mix of breathtaking scenery and historic architecture. With 9 bathhouses, mountain views, and forested hikes, this place has plenty to explore. There are no opportunities here to bathe outside, however, the 4000-year-old thermal spring water is pumped into two of the bathhouses so you can enjoy the full benefits of the water.
One of these bathhouses has spa facilities as well as a steam cave. There are two outdoor pools where you can touch the water in its natural state. There are also hiking trails to take in the scenery and a campsite.
9. Weir Creek Hot Springs Idaho
These hot springs are nestled in the stunning Clearwater National Forest and are surrounded by rock cliffs and cedars. The hike is quite difficult to get to the springs but once you are there, you are greeted with different size natural hot springs pools to enjoy.
The pools are free to use and clothing is optional. There are beautiful views of the surrounding forest and waterfalls and streams that create a natural ambiance. Primitive camping is also available with minimal facilities.
10. Crystal Crane Hot Springs, Oregon
There are various ways to enjoy the benefits of thermal springs at this resort including the cedar-enclosed bathhouse, the public pond, or your very own soaking tub. There is even a water massager that you can stand under to relax those muscles.
This 160-acre site has cabins and tepees as well as a campsite for tents and RVs nearby. There is also staff onsite to make sure that your stay is as relaxing as possible.
11. Travertine Hot Springs, Bridgeport, CA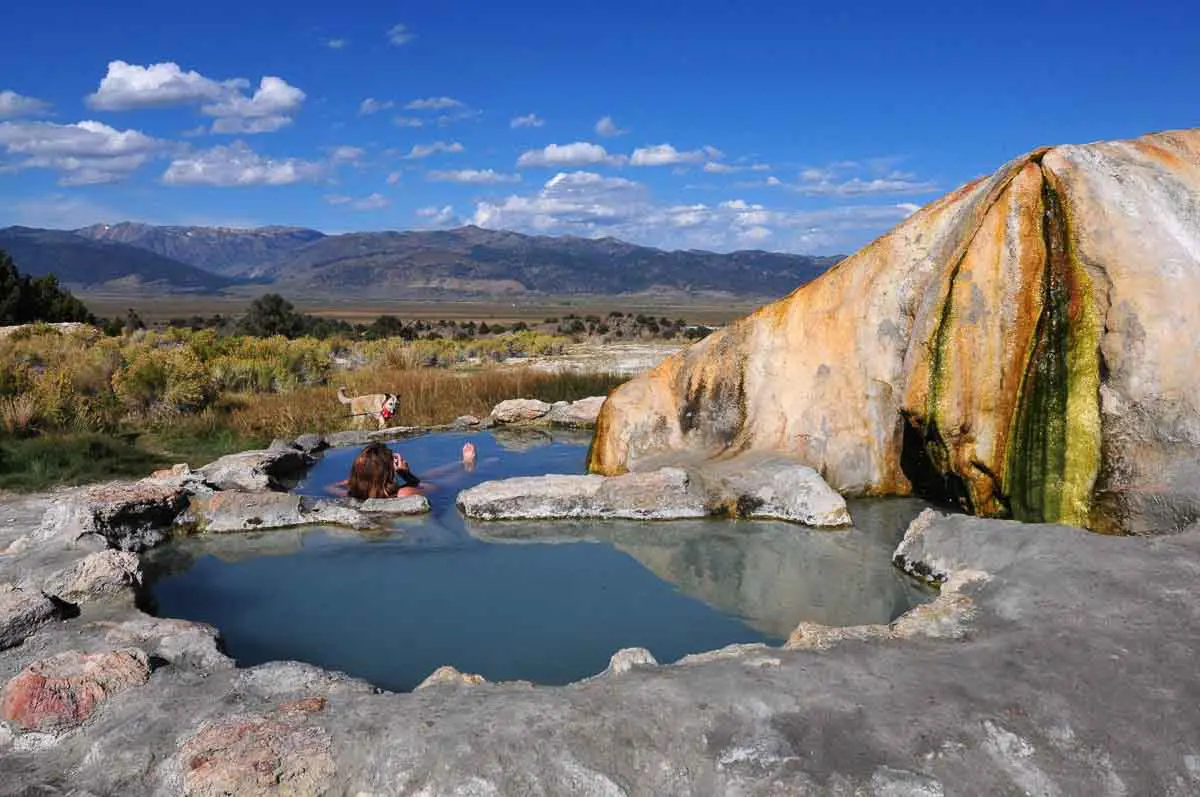 These hot springs are nestled in a remote location with views of the Eastern Sierra Mountains. There are over half a dozen pools, most with easy access from the car park. They vary in temperature but have the added benefit of having mud floors rather than concrete.
It is said that the mud contains healing properties and is suggested you cover yourself in mud to get the real benefits, something the kids would love to do. With natural surroundings of travertine rock and grassy meadows, some of these hot springs are secluded. Camping is free as it is Forest Service Land but keep in mind that there are no facilities.
12. The Springs Resort and Spa, Colorado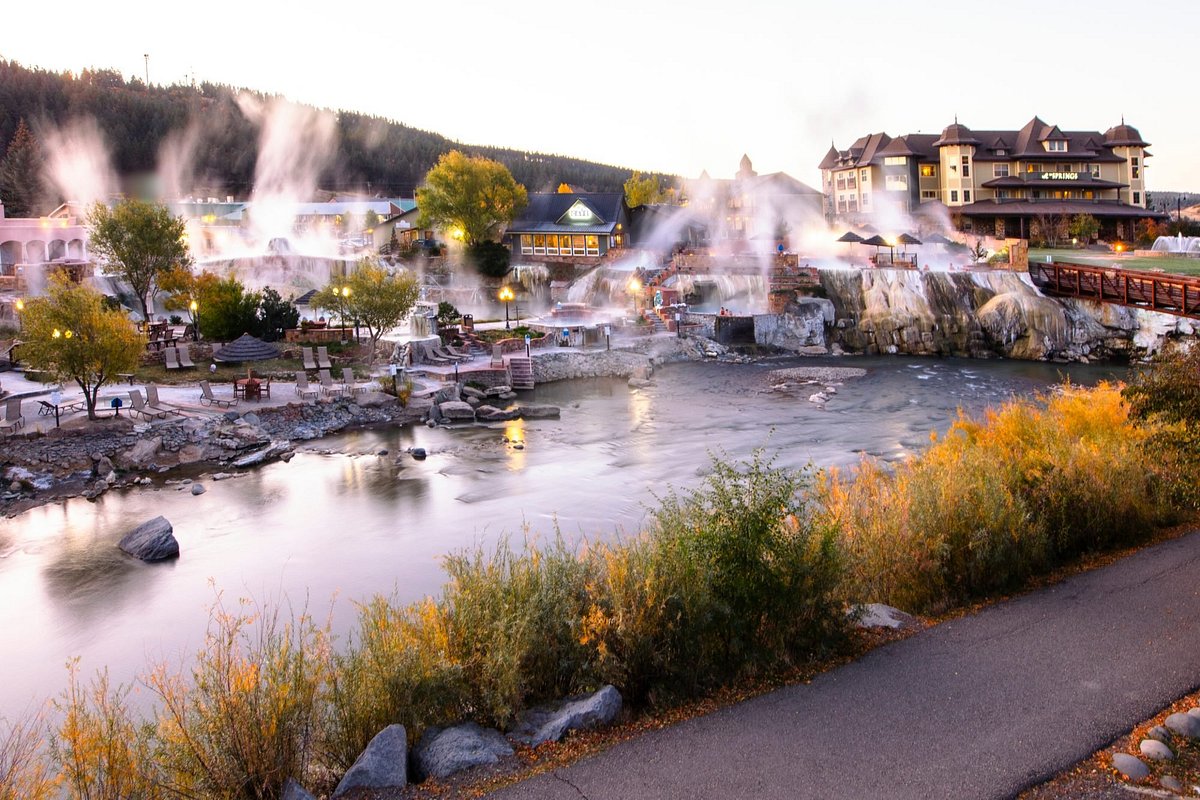 Situated on the banks of the San Juan River, The Springs Resort and Spa is one of the best hot springs in the US. This wellness center has stunning accommodation as well as day passes to enjoy the 25 hot spring pools that are fed by the world's deepest geothermal hot spring.
There are plenty of treatments to indulge in at the spa and restaurants and cafes. There are all-year-round activities, festivals, and events including live music, yoga, kayaking, and meditation. The three resort buildings offer accommodation and each room or suite has 24-hr access to the soaking pools.
13. Glenwood Hot Springs, Colorado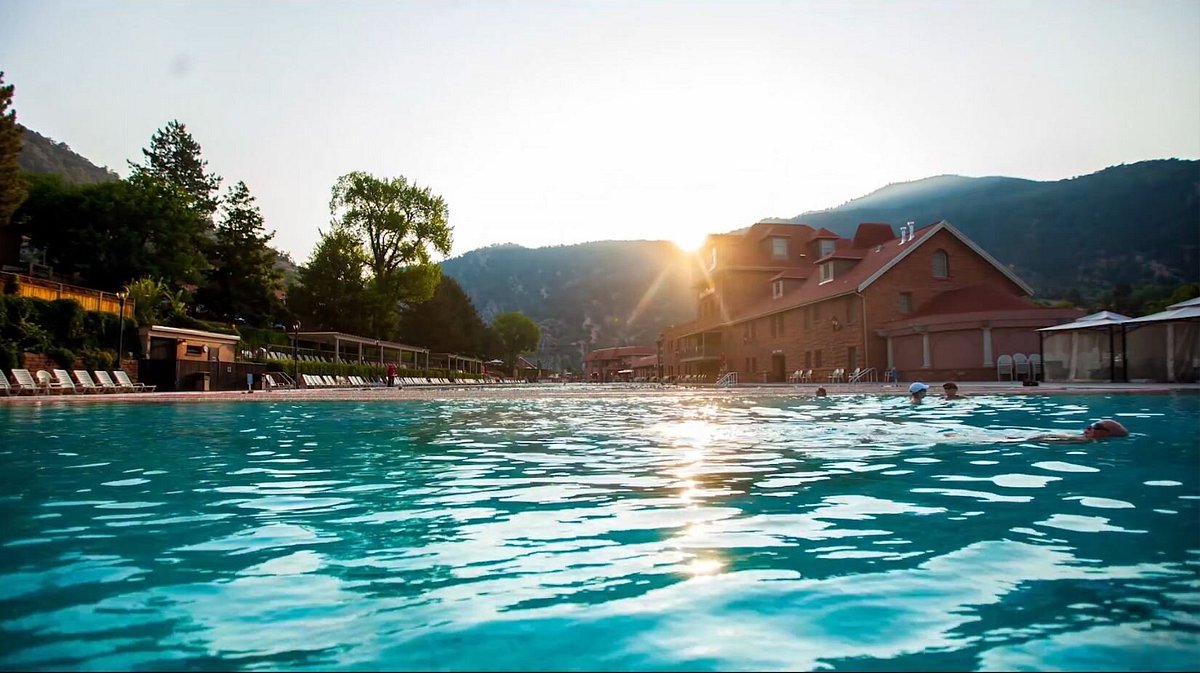 Glenwood Springs boasts the largest hot springs pool in the world. Surrounded by mountains and just along the banks of the Colorado River, this resort has a beautiful spa, full gym, grill, and restaurant as well as comfortable accommodation overlooking the pools. This is one of the best hot springs not only for its size but its variety.
They have the Sopris Splash Zone with mini slides, interactive play areas, and waterfalls for the kids to enjoy or you can grab a rubber ring and ride the rapids river. With color-changing fountains, lanes for swimming practice, and a diving board there is a lot to keep the kids entertained.
14. Yellowstone Hot Springs, Montana
Located near the North entrance to the Yellowstone National Park, there are two hot spring pools here as well as a cold plunge pool. Surrounded by beautiful mountains, these pools can be enjoyed all year round. There are entrance fees with adults paying $15 and kids $8.
With enough room for swimming in the main pool, the kids can enjoy the benefits of the mineral water whilst having fun splashing around. With poolside loungers provided and changing rooms with lockers, there is also food and drink available and a free car park.
15. Calistoga Hot Springs, California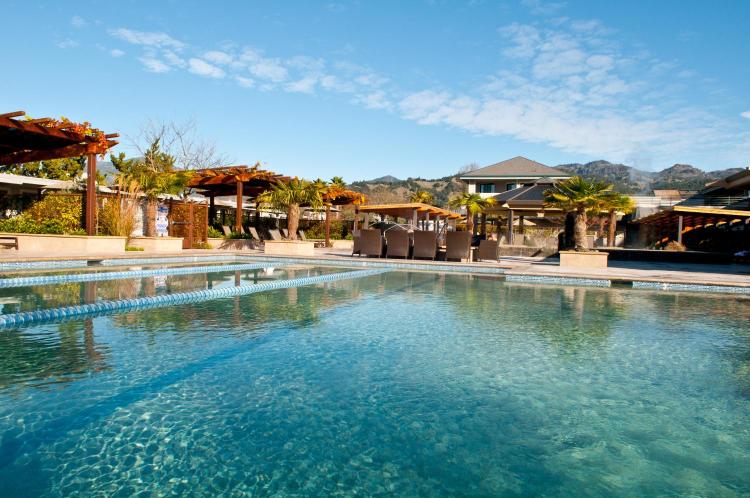 This boutique resort and spa offers accommodation and wellness packages including treatments at the spa and use of the geothermal pools. There are 4 hot spring pools to enjoy including a lap pool, main pool, jet pool, and kiddie pool. You could also stay overnight in one of the suites.
There is a raised patio area and sun deck where you can enjoy treats from the snack bar. The resort offers wellness packages including yoga, massage, and volcanic ash treatments. You can go hiking or cycling in the area and even take a hot air balloon ride for an unforgettable time.
16. Olympic Hot Springs, Port Angeles, Washington
There are 7 natural hot springs in this area. Trek through the beautiful surroundings to reach the hot springs which are located in the heart of the wilderness. This is a real get-back-to-nature adventure with no facilities and no camping allowed. These are shallow pools and only come to waist height on an adult when sitting down but offer a relaxing end to a day of exploring.
17. Umpqua Hot Springs, Glide, Oregon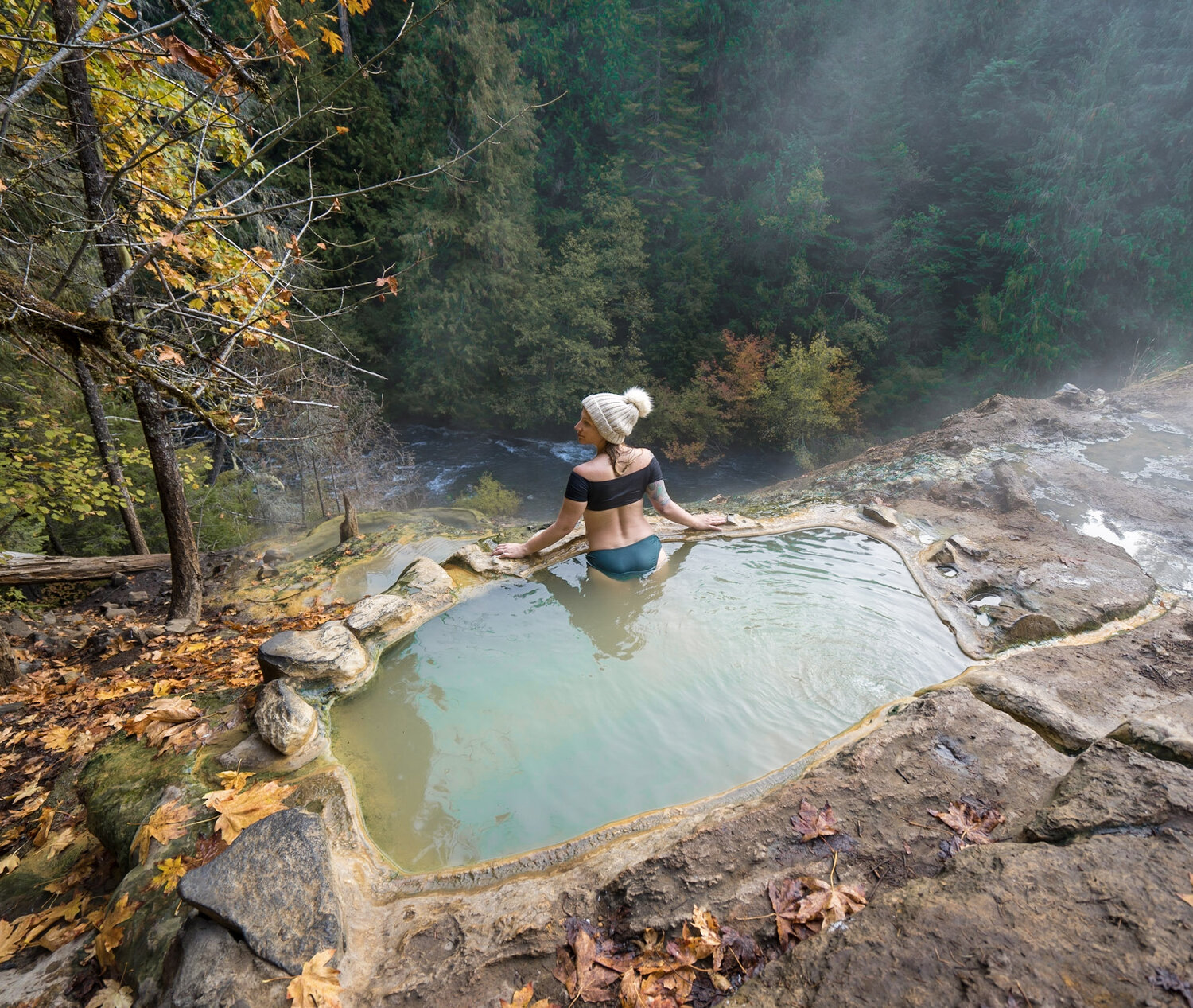 Perched above the North Umpqua River, the Umpqua hot springs are surrounded by a forest canopy. The selection of geothermal pools can be reached after a fairly steep hike and can be enjoyed with the purchase of a $5 day pass.
The cascading pools vary in temperature and size with some only big enough to sit in but all with spectacular views. Clothing is optional and the nearest campsite is 3 miles away. This is a great way to immerse yourself in nature as you relax in one of the thermal pools and watch the river below rush by.
18. Mystic Hot Springs, Monroe, Utah
This is a truly unique experience where nature meets art and innovation. Described as 'the best hippy hot springs in the West', it offers visitors a blend of old restored cabins, onsite spa therapists, and two concrete pools to enjoy the benefits of the hot springs.
There are also 6 vintage cast iron bathtubs for an individual soaking experience. You can purchase a soaking pass for $25 for adults and $12.50 for kids giving you 2 hours to get the benefits of the thermal pools.
There are live bands, local artists, and even animals like ducks, geese, and a llama to say hi to! You can stay in one of the cabins or park up your RV for the night and enjoy the sunset over this beautiful landscape.
19. Allegheny Springs, Virginia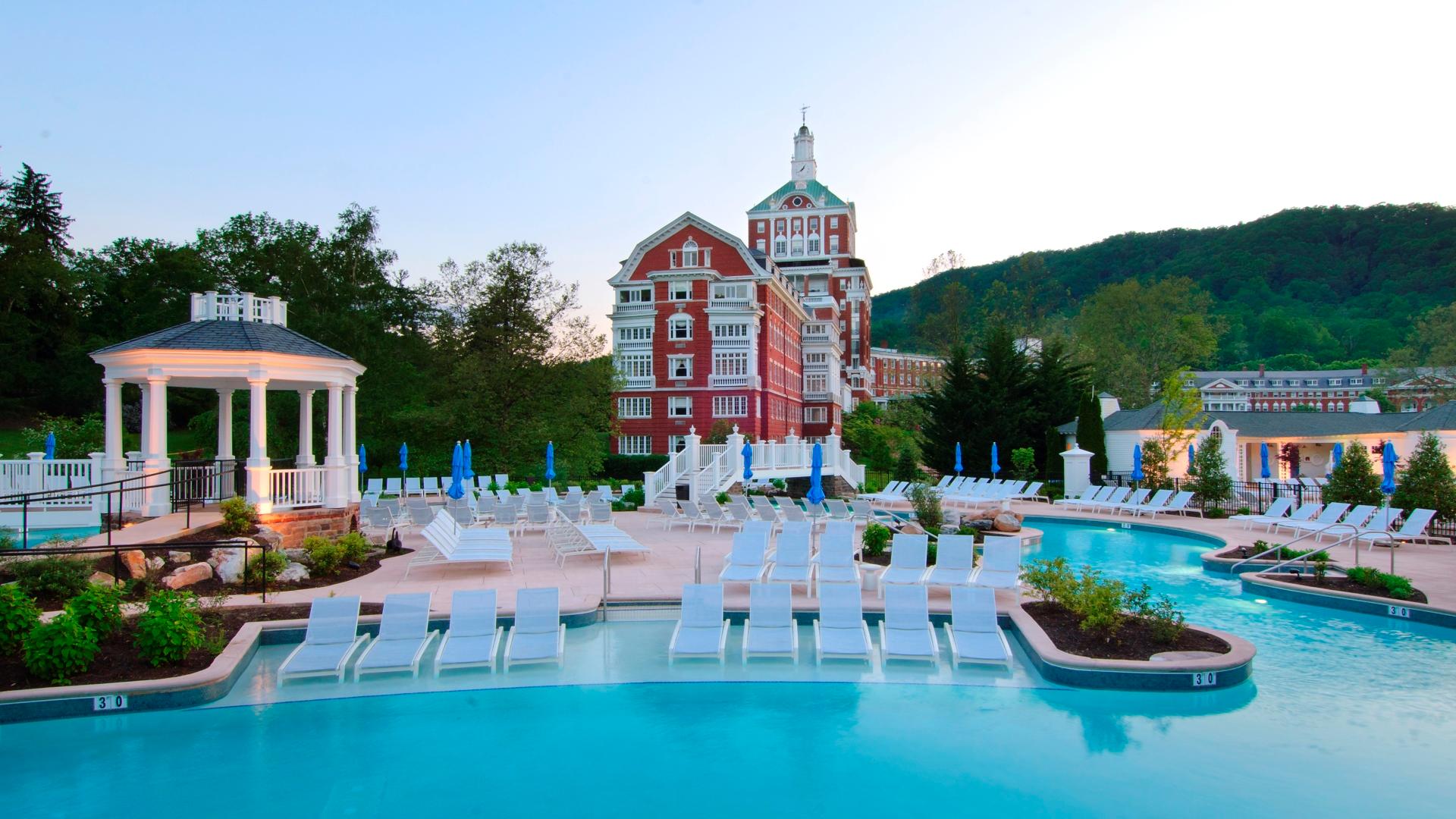 Located across over 2,000 acres, this resort offers visitors an array of ways to unwind including a spa, golf course, ice rink, and of course, hot springs pools. They boast a two-acre water park with the natural springs providing the water.
There is a large family pool, an indoor pool, and a whirlpool. The kids can enjoy one of two 100-foot slides or the 400-foot lazy river. There is also a sandy beach and water play zone. All of the water is natural hot springs meaning you gain the benefits whilst enjoying your swim. There is beautiful accommodation at the homestead as well as onsite restaurants and entertainment.
20. McCredie Hot Springs, Willamette National Forest, Oregon
Nestled in the Willamette National forest, these hot springs have manmade walls to help hold the water in and can be enjoyed all year round. A fairly easy 3-mile hike gets you to the 3 or 4 natural shallow pools. They are free to use but there is no camping allowed.
The beautiful views of the surrounding forest and the sounds of the river make this a peaceful immersive experience. However, they are quite difficult to locate so check for directions before traveling.
21. Dunton Hot Springs, Colorado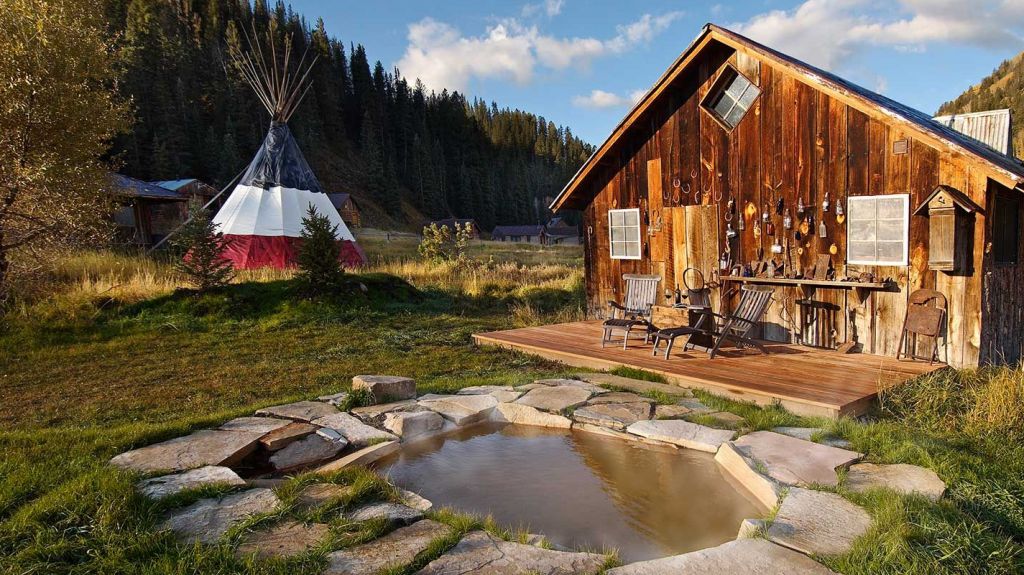 This small exclusive resort is set in the stunning backdrop of an alpine valley. There are many ways to enjoy the hot springs here from in the traditional bathhouse to the Well House cabin or under the stars in the outdoor springs.
There are log cabins to enjoy an overnight stay as well as spa treatments. There are plenty of activities all year round to enjoy from skiing in the winter to rafting on the river in the summer. The Old Saloon provides dining options to complete your stay.
FAQs
Which US state has the most hot springs?
Nevada has the most hot springs in the US, with over 300 to discover.
Where is the largest hot spring in the US?
In Yellow Stone National Park you will find the Grand Prismatic Spring, the largest hot spring in the US and the third-largest in the world. Glenwood Springs also boasts the world's largest mineral pool.
Final Thoughts
There are so many health benefits associated with a dip in natural hot springs, so whether it is at the end of days hike, or part of a wellness retreat, take some time for yourself and your family and rejuvenate your soul in Mother Nature's spa with a visit to one of many hot springs on this list.
More about our TFVG Author
Karly is a The Family Vacation Guide guest travel contributor.