If you're planning an adventurous family outing, there's no better place to be than a Six Flags amusement park.
Famous for their adrenaline-filled rides and extreme roller coasters, the amusement parks rank among the best in the world. Apart from the hair-raising rides, roller coasters, special events, and memorable shows, there's so much to do and see at every location.
So, here's the ultimate guide to all Six Flags locations in the US.
How Many Six Flags Are There in the US?
Six Flags currently boasts 23 amusement parks across the United States. Millions of visitors flock to these venues every year to sample the unique entertainment, thrilling parks, themed rides, and world-class coasters on offer. Besides, the parks are home to many of the top-rated rides and coasters in North America.
Where Are All The Six Flags located in the US?
The Six Flags parks are strategically located in San Francisco, Los Angeles, San Antonio, Houston, Atlanta, St Louis, Phoenix, Oklahoma City, Chicago, Buffalo, Washington D.C, Baltimore, New York, New Jersey, Lake George, and Massachusetts.
The parks are well spread out across the country, and therefore, you'll always find a location not so far from where you live.
Here's a look at the Six Flags locations in the US and what you should expect when you pay a visit.
Atlanta, Georgia
There are two Six Flags locations in the Greater Atlanta Area in Georgia; Six Flags Over Georgia and White Water Atlanta. Both of them offer a variety of attractions sui6etd to visitors of all generations.
Six Flags Over Georgia
Arguably, this amusement park is the more popular of the two Six Flags locations in the State of Georgia. The park opened in 1967 and is the second oldest in the Six Flags family.
Those who have been to Six Flags Over Georgia describe it as one of the best Six Flags parks. A family-friendly venue, Six Flags Over Georgia features roller coasters for both families and kids. The planned addition of an RMC will elevate the park's status all the more.
The amusement park features some of the unique rides you'll find anywhere. Of note are their fun flat rides, dark rides, and water rides that come in handy in the hot summer months. The park has an attached water park and a carousel, which is a classic amusement park attraction. Moreover, there are lots of dining options, which make Six Flags Over Georgia worth a visit.
White Water Atlanta
The 69-acre amusement park has been part of the Six Flags family since 1999. Primarily a water park, White Water Atlanta is often ranked among the best amusement parks in the US. It's divided into separate sections, with each having a unique set of attractions. Some of the notable attractions at the amusement park include its legendary lazy river (Little Hooch) and its wave pool (the Atlanta Ocean).
If you love slides, there's no better place for you to be than White Water Atlanta. There are more than a dozen slides and attractions with a moderate to max thrill rating. A visit to the park is incomplete if you fail to pop into the American Adventures family recreational center. Here, you'll find even more attractions, from go-kart and mini-golf to a video arcade and restaurant.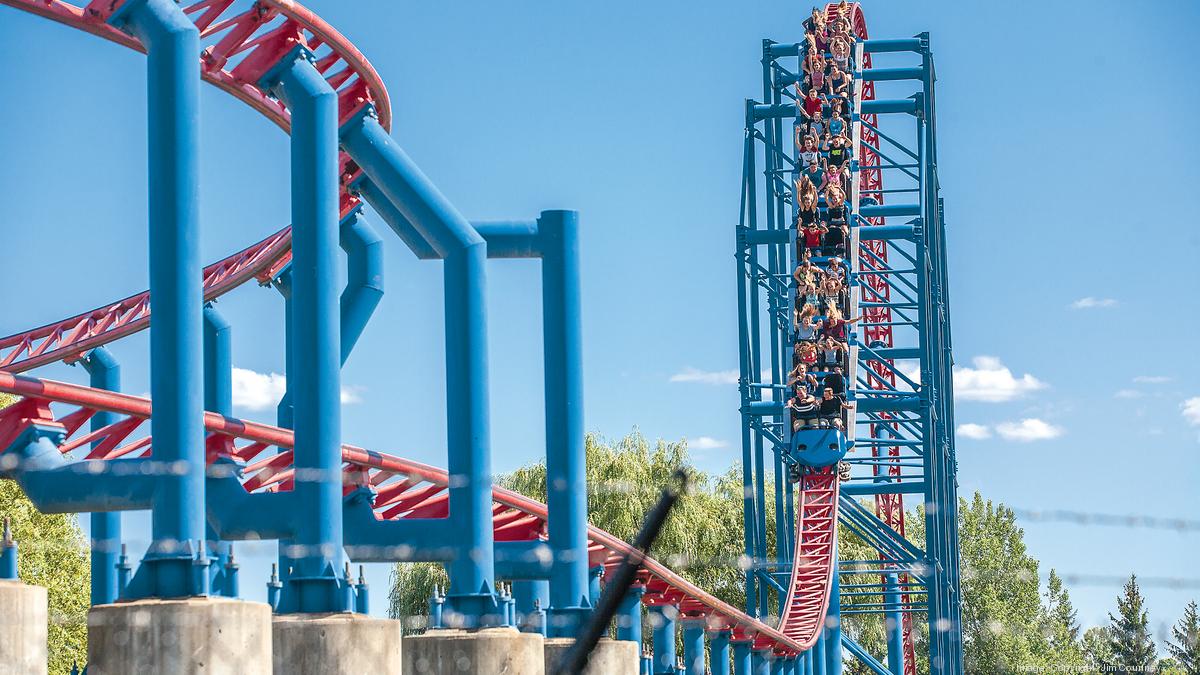 Buffalo, New York
The City of Buffalo, NY, is home to exciting theme parks with thrilling coasters, rides, events, and shows throughout the year. Here's a review of the city's Six Flags location.
Six Flags Darien Lake
For generations, Six Flags Darien Lake has been one of the go-to amusement parks in Buffalo, and it's easy to see why. The family-friendly park features 45 attractions, a massive 10-acre water park, and a wide range of entertainment options, including live shows next to an on-site lodge, swanky lakeside cabins, and new guest houses.
Six Flags Darien Lake has an extensive campground featuring traditional campsites where you can spend quality time away from the rides and slides. The rides at this amusement park are excellent, but you should expect some crowding on weekends and public holidays. Also, the park is a bit understaffed, and therefore, not all rides are usually open. Nonetheless, Six Flags Darien Lake is still a decent amusement park that's worth visiting.
Chicago, Illinois
Ever heard about how fun it is in Chicago, Illinois? I bet Six Flags has, because there are three locations in the city. Let's take a closer look at the parks to see what they offer.
Six Flags Great America
Six Flags Great America opened in the northern Chicago metropolitan area in 1976. It offers thrills for everyone, be it kids or adults. Regarded as one of the best Six Flags locations, the park comes with many classic attractions, including a train. There's also an excellent ride and coaster collection that every enthusiast will love. Furthermore, the theming at the park is on-point.
Amusement parks are synonymous with long queues, especially on busy days. Great America is a better Six Flags theme park since most of its attractions have short lines. The Justice League is probably the only attraction with long queues. Six Flags Great America is clean, and with the solid lineup of coasters and rides, it's a must-visit for every theme park enthusiast.
Hurricane Harbor, Chicago
Nestled between Milwaukee and Chicago, Hurricane Harbor is a 20-acre water park designed to offer the ultimate amusement park experience. The park boasts 25 thrilling attractions and is home to the tallest water coaster in the world. This amusement park has something for everyone thanks to the towering water slides, exciting kids' splash pads, the wave pool, and the relaxing river.
Hurricane Harbor Chicago has a Caribbean vibe and features dozens of wild and wet activities for everyone who visits. The best part of it is that you can see the park free with a Six Flags Great America park admission. So, there's no better way to check out the two parks in one day.
There's a lot to do at Hurricane Harbor Chicago. Whether you want to have a splash on the park's award-winning tornado, get drenched in the simulated sea at Hurricane Bay, or sample onsite attractions such as the Castaway Creek, you can have it all.
Hurricane Harbor, Rockford
Formerly known as Magic Waters, Hurricane Harbor Rockford has been a Six Flags Theme Park since 2018. The kids-oriented park features dozens of attractions, but these three are worth checking out:
The spot is ideal for babies and toddlers. Yours will love climbing on the cute animals, splashing around in the shallow pool, and sampling the swings.
If you're visiting Hurricane Harbor Rockford with preschoolers, Tiki Island is undoubtedly worth a visit. It features a massive playground with lots of water features. The highlight is a giant bucket, which dumps an incredible 1,000 gallons of water every 10 to 15 minutes.
Here, you can take a break and float down Hurricane Harbor Rockford's lazy river, or splash around off your tube.
Besides its attractions, Hurricane Harbor Rockford has made fame of its high cleanliness, safety, and customer service standards. These make it one of the best Six Flags locations in the US.
Dallas, Texas
Thrill-seekers of all ages who want to have some fun should prioritize visiting the two Six Flags locations in the Dallas-Fort Worth Metropolitan Area of Texas. These are Six Flags Over Texas and Hurricane Harbor Arlington.
Six Flags Over Texas
Launched in 1961, this is the oldest Six Flags theme park. The word-class amusement park is conveniently located between Fort Worth and Dallas. It is a much-loved family destination with over 35 thrilling attractions, rides, shows, events, and special concerts. Six Flags Over Texas sits on 212 acres, and there's always something going on somewhere on the park's grounds.
Some popular attractions at Six Flags Over Texas include the New Texas Giant, the Texas SkyScreamer, and Superman: Tower of Power. If you love adrenaline, you'll undoubtedly love soaring high above the park at the Texas SkyScreamer. This is a record-breaking swing carousel ride, which takes you to breathtaking heights.
When visiting Six Flags Over Texas, you'll come across many DC Comics tie-ins, Warner Bros., and even Gotham City. The park may be somewhat crowded when visiting in the summer, but your kids won't even notice.
Hurricane Harbor, Arlington
Located near Six Flags over Texas, this theme park joined the Six Flags family in 1995. Hurricane Harbor Arlington is the largest outdoor water park in North Texas and offers lots of thrilling activities for everyone.
Star attractions at the park include a lazy river, wave simulations, tree houses, slides, beaches, and more than a dozen thrill rides for both kids and the daredevils in your group.
Hurricane Harbor Arlington offers both relaxation and adrenaline-filled rushes at all levels. So, whether you prefer lounging by the pool or gliding down one of the speed slides, you'll have what you need. Furthermore, lots of dining and shopping options are available, including a dedicated merchandise shop.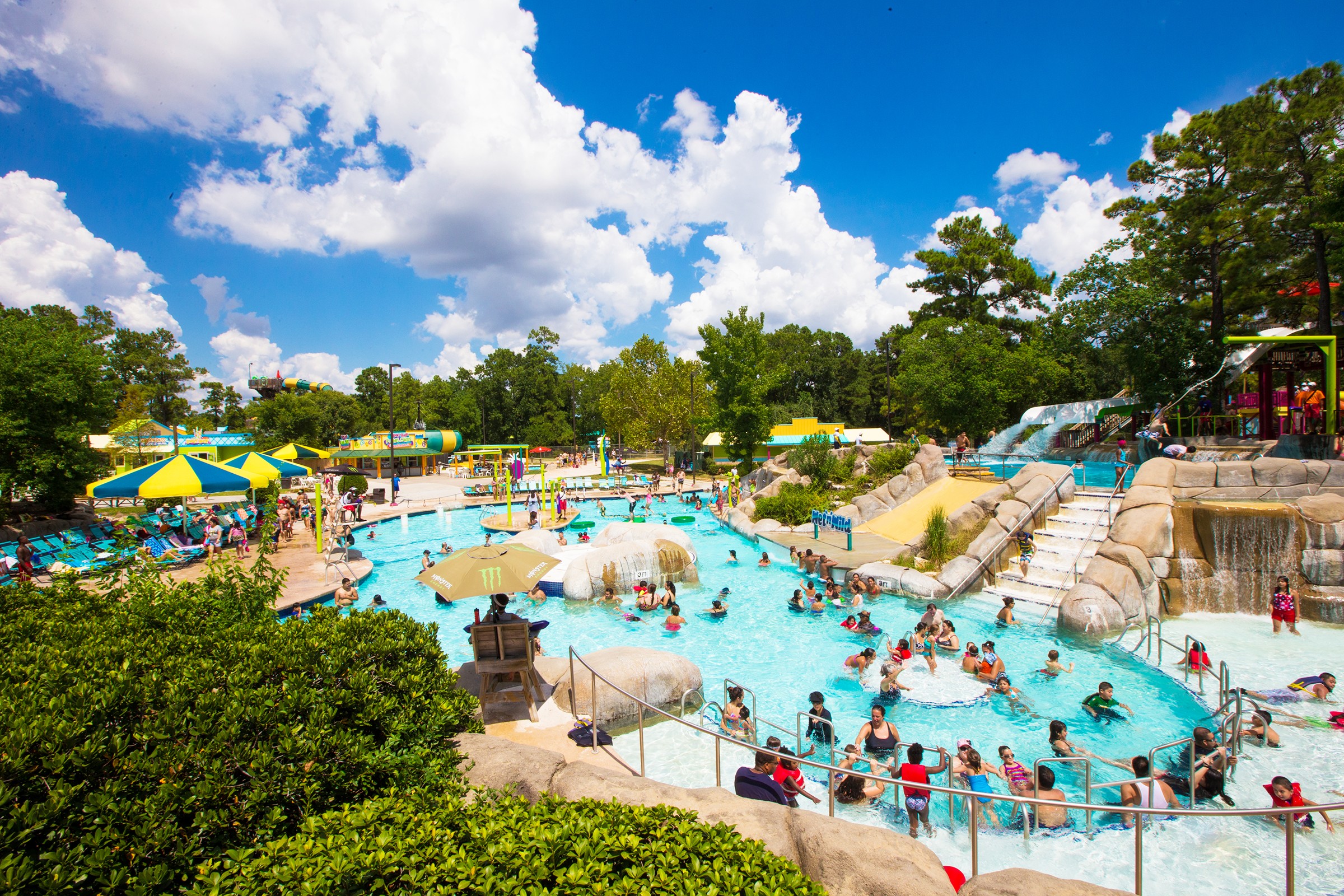 Houston, Texas
Many people regard Houston as the go-to entertainment destination in Texas. The city offers lots of attractions, including one Six Flags location, the Hurricane Harbor Splashtown.
Hurricane Harbor, Splashtown
Six Flags Hurricane Harbor Splashtown runs off the I-45 Louetta Rd. exit. The wooded 80-acre park comes with lots of pools, lagoons, chutes, and slides. Notable attractions at the waterpark include Big Kahuna, Wahoo Wave, FlowRider, raft rides, and the most innovative surfing experience you'll find at any Six Flags location.
Rental cabanas are available at Hurricane Harbor Splashtown. So, if you want to wound down after a day of splashing about and sampling the rides at the park, you can hire one for your group. Besides, you can picnic at the park, which isn't surprising since it's located in the woods. There are lots of restaurants on-site, so no worries about going hungry.
Vacationing in Texas and seeking more thrilling experiences for the family to enjoy? Our list of the best amusement parks in Texas should definitely take your fancy!
Lake George, New York
Described as the city of old-growth forests, great mountains, and an enchanting lake, there's no better summer destination than Lake George. Six Flags has a location in the city, the Great Escape amusement park.
Great Escape
Although it's one of Six Flags' locations that don't bear the name, Great Escape offers the same thrill you've come to expect from Six Flags theme parks. It offers thrill and adventure for all ages. The park sits on over 140 acres and features more than 135 attractions, shows, and rides. Here you'll find the traditional amusement park rides and water thrills.
The most outstanding ride at Great Escape is The Tornado, a 5,000 gallon, five-story water ride designed to send guests swirling through a giant funnel. Other rides include The Comet, Alpine Bobsled, Twister Falls, and Desperado Plunge.
A visit to Great Escape isn't complete if you won't check out the park's Ferris wheel, petting zoo, gondola ride, go-kart area, and the Looney Tunes National Park. Lots of restaurants and shopping areas are also available, including a merch shop.
Los Angeles, California
Although Los Angeles in California is synonymous with Universal Studios, Hollywood, and Disneyland, the city is also home to two Six Flags parks, Six Flags Magic Mountain and Hurricane Harbor Los Angeles.
Six Flags Magic Mountain
Magic Mountain is the classic LA theme park because of its rapids that roar, superheroes who soar, and coasters that race. The city is big on everything, and this Six Flags theme park is no exception.
Located on a whopping 260 acres, the theme park is home to over 100 rides and 19 world-class coasters. It's no surprise that USA Today's readers have twice voted Magic Mountain as America's best amusement park.
Magic Mountain prides itself on being a family-friendly venue with Hollywood-style magic. Whether you're looking for the ultimate thrill or merely a spot to unwind away from the hustle and bustle of LA, you'll find it at the park. The spectacular entertainment, special events, and delicious eats make Magic Mountain a must-visit theme park on the West Coast.
Hurricane Harbor, Los Angeles
There's no better place to experience sun-drenched adventures and Hollywood-like magic than Hurricane Harbor Los Angeles. The 22-acre water park's placement is next door to the Magic Mountain. It boasts a unique blend of adrenaline-pumping thrills and fun outdoor adventure for visitors of all ages.
At Hurricane Harbor Los Angeles, you'll get the opportunity to sample two of the tallest fully-enclosed water slides in Southern California. There's also a wave pool, a 1,300-foot lazy river, a kids' play area, and an interactive lagoon. What's more, the park's proximity to Magic Mountain means you can sample both Six Flags locations in one day.
New Jersey
In summer, New Jersey attracts hundreds of tourists from all over the country. If you're planning a visit, consider checking out Ocean County's premier amusement park, Six Flags Great Adventure.
Six Flags Great Adventure
Located halfway between Philadelphia and New York, Six Flags Great Adventure has operated for more than 45 years. The park has an incredible coaster collection, including the world's tallest roller coaster, Kingda Ka. Other outstanding coasters on the theme park include Nitro, El Toro, The Joker, and Green Lantern.
When it comes to rides, Great Adventure features the much-popular Sally interactive dark ride, which you'll also find at other Six Flags locations. Besides, Six Flags Adventure has a self-drive Wild Safari Park where you can enjoy thrilling off-road adventures. On the flip side, however, admission, food, the flash pass, and parking cost slightly more than what you'd pay at other Six Flags locations.
Hurricane Harbor, New Jersey
Described as New Jersey's most thrilling waterpark, Hurricane Harbor is next to Six Flags Great Adventure. The theme park sits on 45 acres and features everything you need to have some water fun with your whole family. There are dozens of thrill rides, water adventure sports, and even custom attractions for the tots in the family.
If you're a thrill-seeker, you'll love Hurricane Harbor, New Jersey, because it has some of the fastest, tallest, wettest, and craziest slides and rides. Caribbean Cove and Discovery Bay are ideal spots for your kids to have some shallow water fun. There's always a fun event going on at Six Flags Hurricane Harbor. So, visiting the park is not all about having a splash.
New England
There are some fantastic theme parks in Massachusetts, all of which are perfect for visitors of all ages. Six Flags New England is one such park.
Six Flags New England
When it comes to offering a memorable and jam-packed family outing, few theme parks beat Six Flags New England. Home to the largest water park in New England, there are more than 100 rides, attractions, and shows to sample at this Six Flags location.
The latest eye-catching attraction at Six Flags New England is the CYBORG, an indoor spinning dark ride that every thrill-seeker should sample. When visiting the park, you'll also not want to miss out on Friday Fest, the largest haunt event in New England. Holiday in the Park, New England's most prominent holiday celebration, is also worth checking out.
Oklahoma City, Oklahoma
Oklahoma City is home to only one amusement park, Frontier City. It's suited to those looking for a quick escape and a weekend getaway.
Frontier City
This Six Flags location combines contemporary thrills with classic fun to create a unique experience for kids and adults. Frontier City is a western-themed park with day-long family-friendly attractions and blood-curling thrills once the sun goes down.
Some of the attractions you may want to sample at Frontier City include the Garden of Evil and the Scare Zone. Available entertainment options at the theme park include the special Fright Fest shows. Also, the 40-acre park features dozens of family rides and roller coasters to ensure you get the ultimate theme park experience when visiting.
Hurricane Harbor, OK
Formerly known as White Water Bay, Hurricane Harbor Oklahoma is the city's premier water park. It's set on 25 acres of lush gardens and features some of the most fabulous pools and slides for your whole family. Hurricane Harbour, OK, has undergone upgrades over the years, ranks among the best Six Flags water parks. 
Hurricane Harbor, OK, is often crowded during the peak seasons, but this shouldn't surprise you, given that it's the city's sole amusement park. On such days, you can rent a cabana and enjoy some time away from the crowds. When visiting with kids, it's best to be watchful since there's no monitoring of the lazy river and wave pool. Also, tubes aren't required in the lazy river.
Phoenix, Arizona
Phoenix in Arizona has some top-rated amusement parks where you can have a memorable time. Hurricane Harbor, Phoenix, is one such park.
Hurricane Harbor, Phoenix
The waterpark runs on about 35 acres of land at the Adobe Dam Regional Park, making it the biggest amusement park in the state. It features more than 30 exhilarating spots for both thrill-seekers and families. If you're an adrenaline junkie, you'll love the Dueling H2O and Maximum Velocity slides.
There are tamer attractions such as the Boogie Board Beach, which has a multilevel kids' area with dumping buckets, interactive water cannons, and kid-friendly slides for family fun. Hurricane Harbor Phoenix opens from March to October, and operation hours vary.
San Francisco, California
Whether you're into little thrills or big thrills, you'll find that at the best amusement parks in San Francisco.
Six Flags Discovery Kingdom
It's easy to see why Six Flags Discovery Kingdom is the go-to thrill park in Northern California. The amusement park features a unique blend of thrilling rides, animal attractions, wildlife presentations, and exciting shows that you'll undoubtedly love. Simply put, the park has something for everyone.
Thrill-seekers who are visiting the park will love the heart-pounding rides and roller coasters. If you don't love the thrill of speed, you can still enjoy the dozens of slower rides and coasters on offer.
At Six Flags Discovery Kingdom, you'll love the easy-going attractions and family shows. The action is immersive and non-stop; your kids will be sad to leave when it's time to call it a day.
Hurricane Harbor Concord
Located only 30 minutes from Six Flags Discovery Kingdom is Hurricane Harbor Concord, another Six Flags park in San Francisco. It boasts of being the city's most thrilling waterpark, thanks to the endless attractions on offer.
Hurricane Harbor Concord is the ideal amusement park on the West Coast for the ultimate thrill family getaway. It's home to more than 20 attractions and rides, so you can always find something that suits you. There are nine onsite hotels, so accommodation will be the least of your worries when visiting the park.
San Antonio, Texas
Are you looking for a thrilling theme park in San Antonio, Texas? Take a moment to visit the city's sole Six Flags park, Fiesta Texas, which offers exhilarating family fun and so much more.
Six Flags Fiesta Texas
This amusement park is just 20 minutes from Boerne, off the IH-10. Here, the excitement never seems to end. Spanning 220 acres, the park has tens of onsite attractions, including world-class roller coasters, five huge swimming pools, and a range of rides for all ages.
The main attraction is Scream, a drop tower meant for the ultimate daredevils. During your visit, you shouldn't forget to sample other rides, including the much-loved SkyScreamer and the Joker. Annual events to note in your diary include Mardi Gras, Holiday in the Park, and Fright Fest.
St. Louis, Missouri
Known for its charming Southern vibe, St. Louis, Missouri, is home to several amusement parks, including one Six Flags location.
Six Flags St Louis
There's only one theme park in St. Louis with activities for all generations; Six Flags St Louis. You'll find family rides for all ages, thrilling water parks, and up-close animal encounters here. The theme park features over 43 memorable rides, attractions, and shows.
Notable attractions include soaring coasters and rides that parents can enjoy with their kids. Six Flags St Louis has a membership card that guarantees unlimited visits and nearly 50 member visits. The park is conveniently located close to downtown St Louis with access to major transport networks.
Washington, DC
Contrary to popular belief the nation's capital is not all about politics, because it's home to a Six Flags theme park.
Six Flags America
Arguably, this is the biggest and most thrilling amusement park in the Washington-Baltimore area. More than 55 rides, events, and attractions are available at this family-friendly park for your enjoyment. Besides the standard Six Flags' array of blood-curdling roller coasters and flat rides, many kids' attractions are also available at the theme park.
The biggest draws at Six Flags America include the Last Stand Coaster, a Zombie-themed Apocalypse, and the Superman: Ride of Steel coaster. Most of the kids '-themed rides are inside the Looney Tunes Movie Town and Whistlestop Park areas. Whatever you choose to indulge in when visiting the park, you're in for the time of your life.
Why not also check out this great video that ranks all Six Flags parks from best to worst?