Planning a vacation for a large family can present a challenge, considering that most hotels provide rooms for a maximum of four people.
Sure, you can always book a second room, but this can be an expensive solution.
Luckily, several chain hotels offer larger suites that can accommodate you and your family. These often have separate sleeping and living areas, usually separated by a partition, and may also come with a mini kitchen, seating, TV, and more.
Depending on the hotel, you may even be able to find a suite that can sleep up to six people.
So, if you're looking for a place to book your next family vacation in the US, check out some of the best hotels for big families that we've rounded up below.
Omni Hotels' luxurious hotels and resorts are located in various states around the U.S., offering guests a truly immersive experience to discover local cultures.
Each Omni property is carefully integrated into the local area, featuring signature restaurants, wellness options, golf and spa retreats, WiFi, and more. Plus, guests can stay in newly renovated historic buildings with comfortable rooms, a pool, and a kid's play area.
Experience the best of both worlds with the Omni hotel chain, and start planning your next family vacation today!
Room features
Transform your vacation into a luxurious experience with Omni Hotels' Premier and Deluxe rooms.
These contemporary suites offer a spacious living room where you can enjoy quality time with your family, a kitchenette, a stunning master suite, and floor-to-ceiling views.
You can ask for rooms with a mountain, city, or pool view. The family rooms are interconnected and share the same bathroom, perfect for giving teenagers their own space.
Each room is well-equipped with a seating area, a pull-out queen sofa sleeper, an in-room refrigerator, a coffee maker, a standing tub and walk-in shower, a bathroom with a lighted vanity mirror, a TV, and more.
Make the most of your vacation and treat yourself to a luxurious stay with Omni Hotels.
Wellness and amenities
Omni Hotels have a 24-hour fitness center that features Cross Trainers, StairClimber equipment, and Pelotons.
The hotels also feature in-room fitness kits for your convenience. These include the Get Fit Kit, which features a deluxe roll-up mat, dumbbells, a kettle ball, a stress ball, and light and heavy stretch bands.
Some hotels also have a rooftop pool, the ideal spot for swimming or enjoying a cocktail.
The hotels in some warmer areas feature a world-class golf resort and a spa, where you and your whole family can take advantage of Omni's many recreational activities and healthy meal options.
Enjoy a familiar and pleasant environment during your extended stay at the Homewood Suites. These suites feature all the comfort of a fully furnished suite.
Guests can enjoy a free made-to-order breakfast and an additional complimentary evening reception with drinks and snacks.
The decor at this hotel chain is very modern, with bright and colorful furniture. You will feel at home as soon as you come through the doors, as you're greeted by friendly front desk staff in the main lobby.
The hotels feature a dining area where you and your family can enjoy the free hot breakfast and the complimentary evening social. As for your kids, the hotels feature a kids-play area where they can be entertained.
Room features
Homewood Suites have rooms equipped with separate bedrooms, a kitchen, a living room with a sofa bed, and a bathroom.
The bedrooms usually feature either a king-size bed or two queens. The separate bedrooms are a great family-friendly feature because it makes it easier for the kids to take a nap.
Although the hotels offer a free breakfast for all of their guests, the suites also feature a kitchenette where you can prepare your meals. The kitchenette features a cooktop, refrigerator, and microwave. It also has all the necessary cooking items.
Moreover, each guest room has a large bathroom featuring a sink with a big vanity mirror separate from the toilet and the shower.
Wellness and amenities
Homewood Suites has some of the best hotels for big families. Some of them have amazing outdoor areas and pools where you can spend time outside with the whole family, making your stay truly relaxing and fun.
The outdoor pools have shallow ends that are designed specifically for your kids. There are also plenty of seats around the pool area for your family to relax outside. There are barbecue grills available, as well as a fire pit where you can gather around at night.
The hotels also feature a basketball court where you can enjoy some sports during your vacation. There's a fitness center with plenty of cardio and weight machines where you can enjoy your vacation and stay fit simultaneously.
Staybridge Suites have some of the best hotels for big families. Their fully-equipped suites and complimentary breakfast containing a hot, fresh, and healthy dish make it the perfect place for vacation for you and your kids.
Once you arrive at Staybridge, you'll be greeted by a warm and friendly welcome. From the moment you step into these hotels' lobbies, you'll feel right at 'home.' They're hotels where you come to live rather than stay.
Therefore, settle your family in one of the big suites where you'll find all the things you need for full comfort in your home away from home.
Room features
Staybridge's suites offer you a home-like comfortable experience during your extended stay. The suites come with a fully-equipped kitchen with a stove, microwave oven, refrigerator with an icemaker, dishwasher, glassware, silverware, and more.
The suites also have separate bedrooms. There's also a flexible workspace with a work desk with a lamp and multiple outlets near the desk.
During your stay here, you can enjoy the suite's comforts featuring video rental, in-room movies via premium cable, satellite TV on the flat-screen TV, and more. Your suite also comes with free WiFi available throughout the entire hotel.
Wellness and amenities
At Staybridge Suites, you can relax and refresh yourself with their complimentary appetizers and Drinks on Mondays, Tuesdays, and Wednesdays during the evening.
The hotels also feature a fitness room where you can stay fit while you're on vacation. You can enjoy the outdoor spaces or work out in the hotel gym, which is open 24/7.
Your pets are also welcome here; however, fees and restrictions may apply. The hotel also has storage lockers for extra space when you need them.
The staff is built of very helpful and friendly team members who are always there to ensure you have an enjoyable experience.
Residence Inn has over 850 properties worldwide, making you feel just at home wherever you travel. They are famous for having hotels for big families, which is why many choose to book their next vacation at Residence Inn.
Whether you want to soak up the sun at one of their hotels in a sunny place or enjoy the wonderful city views, Residence Inn hotels will ensure you don't just feel like a guest.
The hotels are budget-friendly, which means they are a great pick if you want an extended family vacation. The suites are quite larger than other hotels, and the options vary.
Whether you're staying by yourself or need a suite for eight people, you'll be able to find an option. The comfort and price that these hotels offer are definitely worth it.
Room features
Residence Inn suites provide plenty of living space to share with your loved ones, with cozy spaces that you can call your own.
The room amenities are designed to help you travel while feeling like you're just at home. Each suite will make you feel like you're in the comfort of your own house.
The rooms are equipped with full kitchens with a mini fridge or full-sized refrigerator, a stovetop, a dishwasher, a coffee maker, and a microwave. You can also enjoy room service by having free grocery delivery right to your door.
Each room comes with a peaceful space. The bedrooms have plush bedding, which is just what you need to get a good night's rest.
There's also a spacious bathroom with an extra-large shower. You also get access to HBO premium along with your stay, providing you with the best TV shows, movies, and family favorites.
Wellness and amenities
Residence Inn offers you RI runs. These runs are a collaboration with Residence Inn and Under Armour to create local, mapped running routes for you to explore during your exercise.
The hotels also have a fitness center where you can break a sweat. Here, you can stay on track with their modern center, which features all the latest fitness machines or take a dip in their swimming pool.
As far as dining goes, you can discover this hotel chain's various delicious food options all day long. You can start your day with a free, hot, and healthy breakfast or grab a snack at their 24-hour market. You can also take advantage of the hotel's outdoor grill while you make BBQ for your entire family.
Martinhal family hotels and resorts are the best hotels for big families. Everything about this hotel chain is designed with families in mind.
With high-class family-friendly accommodations, restaurants, bars, kids clubs, their baby concierge, and leisure activities, you will have the best vacation ever in this five-star environment.
If you want to have an unforgettable family vacation memory, you should look no further than Martinhal.
They have luxury family suites in multiple locations set at a family-friendly beach resort within a protected natural park in the famous Quinta do Lago region and in the heart of Chiado.
Room features
Martinhal Resorts have luxury hotel rooms and spacious villas designed for bigger families. Each guest will feel right at home as soon as they step into one of these hotels.
The resort has an organic personality complemented by stylish and contemporary architecture. The suites are spacious and secluded, providing ultimate comfort for the entire family.
The rooms feature air conditioning, an additional bathroom, a private balcony, room service, a flatscreen TV, and a fully equipped kitchenette with a refrigerator and microwave. You can book an ocean-view room, a non-smoking room, a suite, or a family room.
Wellness and amenities
The resort offers free parking for all of the guests that are staying at the hotel. It also has free high-speed WiFi throughout the entire resort. The Sagres hotel is one of the most famous ones from the chain, as it is located near the beach.
The hotel has a bar and lounge area where you can wind down and relax in the evening while your kids are asleep.
There's also a fitness center, a fully-equipped gym with all the newest fitness machines, and a separate workout room. You can also rent a bicycle and stay fit while you enjoy your extended stay at Martinhal Resorts.
As for the kids, the hotels have babysitting available, a pool, and a kids' play area where they can be entertained and supervised while you're relaxing at the hotel's bar with your partner.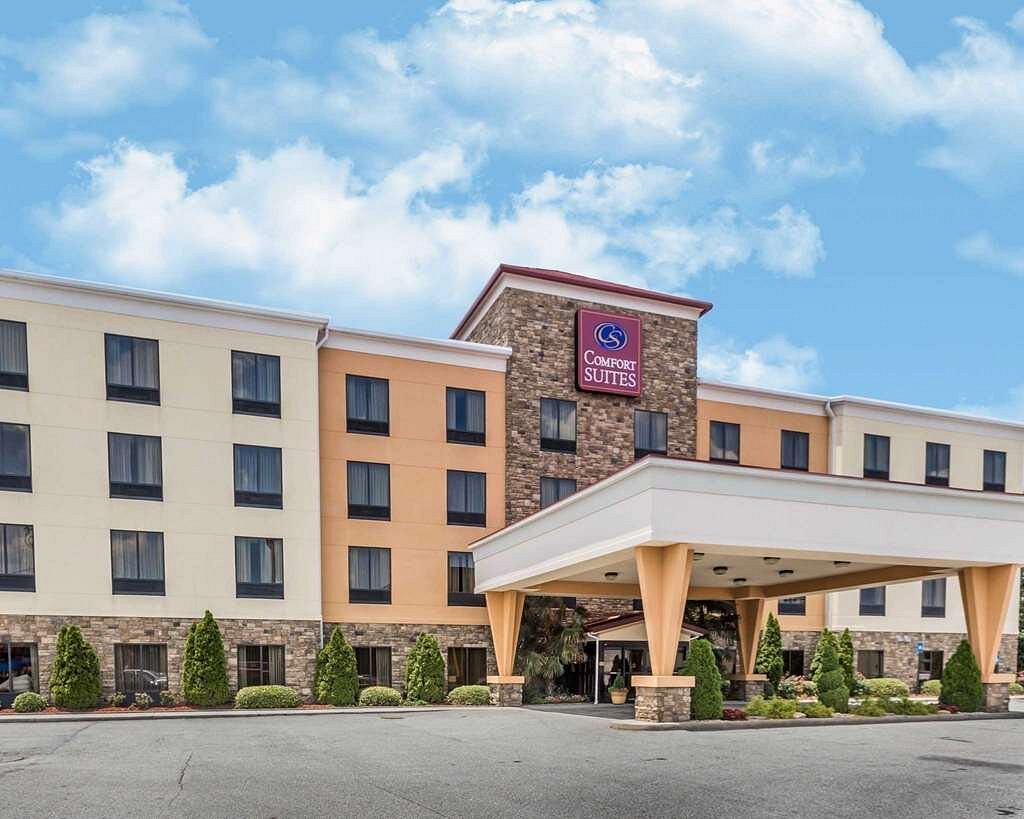 Comfort Suites hotels are the best place to book your vacation if you want to relax. They offer all the amenities you need to be at your best.
This hotel chain has hotels worldwide. Wherever you decide to book your next stay, you'll be able to find yourself plenty rested and refreshed. It is an award-winning resort that never fails to exceed guests' expectations.
Each of Comfort Suites' hotels makes the perfect location for your next relaxing family retreat. If you want the most memorable vacation, make sure to book your stay at one of their hotels and enjoy the beauty and comfort that the resort offers.
Room features
Whether you're vacationing with a big family or staying for business, Comfort Suites offers accommodations that feature everything you need to relax and rest.
Each of their guest rooms features a desk, a coffee maker, a microwave, a mini-fridge, a flat-screen TV, an iron and ironing board, a hairdryer, and more for your convenience.
You can choose from multiple suites, depending on the size of your family. Each suite is fully equipped with all the needed things and is very spacious and secluded, making your stay feel at home.
The suites also feature a nice bathroom with a sink, a big vanity mirror, a toilet, and a closed shower area.
There's free high-speed internet access that comes along with your stay there. Therefore, you can stay connected while not needing to pay extra.
Wellness and amenities
At Comfort Suites, you can take a dip at the heated indoor pool or stay on your exercise routine in their fitness room, equipped with many cardio machines and weights to support your workouts.
That is suited for fitness-minded guests who want to continue feeling confident and productive while enjoying their stay at Comfort Suites hotels.
You can also enjoy some downtime at the hotel's outdoor patio with your whole family as you relax on the Adirondack chairs, loungers, and tables.
The hotels also offer laundry facilities that you can use for free during your entire stay there, as well as on-site parking.
After a good night's rest, guests can wake up renewed for the day by grabbing the hotel's free hot breakfast full of many healthy and delicious options.
There's also a complimentary Grab It & Go Breakfast Bag available for all early risers two hours before the official breakfast.
Conclusion
Family vacations equal wonderful memories and an experience that you and your family will forever remember. The top-rated accommodations can only make the trip ten times better.
Most hotels nowadays offer standard suites that mostly sleep around four people, which can be inconvenient for bigger families. However, the hotel chains mentioned in this article have the perfect hotels for big families offering suites that can fit up to eight people.
Their fully-equipped suites, kid-friendly activities, various amenities, and everything else the hotel offer will help you experience the best family vacation ever.
Thus, don't think twice and book your next family trip at one of these luxury resorts for a getaway you'll never forget.
More about our TFVG Author