An indoor water park is a perfect way to spend time together as a family, whatever the weather. And there is no shortage of amazing indoor water parks in the US for you to visit, wherever you live or are vacationing.
You'll find more indoor water parks than ever before, thanks in part to their popularity with kids. No matter your age, a visit to one of the many indoor water parks in the US is guaranteed to be a memorable experience.
Here, we've rounded up and ranked the best indoor water parks in the US so you and your family can pull off that perfect getaway or trip.  
Kalahari Resort, Wisconsin
If you are looking for everything you need to have fun under one roof, then this massive indoor water park in Wisconsin is your go-to place. Kalahari Resort is an authentic African-themed indoor water park with over 100,000 sq. ft of fun – the largest in Wisconsin. It gives visitors an unprecedented array of exciting activities. 
The resort has over 700 guest rooms, including five-bedroom suites, a fully-equipped fitness gym, and a full-service Spa Kalahari and Salon. It also has on-site restaurants such as the Double Cut Charcoal Grill & Liquor Bar, unique retail shops, and a massive convention center totaling about 212,000 sq. ft. in floor space. There is also an award-winning golf course called the Trappers Turn and a 15-screen movie theater.
Check out our guide to each of the Kalahari resort locations in the US to learn more.
Location: 1305 Kalahari Dr – Wisconsin Dells, WI 53965
Phone: +1 877-525-2427
Kahuna Laguna, New Hampshire
If you want to escape with the whole family to a tropical paradise, you should check out Kahuna Laguna – an indoor water park with a total land area of 40,000 sq. ft. located in North Conway, New Hampshire.
It's always fun to stay at Kahuna Laguna, where it is always 84 degrees, complete with soaking downpours and wild surf. It will surely be a wet and wild aloha adventure with the kids as you race down the huge three-story tubes and ride the waves in their pools. You will also enjoy getting drenched by the tipping bucket, dodging geysers, and a whole lot more.
They offer many exciting water activities such as tubes, pools, buckets, waves, slides, treehouses, fountains, and bridges, so you go slipping, sliding, dipping, flipping, playing, and spraying with the whole family all the way back to your rooms for bedtime.
There are plenty of fun activities in Kahuna Laguna that make you want to enjoy them all. Make sure to check their site for updated slides, attractions, and events.
Location: 2251 White Mountain Hwy, North Conway, NH 03860
Telephone: +1 603-356-5411
DreamWorks Water Park, New Jersey
If you want to experience all-year-round fun with a large selection of splashy water rides, then DreamWorks Water Park in New Jersey may be what you're looking for. Experience record-breaking rides and luxury cabanas at DreamWorks Water Park, which has a tropical climate year-round.
About just five minutes from NYC, you get to see the biggest indoor wave pool in the world. The indoor water park has six stories and is located next to Nickelodeon Universe American Dream. It also has 40 exciting water slides and 15 attractions that are themed to specific franchises of DreamWorks. 
Some areas include themed space around Shrek's Soggy Swamp, a Madagascar-themed tower named Madagascar Rain Forest with 15 water slides, a Kung Fu Panda-themed play area for kids called Kung Fu Panda Zone, and a lot more. All of DreamWorks' water slides were developed by a Canadian company – ProSlide Technology.
Location: 1 American Dream Way, East Rutherford, NJ 07073
Telephone: +1 833-263-7326
Splash Lagoon Indoor Water Park Resort, Pennsylvania
When talking about weatherproof fun irrespective of the season, Splash Lagoon Indoor Water Park is always a top choice.
This indoor water park is always at 84 degrees and has the biggest indoor wave pool in the eastern United States, including seven spiral water slides, a lazy river, a children's activity treehouse, a massive arcade, a five-story interactive Tiki Treehouse, treetops ropes course, and family whirlpools. You also have the option to stay overnight at their connected hotels or partner hotels situated nearby.
Take a break and dine with the family within the resort at Laguna Grill or the Hooch & Blotto's Sports Bar with a mini bowling area. Splash Lagoon Indoor Water Park Resort is the ultimate destination for team-building events, birthday parties, scout troops, and church or school groups.
Location: 8091 Peach St, Erie, PA 16509-4732
Telephone: +1 866-377-5274
Great Wolf Lodge, Wisconsin
Another excellent option for guests visiting Wisconsin Dells is the Great Wolf Lodge. It gives you a family-friendly and safe environment alongside several cool amenities enhancing your vacation stay. Visitors get to enjoy the on-site pool and lounge. If you travel by car, they also offer free parking for guests.
Guests at Great Wolf Lodge can easily access the Big Chief Go Karts, one of the most famous landmarks in Wisconsin Dells because of its proximity, only about 2.7 miles away. You'll never run out of things to do in the area. If you are staying in Wisconsin Dells, you also check out one of the most popular barbeque restaurants, the Buffalo Phil's Pizza & Grille. There are also popular parks to visit, such as the Timbavati Wildlife Park and the Wisconsin Deer Park.
Location: 1400 Great Wolf Dr, Baraboo, WI 53913
Telephone: +1 800-559-9653
Schlitterbahn Galveston Island Indoor Waterpark, Texas
Explore some aquatic adventures at Schlitterbahn Galveston Island Indoor Water Park, and let it be your personal oasis. This award-winning indoor water park was featured on the Travel Channel, and it is a perfect destination for the whole family.
The water park features over 32 fantastic water rides and attractions, which include uphill water coasters, a large wave pool, kid's water playgrounds, thrilling speed slides, family raft rides, whitewater rapids, the exclusive Transportainment® river system, relaxing hot tubs, and the Boogie Bahn surf ride.
Your family can enjoy summer fun year-round while steaming warm water during the Heated Indoor Season. It offers over twelve heated water rides, which include thrilling body slides, tube slides, the Torrent wave river, kid's areas, a wave pool, an arcade, and a man-made surfing wave.
Location: 2109 Lockheed Rd Galveston, TX 77554
Telephone: +1 409-770-9283
Want to find more awesome waterparks in Texas? We've compiled a list of the best indoor water parks in Texas that might take your fancy.
Avalanche Bay Indoor Waterpark, Michigan
Are you looking for some crazy family fun?
Then, look no further than the biggest indoor water park in Michigan – the Avalanche Bay Indoor Waterpark. At the ideal temperature of 84 degrees, the water park is located at the center of Boyne Mountain Resort and offers a massive amount of water fun for all ages. It is open all year round, which makes it the perfect fun day trip or ultimate vacation destination.
Avalanche Bay Indoor Waterpark features exciting water slides, including The Big Couloir, the park's newest thrill, the ProSlide SuperLOOP, having the steepest drop, the Rip Zone surf simulator, lazy river, relaxing hot tubs, children's pool, the Splasherhorn Mountain interactive play structure, and a lot more. It also features an arcade with some of the coolest games.
Location: 1 Boyne Mountain Road, Boyne Falls, MI 49713
Telephone: +1 866-976-6972
Aquatopia Indoor Waterpark, Pennsylvania
Looking for a place to complete your Poconos experience? Then, Camelback Lodge and Aquatopia Indoor Waterpark is definitely the place. Located in the picturesque Pocono Mountains, Camelback Lodge is home to Aquatopia Indoor Waterpark – the most epic one in the Northeastern United States. They have everything fun for all ages.
Enjoy some high-speed twists and turns and dive into any of their thrilling water slides. To relax with the kids, they have a massive wave pool with many interactive play structures. You can also stay in their poolside cabanas or choose to relax in the sun under their Texlon roof.
The fun never stops at Aquatopia Indoor Waterpark. After a day of fun-filled water adventures, return to their lavish suites or have a good massage at their full spa and fitness center.
Location: 193 Resort Drive, Tannersville, PA 18372-7993
Telephone: +1 570-629-1665
Kartrite Resort & Indoor Waterpark, New York
Kartrite Resort & Indoor Waterpark is the most modern and state-of-the-art indoor water park in the United States. The resort has over 300 exquisitely designed suites, giving the guests a luxury experience set in the mountains. The Kartrite Resort gives the whole family the perfect adventure.
The indoor water park has a hi-tech arcade adventure at The Backyard. Go outdoors, and they also have classic lawn games, DJ dance parties, night music, and night-time movies while roasting. Whatever the adventure is, Kartrite Resort & Indoor Waterpark gives the entire family the premium resort experience.
Location: 555 Resorts World Drive, Monticello, NY 12701
Telephone: +1 844-527-8748
KeyLime Cove Indoor Waterpark Resort, Illinois
Nearly an hour-drive from Milwaukee and Chicago, there is no better place to spend time with the whole family than the island-inspired destination – the Keylime Cover Indoor Waterpark Resort.
This indoor waterpark was taken over by Great Wolf Lodge and underwent extensive renovations. Now, it features a revamped wolf and forest theme and has expanded its selection of water slides. You will also find this water park boasts a trendy peach and brown color on its exterior. 
This waterpark reopened on August 24, 2020, after its closure due to the COVID-19 pandemic.
Location: 1700 Nations Dr, Gurnee, IL 60031
Telephone: +1 847-623-9653
Water Park of America, Minnesota
The Water Park of America, known today as the Great Wolf Lodge, has the tallest indoor water slide in the United States. Having a total land area of 70,000 sq. ft., it is home to a slide tower as high as ten stories.
Underneath the slide tower, you can enjoy the lazy river, wave pool, small pool with floating logs where kids can leap across, two hot tubs, a swimming pool, and an area for small kids. The indoor park is a few-minute drive from the Mall of America and the Minneapolis-Saint Paul International Airport.
The Water Park of America was initially connected to the Radisson Hotel. The hotel and the indoor water park were both managed by Evolution Hospitality. However, the Great Wolf Resorts purchased the property in January 2017. At that point, the name was changed to Great Wolf Lodge. The hotel and the indoor water park were closed for rebranding and renovations, and the property was reopened in December 2017.
Location: 1700 American Blvd E, Bloomington, MN 55425
Telephone: +1 952-851-9653
Massanutten Resort, Virginia
After spending your morning skiing or snow tubing at Massanutten Resort in Shenandoah Valley, Virginia, it's time to escape the cold at an amazing indoor water park. Dive into splashy water adventures by grabbing a tube and zooming down eight water slides, putting yourself under the giant bucket, or getting ready for an exciting splash at Massanutten Meltdown.
If you want to learn how to surf or bodyboard, head to The Pipeline and experience the FlowRider moving 50,000 gallons of water in a minute to simulate ocean-like waves. If you have small kids with you, that's not a problem, as they have The Frog Pond that provides a safe play area for toddlers and babies.
Location: 1822 Resort Dr, Massanutten, VA 22840, US
Telephone: +1 540-289-9441
H2Oasis Indoor Waterpark, Alaska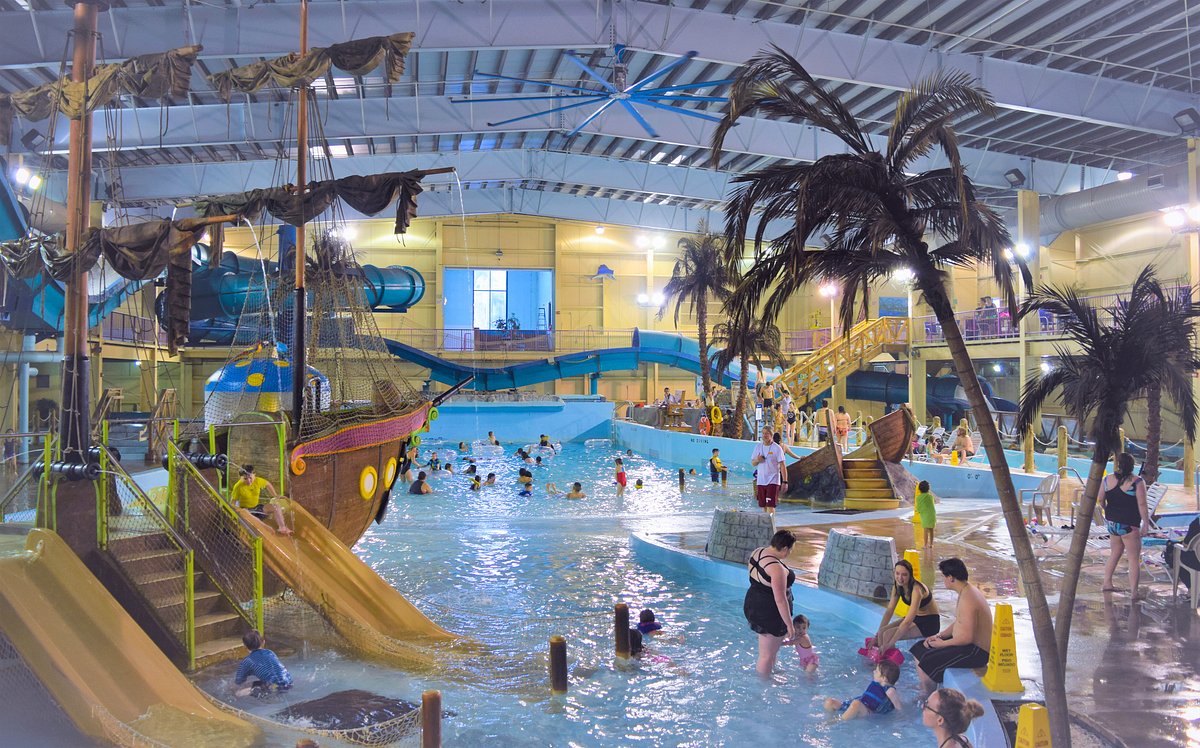 With a total land area of 56,000 sq. ft., the H2Oasis Indoor Waterpark was the 5th largest indoor waterpark in the US at the time of its completion. The indoor waterpark gives the whole family the perfect place to enjoy quality time together while escaping from some frigid days in Alaska. 
It features the water-powered roller coaster called The Master Blaster, the Open-Flume Orange Slide, the Enclosed Green Slide, the Pirate Ship Kiddie Pool, a lazy river, a wave pool, and the Alaskan Hot Tub. Undeniably, there is no other place that can give you this incredible water experience in Alaska.
Location: 1520 O'Malley Rd, Anchorage, AK 99507
Telephone: +1 907-522-4420
Epic Waters, Texas
Want to see the newest epic indoor water park in North Texas? Head straight to Grand Prairie and visit Epic Waters, with a total land area of 80,000 sq. ft.
It gives the whole family some splash-worthy fund with exciting features – thanks to the eleven water slides such as the Yellowjacket Drop and the Texas Twist and the country's tallest indoor Aqualoop ride called Lasso Loop. It also has a lazy river, water playground with geysers, mat racer slides, 300-gallon tipping bucket, and sprinklers to complete the adventure.
And more great news. The property is covered with a retractable roof, so you get to enjoy the sunshine from the inside, especially during pleasant days.
Location: 2970 Epic Place, Grand Prairie, TX 75052, Estados Unidos
Telephone: +1 972-337-3131
Pump House Indoor Waterpark, Vermont
Coming to Vermont? Don't miss this 43,000 sq. ft. indoor water park with an aluminum structure and glass exterior walls covered with polycarbonate roof. The Pump House Indoor Waterpark features a body slide, tow tube slides, indoor looping speed slide, which is first in North America, dual Flowrider surfboard machine, lazy river, action river, kids play area, rock climbing walls, outdoor whirlpool, mezzanine bar, private cabanas, and snack bar.
Location: 830 Jay Peak Rd, Jay, VT 05859
Telephone: +1 802-988-2710
Wilderness at the Smokies, Tennessee
Looking for a new concept of fun for your family vacation on a smoky mountain? Then, Wilderness at the Smokies Waterpark Resort and Family Adventure Center is what you need. It offers the whole family a luxurious vacation. Wilderness at the Smokies is home to the largest indoor waterpark in Tennessee – the Wild WaterDome. It features a transparent and weatherproof roof allowing you to tan indoors all year round.
They also have a family adventure center, Adventure Forest dry, blacklight mini-golf, 3-story ropes course, mega arcade, and so much more.
Location: 1424 Old Knoxville Hwy, Sevierville, TN 37876
Telephone: +1 877-325-9453
Sahara Sam's, New Jersey
You can bring summer back at Sahara Sam's Oasis Indoor and Outdoor Waterpark. Located in West Berlin, New Jersey, and founded in March 2009, Sahara Sam's offers the greater Tri-State community premium yet affordable entertainment all year round. It has a total land area of 68,000 sq. ft. under a retractable roofing system.
You'll never get bored of what it has to offer, such as water slides, amusements, water attractions, and birthday parties for the families of Philadelphia, New York, and New Jersey.
Location: 535 NJ-73, West Berlin, NJ 08091
Telephone: +1 856-767-7580
Wings & Waves, Oregon
If you want to take a break from the usual destinations, visit the Wings & Waves in Oregon. This water park gained popularity when a massive Boeing 747 aircraft sat atop it. They utilized the plane as a starting point of several slides so guests could descend from within the aircraft. This makes the experience unique at Wings & Waves, because you get to experience how it feels to slide out of a real plane.
Natural gas heaters control the temperature at 84 degrees inside the Wings & Wave indoor waterpark. It features several attractions such as ten waterslides, where four of which come from the Boeing 747. It also has a leisure pool with spa, interactive water play, 91,000-gallon wave pool, tipping water bucket, fountains, tot-sized slides, and toddler area with bubblers.
Location: 460 NE Captain Michael King Smith Way McMinnville, OR 97128
Telephone: (503) 434-4185
Other fantastic water parks to consider for some family fun
If you're hoping to find some more of the best water parks, our round-up below will be the perfect place to start.
More about our TFVG Author
A seasoned traveller, Dad, and avid sports tourist, James foundered The Family Vacation Guide to share his expert vacation experiences- especially when it comes to being a travelling family man.
Featured in Travel articles such as Travel + Leisure, TripSavvy and SFGate, you know you're reading some of the best vacation tips online.