The United States has some of the most picturesque lakes on the planet, perfect for families looking for a peaceful and relaxing vacation. The biggest decision to make is choosing which lake you want to visit.
The decision can be pretty challenging with so many lakes throughout the United States. Do you want to go to the East or the west coast? Do you want a warmer climate or a colder one? With all of this in mind, we compiled a list of the best lake house rentals in the United States.
Smith Mountain Lake, Virginia
Smith Mountain Lake is hard to beat if you are searching for a destination that provides hours of fun activities. The "Jewel of the Blue Ridge," as it is also known, is the perfect vacation destination for the ultimate family trip.
In Virginia's magnificent Blue Ridge Mountains, Smith Mountain Lake is a unique vacation spot known for its breathtaking natural beauty, charming small-town atmosphere, and amazing recreational opportunities.
Smith Mountain Lake is a haven for outdoor enthusiasts with more than 20,000 acres of clean water and 500 miles of scenic shoreline at the base of the majestic Blue Ridge Mountains.
Tranquility Cove is the perfect rental house for you if you are looking for a relaxing family vacation. The home sits on a nearly flat lot at the foot of Smith Mountain and has a big dock. The house provides convenient access to the lake while still giving you much-needed privacy.
There are three bedrooms, three bathrooms, and a fully stocked kitchen. Inside the house, you will find two marvelous stone fireplaces, while outside is a gas grill with a screened-in porch. You will also be provided with hammocks, fishing equipment, outdoor games, etc.
The Dream Come True rental house is the perfect fit for a larger family vacationing on Smith Mountain Lake. This rental house has five bedrooms and three bathrooms and extends right on the lake, meaning you can wake up each morning to the soothing sounds of lake water.
Besides being able to swim in the lake, there is a hot tub on the property for you to enjoy, an outdoor fire pit, a paddle boat, swim toys, and a float provided by the owner.
Inside is a fully equipped kitchen overlooking the lake, a game room with a pool table, a game boy, and Play Station. Also, there is an extensive collection of books and puzzles.
Additional information
Lake Santeetlah, North Carolina
Beautiful Lake Santeetlah is considered one of the most scenic lakes in the United States and is one of the most pristine lakes you can find in the mountains of North Carolina. It is situated in Graham County's "wild west," approximately 100 miles west of Asheville, along the Indian Lakes Scenic Byway.
It's especially peaceful because it's farther from the city and less developed. Alcoa blocked the Cheoah River in 1928 to provide hydroelectric power, which led to the creation of Lake Santeetlah. The Cheoah District of the Nantahala National Forest encircles the reservoir.
The lake has 76 miles of shoreline and is home to a variety of fish, including walleye, crappie, bream, smallmouth bass, largemouth bass, and lake trout.
Situated at the foot of the Great Smoky Mountains, the Nantahala National Forest contains around 80% of the shoreline.
Five Echoes is a vacation rental house with a view of the breathtaking Lake Santeetlah. Five Echoes is located in Robbinsville. The house is 23 miles from the Great Smoky Mountains Railroad. Besides a great lake view, the house accommodations include Wifi, an ATM, and a garden.
The house has four bedrooms, four bathrooms, and a seating area. The kitchen is equipped with an oven, fridge, dishwasher, electric teapot, and coffee machine. Enjoy a nice and quiet time with your family without disturbing your peace.
The Luxury Lake Santeetlah Home is located right on the shores of Lake Santeetlah. The vacation rental luxury house has four bedrooms, three bathrooms, and a fully equipped kitchen with a fridge and a dishwasher.
There is a balcony with Lakeview, and all the towels and bed linen are provided in the vacation rental. Scenic views of Lake Santeetlah and the Nantahala National Forest surround the house. Enjoy canoeing, kayaking, or fishing as you bond as a family.
Additional information
Big Bear Lake, California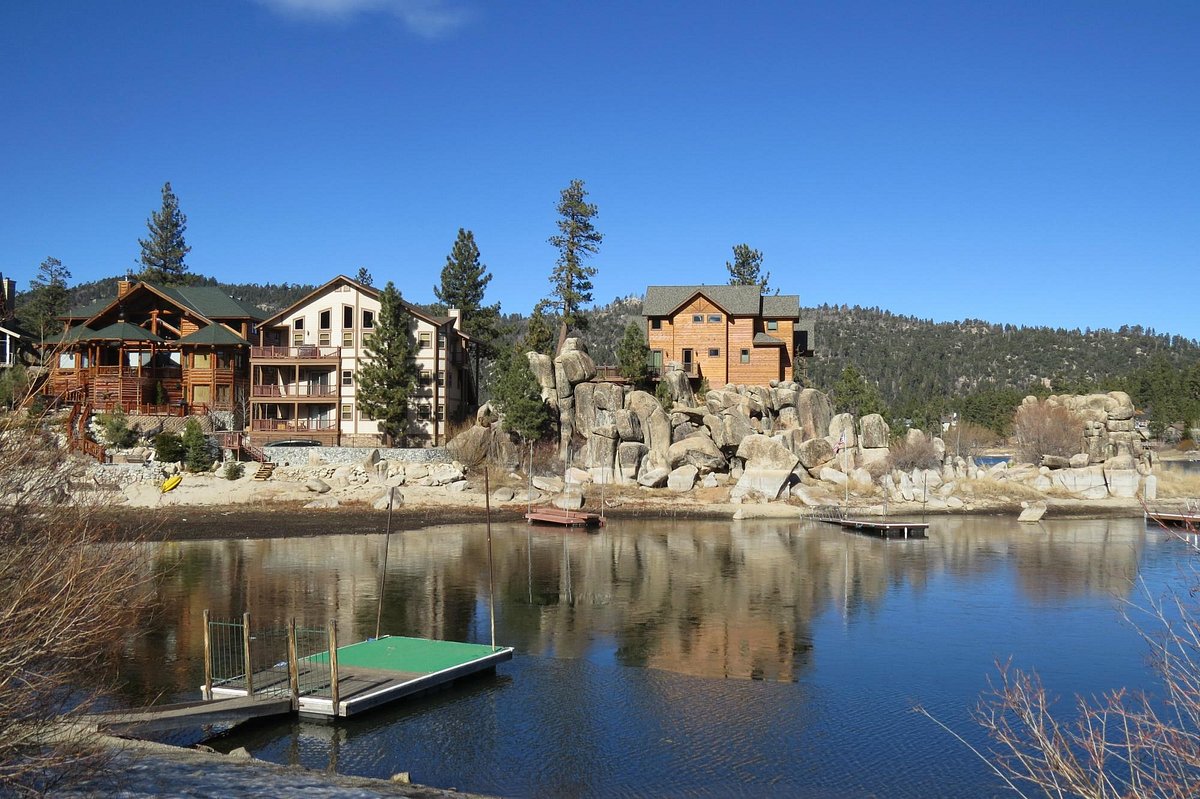 Big Bear Lake, located in the middle of the San Bernardino Mountains, is renowned for its picture-perfect scenery, four seasons of outdoor leisure, and 300 days of sunshine annually. Ski the slopes, trek strenuous terrain, spend relaxing days fishing, or go shopping at unique shops.
There are various options both on and off the beaten road, from well-known movie locales to remote wilderness preserves.
Take on the slopes at Snow Summit, put your stamina to the test while long-distance snowshoeing, or experience the rush of bobsledding at Alpine Slide throughout the winter.
Spend the day fishing at the marina, climbing rocks at Onyx Summit, or hiking a portion of the Pacific Crest Trail. Wakeboarding and surfing are great amid the summer's sizzling. The autumn season causes the countryside to come alive with its vibrant tones.
If you want to provide your family with scenic views that they will remember forever, then The Grand on Big Bear Lake is the perfect vacation rental for you.
Located deep in Boulder Bay on a quiet cul-de-sac on Inspiration Point, this picturesque house is the definition of a cozy and relaxed atmosphere.
The Grand has four bedrooms and four bathrooms and can comfortably accommodate ten people. There is also an outdoor patio with a fireplace, and you can walk on the deck.
Moreover, you can do some fishing, kayaking, boating, and swimming, or take advantage of the numerous hiking and biking trails nearby.
The picturesque Scenic Lakefront Home in Boulder Bay provides the perfect vacation spot for the family that enjoys being surrounded by nature. This three-bedroom, two-bath house is surrounded by scenic views of Big Bear Lake and the San Bernardino Mountains.
The views will always be breathtaking, no matter your room. The house also has a hot tub, deck, patio, dining area, wood fireplace, gas ignitor, outdoor furniture, and a fully equipped kitchen.
Additional information
Lake Tahoe, California
Lake Tahoe has long been a popular vacation destination on the boundary of California and Nevada, drawing over 15 million tourists annually.
Travelers are attracted to this location by the stark granite cliff faces, soaring mountain peaks, and crystal-clear waters that have made Lake Tahoe one of the most picturesque bodies of water in the United States.
The surrounding region, also known as Lake Tahoe, has miles of hiking trails, dozens of picturesque vistas, and some of the best skiing in the United States. The gorgeous blue lake alone is worth the trip, though.
Lake Tahoe also takes great pride in many activities, like mountain gondola rides, hot air balloon excursions, and picturesque boat rides across the water's mirror-like surface.
This waterfront vacation rental house will let you truly experience the beauty of Lake Tahoe up close. The property has four bedrooms and three bathrooms, along with a private dock for boats and fishing trout or bass. There is a fully equipped kitchen, living room, patio, balcony, and a veranda to sit and enjoy the scenic view.
The waterfront vacation house can comfortably accommodate up to ten guests and is in a perfect location for families looking to get out of their hectic city life and have a relaxing vacation.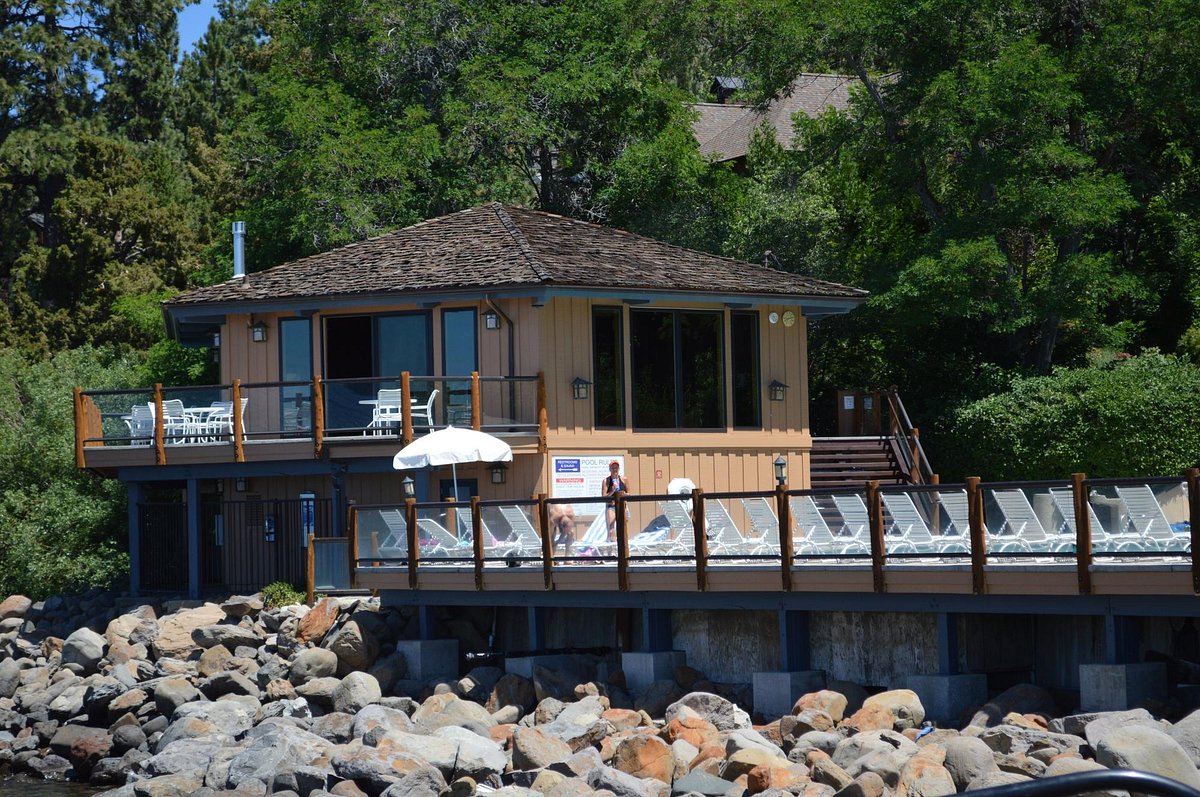 This vacation rental house is situated in the well-maintained gated community of Brockway Springs. It is only 15 minutes away from the Northstar Ski Resort and the Diamond Peak Ski Resort.
The Lakeview house has three bedrooms, three bathrooms, a kitchen, a balcony, and a patio. Vacationing guests in the rental also get HOA access to a lakefront heated pool, gym, lakeside tennis courts, and a private dock.
Additional information
Lake Winnipesaukee, New Hampshire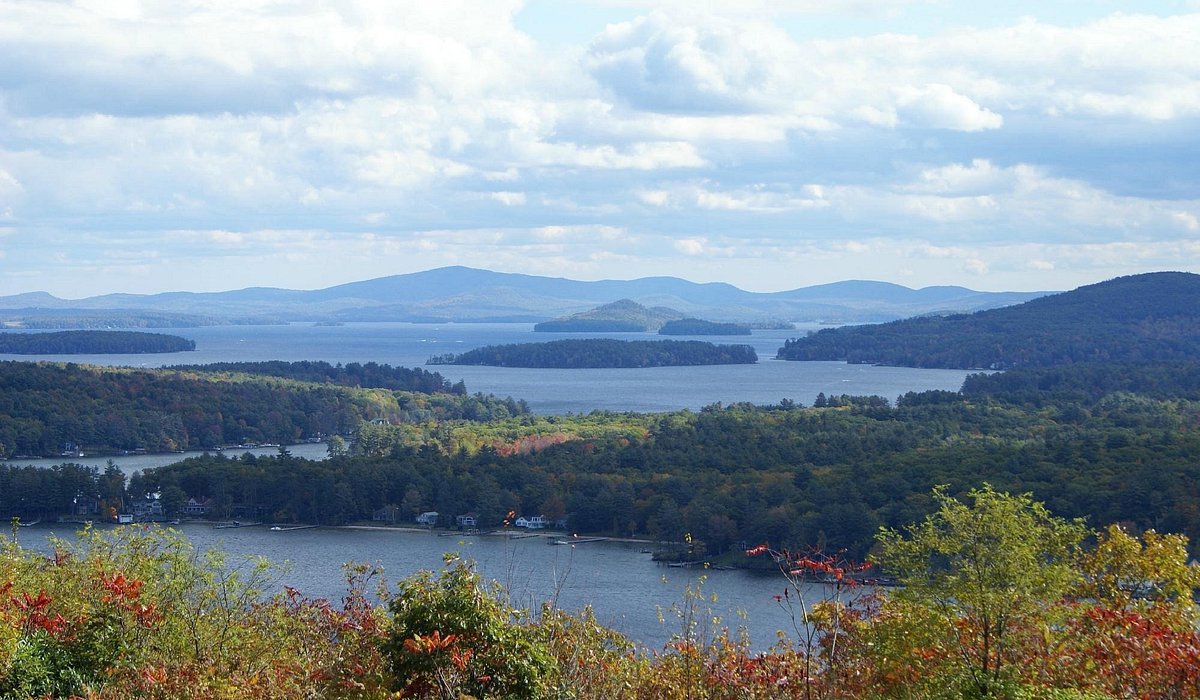 The largest lake in the state of New Hampshire, Lake Winnipesaukee, is situated in the Lakes Region at the base of the White Mountains. It is a glacier lake that is up to 9 miles wide and 21 miles long. It includes roughly 290 miles of coastline and 258 islands.
There are many different attractions, and new ones are always being added. Fun escape room activities, zipline and high ropes courses in Laconia and Gilford, as well as off-road segway trips in Gunstock, are some of the more recent additions.
The largest arcade in the world, Funspot, and boating on Lake Winnipesaukee near Mount Washington are perennial favorites. You can also tour the Castle in the Clouds estate and enjoy its breathtaking views.
The Alton Home is located right by Lake Winnipesaukee, allowing for incredible panoramic lake views. The vacation rental house has three bedrooms, two bathrooms, a sunroom, and a 30-foot dock, providing easy access to swimming, boating, and fishing.
The rooms in the house are provided with high-quality linens and bedding. There is also a fully equipped kitchen. Outside, the lake house rental has a private patio with an outdoor dining table, a gas fire pit, an outdoor bar with plates and grill utensils, paddle boats, and water floats.
This waterfront cottage with four bedrooms and two bathrooms can accommodate up to ten guests. The property is nestled at Coleman Point on a dead-end driveway next to the lake, and the location protects your boat from most weather on the lake.
The kitchen inside is fully equipped with everything you might need, plus there is a washing machine and a dryer. Outside you will find a 30-foot porch with an electric awning. The porch faces the lake and has a fire pit, sun deck, outdoor furniture, beach chairs, and two canoes.
Additional Information
Lake George, New York
One of the original vacation spots in the United States was Lake George, which is located in New York State's Adirondack Mountains.
This 32-mile-long "Queen of American Lakes" is jam-packed with hotels, sights to see, dining options, and pretty much every kind of leisure you could want.
The region, which is centered on the 32-mile-long lake, is rich in various seasonal activities. Wintertime sports like skiing, snowboarding, ice fishing, and snowshoeing are excellent, while summertime activities like swimming, kayaking, amusement parks, lake cruises, historical excursions, and scenic walks are available.
Spend the intermissions window shopping at malls and neighborhood stores, trying out regional cuisine and beverages, and visiting the renowned lakeside "Mystery Spot" with an echo that is supposed to defy the laws of physics.
This five-bedroom and four-bathroom lake house was built during the prohibition era as an ice house. The vacation rental is one of the rare properties that sits over the water, and due to this proximity, you will be privy to some amazing lake views.
The main bedroom has a private balcony from which you can enjoy scenic views. The house has a U-shaped dock, propane BBQ grill, geothermal air conditioning, heating, dishwasher, and a washer/dryer combo.
The kitchen is equipped with all of the essentials, and the house also has an attached and detached garage.
This family-friendly waterfront vacation rental in Diamond Point has five bedrooms and four bathrooms, each with its tub-shower combination with glass doors. The living room is closest to the lake, with an interconnected dining area and kitchen.
The deck overlooking Lake George has a picnic table, lounge chairs, sun umbrellas, and a pergola. In comparison, the screened veranda has a large table, sofa, and a children's picnic table.
Additional information
Lake Superior, Minnesota
The largest freshwater lake in the world, Lake Superior, has a total size of 31,700 square miles. Ten percent of the fresh surface water on Earth's surface is contained within its three quadrillion gallons of capacity.
The other Great Lakes, plus three additional bodies of water the size of Lake Erie, could fit in Lake Superior, to put it another way.
The renowned Lake Superior North Shore of Minnesota, perched on the rocky shore of Lake Superior, the largest freshwater lake in the world, has long been a popular vacation spot. This rocky coast has drawn visitors for generations because of its breathtaking beauty, crystal-clear oceans, agate beaches, and rich cultural heritage.
The Loon Lodge townhome can accommodate up to eight guests as it has four bedrooms and four bathrooms. There is also a kitchen, a living room, and a deck. Every room in this townhouse has a clear view of Lake Superior, making you feel as if you are floating on it.
The inside of the Loon Lodge is filled with incredible hand-made log furniture. The gourmet kitchen has granite countertops. There are also two fireplaces and a game area. The main bedroom also has a two-person jacuzzi overlooking Lake Superior.
This large lake house sits on Lake Superior, with stairs leading directly to the lake and the beach area. The vacation property is only one mile from Calumet Waterworks Park and six miles from the Village of Calumet.
The Lake Superior Home has four bedrooms, two bathrooms, a sauna, and an attached garage with a work area. The owners provide linens and towels.
There is an open-plan kitchen, living, dining room, and den with a direct view of Lake Superior. The outside area has beach chairs, towels, four kayaks, mountain bikes, life jackets, and floaties.
Additional information
Conclusion
These are the best lake house rentals in the U.S. that will provide you and your family with a relaxing and storybook vacation. The house rentals are near various lakes in the United States with breathtaking views.
So, book your next vacation today and have a great family bonding time.
More about our TFVG Author