Why go camping and rough it for a weekend when you can go glamping and experience nature without compromising any of your comforts? There is nothing better than going on a glamping adventure as a weekend getaway! It is the perfect way to relax and also connect with nature.
One of the best locations for a glamping getaway is Zion National Park in Utah, with the majestic red cliffs in the background. So, let's see the best spots for glamping in Zion National Park for your next vacation.
9 of the Best Spots for Glamping in Zion National Park
Zion Wildflower Resort – Virgin, UT
Zion Wildflower is in a mountainous area in Virgin, Utah. This 75-unit resort complex called Zion Wildflower Resort (ZWR) features private bungalows, wagons wrapped in canvas, and billowing tents.
Natural highlights of the region include Zion National Park and Zion National Park South Entrance, while cultural ones include Tanner Amphitheater and Zion Human History Museum. Mountain biking and climbing allow you to experience everything the area offers.
The Zion Wildflower Resort offers its visitors a luxurious glamping experience surrounded by nature while still having all your comforts around.
While you will be able to go hiking and exploring in Zion National Park, there are also plenty of activities in the resort for both kids and adults. You can play giant Jenga with your friends or family or play spike ball and ping pong.
Amenities
The glamping lodging at the Zion Wildflower Resort includes Small Canvas Tents, Covered Wagons, Grand Mesa Tents, and a luxury Bungalow. The resort amenities are luxury bathhouses, fire pits, bicycles, a pool, a spa, grills, a playground, a cornhole, ping pong, movie nights, live music, yoga, and star gazing.
The Small Canvas Tents are equipped with cozy bedding, a table, rugs, and chairs. Amenities like bathroom toiletries are provided, and each tent has a private deck with rocking chairs.
The Covered Wagons are great for families and are equipped with a king bed, bunk beds, a sitting area, bathroom toiletries, and heating and A/C.
The Grand Mesa Tents are perfect for those looking for the ultimate glamping experience. Each tent has private parking, a private bathroom, a king bed, and wooden decks with incredible scenic views.
The Luxury Bungalow is perfect for couples looking for a romantic getaway. The amenities include a hand-crafted king bed, a swinging chair, heating, A/C, a mini fridge, a microwave, and a private deck.
Additional information
Under Canvas Zion – Virgin, UT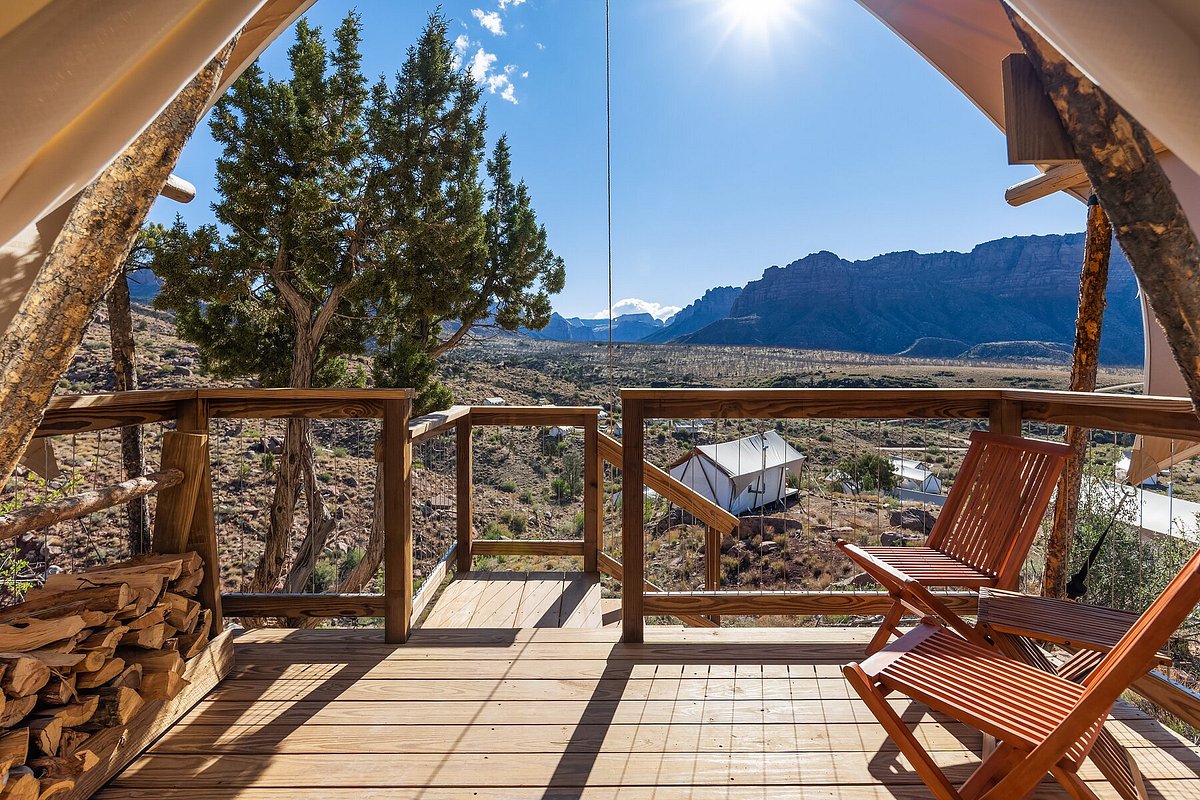 Staying in one of the tents at Under Canvas Zion will certainly elevate your glamping experience, especially with a direct view of the majestic red rocks that give the park its notoriety. Under Canvas Zion offers a distinctive lodging experience just as impressive and distinctive as Zion National Park.
It is situated on 196 acres that border Zion National Park. The three choices of luxurious tents allow visitors to enjoy Utah's breathtaking desert without forgoing home comforts, and the camp easily mixes in with its dramatic surroundings.
Rock climbing, biking, canyoneering, hiking, safari excursions, horseback riding, hot air ballooning, helicopter flights, kayaking, and guided UTV/ATV tours are just a few of the activities you can engage in inside the park. Additionally, guests have access to onsite yoga classes, and each morning they can choose between an American or vegetarian breakfast.
Amenities
The 48 luxury tents at Under Canvas Zion camp seamlessly merge into the striking landscape that surrounds it. Without sacrificing your home comforts, the opulent tents provide the ideal opportunity to discover all that the Utah desert has to offer in terms of beauty.
While each of these incredible homes has a king-sized bed, a private bathroom, and a luxury wood-burning stove to keep you warm at night, the stargazer is the best. It has a window over the king-sized bed, making it the ideal spot for stargazing.
You can expect there to be organic bath products stocked in your bathroom. There are nightly fires and s'mores available. Adventure is abundant in Utah, where amazing trails, off-the-beaten-path excursions, and the magnificent red cliffs of the National Park are all just a short distance away.
Additional information
Open Sky Zion – Virgin, UT
A luxurious glamping location called Open Sky offers heated bathroom tiles, outdoor showers, and sumptuous king-size mattresses. This is not just the ideal getaway for a couple but also the perfect trip to get back in touch with nature.
With no light pollution or noises around, you will be able to spend your nights at the marveling beauty of the Milky Way, while in the morning, waking up according to your natural alarm. At Open Sky, visitors can find adventure, relaxation, and whatever they need out of a vacation.
While you can relax and unwind in Open Sky's lodging options, there are plenty of activities to partake in the area if you also seek adventure. Nearby you will find hiking trails, mountain biking, canyoneering, climbing, art galleries, shopping, and ATV/off-roading.
Amenities
Zion National Park is only a 25-minute drive away, and each safari-style canvas tent is built on a sturdy platform that is elevated above the earth. Three distinct lodging options are provided by Open Sky: Star Seeker, Desert Rose, and Cedar Springs.
Their luxury choice is called The Star Seeker, and it comes with a stunning stargazing lounge where you can unwind and watch the stars at night, a huge copper soaking tub, a sizable private patio where you can grill and make s'mores, and an outdoor shower.
Desert Rose has French wood doors that lead to a patio with everything you need for outdoor cooking, a hammock, and comfortable sitting, but it is slightly smaller but as luxurious.
Cedar Springs provides an exceptional glamping experience at a reasonable cost. The tent offers a nice fireplace, a spacious king-size bed, and a small kitchenette. Each of the three tents includes a complete indoor bathroom as well as heating and cooling.
Additional information
Zion Ponderosa Ranch – Orderville, UT
On a sizable piece of land that borders the east side of Zion National Park in southern Utah, there is a full-service resort called Zion Ponderosa. Stunning vacation property with breathtaking views of Zion National Park.
Excellent lodging, adventurous activities, mouthwatering food selections, and helpful personnel are all provided. The activities include Jeep tours, horseback riding, zip lining, climbing walls, paintball, shooting ranges, mini golf, trampoline bungee jumping, canyoneering, and guided hiking, which are also available onsite for an additional fee.
At the top of Zion National Park, this resort offers a variety of housing choices, including mountain vacation home rentals, cabins, and camping.
Amenities
Your accommodation includes free use of various facilities, such as hot tubs, volleyball courts, basketball hoops, tennis courts, a playground, a pool, ping pong, foosball, and horseshoe pits.
One king bed, two twin bunk beds, continental breakfast, Wi-Fi, electricity, outlets inside the wagon, access to shared activities, coin-op laundry, hot showers in the shower building, a picnic table, and a grill are all included in each Conestoga Wagon glamping site.
Each cabin has six comfortable bedrooms, a front porch, and access to resort amenities situated close to the communal restrooms and the shower house. You may camp comfortably in these gorgeous log cabins, and there are charcoal barbecues outside.
Glamping tents come furnished with a queen bed and a full-size sleeping futon in addition to electricity, linens, and towels. The location has no running water. Visitors will have access to the shower house, which has bathrooms for both men and women and private showers.
Additional information
Zion Glamping Adventures – Hildale, UT
Experiences like Zion Glamping Adventures are unparalleled. It's located just minutes off the highway in a private canyon, close to the Grand Canyon, Zion, Coral Pink Sand Dunes, Bryce Canyon, Lake Powell, and many more places in the Grand Circle of National Parks.
This canyon offers breathtaking views of the Canaan Mountain Wilderness Area and is close to the Water Canyon trailhead, which features waterfalls, a natural rock bridge, and clean spring water. You can explore the various trails, go on canyon tours, go horseback riding, or take a buggy ride.
Zion Glamping Adventures aims to provide guests with a unique and unforgettable glamping experience. Nestled in the Canaan Mountain Wilderness, Zion Glamping Adventures provides its visitors with ultimate privacy.
Amenities
Each tent site is carefully constructed to offer luxury, seclusion, and a genuine sense of nature within the red granite canyon walls. Zion Glamping Adventures offers a luxurious way to enjoy Utah's natural splendor. There are 21 cozy bell tents and a Rock Cabin.
In Hildale, Zion Glamping Adventures offers free Wi-Fi, free private parking, and views of the mountains. These accommodations include a private bathroom with a shower, complimentary toiletries, slippers, and bathrobes.
Every morning, an American breakfast is served in the opulent tent, and Zion Glamping Adventures also provides a BBQ. Visitors can go cycling nearby, and the Rock Cabin has a sun deck and a playground for kids. St. George Regional Airport, which is 70 miles from the lodging, is the closest airport.
Additional information
Zion View Camping – Hildale, UT
Zions View Camping is located on a private mountaintop with a breathtaking view of Zion National Park and the Canaan Mountain Range. Zion View Camping is conveniently located close to the Grand Canyon, Bryce Canyon, and Antelope Canyon.
A picnic area, grills, and tour/ticket help are available at this campground. Additionally, free self-parking and Wi-Fi in public areas are offered. The scenic campsite of Zion VIew Camping provides guests with a peaceful space to relax and forget about stress.
Zion View Camping will give you and your family or friends the adventure of a lifetime. You can explore sand dunes, hiking, UTV tours, kayaking, or paddle boarding. There are also mountain e-bikes, or you can enjoy the beautiful sunsets and views around you.
Amenities
Along with luxury amenities like down comforters and quality bedding, four toilets and microwaves are available for guests' use. There are limited housekeeping services and private bathrooms without ensuites.
Zion View Camping has various glamping accommodations available such as tents and wagons. All the glamping tents are furnished with comfortable beds and mattresses, with modern amenities like electric supply, TV, fridge, mobile chargers, hair straighteners, wood-burning stoves, and fairy lights.
The covered wagon can accommodate up to four guests and has two comfortable beds, one of which is a king bed. There is a shower, a bathroom, a grill, and a table. You can book the wagon for the ultimate romantic getaway and enjoy several nights under the stars.
Additional information
Zion White Bison Resort – Virgin, UT
Zion White Bison Resort is located only 15 miles from Zion National Park's southern entrance, making it simple to access the park's beautiful trails, breathtaking treks, and views. At the Zion White Bison Sanctuary, you can find three white bison, two females, and one bull.
The staff at the resort have a close relationship with the local Native Americans. When they learned about the White Bison tale, they decided to commemorate their support by renaming the property from the Zion Weeping Buffalo Resort to Zion White Bison Glamping & RV Resort.
Bryce Canyon, the North Rim of the Grand Canyon, St. George, and many more nearby outdoor adventures are all within a short drive to Zion White Bison Resort.
Visitors can interact with the bison during their visit, take in the site's distinctive water feature, and play various outdoor games. You can also go biking, cook s'mores, hear frogs croaking in the pond, take in the stunning sunrises or sunsets, or stargaze.
Amenities
The resort offers tipis, covered wagons, and cliff dwellings. The tipis feature inside bathrooms, central heating, and A/C, a gas fire pit, a hair dryer, a TV, fireside blankets, marshmallow sticks, and a hot tub.
The covered wagons also have private bathrooms, central heating, A/C, fireside blankets, a gas BBQ grill, a gas fire pit, grill utensils, and a TV. There are mini fridges in the wagons that don't have a kitchen. Outside you will find a picnic table, a pond with a fountain, and onsite parking.
The amenities in the cliff dwellings include bathrooms with showers, toilets, and sinks. There is also central heating and A/C, a gas table fireplace, hot tubs, indoor kitchens, onsite parking, TV, fireside blankets, and a gas BBQ grill on the rooftop deck.
The camp doesn't yet sell food, but it collaborates with Balcony One, a nearby restaurant, to provide food service and delivery and a nearby grocery shop to provide delivery or pick-up.
Additional information
Zions Tiny Oasis – Virgin, UT
Zions Tiny Oasis is located just outside the park's boundaries. Each of the oasis' four units, which are freestanding "tiny houses" built on platforms, is equally small. They range in size from the 289-square-foot Guardian Angel to the 488-square-foot King Solomon.
Zion and the nearby parks and wilderness regions offer nearly infinite opportunities for adventure right outside your door. Zions Tiny Oasis offers lodging with free Wi-Fi, free private parking, and access to a hot tub in Virgin, which is in the area of Utah.
Zion Tiny Oasis offers its visitors a unique glamping experience where guests can stay in one of their tiny houses. Zion Tiny Oasis is a small home resort where you can clamp comfortably with all the modern luxuries you wish for.
Amenities
They have all the amenities of a standard hotel room, as well as a hot tub and a fire pit. Some apartments have a fully equipped kitchen, air conditioning, a flat-screen TV, a private BBQ area, a fire pit, an outdoor hot tub, a washing machine, and a coffee maker.
The first tiny home available is The Guardian Angel, a modern tiny home built with every convenience one will need. It has all the previously mentioned amenities, and the bedroom has a king bed.
Next, there is The Ark, an old-fashioned train-themed lodging on wheels. It includes all the amenities already mentioned, and due to it being a 32 feet trailer, it can accommodate up to six adult guests.
Then there is the Mother's Eve tiny home, which is fairy tale-themed with all the luxuries one needs for a good vacation. The last tiny home is King Solomon, which is old-world themed, spacious, and luxurious.
Additional information
Zion On The 9 – Virgin, UT
Zion On The 9 is the last best spot for glamping in Zion National Park on our list for an enchanting glamping experience. The site is close to Zion National Park's entrance. The campsite also has a pond, ducks, sheep, horses, ponies, and other animals. Another place where you can rest, eat and congregate is the barn. Experience the pool and jacuzzi after a strenuous climb.
The Boozy Bar'N offers a variety of enjoyable activities. There is a Karaoke piano bar and space to play board games. Swing while looking at the night sky. If you want to watch a movie, there is a projector available.
The hosts are fully dedicated to providing their guests with the best and most magical experience. You can enjoy the pond with ducks and see the horse and pony that live on the property. It's guaranteed Zion On The 9 to leave you with memories to cherish your whole life.
Amenities
As for the accommodation options, three tents and one luxury cabin are available.
The largest tent, "DIRTY DOG", measures 14′ by 16′ and contains a full bathroom with a small tub, a shower, a sink, and a flushing toilet on its own. There is electric power, queen beds with pillow tops, premium bedding, and elegant furniture.
The 10′ x 12′ "RABBIT RYOKAN" tent is located under the shadow of a beautiful wild pecan tree. A complete shared washroom with two showers, two vanities isolated from one another, and a toilet area close to the tent.
"THE LADY GOAT" is also 10′ x 12′ and fully furnished with an excellent pasture view. Near the tent are two separate showers, two vanities, and a toilet.
The luxury cabin is available for booking only during the winter season. It has three bedrooms and two bathrooms. The cabin is fully furnished and offers guests the most luxurious glamping experience.
Additional information
Conclusion
If you want to visit Zion National Park, these are the best spots for glamping in Zion National Park they will provide you with all the comforts and luxuries to make your trip unforgettable.
Booking one of the spots from our list ensures you will have the best time in Zion. During the day, you can explore the red cliffs of Zion National Park, and at night, go to sleep in a comfortable and soft bed feeling at home without worrying about missing anything.
Happy glamping!
More about our TFVG Author