California is one of the best states in the country to visit if you and your family want to have the vacation of your dreams. If you're looking for family camp California ideas, locations are almost unlimited! When the great outdoors is calling, consider visiting some of California's incredible national parks and campgrounds.
Since California is so massive, it's easy to customize your trip. Do you want to try your hand at surfing? California has plenty of beaches perfect for both novice and experienced surf enthusiasts. Is hiking more for you? You're in luck; the state is simply crisscrossed with miles of fantastic hiking trails.
Whatever you're looking for, California's got it, and these fifteen unique family camp California spots and campgrounds in California will put you right in the middle of the action. Looking for campgrounds specifically in Southern California? We have a whole list dedicated to the best family campgrounds in Southern California for you to check out!
Camp Augusta, Sierra Foothills
Camp Augusta sits across 80-acres of gorgeous land right in the Sierra Nevada foothills. This excellent family camp in California focuses on having fun while stretching your limits. Personal growth is one of the critical tenets of Camp Augusta, and you and your family are bound to learn something new and exciting while you stay there.
In addition to exploring the splendid nature that surrounds you, you'll also get a chance to go ziplining through the forest, practice archery, and learn how to make candles from scratch. Your children will develop new skills that will help them for years to come, and you'll be able to have a cherished family experience together.
Explore idyllic Lake Vera by canoe, or jump into the Yuba River for a family swim. You can explore the trails that surround Lake Augusta by foot or mountain bike. Although there are plenty of activities at the camp, you can set your own pace and choose what works best for you and your family. After a full day of activities, your new friends and family at Camp Augusta come together for fellowship and campfire stories at night.
If you're looking for a way to tap into your childhood wonder and have a family vacation that you will never forget, Camp Augusta is a great option.
Berkeley Sierra Family Camp, Echo Lake near S. Lake Tahoe
This all-ages camp offers some of the best family camping in California with communal meals, outdoor activities, and a friendly and knowledgeable staff. If you and your family want to learn more about the flora and fauna that surround Lake Tahoe, Berkeley Sierra Family Camp is an excellent option for you.
This camp is very popular, and space is limited, so it's highly suggested that you register online to make sure that you get your spot. You can stay at Sierra Family Camp for between five to seven days and choose from a tent or camper. Once you set up your spot, the itinerary is up to you. You can participate in camp activities or make your own itinerary.
Sierra Family Camp is just a few minutes away from Echo Lake, a popular California camping destination. Echo Lake is great for swimming, canoeing, kayaking, or fishing. There's also plenty of hiking nearby, including part of the famous Pacific Crest Trail. This 2700 mile trail plans the entire western coast of the United States between Mexico and Canada, and you can journey through a small part of it.
The camp is full of amenities, too, including a heated pool, archery range, and an observation deck. At night there's music and campfire entertainment suitable for the whole family.
Lair of the Bear, Pinecrest, CA
The Lair of the Bear has been operational for over 70 years and is one of the best family campgrounds in California. It's also very close to the Bay Area, making it the perfect family getaway for Californians, but out of state people certainly shouldn't write it off. Lair of the Bear will take you directly back to your childhood and help you regain your sense of wonder.
Lair of the Bear bills itself as a "mountain playground," and the term certainly fits! As with many of the best camps on our list, your itinerary is up to you and your family. You can certainly partake in camp activities or make your own schedule and simply enjoy the natural beauty around you.
There's an on-site pool and plenty of family activities to partake in. If you need a little alone time, simply ask one of the staff members what activities are available for the kids. These activities are safe, supervised, age-appropriate, and beyond all- fun!
At Lair of the Bear, you'll enjoy guided hikes, watersports, arts and crafts, and campfire shows too. For a wholesome adventure, definitely check it out.
Oakland Feather River Camp, Quincy, CA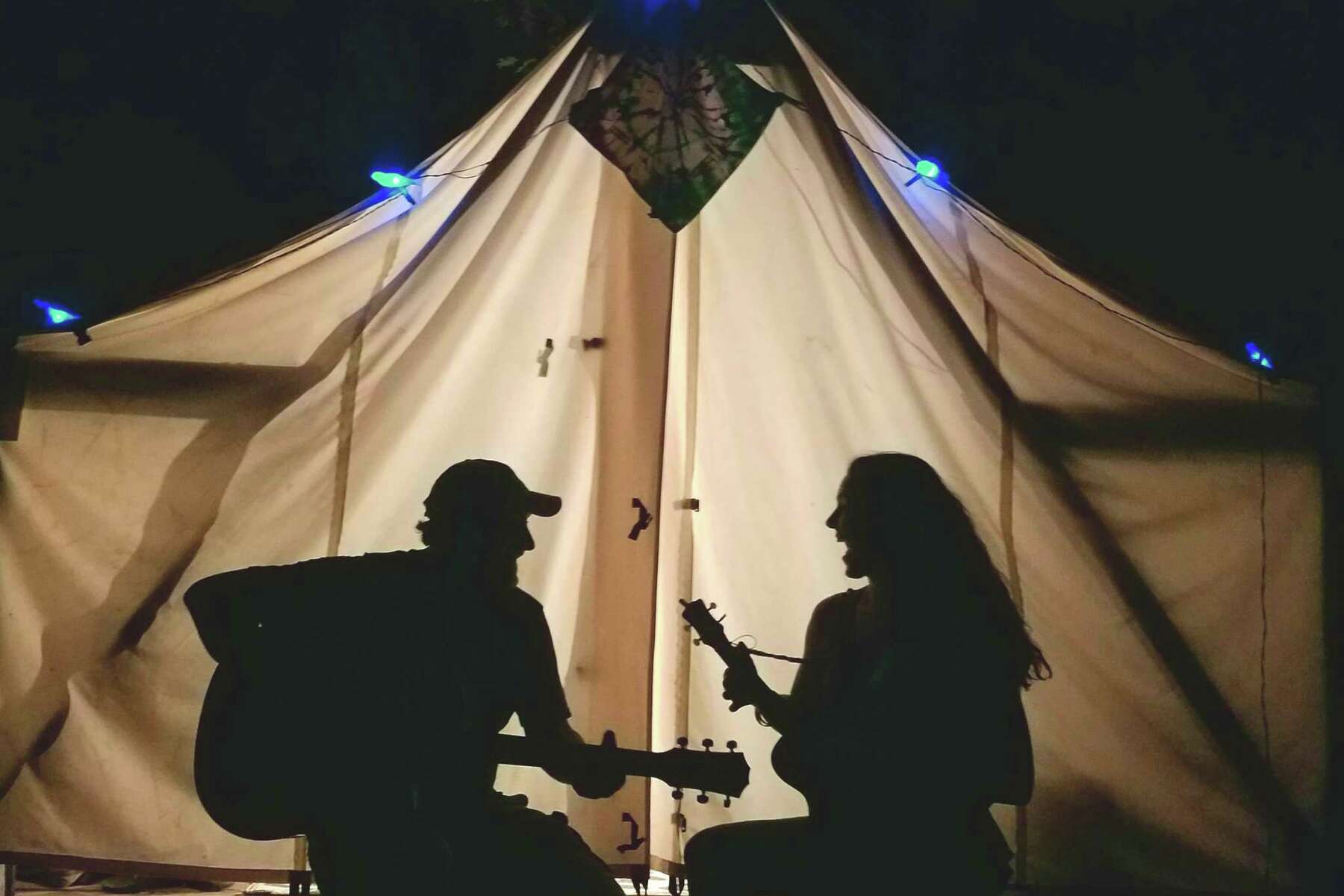 If you and your family really want to unplug and get away from it all, Oakland Feather River Camp near Quincy, California, is a great destination. There's no WiFi at Oakland Feather River Camp, but you and the kids will have plenty to do that doesn't involve scrolling through your phones. This quiet family camp in California offers yoga classes and nature walks in the morning.
Afternoons are full of classic camp activities, like archery and horseback riding. There are plenty of guided hikes and kids camps so that you can have a little quiet time to yourself to enjoy nature fully. Get to know your fellow campers with kickball games and contests and relax by the campfire at night with s'mores and stories.
There's also plenty of family-friendly entertainment, including talent shows and disco nights. If you don't want to partake in the entertainment, you can always enjoy the incredible beauty of the night sky. Since Oakland Feather River Camp is so far removed from big towns, you'll get to see all of the stars in their full glory. For an off-the-beaten-path experience with all of the amenities of home, Oakland Feather River Camp is a winner!
SkyLake Yosemite Camp, Wishon in Sierra National Forest
SkyLake Yosemite Camp in the Sierra National Forest gives you glamping with a twist. You and your family will stay in a bunk-house with all of the amenities that you'd expect from home, just located right in the heart of the Sierra National Forest. Spend your days relaxing on their private dock, enjoying great buffet-style food, or having plenty of fun in their recreation room.
You can try your hand at horseback riding, arts and crafts, or kayaking. As with any great camp, there are traditional outdoor favorite activities like archery and horseshoes available too. SkyLake Yosemite Camp has a climbing wall, nightly campfires, and entertainment, and every meal is included.
If you want to experience the best of camping but don't want to have to worry about doing the dishes or paying a penny extra for food, SkyLake Yosemite Camp is the place for you.
Camp Tawonga, Sierra Mountains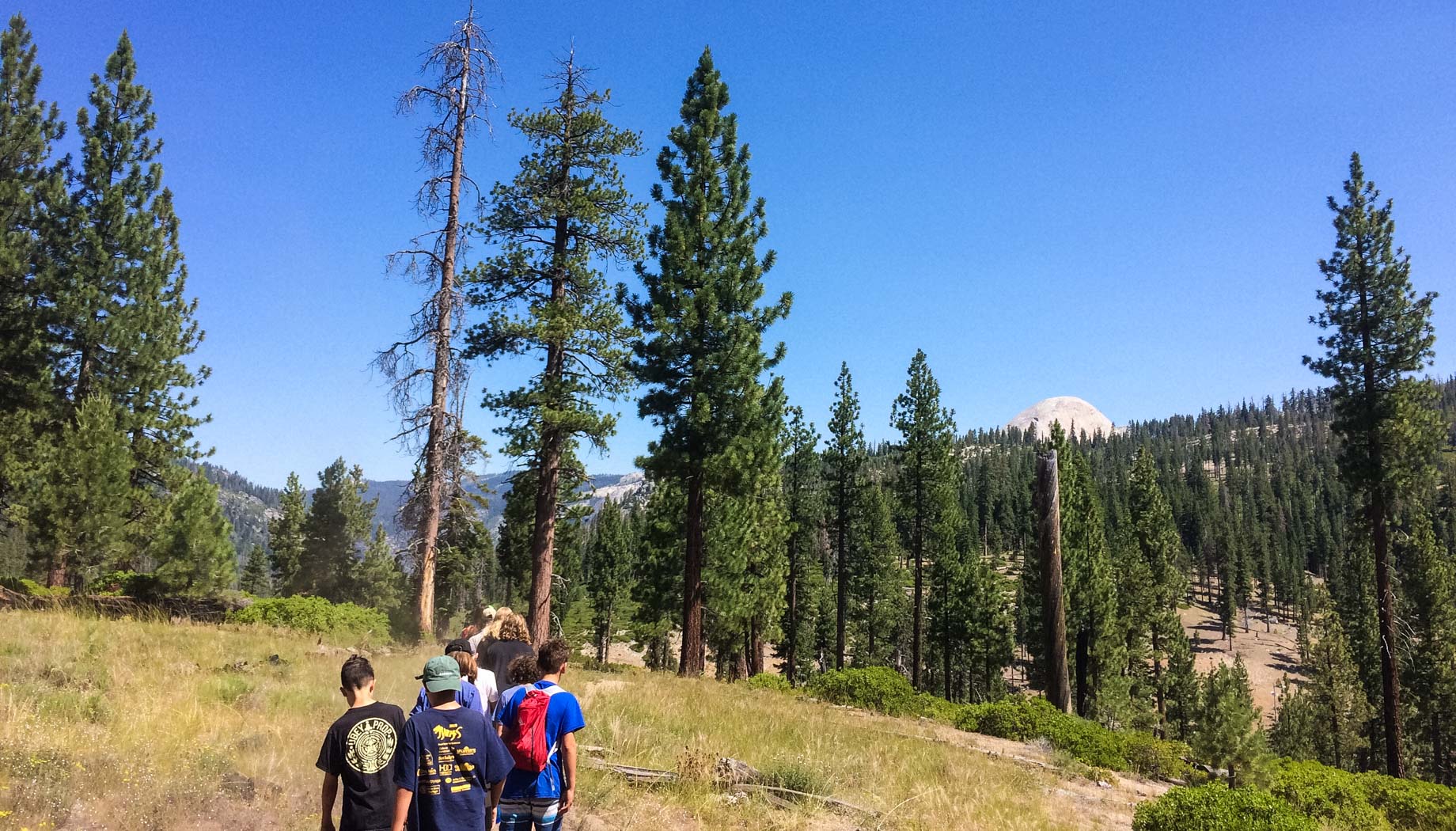 Camp Tawonga is a Jewish family camp that focuses on helping children build life skills and be good stewards of the environment. It's also an excellent spot for families to spend some quality time together. At Camp Tawonga, all meals are included and served in a beautiful pavilion so you can soak in the great outdoors while eating delicious homemade food.
You can enjoy communal time with other campers or relax in the privacy of your own cabin. There are plenty of showers and bathrooms right on-site. Camp Tawonga offers a host of family-friendly, wholesome activities like arts and crafts, swimming, and campfire singalongs with s'mores. There's complimentary childcare, as well as a parent/baby activity station geared to the very little ones.
Most families stay for four nights and three full days, although you can always check the camp schedule to see if they can accommodate longer or shorter stays. Camp Tawonga routinely sells out, so make sure that you book far in advance.
Idyllwild Arts Camp Family Week, Idyllwild
If you and your family are artistically inclined, Idyllwild Arts Camp is a great place to spend your vacation. This camp embraces environmental stewardship and multiculturalism and encourages independent thinking. Although you will still find standard camp activities at Idyllwild Arts Camp, there are plenty of other things with an artistic slant to keep you and your kids occupied.
Their arts and crafts classes focus on plenty of different disciplines and mediums, and you'll learn about the history of art as well as how to perfect your technique. There are excellent hiking trails right around Idyllwild. You can chill out by the pool and enjoy lectures and family-friendly live performances in the evening.
Stay for seven days and six nights to recharge your batteries. Since this highly specialized camp offers a unique experience, you will have to book ahead to get a good spot.
Montecito Sequoia Lodge, Sequoia National Park
This lodge is right at the Giant Sequoia National Monument. It offers you access to acres of national service forest land and the Sequoia National Park, and the Kings Canyon National Park. It's an all-inclusive experience where your food, lodging, and activities are all covered.
Since the part sits at an impressive 7,400 feet above sea level, you'll wake up to pristine mountain vistas and views and feel like you're completely separated from the rest of the world. The Montecito Sequoia Lodge is a hiker's paradise, with an exclusive lake on-site and plenty of trekking through the sequoia groves.
Enjoy spending time together as a family, or take advantage of their complimentary child-care for children between 2 and 18 years old. At family camp California, you can stay for six nights and enjoy plenty of watersports, horseback riding, and special events.
Camp Mather, San Francisco
This family summer camp has all the perks you would expect from a traditional summer camp, with a fun glamping twist. You and your family can swim in either Birch Lake or their on-site pool or relax on Camp Mather's spacious grounds.
If you prefer to stay on the land, enjoy hiking, biking on the many nearby trails. Visit Inspiration Point or Sunrise Peak for spectacular views, or venture off the beaten path on many of the safe trails nearby. Back at the camp, you can enjoy talent shows, campfire entertainment, or a rousing game of badminton.
There are also horseshoes, volleyball, tennis, and ping-pong. If you don't want to hike or bike, you can enjoy the trails of the High Sierra by horseback. Camp Mather's trained staff routinely organizes horseback rides, and there are even special children's rides for your little ones.
Jedediah Smith Redwoods State Park, Crescent City
Jedediah Smith Redwoods State Park is in the northern part of the state. It's a great place to experience the best of all worlds; the ocean and the forest. It's only a few mere miles from the Pacific Ocean, and the park itself sits right in the middle of an ancient redwood forest.
One of the critical highlights of Jedediah Smith Redwoods State Park is the Smith River. This lengthy river offers plenty of opportunities for snorkeling, kayaking, canoeing, and fishing. You and your family can spend the entire day on the Smith River or enjoy walking on the historic trails that surround the waterway.
There are cabins right on-site. Although the lodging is relatively rustic, you'll still have access to electricity and heat. There are no bathrooms or kitchens in the cabins. If you and your family are looking for a more rustic experience rather than a glamping one, Jedediah Smith Redwoods State Park is a good spot for you.
Mill Creek Campground, Klamath
Mill Creek Campground is very close to Crescent City and a great home base for exploring the surrounding region. One thing that will surely draw you and your family to Mill Creek Campground is the redwood trees. These massive trees are the tallest on the planet. Mill Creek Campground is a great place to go hiking. The Damnation Creek Trail is a challenging but rewarding hike, and you can also hike or bike on parts of the 1,200-mile Coastal Trail.
Since Mill Creek Campground has such a great location, booking your campsite six months in advance is advisable. You'll discover tranquility and the opportunity to see a part of California that you might have otherwise missed.
Tomales Bay Campground, Inverness CA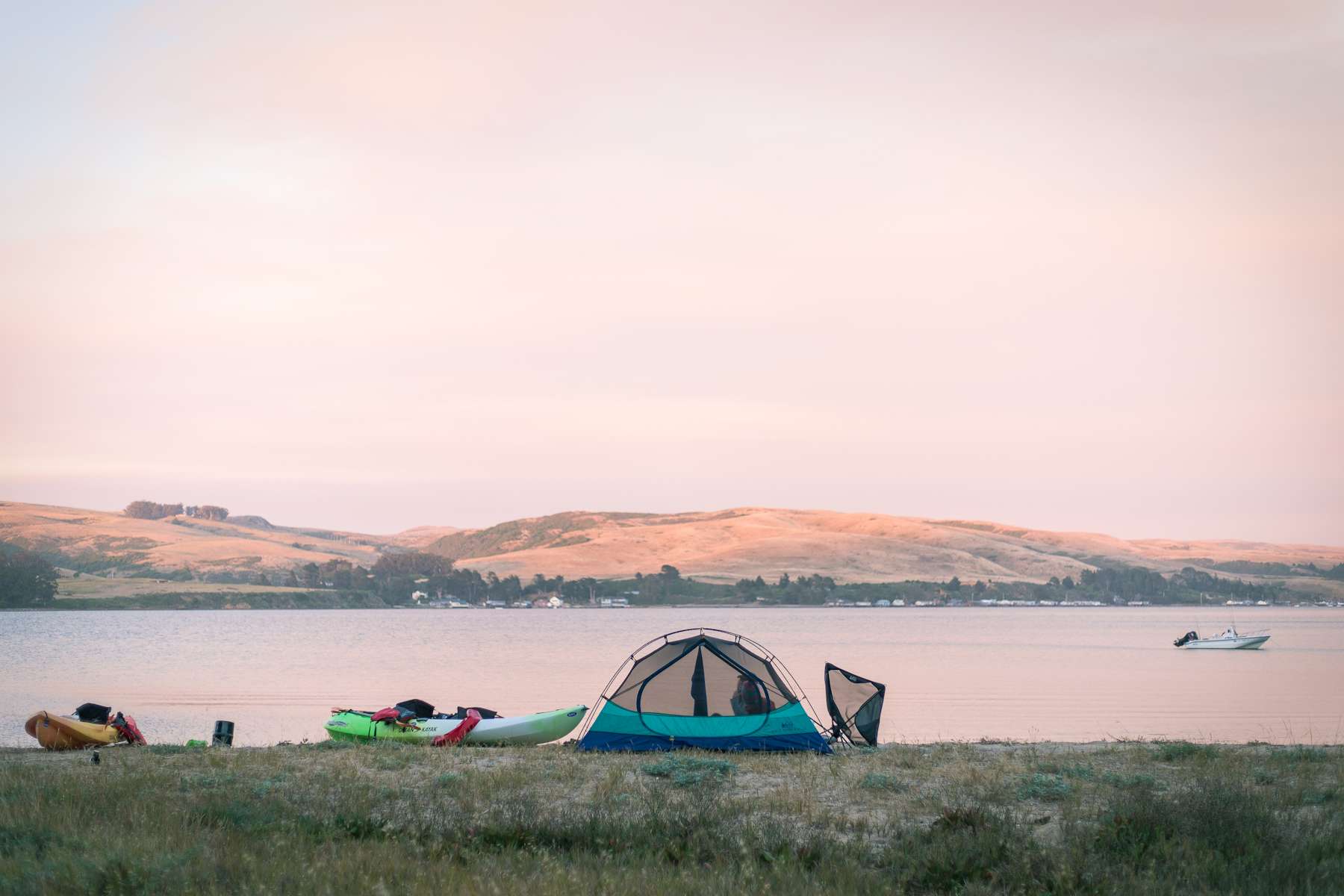 Tomales Bay Campground near Inverness is an excellent place for family camping and outdoor activities. You can go boating or hiking, plus take advantage of guided tours and exhibits about flora and fauna in the region. Some families visit Tomales Bay Campground for the day, but plenty of people enjoy a multi-day vacation at the campsite.
What draws a lot of families to Tomales Bay Campground is the beach. Their beaches are tranquil, thanks to the Inverness Ridge, which protects them from wind and rain and makes them ideal for both boating and swimming. Tomales Bay Campground is a dog-free park and a protected area. Make your reservations to visit early.
Castle Lake Campground, Shasta-Trinity National Forest
Castle Lake Campground in the Shasta-Trinity National Forest is not the place that you want to go if you want to experience luxury camping. Still, if a rustic, primitive experience is more for you, you might want to book your stay. This campground is deep in the heart of a conifer forest, so you will feel totally cut off from everyone when you stay there.
Bring your own tent, and set up camp at one of their six sites. You'll have access to your campsite, a fire ring, and a primitive toilet. Don't expect amenities at Castle Lake Campground. Roughing it is really the name of the game here. You need to bring your own water, and the maximum stay is three nights.
Once you've set up camp, you can explore Castle Lake. It's the ideal spot for swimming, fishing, and canoeing. There are also plenty of hiking trails right nearby.
Camp Richardson, Lake Tahoe
Lake Tahoe's Camp Richardson is your ideal destination for outdoor entertainment and fun. It's got a prime location right on Lake Tahoe and has everything that you need for the perfect family vacation. Camp Richardson offers higher-end camping in luxury cabins. Enjoy nature and all of the amenities that you could want from home, with access to an ice cream shop, coffee shop, general store, and casual dining option.
Of course, the biggest draw of Camp Richardson is Lake Tahoe itself. This massive lake is great for swimming, speed boating, watersports, and kayaking. There's also plenty of hiking trails right nearby.
Emandal – A Farm On A River, Willits
This unique destination weaves together traditional camp favorites with sustainable farm life. You'll experience campfire skits, board game tournaments, and hiking in the nearby mountains, but there's also interaction with local craftspeople and naturalists.
If you and your family are interested in learning more about what makes this part of California unique, check out their house rentals. You can go for a more rustic cabin or have the whole glamping experience if you so choose. Book early, as cabins go quickly!
Looking for campgrounds more specifically in Northern California? Our list will come in useful, rounding up the best family camping spots in Northern California to save time planning your trip.
More about our TFVG Author
Karly is a The Family Vacation Guide guest travel contributor.