California is known for surfing, sand, and fun. With so many beaches, including 35 state beaches and many national parks, figuring out which beach is best for you and your family can feel practically impossible. Do not worry! Help is available. 
Sacramento, the sixth-largest city in the state, is filled with stunning beaches of all types. You'll find secluded spots away from the crowds, large beaches with tons of activities, and more. You and your family can fish, swim, surf, sunbathe and otherwise have a great time together.
Here's your complete guide to the best family beaches near Sacramento, California, so that you can make the best of your next family beach vacation.
The Crown Memorial State Beach is a beautiful example of how communities can revitalize beaches for continued enjoyment. In 2013, a $5.7 million project added over 82,000 cubic yards of new sand, expanding the beach's footprint to levels not seen since 1982.
Wildlife fans will find lots to love here. The Elsie Roemer Bird Sanctuary is on the east end of the beach, while the north end is home to Crab Cove, where you'll find a wide variety of protected plant and animal life. On the west end, a bathhouse and changing rooms are available for visitors.
The beach itself is 2.5 miles long with:
Sand dunes
Picnic areas
Boating
Boarding
Fishing
Stop by in June for their annual sand castle and sand sculpture contests.
The park is named after Robert Crown, a California State Congressman, and WWII platoon leader. During his time in the state legislature, he campaigned vigorously for preserving the beach, then known as Alameda Beach, as a public park.
Paradise Beach isn't on the beach. Instead, it's in a cove along the American River, near California State University and the Commerce Gardens neighborhood.
Because it's a beach in a cove, the water is typically slow and reasonably gentle, making the spot an excellent choice for families and novice swimmers.
It's also a great spot because it's easy to reach. You'll find it at the intersection of Carlson and Sandburg Drives, near Glen Hall Park. It's open year-round from sunrise and sunset, and no entry fees are charged.
Paradise Beach is mainly used for swimming, although fishing is also popular in the off-season. If you're looking for a public pool, one is available in nearby Glenn Hall Park.
Fort Funston has a fascinating history as a former harbor defense installation known as the Lake Merced Military Reservation. Today, the park is one of the most popular spots for hang-gliding in the entire state. It's also well-known for hiking trails, including trails friendly for both dogs and horses.
Note that the park does have some unique risks. The 200-foot bluffs along the western edge do pose potential falling hazards, especially for kids and pets. However, the park is still family-friendly, as long as everyone sticks to the designated trails. It makes for an exciting area to explore.
While you're at Fort Funston Beach, keep an eye out for the bank swallows. These beautiful birds only nest in two sites: Ano Neuvo and here. You'll see their nests dug into the sides of the sandstone cliffs. Visit the park in July and August to see the chicks first fly from home.
Head north of Half Moon Bay on State Route 1 for eight miles to find the pristine Montara State Beach. It's only a few hours away from the San Francisco Bay Area but feels like a completely different world with clean sand and cliffs that act as natural sound barriers.
You can't miss the Montara mountain range – both because it's worth checking out and because it's so big you literally can't miss it. Also known as McNee Ranch, Montara makes up the northern spur of the Santa Cruz Mountains.
The beach is perfect for swimming and sunbathing, but camping and campfires aren't allowed, so it's mainly a place for day trips. The closest options are Half Moon Bay State Beach and Butano State Park if you're looking to camp.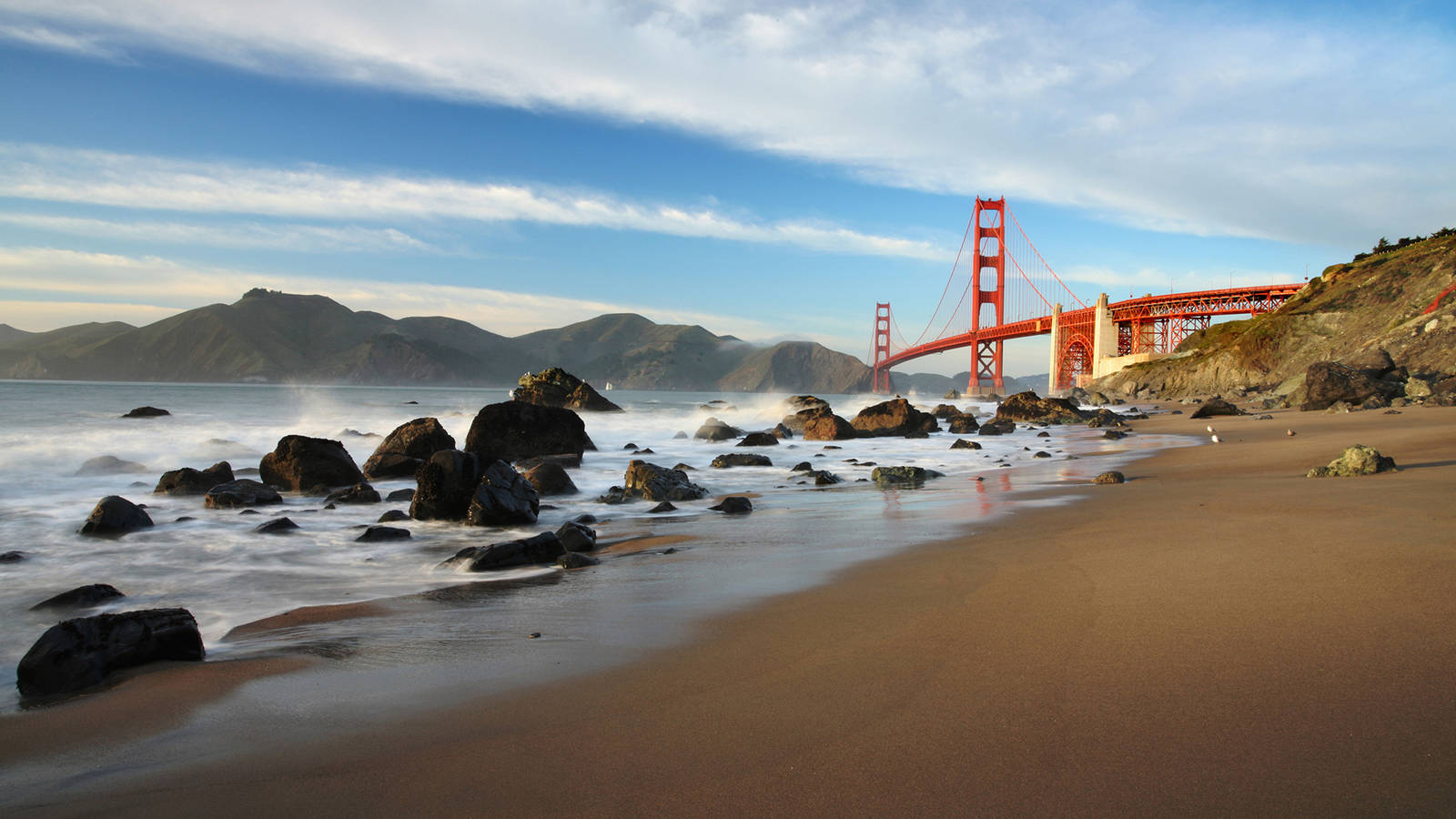 No visit to the Sacramento area is complete without a visit to the Golden Gate National Recreation Area. Encompassing over 82,000 acres, it's one of the largest urban parks in the country. It's also one of the busiest, welcoming over 15 million visitors annually.
The vast park is home to 19 different ecosystems and over 2,000 species of plants and animals. If you keep your eyes peeled, you might spot:
Rabbits
Bobcats
Frogs
Owls
Whales
Seals
Sea lions
The national park is divided into several separate sections, including the Muir Woods National Monument, the Fort Point National Historic Site, and the world-famous Alcatraz Island. The recreation area is also where you'll find the historic Point Bonita Lighthouse.
Built in 1885, this is the third lighthouse built on the West Coast and one of the oldest that currently exists in the country. It's still an active lighthouse maintained by the Coast Guard and remains open to the public, accessible by a half-mile trail.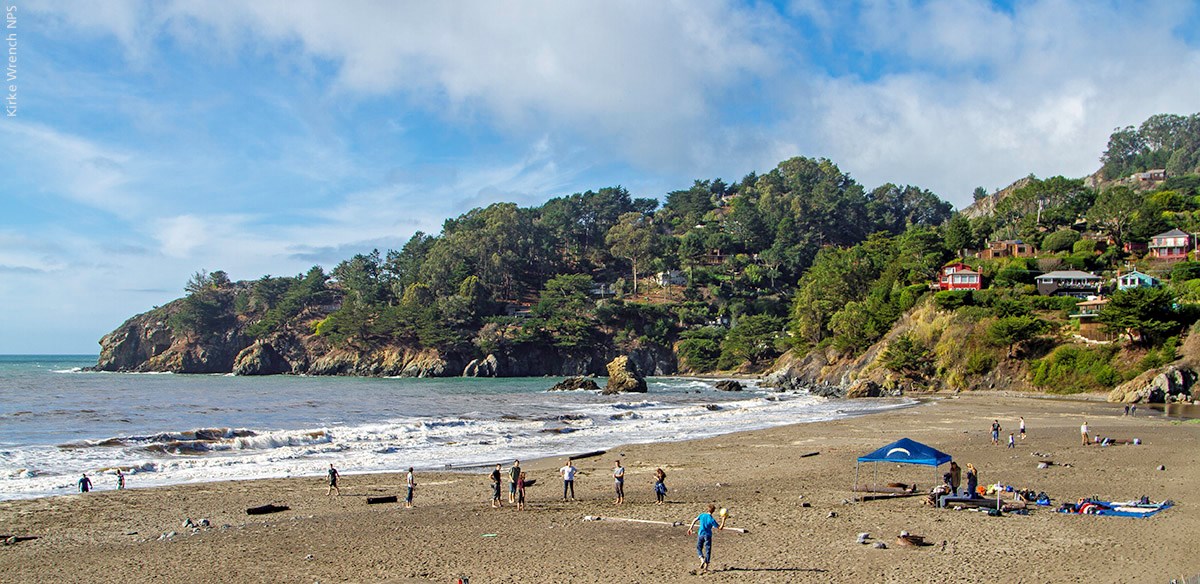 Located just three miles west of Muir Woods, Muir Beach is a quiet cove that offers an excellent opportunity to enjoy the sand and surf away from big crowds. The beach is surrounded by hills, rocks, and gorgeous mansions.
Accessing the beach is easy thanks to a 450-foot long pedestrian bridge that connects directly to the parking lot. Longtime locals might be surprised at how much the footprint of the beach has expanded in recent years thanks to restoration efforts.
If you're in the neighborhood in August, Muir Beach is a definite must-see. Thousands of Monarch butterflies migrate along the California coast during that month, and you can find them throughout the groves of Monterey pines along the beach. It's truly a sight to behold!
Established in 1956, Half Moon Bay State Beach is a 181-acre park with four different beaches:
Dunes
Francis
Roosevelt
Venice
Each spot offers fantastic views and a wide assortment of fun activities.
Francis Beach has 52 sites suitable for tents, trailers, and RVs if you want to camp. A few campsites even have electrical hookups (although water and sewer hookups aren't available). The campgrounds also have coin-operated showers that cost about $.25 for every two minutes.
Picnicking, sunbathing, and hiking are some of the main draws here. The water is usually relatively cold, and rip currents are often quite strong, so watersports aren't quite as popular as they are at other Sacramento beaches.
If you love surfing, head over to Lighthouse Field State Beach, where you'll find The Santa Cruz Surfing Museum, the state's first surfing museum. It's a fascinating look at over 100 years of the local surfing scene.
The 38-acre beach is located on the north end of Monterey Bay. It overlooks Steamer Lane, a world-famous surf spot. Stop by Steamer Lake for surf gear and apparel, plus a surprisingly vast selection of sandwiches, snacks, and drinks.
Another excellent reason to visit Lighthouse Field State Beach is the abundant wildlife. Sea lions lounge around on the offshore rocks while rare birds and insects such as the Black Swift and Monarch butterflies. You can even bring your dog as long as you keep them on a leash no longer than six feet and away from the animals.
Thanks to monthly beach cleanups, Pacifica Beach is one of the cleanest in the state. It's a crescent-shaped beach with big waves, a relaxing vibe, and beautiful sunset views. Most visitors come here to:
Pacifica Beach is in downtown Pacifica just off of Highway 1. It marks the northern gateway to the coastline of San Francisco. You'll find the Pacifica Coastside Museum, Pacifica Municipal Pier, and the Devil's Slide Trail near the beach, home to several biking and hiking trails.
It's a great surfing spot for surfers of all skill levels. The paddle out is leisurely, and the break is wind protected, so beginners should find the surfing comfortable while veterans will enjoy the clear, relaxing waters.
Finally, it's worth noting that Pacific Beach has a Taco Bell directly on the beach. While it's maybe not fine dining, it sure is convenient — and your kids will love it!
Goat Rock Beach is known for its stunning shoreside views and easy access. They have picnic tables and on-site restrooms. You can also find plenty of opportunities for coastal hiking.
This beach is also one of the best beaches near Sacramento that allows walk-in camping. (You can also make reservations, which is recommended during busy periods such as holiday weekends).
The beach is also known for its colony of harbor seals. If you visit between March and August, State Park Seal Watch docents will be on hand to provide fun facts about the animals. To ensure animal safety, beach visitors are required to stay at least 50 feet away at all times. Additionally, no dogs are allowed on the beach or near animals.
Goat Rock Beach is located near Jenner in Sonoma County, between Goat Rock Point and the Russian River. Parking is some of the most accessible for any beach in the state. They have two parking lots. The north parking lot provides easy access to the river and sand spit, while the south parking lot is close to Goat Rock.
Wright's Beach is the largest beach between Bodega Bay and the Russian River. It's an excellent spot for both day sunbathing and overnight camping. They have 27 tent sites, each near the ocean, along with picnic tables and restrooms.
Aside from camping, fishing and hiking are other popular activities at Wright's Beach. Note that the beach is relatively small and popular among the locals, so you should make reservations through their official site if you want to camp overnight.
The beach has several rocky outcroppings that are fun to explore in low tide. You can check out Duncan's Landing on the south end of the beach, also known as Death's Rock.
The whole family will love watching the mighty waves crash into this massive landmark. (Note that, as the name implies, Death Rock isn't safe for kids to crawl around on, although it's perfectly fine to view from a distance).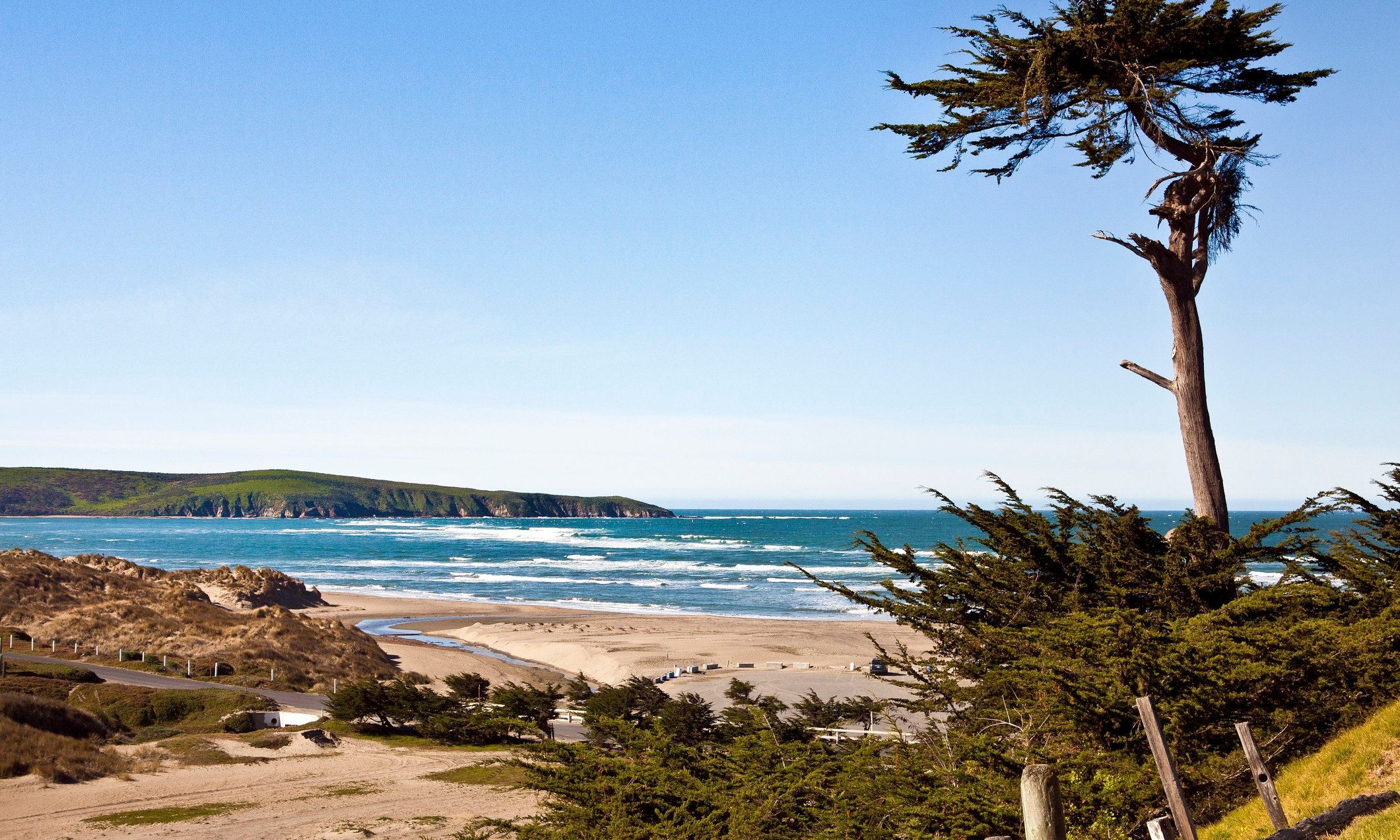 Found on the line between Marin County and Sonoma County, Dillon Beach is a 55-acre area with breathtaking views of the Point Reyes National Seashore at Tomales Point. It's inside Bodega Bay at the end of a three-mile road.
Dillon Beach is pet-friendly. You and your dog will find plenty of places to swim, run, and explore. Dogs must be leashed in the parking lot but can roam free on the beach as long as they respond to verbal commands.
Note that this beach is a bit different from the others listed. Dillon Beach is privately owned by the Dillon Beach Resort but is still open to the public for a small fee.
Two of the major attractions at this beach are surfing and the tide pools. The waves get much more extensive than what's typical for the nearby Lawson's Landing due to the protection from Tomales Point.
When the surf is calm, the tide pools are revealed, offering an opportunity to view a variety of sea creatures.
Final Thoughts
Whether you want a quiet place to soak up some rays or you're in search of world-class surfing spots, you'll find no shortage of great options near Sacramento.
All of the beaches listed above offer many amenities for families, like restrooms, snack shacks, and changing rooms. You'll also find numerous family-friendly attractions such as wildlife (including harbor seals!), watersports, and tide pools.
While California is home to some of the best beaches globally, there's just something extra-special about the ones near the city of Sacramento!
More about our TFVG Author
A seasoned traveller, Dad, and avid sports tourist, James foundered The Family Vacation Guide to share his expert vacation experiences- especially when it comes to being a travelling family man.
Featured in Travel articles such as Travel + Leisure, TripSavvy and SFGate, you know you're reading some of the best vacation tips online.