San Francisco is home to some of the most magnificent beaches in the Northern California area. It has all types of beaches, from city, rocky, pebble to family beaches.
The best part is that most of them are still pristine and guarantee a relaxing escape from the bustling city life. Don't know much about the Bay Area and its coastal areas?
Here are 14 of the best beaches near San Francisco for families.
1. Aquatic Park Cove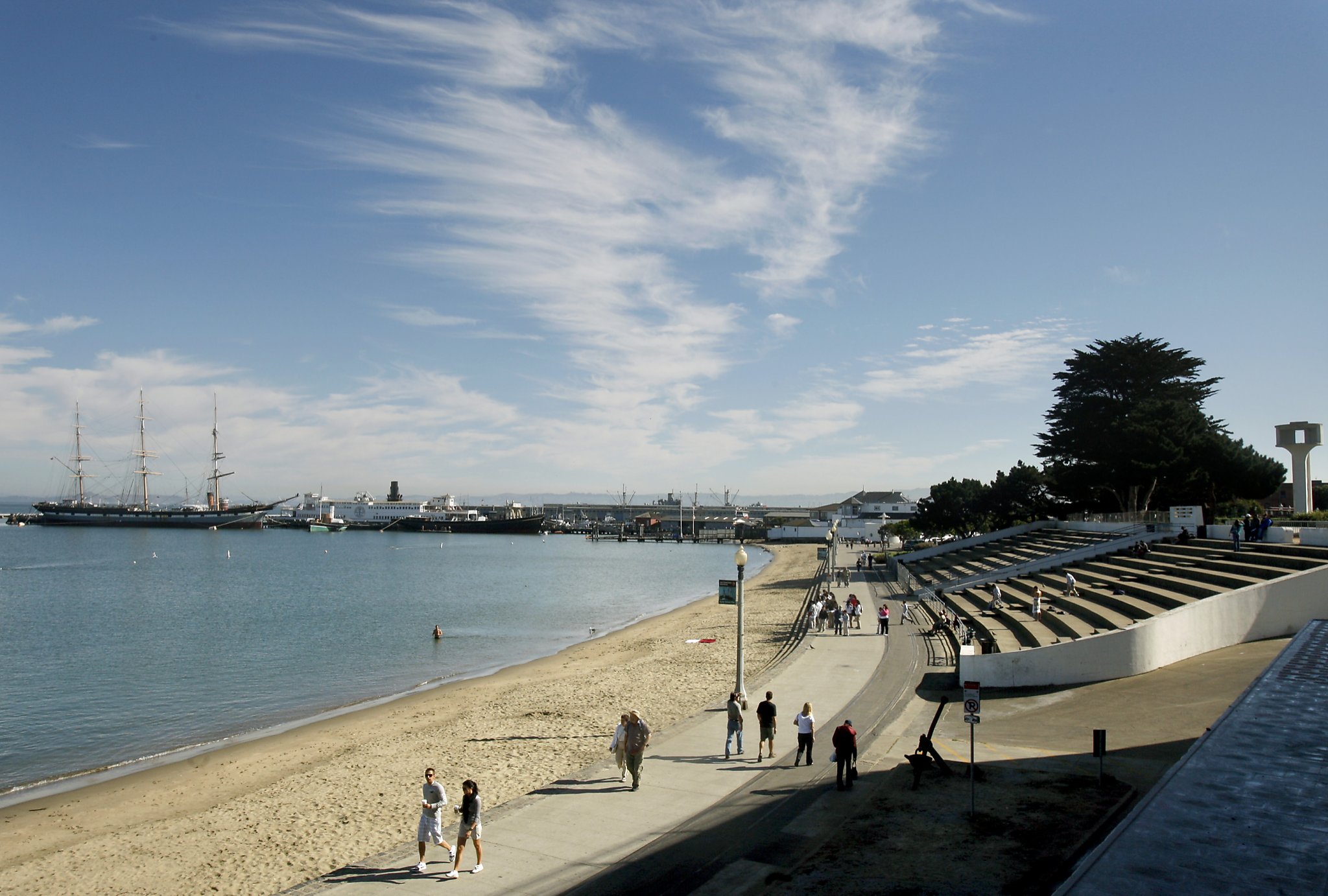 Built in 1929 as a recreational area for locals, Aquatic Park is one of San Francisco's best beaches. It's north of Hyde Street, just 15-minutes from San Francisco, and consists of a tiny but picturesque sandy beach area and a grass park.
The beach is separated from the open ocean waters by an arc-shaped Municipal Pier available for fishing and strolling. The pier offers unobstructed views of the famous Golden Gate Bridge, the Island, and the city's beautiful skyline.
Visitors can walk or rent out a bike to explore the pier. There are also plenty of seafood eateries along the pier. What's more, the presence of the pier means the water along the cove is calm and perfect for swimming.
Aquatic Park Cove is also home to an Aquatic Park. The park hosts the San Francisco Maritime National Historical Park, where kids and adults can learn about maritime history from the 19th century and even tour a flotilla of historic vessels, including a sailing ship built in 1886 known as the Historic Balclutha.
The museum also has a visitor center offering fun interactive programs about maritime history that kids will enjoy.
Besides the museum, Aquatic Park also features the Hyde Street Pier, which has even more historic vessels. The park is generally less crowded than the Municipal Pier and has plenty of waterfront seating areas. End the day at the beach, where you can sunbathe as you watch the nearby seals.
2. Baker Beach
Baker Beach is one the best beach in San Francisco for families looking to get first-row views of the iconic Golden Gate Bridge. It sits at the foot of the rugged cliffs just near where the bridge links with the Peninsula.
Besides the bridge, Baker Beach also offers unobstructed views of the Marin Headlands, making it popular among brides and anyone with a knack for photography. Nature lovers also enjoy Baker Beach for its unique wildlife, such as the California Brown Pelicans and porpoises.
While swimming isn't recommended, Baker Beach offers plenty to do, from picnics, fishing, sunbathing to walking your dog. Note, Fido must be leashed at all times whenever one is on the south end of the beach. Stick to this end as the north end is a nude section of the beach.  
Consider exploring the nearby neighborhood of Presidio in San Francisco, home to the infamous Yoda statue, a pet cemetery, historical landmarks, and unique public artworks. The 1.6 mile California Coastal Trail about three miles away from the beach, is an excellent place for the outdoor lover to start the day before hitting the beach.
Baker Beach also has a picnic area with benches, BBQ grills, and public restrooms. However, it can get quite crowded on weekends, so you might want to get there early to secure parking.
3. Santa Cruz Beach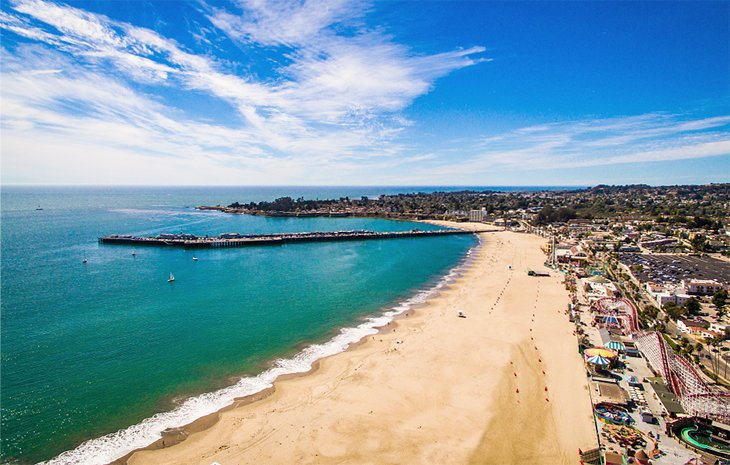 The Santa Cruz Main Beach is a warm-water beach and a great alternative to San Francisco's cold water beaches. Add in that it's the only seaside amusement park on the entire West Coast, and it makes the ideal beach for families thanks to the fun roller coasters, arcade, and many other kid-friendly entertainment options available.
There are plenty of seafood eateries along the promenade. You'll also find food stands selling all your favorite classics, from delicious corndogs, cheeseburgers to special-treats kids will love like caramel apples and chocolate-dipped bananas.
Beachgoers can whale watch, kayak, fish, sunbathe, play beach volleyball, picnic, or surf the waves at Lighthouse Point, or if experienced enough, take on the tough waves at Pleasure Point.
For a laidback day, visitors can enjoy strolls on the boardwalk while taking in views of the beach and unique wildlife, and for marine life enthusiasts, there are free guided tours on the pier every Saturday and Sunday.
Lifeguards are also usually available, making Santa Cruz main beach an even better beach in San Francisco for families. It stretches from the San Lorenzo River to the Municipal wooden pier, and there are parking charges for those who'd like to park close to the beach.
So consider the free parking about a mile away and enjoy exploring the nearby town on your way to the beach.
4. Paradise Beach Park
Paradise Beach is a stunning 19-acre park set by the shores of the San Francisco Bay near the Tiburon Peninsula. The park comprises a beach area, picnic and perfectly landscaped areas for relaxation, a pier, and a relaxing Redwood Grove.
The dock was initially built during the First World War but became a recreational concrete pier running from Point Chauncey on Paradise Beach to Paradise Cay. Besides a relaxing stroll, the pier is also famous among anglers, thanks to the vast population of different fish species along the area.
Common species fished include salmon, the California Halibut, kingfish, and even shark rays. The pier also offers sweeping views of the bay and Marin county. The picnic areas boast tables, chairs, and even BBQ grills and are surrounded by shady trees and horseshoe pits, making the park perfect for a relaxed day out with the kids.
Restrooms, drinking fountains, and parking are also available in the park. However, note that no animals are allowed on the beach.
5. China Beach
China Beach is a tiny, sheltered strip of sand nestled between Lands End and the famous nudist Baker Beach in the Sea Cliff area of San Francisco. It's a historically rich area named China Beach to pay tribute to the Chinese fishermen who camped here during the Gold Rush era.
There's even a monument dedicated to the fishermen at the beach's entrance. History aside, China Beach is a beautiful beach with great views of the Golden Gate Bridge and the Marin Headlands cliffs. It's perfect for sunbathing and a haven for beachcombers, thanks to various starfish, anemones, and other unique marine species found on rocky cliffs.
As with most beaches in San Francisco, China Beach has unpredictable tidal conditions, and swimming isn't recommended. On the bright side, there are many other fun things to do, such as playing on the beach, beachcombing, or relaxing in the picnic area.
There are no access charges, and the beach also features public restrooms and showers. China Beach is accessible via 28TH Avenue in Sea Cliff. Parking is pretty limited, but one can always leave their car home and take the local municipal transit bus.
6. Stinson Beach
Conveniently located an hour north of San Francisco, Stinson Beach is a scenic strip of white sand with recreational opportunities for the entire family. Beachgoers can spend the day swimming, kayaking, kite-surfing, sunbathing, or playing volleyball, and end the day enjoying a beautiful sunset at the Golden Gate Bridge, just a half-hour drive from the beach.
There's also plenty of hiking trails around the beach that offer stunning views of the Stinson Beach coastline.
What's more, Stinson Beach is near other popular attractions like the Muir Woods National Monument, and Mount Tamalpais, offering even more opportunities for exploration.
The 3-mile beach features a picnic area complete with tables, chairs, BBQ grills, restrooms, showers, volleyball courts, a snack bar, and even public parking. Lifeguards are also on duty between May and September since the beach tends to experience rip tides between these periods.
You can easily access Stinson Beach via Highway 1, which offers a scenic drive through West Marin County, adding to the list of reasons to visit the beach. However, it is pretty popular with the locals, especially during hot and clear days in the middle of summer when everyone is looking to cool down from the heat.
Fortunately, if you call in ahead, the ranger provides updates about the tides, weather, and parking conditions at the beach, so one can know what to expect.
7. San Gregorio State Beach
Set on the intersection of the California State routes 1 and 84, San Gregorio is a lovely beach just ten miles from Half Moon Bay and a short drive away from Silicon Valley. The Sun Gregorio Creek flows right into the beach, creating a small but stunning freshwater lagoon behind a barrier beach.
But during the rainy season, it cuts right through the beach and fills the cave before flowing directly into the ocean, making the beach attractive to bird watchers who come to see the different bird species that flock here around this time.
Other than its fantastic water phenomenon, the San Gregorio beach is characterized by over 200.ft high grassy and non-grassy bluffs that provide a beautiful backdrop against the striking silver-sand beach.
A protected driftwood-strewn estuary sits behind the sandy beach and is home to many birds and wildlife. The estuary's flora composition is diverse and includes coastal, riparian, freshwater, and even grassland plant varieties.
The north section of the beach is clothing-optional but features interesting caves and fossils for exploration, so you might want to visit later without kids. There are restrooms, picnic tables, and plenty of parking spots along the bluff.
8. Crissy Field – East Beach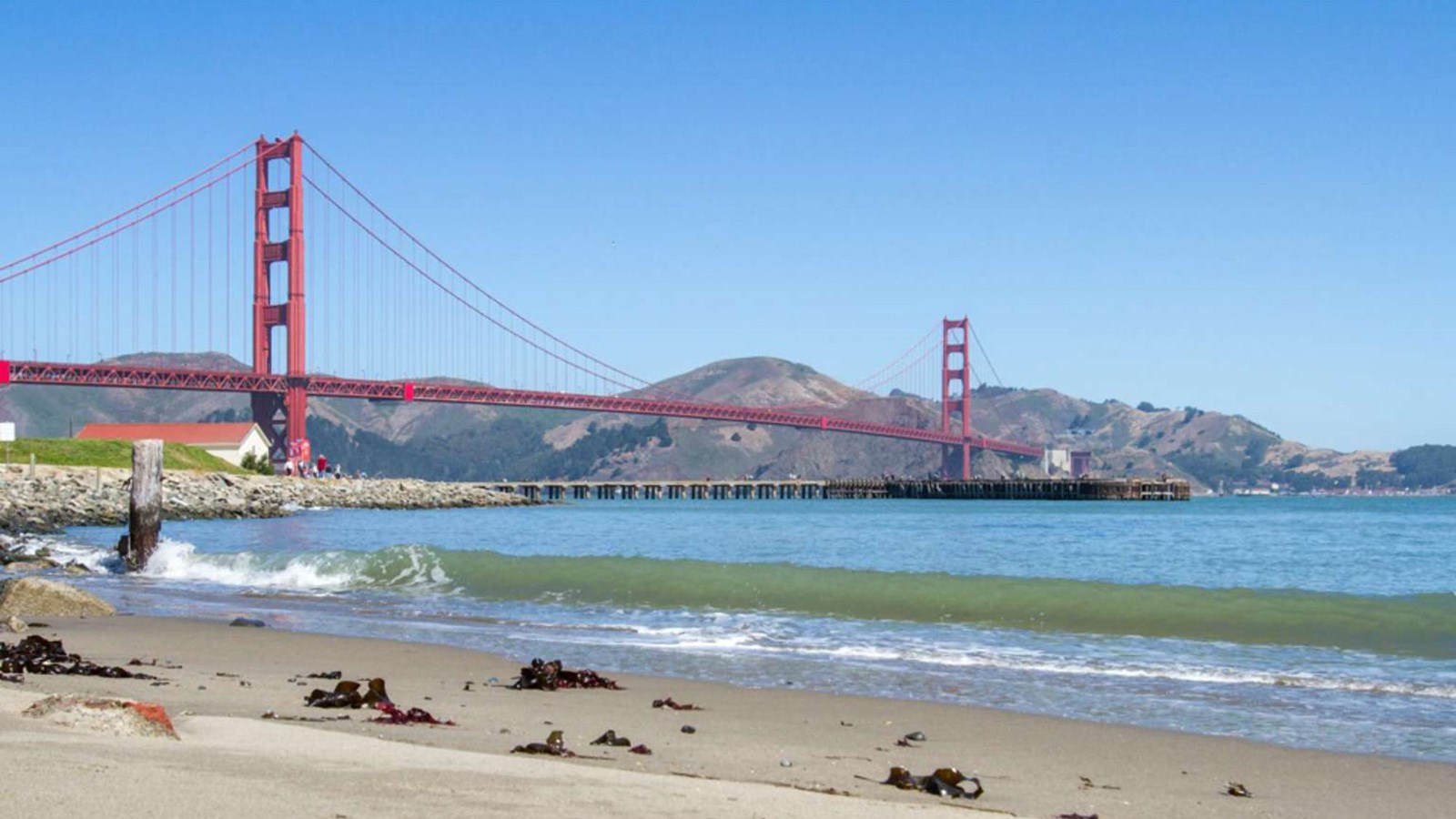 Crissy Field in East Beach is one of the most beautiful beaches in San Francisco. It's dotted by dunes and features a beautiful tidal lagoon, but it will blow you away with its grand views of the Golden Gate Bridge, Alcatraz and Angel Islands, and San Francisco's lovely Downtown skyline.
Thanks to its windy weather, Crissy Field beach is also quite popular with windsurfers and kiteboarders. Like most beaches for families in San Francisco, this tiny beach also has a waterfront pier where one can walk, bike, or even relax and enjoy stunning vistas of the Marin Headlands and the earlier-mentioned landmarks.
For bird enthusiasts, the Crissy Marsh area is frequented with rare and unique bird species, while for beachgoers who prefer to kick back and relax, the West Bluffs area has a picnic area with grills and perfectly-maintained lawns.
There are public restrooms and parking lots. Although it's one of the most beautiful beaches in San Francisco today, Crissy Field was once an army airfield turned wasteland. Once the National Park Service and Golden Gates Park Conservancy took over the renovation, it became the beautiful recreational area it is today.
9. Fort Baker Beach
Started as an army post, Fort Baker is a 335-acre beach near Sausalito in Marin County. It hosts the Bay Area Discovery Museum, which features nearly endless kid-friendly recreational and learning opportunities.
As a former army post, Fort Baker has an old parade ground and blocks of Colonial-style built in the early 20th century as homes for the commanding officers. The parade is now a grass-covered picnic area open to the public.
The best part? One can even stay the night at Cavallo Point, a commanding officer's quarter-turned lodge. The Murray Circle Restaurant located in the old army barracks area is also a great place to enjoy meals after a long day of beach exploration while enjoying the sweeping views.
Visitors will also enjoy exploring the historic gun facilities such as Battery Yates on the beach. Fun activities include kayaking or sail boating at Horseshoe Cove (there are even lessons offered) or fishing off its small piers.
Like most beaches in San Francisco for families, Fort Baker has numerous easy walks and hiking trails. It is generally a simple beach, perfect for a day of laidback relaxation for the entire family. Dogs are also allowed on a leash.
10. Schoonmaker Beach
Are you looking for a beach where your kids can enjoy a swim? Schoonmaker Beach, southeast of Marin County, is a great fit. It's a small, 2.3-acre saltwater beach protected by the Schoonmaker Marina, meaning the water here is calm, shallow, and perfect for all-age swimmers.
Kayaking and paddleboarding are also quite popular here. Thanks to the abundance of kayaking lessons and guided trips, you can sign the whole family up for a picturesque adventure.
After some time in the water, head on over to Dunphy Park, a recreational park with amenities such a volleyball and bocce ball courts. It's just a short walk south of the beach. Or, you can opt for the Marinship Park nearby that features tennis courts.
It's the perfect beach to go for views of Mount Tamalpais. Plus, the proximity to the marina is great for any family members that are boat fanatics.
June through to September is the best time to visit this beach as the weather is generally warm. Even though these are peak summer months, the beach is generally not crowded because it's a hidden gem near San Fransisco.
11. Rodeo Beach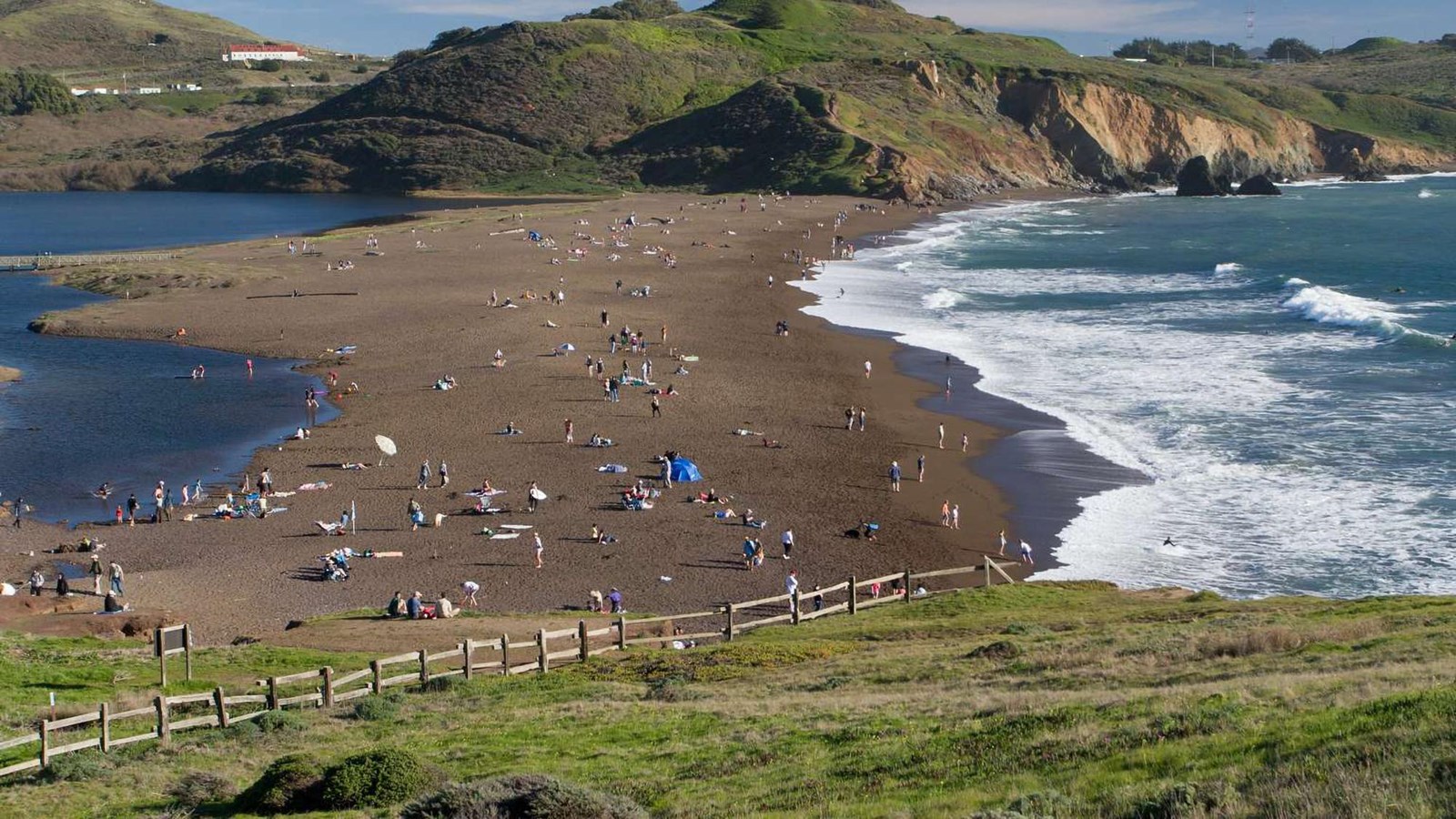 Instead of the white or silver-line sandy beach stretches you're used to, Rodeo Beach is a pebble beach dotted with red and green pebbles that glisten beautifully against the sun, such as jade, jasper, and other unique crystals.
It's only a ten-minute drive from the Golden Gate Bridge, about twenty minutes from San Francisco's downtown. You'll find it right between the Marin Headlands visitor center and Fort Cronkhite. It's suitable for various beach activities and watersports, including sunbathing, surfing, skimboarding, kite flying, and bird watching.
There's also plenty of hiking trails around the beach, including the Old Bunker course leading inland and characterized by rugged bluffs. Rodeo Beach was once a military site, and the former barracks are still present but now house the National Park Service.
Note, there's a half-mile lagoon just behind it, usually separated from the ocean most of the year, but swells up and breaks through during the rainy season to drain into the sea, covering up the beach in the process.
Amenities offered include a picnic area complete with tables and BBQ grills near the lagoon area, restrooms, and showers.
Feel free to bring Fido along as Rodeo Beach is also dog-friendly. However, swimming isn't advised due to the dangerous rip currents and ice-cold water.
12. Muir Beach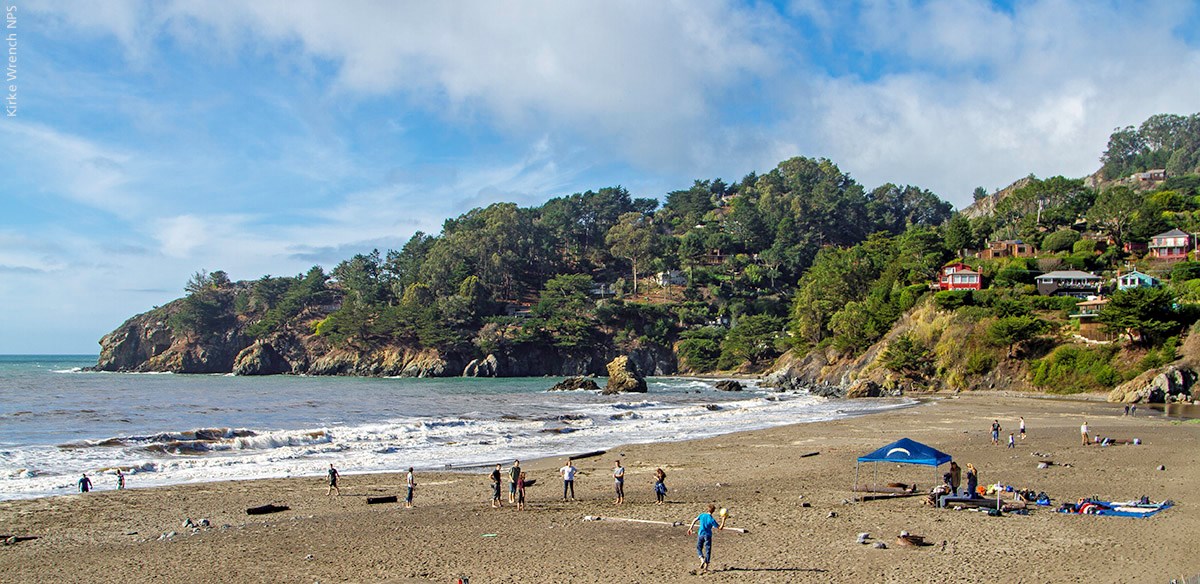 Muir Beach is a tiny, magnificent gem hidden behind the Redwood Creek Lagoon. Because of its location near a wetland, Muir Beach boasts a pristine environment characterized by hiking trails following the coastline and others to an in-land, shaded path leading to the woodland area.
The Redwood Creek flows into the ocean in Muir Beach but slows down as it nears the beach, creating a beautiful lagoon and other water bodies typical of a wetland environment such as ponds. This quaint, natural environment also attracts a lot of wildlife, including foxes and birds.
The striking Monarch butterflies also migrate to the California Coast in Muir Beach, while the unique grey whales arrive in autumn. The beach is about 2-miles from the entrance, and you can only access it by crossing a 450-long footbridge with great views.
Apart from whale-watching in autumn, sunbathing, or ocean swimming, Muir Beach is also an excellent find for beachcombers thanks to the unique fauna on the shores, such as starfish, sea urchins, and anemones.
Muir Beach is in Marin County and is a 30-minute scenic, but meandering drive through Highway 1. There are no entrance or parking charges and lifeguards, so parents need to keep an eye on their kids.
13. Crown Beach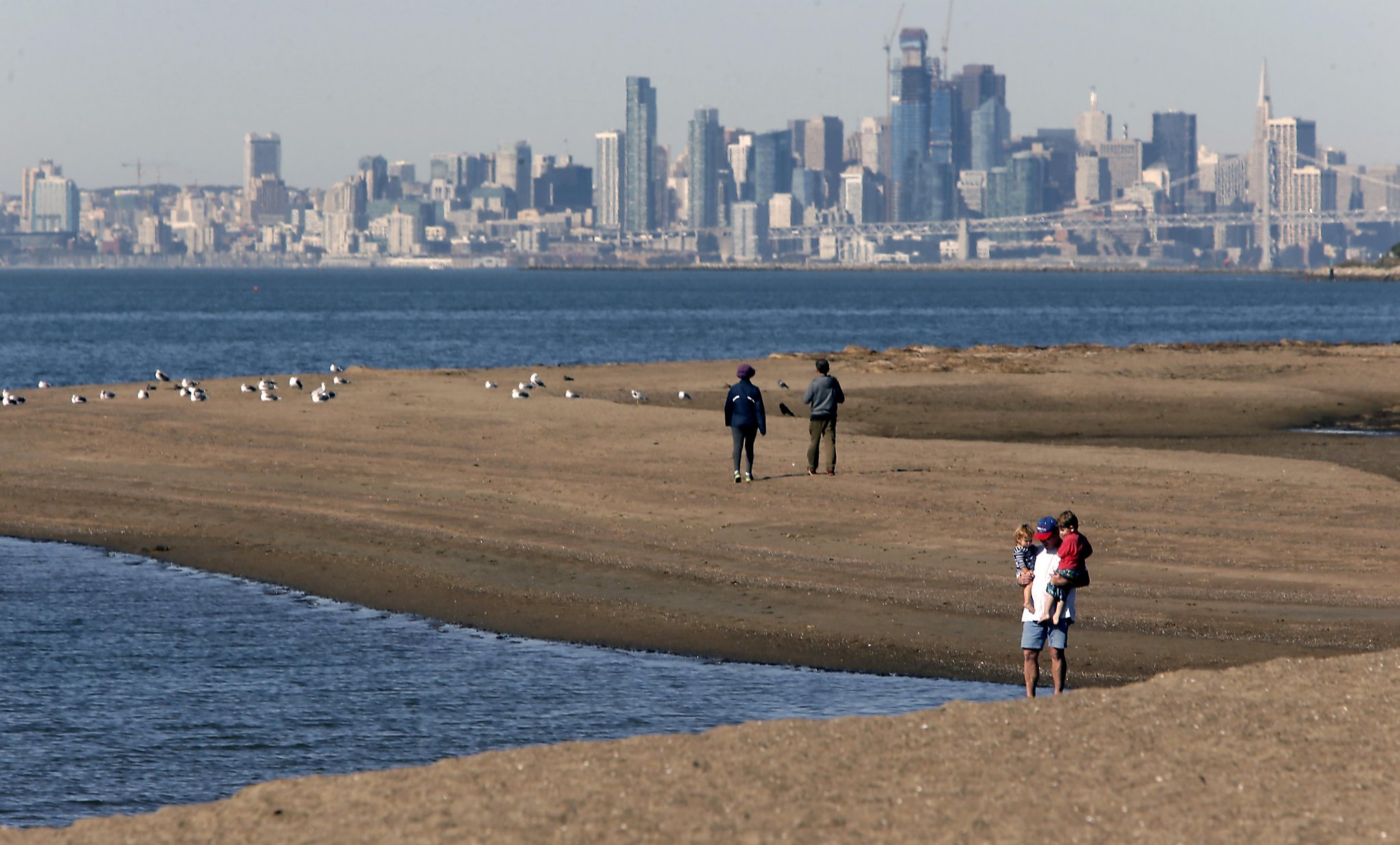 For a beach escape close to the city, Crown Beach is a perfect fit. Known in full as the Crown Memorial state beach, it features about a half-mile stretch of dark brown sand and is easy to swim in, even for complete beginners and young children, thanks to its shallow, wave-free, and warm seawater.
It's also an excellent location for sandcastle-building, kite flying, kayaking, windsurfing, and sunbathing. Be sure to pack your fishing gear, as well. You can take your kids fishing right from the shore, as long as all people over 16 have a fishing license.
The sandy stretch is a famous bird sanctuary and has picnic spots with BBQ grills located throughout the park. If you want to experience something special, visit Crown beach during June for the Sand Castle and Sand Sculpture Contest.
Crown Beach is free, but there's an access fee for visitors with pet dogs. Keep in mind that you can't take your dog directly on the beach. They must stay on a leash on the pathways or lawn areas. There's plenty of parking, including wheelchair-accessible parking spots offered on a first-come basis for free.
14. Ocean Beach
Ocean Beach is among the most popular beaches near San Francisco for families, and for a good reason. As a beach break between the Golden City and the Pacific Ocean, this 3-mile beach stretch is quite scenic and is a great place to fish, fly a kite, enjoy a beach walk, or sunbathe, while kids build sandcastles.
There are also dog-friendly bike and walking trails with lovely views of the ocean running parallel to the beach. The courses also offer access to the Golden Gate Park on the western end of the beach, meaning one can start the day at the beach and end it with a fun hike through the park.
Ocean Beach is also a habitat for the Snowy Plover, a beach-dependent, endangered bird species commonly found along the dunes near the middle and north sections of the beach.
Bonfires are also allowed on the beach and are pretty popular in Spring and Summer when cold and foggy. For history buffs, the Victorian Cliff House, a neo-classic building with restaurants and bars built-in 1863, is a great place to explore while taking in views of the Pacific Ocean.
The best time to visit Ocean Beach is between October and February, when the winds are offshore, outgoing tides, and the weather is generally better.
However, as with most beach breaks, Ocean Beach is subject to strong tidal currents, powerful waves, and rip tides, making it popular among pro-surfers but dangerous for the average surfer or swimmer. Ocean Beach is strategically situated off the Great Highway and has two public parking lots.
More about our TFVG Author
A seasoned traveller, Dad, and avid sports tourist, James foundered The Family Vacation Guide to share his expert vacation experiences- especially when it comes to being a travelling family man.
Featured in Travel articles such as Travel + Leisure, TripSavvy and SFGate, you know you're reading some of the best vacation tips online.