The natural components of the world-renowned Napa Valley, California like its mountain ranges and Mediterranean climate, lend themselves beautifully to growing wine grapes. Napa Valley holds five appellations, or protected areas, to produce an impressive variety of Chardonnay, Zinfandel, Cabernet Sauvignon, and other delicious red, white, and rose wines.
In 1968 Napa Valley earned America's first Agricultural Preserve distinction and became California's first American Viticultural Area (AVA) in 1981. It means the communities and lands in this region of California experience strict environmental regulations. While the AVA was established to nurture grapes, it also means that it's a safe and beautiful place for family-friendly travel.
Continue reading to learn about the distinct regions within the area known as Napa Valley. You will learn to tell the difference between each town's unique ambiance to choose the best one for your family. This article will also detail family-friendly entertainment options of all kinds. Don't worry – you will also learn about wineries that are fun and appropriate for guests of all ages.
Regions of Napa Valley
While Napa Valley represents a small place, it holds a huge reputation. Napa Valley accounts for a slim four percent of the overall wine grape harvest throughout California. However, these small crops of grapes resulted in expensive, luxurious, and sought-after wines that elevated Napa Valley to worldwide importance.
While Europe boasts several influential wine-growing regions, nothing matches the effortless California cool of Napa Valley. While the wineries and restaurants are elite, everyone adopts a "come as you are" attitude to enjoying the good life in California wine country.
The official region of Napa Valley contains several small towns across its relatively small footprint. The forty-year-old AVA stretches only 30 miles long and a few miles wide. The towns of Calistoga, Napa, Oakville, Rutherford, Yountville, St. Helena, American Canyon, and Vallejo provide their own pros and cons for families visiting Napa Valley.
Calistoga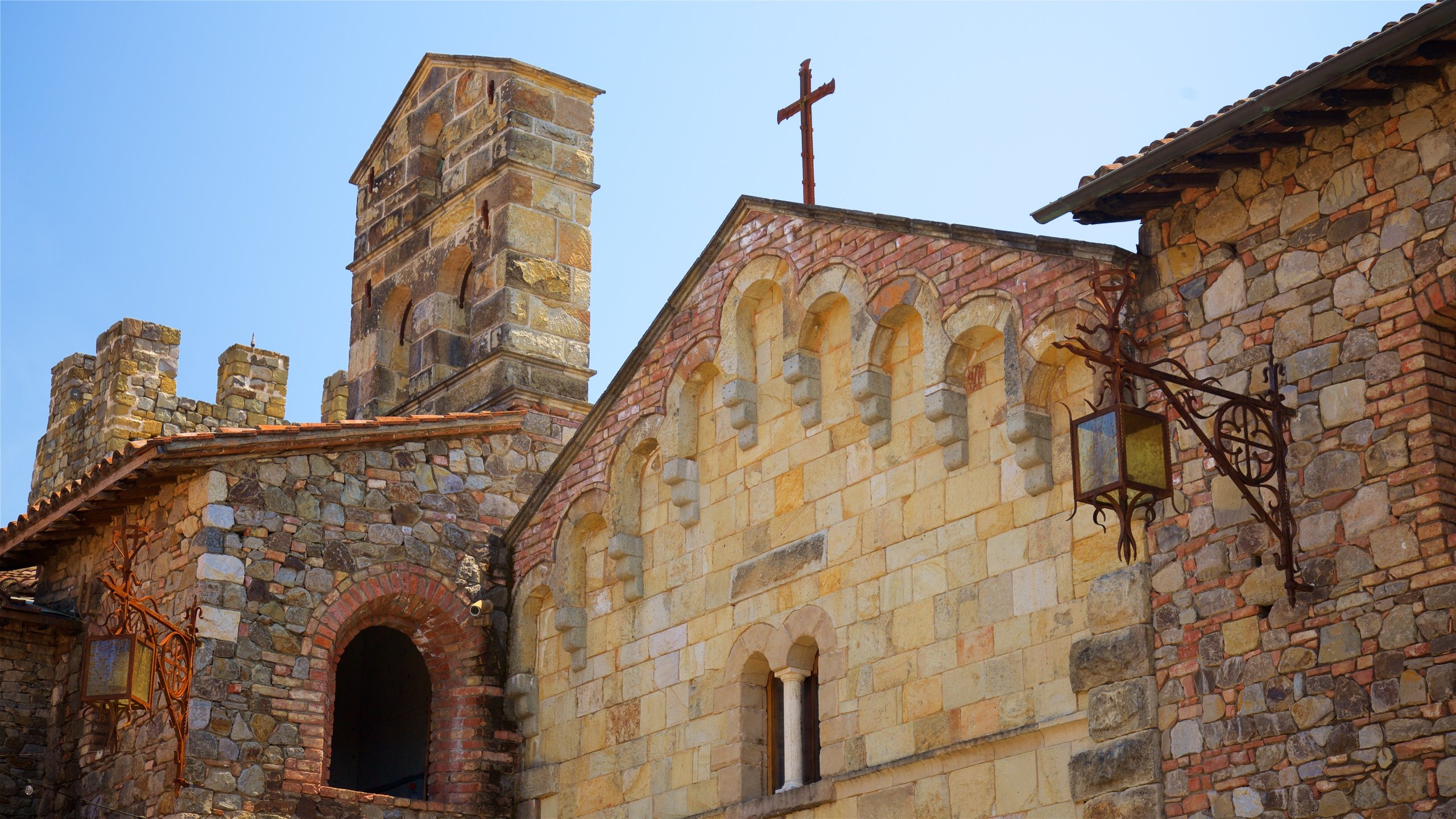 Since its foundations in the 1800s, Calistoga has maintained a reputation for being a spa town. Calistoga lies 27 miles north of Napa on the northern edge of the region. Calistoga contains a population of just over 5,000 people.
This unique identity comes from the extensive volcanic activity bubbling below the city. This geothermal activity resulted in naturally-heated pools, springs, and mud baths to pamper visitors. Come to Calistoga for the luxurious resorts and spas located throughout town.
Napa
Napa ranks as the largest city throughout this wine region, with a population of around 80,000. Because this spot acts as the central hub and county seat for Napa Valley, this city is the best bet to find commonplace chain restaurants, gas stations, and affordable hotel chains. Napa lies conveniently one hour north of San Francisco and one hour south of Sacramento.
Napa delivers a collision between urban city life and quaint small-town charm. You can find a lively nightlife scene complete with food trucks and street art. At the same time, enjoy quiet and secluded walks and intimate wine-tasting rooms throughout the city.
As the wine country brand evolved, Napa Valley made a concerted effort to establish a tourist destination. You'll usually come across large wineries and household wine labels in Napa Valley, along with restaurants run by celebrity chefs. The two-lane roads that lead from San Francisco to Napa and around Napa Valley prompt frequent traffic jams.
Oakville/Rutherford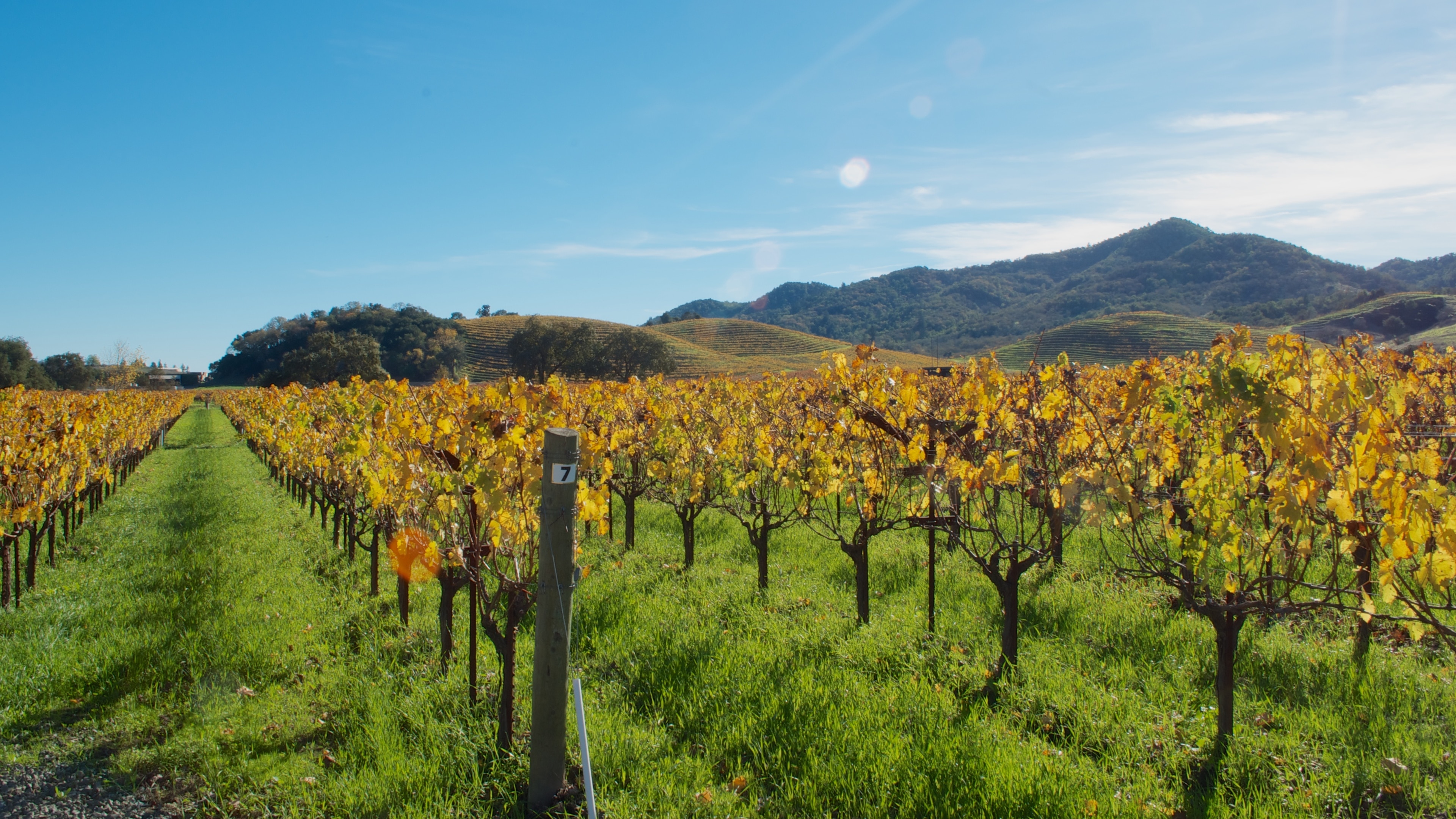 These two small towns lie on the bustling two-lane Highway 29 between Napa and the terminal point in Calistoga. Oakville sits 12 and a half miles from Napa, and Rutherford is just beyond at 15 and a half miles from Napa.
Both of these towns are little dots on the map. The 2020 U.S. Census marked Oakville with a population of 74, and Rutherford has 100 residents. The wine community provides tremendous tourism and notoriety to this region, but there is no lodging or entertainment here.
Yountville
The Napa Valley wine country town closest to Napa is Yountville. Yountville lies less than 10 miles from Napa, with a population of 3,300. This small town is best known for its masterful culinary scene. Yountville boasts more Michelin stars per capita than any other location in North America.
Along with these elite restaurants are the hotels and resorts to go with them. If you are looking for a luxurious and culturally-rich experience for your family, Yountville provides a high-end vacation.
St. Helena
St. Helena rests 20 miles from Napa, with a population of just over 4,200. While this city is one of the larger in this wine region, it maintains its small-town charm. A walkable downtown ranks as one of its most desirable amenities, bringing visitors up close with its thriving art and wine community.
Families may want to start here for their Napa Valley adventures. This centrally-located town boasts several enjoyable amenities of its own while serving as a convenient jumping-off point for the rest of your vacation.
American Canyon & Vallejo
American Canyon and Vallejo depart from the bucolic Napa Valley atmosphere to a practical and utilitarian part of the greater Napa Valley region. American Canyon may be one of the first cities you encounter after exiting the heavy traffic from Interstate 80.
Ordinary fast food chains and budget hotels are easy to find in American Canyon, only 11 and a half miles south of Napa, with a population of 21,600 people.
Vallejo is the first major population center you will find near the Napa Valley area. Since Vallejo has just under 125,000 residents, this city can provide any amenity a family may need. This bustling urban area also contains many in-demand attractions for family vacations, like amusement parks.
Best Places To Stay in Napa Valley for Families With Kids
Many of the regions of Napa Valley provide a diverse variety of accommodations for families traveling with kids. There is a place for everyone to rest their head in the unforgettable Napa Valley.
Best Private Lodging – Calistoga
Located on the farthest end of Napa Valley, these UpValley lodging options in Calistoga provide the best private getaways for families on vacation.
These private residences offer exciting amenities families love. As Calistoga is considered the spa capital of California, be sure to enjoy the hot springs and mud baths. In addition to these natural geothermal water features, these resorts offer terrific pools. Look for kid-sized amenities at pools for a special touch.
Your family can connect and unwind in a private vacation cottage at Aurora Park Cottages and Carneros Resort and Spa. Both of these Calistoga resorts offer landscaped neighborhoods of individual homes rented out to families seeking an escape. These cottages provide wonderful options for families with special needs or very young children.
Retro-inspired Calistoga Motor Lodge and Spa offer quirky rooms and suites designed with plenty of space in between. This casual resort prioritizes playfulness, with ample lawn games like Jenga, hula hoops, and bocce ball always ready to go.
Calistoga's Indian Springs resort stretches across 17 acres of Napa Valley countryside. This resort consists of a collection of private residences, like bungalows and cottages. Families will enjoy a private escape while also benefiting from the resort's welcoming pools and recreational options.
The Solage resort in Calistoga offers the option of large suites or private studios for their luxury accommodations. Young children will love the resort's splash pad and weekend s'mores nights. Challenge older kids to games of bocce ball or other resort sports.
All of the reservations for these Calistoga resorts include free bike rentals to help you get the most out of your stay. Family-friendly amenities like these are common at these best places to stay in Napa Valley.
Best Budget Lodging – Napa
Families on a budget can still absorb the entire Napa Valley experience through these family-friendly and budget-conscious hotels. The city of Napa supports several recognizable chain hotels that deliver a consistent and fun experience for everyone.
Embassy Suites has a location in Napa Valley, providing large rooms for a family on vacation. An extensive continental breakfast is included, making this reservation a great value. This hotel is located near downtown Napa, offering the convenience of being able to walk and explore. Take a dip in the heated pool or enjoy the fitness center.
Or choose SpringHill Suites by Marriott for another all-suites option for your family vacation to Napa Valley. This chain also offers a complimentary continental breakfast. Napa's SpringHill Suites is located near the airport, instead of Embassy Suites' downtown location.
RiverPointe Napa Valley offers practical accommodations at an affordable price. Small families can fit in a studio room. Larger families can opt for a private condo option while staying on budget. Kids will enjoy the swimming pool, hot tub, and tennis courts at this motel.
Napa's Best Western Plus Inn At The Vines gives families everything they need from an affordable hotel. An outdoor pool provides fun and entertainment during the warm seasons. This budget-conscious hotel sits in downtown Napa with nearby restaurants only a short walk away.
Most Family Amenities – Napa
Several notable chains with extensive family-friendly amenities make their home in the city of Napa. The Westin Verasa Napa rests on the banks of the Napa River, located right downtown. This luxurious hotel features a spectacular saltwater pool. Families traveling with babies can borrow a crib at no additional charge.
Napa Valley Marriott Hotel & Spa in the city of Napa provides a reliable, upscale experience for a traveling family. An inviting outdoor fire pit area welcomes families to make s'mores and play lawn games.
The Hilton Garden Inn Napa offers convenient travel packages for families to get the most out of their Napa experience. Schedule hot air balloon rides and other excursions using this useful amenity. Free breakfast will fill the bellies of the whole family before a busy day in wine country.
The Silverado Resort and Spa host kids' sports camps for ages six to 12. Kids learn age-appropriate sports skills from caring instructors in a small class environment. While you enjoy a wine tour or other adult activity, your child can make friends and learn something new at this family-friendly Napa resort.
Best Luxury Family Lodging – St. Helena
Although St. Helena is small in size, they offer a wide variety of luxury hotel and resort options. Many of these accommodations are best suited for couples or pairs of guests, but a few cater to families.
Meadowwood Napa Valley offers a family activity pool for swimmers 15 years old and younger. Extensive hiking trails winding through the resort's property provide a healthy outlet for the entire family while on vacation. These trails offer spectacular views of the region's acres of vineyards and meander through the mountains.
Napa Valley Regions Families Should Avoid
As Napa Valley is best known as a wine country, there are some towns in the region that are more family-friendly than others. For the most successful family vacations, we suggest staying in Napa or Calistoga.
Other towns located in Napa Valley offer zero available lodging options. For example, the towns of Oakville and Rutherford are too small to support any hotels. Locations like Yountville caters to a more adult experience with a high concentration of fine food and wine establishments.
We recommend conducting adequate research before making any reservations in Napa Valley. Many wineries are now enforcing a strict policy to admit only guests who are 21 years of age or older. Therefore many resorts cater to an adult audience and may no longer offer rooms that comfortably accommodate groups of more than two people.
Family-Friendly Entertainment in Napa Valley
The vibrant agricultural community and jaw-dropping natural landscapes make family-friendly entertainment in Napa Valley easier to find than you may expect.
Hot Air Balloon Rides
One popular excursion in Napa Valley is a hot air balloon ride. Guests frequently witness these colorful balloons against the mountains and vineyards of this region. Almost every town in Napa Valley offers a chance for a hot air balloon ride.
Depending on the weather in this coastal climate, hot air balloons launch year-round. Baskets can carry between two and 16 members of your family for an unforgettable ride. Be sure to leave between three and four hours for your hot air balloon ride. These balloons often launch around dawn.
Farms and Agriculture
Agriculture put Napa Valley on the map, so there are many farms families can visit to get in touch with the region. The Connolly Ranch in the city of Napa is open on weekends to welcome visitors to the farm. Families can meet the barnyard animals and learn about healthy eating from the edible garden.
You don't need to visit a farm to appreciate the abundant bounty from local farmers. The Napa Farmers Market throws a party every Saturday, featuring live music and delicious foods alongside the freshest fruits, vegetables, meats, bread, and more. Educational activities teach farmers market attendees of all ages.
Hiking and Nature
Appreciate the gorgeous surroundings and unique features of the area with these outdoor adventures in Napa Valley. Experience the vineyards and mountains in a new way from the back of a horse. Almost every town within Napa Valley offers a horseback riding service, from Yountville to American Canyon.
If horses aren't your thing, consider renting bikes or kayaks to see the beauty of Napa Valley in a fresh way. Many family-friendly resorts offer free bike rentals to explore Calistoga, Napa, and St. Helena. The city of Napa includes the scenic, winding Napa River flowing through town. Rent a kayak or stand-up paddleboard to explore the beautiful wine country.
Even if you don't choose Calistoga as your best place to stay in Napa Valley, don't miss the natural geothermal waters in the town. Stop by the Old Faithful Geyser in Calistoga to watch this water feature erupt. After seeing the show, visit the rescue animals that make their home at this natural phenomenon.
Travel south to American Canyon to see the Wetlands Edge Park. Located at the southern edge of Napa Valley, this refuge supports an incredible array of wildlife. Grab your family and plenty of binoculars to experience this natural wonder.
On the other side of Napa Valley lies the wonders of its Petrified Forest. Deep in the wilderness northwest of Calistoga, peculiar tree formations still exist. Visitors can view the sight of rare, fossilized wood during a visit to this natural attraction.
Art and Culture
If you're staying at a family-friendly hotel in Napa, be sure to take advantage of the numerous arts and culture offerings for your family. Explore 11 large murals adorning two miles of neglected exteriors in downtown Napa. Called the Rail Arts District, this new trail goes by the name of RAD Napa to celebrate the initiative.
The di Rosa Center for Contemporary Art infuses some culture into your family vacation. Thought-provoking artworks will prompt discussion among your loved ones, and age-appropriate activities for kids engage the whole family. Don't miss the outdoor sculpture walk to appreciate more public art.
Also located in downtown Napa is the Napa Art Walk. This free exhibition features a collection of outdoor sculptures throughout this public art park.
Before leaving downtown Napa, visit Oxbow Market. This gathering place is part farmers market, part local art gallery, and part artisanal food court. Find specialty food items and, of course, exceptional bottles of wine.
Families visiting Yountville will enjoy the Napa Valley Museum. This museum features exhibits to celebrate the local culture of Napa Valley, as well as shows to celebrate local artists.
Calistoga contains the Sharpsteen Museum. This one-of-a-kind attraction is a labor of love of Ben Sharpsteen, a former Walt Disney animator. The museum displays some of Sharpsteen's passions, including a life-size mural depicting Calistoga in the 19th century. Visitors to the Sharpsteen Museum will see one of the animator's actual Academy Awards, or Oscars, of the 11 total awards he won.
Family Vacation Favorites
Napa Valley delivers the full spectrum of activities for families traveling to this part of California. If you need a break from the sophistication of wine country, mix it up at one of these classic family vacation spots.
Vallejo sits at the far southern end of the greater Napa Valley region. This urban center provides many family-friendly activities, including thrilling amusement parks. Six Flags Vallejo spans 135 acres and offers 11 rollercoasters. Meet more animals at the park, including reptiles and even giraffes.
Closer to the city of Napa, the Napa Bowling Center gives families a chance for friendly competition. This bowling alley is open seven days a week until midnight every night. The Napa Bowling Center provides an affordable way for families to have a fun night out on vacation.
Are There Big Differences Between Sonoma and Napa Valley?
Sonoma County and Napa Valley lie side-by-side in this rich Northern California region. The similar climates of both areas mean Napa and Sonoma share many of the same characteristics. However, there are significant differences between these two popular tourist destinations.
Napa Valley represents an overall better choice for traveling families. This region offers a full spectrum of accommodations and activities to suit every member of your family. In Napa Valley, you can find budget-friendly hotels and chain restaurants more easily.
Sonoma chose to maintain a lower profile as the wine country region of California drew massive international tourism attention. More of the household name wine brands reside in Napa, along with luxury chain hotels. Small winemakers and boutique hotels dominate the landscape in Sonoma County.
Sonoma County represents a much larger geographic area than Napa Valley and is harder to explore over the span of a weekend or a short vacation. Since Napa Valley organized its tourism tidily into one narrow corridor for convenient travel, it means smaller crowds in Sonoma but less time traveling between wineries in Napa.
Family-Friendly Wineries in Napa Valley
After the COVID-19 pandemic, many wineries chose to keep their adults-only policies in place. However, there are still several wineries that will happily welcome all of the members of your family.
If you're staying at a family-friendly resort in Calistoga, stop by Castello di Amorosa. The kids can have a fun grape juice tasting while you enjoy the adult version. Youngsters will enjoy participating in the coloring contest, while older kids will love to explore the creepy corners of this Tuscan castle. A petting zoo with peacocks, sheep, and pigs will delight all visitors.
Ritzy Yountville welcomes families to Hoopes Vineyard to meet the residents of its rescue animal sanctuary. Instead of a wine tasting, the kids get invited for this outdoor dining experience with the property's wines.

St. Helena offers several family-friendly wineries in Napa Valley. Take the kids on a tour of the mansion at Beringer Vineyards, the oldest continuously-operated vineyard in Napa Valley, or an adventurous cave tour. Let kids burn off energy in the expansive lawns of Sattui Winery or the Charles Krug Winery, Napa Valley's first winery.
Tiny Rutherford offers a surprising array of family-friendly Napa Valley wineries. Cakebread Cellars uses their wine tasting and walking tour as a chance to educate people of all ages about wine. If your kids are older than the age of 12, Inglenook winery beckons. Preteens will love exploring the property's chateau, vineyards, and caves.
Best Napa Valley Places When Traveling With Kids and Pets
Bringing the furry members of your family along on a trip to Napa Valley adds a level of complication to planning. Luckily for you, California ranks as an exceptionally dog-friendly state. Many regions throughout Napa Valley welcome dogs to their wineries, restaurants, hotels, and other attractions.
Yountville's North Block Hotel welcomes both kids and pets but does state it is a more adult-focused experience with established quiet zones around outdoor pools. In fact, children under 18 stay free at this hotel. A fee of $150 per pet is required.
Downtown Napa's Archer Hotel allows pooches under 50 pounds only. This hotel also charges $150 per pet. This high-end hotel features a memorable rooftop bar and special souvenirs curated for guests by local artists.
Harvest Inn in St. Helena pulls out all the stops for its dog guests. Pooches who check in receive cozy and luxurious pet beds and custom pet bowls provided by the hotel. Of course, these good boys and girls receive plenty of treats too. This hotel also enforces a weight restriction of 40 pounds total for up to two pets.
Wrapping Up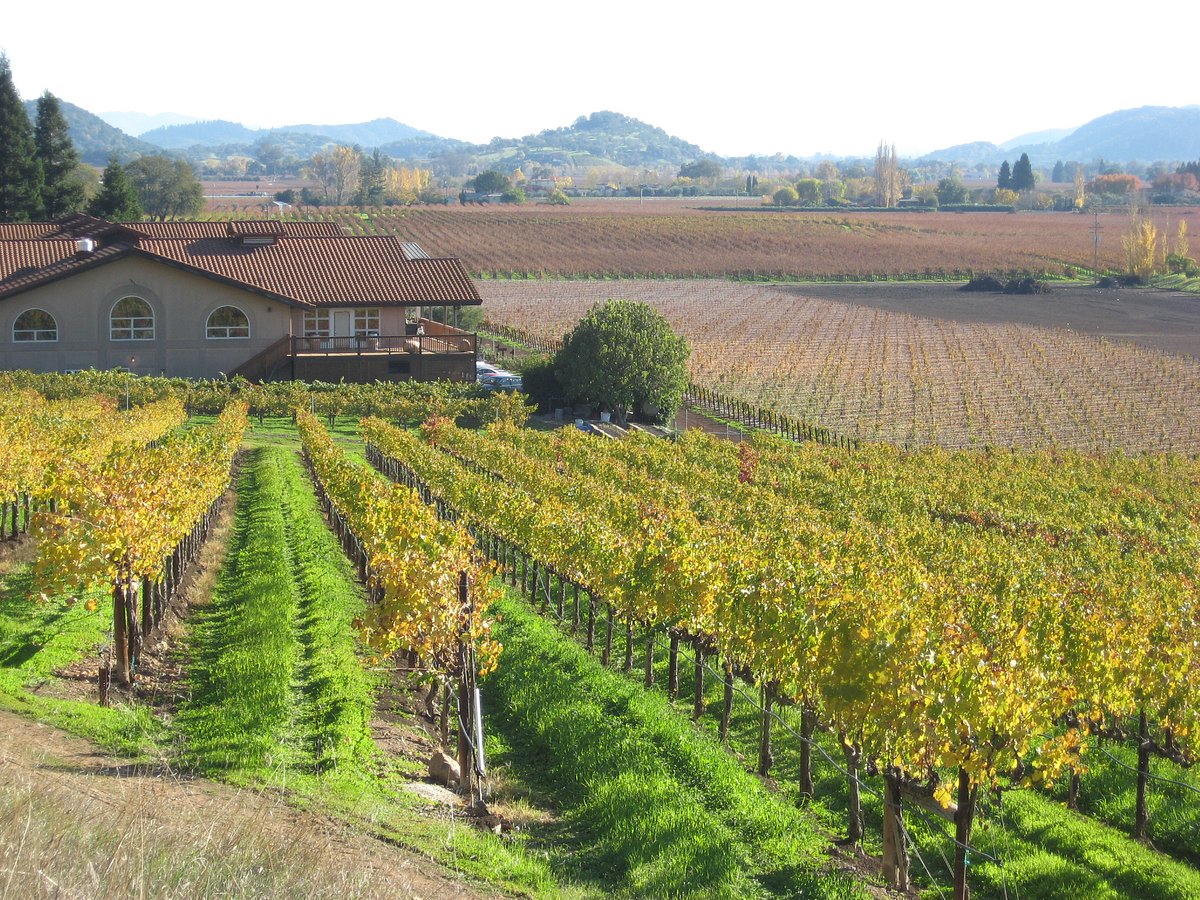 Napa Valley may be best known as a wine country, but there are plenty of exceptional places for families to make memories. We recommend staying in Napa for the widest amount of lodging options, including budget-friendly choices. St. Helena and Calistoga both offer luxury accommodations for families, while Calistoga provides many private residences like cottages and bungalows.
Don't let anything hold you back from enjoying a family vacation in spectacular Napa Valley. Several wineries welcome kids to their family-friendly environment, and activities as diverse as horseback riding and art walks appeal to the young and the young at heart.
More about our TFVG Author