Beach vacations have consistently been a classic and reliable vacation choice for many, many years. Most families still return to traditional beach vacations despite scrolling through what feels like miles of family travel guide websites.
You might be wondering, "Why are beaches considered the perfect family destination?". First of all, there is something at the beach for everybody. The kids can play in the sand while the parents watch while still getting their socialization and sun-tan in.
Even teenagers can find something fun to take up their time at the beach. Being a teenager at one time myself, I can vouch for the statement that lazily reading magazines and talking about high-school crushes is, in fact, a very relaxing activity. Despite beach vacations being a very common and popular daytime leisure activity, the quality of the beach you go to can really make or break the quality of your day.
When taking your family to the beach, you want to feel comfortable letting them swim in the water and walk around the coast. The restrooms should be clean and have the necessary amenities for washing off sand after a swim. There should also be somewhere nearby that can offer medical assistance in the case that anything were to go wrong. Lastly, there should be plenty of activities for you and your family to do to last the entire day.
While Los Angeles offers an abundance of activities for your family to enjoy, don't forget to check out all of the best beaches in California for families to make sure you aren't missing out on your perfect trip.
Without further ado though, let's get into some beaches in Los Angeles guaranteed to make your family vacation unforgettable.
Santa Monica State Beach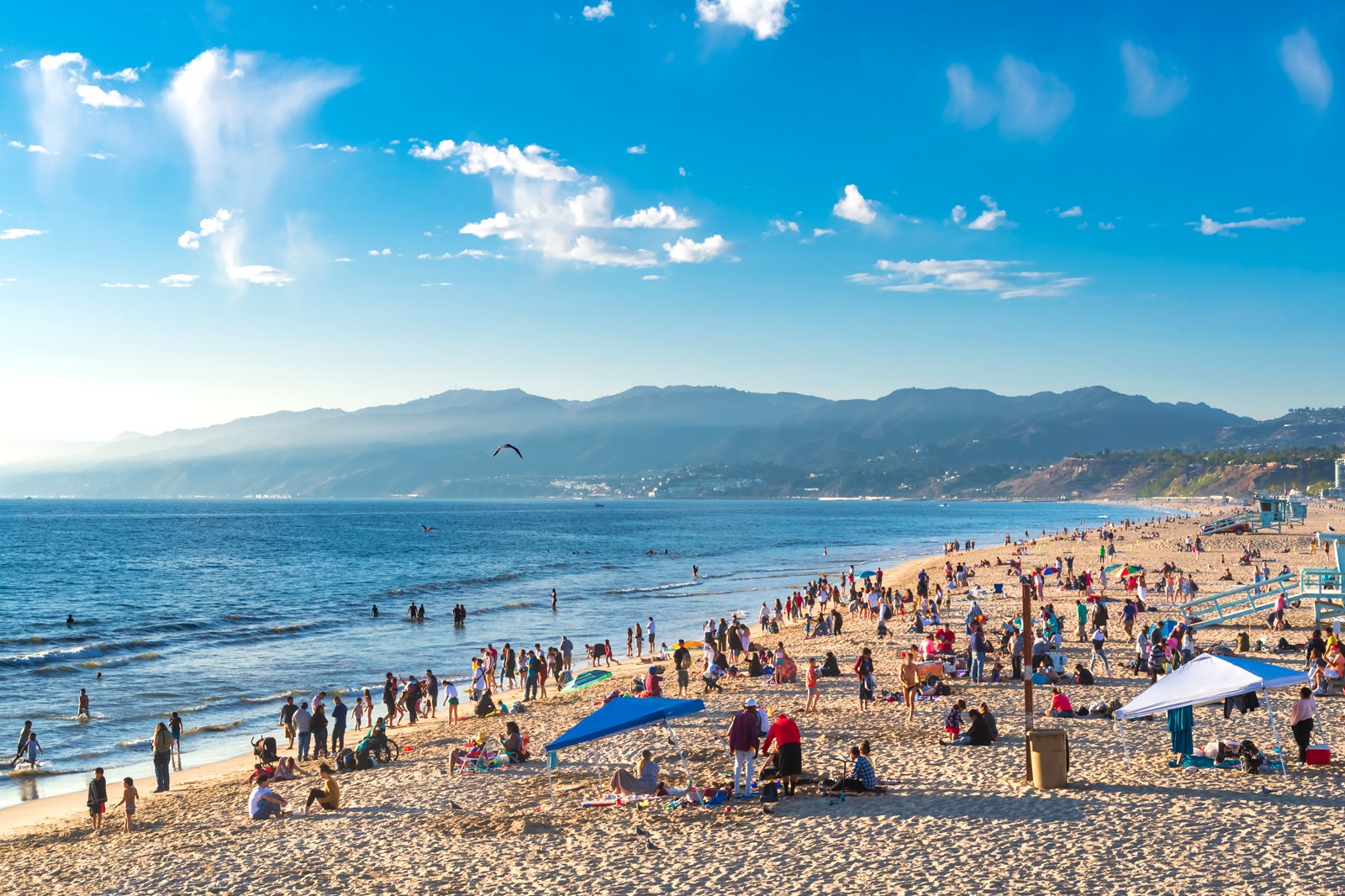 With its large size and variety of activities, Santa Monica beach is a classic Southern California beach. The boardwalk offers a taste of fun without the mess of getting sand everywhere, while the sandy beach below the boardwalk is perfect for sitting and watching the waves touch your toes. 
Looking for some more inspiration in Southern California? We created this handy guide to the best family beach vacations in Southern California to help you choose your next vacation.
Advantages
Three and a half miles long
Walking distance to many hotels, restaurants, and other attractions
Within 20 miles of Los Angeles
Santa Monica Pier is one the most iconic and famous places in Los Angeles
Allows Dogs on leashes on the boardwalk portion of the beach
Close to the North Beach Playground
Plenty of restrooms and parking are available throughout the beach
Well-lit Paths are great for both biking and walking
Disadvantages
It can get to be too crowded during peak seasons
A large number of homeless people
Irresponsible bikers and roller-bladers along paths can be dangerous
Mother's Beach
Also known as Marine Park, Mother's Beach offers the perfect place for families with young children to come and not worry about their children's safety.
Because of its location on the northeastern side of Naples Island within Alamitos Bay, the beach receives only gentle waves in its shallow swimming area. This quiet beach also offers a great place to get away from the hustle and bustle of Los Angeles life.
Advantages
Lifeguards present during peak periods
Playground located very close to the beach
The parking lot is close and surrounded by a grassy area ideal for picnics
Home to Mom's Beach Café
Allows paddleboarding, kayaking, and boating
Offers boating storage
Disadvantages
Not ideal for those looking for an exciting beach
Not many places to eat of than the Café
Not very close to Los Angeles
Venice City Beach
Venice Beach is perfect for those adrenaline junkies and thrill-seekers in the family. Suppose your teen feels at home in Hot Topic. In that case, they will feel right at home along Ocean Front Boardwalk, where several street performers specialize in utilizing their freaky body modifications to amaze, scare, and disgust onlookers.
Stretching along with the Venice District of Los Angeles before Santa Monica Beach, this stretch of boardwalk offers many exciting views and shopping opportunities that appeal to the whole family.
Advantages
Home to Muscle Beach – a popular workout destination for bodybuilders
Plenty of grassy areas to play frisbee or soccer in
Lots of restrooms
An abundance of tennis courts, volleyball courts, and basketball courts
Paved trails that allow bikes
Great place to buy souvenirs
Very inclusive
Disadvantages
It can be crowded during peak times
It might not be suitable for younger children
Parking is not free
No dogs allowed
Playa del Rey Beach
Located just northwest of the Los Angeles Airport, Playa del Rey Beach is a primarily flat beach just in front of the Playa del Rey neighborhood of Los Angeles.
Because of its location, this beach offers a calm, not densely populated taste of beach life. With plenty of grassy areas and long stretches of just sand and water, Playa del Rey Beach is perfect for taking a quiet stroll while appreciating the colorful and unique architecture of the Playa del Rey neighborhoods on one side and the peaceful ocean on the other side.
Advantages
Paved paths
Free parking
Allows fishing
Has volleyball and basketball courts
Plenty of restrooms with showers
Lifeguards during peak hours
Quiet
Not too far from the city
Disadvantages
The residential view may be too disruptive for some
No dogs allowed
Small beach
Not ideal for those looking for many activities
Manhattan Beach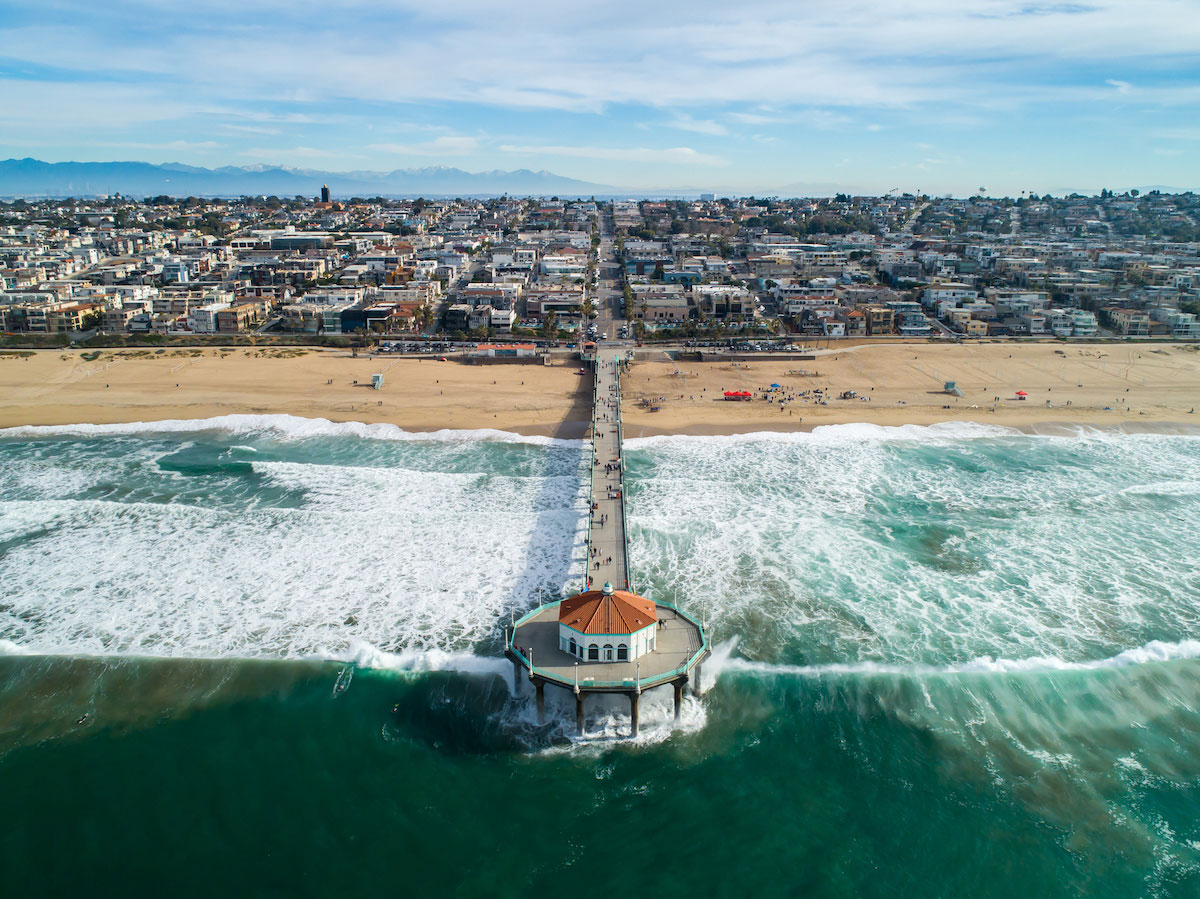 Manhattan Beach is a volleyball lover's dream. The two-mile-long sandy flat beach features over 100 sand volleyball courts and several places to lie down, get a tan, and rejuvenate after a good game.
There is also a boardwalk that is relatively peaceful and plain, unlike Santa Monica Pier, perfect for those just looking for a good viewpoint over the beach.
Advantages
Home to several cute cafés along the boardwalk and pier
22-mile paved trail perfect for walking or biking
Several Lifeguard stations throughout the beach
Great for surfing
Allows fishing
Disadvantages
Not many places to park
No dogs allowed
Holds many events that can get to be too crowded for some
Will Rogers State Beach
With Sunset Boulevard at its most Northern tip, Will Rogers State Beach is a large beach with much to offer. This beach offers a beautiful view of Santa Monica Pier while still showcasing the elegant mountainside waterfront of the Pacific Palisades district of Los Angeles.
Two of the Will Rogers State Beach standout features are the abundant amount of parking available along the beach and its close location to Ginger Rogers Beach.
Advantages
Plenty of lifeguards
Connects to the 22-mile bike trail showcasing all of Los Angeles beaches
Home to Ginger Rogers Beach
Very close to Sunset Boulevard and old Hollywood
Less of a city feel
Volleyball courts
Disadvantages
Beach can be too much of a party after nightfall
Fee for parking
No dogs allowed
Dockweiler State Beach
Dockweiler State Beach is a long beach just west of the Los Angeles Airport. While some may see Dockweiler's location negatively, this beach offers a unique experience for plane fanatics.
In the evening, this beach becomes even more of a unique experience. With several places to hold bonfires and barbeques, families can plan to sit on the beach, eat good burgers, and watch the night sky light up with the plane lights above.
Advantages
Fishing allowed
Surfing allowed
Great place for sunbathing
Perfect for people who love planes
Many restrooms throughout the beach
A good amount of lifeguards
BBQ and bonfire pits
Many picnic tables and grassy areas to sit
Close to the Playa del Rey district
Disadvantages
Close proximity to the airport can be annoying for some
Not many places to eat
It might be a bit of a party beach at night
Fee for parking
No dogs allowed
Zuma Beach
Located in Malibu, Zuma Beach is a beautiful beach ideal for extreme sports like scuba diving and surfing. This two-mile beach is massive, with a parking lot to match.
Due to the strong currents that often run through the water, there are always lifeguards on duty. While these currents can be dangerous, they also make the beach one of the best places to surf in Los Angeles.
Advantages
Allows scuba diving
Allows fishing
Great place to surf
Plenty of restrooms
A lot of lifeguards
Wheelchair accessible
Playground nearby
Plenty of small snack bars along the beach
Doesn't have a residential area to mess up the beach view
Disadvantages
It might be dangerous for family members who can't swim
Fee for parking
No dogs allowed
Relatively far from the city
Malibu Lagoon Beach
Malibu Lagoon Beach is located at the end of Malibu Creek. In the winter, the tidal flow separates Lagoon beach from Surfrider Beach.
Malibu Lagoon Beach tends to appeal to the nature lover in the family due to the number of dirt hiking trails that wrap around the wetland, creating a great place to hike and bird-watch.
There are also many informative signs placed around the trails so that the whole family can become more educated and aware of the environment that they are experiencing.
Advantages
Unique hiking experience
Home to Surfrider Beach
Great for surfing
Great for whale and bird watching
Located close to the museum
Lifeguards on duty
Peaceful atmosphere
Disadvantages
Not many places to go close to the beach
Rocky beach – Don't go barefoot!
Fee for parking
No dogs allowed
Not ideal for swimming or sunbathing
Leo Carrillo State Beach
Located in Malibu, Leo Carrillo State Beach drains part of the Santa Monica Mountains and offers some of the most breathtaking views in California.
This beach offers several sea caves and tunnels, including Nicholas Canyon County Beach.
During low tide, tide pools can also be explored.
Another great feature about Leo Carrillo State Beach is the amount of campground space and trails – some of which are wheelchair accessible – that are available for those looking to get a peaceful retreat away from the city.
Advantages
Dogs are allowed in some portions of the beach
Cool tidepool experiences
Plenty of caves and tunnels to explore
Restrooms along the beach
Great place to find seashells
Wheelchair accessible
Allows scuba diving
Allows fishing
Lifeguards are present
Disadvantages
Entrance and parking fee
Not many places to eat
It might be unsafe during high tide for small children
Very isolated
Annenberg Community Beach House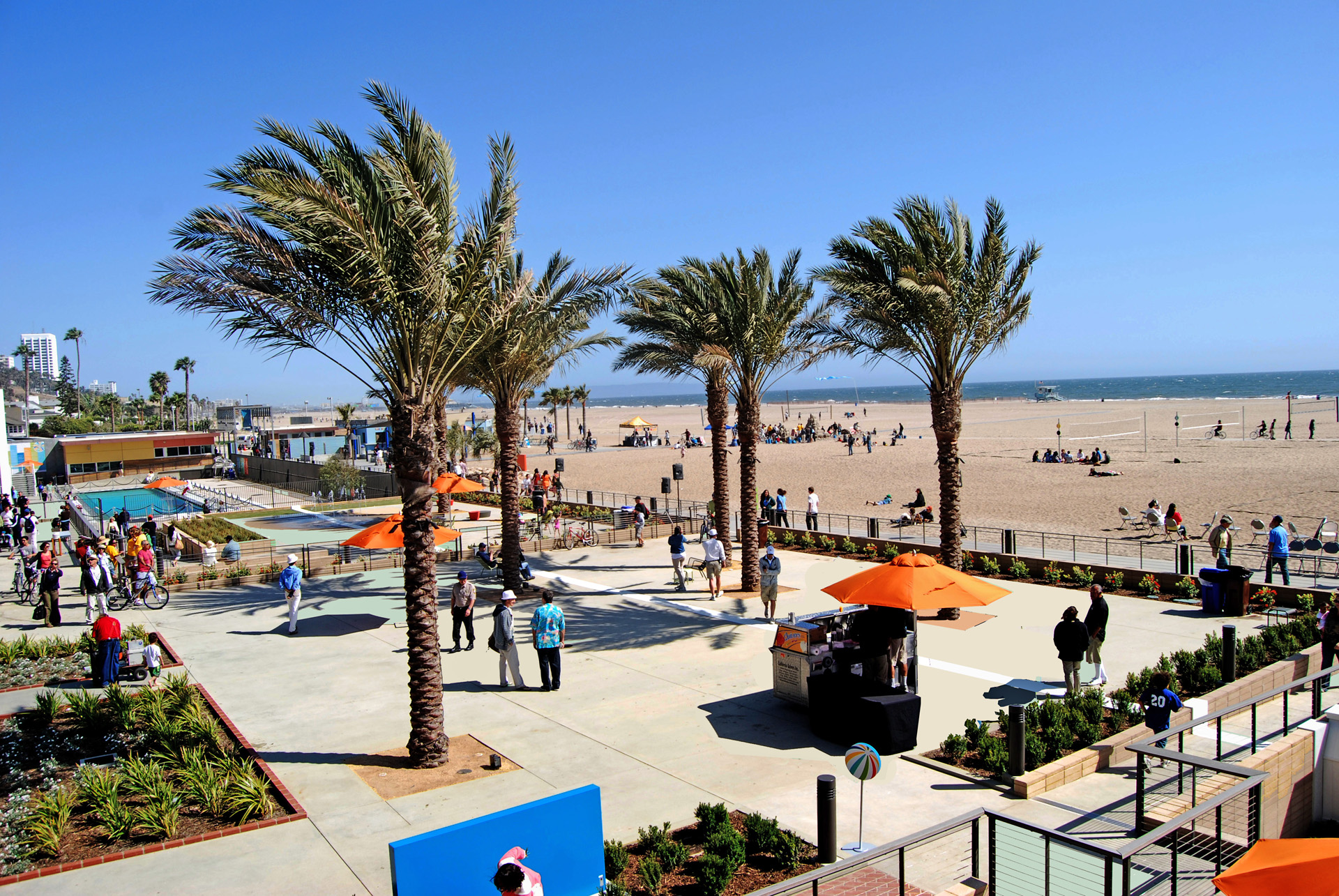 Annenberg Community Beach House is perfect for an overcast or rainy beach day. This resort located near Santa Monica Beach offers countless activities for the kids to enjoy both indoors and outdoors.
One of the Annenberg Community Beach House's most standout features is the free wifi and tours of historic guest houses on the property.
Advantages
Gated courtyard and pool
Tours of the guest house
Playground
Volleyball courts
Offers guests a private experience and shelter from possible lousy weather
Disadvantages
Not technically a beach
Reservations do cost money
Holds events that may interfere with your experience
Paradise Cove Beach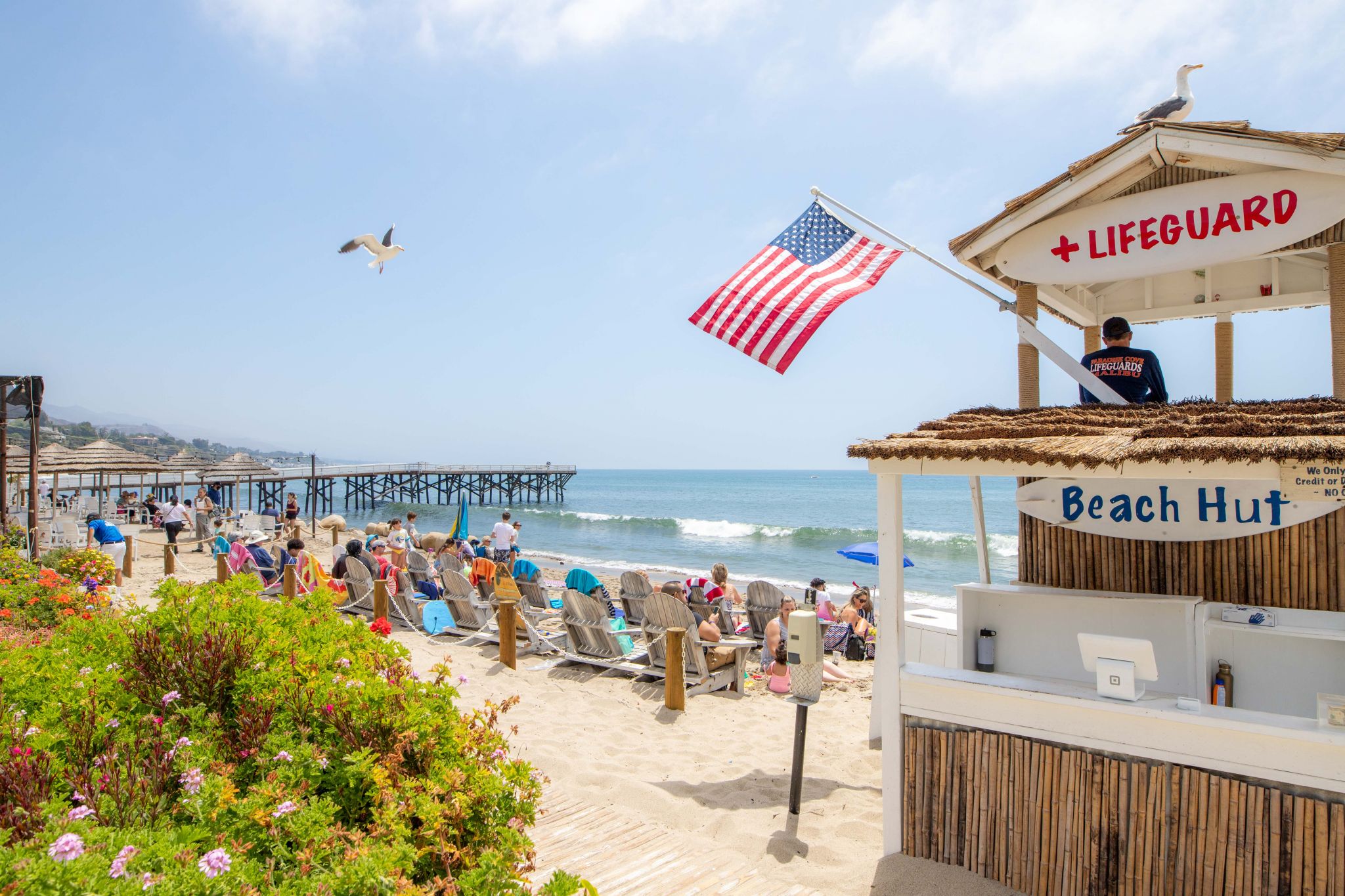 If you have any movie buffs in the family, they might recognize Paradise Cove Beach. With its sprawling beaches, Malibu mansions, and majestic sandstone cliffs, it is no wonder that this beach has been featured in several movies throughout time.
Paradise Cove Beach offers the perfect place for walking along the beach and then a bite to eat at the Paradise Cove Café. The surrounding properties are stunning to look at while still fitting with the beach theme that Paradise Cove Beach is known for.
While this beach might come off as too commercial for some, it is known for its clean facilities and safe atmosphere.
Advantages
Beautiful views from every direction
Plenty of places to eat
Several restrooms
Soft sand is ideal for sunbathing
Great for swimming
Features a fishing pier
Offers kayaking
Offers beach chair views
Disadvantages
Parking fee
No dogs are allowed anywhere on the property
Caters to tourists
Seaside Lagoon
Seaside Lagoon is a man-made salt-water lagoon designed for families with kids. Next to Redondo Beach Harbor, the lagoon is surrounded by sand but is close to several playgrounds.
Interestingly, the lagoon also plays a role in keeping a nearby steam generator plant cool. Seawater is first used to cool the steam generator plant before being chlorinated, used in the lagoon, before being dechlorinated, and put back into the ocean.
While the Seaside Lagoon is only open between the Spring and Summer months, it makes for a perfect family stop on a hot day.
Advantages
Close to Redondo Beach Harbor
Lifeguards are always on duty
Water slides and playgrounds everywhere
Plenty of snack bars and restaurants nearby
BBQ area and picnic benches
Clean restrooms
Volleyball court
Urban environment
Disadvantages
Only open seasonally
Not a beach
No dogs allowed
The fee to get in
Carbon Beach
Nicknamed "Billionaire's Beach" because of the many elaborate celebrity houses on its beach, Carbon Beach is a mile-long south-facing beach perfect for walking or sunbathing.
The architecture featured in some of the crazily expensive houses adds to the overall beauty of the beach, most of which has soft flat sand and very calm waters.
Because much of the beach is right in many people's backyards, the beach is only open in the daytime.
Advantages
Amazing house views
Soft sand and waves
Free street parking
Great for walking and sunbathing
Disadvantages
Can be crowded
It might feel like you're walking on someone's property
Small beach
No dogs allowed
Huntington Beach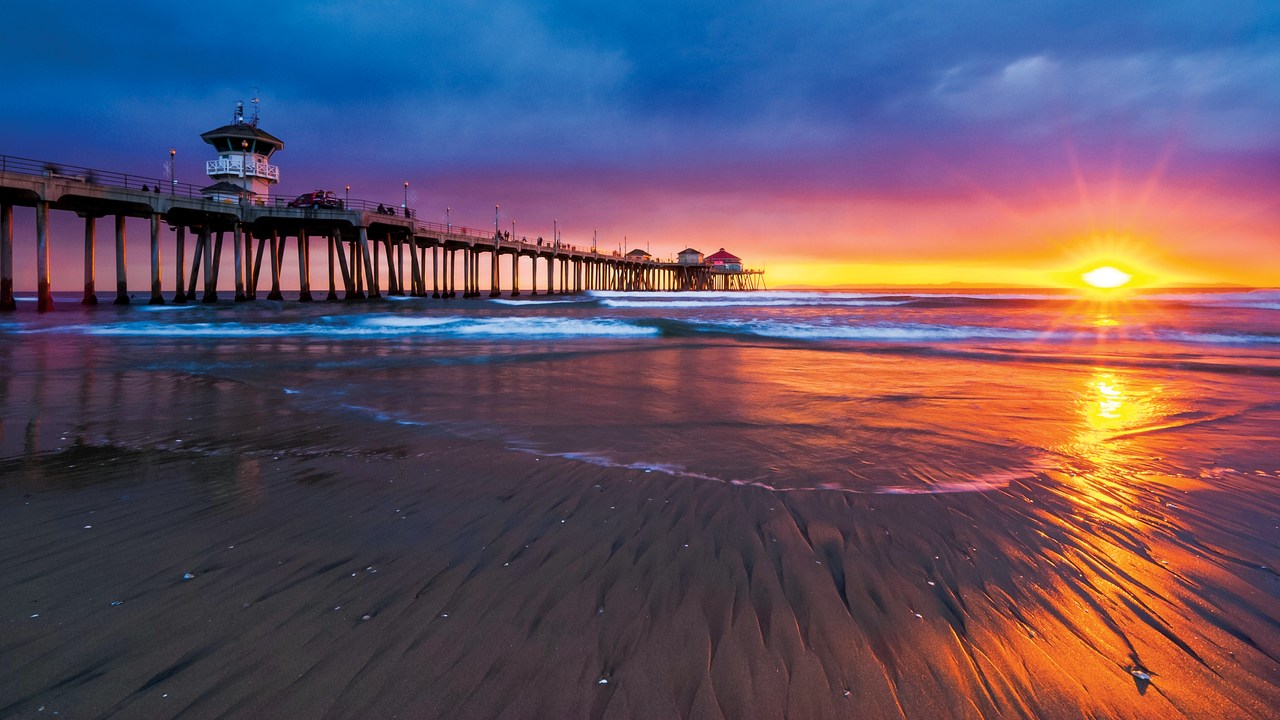 With a constant high tide, Huntington Beach lives up to the name "Surf City USA." This beach is about three and a half miles of sand and pier.
Along the pier are many restaurants, shops, and places to park. Another draw for this pier is its close distance to Huntington Dog Beach and Bolsa Chica State Beach.
Although this beach can get crowded, you can always count on an open spot at some point along with its distance.
Advantages
Excellent spot for surfing
Offers camping
Plenty of volleyball courts
Many restaurants and snack bars along the pier
Offers boat and kayak rentals
Lifeguards are always on duty
Bonfires at night
Disadvantages
It can be too crowded
No dogs allowed
Parking fee
Big waves may not be safe for small children
Final Thoughts
Whether you are looking for a laid-back sun tanning day, a walk into nature, or a place where your kids can have a blast, there is a beach in Los Angeles for that.
When choosing a beach, it is essential to consider all the factors of that day, including weather and cost.
Save going to a scenic beach like Malibu Lagoon for a day when the sun will be out, and use the rainy day to visit the billionaire's houses on Carbon Beach.
Enjoy the free parking at Manhattan beach so you can splurge at a nice dinner at one of the cute cafés available near the boardwalk.
Choosing a beach that offers many activities that you know your family will love is a surefire way to guarantee that it will be an unforgettable beach experience that they will wish would last a lifetime.
So what are you waiting for? Grab your towels, flip flops, sunglasses, and good attitude; It's time for a trip to the beach.
Are you looking to find stunning beaches across Southern California? We've created a great guide to the best family beaches in Southern California to help you plan your next trip!