California has always held the title of the ultimate family vacation destination. With its warm weather and diverse attractions, it's no wonder why so many families flock to the Golden State for their summer getaways. But it doesn't matter the time of the year. No trip to California would be complete without a visit to the beautiful city of San Diego.
With all the things there are to do in San Diego for families, choosing a place to stay may be the most challenging part of your plan. To help remove the guesswork from your vacation planning, we've rounded up the best places to stay in San Diego for families with kids.
San Diego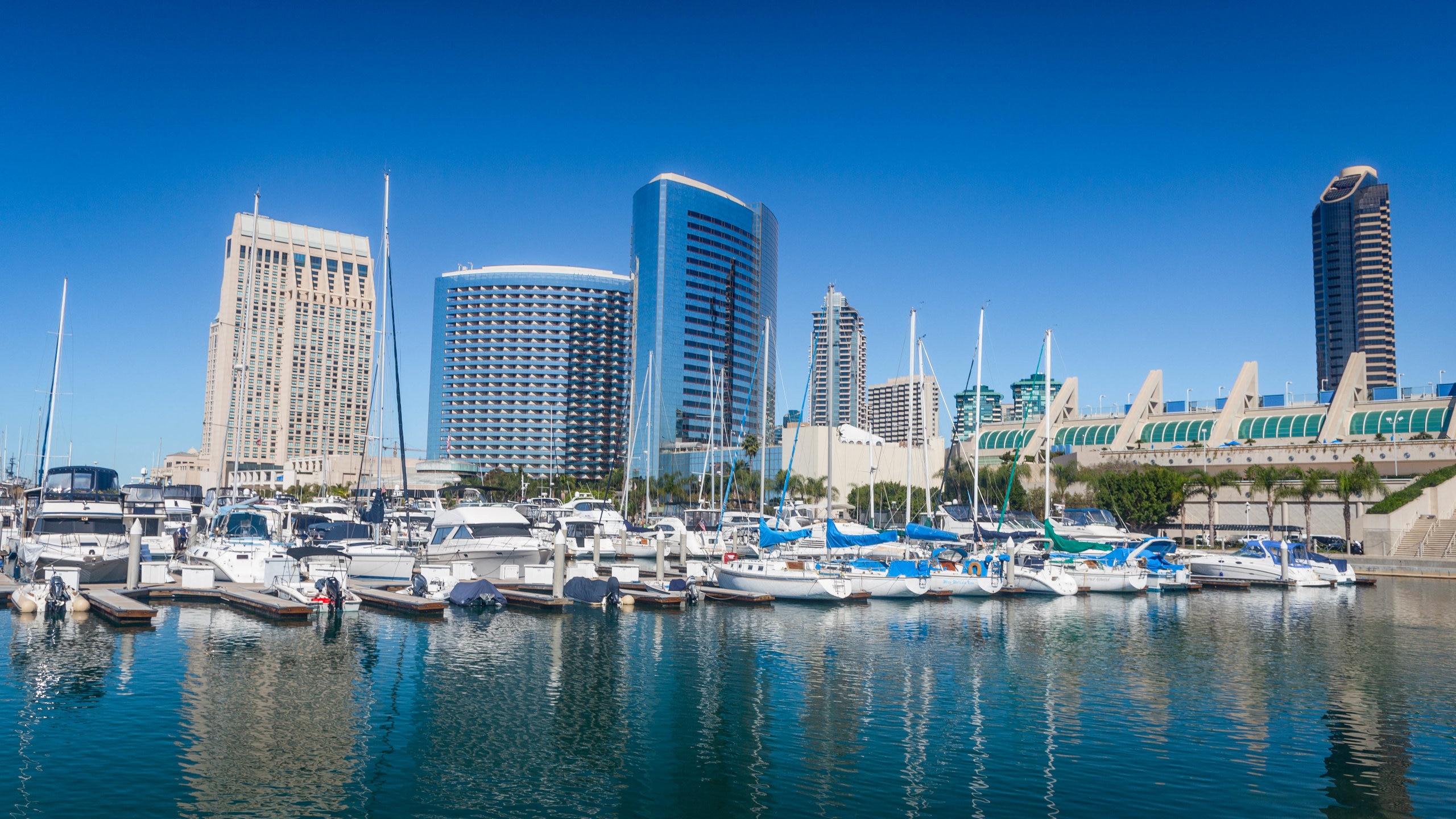 Before we get into the best places to stay in San Diego, we wanted to give you a better idea of the city's history and what it offers. San Diego is one of the most popular cities in California for families to visit, with its exciting theme parks, attractions, and beaches.
Its array of attractions includes the world-famous SeaWorld and San Diego Zoo, the Balboa Park Museum of Natural History, and the Historic Old Town district. There's something for everyone in San Diego, so you won't have trouble finding something to keep the whole family entertained.
But before all of this, it was the first place vacated by Europeans when they landed on what is now the United States West Coast. Since then, it has become a bustling metropolis that still retains its small-town charm.
Today San Diego is the largest city in California, filled with a mix of culture, outdoor activities, and endless opportunities for fun. Seventy miles of beaches and unforgettable attractions make it the perfect destination for families with kids.
The city sits close to the Mexican border, so you can make day trips to nearby Tijuana or Ensenada. One visit to San Diego, and you'll be able to tell where it gets all of its Mexican influence.
Due to its size, we've broken the city into smaller sub-city categories to make it easier to find the best place to stay in San Diego that meets your needs and preferences. Downtown, Coronado, La Jolla, Pacific Beach, Mission Beach, Old Town, and Mission Valley are the recommended areas to stay in San Diego.
Each of these areas has its own unique charm, making them great picks for families looking to make the most out of their stay. Now that we've given you a bit of background on San Diego, let's move on to the best places to stay within the city for families with kids.
Downtown
Downtown San Diego is a superb place to stay if you're looking for a mix of city life and culture. You'll see lovely Victorian-style buildings, along with modern office towers and skyscrapers. The Gaslamp Quarter is a fantastic place to shop for souvenirs, dine, or catch a show. Seaport Village and the San Diego Convention Center sit in the heart of Downtown.
The San Diego International Airport is also located in the downtown area, making it a great option for families flying into the city. Then there is Interstate 5, which connects to the 5 Coronado and La Jolla freeways, making it easy to get around the city by car.
It is also how you'll reach the San Diego Zoo, Natural History Museum, San Diego Museum of Man, and the awesome Botanical Building. When staying in the Downtown area, expect to pay more for a hotel room.
However, the convenience of being close to everything San Diego has to offer makes it worth every penny. Now let's get into the four best hotels in Downtown San Diego for families.
Hotel Indigo Gaslamp Quarter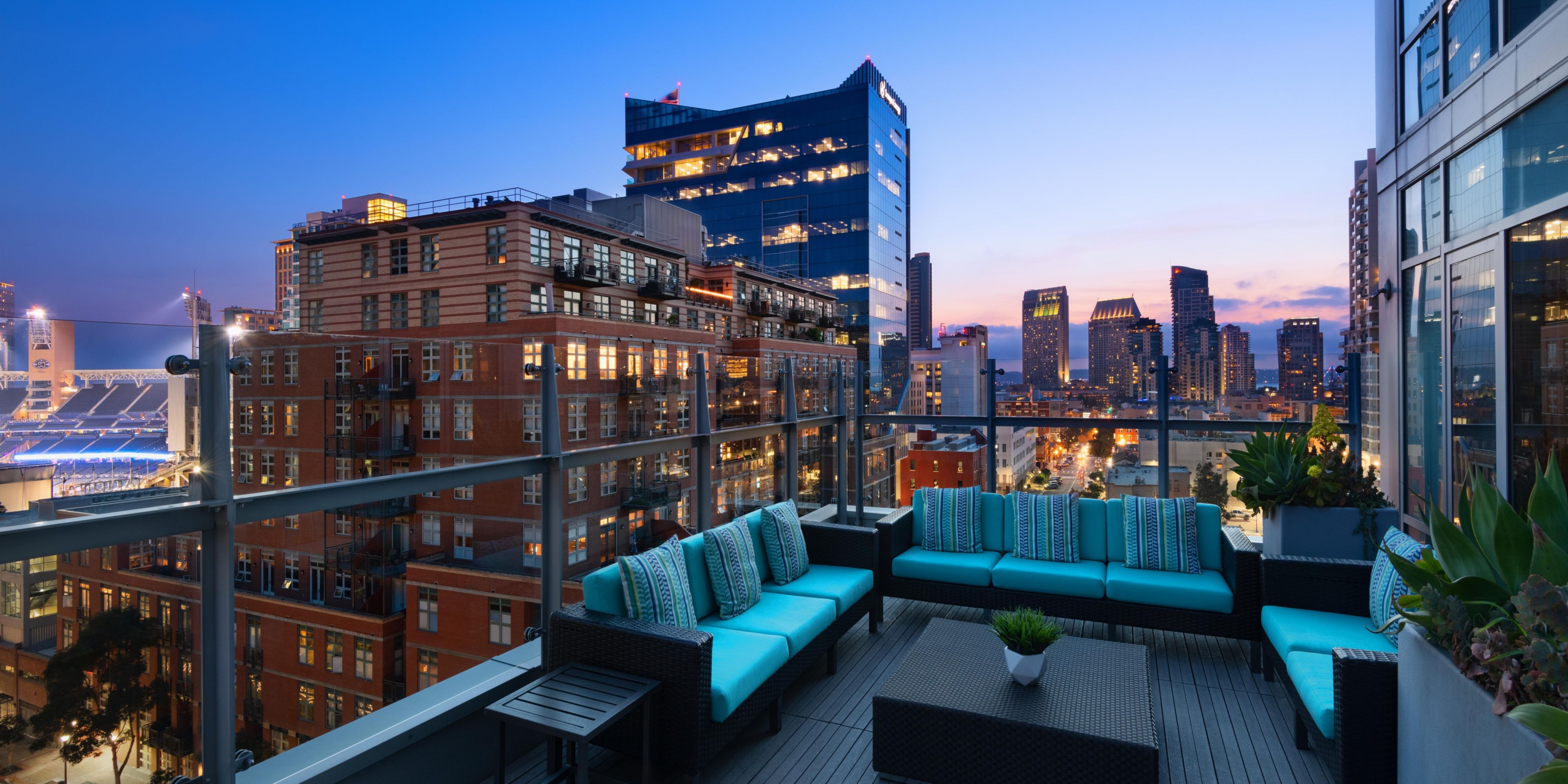 This family-friendly hotel is located in the heart of Downtown and offers modern and luxurious accommodations. The rooms at the Hotel Indigo Gaslamp Quarter come with flat-screen TVs, iPod docking stations, complimentary Wi-Fi, and a full kitchenette. You'll also be close to the Gaslamp Quarter's shopping, dining, and entertainment.
The hotel also features a rooftop pool with cabanas and a 24-hour fitness center. If you have a furry companion, they are welcome to join you, as this hotel is pet-friendly. While you may get tempted to use a discount service such as Hotels or Expedia, we recommend booking directly with the hotel to get the absolute best rate.
You'll get the IHG member rate and rewards when you book direct. Not to mention, you'll get free Wi-Fi. Not having to pay for the internet is a plus if you travel with kids. When it comes down to dining, you have four on-site choices. You can take advantage of room service if you would rather stay in your room.
Hotel Indigo also offers the Table 509 Bar and Kitchen with breakfast and dinner options. The Level 9 Rooftop Bar opens from 5 pm to 10 pm and serves appetizer and dinner options. The 9th Avenue Market is a place that offers on-the-go food and beverages when you need them.
We recommend this hotel because of the member rewards, free internet access, and its location in the heart of Downtown.
Horton Grand Hotel
The Horton Grand Hotel puts you within minutes of the Horton Grand Theater and the Chinese Historical Museum. You love the historic allure of this hotel. The hotel you see today is a reincarnation of the Grand Horton Hotel and the Brooklyn-Kahle Saddlery Hotel. Both of these buildings were built in the 1880s making the new building a replica of the two.
You'll stay in Victorian-style luxury with all the modern amenities you've come to expect from a hotel. You even have a balcony option for some of the rooms. Internet access comes complementary. You can also take advantage of the on-site restaurant.
One of the reasons we recommend the Horton Grand Hotel is the 24-hour pantry. When you are traveling in a different time zone with children, this is an invaluable resource. The hotel also offers complimentary breakfast in the morning and a fitness center.
Your family can also visit local beaches and take advantage of the Old Town Trolleys. The two-hour narrated tour educates you on San Diego and Coronado. Altogether the tour has 11 stops that let you shop, dine and enjoy other local attractions.
Gaslamp Plaza Suites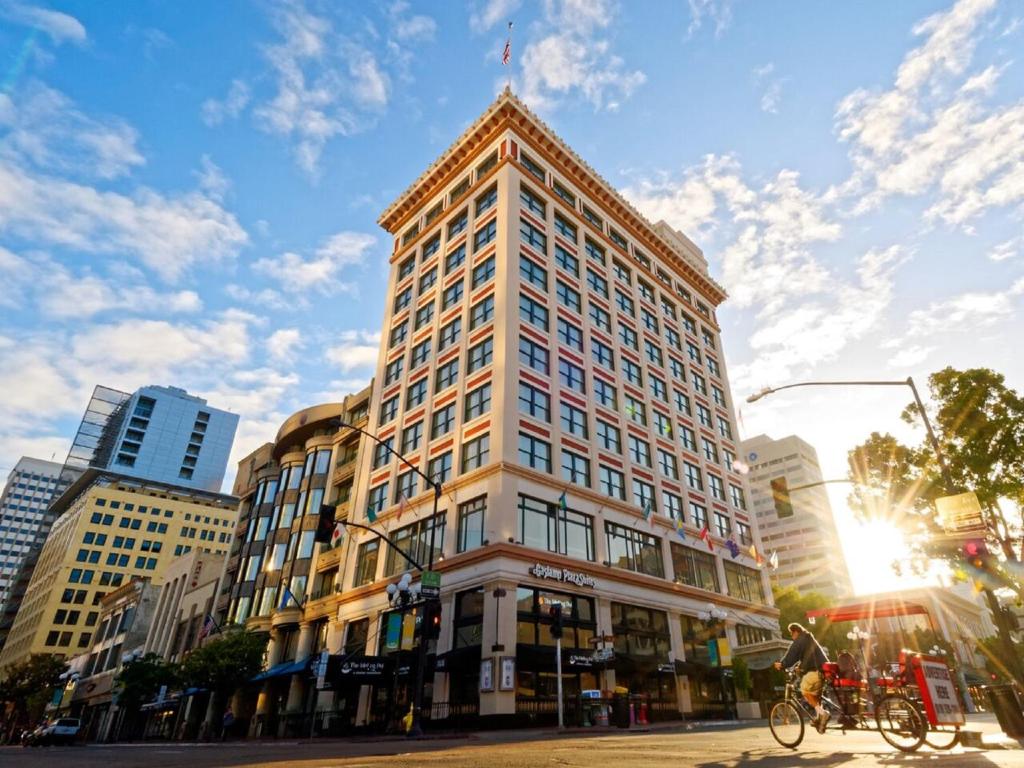 Gaslamp Plaza Suites is another historical building built in 1913. This property is located near the Gaslamp Quarter and has a modern touch. You'll get complimentary Wi-Fi and can take advantage of the on-site restaurant. It also includes a complimentary breakfast served daily in the Garden Terrace, making it convenient for getting out of the hotel quickly.
The rooms have a kitchenette to make snacks and meals if you would rather stay in. We recommend this hotel because it's only a few minutes from the closest tram station and the San Diego Zoo. It is an excellent option if you're looking for an affordable, family-friendly hotel.
Not to mention, you're close to SeaWorld, the San Diego Zoo and Safari Park, Balboa Park, and the San Diego Natural History Museum. The hotel puts you close to so many attractions that you may not have time to experience them all.
Hotel Pendry
Hotel Pendry sits in the heart of San Diego's Gaslamp Quarter. This hotel boasts luxury accommodations, top-notch customer service, and is pet-friendly. The bright rooms are all adorned with high-end amenities such as an HDTV, refrigerator, microwave, luxurious bedding, and an in-room safe.
The convenience of on-site dining with four restaurants within the hotel compound makes worrying about what to eat next a thing of the past. Many may think the hotel is more for the nightlife scene. While that is partially true as it does put you in the center of the nightlife activities. But it also puts you near the Petco Park Venue and the USS Midway Museum.
Adults can also enjoy a spa, a heated outdoor pool with cabanas, and a fitness center. You'll likely see a meeting or wedding taking place, so if you'd rather avoid the hustle and bustle, request a room away from the event area.
Staypineapple at Hotel Z
Staypineapple at Hotel Z is a modern hotel with four-star amenities. It's also located in the historic Gaslamp Quarter, putting you in the heart of downtown San Diego. You get to enjoy all the hip restaurants that come with this area.
The Staypineapple at Hotel Z has modern rooms with bright, fresh decor. You'll find all the amenities here, such as free Wi-Fi, flat-screen TVs, and a complimentary breakfast. We recommend this hotel because it's, well…fun! The atmosphere of the hotel is a reflection of San Diego's trendiest places.
It also puts you close to all of the activities mentioned with other hotels in this blog. Here you get complimentary beach cruisers and a menu of signature pineapple treats. It's a great way to have your kids experience something new that's also healthy.
Coronado
Coronado is across the bay from Downtown San Diego. It is a great place to stay with your family because the community is considered one of the safest in San Diego County. In fact, Dr. Beach has voted it one of the unrivaled beaches in the United States. Coronado features large sandy beaches that sparkle thanks to the Mica found in the sand.
There's no secret that this area is known as the resort getaway. You can even visit Downtown from Coronado if you want to experience both areas. Just take the Coronado bridge or one of the ferry crossings. There's also an abundance of things to do here, including kayaking and paddleboarding.
Families can enjoy Coronado's beachfront boardwalk, which has restaurants, shops, galleries, and theaters to explore. Let's look at the two best places for lodging in the Coronado area. While it doesn't offer as many great family options as Downtown, you'll be amazed at the quality of service and amenities you'll find here.
Coronado Island Marriott Resort
The Coronado Island Marriott is the premier resort in Coronado, with a beachfront that overlooks the San Diego skyline. Each room has complimentary Wi-Fi, flat-screen TVs, and a private balcony. The resort also has an outdoor heated pool that's exclusive to guests. Families can also enjoy the poolside cabanas and fire pits.
The hotel puts you close to all of Coronado's attractions, including the Ferry Landing Shopping Center and the Coronado Ferry. The nearby Coronado Brewing Company also offers craft beer for adults. We recommended it for families because the rooms provide a kitchenette, dry cleaning service, tennis, and watercraft rental.
Having an on-site convenience store makes it easy to grab snacks and drinks on the go. Parents can reserve their own poolside cabana while watching their kids play in the pool. Local attractions include the San Diego Zoo, SeaWorld, Birch Aquarium, Spanish Village Art Center, and Legoland.
Keep in mind, though, that LegoLand is further away than the other attractions. Seasonal horse racing at Del Mar Race Track is also nearby.
Hotel Del Coronado
The Hotel Del Coronado is a classic destination that dates back to 1888. It's the grandest Coronado hotel with beachfront views and unique Victorian architecture. The hotel is considered one of the best family resorts in San Diego. It offers so much of everything!
Families have eight beachfront dining options, one of which serves only sundaes. ENO Market & Pizzeria is an excellent spot for pizza-loving families. Then there is Beach & Taco Shack, serving up awesome fish tacos, tropical drinks, and chill vibes with live music.
Children ages five to 12 can learn about the underwater world with half and full-day sessions. Adults can enjoy the seaside spa, which provides incredible views of the beach and the chance to digress and unwind. Enjoy the Cabana Pool that's exclusive to hotel guests and a poolside cabana for parents.
There are also movies on the beach, which is a fun way to watch films with the family. The hotel also offers transportation to San Diego's attractions, including the San Diego Zoo and SeaWorld. It is the only location on our list that offers so much for every member of the family. You can even submit a picture of all the fun to be featured on the hotel's Instagram account.
La Jolla
La Jolla is a beach community in the San Diego area and is home to some of the most remarkable places for a family vacation. The area has 266 sunny days each year, and that's not the only reason to visit. This area has a range of family activities, from museums to kayaking tours. If you are a family of foodies, you have over 100 restaurants to try.
If you love to shop, you have close to 1300 merchants here. From boutiques to flower shops, you'll find something for everyone. Plus, the area has some of the best beaches in San Diego. One thing you'll notice in the seaside village is its art atmosphere. Many art galleries are available for those who love to explore.
For example, the La Jolla Playhouse is a great theater to visit if you want something to do indoors. Families can also visit the Birch Aquarium to learn about the Pacific Ocean's marine life.
Last but not least, you'll get to spot some seals and sea lions at the children's pool. La Jolla offers lots of accommodations for families, from budget-friendly hotels to luxury resorts.
Let's take a look at the three recommended hotels.
Inn by the Sea
The Inn by the Sea is a boutique hotel that offers modern coastal comforts for families. There are several different rooms, ranging from standard king rooms to spacious suites with ocean views. Every room comes with a balcony, coffeemaker, and cable TV. The heated outdoor pool and jacuzzi make it easy to spend the day relaxing.
The hotel also offers incredible amenities for a family traveling with small children. The same-day dry cleaning, guest coin laundry facility, vending machines, and multilingual staff make life easier when traveling with small children.
You can enjoy your room even more when you don't have to go out to get breakfast. They offer in-room breakfast delivery service from the Cottage Restaurant. You can also walk to the Museum of Contemporary Art from the hotel. We recommend this hotel because of all the dining options available along the coastline.
Hilton La Jolla Torrey Pines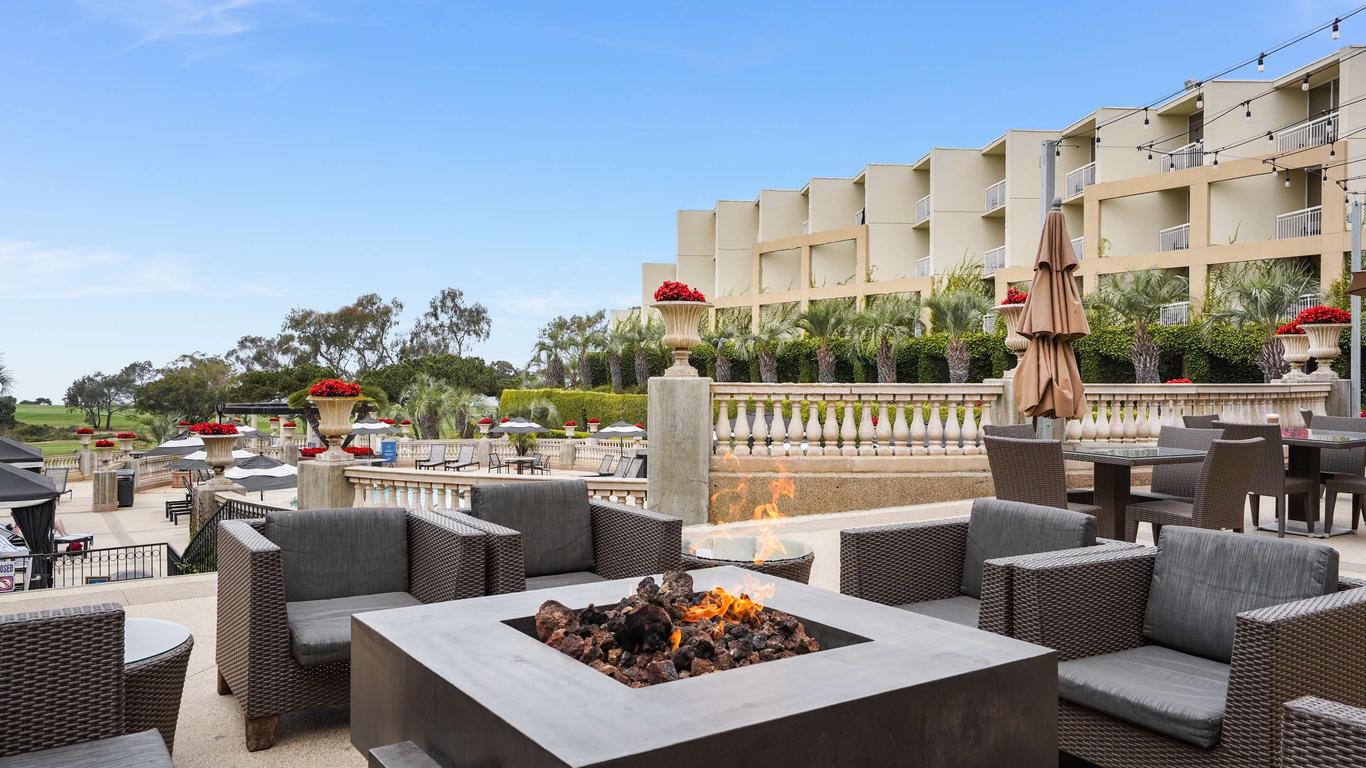 The Hilton La Jolla Torrey Pines is a top-notch hotel, ideal for families looking for a luxurious stay in San Diego. We recommend this hotel because it's fantastic for golfers and has connecting rooms. If you want to book a double occupancy, you can easily request adjoining rooms with two separate bathrooms. It would give you and your family some privacy.
The view of the massive golf course and the beach is also worth mentioning. The online pictures don't do it justice. The view is almost unbelievable. The hotel's amenities include a beachside pool, resort spa treatments, and access to the golf course. The hotel also has activities like yoga classes and jogging trails to enjoy in the morning.
The kids can have fun at the kid's club and game room. As for food, there are a variety of restaurants to choose from. The hotel's terrace restaurant is a good spot for breakfast and lunch, while the Market Café is perfect for dinner.
Pantai Inn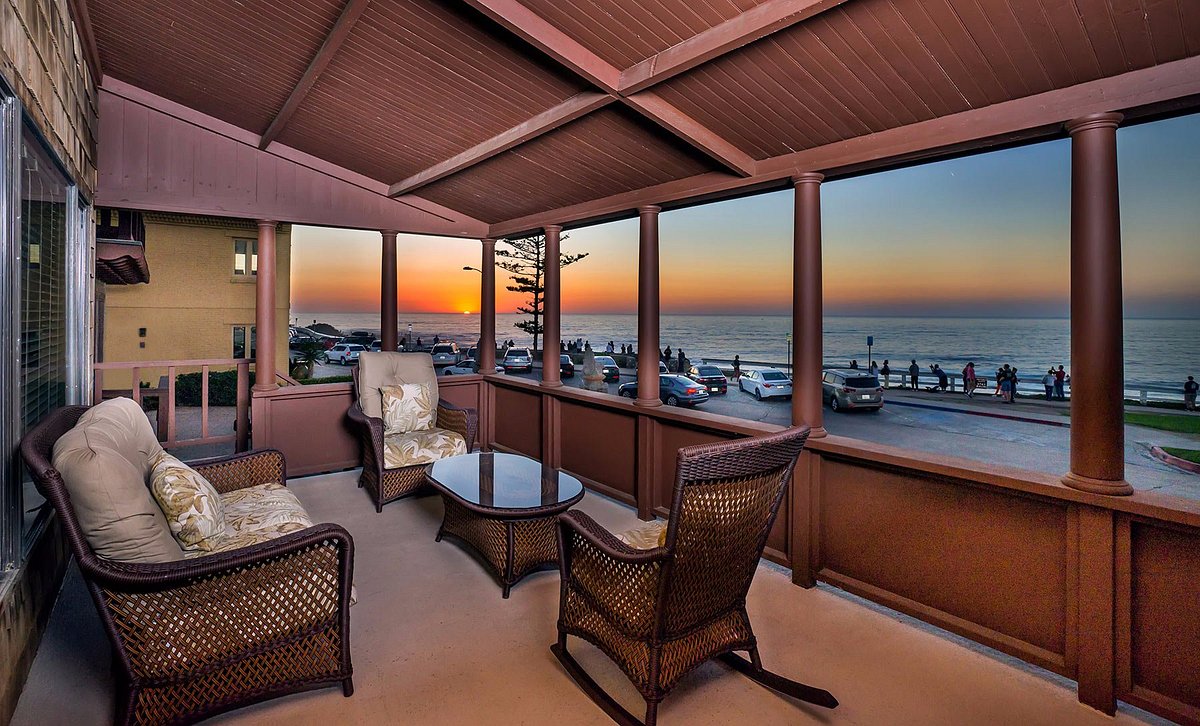 The Pantai Inn is a cozy beachfront hotel that offers family-friendly accommodations. We recommend this Bali-inspired boutique because it offers free continental breakfast and parking. The Inn is centrally located to all the attractions in La Jolla.
You'll have close access to many dining options, local attractions, parks, golf courses, and shopping. The Balboa Park and Theatre are all a short drive away. The Civic Theatre, Old Town San Diego, and the Museum of Contemporary Art also provide excellent sources of entertainment.
If you opt to have a more laid-back day, you can relax on the beach or take a dip in the ocean. When it comes down to the rooms, you have ocean-view suites and studios that provide a sitting area and a kitchenette. Kitchenettes always come in handy for those families that want to make their favorite meals. Saving money is the perk of doing so.
Pacific Beach
Pacific Beach is the perfect spot for a beach lover's family. Whether you are looking to spend a day at the beach, take a surf lesson, hang out with friends, or shop, Pacific Beach is the place to be. Mission Boulevard and the surrounding area feature clothing boutiques, yoga studios, cafes and bars, surf shops, and skate parks.
The beach itself is an excellent spot for swimming, surfing, and sunbathing. We recommend this beach because it is close to almost all the attractions in San Diego. Trolleys run day and night if you don't feel like walking. Pacific Beach is beginner friendly, so if you want to take surfing lessons for the first time, this is a great spot to do it.
The beach has many amenities, like volleyball courts, playgrounds, and bike racks. Plus, it's next door to the La Jolla Children's Pool.
Surfer Beach Hotel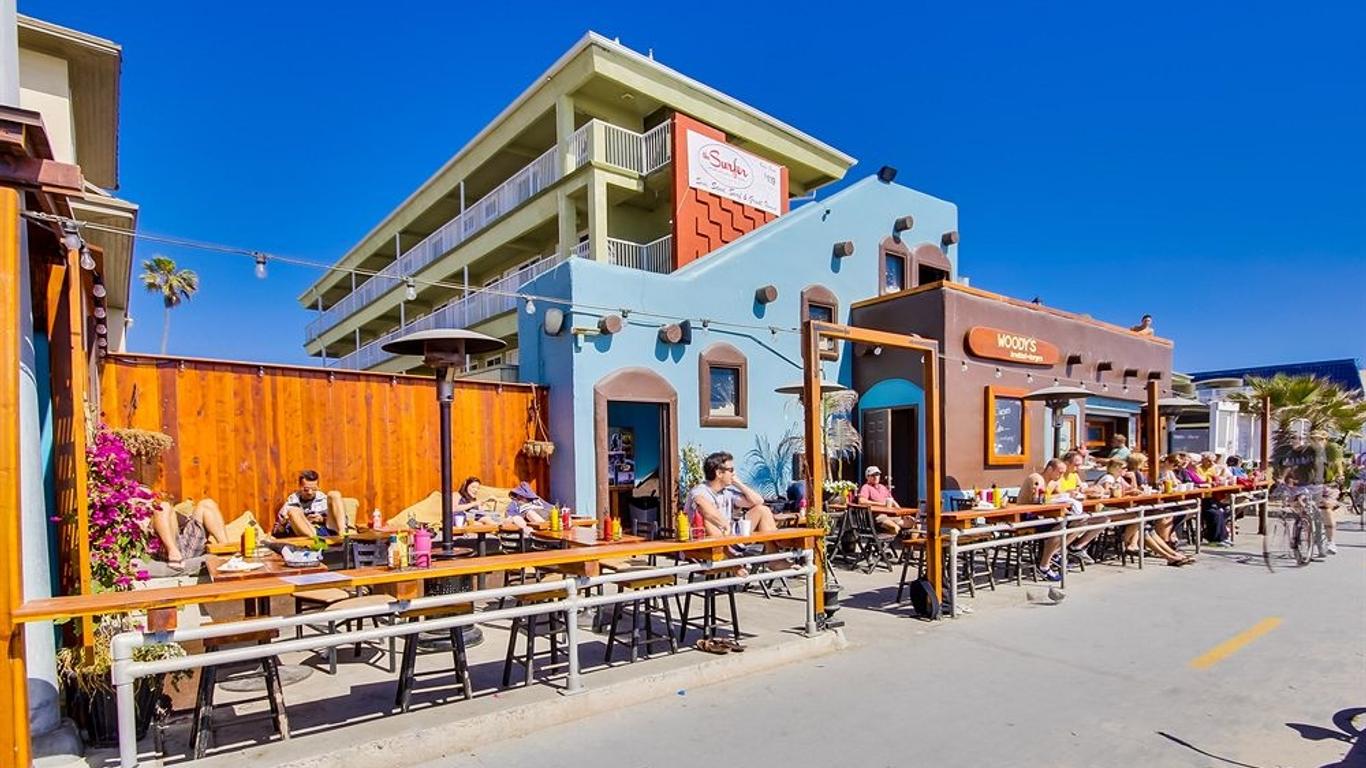 The Surfer Beach Hotel is a budget-friendly hotel in Pacific Beach. The hotel is close to the beach, shops, and restaurants, so you won't have to go far for anything. It's also a great spot to watch the sunset with friends or family. We recommend this hotel because it offers discounted tickets to major attractions.
On top of that, it has a heated outdoor pool. Plus, it is one of the few hotels that provide beach service and bike rentals for super low prices. Surfer Beach Hotel offers guests a discount the longer they stay. For example, currently, if you stay more than three nights, you get 20 percent off of your total stay.
Not to mention, they offer rooms and suites to give you the space and comfort you need to enjoy your family and your vacation. Another great thing about the Surfer Beach Hotel is that it puts you close to Belmont Park, Birch Aquarium at Scripps Institution of Oceanography, and La Jolla Cove.
Tower 23 Hotel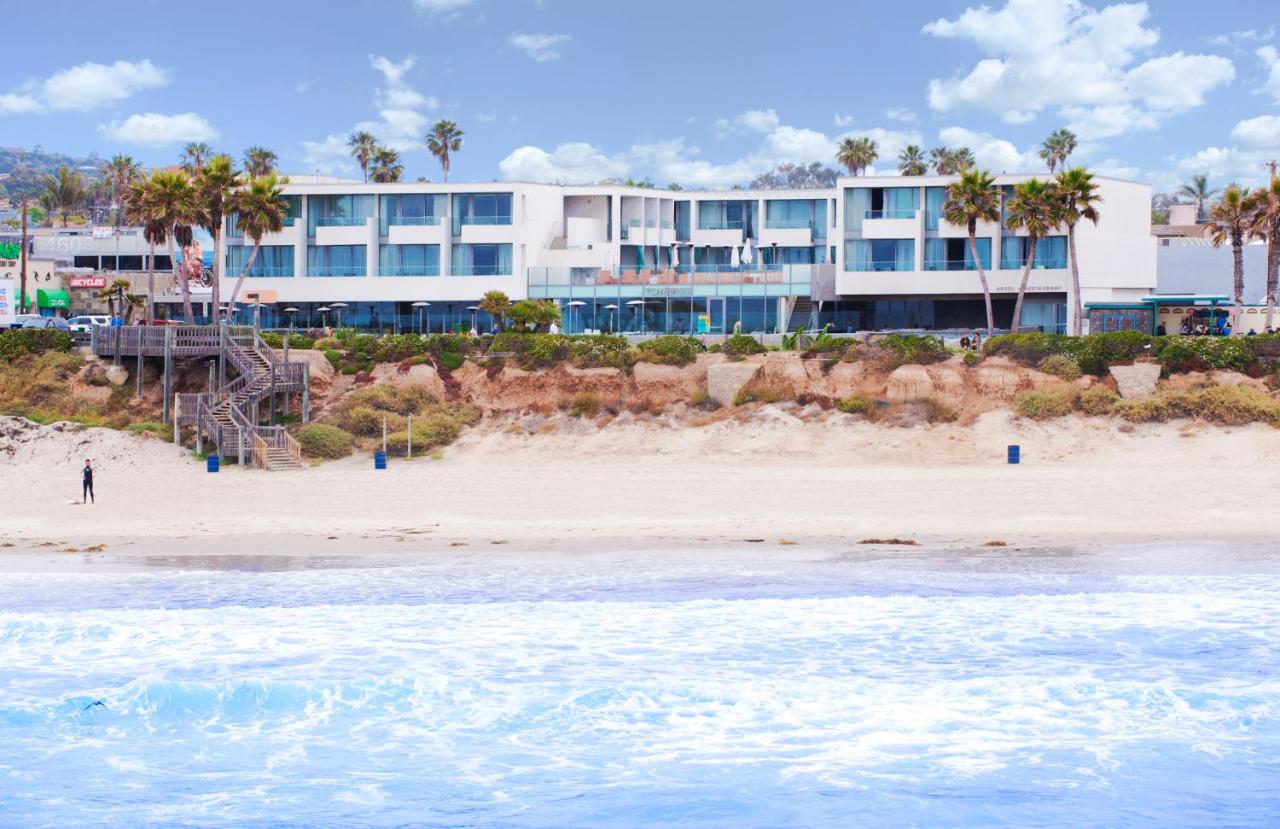 Tower 23 Hotel is also a superb spot for families looking to stay in San Diego. Located on the sand at Pacific Beach, this luxury hotel offers the perfect place to relax and unwind. Tower 23 Hotel is a modern oasis with stylish guest rooms, an outdoor pool, a fitness center, and a luxury spa.
The hotel also offers a full-service steakhouse restaurant and bar with ocean views, perfect for beachside family dinners. At first glance, it looks like a romantic getaway, and it can serve that purpose. But they offer suites that make accommodations better for families.
We recommend Tower 23 Hotel because it's budget-friendly and offers a five percent cash-back reward when booking directly. The reward can be used for your future stay or donated to their "Cash for a Cause" foundation which supports various local charities. Tower 23 Hotel also offers bike rentals, beach chairs, and umbrellas that you can use while staying at their hotel.
The hotel sits near Belmont Park, La Jolla Village, San Diego Zoo and Safari Park, and the University Town center. If you want to go sightseeing and shopping, the Mission and Fashion Valley Malls and the Carlsbad Outlets are also close.
Mission Beach
Mission Beach is another incredible spot for families. It's close to SeaWorld, the San Diego Zoo, and Aquatica San Diego. Mission Beach has a boardwalk with restaurants, cafes, and shops. It also includes amenities such as umbrellas, lifeguards, and picnic tables. You can also rent bikes and rollerblades, go surfing or take a stroll down the beach walk.
Mission Beach is close to many great attractions within walking distance. There are also plenty of hotels near Mission Beach, ranging from budget-friendly to luxury. You can visit Pacific Beach if traveling north from Mission Beach.
It's also so close to the Belmont Park amusement park. Expect the foot traffic to be high at Mission Beach. It draws families, younger people looking to enjoy the nightlife and couples. We recommend Mission Beach because it's a safe spot for families.
It offers plenty of comfort for everyone. Plus, you won't have to drive far to get anywhere since there's plenty to do within walking distance.
Blue Sea Beach Hotel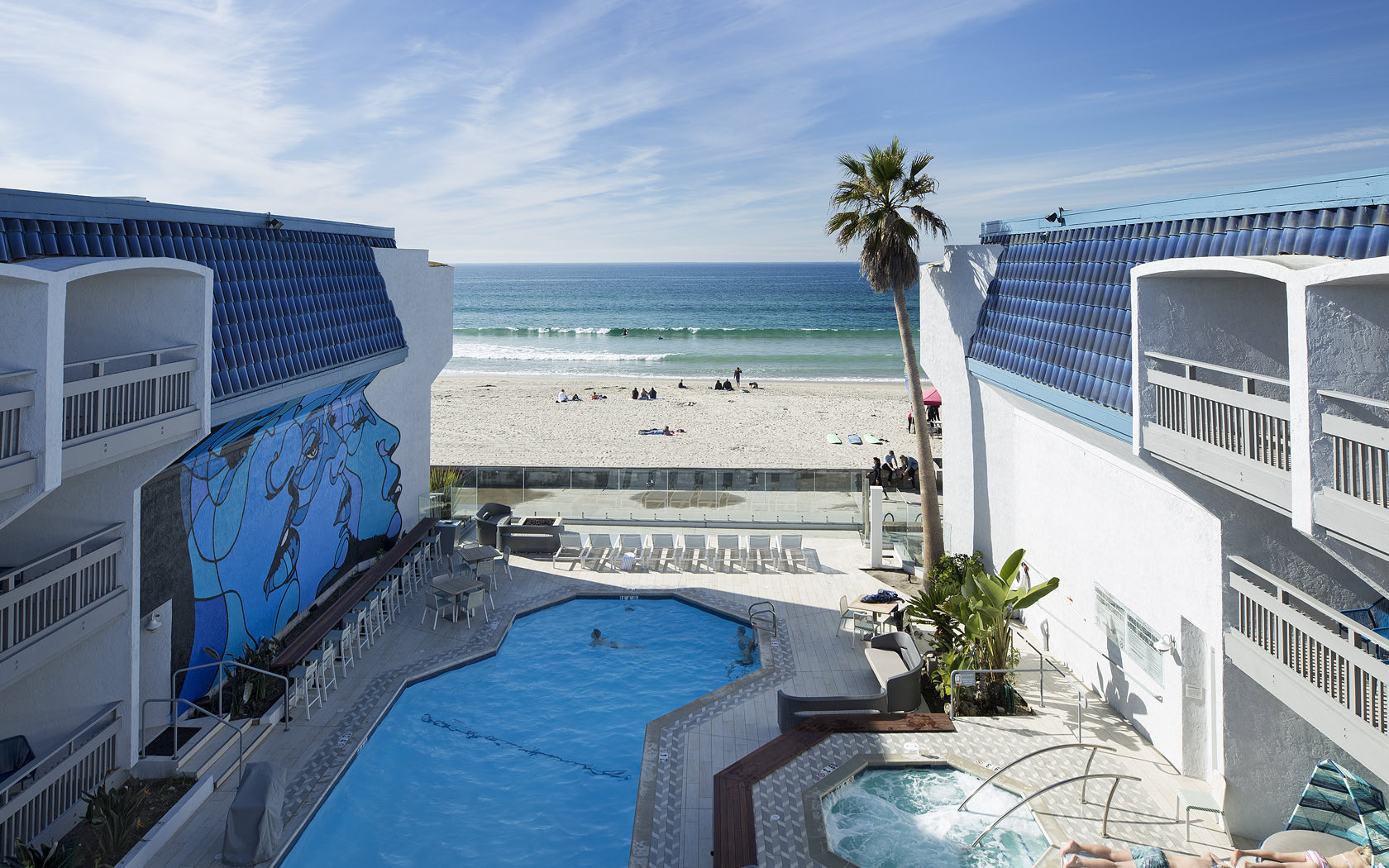 Blue Sea Beach Hotel is yet another excellent place for families. Located in the lively Pacific Beach district, this hotel offers plenty of amenities and activities to keep even the busiest family entertained. Blue Sea Beach Hotel is close to miles of stunning beaches, where kids can explore tide pools and spot sea creatures like whales, dolphins, and seals.
Plus, they offer complimentary bikes to explore the area. The hotel also has a heated outdoor pool with plenty of activities for kids. There's a playground, day camp, and an array of watersports. The hotel also offers plenty of family-friendly dining options, with a buffet breakfast served each morning.
We recommend Blue Sea Beach Hotel because it offers various discounts for families, like 10 percent off their room rate, and a special package for theme park tickets. The discounts depend on when and how long you stay, but if you check their site, you'll see they always offer coupon codes. Plus, it's close to SeaWorld, Belmont Park, and the San Diego Zoo.
Old Town & Mission Valley
The Old Town & Mission Valley area is our number one recommendation for parents who love history and want to take their children on a cultural journey. It is the birthplace of California and features historical monuments, museums, attractions, and shopping centers. The Old Town San Diego State Historical Park is a great spot for families to visit.
Here you can explore the preserved buildings, watch a play at the theater, or ride a stagecoach. There's also the Mission San Diego de Alcala, where you can witness beautiful architecture, participate in religious services, and learn about Catholic history.
The Mission Valley Shopping Center has plenty of shopping and dining options for the whole family to experience. Plus, it's close to the San Diego Zoo and SeaWorld.
Hilton San Diego Mission Valley
The Hilton San Diego Mission Valley is located in the heart of Mission Valley and offers plenty for families to do. It's close to the San Diego Zoo and SeaWorld and provides a free shuttle service to Mission San Diego de Alcala. We recommend the Hilton for its comfortable, luxurious rooms and reward program.
The hotel offers a variety of amenities, including an outdoor pool, complimentary Wi-Fi, and a fitness center. The on-site restaurants provide plenty of choices for all age groups. Plus, shopping and activities are abundant nearby. The hotel is near Balboa Park Museums, San Diego Zoo, Belmont Park, Coronado Island, and Historic Old Town San Diego.
The Mission Valley Shopping Center is only one block away if you need to shop. Plus, the Hilton offers discounts for AAA members and military personnel.
Wrapping up the Best Places To Stay in San Diego for Families With Kids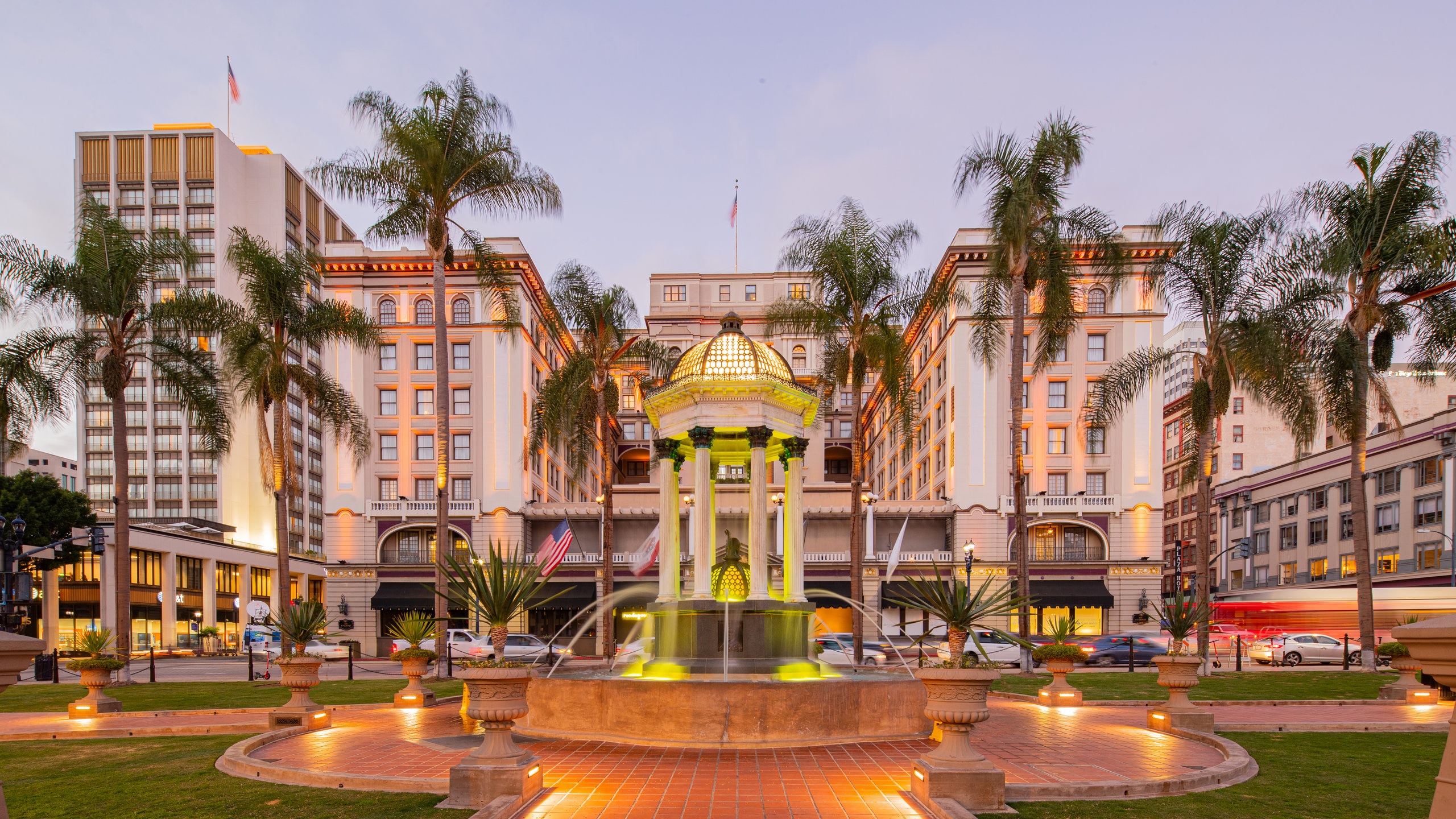 That completes our recommendations for downtown San Diego. You'll notice that Downtown has more options than the other locations we'll mention below. With that said, each place has something unique to offer. If you know the attractions you'd like to visit, choosing which area to stay in becomes easier.
For example, Downtown is the best choice if you want to be in the big city's center and close to most attractions. If you prefer to take a trolley tour, the Horton Grand Hotel is the best location. If learning more about the town's history is important, stay at the Hilton.
Overall, there are plenty of great places to stay in San Diego for families. Each area offers its own style, amenities, and activities to keep everyone happy. We hope our guide helps you make the best decision for your trip to San Diego.
More about our TFVG Author