San Diego, also known as America's Finest City, has some of the best weather that the Pacific Ocean coast has to offer.
From 80 degree summers to warm and sunny winters, taking a vacation in San Diego is a great way to enjoy the slow lifestyle of a coastal town without having to brave sweltering heat. With only around 40 days of rain per year, you're sure to stay dry in this Southern California paradise.
To learn about the best time to visit San Diego as well as the benefits of visiting in each season, continue reading below.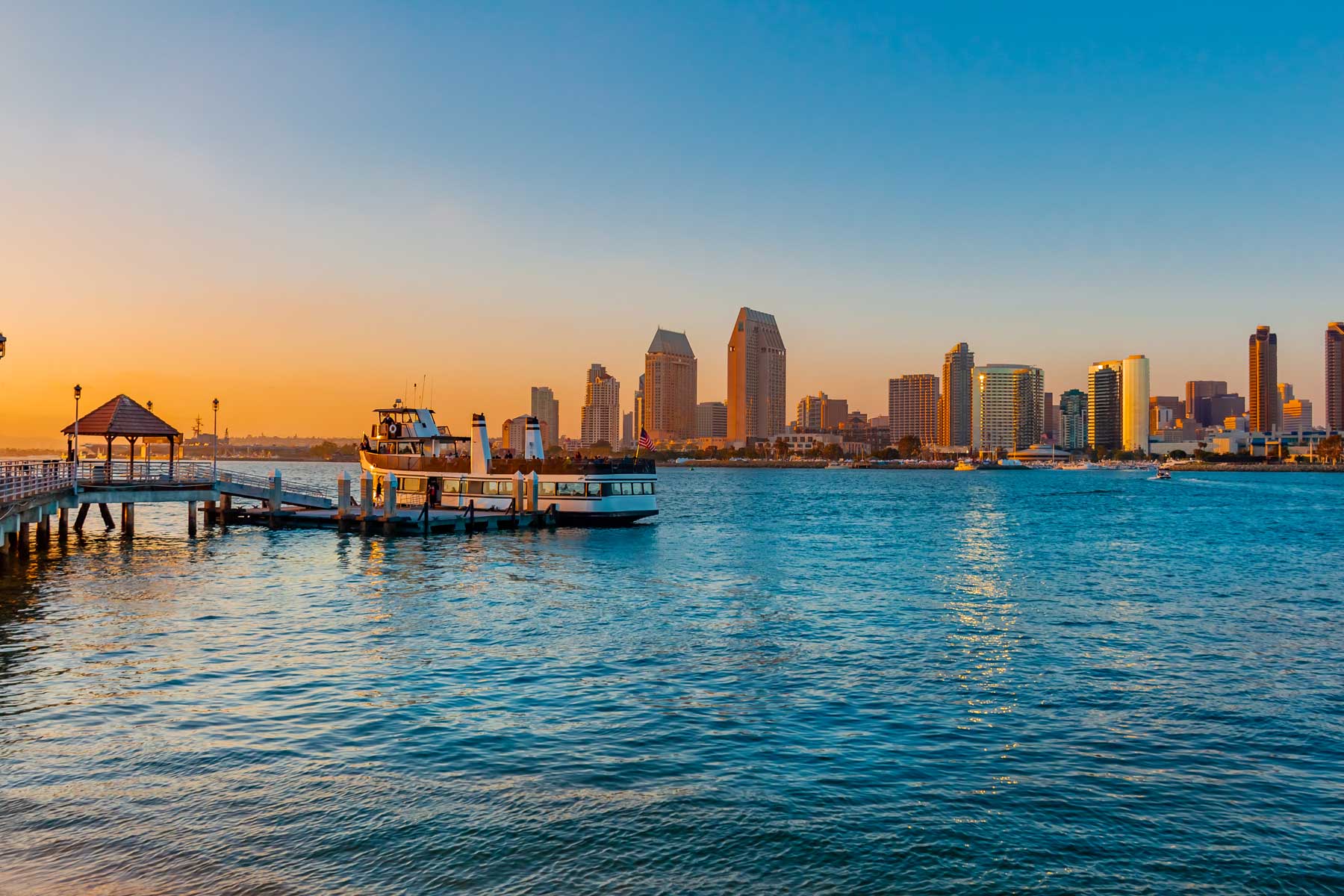 San Diego's Ocean Temperatures
When most people bring their friends and family to San Diego, they intend to visit the ocean. This is no surprise, considering San Diego has an expansive coastline boasting over 30 different beaches and clean, golden sand.
Though San Diego's famous Pacific Ocean tends to be warm during certain months, it is important to be prepared for what the temperature of the water will be when you get there.
While some individuals from colder places like Alaska or Wisconsin may find the water warm during any season, it is imperative to remember that others from warmer climates like Hawaii or South America may consider the ocean temperature chilly.
Since the hottest ocean temperatures in San Diego usually happen during August and September at around 70 to 75 degrees Fahrenheit, this is peak tourist season with snorkelers, surfers, and swimmers coming to town by the thousands. The hottest water temperature to ever grace San Diego's ocean temperature records is nearly 80 degrees Fahrenheit.
During winter, on the other hand, the water stays warm around the holidays at around 65 degrees Fahrenheit, but typically drops below 57 degrees Fahrenheit by February. This makes the wintertime waters excellent for any water sports that require a wetsuit including surfing, boogie boarding, body surfing, snorkeling, and even paddleboarding.
Visit San Diego for the Holidays
The best time to visit San Diego is in the winter. While this may feel contrary to popular belief for a destination that is famous for its summers, winter is the best time to visit for many reasons. Since winter is the coolest season in San Diego, there are way fewer tourists crowing up streets and vacation rentals.
During the summer, thousands of tourists come to San Diego to enjoy the beaches. This means more traffic, very limited dinner reservations at all beachside restaurants, higher fees for food and lodging, higher Uber costs, crowded and littered beaches, and grumpy locals.
The Benefits of Visiting San Diego in the Winter
When you visit during the winter, you will get a sunny and slightly cool weather pattern of anywhere between 60 and 70 degrees Fahrenheit instead of the summer's 70 to 80-degree trend.
You will be able to enjoy bundled-up evening walks on the beach while wearing scarves and sweaters and at the same time enjoy sunny beach days in your swimsuit. Restaurants and accommodations will also often offer lower pricing packages and holiday stays for out-of-town guests.
San Diego's Winter Events
The following are some of San Diego's best winter events ranging between December and February:
San Diego Bay Parade of Lights (December) – San Diego's Bay Parade of Lights is an event attended by nearly 100,000 San Diego residents and hundreds of tourists every year. Come join the fun as 80 boats decorated in lights and their Christmas best will parade across the bay for all to see. 
Ice Skating at the Hotel Del Coronado (December) – Every year, the famous Hotel Del Coronado on Coronado Island where Marilyn Monroe filmed "Some Like It Hot" sets up an ice rink outside of the hotel. Come skate with your family to Christmas music and views of Coronado Bay.
Candy Cane Lane (December) – In the Rancho Penasquitos neighborhood, houses on Candy Cane Lane get decorated in lavish lights, Christmas cardboard cutouts, and more to celebrate the holiday season. Grab some hot chocolate, hop in a rental car, and turn on some Christmas radio tunes.
Shopping Center Christmas Trees (December) – If you head to any shopping center or mall in San Diego during the winter, you'll be sure to see the city's impressive displays of giant Christmas trees and interactive set-ups. From surfing Santas and Rudolf the Red-Nosed Reindeer in boardshorts to a tree made entirely of surfboards, San Diego definitely embraces the SoCal Christmas spirit.
Whale Watching (December) – December is a great time for whale watching in the harbor. Dress warm, buy a waterproof parka and a water-resistant disposable camera, and book your family a trip. You might spot some whales bounding over the water in the distance from your prime viewing spot.
San Diego Museum Month (February) – Late winter marks San Diego's Museum Month where entry to any San Diego art, technology, or history museum comes at a special rate with exciting exhibits on display. Make a day of it and tour Balboa Park in between each museum visit.
Springtime in San Diego
If you simply cannot make it to San Diego for the winter holidays due to other travel plans or family obligations, consider instead visiting during the spring. Springtime in San Diego is a great time to visit America's Finest City because the weather warms up into the mid-60s with occasional rain showers that offer a beautiful display of rainbows across the sky.
Springtime also becomes hot air balloon season, and you can either view dozens of hot air balloons drift by overhead or brave the open-air yourself on a private guided hot air balloon ride.
An excellent destination for flowers, San Diego's spring season offers cactus and succulent plants in bloom, a thriving conservatory greenhouse featuring exotic plants, and wild native California poppies blooming throughout the city.
The Benefits of Visiting San Diego in the Springtime
Some of the biggest benefits of visiting San Diego in the springtime include fewer tourists and warmer weather. The hotel rates are still low before May kicks off the summer influx of visitors and there is much more parking available for the beach.
Spring is also a great time to come to town because local farms begin to supply farmers' markets and grocery stores with delicious seasonal local produce, including figs, bananas, avocados, and citrus such as oranges, grapefruit, tangerines, lemons, and limes.
San Diego's Spring Events
The following are the most exciting springtime events happening in San Diego:
Balboa Park Flower Conservatory (April) – April is when many of Balboa Park's flower conservatory plants and flowers bloom. Come visit and see the orchids, cactus room, and other exciting plants in bloom.
Mission Federal ArtWalk (April) – Mission Federal Art Walk has been occurring for 38 years in the Little Italy district of San Diego. Come support local artists and purchase some of their unique handmade wares.
Fiesta Cinco de Mayo (May) – In Old Town, San Diego's most historic district, Cinco De Mayo has been celebrated traditionally for 37 years with a giant street party and small satellite celebrations across the district.
Carlsbad Flower Fields (May) – Akin to the tulips blooming in Holland, these flower fields offer sprawling views of vibrant color, activities for the kids, and opportunities to purchase bundles of blooms to take back to your vacation rental with you.
San Diego in the Autumn
The third best time to visit San Diego is during the autumn. Autumn is an underrated time to visit San Diego because of its incredible hiking spots, warm fall days, delicious seasonal cuisine, and super fun Halloween and Thanksgiving events.
From family-friendly seaside pumpkin patches and delicious pie to apple cider, pumpkin beer, and a corn maze with a secret bar in the middle, autumn in San Diego is a laid-back adventure.
The Benefits of Visiting San Diego in the Autumn
During the autumn months in San Diego, the weather goes from hot to warm and some days can even call for a light jacket. The temperature starts out chilly and moist in the morning at around 55 degrees Fahrenheit but rises towards the 70s in the late afternoon as the sun sets in a glorious show of pinks, oranges, and purples over the ocean.
San Diego's Autumn Events
Bird migrations, kite flying, and excellent local and seasonal craft beers are some of the best reasons to visit San Diego during the fall. Take a look at what else San Diego autumns have to offer:
Miramar Air Show (September) – The Miramar Air Base is San Diego's premiere air military base. It offers an air show of death-defying stunts, including the Blue Angels, for one of San Diego's largest public events. The Miramar Air Show draws attendees from across the world every September. Don't forget your earplugs, as this event gets loud.
Julian Harvest Festival (September) – Get a rental car and drive the family up to Julian for a real autumn experience. Stop at the Julian Pie Company for some of the best apple pie you've ever had and stroll around the town of Julian in your cozy autumn sweater.
Fleet Week (October) – To support the U.S. Navy, attend Fleek Week and all the events that it has to offer from entertainment to tours of U.S. Navy ships.
Local Pumpkin Patches (October) – San Diego's pumpkin patches are in full swing during October. From Carlsbad all the way down to El Centro, you can find side-of-the-road pumpkin stands or U-pick farms from which to get your seasonal carving pumpkins.
The Scream Zone's San Diego Fright Fest (October) – The Scream Zone at the Del Mar Fairgrounds puts on a scary Halloween-themed park of haunted houses, spooky hayrides, and more. Bring the family but remember, this scary event is suitable for those unafraid of the dark.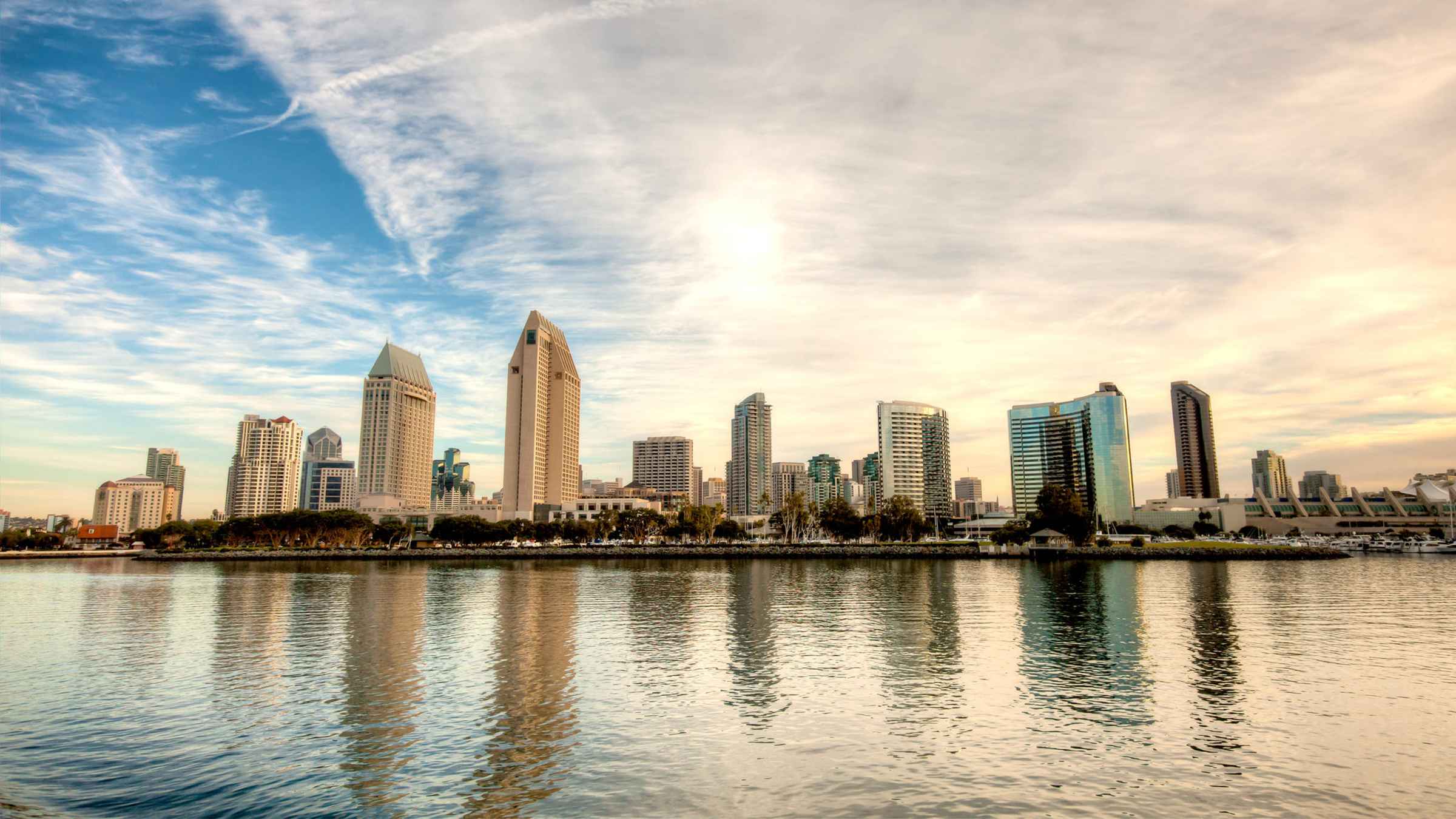 Skip San Diego During Summer
While summer seems like everyone's go-to season to take a look at what San Diego has to offer, the weather isn't actually much better in the summer than it is during the rest of the year. As a city with mostly sunny days and very little rainfall, there is no need to brave the swarm of crowds and influx of other tourists to experience the best of the city.
June is actually one of San Diego's gloomier months with June Gloom setting in early in the summer. The days are covered with a marine layer of fog that can last for multiple days and family beach outings can be ruined by the sudden appearance of gloomy June clouds.
Though the benefits of San Diego's summers include delicious watermelon, fun in the sun, Comic-Con, Pride, San Diego County Fair, and the Del Mar Racetrack's Racing Season, it is best to avoid San Diego during summer unless you are coming specifically as an attendee of one of its famed events.
San Diego Summer Events
The best and often the busiest San Diego summer events include:
San Diego County Fair, formerly Del Mar Fair (June-July) – One of the biggest country fairs in the United States, San Diego County Fair offers fair food, arts, petting zoos, farm animal competitions, rides like ferris wheels and roller coasters, and exciting live musical performances from favorites like Bob Dylan and Counting Crows.
Comic-Con (July) – San Diego Comic-Con is the city's largest comic book and superhero convention happening since 1970. At this time, people dressed in elaborate costumes take over downtown to attend lectures and talks by their favorite comic book creators, Marvel directors, actors, and more.
Del Mar Racing Season (July-September) – Place your bets on your favorite horses as the racing season kicks off in San Diego all summer long. Enjoy cold drinks and warm weather, as well as a show of perfectly fancy racetrack hats.
Come Fall in Love with America's Finest City
Though the best time to visit San Diego is during the winter, you are sure to fall in love with this spectacular Southern California city no matter the time of year you visit. Beautiful beaches, organic local produce, family-friendly outings, and incredible weather are all just a part of what San Diego has to offer.
More about our TFVG Author
A seasoned traveller, Dad, and avid sports tourist, James foundered The Family Vacation Guide to share his expert vacation experiences- especially when it comes to being a travelling family man.
Featured in Travel articles such as Travel + Leisure, TripSavvy and SFGate, you know you're reading some of the best vacation tips online.