Slide-lift-flip-sizzle— that's the sound of a chef flipping a pancake just for you!
It's hard to beat a steaming stack of pancakes in the morning… Or in the afternoon.
Whenever you need it, really.
If you're in San Francisco, California, you're simply spoilt for choice. You can find:
Specialty pancake eateries
Pancakes in the "sweet" section
No matter your preference, there's a perfect stack waiting for you in San Francisco. Let's explore!
14 Best Spots for Pancakes in San Francisco
Gram Cafe & Pancakes
Location: 3251 20th Ave #172, San Francisco, CA 94132
Need some jiggle? Try Gram's soufflé pancakes! Their flagship store is in Osaka, Japan– but luckily for you, they've opened a location right here in San Francisco.
On the menu, you'll find luscious bites and four different categories of pancakes.
There's Hot Premium (tall, fluffy soufflé pancakes with sweet sauces), Cool Premium (sliced, filled, and chilled soufflé pancakes), Sweet (thinner pancakes with classic toppings), and Savory (thinner pancakes with protein-rich toppings).
Keep in mind that Premium Hot pancakes with toppings take 30 minutes to make. You can order ahead to avoid the wait.
If you need a recommendation, try the Premium Crème Brûlée, a decadent choice of two stacked pancakes dripping with custard and caramelized sugar. They're as irresistible as they sound!
Sweet Maple
Location: 2101 Sutter Street, San Francisco, CA 94115
For a casual, quality meal, don't pass up on Sweet Maple! This intentionally "unpretentious" eatery is famous for its Millionaire's Bacon—thick pieces cooked low and slow in sugar and spice until chewy.
Sweet Maple offers a "Maple Plate" of buttermilk pancakes drizzled with pure maple syrup and butter and showered with powdered sugar.
To make this a complete meal, you should definitely add a side of Millionaire's Bacon to your pancakes. Redditors have praised its thick cut and huge portion, and it's still going strong after all this time!
For a unique pancake experience at Maple Syrup, don't miss out on this delectable combo.
Millbrae Pancake House
Location: 1301 El Camino Real, Millbrae, CA 94030
Since 1959, Millbrae has been pumping out incredible home-style food served in an establishment whose menu and interior exude a comforting, vintage feel.
In terms of pancakes, you're in good hands. Millbrae offers a wide selection of pancakes such as buttermilk, chocolate, blueberry, Swedish, German, Hawaiian, Manhattan, and so much more. The list of flavors is almost endless!
You have the option of ordering "short" (two cakes) or "full" (three cakes) stacks. If you want some more kick, you can also add a side of fruit, nuts, chocolate chips, or extra lingonberry butter.
There's even a doggie menu. Bring your pup and you can order them a plain beef patty, scrambled eggs, or both. Millbrae's food is loved by all!
Zazie
Location: 941 Cole Street, San Francisco, CA 94117
When it comes to pancakes, France (arguably) rules. Zazie, a French bistro, has a range of pancakes you simply must try.
The staff here is truly a family, and the love circulating in their restaurant is reflected in the food. While you'll find classic flavors like buttermilk pancakes, Zazie also offers Miracle pancakes with different flavors each week!
Guests with food restrictions will love having gluten-free pancakes made of oatmeal and bananas as an option.
Additionally, the establishment is part of the Tip Free movement, where tips are eliminated "in favor of living wages and revenue shares for everyone."
For well-made pancakes in a lively yet comforting setting, choose Zazie to be your next brunch spot!
House of Pancakes
Location: 937 Taraval St, San Francisco, CA 94116
House of Pancakes is a very special Taiwanese restaurant. It's small, cash-only, and has delicious but affordable food.
The restaurant offers noodles, meat, and savory pancakes. If you don't have a sweet tooth, this is an ideal spot for you.
The real magic lies in its extensive and unique pancake menu. You can choose from a range of options including beef, pork, chicken, vegetable, and onion pancakes.
If you're interested in trying these scrumptious pancakes but not sure what to pick first, go for the beef pancake, which is currently the restaurant's most-reviewed flavor.
Since House of Pancakes transacts on a cash-only basis, remember to stop by an ATM before you arrive. The restaurant doesn't have a website, but you can find it on Yelp instead.
Alnico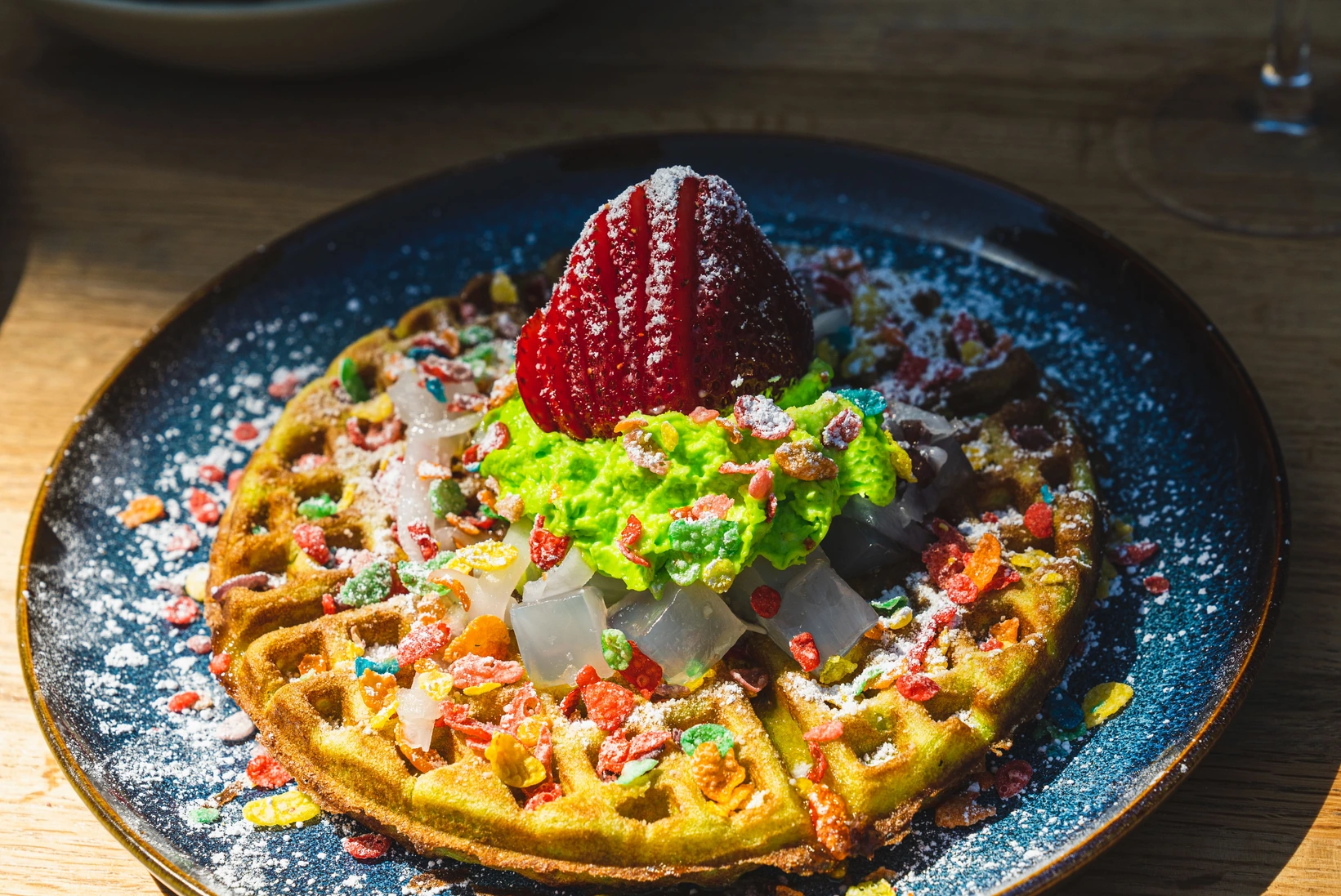 Location: 1050 Valencia St, San Francisco, CA 94110
Have you ever tried ube? If you don't know what it is, ube is a type of purple yam that's common in the Philippines and known for its sweet, vanilla notes.
Alnico is a restaurant serving authentic Filipino food. In terms of pancakes, they only have one option: ube hotcakes served with coconut sauce.
You can imagine why ube is a suitable ingredient for pancakes. It's soft, sweet, and absolutely filling. It gives the hotcakes a vibrant purple hue, making them instantly recognizable.
In a post asking about the best pancake places in San Francisco, a Redditor praised Alnico's ube pancakes for being great and gorgeous.
You'll probably have the same reaction when looking at pictures of these ube hotcakes—or even better when you see them for yourself!
The hotcakes feature on Alnico's weekday and weekend menu, so you can get them any day. These hotcakes are also vegetarian, making them appropriate for those observing the diet.
Whether you need a taste of home or just want to try something new, the ube hotcakes are an absolute must-try!
Outerlands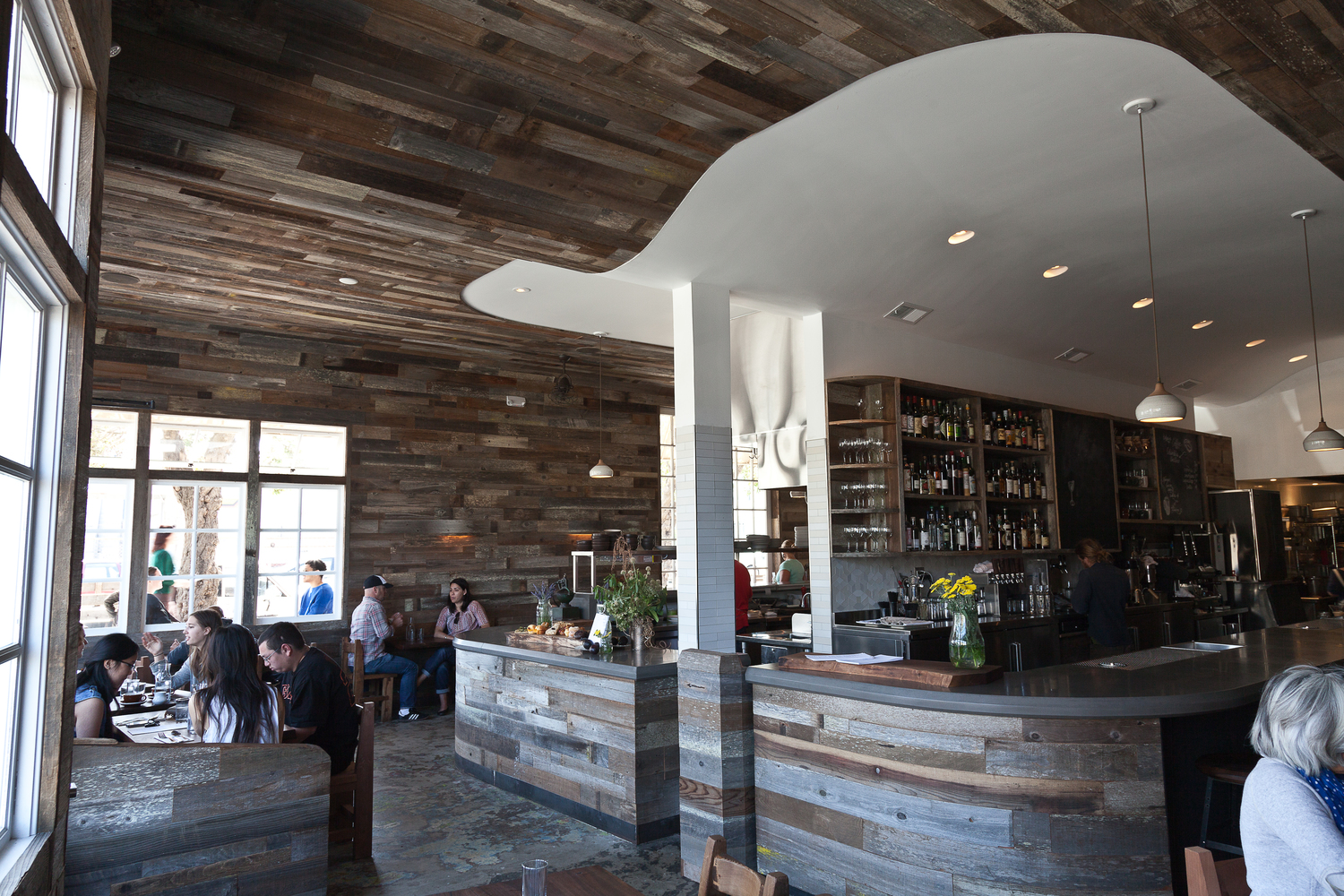 Location: 4001 Judah Street @ 45th Ave., SF
Outerlands is an energetic cafe with good food and fresh bread. It also has an expansive ambiance that resembles a cozy cabin in the middle of the city.
The star of Outerlands' menu is a Dutch pancake served with fruit and a scoop of ricotta nestled in the middle. Because it's vegetarian, you can eat the dish free of worries.
Unlike American pancakes, Dutch pancakes are quite large and thin.
How large? You can imagine it to be the size of a dinner plate. You could cover a lot of ground with these bad boys!
Outerlands celebrates everything seasonal. Aside from its dinner menu which changes according to the season, your Dutch pancake will also come with seasonal fruit, ensuring it's fresh and bursting with flavor!
Kitchen Story
Location: 3499 16th Street, San Francisco, CA 94114
Kitchen Story is a beloved breakfast spot in the Castro district that serves Californian cuisine with a splash of Asian influence.
Unlike other pancake spots, Kitchen Story's sole pancake option is ricotta hotcakes.
Because of its creamy and thick texture, ricotta is an amazing ingredient for pancakes—just imagine how decadent the pancake's texture is as you slice it into a serving!
For the kids, there's also a Mickey Mouse hotcake with eggs and bacon– a nod to the famous theme parks nearby.
Plow
Location: 1299 18th Street, San Francisco, CA 94107
If you're acquainted with the pancake scene in San Francisco, you've probably already heard about the famous lemon ricotta pancakes at Plow.
And who wouldn't? These pancakes are light, sweet, and soft—the ultimate combination.
The Plow has outdoor seating, a casual atmosphere, and a minimalist, no-fuss approach to food.
Alongside the famous lemon ricotta pancakes, there are also Annie's gluten-free almond flour pancakes served with lemon curd, butter, and enough syrup to drown in. A good gluten-free pancake is hard to find—but Plow makes it effortlessly easy.
If you have kids or a small appetite, both the gluten-free almond flour pancakes and lemon ricotta pancakes come in a kid's size!
Wildseed
Location: 2000 Union St, San Francisco, CA 94123
For the vegans out there, Wildseed would love to introduce itself to you.
This gorgeous cafe wouldn't just wow you with its refined interior design, no. It also has a 100% plant-based menu, meaning you won't have to ask the wait staff to please vegan-ize your meal. And yes, they do have vegan pancakes.
And they don't just have any vegan pancakes.
Instead, it's Red Velvet Flaxseed Pancakes with berries, walnuts, agave syrup, powdered sugar, and coconut whip on the menu. When Wildseed set out to put a pancake on the menu, it really didn't hold back!
Aside from vegan pancakes, you'll also find loads of other appealing, plant-based dishes. Bring friends with you, because the many dishes on offer here are meant for sharing!
Mama's on Washington Square
Location: 1701 Stockton St, San Francisco, CA 94133
For probably the most comforting pancakes in San Francisco, head to Mama's on Washington Square. The menu hosts simple but flavorful food—the pancakes are no exception.
Here, you can order old-fashioned, buttermilk pancakes in a regular stack of three fluffy cakes. If you're looking for something more bite-sized, you can also order in "silver dollar style" for a serving of six small pancakes.
Want something with a little more zest? Try Mama's banana pancakes filled "inside and out"!
Banking on the traditional branding with its pancake flavor options, Mama's offers a heartwarming, cozy, and homey feel.
After all, you sometimes just want a classic stack of pancakes and not a brunch full of fancy bells and whistles. And when it comes to that, Mama's is your trusty option.
Sears Fine Food
Location: 439 Powell Street, San Francisco, CA 94102
Sears Fine Food is one of those restaurants that seem like they've been around forever. That's pretty close to the truth—Sears dates back all the way to 1938, a year before WWII began.
A true lover of tradition, Sears is famous for its Swedish pancakes that are still faithfully made according to the family's original recipe since the thirties.
If you're interested to try, you'll receive 18 small and thin, nicely-cooked pancakes drizzled in syrup and topped with whipped butter.
If you can't quite face 18 Swedish pancakes, you can get a stack of two or three buttermilk pancakes instead. You can even purchase a two-pound bag of their famous pancake mix to make at home.
Sears' iconic and time-tested dishes are a testament to how much they'd already mastered the art of making pancakes. This is simply a pancake spot you can't afford to miss out on!
Pinecrest Diner
Location: 401 Geary St, San Francisco, CA 94102 Union Square
Established in 1969, Pinecrest Diner has been serving customers for many years in its 24-hour-open restaurant.
Throughout its history, Pinecrest has welcomed many guests of different dispositions, including those spending long, drunken nights.
Because breakfast is served all day, Pinecrest is a reliable destination for those midnight cravings!
For pancakes, you can get a short stack of two or a full stack of three. Alternatively, you can get two eggs paired with two pancakes instead.
Pinecrest also makes great Belgian waffles and brioche French toast, if you're looking to expand your palate.
Laidback atmosphere and traditional dinner? Pinecrest definitely fits the bill.
Chloe's Cafe
Location: 1399 Church Street, San Francisco, California 94114
The long line of people waiting to be seated inside Chloe's Cafe is a testament to how valued the restaurant is in the Noe Valley community.
Operating since 1987, the restaurant has proudly served delicious pancakes to new and returning customers alike.
One loyal patron even said they've never had a bad meal at Chloe's– even after trying almost everything on the menu.
In terms of pancakes, Chloe's offers two options—buttermilk and oatmeal griddle. Each choice is served in stacks of two, either as a plain dish (but still satisfying) or with toppings to choose from.
Perhaps the only downside is the restaurant's small space which limits the available seating.
If you're interested in trying you might have better luck buying takeaways instead, which you can order on their website.
The Bottom Line
Ah, pancakes.
This popular and well-loved breakfast staple has earned a soft spot for virtually everyone. And fortunately for those in San Francisco, there are plenty of locations serving delectable and filling pancakes!
Whether you're going for traditional brunch or satisfying that midnight craving with something richer and more luxurious, there's always a pancake spot that you can visit.
More about our TFVG Author