Unforgettable skies await your family at Joshua Tree Park in California. Finding a spot to stargaze isn't challenging at the National Park, but different points are more accessible than others. 
Whether your family prefers to sleep indoors or camp under the dazzling night sky, these are some of the best stargazing spots in Joshua Tree!
Sky's the Limit Observatory
The Sky's the Limit Observatory on the northern edge of Joshua Tree is an excellent place to start for new stargazers. The observatory's outdoor campus is open at night, so visit whenever you like. There are plenty of activities to enjoy, like an easygoing nature trail, a peaceful meditation garden, and an Orrery, a solar system model you can walk through.
Sky's the Limit offers free star parties when the moon isn't bright on Saturday nights. Astronomers set up telescopes for your family to get a close-up view of planets, stars, and meteors. The observatory recommended the event for children older than six that can look without touching at these viewings. Visit the Night Sky Festival for two days of fun and fundraising.
Sky's the Limit Observatory serves as a gateway to the National Park. The spot is worth the visit day or night for interactive activities for the whole family to enjoy. Even though the observatory is technically outside the park, we still think Sky's the Limit is one of the best stargazing spots in Joshua Tree.
Bear in mind that while Sky's the Limit is open all night, the observatory does not allow overnight camping. Accommodations can be found in nearby Twentynine Palms, but if you plan to stay in Joshua Tree, you'll find some great campgrounds with great views.
Ryan Campground
Joshua Tree National Park's nine campgrounds are great for stars, but Ryan Campground ranks as one of the best. This reservation-only campground hosts thirty-one sites. Fewer campers means less light pollution and better views of the stars.
Spend the night at these rustic campsites for a unique stargazing experience with your family. We recommend this campground for experienced campers as this site doesn't have water access, so you'll have to plan ahead. The fire risk is extremely high here all year round, so don't forget extra water to douse the campfire.
Ryan Campground serves as a great point to start on your stargazing adventure. The campground has several trailheads on-site. If this secluded campground is still too bright for stargazing, hit the trail, either the Ryan Campground Boulders or the Ryan Ranch Trail, for better views. Always take precautions when hiking at night.
During the day, Ryan Campground offers rock climbing nearby. If you're an adventurous family, this is a great spot to test your rock climbing skills. Come prepared and follow safety guidelines and restrictions put in place by the park for your safety.
One of the best spots for stargazing, Ryan Campground's proximity to many of Joshua Tree's features makes it one of the best places to stay in the park. Our next spot on the list is a trail close to the campground, but one that warrants its own spot on this list.
Cap Rock Trail
Cap Rock Trail only spans a half-mile, but on your walk, you'll encounter gigantic boulders and a wide variety of desert shrubs that will make it feel like you're exploring another planet. For the complete effect visit, the trail at night for out of this world views at one of the best stargazing spots in Joshua Tree.
Cap Rock Trail is a favorite of photographers for taking stunning images day and night. The loop trail stays level for most of the route, making it an easy hike whether you're carrying a toddler, a tripod, or both. The short trail isn't paved, but the gravel trail is packed well enough for strollers and some wheelchairs to be used on the trail.
Cap Rock Trail isn't just easy to walk. It's also easy to travel to. Lots of areas of Joshua Tree are only accessible by vehicles with high clearance and four-wheel drive. Luckily, there are still many stargazing spots everyone can reach, and Cap Rock is one of them.
Stop at the trail before sunset to explore the flowering plants and stay for the starry views at night. Experiencing the trail is a must, whether you're staying at the park or driving through.
Cottonwood Spring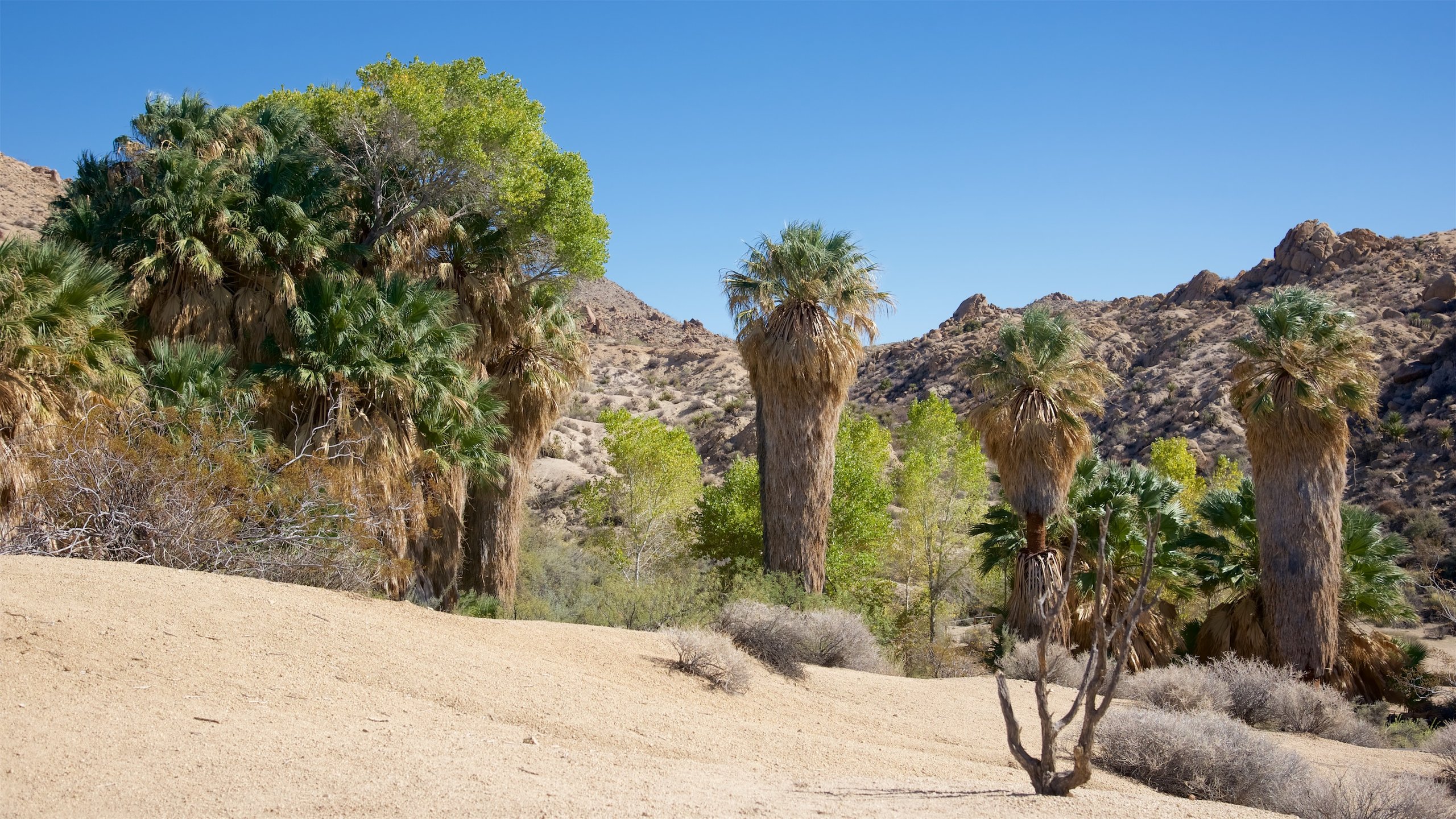 Places like Joshua Tree may look barren and harsh to the average visitor, but indigenous people of the region see the desert as a food source. Areas like Cottonwood Spring are especially significant as water sources in the region. The spring was used by the Cahuilla people for hundreds of years and by gold miners in the late 1800s.
Cottonwood Spring still draws star-seekers as one of the best stargazing spots in Joshua Tree. Many places around the spring are great for stargazing. Stay at the Cottonwood Campground for the whole experience, or stop at the Cottonwood Visitor Center for a quick visit during the day.
Keep your binoculars out during the day, too. Cottonwood offers excellent birding for species of roadrunners, wrens, and hawks, among others. Quite a few hikes begin at Cotton Spring. Some are easy walks, while others are more challenging. On weekends ranger programs are usually available to give your family exciting information about the area.
These amenities mean this area isn't the darkest part of the park, but there are many places nearby for great views if things get too bright. If your family hasn't prepared for hiking, consider using some of Joshua Tree's roadside pullouts for stargazing.
The stretch of Pinto Basin Road between Cottonwood Spring and the Cholla Cactus Garden has plenty of pullouts and some of the darkest skies in the park.
Black Rock Canyon Campground
Explore Black Rock Canyon from the campground of the same name for ease of access to hiking, a nature center, and excellent camping spaces. The National Park Service recommends this campground specifically for families and first-time campers. Black Rock Canyon offers flushing toilets and running water, unlike more rustic campgrounds.
Each campsite has its own picnic table and fire pit. It's perfect for families who don't want to go far in pursuit of a place to sit while watching the skies—Stargaze right from your campsite in Black Rock Canyon Campground.
Black Rock Canyon Campground serves as a trailhead for many hikes in the area, including several loop trails that are great for family hikes. A nearby Joshua Tree forest means this area is great for photos too. You'll probably spot wildlife right from your campsite here too. Lots of native birds and creatures like jackrabbits populate the area.
If the benefits of Black Rock Canyon Campground sound good, but the experience isn't exciting enough for your family, this site is a starting point for Wilderness Backpackers. Backpacking will bring your family closer to darker skies to experience some of the best stargazing in Joshua Tree.
Wilderness Backpacking isn't something to do on a whim. If you're not adequately prepared, stick to the cozy campground.
Indian Cove Campground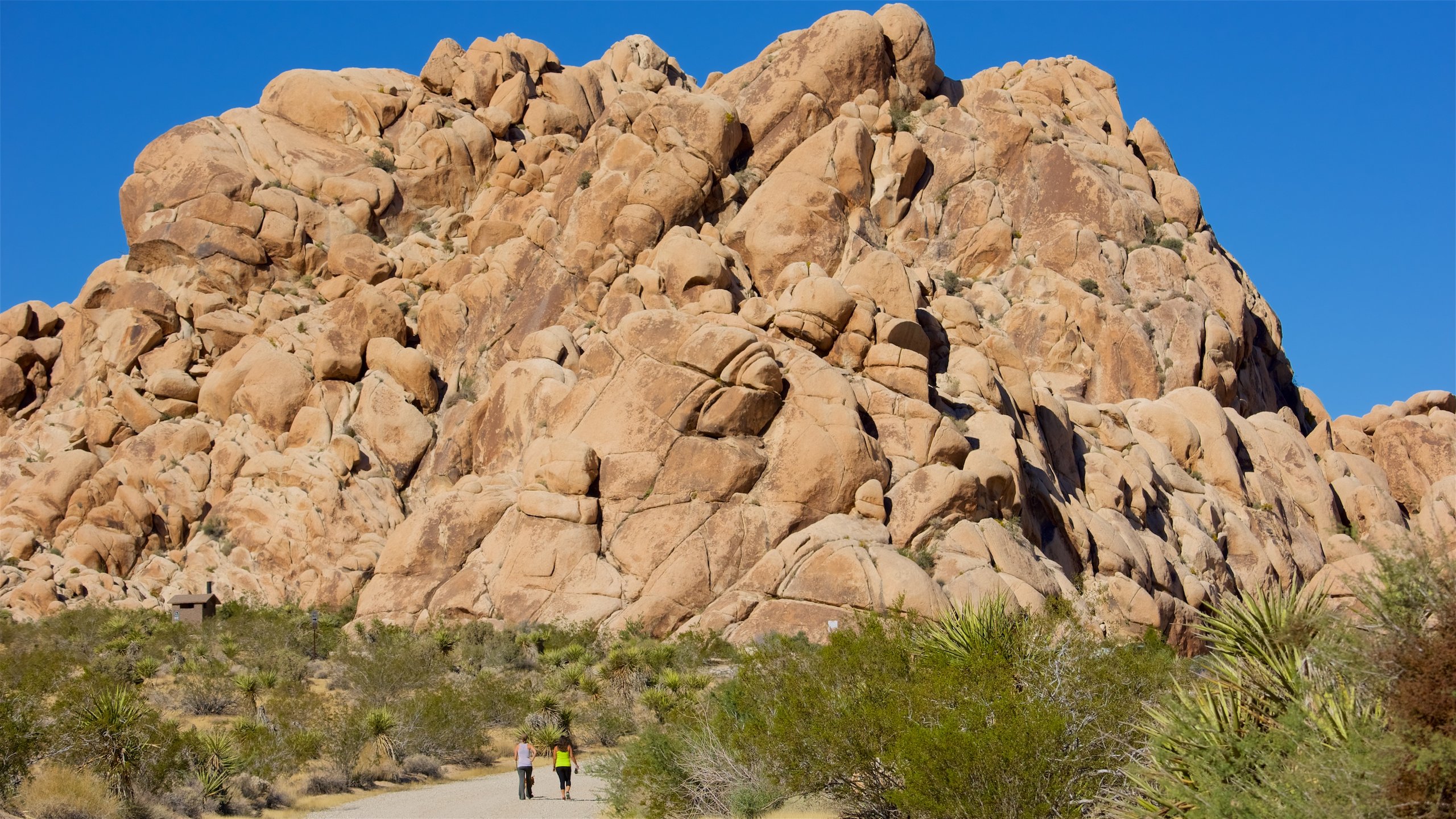 Indian Cove contains a spread-out campground sheltered among giant boulders. Stop by the area to check out the nature trail and amphitheater and stay for stargazing. This campground has pit toilets, but only offers water at the ranger station north of the campground.
This rugged area is less accessible than other campgrounds in the park for people who need wheelchairs or hoping to use strollers. The rockiness of the area means there are a lot of boulders where you and your family can observe rock climbers. If you visit in the spring or fall, you might see a desert tortoise too! There are lots of things to see and do right at the campground.
You'll find some of the best stargazing spots in Joshua Tree right where you're staying at Indian Cove Campground. Campers also enjoy these sites for the birds, wildlife, and unique shrubs. When the stars come out at night, enjoy them from your boulder-lined campsite!
Bear in mind that this campground requires reservations ahead of time. These spots are extremely popular and go quickly. Book the perfect location for your family before heading out to Joshua Tree National Park.
Skull Rock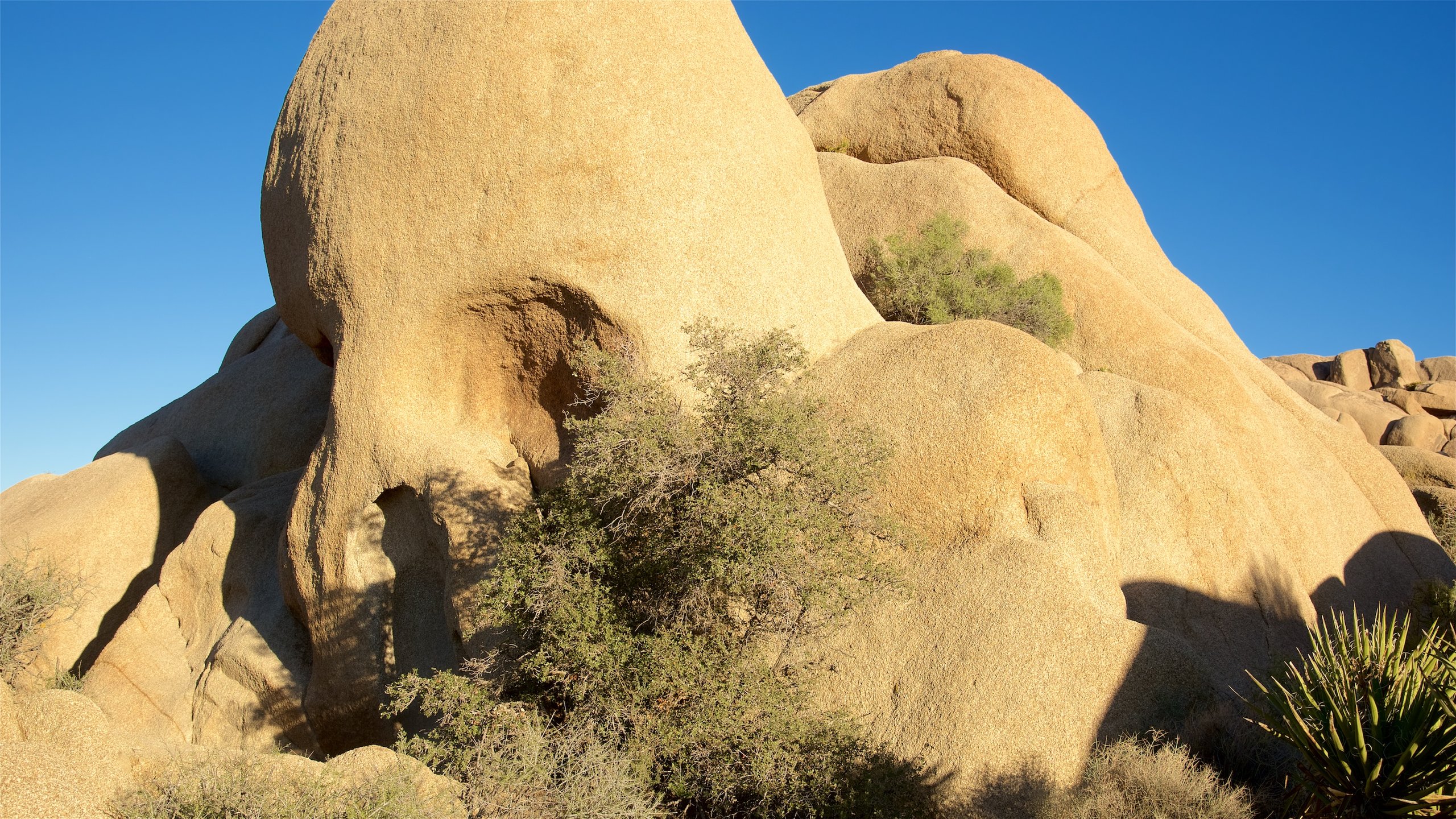 Skull Rock is one of the most fantastic rock formations in Joshua Tree National Park. The distinct feature is the result of erosion over time. Kids will love to explore this area during the day, and there's a nature trail nearby.
At night Skull Rock becomes one of the best stargazing spots in Joshua Tree. The backdrop makes for perfect views with a dramatic foreground. One of the benefits of stargazing at Skull Rock is that it is easy to get to. Skull Rock is just a short drive from the Twentynine Palms entrance if you stay in accommodations outside the park.
Whether you're planning on visiting during the day or night, Skull Rock is worth the stop. Many nearby trails are within walking distance, so you may consider using Skull Rock as a starting point for a stargazing hike.
Stargazing Tips
If the sky is clear in Joshua Tree, you're bound to spot some stars in the night sky no matter where you go. These are our tips for ensuring the best experience for your family's trip.
Bring a red flashlight. Avoid creating bright light that causes your eyes to take longer to adjust to the darkness when viewing the night sky. The lack of bright lights makes the stargazing so good at Joshua Tree.
Use binoculars. If you're considering buying a telescope specifically for Joshua Tree, consider picking up a pair of binoculars instead. Telescopes can be challenging for people unfamiliar with them, taking the time you could spend stargazing.
Check the weather and the moon. Prepare for your trip by checking the weather and the phase of the moon. A full moon means you'll see fewer stars on your journey.
Pack snacks and chairs. Bring chairs for the whole family so you can relax while you stargaze. Snacks help keep everyone happy, so bring something to eat!
Respect your surroundings. Many parts of Joshua Tree are open all the time, but some are not. Stay out of day-use areas at night and follow all other park guidelines.
With these tips and recommendations for the best stargazing spots in Joshua Tree to take kids to, you'll be spoiled for choice when deciding where to spend your perfect starry night!
More about our TFVG Author