Palm Springs, California, is a beautiful place for a family vacation. Located in the Coachella Valley of the Colorado Desert, Palm Springs has a variety of recreational activities and a booming cultural and arts scene.
You can find attractions that teach about the desert ecology and history and many tours and exhibits about Native Americans, like the Cahuilla Tribe, who still live in the reservation land in the Palm Springs area.
We hope this list will help you find some fun things to do in Palm Springs with kids, whether you're looking for an indoor activity or outdoor adventure!
Palm Springs Aerial Tramway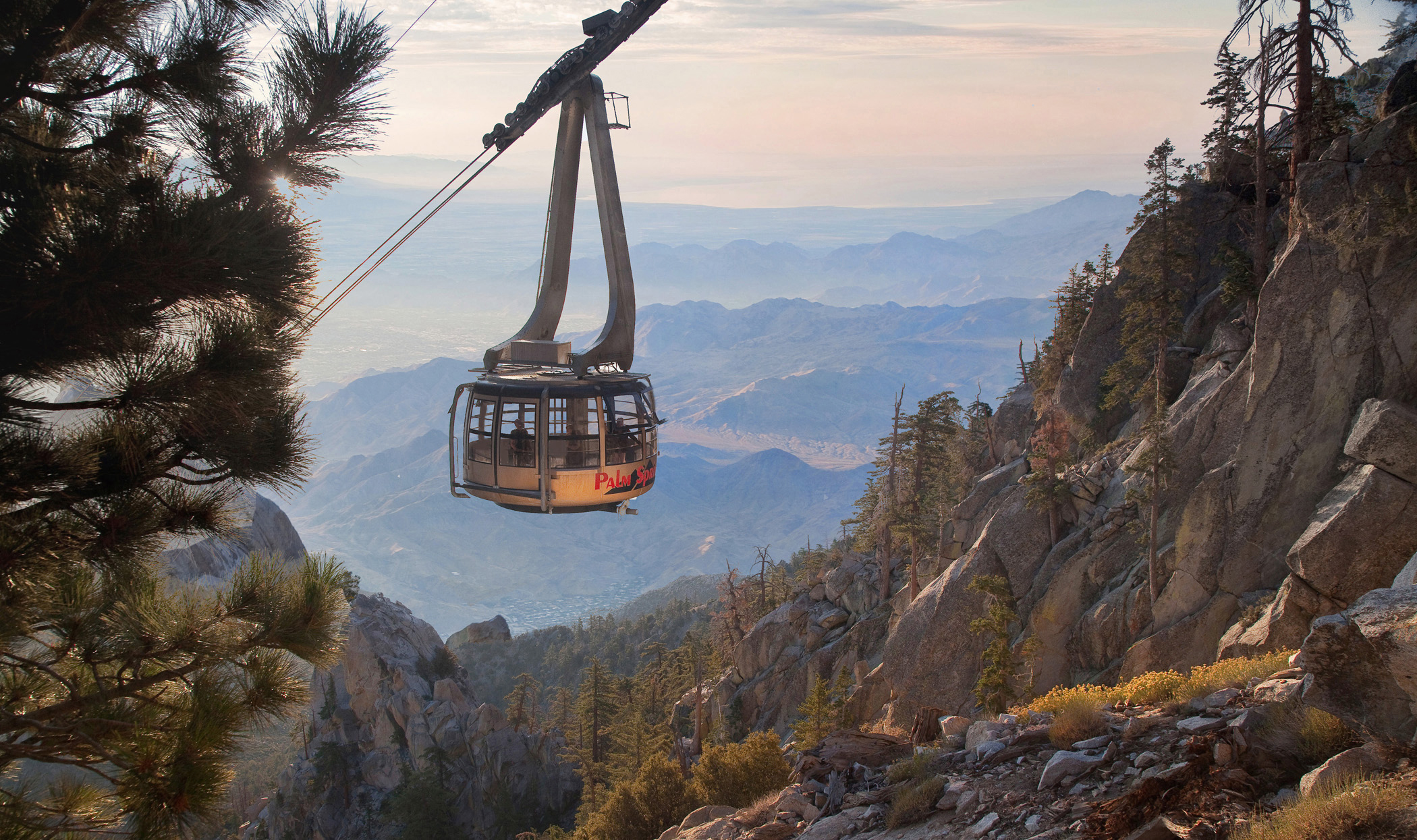 If you and your family want to see Palm Springs from the air, take a 2.5-mile trip on the Palm Springs Aerial Tramway. This ride is one of the best things to do in Palm Springs with kids for the view alone.
You'll also have the opportunity to enjoy some of the over 50 miles of hiking trails, observation decks, two theatres that show documentaries about the area, and a natural history museum once you reach the platform. 
Two restaurants and a gift shop also await after your 10-minute ride in the biggest rotating tramcar in the world. The trip gives you a stunning bird's-eye view of Mt. San Jacinto State Park and Chino Canyon.
You'll need to take a cab or contact a rideshare service, like Lyft or Uber, to get there if you haven't rented a car. No shuttles or buses go to the Valley Station. You'll also want to have warm clothing since the temperature at the Valley Station where you board the tram will be 30 to 40 degrees warmer than the temperature when you reach the top.
The tram runs daily, starting at 10 am on weekdays, and 8 am on weekends and holidays until 4:30 pm when the last tram goes up. Adult tickets cost $28.95 with a $2 discount for seniors 65 and over. Kids 3-10 ride the tram for $16.95.
Cabazon Dinosaurs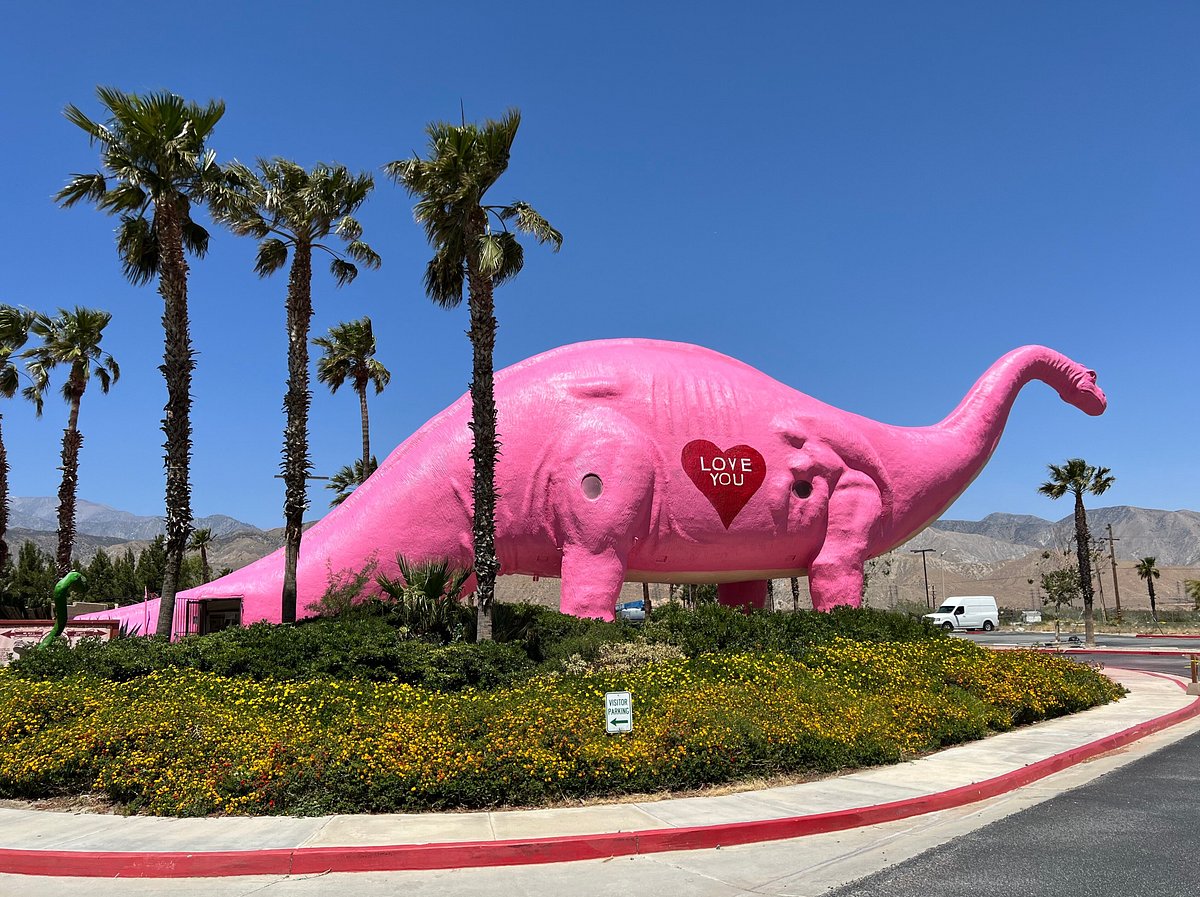 When you're looking for things to do in Palm Springs with kids, don't miss two of the largest statues of dinosaurs in the world. A quick 20-minute drive gets you to this fun roadside attraction that appeared in movies like "Pee Wee's Big Adventure."
"Dinny the Dinosaur" is 150 feet long with a gift shop inside, and "Mr Rex," the massive T-Rex statue, stands 65 feet high. You can take a guided walk through the dinosaur park any day of the week. 
The cost is $13 for adults and kids 13 and up and $11 for kids 3-12. Seniors and military service members can enjoy the Cabazon Dinosaurs for $10.
Joshua Tree National Park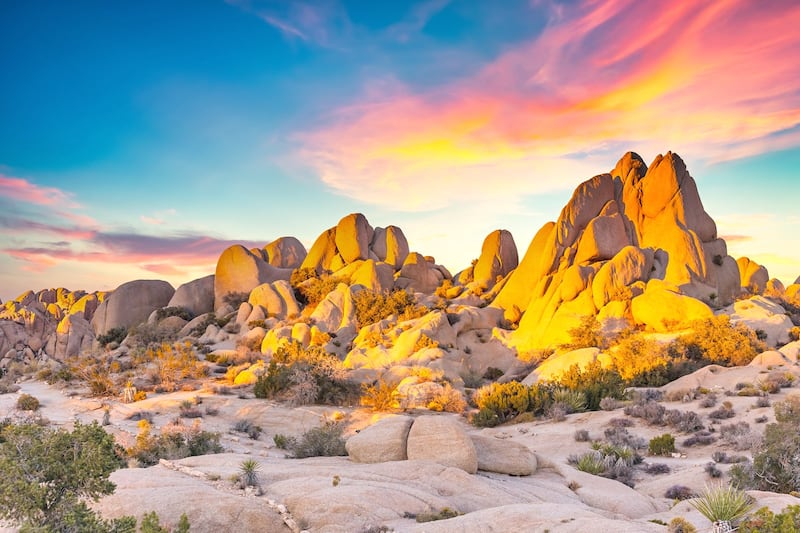 You can visit the Mojave Desert and the Colorado Desert in one trip to Joshua Tree National Park. The two deserts meet in the park, giving it a unique ecosystem with various things to learn about and see.
You will find so many things to do in Palm Springs with kids right inside this park. You can enjoy birding, biking, backpacking, horseback riding, hiking, rock climbing, stargazing, and camping, to only name a few activities.
There are four visitor centres where you can talk to park rangers or look at exhibits. You'll also find:
Cholla Cactus Garden and nature trail
Black Rock Canyon, with its Joshua tree first
Covington Flats for off-road vehicles
Indian Cove with a campground, trail, and the Wonderland of Rocks feature
Keys View, with its stunning view of San Gorgonio, San Jacinto, the San Andreas Fault, and Coachella Valley
Cottonwood Spring for bird-watching and hiking in the Colorado Desert
Skull Rock, with its uncanny appearance and the nature trail nearby
The park is open daily year-round and costs $30 per vehicle and $25 per motorcycle. Individuals on foot or bike cost $15 per person. You can use one pass for a week, so you don't have to do everything Joshua Tree National Park has to offer in one day.
Tahquitz Canyon
Hiking trails, rock art, and a 60-foot waterfall are some of the natural beauty you can experience at Tahquitz Canyon. Taquitz Canyon is home to the Agua Caliente Band of Cahuilla Indians and is still a sacred site.
You can learn more about the tribal culture and view artefacts at the Tahquitz Canyon Visitor Centre at the entrance to the canyon. 
The trail loop in this canyon is 1.9 miles long. You can take ranger-led interpretative hikes free with admission. However, you won't find water fountains or bathrooms on the loop, and some terrain is rocky and challenging, so families with small children might want to stick to more accessible hikes.
Nearby on the corner of Indian Canyon Drive and Tahquitz Canyon Way, you'll find the Agua Caliente Hot Mineral Spring and the Agua Caliente Cultural Museum building that should be open in 2022. The museum will let the Aqua Caliente tribe celebrate their heritage and share it with others.
The cost to get into Tahquitz Canyon is $15 per person and $7 for kids 6-12. Military service members get in for free. The canyon is open every day from 7:30 am to 5 pm except Jul 5th to Sep 30th, when it's only open on Fridays, Saturdays, and Sundays.
The Indian Canyons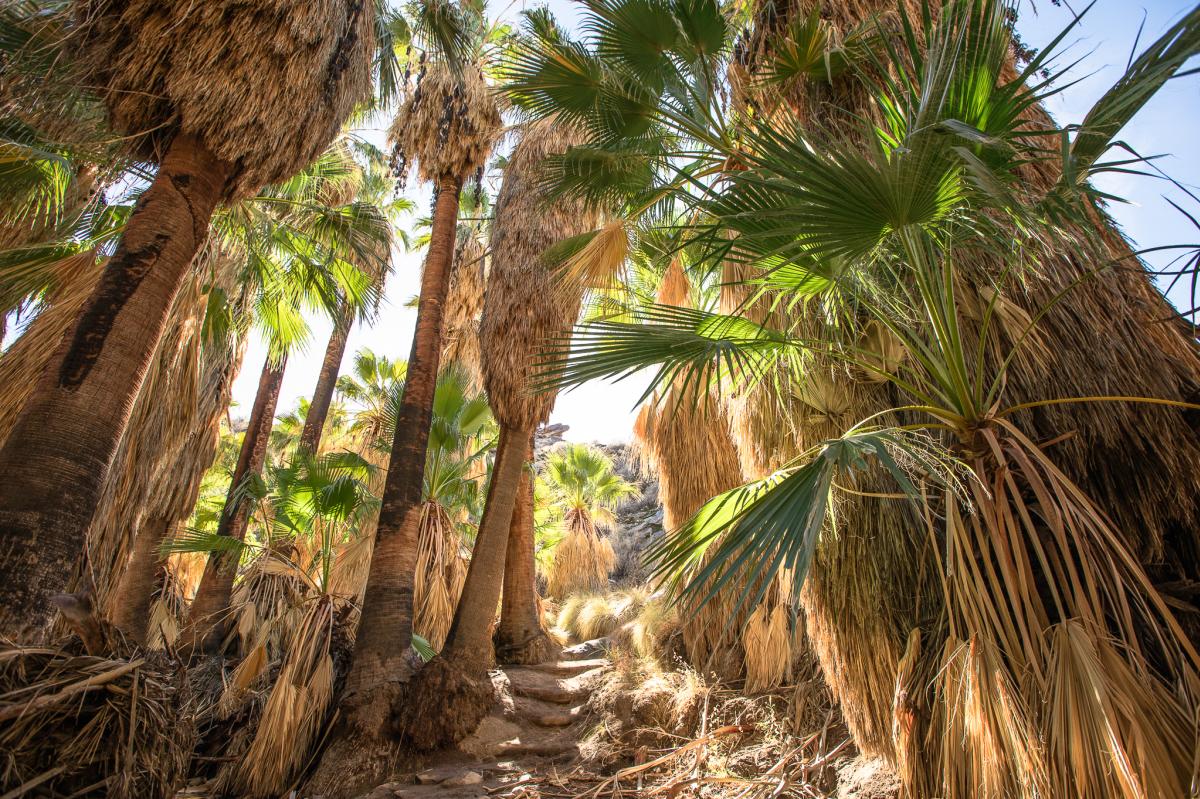 The Indian Canyons, a name for three more canyons the Cahuilla people call home, are Murray, Andreas, and Palm Canyons. If you're looking for things to do in Palm Springs with kids that let you enjoy nature and natural beauty, tours through any of these canyons will be fun for your family.
You can go horseback riding or hiking to see tribal artefacts and wildlife. Don't miss the Palm Canyon Trading Post, where you can buy pottery, woven baskets, and other items.
The Indian Canyons are open year-round from 8 am to 5 pm. You can enjoy hiking and other activities every day from Oct 1st to Jul 4th, but the canyons are only open on Fridays, Saturdays, and Sundays from Jul 5th to Sep 30th. You can take ranger-led interpretive hikes daily from October to June free with paid admission.
Adults are $12 for admission, students with an ID and seniors get in for $7, and kids 6-12 cost $6. Military service members get in for free.
The Palm Canyon trail is 2.7, with a moderately difficult elevation gain of 365 feet. Murray Canyon is a challenging 4.7 miles and nearly 450 in elevation gain.
Families with kids will probably enjoy the Andreas Canyon trail more. It's the shortest at 1.2 miles and has easy terrain with an elevation gain of only 200 feet.
Red Jeep Tours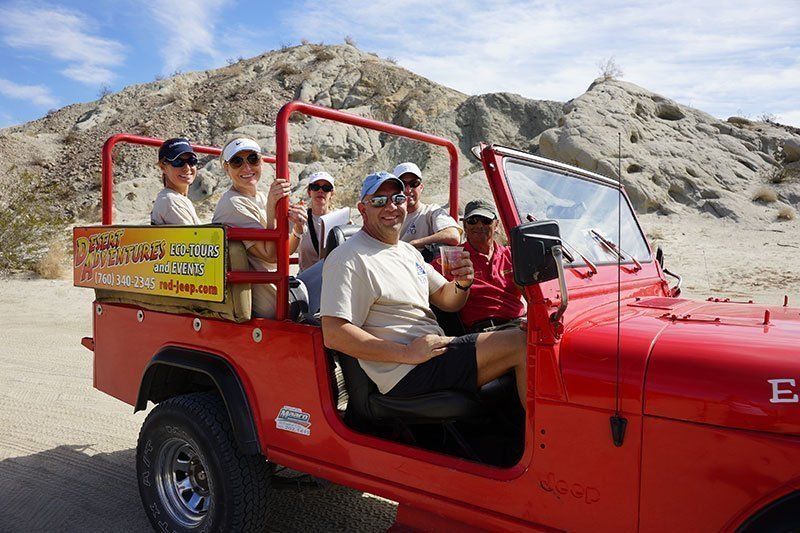 If you're looking for things to do in Palm Springs with kids and teenagers that combine a nature hike with a guided tour, you can experience the beauty and culture of the Indian Canyons on the Red Jeep Tours. A naturalist guide will point out some of the 150+ species of plants in the canyons and educate your family about the Cahuilla Tribe.
The Jeep CJ-8 holds seven passengers, and the trip does include a walking tour that lasts for one mile. You should be in good physical condition to take this tour because the terrain is rough in places. They provide granola and bottled water for guests and only accept parties of four or more.
They don't recommend the tour for kids under eight, and kids under five aren't allowed. If your child is under 4'9″, you must supply the booster seat for them to ride in the Jeep and wear closed-toe shoes suitable for walking.
Red Jeep Tours offers morning tours year-round but afternoon tours only from October to May. You'll pay $175 per person for this 3-hour tour, so the minimum party of four costs $700 with over $40 in taxes and booking fees, unless you reserve your place through Trip Advisor or another service that doesn't charge those fees.
Village Fest
Will you be in Palm Springs on a Thursday? If so, you'll be able to enjoy one of the most fun things to do in Palm Springs with kids: visit the weekly Village Fest.
Every Thursday from 6 pm to 10 pm, over 180 vendors offer a variety of goods, while existing businesses stay open late in downtown Palm Springs.
They close Palm Canyon Drive to traffic for this street fair filled with vendor booths offering everything from barbecue to CDs to information about self-driving cars.
Families of all sizes can enjoy browsing, shopping, and eating during the Palm Springs Village Fest.
The Living Desert Zoo & Gardens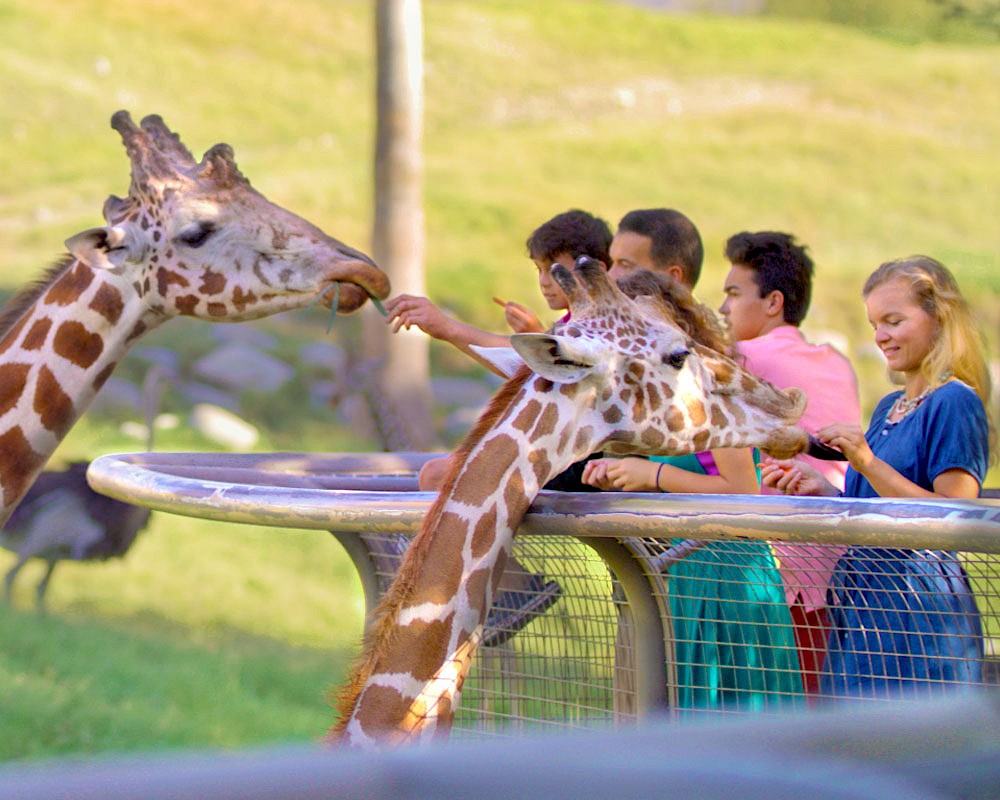 Trip Advisor named the Living Desert Zoo & Gardens in the top 1% of all attractions in the US, so don't miss it when you and your family visit Palm Springs. You'll find many things to do in Palm Springs with kids at the zoo.
Hiking trails let you walk through nature and enjoy the atmosphere, and a Discovery Centre helps children understand the ecosystem of Coachella Valley with interactive and educational activities. 
Kids can watch the model train chug on its track and ride on the large Endangered Species Carousel for $3 per ride. Everyone can enjoy animal encounters, like feeding a giraffe or petting and grooming goats. You can also take a private safari tour, though you may need to book ahead of time because these sell out for up to a week or two in advance.
The cost for the safari tour is $49 for kids and $79 for adults Monday through Thursday. Friday through Sunday and holidays cost $20 more per ticket.
The zoo is open every day from 8 am to 5 pm from Oct 1st to May 31st. From Jun 1st to Sep 30th, the hours are 7 am to 1:30 pm. The only day they close is on Christmas Day.
Tickets for adults and kids 13 and older cost $27.95, while kids 3-12 cost $17.95. Seniors 62 and over cost $25.95, and kids up to 3 are free.
Get Air Trampoline Park
For some active fun, the Get Air Trampoline Park is one of the best things to do in Palm Springs with kids.
The park offers several bouncing activities, including:
Trampolines
Dodgeball
A foam pit
Slamball
A fidget ladder
A slackline
Ninja activities
Massage chairs
A kiddie court for smaller children
Adults and kids 46 inches and taller cost $18.99 for one hour, $25.99 for two, and $28.99 for three hours with an additional $4 per pair of required jump socks. Kids under 46 inches tall cost $10.99 for one hour, $16.99 for two, and $19.99 for three hours plus the $4 sock charge.
If you're there on a Monday and have a family of four or more, you can get a 20% discount on your jump time. On Tuesdays, enjoy two hours of jump time for the price of one. Students with a valid student ID get 20% off on Wednesdays, too.
Smoke Tree Stables
Near the Indian Canyons, at the foot of Smoke Tree Mountain, you'll find the Smoke Tree Stables, a family-owned and operated business since 1927. The stables provide horses for film and television projects, and they offer horseback riding with guided tours every hour.
If you're an experienced rider, you can hire a private guide. Those new to horseback riding, who choose the stables for their first riding experience, will learn how to properly and safely ride a horse.
All riders must wear helmets and weigh 240 pounds or less. Visiting the stables is one of the best things to do in Palm Springs with kids seven and older. However, families with small children will have to skip this attraction since children need to be at least seven years old to ride.
The stables are open Fridays through Tuesdays and closed most Wednesdays and Thursdays. Rides must be booked online or by phone in advance.
The cost per person varies from $80 to $150. Private guided tours cost $200 on top of the regular rate. Military service members should call about a discount.
Sunnylands Centre and Garden
Twenty minutes from Palm Springs, you can enjoy the Sunnylands Centre and Garden. The historic estate tour takes you through a 25,000-foot home that once hosted global titans and historical figures when it was home to the Annenberg family. 
You can also enjoy a birding tour, a shuttle ride over the 200 acres of the estate, and a historic one-hour walk of about one mile. 
Impressionist paintings inspired the design of the gardens, with beautiful reflecting pools and over 70 native plants from the region.
The cost varies per tour and season, so call ahead if a peaceful walk or shuttle ride through beautifully tended gardens is something you and your family would enjoy.
Palm Springs Air Museum
If anyone in your family is interested in the history of flying and air travel, don't miss the Palm Springs Air Museum. Visiting the museum is one of the most fun educational things to do in Palm Springs with kids because they can get up close and personal to real flying aircraft from WWII and other periods.
At this museum, you can your family can enjoy:
Working planes from the Korean and Vietnam wars
Tours on the inside of aircraft
A kid-sized control tower
Flight simulators
Scheduled commemorative programs about specific topics like specific aircraft, historical events, and lectures from flight veterans
Adults and children 13 years and older can enjoy getting off the ground in a warbird ride. These rides last about 30 minutes in your choice of plane, with each aircraft carrying from one to ten people for a range of prices.
Most planes only take one passenger at a time for prices ranging from $195 for a PT-17 Stearman ride to $4995 for a ride in a Lockheed T-33 Thunderbird jet. The C-47 Skytrain cargo plane takes between 5 and 10 passengers per flight and costs $90 per person, making it more affordable for families. Other restrictions apply, so check the rules before booking.
The museum is open daily, except for Thanksgiving and Christmas, from 10 am to 5 pm. You can buy your ticket at the museum or in advance online.
Kids 12 and under accompanied by a paying adult get in free. Adults cost $20, kids 13-17 cost $18. Seniors, veterans, and retired military members also cost $18 per ticket, but active-duty military service members and their families get in for free.
Fantasy Balloon Flights
If you'd like to get into the sky but not in a plane, you can enjoy a hot air balloon ride instead from a company that started offering balloon rides in 1981.
Fantasy Balloon Flights features rides for between 2 and 10 passengers with an FAA-certified commercial pilot who's had over 2,000 hours of experience flying hot air balloons.
You will travel up to 30 miles over beautiful Temecula wine country, Santa Paula, or the Palm Desert. Depending on the specific balloon and landing site, rides last from one to one-and-a-half hours.
Each landing ends with a champagne toast (with non-alcoholic beverages available, too), a small ceremony, and awards for each passenger's first ascension.
Each flight costs $210 per adult and child 13 and older, $200 per senior, and $150 for kids 12 and younger.
Covered Wagon Tours
To get into nature and take life a little slower, you can enjoy one of the fun and educational things to do in Palm Springs with kids at the Covered Wagon Tours. Get off-road without a four-wheeler on these tours that make you feel like a pioneer.
A mule-drawn covered wagon and a naturalist Wagon Master guide take you through the desert. During the tour, you can enjoy the optional guided nature walk and learn about the beauty and ecology of the San Andreas Fault area.
After the tour, you will sit around an old-time camp with BBQ and live music, play games, barn dance, and enjoy the Western sunset. If you call in advance, vegetarian options are available for dinner.
A 2-hour tour with light refreshments costs $79 for adults and children 13 and older and $69 for kids up to 12. For the full experience with a Chuck Wagon BBQ, entertainment, and a campfire complete with marshmallow roasting, tickets cost $99 for adults and kids 13 and older and $89 for kids.
Wet & Wild Palm Springs
One of the best things to do in Palm Springs with kids is to visit a waterpark for hours of splashing and swimming fun.
Wet & Wild Palm Springs is one of the biggest water parks in the US. The park features:
Water slides from small to exhilarating
Five swimming pools
Loungers
Whirlpools
Jacuzzis
Water quality checks every 3 hours for safety
Anti-slip surfaces
Visiting the park is one of the more economical things to do in Palm Springs with kids. They offer a family rate for a minimum of two adults and one child up to 150 cm tall of $25 for two hours, $48 for a half-day, or $89 for a full day.
Palm Desert Aquatic Centre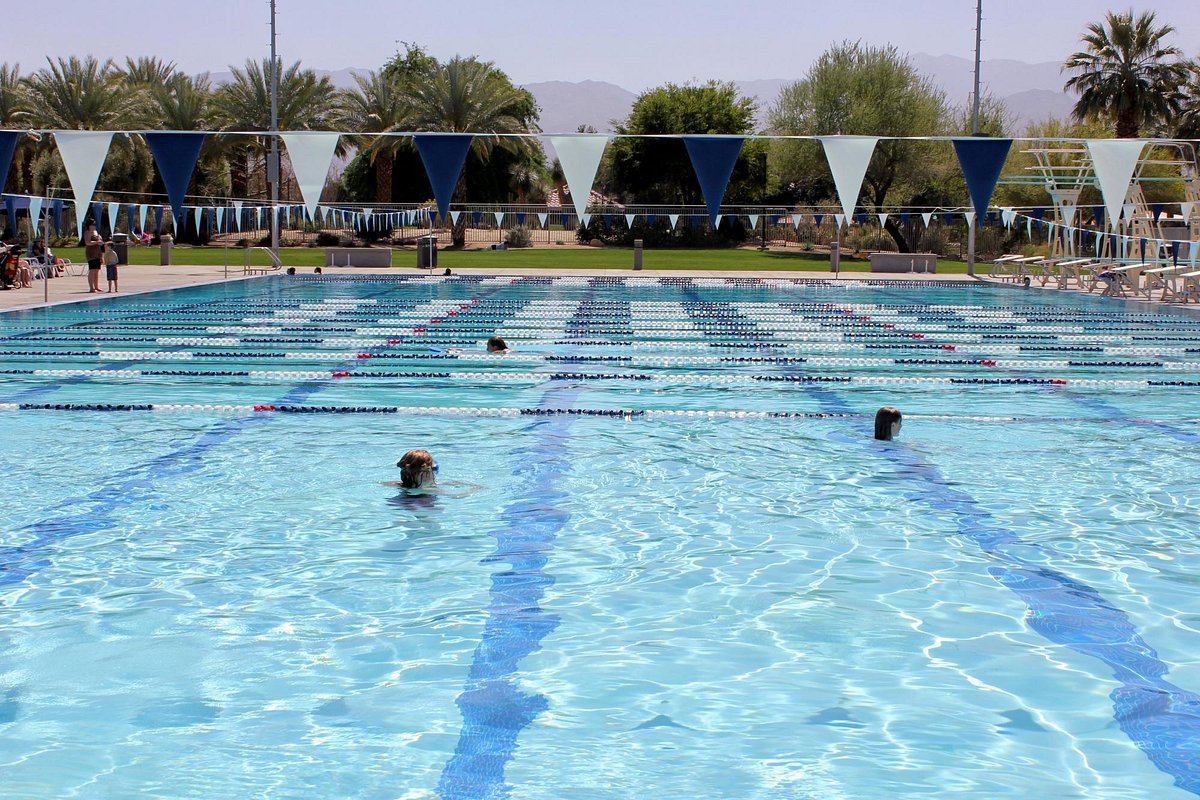 Another thing to do in Palm Springs with kids who love to swim is to visit the Palm Desert Aquatic Centre. The centre features lap pools, water slides, diving boards, and splash playgrounds for kids. 
Non-resident prices are $6 for adults and kids 13 and up. The cost for kids 6 to 12 is $4.50, and kids up to 5 cost $3.75.
Wrap Up
You can choose from exciting outdoor adventures, indoor educational and calm activities, guided tours, and roadside attractions.
With so many fun things to do in Palm Springs with kids, the biggest challenge is picking the ones your family will enjoy the most and finding time in your schedule to fit them all in.
We hope you enjoy your family trip to Palm Springs and find some fun attractions to visit from this list.
Check out these other fantastic articles about vacationing in California with the kids:
More about our TFVG Author
Karly is a The Family Vacation Guide guest travel contributor.