As a family, you want to go on an unforgettable vacation. A trip that allows you to enjoy each other's company and create memories without too many outside distractions. Palm Springs in California offers just such a location for your next family getaway. 
This friendly desert community welcomes kids and families with open arms and makes everyone feel right at home in their carefree city. With more than one hundred resorts and hotels within the city limits, there is a wide range of lodging options from which to choose.
In addition to providing lodging that meets all budgets, Palm Springs also has an abundance of attractions that any family would enjoy. Such attractions include amazing golf courses, award-winning restaurants, breathtaking desert scenery, and numerous art and cultural events.
Kimpton Rowan Palm Springs Hotel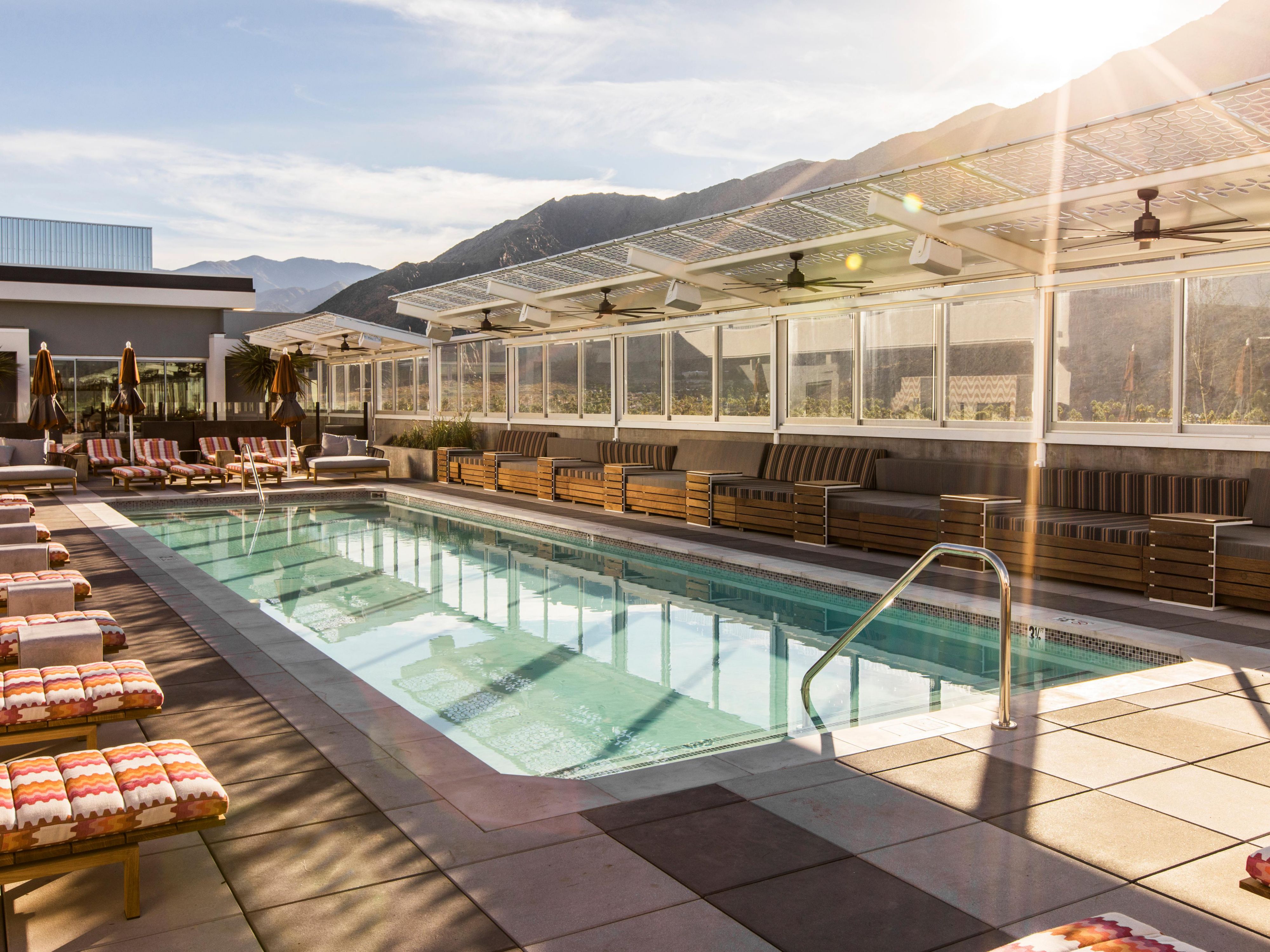 The family will have plenty of room to move around and spacious guest rooms or suites. Enjoy nearby rugged trails for exercise and adventure. Bikes are available for the family to enjoy a scenic ride around town.
Adult couples can leave the kids behind for a night and enjoy the local nightlife. There's also an evening social hour hosted at the location as well.
If you can't bear to leave the family pet behind, no problem. This hotel has no restrictions on pets, so give your fur baby a vacation as well.
WiFi is available so the kids can always have access to online games, Netflix, or staying in contact with friends back home.
Food options such as Juniper restaurant feature sandwiches, salads, and shareable snacks. The 4 Saints restaurant works with residents to design a creative and customized menu featuring the freshest seasonal ingredients.
100 W Tahquitz Canyon Way, Palm Springs, Greater Palm Springs, CA 92262-63901 (760) 904-5015
Colony Palms Hotel
Guests have access to lush lawns and amazing views from room Terraces. Accommodation options include bungalows as well as the private residence (a full luxurious) of Mr. Hermann. There are as many as 3 acres for kids to stroll or run around on.
Many guests use this hotel to host events such as weddings and reunions. So after you test it out with your household, consider using it as a place to reunite the entire family.
If you and your spouse need extra relaxation, don't forget to utilize the Spa at Colony Palms. This spa offers luxurious treatments to cleanse your body and soothe your muscles.
572 N Indian Canyon Dr, Palm Springs, Greater Palm Springs, CA 92262-6030
Los Arboles Hotel
Your family can enjoy several meals at the well-known El Mirasol Mexican Restaurant and bar. Enjoy the relaxing luxury of room service, a heated pool, a Jacuzzi, room hammocks, and nearby spa services.
Whether you are a couple or a big family, everyone can walk into town for further fun shopping, soaking in some history of art at museums, and testing your luck at the casino. Take advantage of bike rentals to ride around town together or go golfing.
Room options include both suites and family rooms. Some rooms even have private patios.
784 N Indian Canyon Dr Palm Springs, Greater Palm Springs, CA 92262-5704
Oasis Villa Resort
The Villa has specific activities for children and families. Families can work up a sweat together on the tennis court, in the fitness center, or take advantage of the free bikes. Of course, there is a pool to refresh yourself and work on your backstroke.
If mom or dad need to get some work done, there is a Business Centre with Internet Access. Don't worry; there is free Wi-Fi available beyond the Business Center as well.
If you don't want to eat out at nearby restaurants such as Nina's Greek Cuisine & Pizzeria, utilize the on-site BBQ facilities. Visit the nearby ruins of the Indian Canyons or work up a sweat on the trails of San Jacinto Mountain.
190 E Palm Canyon Dr, Palm Springs, Greater Palm Springs, CA 92264-5200
Ace Hotel & Swim Club
When you bring your family to this hotel, you can enjoy evening entertainment, room service, private balconies, a pool, and free bike rentals. Your family pets are allowed to get in on the fun as the Ace Hotel warmly welcomes them as well.
When the kids go to sleep, couples can raid the minibar or grab a drink at the actual bar/lounge on the facility.
There are 26 restaurants within 1 mile of the Ace Hotel. Nearby attractions include the Willis Palms hiking trail and the Moorten Botanical Garden.
701 E Palm Canyon Dr, Palm Springs, Greater Palm Springs, CA 92264-8811
7 Springs Inn & Suites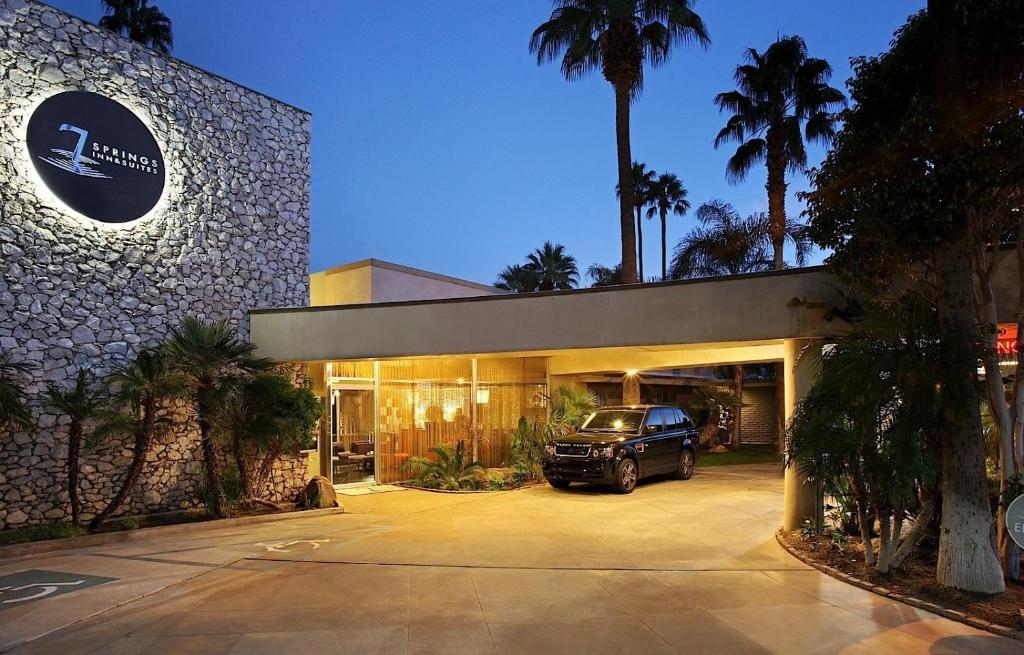 Check out the statue of the late TV icon Lucille Ball nearby. Utilize free wifi, AC, flat-screen TVs, and refrigerators in all rooms.
Further comfort is available for families by way of barbeque facilities and a pool. If the pool is not enough water time, the kids will enjoy an off-site waterpark as well.
When it is time to eat outside, you can choose from as many as 18 restaurants within 0.3 miles, such as Billy Reed's Restaurant, Melvyn's Restaurant & Lounge, or Trio Restaurant.
Bring the family to a local performance at Live It Up Productions or to see art at the Palm Springs Art Museum.
950 N Indian Canyon Dr, Palm Springs, Greater Palm Springs, CA 92262-5719
Best Western Plus Las Brisas Hotel
You and your family will have fun in this centralized downtown location. Enjoy a free breakfast every day or lounge in a gazebo by the pool. If you don't care to indulge in outside restaurants, throw some burgers on the grill and have a good time right there.
Spacious rooms feature a fireplace, satellite TV, and blackout curtains so your sleep won't be interrupted.
Take the family on nearby activities such as horseback riding and hiking. There's also a tennis court nearby. Don't worry about keeping your clothes clean during your trip since there is a self-service laundry available as well.
When it's time for mom and dad to get away, they can easily enjoy some alcoholic beverages in the cocktail lounge.
222 S Indian Canyon Dr, Palm Springs, Greater Palm Springs, CA 92262-66181
Skylark Hotel
Go back in time to the 1950s when you stay in this classic Hotel. Twenty-eight rooms are uniquely styled in a way that represents the aesthetic of that era. Go hiking and soak in the beautiful views of the San Jacinto mountains.
Enjoy a complimentary breakfast, hot tub, pool, and high-speed internet. Rest assured of your family's health since this is a non-smoking hotel. Rooms also come with a safe for valuables, a flat-screen TV, and air conditioning.
There are 39 restaurants within less than a mile including the highly-rated Rick's Desert Grill, Copleys On Palm Canyon, and Rick's Restaurant & Bakery. Nearby attractions include the Palm Canyon theater – a 15-minute walk away. Get some exercise in the historic Las Palmas walking area.
1466 N Palm Canyon Dr, Palm Springs, Greater Palm Springs, CA 92262-4412
Courtyard by Marriott Palm Springs
The Courtyard has the ideal location of downtown Palm Springs while also an hour away from the airport. Don't forget to inquire about the free airport shuttle!
Guest rooms and hotel lobby have recently been renovated. If parents or kids need to get out of their room to do a little bit of work or socialize, feel free to utilize flexible workspaces, free Wi-Fi, and TV in the lobby area.
Options include non-smoking suites and family rooms. Rooms are adorned with high-end toiletries from Paul Mitchell, private balconies, satellite cable TV, sofa bed, and a separate living room, among other things.
There is an on-site convenience store, a coffee shop, meeting rooms, laundry service, dry cleaning, a hot tub, and an on-site restaurant. In the evenings, the kids can have fun splashing around in the heated pool while parents sip a cocktail in the lounge.
1300 E Tahquitz Canyon Way, Palm Springs, Greater Palm Springs, CA 92262-67161
Desert Isle of Palm Springs, a VRI resort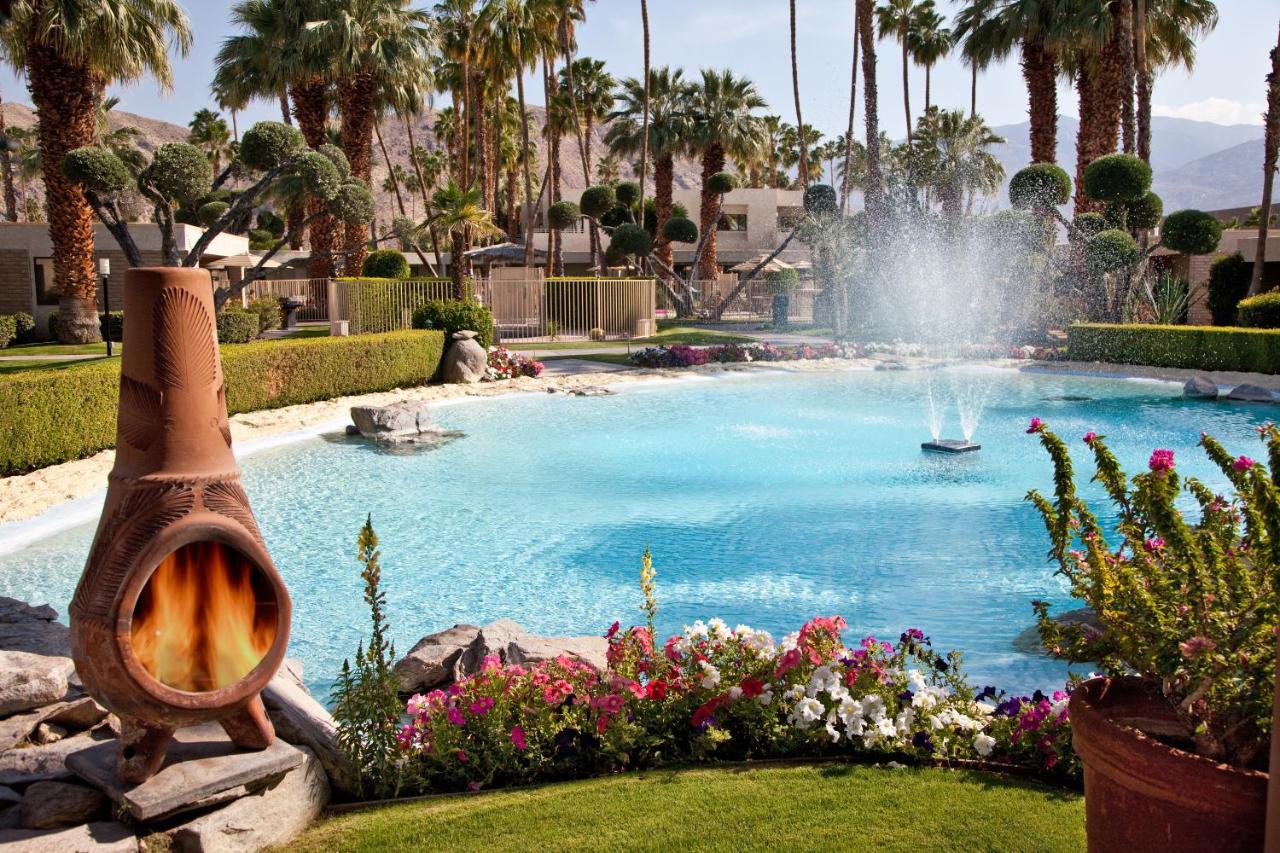 Rest assured your family will be comfortable in these rooms that feature a kitchenette, private balcony, internet, refrigerator, and a flat-screen TV.
Popular food options within walking distance include Smokin Burgers & Lounge, Giuseppe's Pizzeria, and the Purple Room Supper Club. See the sights and have a little adventure when you explore nearby Canyons such as Tahquitz Canyon and Agua Caliente Indian Canyons.
Families can take advantage of free bikes or practice their swing on the tennis court. In addition to English, the resort also speaks Spanish and Filipino.
2555 E Palm Canyon Dr, Palm Springs, Greater Palm Springs, CA 92264-4829
Hilton Palm Springs
Hilton Palm Springs provides free transportation from the airport upon arrival and gladly welcomes your pets. Take advantage of room service, a private balcony, and a safe for your valuables. Both smoking and non-smoking rooms are available, in addition to family rooms and suites.
Burn some calories in the pool or enjoy some socialization in the lounge over a drink. This is an ideal spot to host a big family event since there are 33,000 square feet of event space, including two ballrooms and a pool courtyard.
Your family won't be at a loss for food choices since there are as many as 84 restaurants within less than 0.3 miles. Options range from a French cafe to pizza, sandwiches, and more. Take the family to Palm Springs Art Museum or the Museum of Architecture. Don't forget to buy some tasty treats at Brandini Toffee.
400 E Tahquitz Canyon Way, Palm Springs, Greater Palm Springs, CA 92262-66051
Caliente Tropics Resort
This resort has a range of options for parents and kids. Enjoy the picnic area, games, or lounge by the pool. Various types of massages are available as well as facial treatments.
In addition to a game room, kids can enjoy watching children's television networks on TV. Swimming options include a shallow end in the pool and pool toys for the little ones as well. There are also meals just for kids.
After finishing up a full body massage, the adults may want to socialize over drinks in the lounge – especially at happy hour. Families can include beloved family pets along for fun as well.
411 E. Palm Canyon Dr., Palm Springs, Greater Palm Springs, CA 92264-2549
Palm Mountain Resort & Spa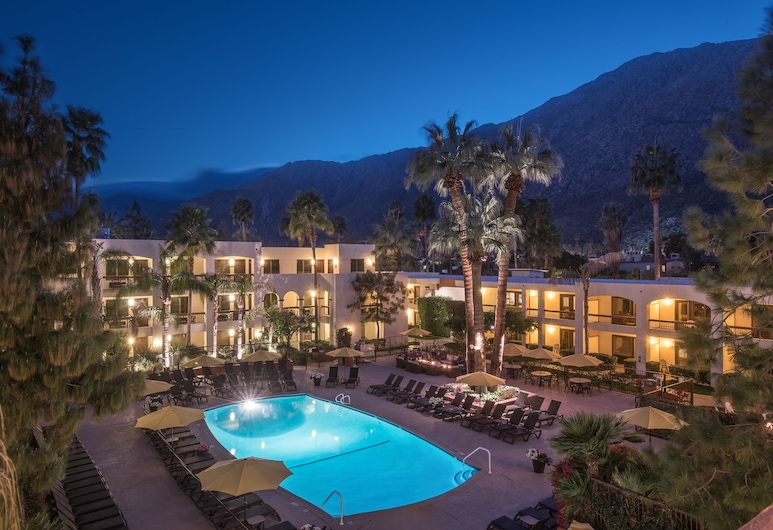 This convenient downtown resort provides a spa, airport transportation, free shuttle, hot tub, sun terrace, and fitness center. The spa provides couples massages as well as full-body massages.
Use the self-serve laundry to ensure your family's attire stays clean and presentable regardless of activities during your stay. This pet-friendly hotel also has room service, housekeeping, and a private balcony.
When it's time to soak in the water, your family can choose from a heated pool, outdoor pool, or hot tub. If it gets chilly in the evening or you want to get a little cozy, sit around the outdoor fireplace.
155 South Belardo, Palm Springs, Greater Palm Springs, CA 92262-6327
Renaissance Palm Springs Hotel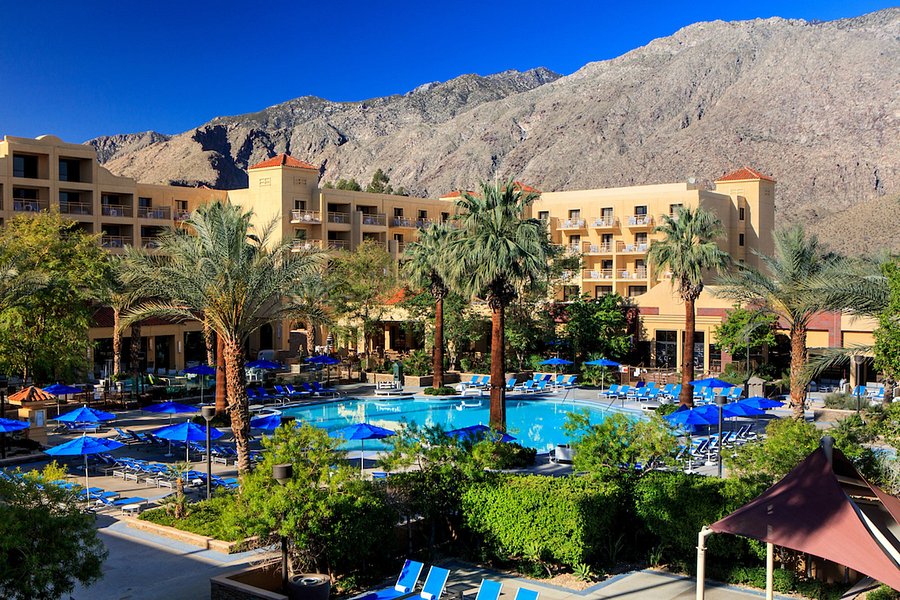 Room options here include family rooms or suites and feature a safe, private balcony, as well as a fireplace.
Enjoy a concierge, beach chairs to relax on by the pool, sauna, or work out in the fitness center. The family can feast on locally-grown fruit at its casual restaurant, Date.
Take the family on nice long walks as the area ranks 82 out of 100 for walkability. As many as 141 restaurants are less than a mile away.
888 E Tahquitz Canyon Way, Palm Springs, Greater Palm Springs, CA 92262-67081
WorldMark Palm Springs – Plaza Resort and Spa
This family-friendly spot features a kids club, concierge, and outdoor pool. Kids (and parents) will love the fact that you can bring your pet along. Practice your swing on the tennis court, and in the evenings, chill out with a massage or dip in the hot tub.
In addition to a kids club, there's a game room and a nearby water park as well. Take advantage of the free parking since you most likely will need a car for the area.
2601 Golf Club Dr, Palm Springs, Greater Palm Springs, CA 92264-6501
In conclusion, a vacation in the Palm Springs area provides many options for comfortable family accommodations. Whether you want spa services, hiking, various pool options, or pet friendliness, you have a range of hotels and resorts to choose from.
More about our TFVG Author
A seasoned traveller, Dad, and avid sports tourist, James foundered The Family Vacation Guide to share his expert vacation experiences- especially when it comes to being a travelling family man.
Featured in Travel articles such as Travel + Leisure, TripSavvy and SFGate, you know you're reading some of the best vacation tips online.