If you're planning a trip to Disneyland for your family, you're guaranteed to have a fabulous vacation. Staying at the Disneyland Hotel can only make things better.
Below, discover everything you need to know about the Disneyland Hotel in Anaheim, California. We'll start with the basics, like location, rates, and descriptions of the rooms. Then we'll get into more fun material, like all the fun things to do at and around these quintessentially Disney accommodations.
Disneyland Hotel: All the Basics
The Disneyland Hotel is a mid-tier Disney hotel in Anaheim, California. The Grand Californian is the flagship, and it has Disney Vacation Club villas. Paradise Pier is more similar to a value resort in Disneyworld.
Where Is the Disneyland Hotel?
The official address of the Disneyland Hotel is 1150 Magic Way, Anaheim, California, 92802. Anaheim is located in southern California. It's inland, approximately 25 miles southwest of Los Angeles.
Los Angeles International Airport (LAX) is the largest airport in the area, although there are others. It takes about 40 minutes to drive the 34 miles between the two landmarks.
In relation to the Disneyland theme parks, it's located to the west of both of them, slightly to the southwest of Disneyland and northwest of California Adventure.
Can you walk from the Disneyland Hotel to the parks, Downtown Disney, and the other hotels (to visit restaurants, shops, and the spa)? Yes! It takes about ten minutes to walk to the monorail, which will take you to Disneyland. It's a short walk (or jog, if you prefer) around the rest of the property, anywhere you want to go.
What Are the Rates at the Disneyland Hotel?
Rates are always subject to change, so remember that these are approximations. Rates at the Disneyland Hotel start at $300, but you'll be hard-pressed to book a room for less than $350 per night, before taxes and fees.
As you might imagine, rates are higher during peak and busy seasons. Disneyland's busiest seasons are:
Summer: Memorial Day Weekend through Labor Day Weekend
The weeks before and after Thanksgiving
The weeks of Christmas and New Year's
Spring Break season and the week of Easter
During these times of the year, rates for a standard room can reach $500 or more per night. Weekends and holidays get $600 or more.
Perks of Staying at the Disneyland Hotel
One of the best things about staying at the Disneyland Hotel is Extra Magic Hours. Disney lets hotel guests access the theme parks before or after regular park hours. The crowds are far smaller, and you can get right on your favorite attractions.
Otherwise, we'll discuss all the other perks in other sections of the page, including the pools, easy access to parks, and more.
Rooms at the Disneyland Hotel
All of the rooms at the Disneyland Hotel have the same standard amenities, and higher-tier rooms have even more access to luxury. All rooms have a desk, mini-fridge, alarm clock, charging stations, a safe, high-speed internet, and more.
Let's take a closer look at where you'll be turning in after long days on your feet in the parks.
Standard Rooms and Club-Level
The standard rooms at the Disneyland Hotel usually have two queen beds or one king bed, along with a day bed. The queen rooms sleep five adults.
Other than that, the rooms are relatively basic. They have bathrooms with double vanities, and many of the rooms have walk-in showers. You'll have everything you need, from a coffee machine to a hair dryer to a mini-fridge.
The least expensive rooms are standard views, overlooking parts of the building or the parking lot. Other rooms have views of Downtown Disney or the pools.
Rooms on the club level have access to exceptional concierge service and refreshments and beverages in the lounge throughout the day. Typically the lounge, which is furnished with comfortable seating, a television, and the day's newspapers, is open from 7 AM to 10 PM, but the hours are subject to change.
Suites and Signature Suites
Like most nice hotels, the Disneyland Hotel has several types of suites with multiple bedrooms, kitchens or kitchenettes, and even more than one bathroom. The smallest suite sleeps six, and the largest sleeps 14 adults.
Signature suites are themed, which is so much fun for kids and kids at heart. The rooms include Adventureland (sleeps five adults in two bedrooms), Big Thunder (sleeps six adults in two bedrooms), Fairytale (sleeps two adults in one bedroom), Mickey Mouse (sleeps four adults in two bedrooms), and Pirates of the Caribbean (sleeps four adults in two bedrooms).
Hotel Amenities and Activities
The vast majority of guests at the Disneyland Hotel are there primarily to visit the Disney theme parks. But there are still tons of things at the resort to keep your family busy.
Swimming Pools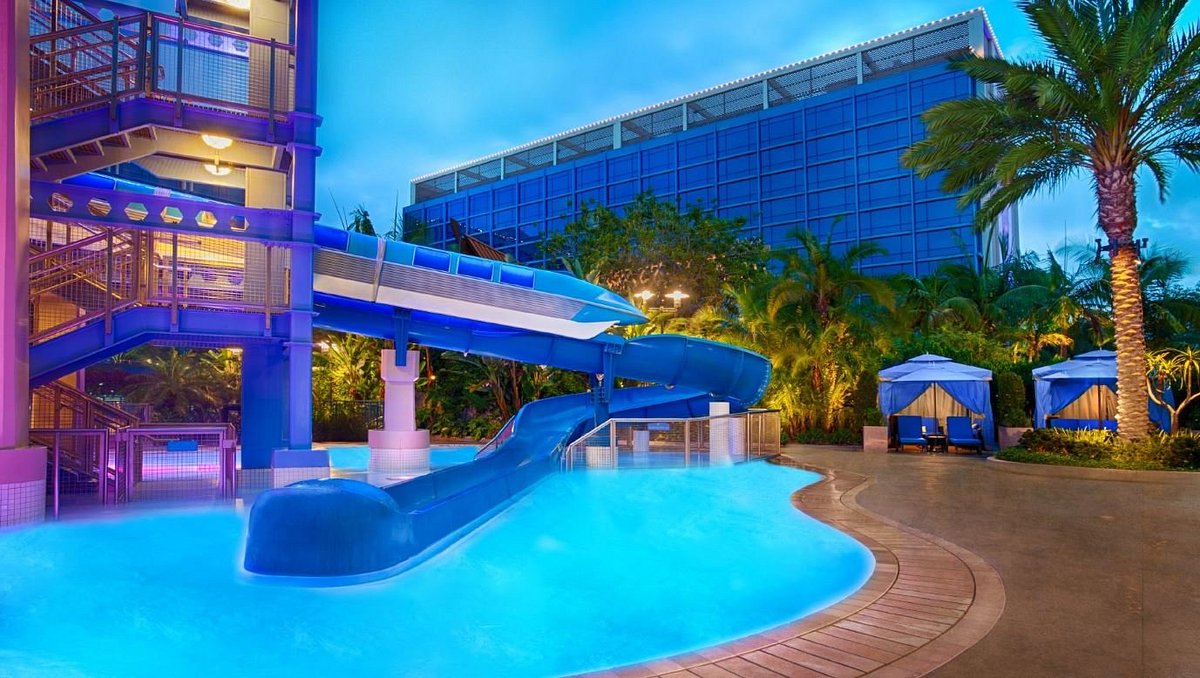 The Disneyland Hotel has two swimming pools, which are both retro-themed. The larger of the two is the E-Ticket Pool, which pays homage to Disneyland's early days. It has two full-size and one kiddie slide, and all three look like the classic Monorail.
The D-Ticket pool is a smaller lap pool and tends to be quieter, with fewer children. It's very close to the E-Ticket Pool, and there are whirlpool spas to soak in if you're sore from walking all day.
Pool hours and lifeguard duty hours vary depending on the day of the week and the time of the year. However, at least one of the pools will be open every day of the year, from morning until evening.
Shopping
There are two stores at the Disneyland Hotel. The Fantasia Shop and small world Gifts and Sundries. Both are located in the Fantasy Tower and sell souvenirs, gifts, and essentials. You can also find souvenirs for the Disneyland Hotel specifically.
So, you're covered whether you forgot your toothbrush or want to pick up a toy to take home.
Fitness Center
If you have a health buff in your family, they'll be happy at the Disneyland Hotel. There's a full fitness center with treadmills, stationary bikes, ellipticals, weight machines, free weights, and more. There are mirrors and space for stretching, yoga, or aerobics.
In addition, the fitness center holds classes for guests periodically. These include yoga, strength, stretching, aerobics, meditation, and even classes in the pool. Ask the front desk for a schedule and book a reservation.
Guest Activities
During your stay, the hotel will host events like movie nights, craft activities, storytelling, and other things to help bring families together. Visit Guest Services to find out what's going on during your stay.
Tenaya Stone Spa
While not located at the Disneyland Hotel, the all-new Tenaya Stone Spa at the nearby Grand Californian welcomes guests from the Disneyland Hotel to book treatments. It's a short walk from your accommodation.
Tenaya is a full-service day spa. They offer a menu of services, including massages, facials, body treatments, and salon treatments.
Dining and Drinking at the Disneyland Hotel
Everyone talks about the tasty treats in the parks, but don't forget to check out the nosh at your hotel.
Goofy's Kitchen
Lots of hungry guests fill up at Goofy's Kitchen before or after a day in the theme parks. It's ideal for families with members of varying tastes since it's a buffet. Prices are subject to change but are between $35 and $60 for adults.
At breakfast, selections include an omelet station, eggs benedict, and classic Mickey waffles. Try meats from the carving station, fresh fish, pizza, and other favorites for kids and grown-ups at dinner. You can meet Goofy during your meal, too!
Tangaroa Terrace Tropical Bar and Grill
Tangaroa Terrace is a charming restaurant themed like the classic Enchanted Tiki Room attraction. Dine al fresco for breakfast, lunch, and dinner.
The menu features classics with a Polynesian Island flair. We love the Tonkotsu Raman, Sweet-and-Spicy Chicken Wings, and the Dole Whip, of course. They also have an assortment of pastries, coffees, other beverages, and more if you want to grab them and go.
Trader Sam's Enchanted Tiki Bar
If moms and dads are looking for libations, everyone will be happy at Trader Sam's Enchanted Tiki Bar. The drinks you order (there are also non-alcoholic beverages) are magic and make different parts of the room come alive. They also serve small plates and snacks to hold you over before or between meals.
The Coffee House
Grab a cup of joe and a bite to eat on your way to the parks at The Coffee House, a convenience shop with snacks and caffeinated beverages guaranteed to hit the spot. Except during the busiest times of the year, The Coffee House typically closes at noon, so plan accordingly.
Other Nearby Restaurants and Eateries
The Disneyland Hotel is conveniently located near Downtown Disney, Disney's California Adventure, and the Paradise Pier Hotel.
These other locations have places to grab a quick bite or sit down for a formal meal. Check out our favorite spots at Downtown Disney, and be sure to save time for shopping and playing!
Theme Parks and Other Attractions
As stated previously, the top reason that most people stay at the Disneyland Hotel is that they want to visit the theme parks. Let's take a quick look at those and other fun things to do in the area.
Disneyland
Disneyland has long been known as the Happiest Place on Earth, and it truly is. Since it opened its magical gates in 1955, it has been delighting guests almost every single day since.
Disneyland's most popular attractions are the Matterhorn Bobsleds, Space Mountain, and Indiana Jones Adventure. There are also classics like It's a Small World, the Haunted Mansion, Pirates of the Caribbean, and many others.
Most of the new attractions in Disneyland are in Galaxy's Edge, part of the Star Wars world. Ride Rise of the Resistance and Millenium Falcon: Smuggler's Run. Don't forget to browse the shops, including the Droid Depot, and try the out-of-this-world food and beverage selections as well.
Disney's California Adventure
The other theme park in southern California is Disney's California Adventure. It celebrates some of the best of the state's natural beauty and history. It also showcases a great deal of Disney's own creativity, which the state has nurtured. That's why areas of the park are dedicated to some Pixar films and other characters.
Some of the most popular rides at California Adventure include Soarin' Over California, Guardians of the Galaxy, and the Incredicoaster. There are dark rides, thrill rides, and many rides appropriate for kids. Don't forget to ride the swinging Ferris Wheel–the Pixar Pal-a-Round.
Downtown Disney
Downtown Disney is a shopping, dining, and entertainment district located in the heart of Disney's property. There are several restaurants, bars, and cafes to grab a bite or beer as you shop 'til you drop. There are both Disney-themed stores as well as independent and chain retailers.
In addition to the shops and restaurants, you can enjoy live music and periodic events. Check the calendar or visit Guest Services at the Disneyland Hotel to learn more about what's going on during your stay.
Other Area Attractions
Disneyland is in Anaheim, which is in the heart of southern California. It's within a one or two hours drive of many favorites for traveling families. In addition to the city of Los Angeles and Hollywood, this includes Malibu, Legoland, Universal Studios Hollywood, Newport Beach, Long Beach, and much more.
Especially if you're traveling from the Midwest or east coast, you should turn your visit to Disneyland into a longer vacation. Explore as much of the Golden State as possible–it's worth it!
Should You Stay at the Disneyland Hotel?
Only you and your loved ones can decide if the Disneyland Hotel is the right choice. Consider everything we discussed above–from restaurants and amenities to perks versus price–and you'll have all the information you need.
The most important thing isn't where you stay or even what you see and do, but that you spend quality time with family. That's something you can get plenty of at Disneyland!
More about our TFVG Author