Does your family love all things LEGO? If so, you'll want to plan a trip to LEGOLAND, California. It's a fantastic destination for LEGO fans. It features rides, attractions, shows, play spaces, and of course, areas to build with LEGO bricks.
Before you head to the park, it's essential to plan out your day so that you can get the most out of your visit. LEGOLAND has a lot of fun rides, so you'll want to choose the best ones. Below we'll dive into the best rides at LEGOLAND California.
LEGO Technic Coaster
The Technic Coaster is a metal track coaster open-air coaster. The cars are shaped like Technic vehicles. Guests are brought up to the top and then spin and wind their way down to the bottom. There are dips, turns, and other thrilling moments.
Guests must be 42″ inches tall and at least four years old. If your kids have never ridden a roller coaster before, the Technic Coster is a good start. It has quite a few thrills but no inversions or anything else that may be too overwhelming.
It has just the right amount of excitement. Your kids will love it, and they'll be ready to move on to even bigger coasters.
Lost Kingdom Adventure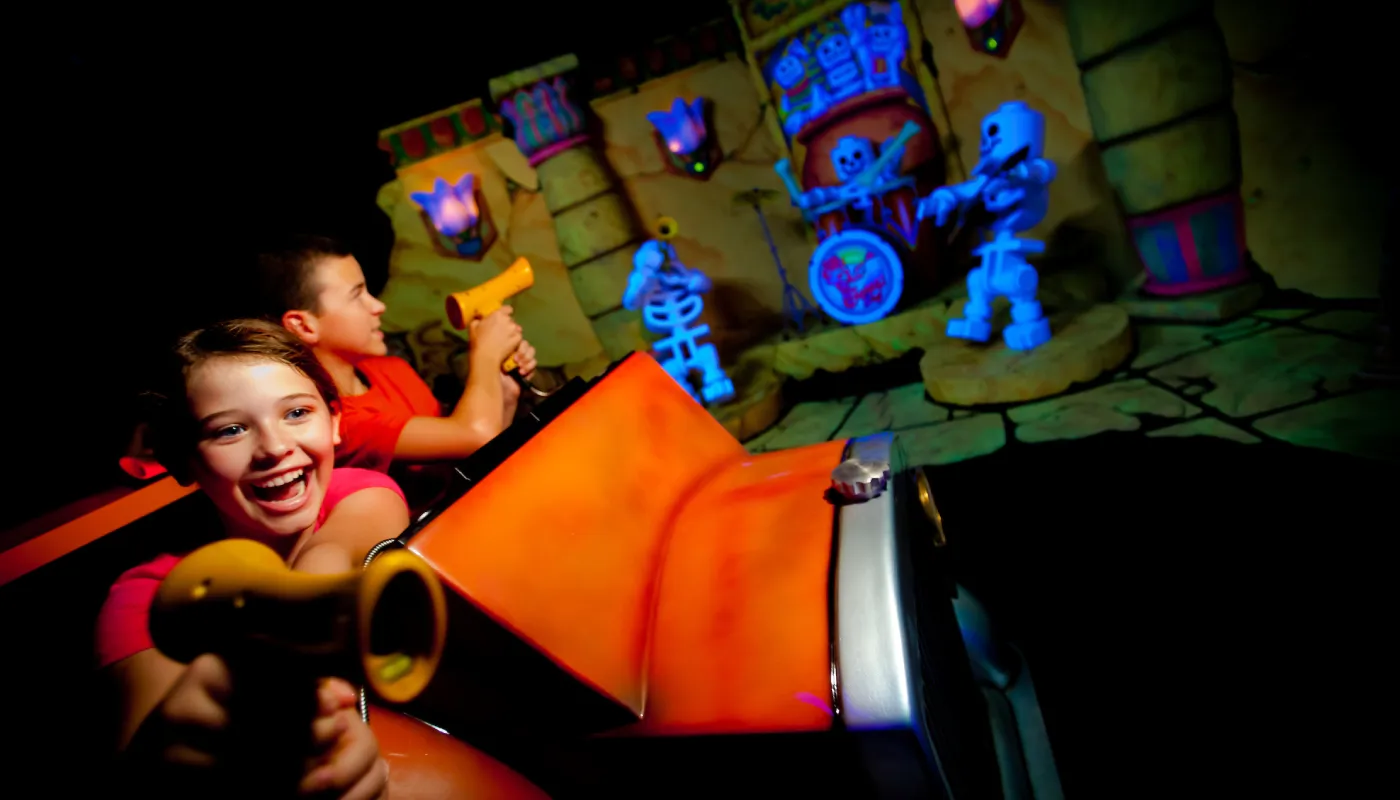 The Lost Kingdom Adventure is a dark ride that takes guests on a mission inside a pharaoh's tomb. Guests have to stop an evil madman who kidnapped a LEGO character.
The ride is interactive and features several animatronics. Each guest has a laser blaster that they use to shoot small targets throughout the ride. Many of the features move or interact when shot. Guests are scored based on how many shots they get.
Guests must be at least 30″ tall to ride. This ride is fun for both older and younger kids. Little ones will enjoy the fun figures, lighting, and moving elements. Older kids will like the competitive element and want to keep riding to beat their high scores.
The Dragon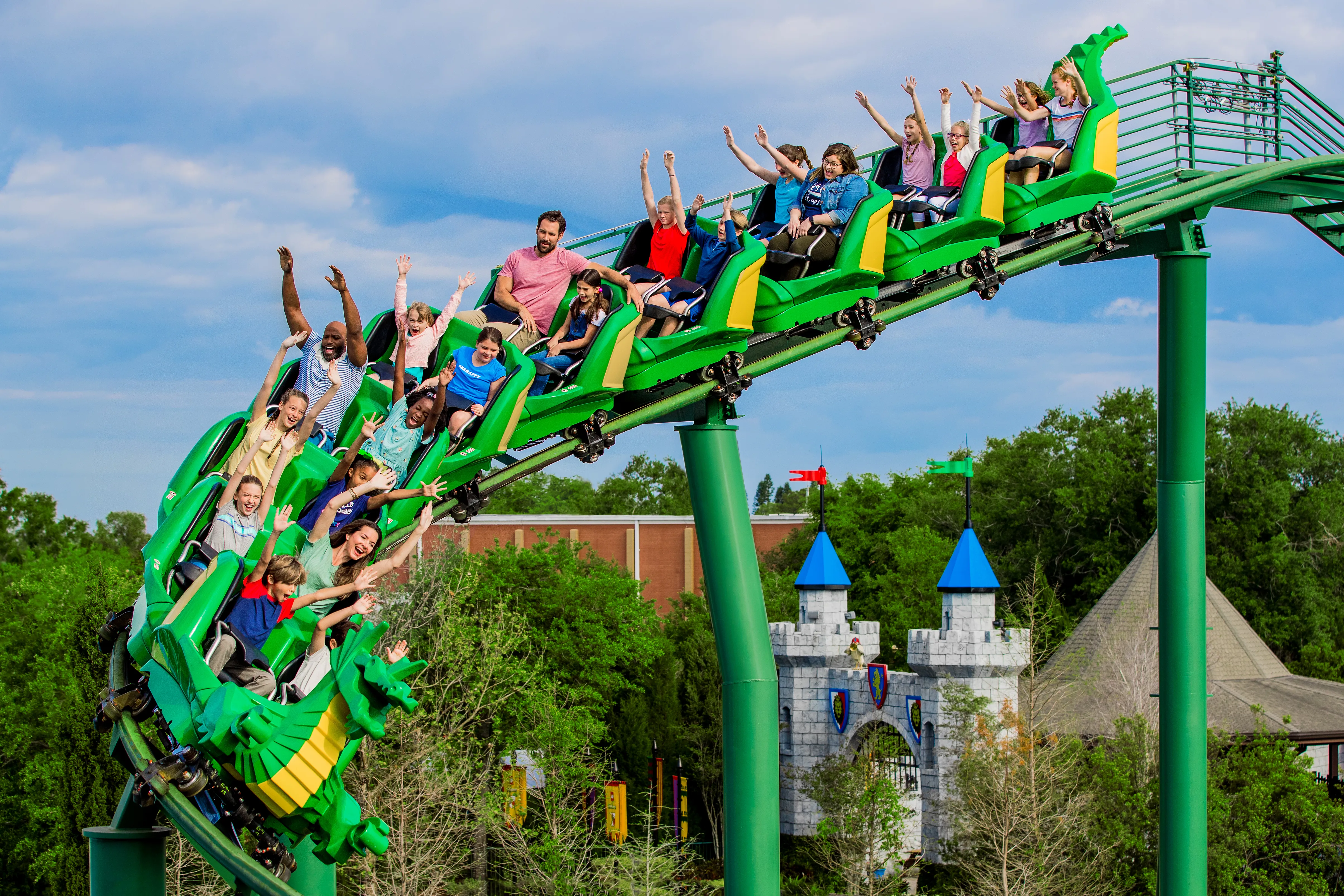 Who doesn't want to ride on a dragon? LEGOLAND's Dragon rollercoaster gives kids a chance to live out their fantasies. It's an indoor/outdoor coaster on a metal track. You begin by riding the dragon through a Medieval scene, moving slowly as in a dark ride.
Before you know it, your dragon begins to "fly," climbing the track and moving outside. You'll then soar around and down as the dragon moves along the track before coming to a stop back inside the castle.
Guests must be at least 40″ tall to ride the Dragon. If you're traveling with little ones, it's a tremendous first rollercoaster. It doesn't go too high, the dips and turns are pretty tame, and it only lasts a little over two minutes.
Emmet's Flying Adventure Ride
Emmet's Flying Adventure Ride is a must-do for all fans of The LEGO Movie. You'll hop aboard a triple-decker couch and take to the skies to enter some of the most significant scenes from the movie. It's one of LEGOLAND's newest rides, and it's the biggest ride in THE LEGO Movie area.
The glider-style seat lifts you and "flies" you through an adventure set during different parts of The LEGO Movie. Guests will get to see their favorite characters like Emmet, WyldStyle, Unikitty, Lord Business, and more.
Guests have to be at least 40″ to ride. This ride is thrilling, and you will feel like you're flying. It's another thrill ride that's great for little ones. If you suffer from motion sickness, you may not want to ride.
Pirate Reef
LEGOLAND's Pirate Reef ride is short, but it's a lot of fun. It consists of two parts. The first part is a shoot-the-chute ride. You'll climb aboard a flat-bottomed pirate boat. The boat moves up to the top of the track and then goes down the ramp, ending with a huge splash. You can expect to get wet.
You can also board a red or blue pirate "ship." There are water cannons that you can fire at guests on the other ship or those coming down the drop. Older kids will enjoy shooting water at others. It's also a fun option for little ones too small for a bigger ride.
Guests must be at least 36′ to ride. The drop is exciting for younger and older guests but isn't too intense.
Coastersaurus
Coastersaurus is a small, steel-frame rollercoaster. Guests climb and then go through several dips and turns as they make their way down. It goes through the track twice.
While Coastersaurus is fun, the LEGO dinosaurs are an awe-inspiring feature. Many of the dinosaurs are close to life-size. There's a brachiosaurus weighing 1,100 pounds and a Parasaurolophus that's ten-foot tall. There's also a triceratops.
Guests must be at least 36″ to ride. Coastersaurus is LEGOLAND's tamest rollercaoster. If you have a little one who is nervous about thrill rides, it's an excellent place to start.
LEGO Ninjago the Ride
Whether you're a fan of LEGO Ninjago, Ninjago the Ride is not to be missed. It's a 3D interactive ride featuring some of your favorite Ninjago characters. You'll put on 3D glasses and board a vehicle that will take you through the scenes. It moves slowly and spins so you can see the different screens.
On your vehicle's dash, there are motion sensors that are activated when you make karate chops to throw ninja stars. You'll play mini-games as you move through the game and fight different bad guys, including a dragon. All games are video-based.
There is no height limit for this ride, and it's appropriate for most guests. Some younger riders may find some of the scenes too intense.
Splash Battle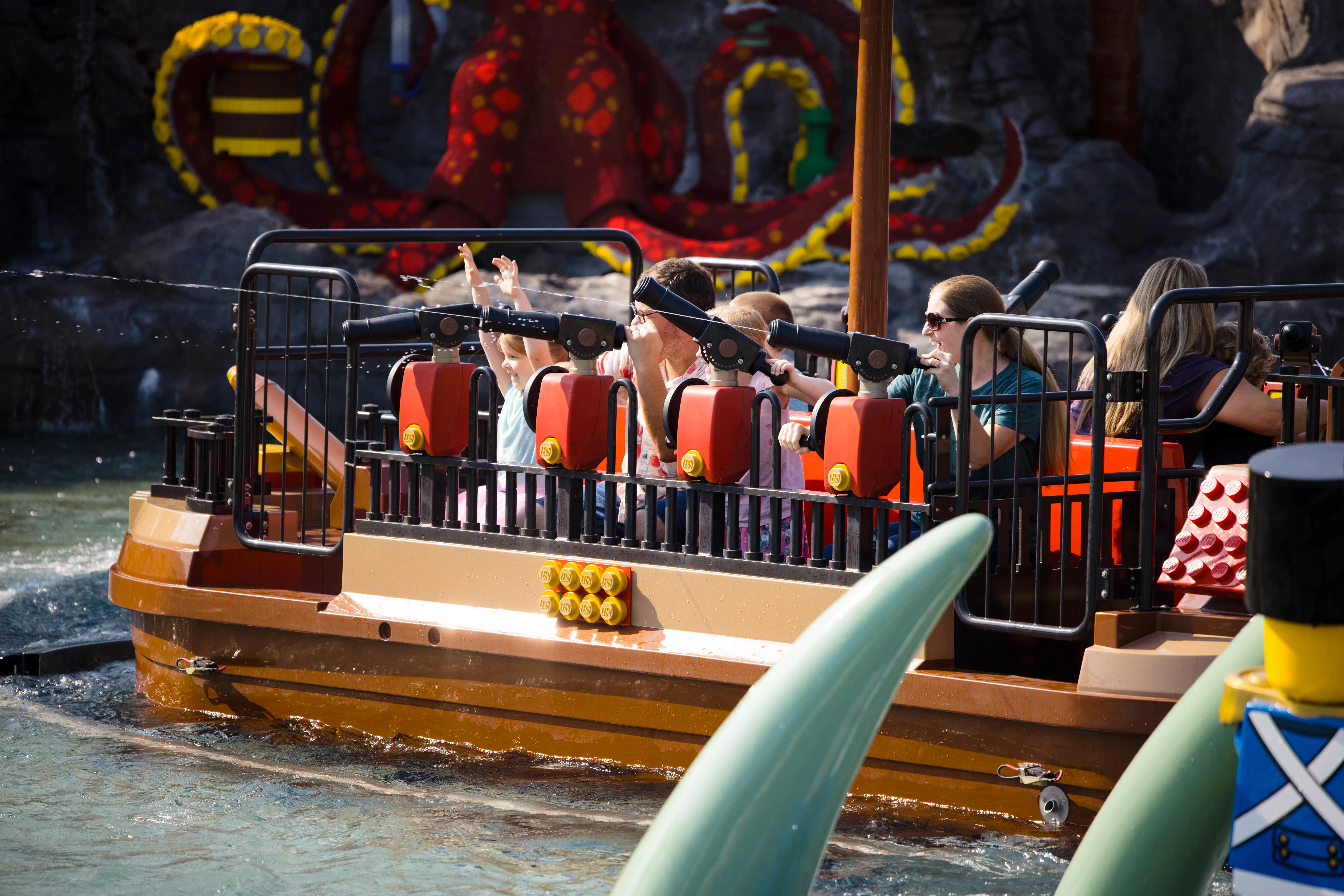 Splash Battle is a slow-moving ride that guarantees you'll have a lot of fun while also getting soaked. Guests board a four-seater pirate ship on a track. There are two cannons facing forward and two cannons facing backward.
You'll sail through pirate scenes and features, shooting at them with the water cannons. The real fun of Splash Battle is shooting other passengers. You'll cross paths with other ships and get the chance to shoot water at one another. You'll also pass a bridge where guests can shoot at you and you at them.
Guests must be at least 36″ to ride. This ride is fun for younger and older kids. They'll enjoy getting the chance to spray others with the water cannon.
Fun Town Police and Fire Academy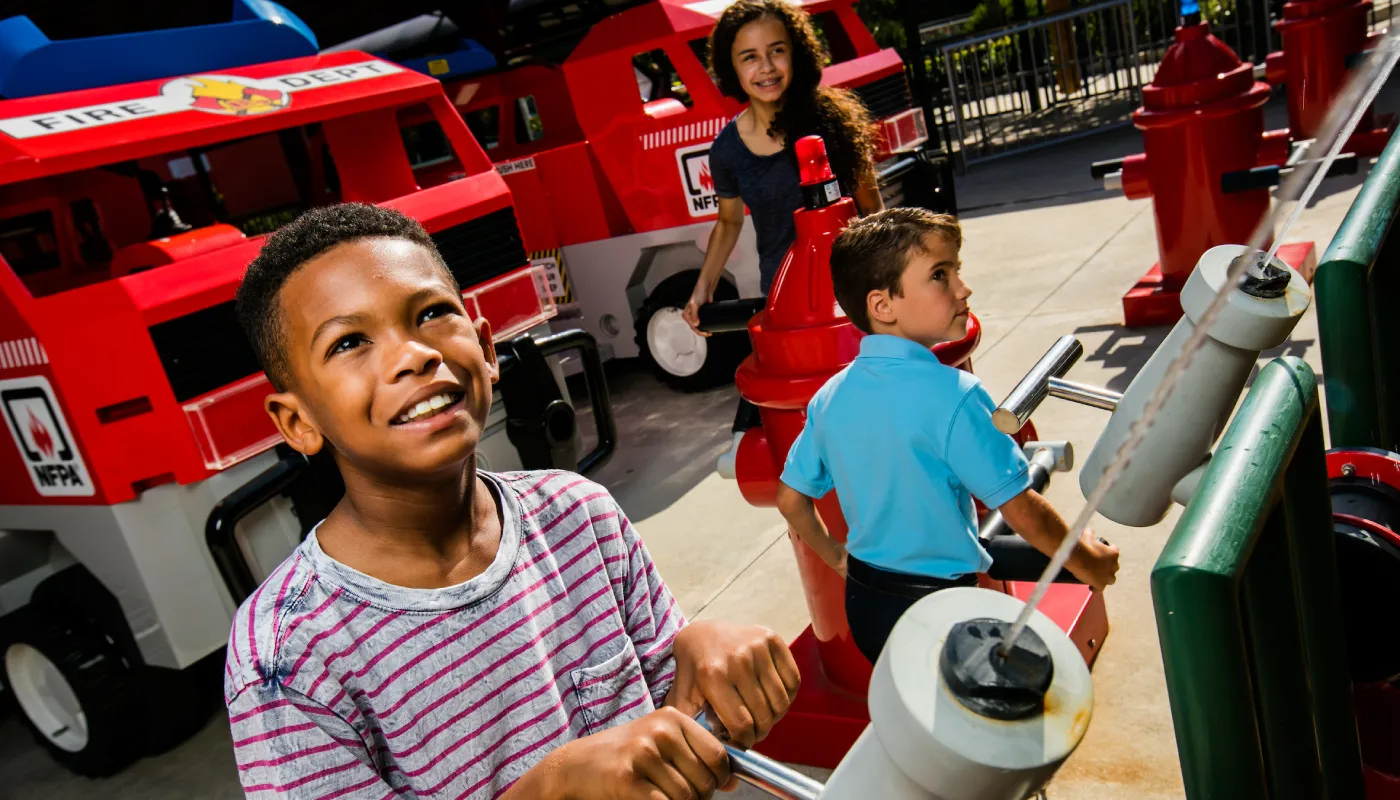 Fun Town Police and Fire Academy is a self-powered ride, and it's always a hit with younger kids. Guests get on a fire truck or police car that looks like they're made of LEGO bricks. Riders work together to pump their vehicle across a track.
Ultimately, they jump off and either put out a fire or stop some criminals. They then ride back to the start. The first back is the winner.
Guests must be at least 34″ tall to ride. This ride is a favorite with younger kids as they love the interactive elements. Older kids may get into the competition, especially if they can race with friends or siblings.
LEGO City: Deep Sea Adventure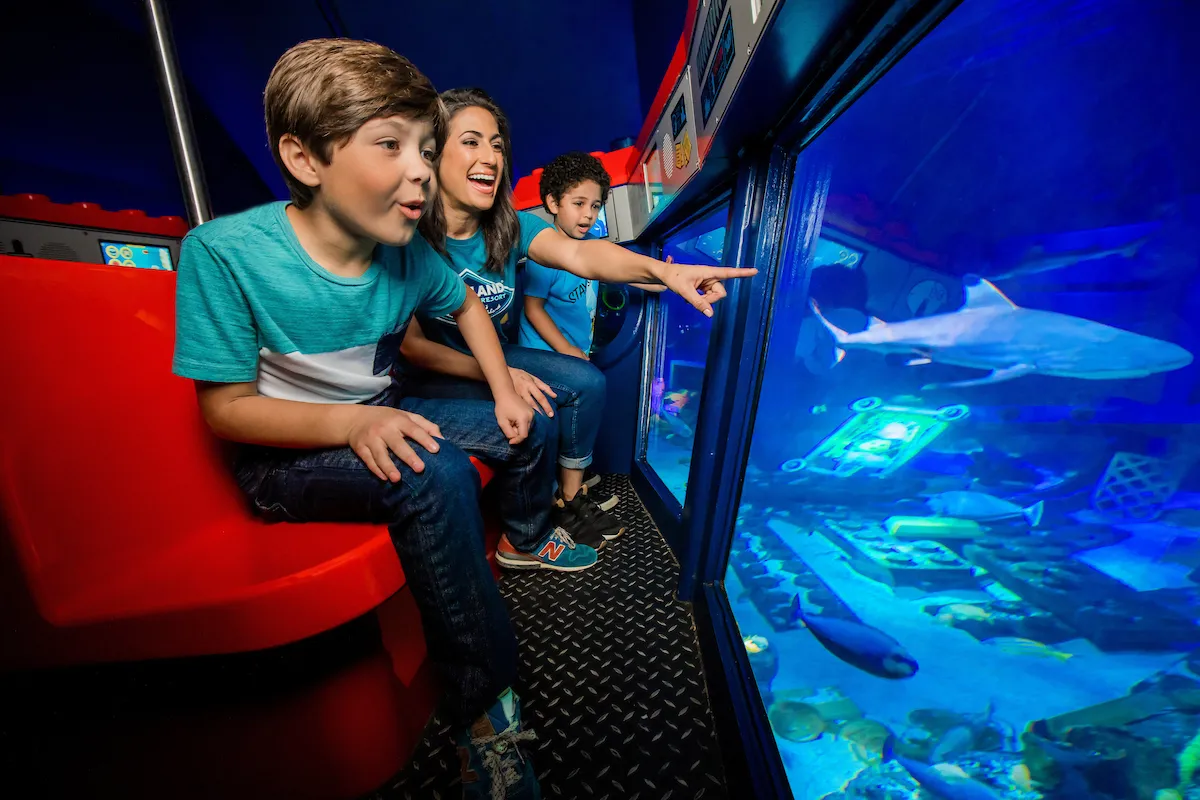 LEGO City: Deep Sea Adventure is one of LEGOLAND's most impressive rides. Guests get on a real submarine and take a leisurely ride underwater. The submarine passes through several ocean scenes.
Guests will get to see different types of marine life. There are also lots of fantastic LEGO constructions, including a sunken treasure chest as you pass through.
There's no height requirement, and guests of all ages will love this innovative ride.
Fairy Tale Brook
The Fairy Tale Brook is a slow-moving boat ride that passes through fairy tale scenes. This attraction is a must-do for all LEGO fans because the constructions are incredible.
Guests get to see scenes from favorite stories like The Three Little Pigs, Hansel and Gretel, and Little Red Riding Hood.
There is no height requirement for this ride. It's probably best suited for little ones and adults who have an appreciation for all things LEGO.
Bionicle Blaster
True LEGO fans will remember the Bionicle sets and will want to hop on the Bionicle Blaster. It features spinning vehicles weaving in and out of one another on a circular track. Guests can turn a wheel in the middle to make their vehicle spin even faster.
The Bionicle Blaster isn't for those who get motion sickness. It's a lot of fun, and most kids handle it well. It's thrilling without being too intense for younger riders.
Guests must be 42″ or taller and at least four years old. This ride is fun for older and younger kids.
Coast Cruise
The Coast Cruise is another one of the best rides at LEGOLAND California, especially for guests who are massive LEGO fans. Guests board a cruise boat and set sail on a river that winds through the park.
Each boat has a guide who points out different LEGO features along the way. The guide gives fun facts and tells jokes, particularly about the construction and amount of bricks that went into each scene. Guests will see animals and construction scenes along with sites from around the world, including the Sydney Opera House, the Taj Mahal, and the Eiffel Tower.
There is no height requirement for this ride. It's great for guests of all ages. Little kids will enjoy the ride, while older kids and adults will marvel over the impressive amount of work that went into building each of the structures.
Driving School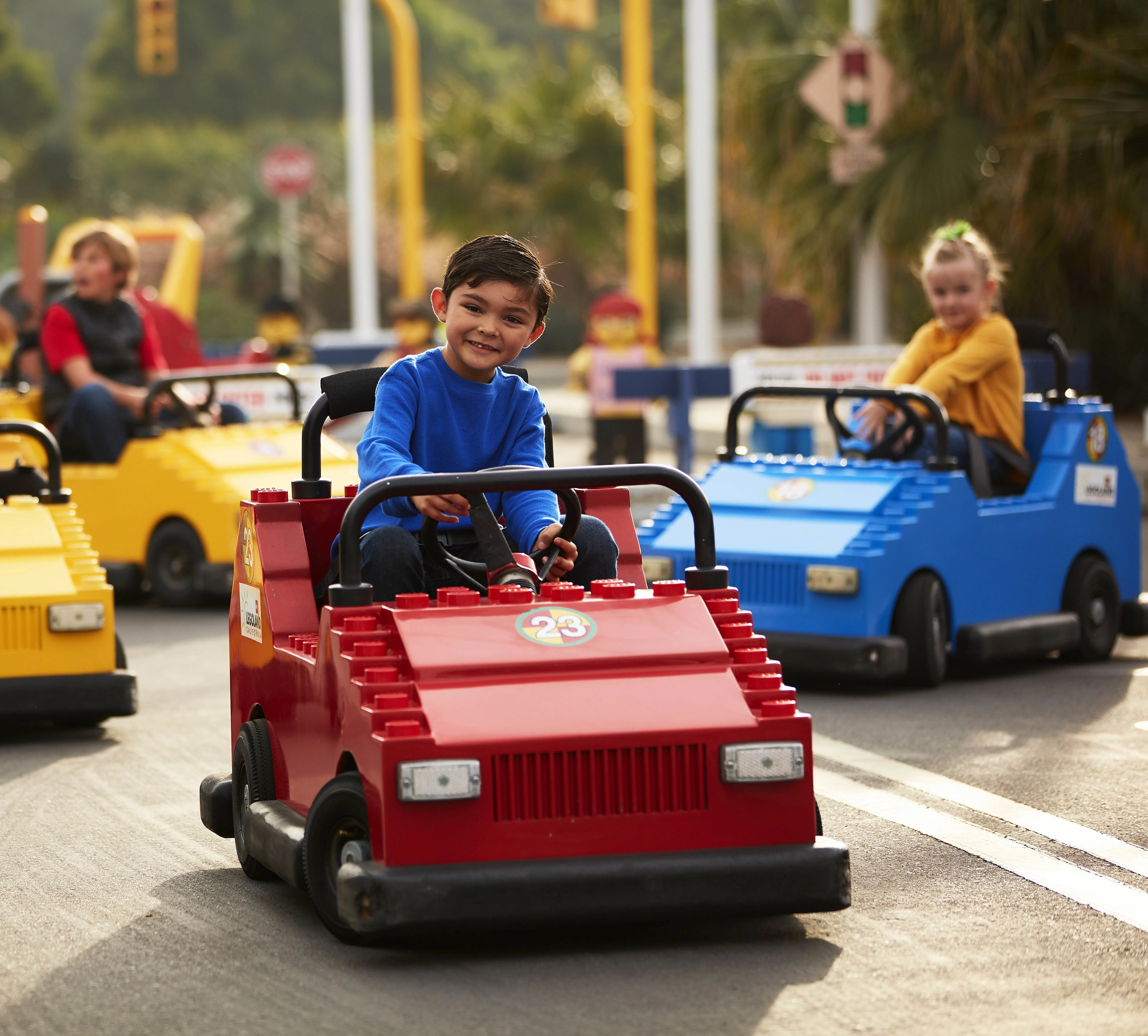 LEGOLAND's Driving School makes many children's dreams come true by letting them have a chance to drive their very own vehicle. Unlike rides in other parks, these LEGO cars aren't on a track. Kids get to control where they go.
Kids get to drive through a LEGO town with actual streets, stop signs, and working traffic lights. In the end, kids get a paper license. Guests also have the option of purchasing a plastic license with a lanyard in the nearby gift shop.
Driving School is only for kids between six and 13. If you have kids under six, don't worry, as they won't be left out. There's a junior driving school designed for kids between three and five. It's an oval track where they get to drive their car. They also get a license.
LEGOLAND California Ride Tips
If you want to make the most of your trip, buy your tickets ahead of time. You'll spend less time at the ticket window and may be able to get a discount. Check out a map online to see where all the rides are located. Make a plan so that you aren't crisscrossing the park all day. You'll be able to get in more rides and maybe get a chance to ride your favorites twice.
As the park can get crowded, it's a good idea to get everyone in your party to pick one ride that's a "must-do." You can try to ensure that everyone gets to do their chosen ride. If you plan on staying in a hotel, choose one of LEGOLAND's on-site hotels. You'll be closer to the park, and you'll get early entry.
Many of the LEGOLAND rides have height requirements. Be sure to measure your child before you go and prepare them for which rides they will and will not be able to ride. You'll be able to manage their expectations and avoid meltdowns.
Reserve 'N' Ride
If you don't want to wait in long lines for your favorite rides, consider purchasing the Reserve 'N' Ride feature. There are three different levels at different prices. You'll be able to reserve a ride in advance and show up at your scheduled time. It's a great way to maximize your time in the park.
Parting Thoughts
There you have it – some of the best rides at LEGOLAND, California. You should be able to find something on this list to suit everyone in your family. You're sure to have a great time at LEGOLAND and make it a trip to remember!
More about our TFVG Author