So, when did Disneyland open, and what went into creating this magical destination?
On July 17, 1955, Walt Disney's dream came alive. After one year of construction and $17 million, Disneyland opened just outside Los Angeles, California.
Disney spent years planning this international attraction, but there were bumps in the road.
Here's everything you need to know about the history of Disneyland!
About Walt Disney
Walt Disney was born on December 5, 1901, in Chicago. He lived there for only four years before moving to a farm in Marceline, Missouri. Disney would later base Main Street, USA, on this farm town.
While growing up, a retired neighborhood doctor paid Disney to draw his horse. He continued to practice his creative skills by copying cartoons in newspapers. Once he moved to Kansas City, Disney took classes at the Kansas City Art Institute and a correspondence class in cartooning. 
Disney drew patriotic cartoons for his school newspaper during World War I. He then lied about his age to join the United States Army as an ambulance driver. While in the service, Disney hung his cartoons in the ambulance and published some in the army newspaper.
After being laid off from his first job in an art studio, Disney and Iwerks started their own business. Later, Disney began a business with Fred Harman. Their company struggled, but Disney had success producing Alice's Wonderland, which included live-action and animation.
Finally, Disney and his brother Roy created what would become The Walt Disney Company.
Today, Walt Disney is well-known as a trailblazer in the animation industry in the United States.
About The Walt Disney Company
The Walt Disney Company was the most famous producer of family films in the 20th and 21st centuries.
The company's first fully animated series followed Oswald the Lucky Rabbit. Walt Disney then reworked Oswald into Mortimer Mouse, later named Mickey Mouse. In 1928, Disney released his first Mickey cartoon, titled Steamboat Willie.
In 1937, the company released Snow White and the Seven Dwarfs, the first feature-length animated cartoon to have widespread success. In the early 1940s, The Walt Disney Company released popular films like Pinocchio, Fantasia, Dumbo, and Bambi.
The animators went on strike in 1941, and The Walt Disney Company received criticism for over a decade. When Disneyland opened in 1955, the public turned their attention toward the park rather than Disney movies.
Walt Disney believed that young children were capable of seeing evil in their cartoons, but good had to win. This battle between good and evil was the root of many of his cartoons. 
The History of Disneyland
With such a rich history in entertainment, it is easy to see why Disney would dream of a land devoted to fantasy and imagination. Although the construction of Disneyland lasted only a year, very little about Walt Disney's concept went according to plan.
The Idea
Walt Disney was a family man who understood the importance of quality family time. In the 1940s, he brought his daughters to Griffith Park in Los Angeles. As they rode the carousel, Disney began to imagine his own theme park.
For years, fans wrote letters asking to visit Walt Disney Studios. While this may have sounded fun on the surface, Walt Disney knew better. Families wanted to visit places where kids could play while their parents relaxed, and a studio would provide neither of those opportunities.
Instead, Disney contemplated building a park for tourists. Initially, he planned to place it in Burbank, California, across from the studio.
Walt Disney's Memo
On August 31, 1948, Walt Disney sent a memo to Dick Kelsey, a Disney Studios production designer. This memo discussed Disney's plan to open Mickey Mouse Park.
He recognized that most amusement parks at the time were dirty and unsuited for families. Often, adults drank too much beer, and criminal activity was all too common.
This new, family-friendly park would feature a boat ride, a train ride through a village, and some themed areas. The whole park was intended to fit within eight acres in Burbank, California.
Research
Walt Disney had big plans for his park but no experience designing it. For inspiration, he visited several parks, including:
Tivoli Gardens in Denmark
Henry Ford's Museum and Greenfield Village
Knott's Berry Farm
The New York's World Fair of 1939
Chicago Railroad Fair
Colonial Williamsburg
The Century of Progress in Chicago
Funding
Walt Disney knew he would need investors since $17 million is a lot of money to raise, even for someone with a reputation.
Disney started a TV show called Disneyland, and he granted production rights to ABC. ABC then agreed to help finance the park.
For the first five years, Walt Disney Productions, Walt Disney, Western Publishing, and ABC shared ownership of Disneyland. Walt Disney even had to rent out the shops on Main Street, USA. In 1960, Walt Disney Productions took full ownership.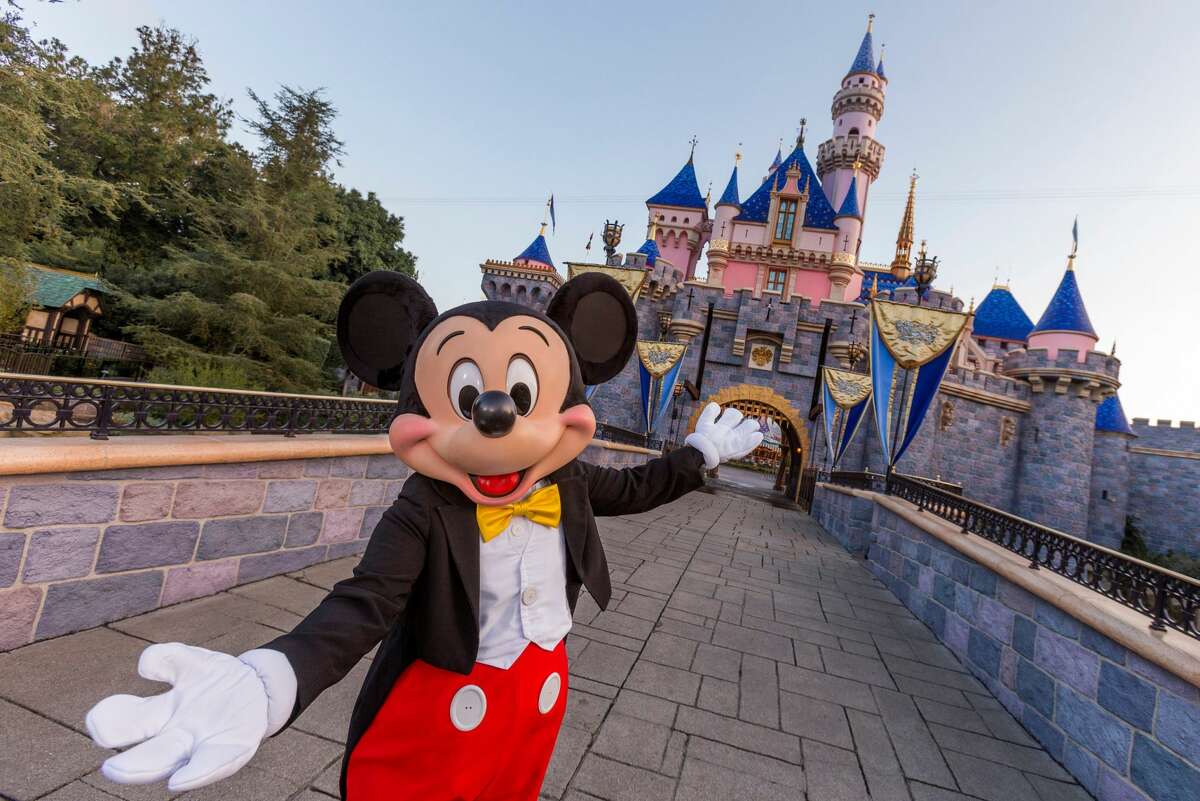 Construction
Walt Disney recruited Harrison Price from the Stanford Research Institute to find the perfect location for Disneyland. At this point, it was apparent that Disney's grand plans would not fit within an eight-acre lot.
Harrison Price found a 160-acre plot of land in Anaheim, California. The town was a farming community, and the land had once been an orange grove.
Construction on this lot began on July 16, 1954. It lasted precisely one year.
Black Sunday
July 17, 1955, was supposed to be a preview event for VIPs. Disneyland opened its gates for the first time to those with special invitations and a news crew. The park and team were prepared for the first 11,000 visitors.
Unfortunately, they were unprepared for the surprisingly massive crowds. People made counterfeit tickets and jumped the fence, resulting in 28,000 visitors on preview day.
The vendors did not have enough food for the masses, and the water fountains did not work. Due to a plumbers' strike, Walt Disney had to choose between working toilets and running water fountains. On a 100-degree day, that was a difficult decision to make.
He chose working toilets, but the visitors believed the broken water fountains were a scam. Pepsi sponsored the park's opening, and visitors thought Disney was trying to force them to buy more Pepsi products.
On top of these shortcomings, rides broke down, and a gas leak occurred in Fantasyland. Only hours after opening, Disneyland had to close temporarily to resolve the leak.
The extra visitors also generated heavy traffic. Disney had invited several celebrity guests who were supposed to make appearances every two hours. Instead, they were stuck in traffic for two hours and arrived randomly.
In time, people would refer to July 17 as Black Sunday and Walt's Folly. Despite the disastrous nature of the day, people continued to visit, and Disneyland learned to accommodate large crowds.
So, when did Disneyland open officially? The public was not supposed to visit Disneyland until July 18, the intended opening day. Soon, however, Walt Disney decided to label July 17 as the official birthday of Disneyland.
News Coverage
ABC broadcast Disneyland's opening on a 90-minute special titled Dateline: Disney. Actors Art Linkletter, Bob Cummings, and Ronald Reagan were the anchors.
Ninety million viewers tuned in, providing this broadcast with the largest TV audience up until that point.
Disneyland Through the Years
Disneyland opened in 1955 and was home to five parks and less than 20 attractions and rides. The original five lands were:
Main Street, USA
Tomorrowland
Fantasyland
Adventureland
Frontierland
Additionally, the following rides and attractions were open on July 17, 1955:
Autopia
Main Street Cinema
Mark Twain Riverboat
Disneyland Band at Main Street, USA
Snow White's Enchanted Wish
Disneyland Band at Tomorrowland
Storybook Land Canal Boats
Disneyland Railroad Main Street Station
Sleeping Beauty's Castle
Disneyland Railroad New Orleans Square Station
Jungle Cruise
Mad Tea Party
King Arthur Carrousel
Mr. Toad's Wild Ride
Peter Pan's Flight
Today, there are nine lands in Disneyland. The original five still exist, and these have been added over time:
New Orleans Square
Critter Country
Mickey's Toon Town
Star Wars: Galaxy's Edge
Disneyland also houses over 60 attractions today.
Number of Visitors
Twenty-eight thousand people arrived at Disneyland on opening day in 1955. Disneyland would see countless more faces over the years despite its rocky start.
Seven weeks after opening, 1 million people visited the park. On July 17, 1966, 5 million visitors had passed through the gates. By 1957, this number doubled to 10 million.
As of 2019, over 700 million visitors had traveled to Disney's park. Disneyland has seen the highest cumulative attendance than any other theme park worldwide.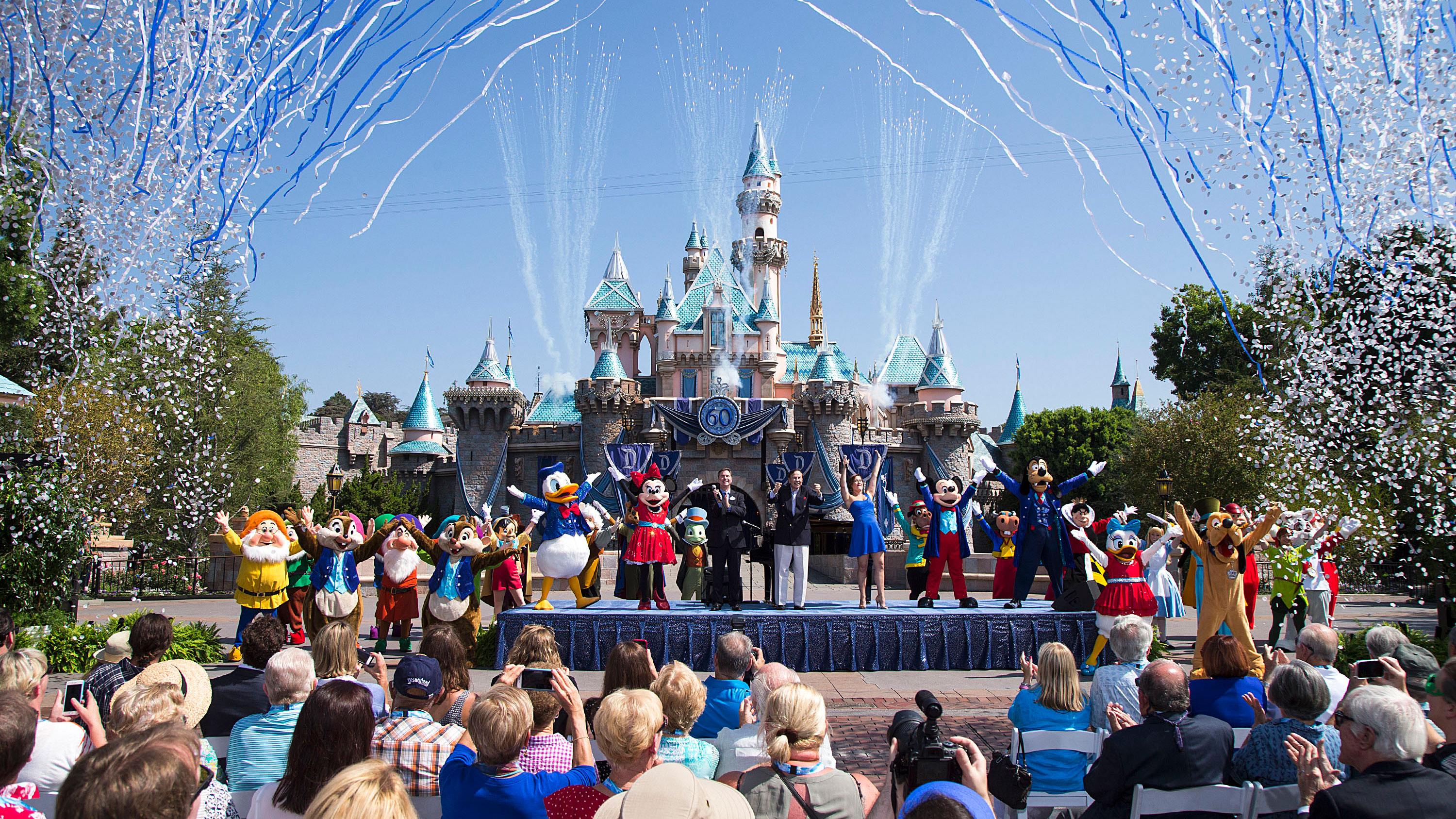 So, When Did Disneyland Open (Officially)?
Walt Disney spent his life bringing joy to children and adults alike. His original plan may have seen some alterations, but Walt Disney oversaw the entire design and construction of the park. His intentions were for Disneyland to open on July 18, 1955, but considering the events that transpired, Disney decided to make Disneyland's official opening date July 17, 1955.
At the entrance to Disneyland, visitors find a sign that reads, "Here you leave today and enter a world of yesterday, tomorrow and fantasy." For over 50 years, fans of Disney and family fun have gathered in California to relive the simplicity and joy of childhood. 
More about our TFVG Author