Denver in Colorado is a great city to visit as a family, but some parts of Denver are more enjoyable if you have a kid coming along. Here are some of the best places to stay in Denver, each of which has plenty of hotels and other specific locations to choose from.
Lower Denver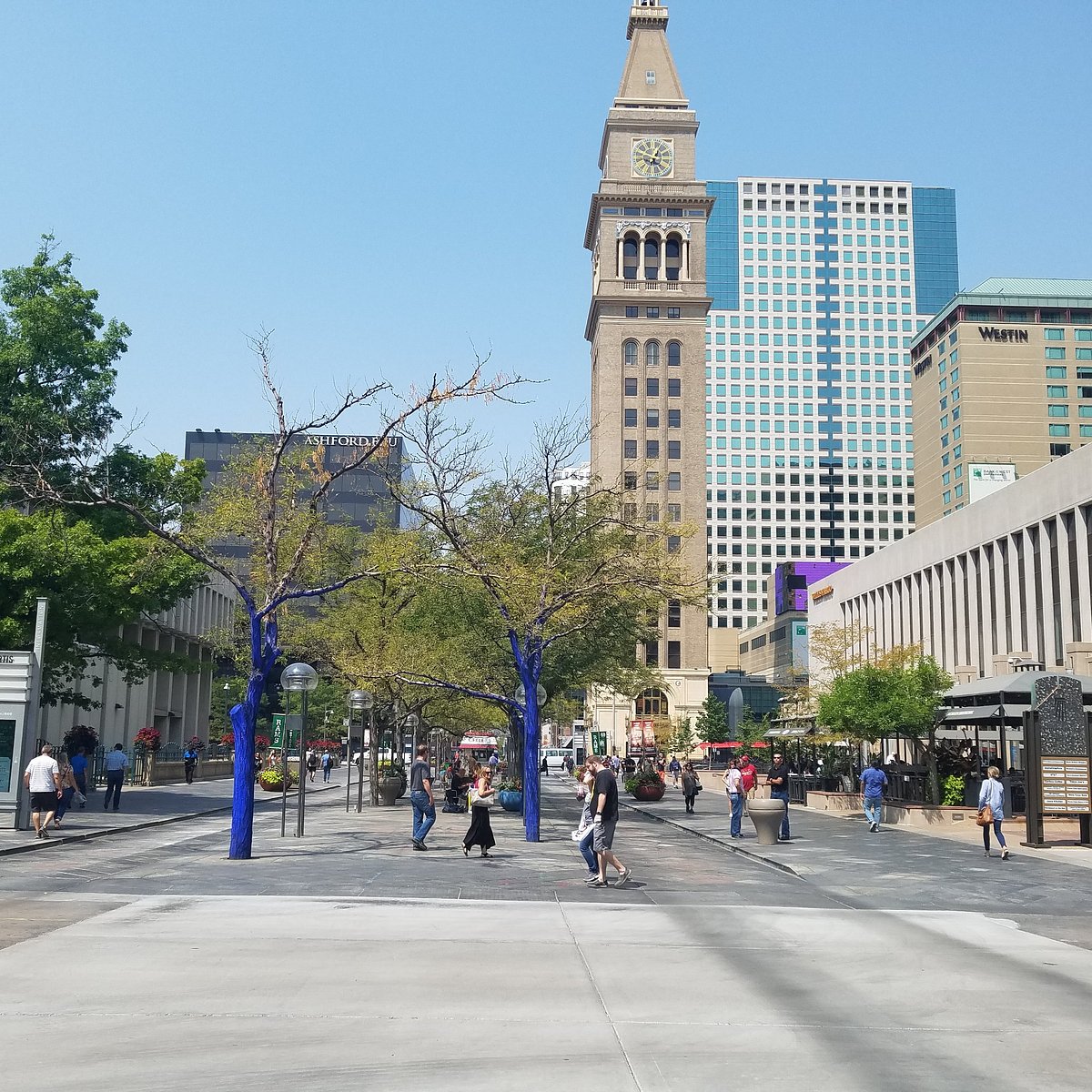 Lower Denver is one of the prime places in the city for a stay of any length, and with good reason. It covers roughly the area between South Platter River and Denver's Central Business District, with Union Station as a central transportation hub to take you anywhere else in the city.
Lower Denver has direct train access to Denver International Airport, which is the easiest way to fly into the area. Outside of the additional bus and train lines, Union Station also has access to several free transportation options, making it a good choice for visitors on a budget.
Seasonal activities include checking out the Union Station Farmer's Market (roughly mid-May to mid-October) or stopping by the Denver Chalk Art Festival in June. More permanent sights include the Larimer Square historic district, several big sports stadiums, and the Museum of Contemporary Art.
If you're looking for something a little quieter, the Tattered Cover Book Store is one of the largest independently-operating bookstores in the country, with a selection of options sure to satisfy anyone who loves settling down with a good book.
Kid-friendly activities in Lower Denver include an aquarium, a children's museum, and the Elitch Gardens theme park. For somewhat more adult activities, there are several brewing locations and plenty of nightlife options.
Lower Denver is a good choice for practically all budgets and lifestyles, with enough options to appeal to almost anyone. The easy local transportation means you don't need to rent a car for your trip. If you want to visit but don't know where to stay, Lower Denver isn't just one of the best places to stay in Denver, it's an outstanding default choice.
Central Business District
The Central Business District, as the name implies, is the most popular part of the city for business travelers. If you're taking your family on a work trip, chances are you'll end up in this area.
The CBD is functionally the center of the Downtown area, instantly recognizable thanks to the higher concentration of skyscrapers that mainly serve as hotels or commercial office buildings. Most of the CBD has easy access to food and accommodation.
A central feature in this area is the Colorado Convention Center, which hosts everything from children's shows and dance competitions to major cultural events like Fan Expo. Many families take a trip to the city specifically to visit conventions, and renting a room near the CCC makes it easier to spend as much time at the convention as possible.
Other highlights of the CBD include places like the American Museum of Western Art (focusing on the American west, and southwest in particular) and upscale entertainment at the Denver Performing Arts Complex.
The 16th Street Mall is about a mile long and includes dozens of stores and restaurants, all conveniently accessible with local transportation options.
Unlike some parts of the city, the Central Business District gets significantly quieter after dark, though some people will still be out late to visit bars or catch movies. This means you can expect a much quieter sleep than somewhere busy throughout the night.
Overall, the Central Business District is the best option for families with kids who are visiting on business, or who have older children and want to bring them along to a convention.
River North Arts District
The River North Arts District, often shortened to RiNo locally, is one of the oldest parts of the city. It's also seen a renaissance recently, with a surge in development adding all sorts of high-quality eateries, breweries, and pubs alongside its historic theaters.
You can stop by the Denver Central Market for local food, ranging from pizza and other baked goods to fresh produce, fish, and other options. The Central Market has enough variety to appeal to nearly everyone, so your kids are sure to find something to love.
For more fun, you can look up the schedule for the Five Points area, which holds festivals throughout the year. These include events like a Jazz festival, Juneteenth, and an assortment of parades and street fairs that keep the entire district lively.
If you're in the mood for some art, the Denver Graffiti Tour has an in-depth look at street art, graffiti techniques, and some of the murals you can find throughout the city. RiNo also has plenty of other galleries and museums.
If you enjoy vehicles, stop at the Forney Museum of Transportation, which has several hundred artifacts in its collection. Items range from train engines to aircraft, motorcycles, cars, toys, bikes, and more.
The River North Arts District lives up to its name, offering a far deeper cultural experience than the corporate style of the Central Business District or the historic sights around Lower Denver. It's also an excellent way to show how time can change cities in different ways, as RiNo is easily as historic as the downtown area.
However, one thing you won't find here is a lot of green space. River North used to be an industrial district. It has many warehouse-style locations, many of which serve as canvases for the local artists, but expect to go elsewhere in the city if you're looking for parks.
Capitol Hill
Capitol Hill is an excellent option if you're looking for a compact, car-free trip to Denver. Buses, bikes, and your feet are all you need to enjoy this area to the fullest, which also makes it a great place to burn through a child's energy and get them ready to sleep.
Capitol Hill centers around the Colorado State Capitol Building, which distinctively resembles the better-known United States Capitol building in Washington, D.C. The building is primarily a working space when the legislature is in session, but it has frequent tours and explanations of its civic functions for visitors.
If you enjoy looking at churches or unusual architecture, consider stopping by Saint John's Cathedral. It's set conveniently close to the Capitol Building, and as the center of the local Episcopal community, its distinctive character makes it easy to spot in the local skyline.
If you're staying the night in Capitol Hill, consider looking for a rental place in the Golden Triangle area. The Golden Triangle is one of Denver's oldest neighborhoods, and it features a range of 19th Century housing, primarily homes and bungalows in Victorian style. It's quite different from regular hotels.
For something special, you can stop by the Denver Mint, one of just four production facilities in the United States. The Mint helps manufacture coin dies and produces coins including circulating ones, commemorative coins, and uncirculated coin sets. If you enjoy collecting coins, this is the literal source of many, and the collection is truly phenomenal.
Capitol Hill is relatively green for an area in the city, with the Denver Botanic Gardens as a 23-acre highlight in the area. Several other parks also dot the landscape, making for pedestrian-friendly outdoor relaxation.
Overall, Capitol Hill is quieter than many other parts of the city and doesn't have quite the same bustle as the downtown area. This makes it an excellent choice for visiting with slightly older children.
Uptown
Located north of the Capitol Hill area, Uptown is another of the older sections of the city and far more relaxed than the downtown area. It features numerous Queen Anne and Victorian-style buildings, with walkable streets and interesting shopping areas.
Uptown is also home to City Park, the single largest park in the city and a particularly outstanding destination for a morning jog or outdoor picnic. Wildlife spotters tend to enjoy the area, but you can also rent a boat and paddle out into the on-site lake.
As if that wasn't enough open space, Uptown is also home to the Denver Zoo, which hosts more than five hundred species of animals across 80 acres of land. The zoo is the most-visited paid attraction in the state and hosts extensive natural-style exhibits designed to offer better experiences for animals and visitors alike.
The Denver Zoo is one of the greenest and most renewable zoos in the country, and it's easily worth a full day to explore. If you're not feeling like looking at animals, you may prefer the Denver Museum of Nature and Science, which focuses a little more on space and other elements of the natural world.
While most children will enjoy the zoo, they may not find enough to do on an extended trip centered on Uptown. Consider starting your trip at the zoo and sleeping at a local hotel, then moving into the Lower Denver area the next day for the rest of your vacation.
Cherry Creek
Set southeast of Capitol Hill, Cherry Creek is a safe and family-friendly destination with a surprising mix of shopping and nature.
The main highlight of the area is the Cherry Creek Shopping Center on the southern side of the area, which has over hundred and fifty stores spread out over more than a million square feet. Outside of its regular stores, the location has numerous restaurants, a playground, and even a movie theater.
Head north from the main shopping area and you'll find more upscale options, including spas and other relaxation facilities. Locally-owned businesses provide high-quality, small-batch products for a more unique spin on things. Between the two sections, anyone who loves shopping is sure to have a great time.
Shopping is just half of the entertainment in the area, though. The Denver Botanic Gardens are a short trip from the north side and feature an array of plants from around the world. It also features a conservatory area and an amphitheater. If you're visiting during the summer, you may be able to catch a live concert in the area.
If you want to stay as close to nature as possible, you can follow the Cherry Creek Trail. This path winds for about forty miles along the river, going from the outskirts of the area to Confluence Park in the Lower Downtown area.
Cherry Creek has one of the lowest crime rates in the area, making it a safe and pleasant location for most families. It doesn't have the same kinds of tourist attractions as the central and upper areas of the city, but its unique charms and top-tier shopping make it an ideal place to stay if you want a cozy and comfortable rest with easy access to stores.
If you buy a little too much, you can look for a shipping service to mail things home.
Lower Highlands
The Lower Highlands are part of the wider Highlands area, set across the South Platte River from the downtown areas of the city. This area offers a great view of the city's skyline while still technically being part of Denver.
The Lower Highlands are quiet because they're outside the main tourist areas, but they have a major attraction in the Downtown Aquarium. It features over 500 aquatic species with over 100,000 square feet of space, making it an outstanding counterpart to the Denver Zoo's focus on terrestrial and avian creatures.
The Lower Highlands is also host to occasional music festivals and events that are too big to fit in the downtown convention center. Tennyson Avenue is one of the best areas to walk down, with plenty of shops and restaurants to enjoy. The Lower Highlands focus on quality, and you can find some of the best (and most expensive) eateries in the city here.
However, the main reason most people stay here is its proximity to Rocky Mountains National Park. The park is about sixty miles away, and while on-site lodging is possible, many people prefer to end the day in a nice hotel and relax in a hot tub. The park itself features a huge range of mountain terrain, including hiking and boating opportunities.
South Broadway
One of Denver's more unusual options for visiting with children is the South Broadway area, anchored by the massive Punch Bowl Social building. The complex includes a bowling alley, multiple bars and restaurants, and a full game room to enjoy.
South Broadway isn't quite big enough to support a full vacation all by itself, so don't expect to spend every day on the streets. It has some great boutiques for shopping, but that only goes so far. Instead, this place is worth considering as one of the best spots outside of the downtown hub, with easy access to the neighboring areas.
The South Broadway area tends to attract younger professionals, so the average age of people on the street is lower here than in some other parts of the city. This makes it particularly good for younger couples with children. Older visitors may prefer the traditional styling of the downtown area.
Places To Avoid Staying
While there are many places worth staying in Denver, there are also a few places you should avoid.
Denver International Airport
Denver International Airport is about 25 miles away from downtown Denver. While there is a train that connects them, the fact is that going to and from the airport area will consume a lot of time each day on your trip. This makes the hotel airports a terrible choice for enjoying the city.
There are only two reasons to stay at one of the airport hotels. If you're just passing through the area and need to spend somewhere overnight, they're great. If you're attending a conference in the hotels, it's also better to stay there and head out to the city for one day if your schedule allows.
Otherwise, the lower prices at hotel airports aren't nearly enough to make up for the distance and inconvenience of enjoying Denver properly. Besides, airport hotels have to deal with the noise of planes taking off, and children can have a hard time sleeping through that.
Rocky Mountain National Park
Rocky Mountain National Park is a beautiful destination with a lot of wilderness to enjoy, and it's fine to camp in the park if you're going to spend more time there. However, it takes about an hour and a half to get from downtown Denver to the park, and that's much too far to enjoy the city properly.
A Visitor's Guide To Denver
Now that you know more about the best areas to stay in Denver, let's look at some other considerations that will help you enjoy your trip more.
Expect Varying Weather
Denver is one of the sunnier areas in the country, getting well above the national average for sunny days.
However, as it's set by the base of some mountains, it also sees more than eighty days of precipitation each year, and it's not rare to have measurable snowfall.
Depending on the season, you may want to bring sufficient cold-weather gear and snow-worthy shoes. The city can require a sweater in the morning but warm up enough to let you wander around in a t-shirt by the afternoon.
A little preparation goes a long way when planning for Denver weather, especially during the cold or wet seasons.
However, while the weather can change a little, it's generally mild. Storms and similar events tend to be short and intense, often lasting just thirty minutes or so before moving on. If you don't like the weather, hanging around for a little bit is a genuinely viable option.
Limit Alcohol Consumption
No, this isn't about general health or public drunkenness laws. Denver is a relatively friendly city in those regards. The real reason to limit alcohol consumption is Denver's altitude. The effects of alcohol tend to be stronger at higher altitudes, and Denver's claim of being the Mile High City is no joke.
If you want to drink, try to limit yourself to one or two glasses spread over an evening. Make sure to drink plenty of water during your trip, and consider resting more on your first day in the city so you can acclimate to the weather better.
If you're from a mountainous area, though, you'll probably be fine.
Get Around Like A Local
Denver is a big city, but you don't have to rent a car to get around. Instead, you can take a bus or train from the airport straight to the downtown area. If you need more flexibility, Denver is big enough to make ride-sharing services far more viable.
The MallRide and MetroRide services provide free transportation to some of the top sights in the city, each of which is within easy walking distance of several other entertainment options. Many great sights, including museums and performing arts centers, are within blocks at most from the bus stop.
For slightly longer trips, some people use bikes or scooters to get around the area. Some places have rental options for this.
Planning Your Trip Length
People enjoy different things, so there's no universal guide to how many days you should spend in Denver. If you're only visiting for a convention, for example, you may want to leave the city as soon as that's done.
Otherwise, most people find that 3-5 days is about right for exploring the area. This gives you enough time to enjoy many of the local sights at your own pace, including spending a day at the zoo and taking some walks through the downtown area. You'll also have the chance to eat at several different family-friendly restaurants.
When To Visit Denver
Like trip durations, picking a time to visit Denver depends on many factors, including when your schedule allows and any seasonal occasions you may want to attend that take priority.
If you have the option to choose, however, consider visiting Denver during the shoulder seasons of April-May and September-October. These periods tend to have decent weather, lower prices, and smaller crowds than the peak seasons, making them the ideal option for guests.
Traffic
Denver can have a lot of traffic, especially during rush hours. This extends beyond the city, with I-70 and areas near the Eisenhower Tunnel often seeing significant delays. You can also expect bad traffic during peak times between Denver and the Boulder, Colorado Springs, and Fort Collins areas.
The traffic is bad enough that it's better to avoid traveling around by car unless it's necessary. Fortunately, with Denver's robust public transportation network, cars are an entirely optional part of most trips.
Breweries
Denver is a recreation-friendly city, and part of that status includes hosting a range of high-quality breweries. Some breweries are kid-friendly so you can out and taste the drinks for yourself.
Denver is also home to a wide range of rooftop bars, which can offer outstanding views of the city at night. Don't worry if you'd rather avoid alcohol, though. Most locations have a decent selection of non-alcoholic drinks, ranging from sodas and smoothies to kombucha.
Eateries
Denver is also foodie-friendly, with dining options that cater to a wide range of tastes. Most of the better restaurants have options for a range of diets, including vegan and vegetarian dining, although as always you should check the menu before anything else.
Marijuana
Colorado is the first state to have legalized marijuana consumption. However, it has some tight rules surrounding it, so you don't need to worry too much about your children being exposed to it while you're in the area.
Most notably, while visitors can buy marijuana in stores, it's still illegal to smoke it in public or visibly carry open products. The general accessibility of marijuana means there isn't nearly as much of a black market as you might expect. It's easy to have a trip completely devoid of marijuana.
Outdoor Options
Denver has a wide range of outdoor options, with about five thousand acres of city parks and excellent transportation options. Outdoor dining options are plentiful, and there's easy access to areas like the Rocky Mountain National Park and the Continental Divide.
Colorado is a great state to enjoy nature. There are areas where nature walks go right along with shopping, and that's not counting some of the major natural areas like the central parks. Denver is far more outdoorsy than some other large cities, so keep that in mind when planning your visit.
However, keep in mind that the thinner atmosphere in Denver means less oxygen intake. Many people find that exercising about 60% less than usual is about right. Be sure to pace yourself during your trip, or you may find yourself unexpectedly tired.
Frequently Asked Questions
Here are some common questions people have about Denver and the best places to stay inside the city.
What is the prettiest part of Denver?
Beauty is subjective, but many people find that Cherry Creek is one of the most attractive areas in the city. It has most city amenities and easy access to mountain and waterfront views.
What part of Denver's downtown is nicest?
The best overall area in the downtown section is Lower Denver, especially the area around Union Station. This place functions as a hub for both workers and tourists, and Denver's worked hard to make it an appealing destination for all visitors.
The Central Business District isn't quite as touristy, but it has plenty of places to sleep and eat, making it a good hub for excursions into other parts of the city.
What's the most famous street in Denver?
Denver's most famous street is Colfax Avenue, the main non-interstate road going east and west. It's also technically 15th Avenue, sandwiched between the 14th and 16th, but it isn't labeled that way on most maps.
Colfax Avenue has a range of excellent local restaurants, not to mention arcades, theaters, music genius, and other sights.
Is it worth going to Denver?
Yes, but you should know the sort of experience you're getting for a trip, especially if you're bringing children along.
Denver is a cosmopolitan city with easy access to outdoor options and day trips. It has a lot of art and culture, with outstanding dining and brewing choices to keep things lively.
However, it's probably a better destination for families with older children who can participate in more events, rather than walking around the city with a stroller and a toddler.
Is downtown Denver walkable?
Yes. The downtown area is generally walkable, with plenty of sidewalks and many ways for pedestrians to get around. It also supports bikes and scooters for traveling longer distances without cars. Traffic can get bad in Denver, so it's best to take advantage of these options when possible.
What should I eat in Denver?
Denver has enough restaurants to appeal to almost any taste. However, try to eat foods containing potassium, including bananas, chocolate, granola, potatoes, tomatoes, or broccoli. Potassium will help you balance your salt intake, which is good for adjusting to its higher elevation.
Should I wear sunscreen in Denver?
Yes. Because of its altitude, the city receives less atmospheric protection from the sun than many other areas. Wear sunscreen in all seasons, and consider using sunglasses and lip balm as well.
How expensive is a hotel in Denver?
Hotel prices depend on where you stay. Higher-quality hotels in the downtown area usually go for $250/night or more, and Denver is popular enough that most hotels see a lot of traffic, especially around bigger conventions.
Cheaper hotel options are mainly outside the downtown area. However, be careful when looking at the price alone. It takes time and money to get back to the main sights of the city, so if you get a hotel too far away, you could end up spending more money overall.
Final Thoughts
Now that you know more about the best places to visit in Denver, you're ready to plan a trip to Colorado's Mile High City. If this is your first time in the area, consider starting with the Lower Denver downtown zone, and branching out from there based on what you want to do. The Denver Zoo is a must-see, so be sure to include a day for it.
More about our TFVG Author