Colorado is known for a few things, but mainly what comes to mind when you think of the Centennial state is its snow. 
Thousands of people flock to Colorado's high country searching for champagne snow to enjoy the winter activities. But skiing and snowboarding take a lot of time, money, and patience. So what do you do when you want to have fun quickly and easily?
Tubing has become one of the most popular activities after skiing and snowboarding—you still get the benefit of going fast down a hill in the snow while saving money on gear and lift tickets.
Here, we will look at the eight best places in Colorado to go tubing this winter.
But first, let's cover some must-know basics.
What Beginner Tubers Need to Know
Tubing is fun and accessible, but here are a few things you might want to know about it.
Be prepared!
Snow conditions vary, and you want to ensure you have everything you need to stay warm. We'll cover what to bring with you in the sections to follow.
The next bit of information you'll want to know if you're traveling to the Rocky Mountains is that they are very dry, so you'll want to stay hydrated before you get there, while you're there, and even after you leave. Hydration, exercise, and a good diet will make the altitude adjustment much easier.
Take it slow. Snowsports are a blast, but it's essential to take care of yourself and those around you by paying close attention. If you do, you'll be much more able to take in the incredible sights around you.
The next thing you'll want to consider (and make a checklist of) is what to bring on your first snow tube trip.
What to Bring Tubing
Warmth is the main goal here, and one of the best ways to stay warm is to keep dry.
The essential items you'll need to bring tubing include:
The base layer. Typically merino wool is recommended. You can usually find a cheap and thin option for this, and if you get a good one, you'll stay dry all day long. You'll want a layer for both your upper and lower body.
The mid-layer. This will keep you warm. A fleece jacket is a great option here, and you can bring multiple in case you want an extra layer.
The outer layer is going to be fully waterproof. You'll want both your pants and jacket to be waterproof in this case, as the Colorado temperature can fluctuate, and snowmelt is a reality.
Waterproof boots should fit just right with a warm pair of socks underneath. You don't want the boots fitting too tightly, as that will cut off blood flow to your feet, which is a primary source of warmth in the cold.
Waterproof snow gloves. Same principles as the boots, make sure they aren't too tight or too loose. You don't want to restrict blood flow, and you don't want them slipping off either.
Warm socks are another essential that you'll want to wear when you fit your waterproof boots).
An insulated helmet. Last but certainly not least. You can use a ski helmet if you have one. This will help keep you warm as well as safe.
Okay, now that the essentials are covered, let's take a look at the best time to go tubing in Colorado. 
When Is Colorado's Best Tubing?
Winters in Colorado vary from year to year. Some tubing hills can open as early as late October and stay open as late as May. But typically, the tubing season runs from mid-November to mid-April.
You'll also want to check when each sledding hill closes before you make your trek to one, as they are often dependent on a hard closing date, even if there is good snow still falling on the ground.
The month you can count on being the best for snowfall is February. The Rockies typically get their most snowfall during this month, and there is a deep base by then as well. Again, you'll want to confirm with each hill first that they have snow and are open.
You'll want to keep in mind that February, although deep with snow, is prime for everyone, and hills can get very busy. Make sure to book ahead of time if you can so that you aren't stuck waiting in long lines for something that should be fun.
Many of the areas we will cover also include non-snow activities, such as eating, drinking, and shopping. We will also touch on those so that everyone in your group will have plenty to fill their time.
But let's get to the best places to go snow tubing already, shall we?
Best Snow Tubing in Colorado
First up is Frisco's Adventure Park, located in Frisco, Colorado. The Adventure Park offers a unique tubing experience than you might expect.
The staff will guide you out to open wilderness areas where you can make a hub for the family or group to chill in. This includes tents around a picnic area for the breaks between tube rides.
The tubing can simply be sliding down a hill to flying down a steep slope at max speed. It's up to your comfort level when you get there.
Tubing is not limited to just the winter either—there is summer tubing in Frisco Bay and the Dillon Reservoir. These have plenty of hiking and boating experiences as well.
Address: 621 Recreation Way, Frisco, Colorado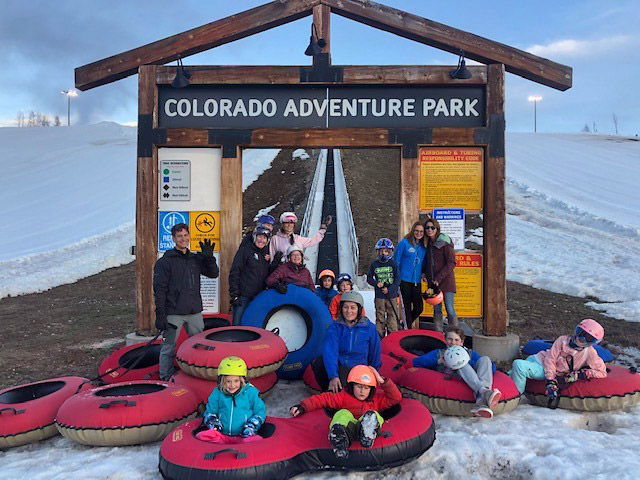 Colorado Adventure Park is one of the most diverse options provided today. It was designed to act as not only a tubing hill adventure but also an entire amusement park.
Conveniently located a few minutes from the Winter Park Ski Resort (70 miles away from Denver), the Colorado Adventure Park is for everyone aged six and up. From tubing to snow-shoe rentals, you'll stay busy and beat the I-70 traffic.
They offer terrain from easy and beginner to experienced and fast. And if anyone in your party doesn't want to tube by themselves, Colorado Adventure park offers double tubes.
Address: 566 County Rd #721, Fraser, Colorado
For another snow tube experience located at Winter Park's resort, the Coca-Cola Tube Park is curated to host another terrain for your tubing craving. The park is just over an hour by car ride outside of Denver.
You can visit the Coca-Cola Tube Park between December and April, 11 am to 4 pm, seven days a week. There, you can buy hour-long sessions at a time. Like the other slopes we've mentioned, there are a variety of skill levels and comfort levels available here, from slow to lightning fast.
What makes the park unique is its availability of banks to take turns on your tube and a conveyor that will pull you to the top of the hill. Just make sure to book ahead of time, as this one fills up fast!
Address: 85 Parsenn Road, Winter Park, Colorado
Keystone Ski Resort is the king of trees in Colorado's high country, and when you go there for your snow tubing adventure, you'll see why.
It is the world's highest tubing hill (elevation of 11,600+ feet), which will make you feel like you're a million miles from home due to the serene landscapes located in Summit County. Keystone's Mountain Top Tubing Hill offers six runs (or lanes) to tube down. Each of them is between 400 and 700 feet in length.
The town of Silverthorne is nearby as well, and the resort itself is loaded with bars, restaurants, and shopping right in its village located at the base of the mountain. For apres tubing, you won't be looking too far.
Keystone's rules are a bit stricter than other places we've covered. They include:
Each rider has to ride alone.
Pregnant women are not allowed to ride.
Helmets are not available so you will need to bring your own.
You need to be at least 42 inches tall to enjoy tubing.
But these rules and considerations are in place for good reason—to keep the fun going.
Address: 100 Dercum Square, Keystone, Colorado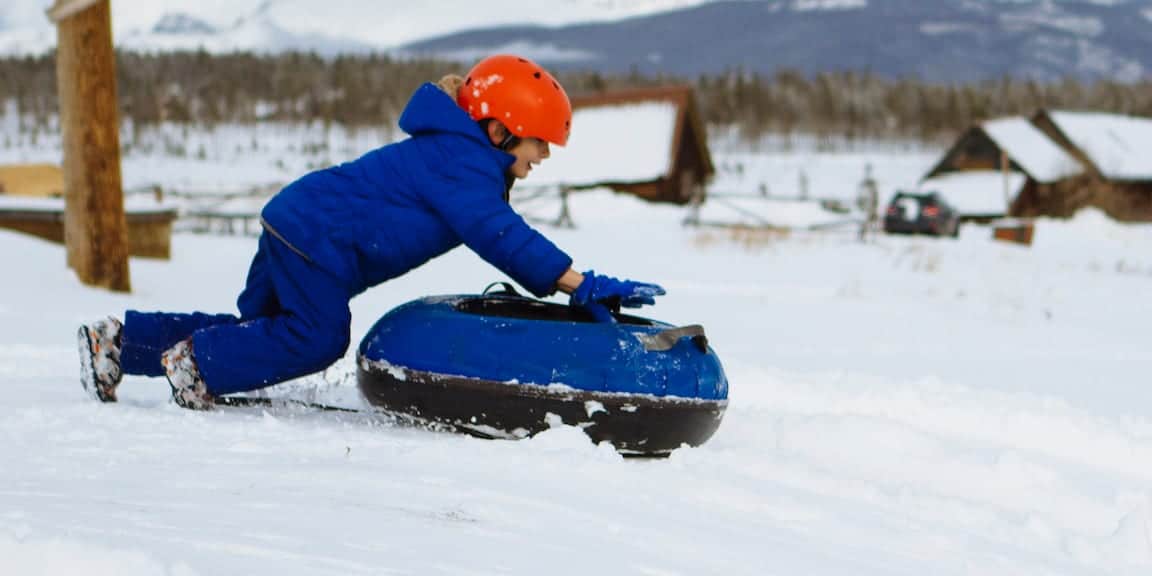 The YMCA of The Rockies has been a staple of summer and winter mountain life for a very long time. With its Granby location (away from other prominent ski destinations), its terrain is vast in the area. The staff of top-notch professionals will guide your experience with the best quality.
You can find the YMCA of The Rockies close to the Winter Pavilion in Granby, where you can rent quality tubes when you show up.
YMCA of The Rockies focuses on family fun, so you can bring anyone young enough at heart to get out there, even if they don't want to snow tube. If you like this spot, you can also visit this location in the summer for further activities.
Address: 1101 County Road 53, Granby, Colorado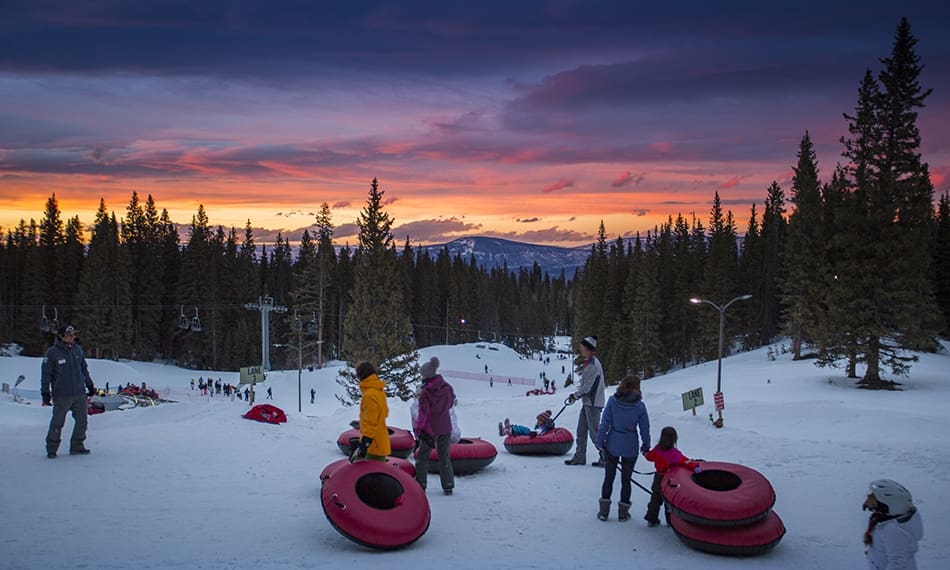 With the town of Aspen nearby—which is designed to feel like a European village and is packed with eating, drinking, shopping, and everything else Colorado mountain culture offers—Snowmass tubing hill is a great choice.
Aspen and Snowmass can't be beaten in the scenic areas. The trees, rivers, and snow are special, and there's a reason you know its name.
Depending on the time of year you choose to visit Snowmass for a winter extravaganza, festivals and music are happening in the village and town. One very special element that Snowmass Tubing offers is night tubing during one of these festivals, called the Ullr Festival. This happens at the Snowmass Elk Camp.
The only real rule here is you should be 36 inches tall to tube on their hills.
Go and enjoy the six snow tube lanes at Snowmass tubing. It's open between Christmas and May and is located at Elk Camp.
Address: 120 Lower, Carriage Way, Snowmass Village, Colorado
Winter Park has no shortage of snow tubing hills. Hideaway Park Sledding Hill is another one with its special offerings.
Hideaway is typically open from November to April, and you can either bring a tube or rent one from the park. The location of Hideaway Park is surrounded by year-round plants and animals surrounding you to make your time and tubing here unforgettable.
Hideaway (like Snowmass) offers a night tubing option during the winter. And if the location is the one for you, there are activities there for all seasons.
Address: Winter Park, Colorado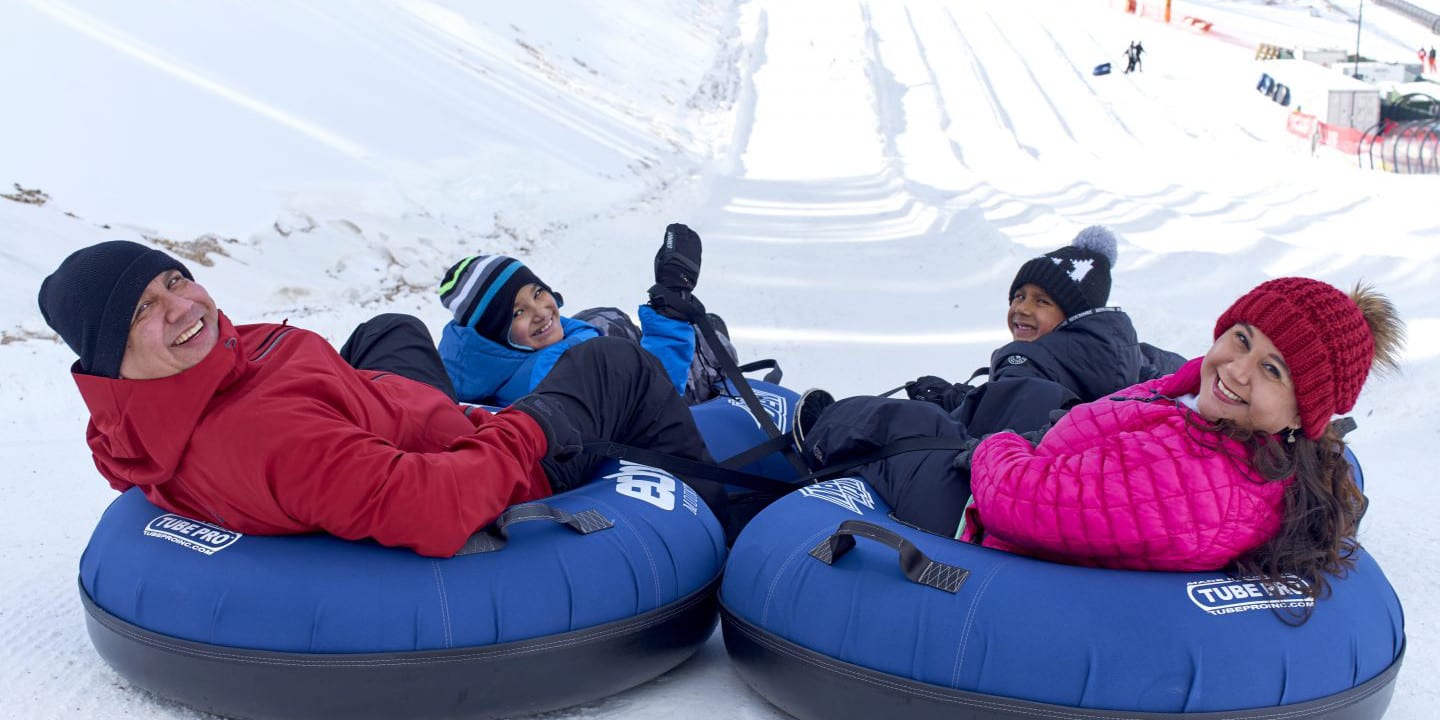 Echo Mountain is known for being a close-to-Denver terrain park haven. It also offers night skiing if you're looking to blow off some steam after a long day at work. What's more, it's a great snow tubing hill.
Echo opened in the 1960s and was originally called Squaw Pass Ski Area. Since then, it's been a lighthouse for snow adventure near the capital city. Then in 2017, Echo opened its doors as a tubing hill to accompany the other winter sports activities it offers.
The mountain features six snow tube lanes, and a conveyor takes you up from the bottom. This is an accessible and approachable system. It also can help children get used to being on or near a skiing hill.
Echo is open to all ages; just be sure you are over 35 inches tall. No lessons are offered here, so your riders will need to know how to snow tube before they get there. But even with these limited resources, Echo provides some of the most fun terrains on your tube!
Address: 19285 CO-103, Idaho Springs, Colorado
Conclusion
Winter sports are part of Colorado's history and culture. From the early rise to catch first powder turns, to the après, all the way to the snow tubing and children's activities. In the end, it's about fun, and with the proper preparation and consideration (like choosing the right snow tubing location for you), it can open a whole new world for children to enjoy.
We hope this guide has helped you, and enjoy yourself out there!
More about our TFVG Author
A seasoned traveller, Dad, and avid sports tourist, James foundered The Family Vacation Guide to share his expert vacation experiences- especially when it comes to being a travelling family man.
Featured in Travel articles such as Travel + Leisure, TripSavvy and SFGate, you know you're reading some of the best vacation tips online.