If you're looking for a great family-friendly resort, look no further than the ones in Colorado Springs. Of course, the area has plenty to offer on its own, with the Colorado mountain wilderness as its backdrop.
These resorts provide inclusive resort luxuries, such as pools, golf courses, rec centers, and even water parks and lakefront beaches that guarantee 24/7 entertainment for your kids.
So, if you want to take your family on a trip to Olympic City, USA, that you and your kids will never forget, take a look at our list of the best Colorado Springs resorts for families below.  
The Top Colorado Springs Resorts for Families
As Colorado Springs is a beautiful place for families to visit and vacation, we've compiled the following list of the best 13 Colorado Springs resorts for families. Here's a look at what each Colorado Springs resort offers to help you choose the ideal spot for you and your family.
Cheyenne Mountain Colorado Springs Resort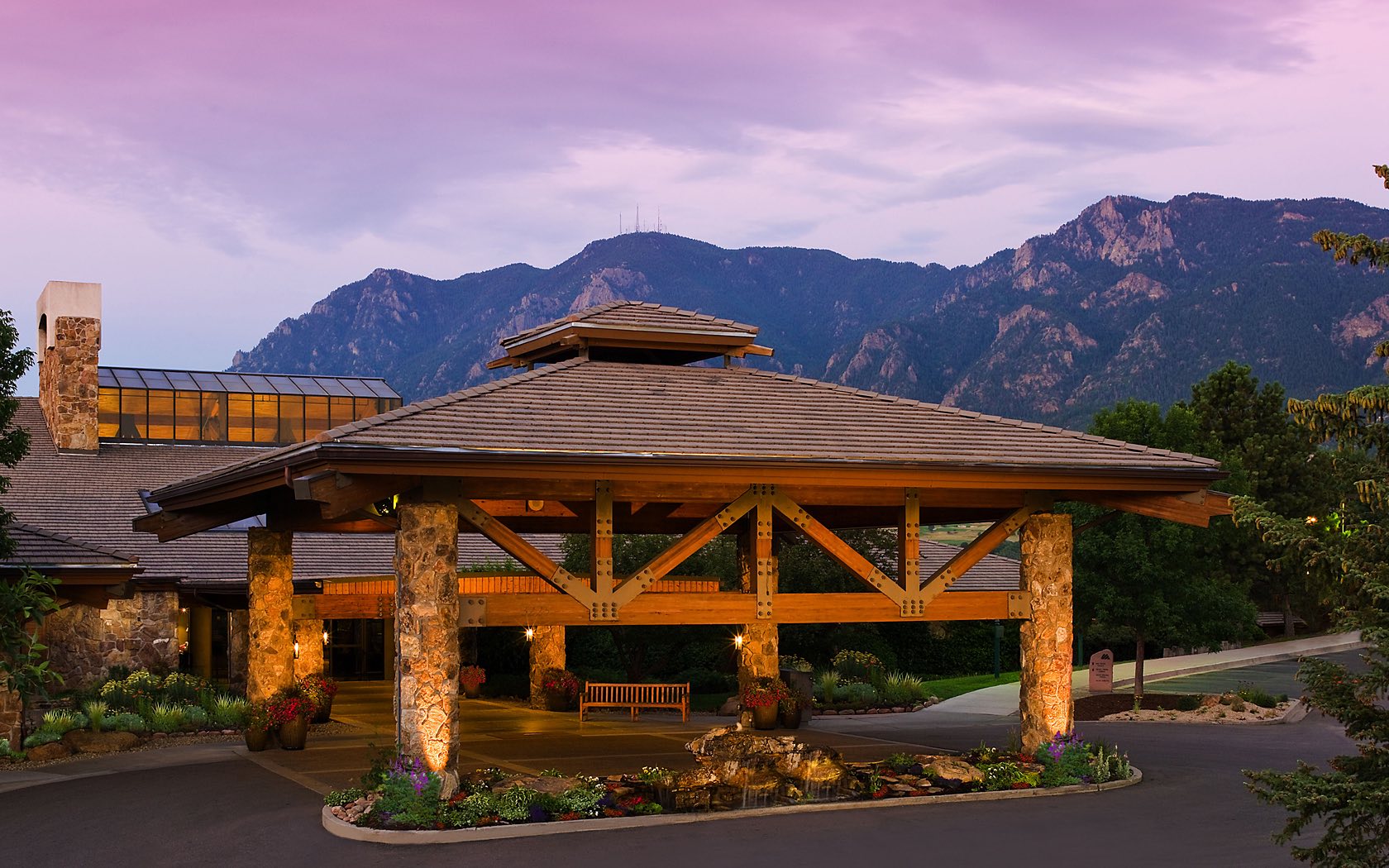 Nestled among the towering peaks of the Rocky Mountains, Cheyenne Mountain Colorado Springs Resort offers awe-inspiring views and luxurious accommodations.
The AAA Four Diamond resort features world-class dining, endless recreational opportunities, including a lake to kayak, swim, and explore with a sandy beach to soak up some rays. Plus, the resort has five pools and jacuzzis to soak in if you don't prefer the lake.
For some time to yourself, you can take a relaxing trip to the spa or play a round of golf. Then, when you tire of the resort–if that's possible–you can find plenty of entertainment in the local area, including the family-fun favorite Cheyenne Mountain Zoo, making it the perfect choice for your next Colorado family vacation. Experience all that this one-of-a-kind resort has to offer.
Garden of the Gods Resort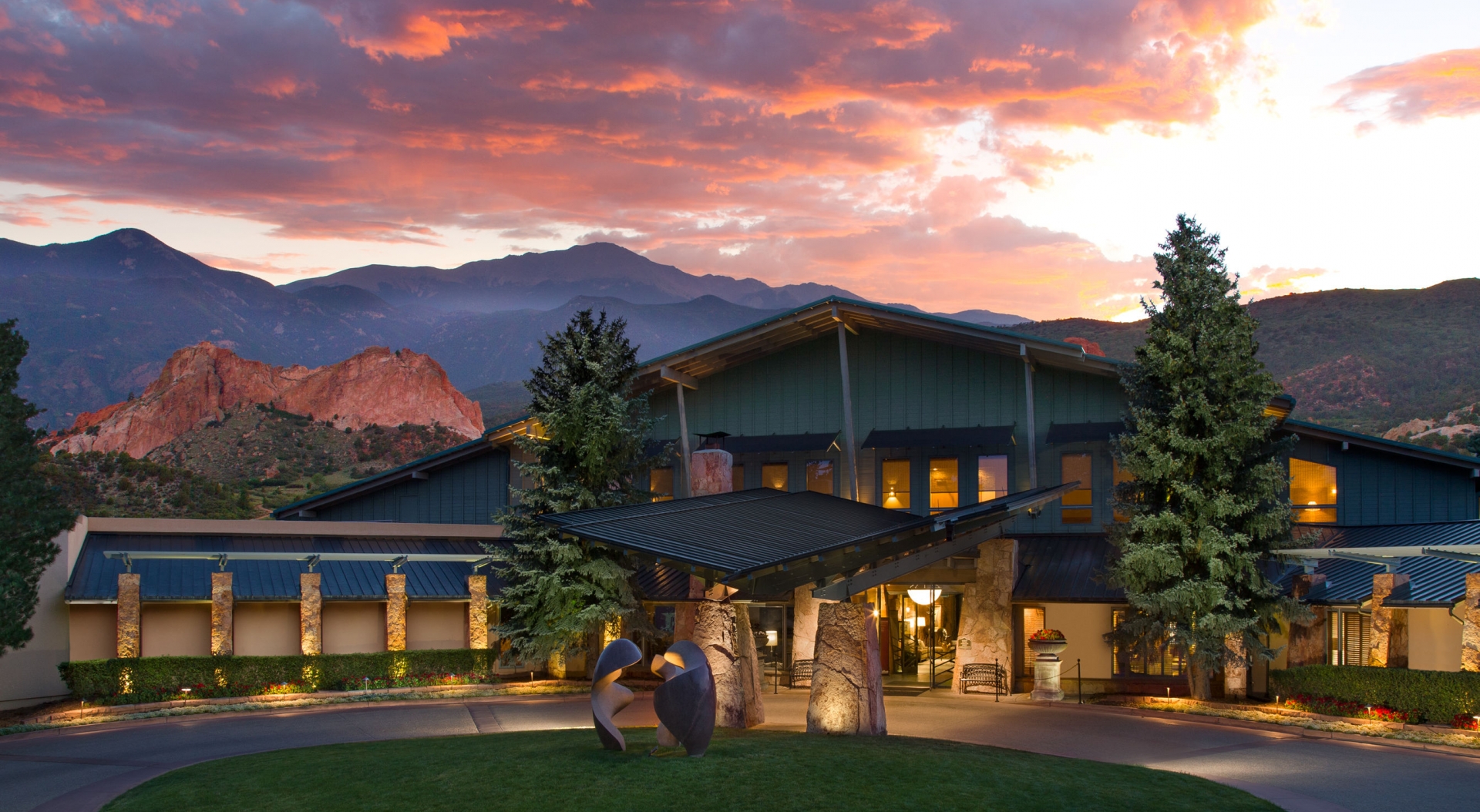 If you're looking for an unforgettable Colorado resort experience for the whole family to enjoy, look no further than Garden of the Gods Resort and Club. The welcoming atmosphere and attentive service will make you feel right at home, while the beautiful setting and unique amenities will leave you feeling refreshed and rejuvenated.
The resort has tons of amenities to take advantage of during your stay, including luxury pools, a spa, salon, recreation center, fitness center, golf, pickleball, and tennis courts.
Plus, you'll find hiking and outdoor adventures steps from the resort in the Garden of the Gods park. Not to mention, the Garden of the Gods Resort has a dedicated Kid's Club area to entertain your little ones when you need a day to pamper yourself.
Kinship Landing
Looking for a place to stay that's both comfortable and Colorado-chic? You might find Kinship Landing a perfect match. This newer hotel, recently built in March of 2021, focuses on experiencing Colorado Springs like a local and offers top-notch rooms designed with comfort in mind.
Plus, you'll find plenty of opportunities to explore everything our great city has to offer. From world-class hiking and biking trails right outside our door to restaurants, galleries, and more, Kinship Landing knows how to show guests a good time, and their convenient location in the heart of downtown doesn't hurt.
You can also bring along your four-legged friend to Kinship Landing since the hotel is entirely pet-friendly. Then, at the end or beginning of an adventurous day, you can swing by the in-house bar and cafe for a bite to eat.
The Academy Hotel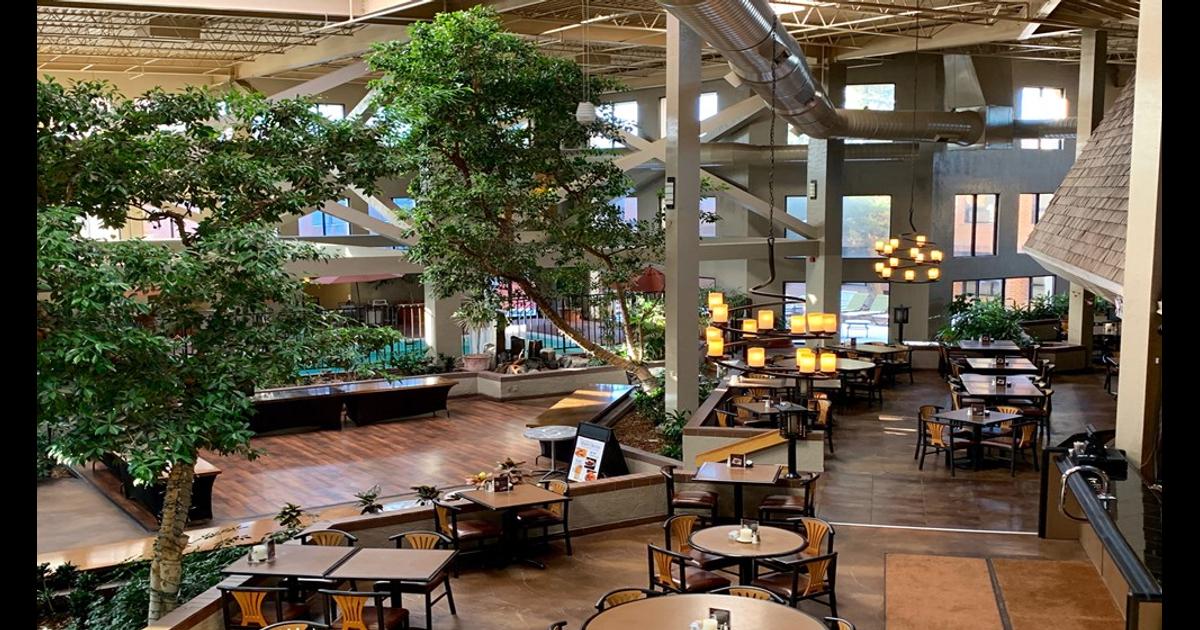 You'll find the Academy Hotel conveniently located near some significant Pikes Peak region hotspots, including America's Mountain Pikes Peak, historic downtown Manitou Springs, Garden of the Gods, Cave of the Winds park, and Seven Falls.
The hotel is ideal for families exploring the great outdoors and coming home to cozy living quarters. The comfortable guest rooms are perfect for resting up before embarking on another exciting adventure in this beautiful part of the country.
Plus, The Academy Hotel offers a fully stocked complimentary breakfast for you and your kids to fuel up before a day outside. The breakfast includes both an omelet and a waffle bar. But, if you're looking to stay in for a bit, you might find sanctuary at the hotel's heated indoor pool.
The Broadmoor
The Broadmoor oozes luxury and sophistication but can also serve as the perfect destination for a family to vacation in Colorado Springs. Here, you can relax and take in the breathtaking views of the Pikes Peak region, or you can set out on an adventure thanks to The Broadmoor's unique wilderness properties, such as the Emerald Valley Ranch, Cloud Camp, or Fly Fishing Camp.
You can explore the Colorado wilderness even more via the Pikes Peak Cog Railway or Soaring Adventure zipline excursion. Also, thanks to The Broadmoor's prime location, you can set out to hike around Seven Falls and bask in the glory of nature's wonder.
No matter what you choose to do during the day, you can seek comfort back at the resort's ultra-comfortable luxury rooms and dine at one of the many restaurants on the premises. Ultimately, The Broadmoor is the optimal resort destination for families looking to get a taste of the great American West.
El Colorado Lodge Cabins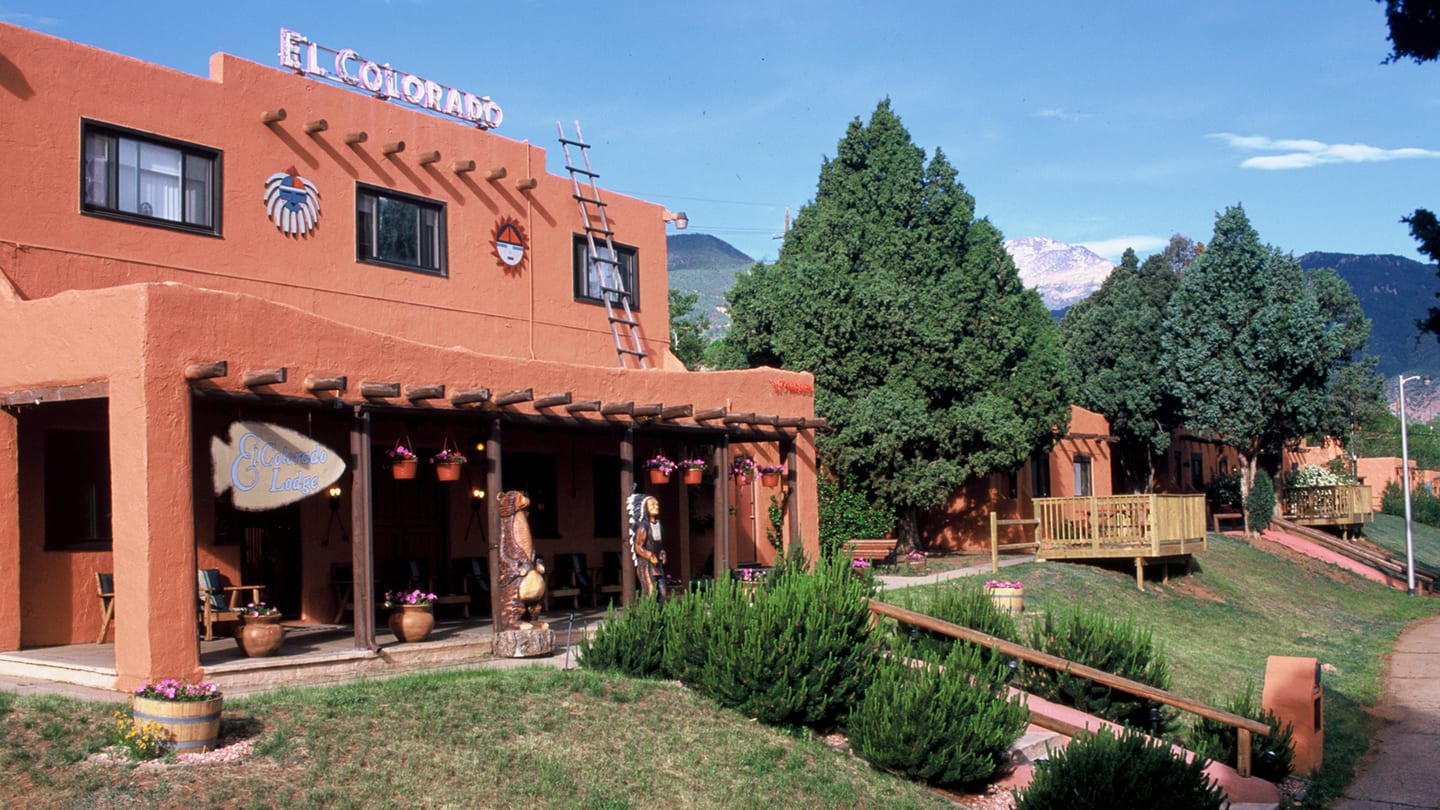 If you want an extended family vacation, you might want to consider the El Colorado Lodge, located just north of Colorado Springs in the charming Manitou Springs. El Colorado Lodge offers individual cabins with quaint, cozy living areas with fireplaces alongside separate rooms, laundry facilities, and full bathrooms.
The lodge cabins look out into the vast Colorado wilderness, offering breathtaking views and unforgettable experiences. You can also drive only 10-minutes to get to the renowned Garden of the Gods for some more exploring.
Plus, the cabins feature unique Pueblo-inspired decor along with a large outdoor swimming pool. Not to mention, El Colorado Lodge is just next door to the historic downtown Manitou Springs to satisfy your shopping and local dining needs.
Great Wolf Lodge Water Park 
The Great Wolf Lodge Water Park is an ideal place for your family to have some serious fun. With tons of water rides, slides and activities, your children will never get bored. In addition, the Rustic Ridge Climbing Wall is an excellent place for kids to test their athletic skills, and the arcade and mini-golf course make for some unforgettable family-friendly competition.
Plus, The MagiQuest adventure will take your little ones on a magical adventure around the hotel as they immerse themselves in various games with their handy magic wand. You can seek refuge in a fun, cabin-themed room or resort suite at the end of the day.
In addition to the many amenities within the resort, the Great Wolf Lodge Water Park in Colorado Springs lies close to many local activities, whether you want to go for a quick hike or a shopping spree. 
Why not check out our guide to other Great Wolf Lode locations in the US, too?
The Mining Exchange – A Wyndham Grand Hotel & Spa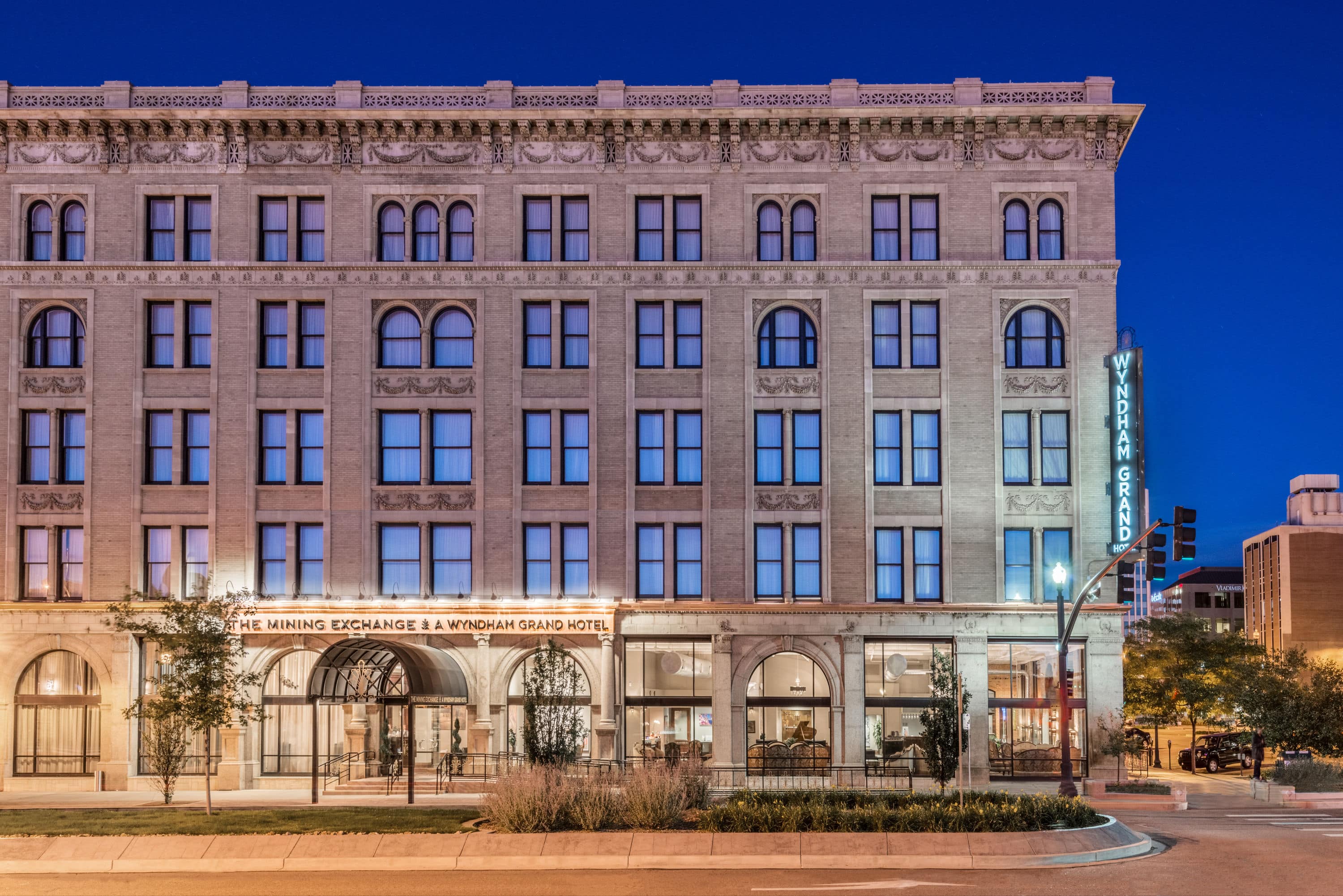 When you want to experience all that downtown Colorado Springs has to offer, you might want to consider The Mining Exchange, a Wyndham Grand Hotel & Spa. Here, you can indulge in delicious cuisine from the in-house Springs Orleans Restaurant and sip on cocktails at one of the hotel's two bars.
While the adults dine and drink, kids can take a dip in the pool at The Mining Exchange's sister hotel, The Antlers. But, if you want to have some family fun, you can head out to the Pikes Peak Summit, the Garden of the Gods Park, the U.S. Olympic & Paralympic Museum, shopping in Downtown Colorado Springs, or one of the many other activities in Colorado Springs.
Buffalo Lodge Bicycle Resort
What better way to spend a family vacation than at a family-owned and operated resort? Generations of outdoor adventurers have run the historic Buffalo Lodge Bicycle Resort, making it a homey stay in a place you might not be acquainted with.
The hotel is within proximity to some must-see spots on your vacation, including Manitou Springs, Garden of the Gods, and Red Rock Open Space. Even though the hotel has "bicycle" in the name and has tons of great biking trails close by, you don't have to be a cyclist to stay here.
Plus, the lodge offers many local sight-seeing resources, including information about a kid's wilderness day camp for if you want to let your kids have a day to explore while you do your thing.
SCP Colorado Springs Hotel
The SCP Colorado Springs Hotel is environmentally conscious and straightforward yet family-friendly, comforting, and ideal for your vacation in Colorado Springs. The hotel features locally sourced goods at its in-house Provisions Market and a sustainably designed common area with fun hammock-like seating. Plus, the hotel has ample fitness equipment located in its rec room.
One of the best things about the SCP Colorado Springs Hotel is the various booking offerings. For instance, if you want your family to make the most out of the great Colorado outdoors while on vacation, you can book the Adventure Package, which gives you $20 each night in provisions from the Provisions Market and a 33% discount on three or more nights.
When you're ready to get outside, you'll find the hotel provides quick access to downtown Colorado Springs, El Pomar Youth Sports Park, Quail Lake Park, and the Broadmoor World Arena.
The Lodge at Flying Horse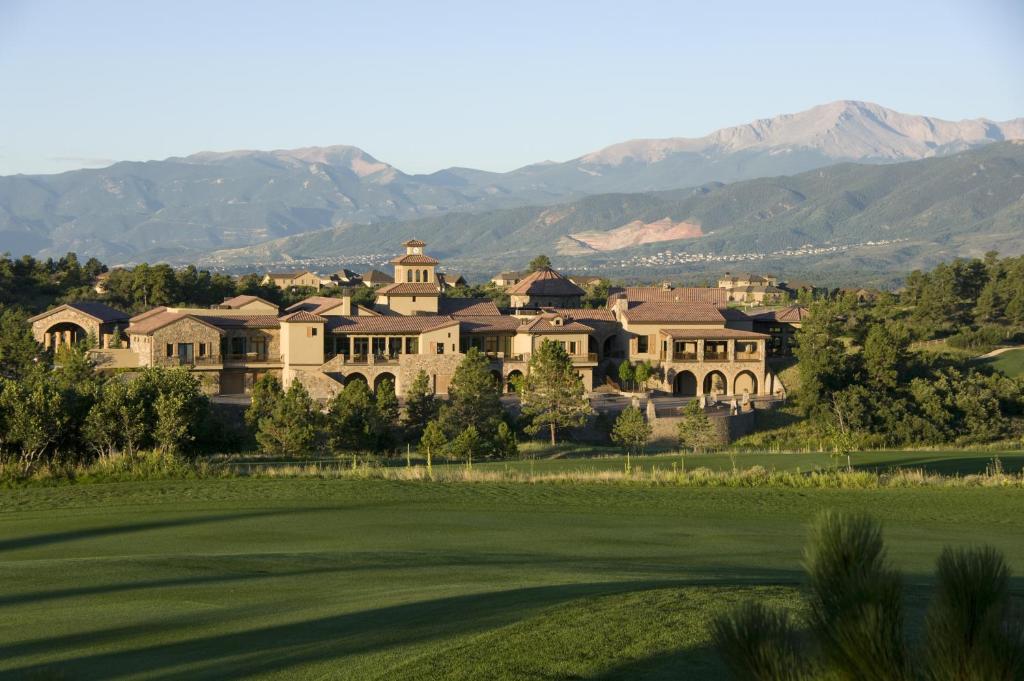 At The Lodge at Flying Horse, you'll practically never have to leave the resort. Seriously, the amenities list for this Colorado Springs resort never ends. It has lap and recreational pools, an 18-hole golf course, golf lessons, tennis and pickleball courts, spa services, and an athletic club.
If you want your family to see more of what Colorado Springs has to offer, you can visit or zipline across Royal Gorge, hop over to Flying Horse Ranch for some horseback riding or go on a fishing excursion.
Not to mention, The Lodge at Flying Horse offers two different stay options, either the Lodge or the Villas. The Lodge boasts ample suites, while the Villas offer more space with private bedrooms and stunning views of Pikes Peak and the Rocky Mountains.
Colorado Springs Marriott
While the Colorado Springs Marriott is a part of a hotel chain, you can't beat its family-friendly amenities, comfortable rooms, breakfast buffet, and frequent booking offerings and packages.
With easy access to Pikes Peak, Cave of the Winds, and Garden of the Gods, you can hike and climb to your heart's content. Then, when you're ready to relax indoors, downtown Colorado Springs awaits with plenty of shops, museums, art galleries, and restaurants.
Or, if you prefer to take a day to relax at the hotel, you can always take a dip in the pool or hit the fitness center for a thorough workout.
Then, you can pop up to the Ascent Restaurant and Bar for a delicious dinner before slipping into sleep in your room. Plus, the Colorado Springs Marriott recently renovated the rooms, so you can bring your furry best friend(s) with you if you want.
The Antlers – A Wyndham Hotel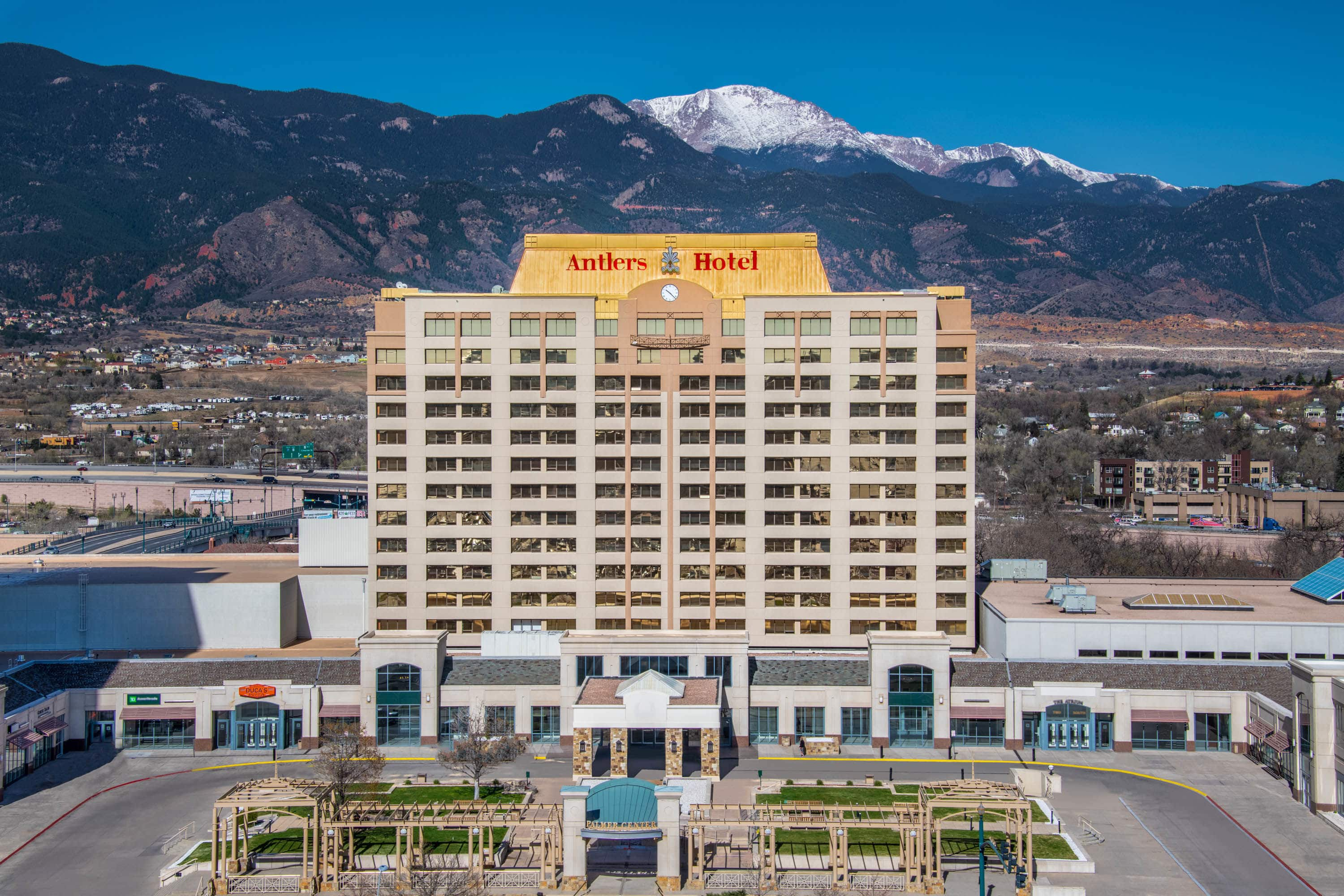 Located in the heart of Downtown Colorado Springs, The Antlers hotel gives you immediate access to great shopping, restaurants, entertainment venues (like the Pikes Peak Center), museums, and parks.
When you want to get out of the city center, you can easily cruise over to one of Colorado Springs' many state parks, including Cheyenne Mountain State Park, Garden of the Gods, Cave of the Winds, and Seven Falls. You can also take a short drive over to Prospect Lake at Memorial Park for a relaxing day on the waterfront.
At the hotel itself, you can drop your kids off at the luxurious indoor pool while you relax for a vacation date at the Piccadilly Bar or Antlers Grille. Or, you and the whole family can order room service up to your cozy suite for a quality meal in front of even higher-quality views of the downtown cityscape and neighboring mountains.
In addition to ample amenities and local excursions, The Antlers offers frequent specials for discounted room rates and packages.
Are You Ready to Visit These Colorado Springs Resorts for Families?
These properties offer amenities such as indoor pools and spas, fitness centers, playgrounds, kids clubs with activities like crafts or scavenger hunts.
Well, what are you waiting for? Book your stay at one of these family-friendly Colorado Springs resorts now for a vacation your family won't forget.
More about our TFVG Author
A seasoned traveller, Dad, and avid sports tourist, James foundered The Family Vacation Guide to share his expert vacation experiences- especially when it comes to being a travelling family man.
Featured in Travel articles such as Travel + Leisure, TripSavvy and SFGate, you know you're reading some of the best vacation tips online.