For those that love exploring the nation's great outdoors but do not want to rough it camping on the cold and hard ground, there is always the option of Glamping.
Glamping combines the luxury of hotel vacationing with the best part of camping, surrounded by nature.
Plenty of places in the country attract visitors with their natural beauty. However, Colorado is the perfect Glamping destination for those looking to combine nature, outdoor activities, and privacy.
After all, who could resist waking up every morning to the sight of the majestic Rocky Mountains?
Glamping in Colorado is the perfect way to spend a weekend relaxing and becoming one with nature, so let's explore the best spots in the state for a vacation.
Collective Vail, 4 Eagle Ranch – Wolcott, CO
If you want to feel like a cowboy during the day but at night rest in a comfortable bed, then go Glamping at the Collective Vail at the 4 Eagle Ranch. At the 4 Eagle Ranch, you will be surrounded by 1,000 acres of a high desert landscape with the Rocky Mountains in the backdrop.
This luxury camping retreat offers adventure to thrill seekers and a relaxing time for those looking to unwind. Activities on the ranch include guided white water rafting, horseback riding, and mountain biking.
Explore Colorado's wildlife, fly fishing, or have a picnic lunch with your loved ones. Go zip-lining over Alkali Creek. Enjoy food prepared by world-class chefs with local ingredients in various innovative and mouth-watering ways.
Amenities
You can stay at the Collective Vail resort in two Glamping Tents, a Journey Tent, or a Summit Tent.
The Journey Tents are the smaller type but with equally luxurious amenities. When you book a Journey Tent, you can choose between one queen bed or two single beds. You will be provided with fine linens, plush towels, many in-tent amenities, and communal bathrooms.
In comparison, the Summit Tents are bigger. They offer you the choice of a king bed or two single beds with high-thread-count linens, private en-suite bathrooms, boutique bathroom amenities, plush towels, private decks, and Adirondack chairs.
Additional information
Monument Glamping – Monument, CO
The owners of Monument Glamping believe that every guest is entitled to enjoy the outdoors without compromising comfort. The resort strives to provide you with the luxury and relaxation they believe a vacation should be.
Monument Glamping's structures are built to be an oasis where the guests can relax, rejuvenate, and marvel at the great Colorado outdoors. Monument Glamping is a member of the American Glamping Association.
At Monument Glamping, you can stay at one of their Monument Creek properties or Pine Cone Ranch. Staying at Monument Creek features self or guided trails, private safari tents, bell tents, a container home, and a year-round flowing creek.
Pine Cone Ranch features include private decks with fire pits, furniture, private container homes, seasonal tents, and Mature Ponderosa Pines all around you.
Amenities
Monument Glamping offers Safari Tents and free private parking in the Colorado region. Walking distance from the Monument Glamping Safari Tents are hiking trails and an on-site sun patio.
Palmer Park is 33.8 miles from the lodging, while the United States Air Force Academy is 19.3 km away. The Monument Glamping Safari Tents are 43.5 kilometers from the Colorado Springs Airport, which is the closest airport.
Glamping at the Monument Creek property will get you amenities like a queen bed, a fire pit, and lounge chairs. The creek that runs through the property has made many trails for visitors. Nearby you will find the US Air Force Academy, Pikes Peak, Garden of the Gods, and many hiking trails in Pike National Forest.
You will find the Pine Cone Ranch property on the east side of Monument in El Paso County. The ranch is near the Black Forest, close enough so that you can enjoy the view of the marvelous Ponderosa Pines. The Pine Cone Ranch property has container homes, traditional camping pads, and three-season glamping tents. This location offers visitors access to activities like walking, hiking, biking, and horse riding.
Additional information
Black Tree Resort – Lake George, CO
Black Tree Resort is a high-end glamping destination that creates cozy, personalized camping trips for groups, active couples, and families.
On 80 acres of woodland ground, the resort is surrounded by the Pike National Forest. Imagine remote camping areas covered in forest, a flourishing wildlife population, and miles of breathtaking scenery.
Spinney Mountain State Park and Florissant Fossil Beds National Monument are only a short distance to the west and east. Also, Eleven Mile Canyon Reservoir is less than five minutes from Black Tree Resort. Black Tree Resort strives to take care of every aspect of a pleasant camping trip.
After checking in at the front desk, visitors will be given an electric golf cart for quick and convenient transportation across the large campground.
Amenities
The walled tents have a bug screen at the entrance to keep insects out and multiple zip-open mesh windows to let in the fresh air. They are set up on a wooden platform with the sides bolted to the floor. A canvas awning that towers over the tent offers additional weather protection and shade for the enclosed porch space.
The fully furnished tents include two queen beds, a fold-out dining table for activities and meals, several nightstands, a side table, a padded sofa, and a stunning rustic chandelier hanging from the ceiling. You can control the lights in the tents by remote control; they are entirely solar-powered.
Additionally, there is a solar-powered battery with outlets under the nightstand where you may plug in your phone charger. Because the resort is all-inclusive, your overnight charge includes breakfast, lunch, supper, and non-alcoholic drinks.
Additional information
Never Summer Nordic – Walden, CO
Never Summer Nordic is a locally owned and operated business that has been in the same family since 2002 and offers some of the most incredible and unique lodgings in the entire state of Colorado.
Never Summer Nordic, located in Walden, is the ideal spot to stay all year round, but it is especially magical during the winter months. If you want to get away from the hectic city life and recharge, Never Summer Nordic is the place for you.
The locations of its yurts, lodges, and huts are remote and will provide you with the privacy you need to relax and unwind. Along with these thrilling activities, Never Summer Nordic includes hiking, fishing, wildlife viewing, hunting, and horseback riding.
Amenities
Never Summer Nordic's backcountry yurts, placed in various secluded locations within the Colorado Forest State Park, are perfect for a weekend getaway. Whether you are looking for a romantic or a ski trip, remote yurts are available for any occasion.
Never Summer Nordic's accommodations are described as a "backcountry enthusiast's perfect dream" by 5280 Magazine.
That is because of its seclusion, picturesque surroundings, and cozy interiors with beds, kitchenettes, and other homey conveniences. There are also two-wheel "drive-ups" and wheelchair-accessible yurts available.
Every yurt provides rustic settings, so there is no running water or electricity. Each yurt has an outhouse. Due to the locations of the yurts, you will have access to many old roads and trails for hiking, skiing, and mountain biking. You can also go fishing in the mountain streams.
Additional information
Royal Gorge Cabins – Canon City, CO
Royal Gorge Cabins provides luxurious cabin rentals only an hour from Colorado Springs and minutes from Canon City.
The Royal Gorge Cabins are designed with the visitors in mind to give them a much-needed escape from the stresses of everyday life.
You can go Glamping in the Royal Gorge Cabins with your friends, family, or yourself. Royal Gorge Cabins offers an excellent Glamping experience interspersed with pampering amenities and many outdoor activities.
There are outdoor adventure concierge specialists available to guests at the Royal Gorge Cabins who can help you with a vacation itinerary, schedule outdoor activities, or offer contact information to make your trip arrangements easier.
The activities available are white water rafting, hiking, zip line tours, historic train rides, and many more. You will also find the Arkansas River just a few minutes from your cabin.
Amenities
The Royal Gorge Cabins offer plenty of amenities for people to vacation in luxury. A kitchenette with stainless steel appliances, flat-screen TVs in the living area and each bedroom, and unlimited Wi-Fi are all included in each contemporary cabin.
Each cabin is built to take advantage of the breathtaking mountain views and has a ton of wide windows that let the outside in, allowing you to enjoy the Colorado scenery from inside or outside of your comfortable cabin rental. Warm yourself by the pass-through gas fireplace as you unwind in the living area or on your private patio.
This smoke-free cabin has a restaurant, a bar/lounge, and a tour and ticket help service. A garden and barbecues are additional features, along with complimentary toiletries and plush beds. There is also housekeeping available if you need the service.
Additional information
Dunton River Camp – Dolores, CO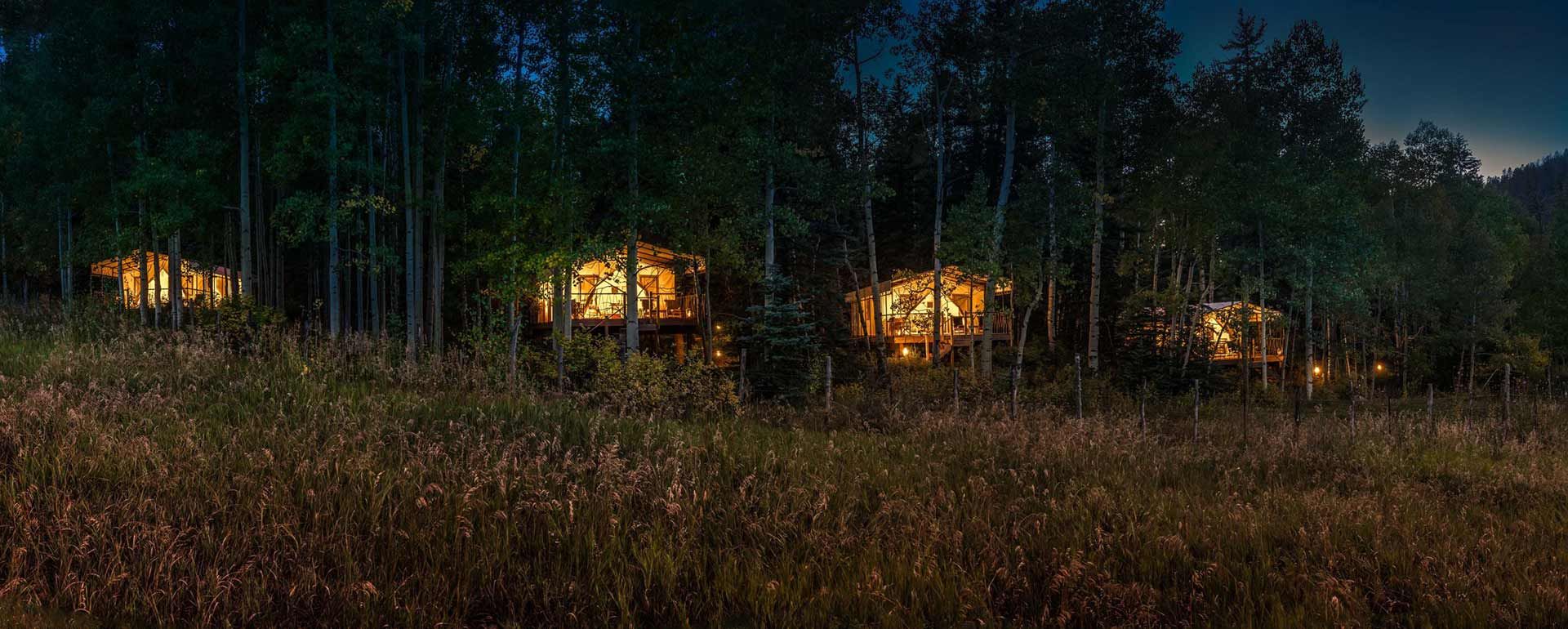 Dunton River Camp, located in the stunning San Juan Mountains of the Colorado Rockies, offers guests a genuine Colorado Glamping experience. It also has majestic alpine surroundings with rustically exquisite lodging, outdoor activities, and private accommodations.
This luxurious ranch in Colorado called Dunton River Camp offers the ultimate glamping experience. Immerse yourself in nature while maintaining modern conveniences.
The Dunton River Camp Glamping tents are designed to allow visitors to enjoy the best that Colorado offers without forgoing modern amenities.
The Dunton River Camp is a former cattle ranch dating back to the late 1800s whose farmhouse still sits in its original location 20 feet from the Dolores River. You can go hiking, mountain biking, relaxing in the sauna, or fishing trout on the Dunton River.
Amenities
Dunton River Camp has eight luxury tents and en-suite bathrooms located in Cresto Ranch. The camp sits on 500 acres of breathtaking fields, meadows, and forest. You will likely see cattle grazing on the large land, but the campsite area is kept completely private.
Eight prospector-style tents, each measuring 640 square feet, are placed on wooden platforms secured to the bedrock. Although you are in a tent, each one has all the conveniences you would find in a five-star hotel.
The West Fork of the Dolores River flows through the camp, and each tent has two mountain bikes for visitors to use around the site or on several trails nearby. There is something for everyone to enjoy.
All meals, including breakfast, lunch, and supper, are included in the nightly fee. Additionally included in the rates is the use of the hot springs, the library, the mountain bikes, Wi-Fi, local calls, and laundry.
Additional information
Conclusion
There you have it, the best spots for Glamping in Colorado. Each location on our list will provide you with an unforgettable Glamping experience and memories you will cherish forever.
So, choose the one that looks the best to you and book your next vacation for yourself, your family, or your partner. Spend your holidays surrounded by nature and all of its marvels.
More about our TFVG Author