Choosing the right cruise line for your family vacation can be a daunting task. With so many options out there, it's hard to know where to start, especially when you are trying to make it fun for the whole family. Do you want a luxury family cruise? Action-packed adventures with a kids club? An all-inclusive stay? A trip to a private island?
The following list includes some of the best cruise lines for families based on factors such as amenities, activities such as family-friendly shore excursions, kids' ages, family cabins, and overall customer satisfaction.
So whether you're looking for a relaxing vacation with kids' clubs or an action-packed adventure on a Dinsey cruise line, one of these family cruises is sure to be the ultimate family vacation.
Cruise Lines
Let's take a look at some of the best cruises for families done in no particular order. We will go into detail about these cruise line companies and some of their individual cruise ships. We will discuss the Carnival Cruise Line, Celebrity Cruises, Disney Cruises, MSC Cruise Ship, and other cruise lines.
1. Royal Caribbean International
Royal Caribbean International is one of the most popular cruise ships for families because it has more than 300 destinations to choose from. Picture you and your family in the Bahamas, Florida, Italy, Greece, Alaska, Thailand, and so many more countries.
Royal Caribbean offers something for everyone with its world-class cruise ships, innovative onboard activities, and wide range of itineraries.
From the moment you step onboard any of the Royal Caribbean ships, you'll be treated to world-class hospitality and service that will make your vacation truly memorable. And with so many onboard activities, you'll never be bored!
Whether you're looking to relax by the pool, enjoy some time at the spa, or get active with the kids at bumper cars and laser tag, Royal Caribbean International has you covered.
2. Disney Dream
When it comes to family-friendly cruise lines, Disney Cruise Line is hard to beat, thanks to their signature attention to detail. Their flagship ship, the Disney Dream, is a veritable floating palace complete with everything your family could possibly want or need on a cruise vacation. Did you know Disney has their own private island?
There are plenty of activities to keep everyone entertained onboard the Disney Dream, from the interactive Aquaduck water coaster to the adults-only restaurants and lounges. And, of course, there are plenty of opportunities to meet your favorite Disney characters! There is also an imaginative youth club, different dining options, and nightclubs for adults only.
If you're looking for a hassle-free cruising experience where your every need is taken care of, then you can't go wrong with Disney Cruise Line. Sounds like family vacations just got a whole lot easier with Disney Cruise Line.
3. Carnival Cruise Line
Carnival Cruise Lines has long been a favorite of families cruising with young children. With its "Fun Ship" atmosphere, kids can enjoy plenty of activities both onboard and off while parents can relax knowing their little ones are well cared for.
Carnival offers a number of kid-friendly amenities such as a waterslide park, mini golf, arcade, and kids clubs for different age groups. There are also babysitting services available for parents who want to enjoy some time on their own.
Off the ship, Carnival's private island, Half Moon Cay, is a great place for families to spend the day together. There's a playground, water sports, and plenty of beach space to relax and soak up the Caribbean sun.
Carnival Mardi Gras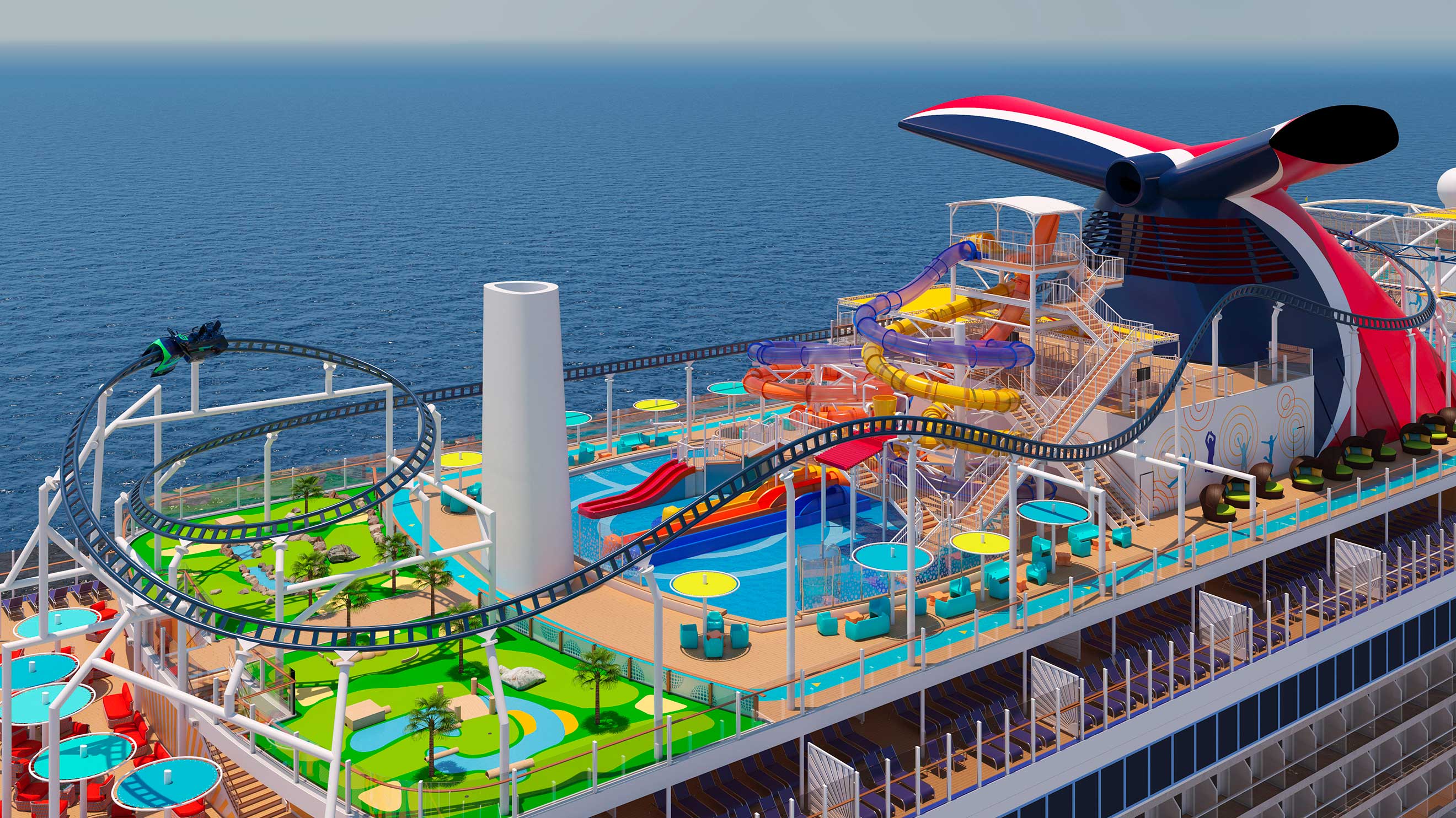 Carnival Mardi Gras is one of the best cruise lines for families. This cruise line offers a wide variety of activities and entertainment for all ages. There are kid-friendly activities such as arts and crafts, game rooms, and pools.
For adults, there are casinos, nightclubs, and bars. The entire family can enjoy the ship's many restaurants, shows, and live music. Carnival Mardi Gras also offers a variety of shore excursions for all ages.
Carnival Radiance
Carnival Radiance is a great cruise line for families because it offers a wide variety of activities and amenities that are perfect for kids of all ages. There are several pools, a water park, a mini golf course, and a kids club on board, so there is always something for the little ones to do. The staterooms are also very spacious, so families can spread out and enjoy their time together.
4. MSC Cruises
Any MSC Cruise ship offers excellent family cruises. Their ships offer plenty of activities for kids of all ages and plenty of opportunities for parents to relax and enjoy some time for themselves.
One of the best things about MSC Cruises is that they have a wide variety of itineraries to choose from and Family Explorer Club tours. A plus is these tours are always half-price for children. The kids club will watch kids aged 3-11 for free, and there are play spaces for babies.
Beyond the baby center, they even offer guests a baby laundry service to make life extra easy for parents on board.
Whether you're looking for a short getaway or a longer vacation, they have options that will fit your needs. Their ships sail to destinations all over the world, so you're sure to find an itinerary that interests you and your family. They also offer family cabins so you can all stay together (up to 10 people).
Another plus for MSC Cruises is that they offer unbeatable value. The prices are very competitive on MSC Cruises, and they often offer discounts and promotions that can save you even more money. Add in the fact that their ships are top-notch and offer a ton of amenities, and it's easy to see why MSC Cruises is such a great choice for families.
5. Costa Cruises
Costa Cruises is a great cruise line for families. The company has been in business for over 70 years and is known for its excellent customer service. Costa offers a variety of itineraries, including family-friendly options, that are sure to please everyone in the family.
What makes Costa so great for families? First, the company offers an extensive kids' program with activities for children of all ages. There's also a designated kids' pool area on each ship, so little ones can splash around while parents relax nearby. In addition, Costa's onboard babysitting services give parents some well-deserved time to themselves.
Costa also offers something for everyone in the family with its diverse itineraries. From cruises to exotic destinations like the Caribbean and Mexico to more relaxed sailings in Europe and Alaska, there's sure to be a trip that appeals to every family member. And with Costa's affordable pricing, families can enjoy a high-quality cruise without breaking the bank.
6. Norwegian Cruise Line
Norwegian Cruise Line is a great choice for families who want a cruise vacation that includes a lot of activities and entertainment. Norwegian has something for everyone, with tons of kid-friendly activities, adult-only areas (such as the adults-only sun deck), and plenty of family-friendly dining options.
This Norwegian Cruise line offers kids clubs which will allow parents to have some alone time. Kids clubs have daily activities, so you can pick which activities to join based on your preferences. The cruise ship offers laser tag, mini-golf, broadway musicals, waterslide adventures, and more.
Norwegian ships are also some of the most innovative and modern at sea, so you can be sure you're getting a top-notch experience.
Younger kids can ride with passengers on the racetracks, which span over two decks. This is a great activity for older kids.
7. Odyssey Of The Seas
The Odyssey of the Seas is one of the best cruise lines for families. It is part of the Royal Caribean cruise lines. It offers a wide variety of activities and amenities for families to enjoy. The ship is designed with families in mind, and it has a number of features that make it an ideal choice for a family vacation.
For starters, the ship has a waterslide park with two slides, a pool, and a splash pad for kids. Families can also enjoy the ship's mini-golf course, zip line, rock-climbing wall, and sports court.
Odyssey of the Seas also has a kids' club for children ages 3-12, where they can participate in arts and crafts, movies, and games. For parents looking for some alone time, the ship offers babysitting services. Find the perfect cruise vacation option right here. These options include packages with different destinations, duration of stay, and the specific vessel.
8. Disney Wonder
The Disney Wonder is a cruise ship owned and operated by the Disney Cruise Line, part of The Walt Disney Company. The second ship to be built for the cruise line, she entered service in 1999. Her sister ship is Disney Magic. A third vessel, the Disney Dream, entered service in January 2011.
At 93,000 gross tons and 964 feet (294 m) in length, she can accommodate 2,713 passengers in 875 staterooms. She also has 11 public decks, can travel at 22 knots (41 km/h), and her hull was painted to resemble that of classic ocean liners.
Like all other vessels in her class, she contains all the modern amenities one could want on a luxury vessel while still providing an intimate cruising experience. She has four restaurants, three pools (one being a Mickey-shaped pool), a spa and fitness center, and several kid-friendly areas, including an entire deck devoted to children's activities.
Any Disney cruise line option makes great family cruises.
9. Allure Of The Seas
If you're looking for an unforgettable family vacation, look no further than Allure of the Seas. This cruise line offers something for everyone, with a variety of activities and amenities that will keep your family entertained from start to finish.
The allure of the Seas features a water park, a small golf course, an arcade, and more. There are also plenty of dining options to choose from, so you can find something that everyone in your family will enjoy. And if you're looking for some adult time, there's plenty of that too! The allure of the Seas has casinos, bars, and nightclubs for you to enjoy.
So what are you waiting for? Start planning your Allure of the Seas vacation today!
10. Princess Cruises
The Caribbean Princess is one of the cruise ships that form a part of the Princess Cruises.
If you're looking for a luxurious cruise experience, look no further than Princess Cruises. With elegant staterooms, world-class cuisine, and impeccable service, Princess Cruises offers travelers a truly royal experience. Sail to destinations all over the world aboard a Princess Cruise ship and enjoy all the amenities and activities onboard.
Relax in your stateroom or take advantage of the ship's many facilities, including pools, spas, fitness centers, and casinos.
Dine in style at one of the ship's restaurants or enjoy a casual meal at one of the cafes or bars. Daytime activities include dance classes, language lessons, art auctions, and more, while evening entertainment features Broadway-style shows, live music, and movies under the stars.
Whether you're looking for an intimate getaway or a family vacation, Princess Cruises has a cruise that's perfect for you. This is definitely of the best family cruises.
11. Enchantment Of The Seas
Enchantment Of The Seas is a cruise ship that forms part of the Royal Caribbean cruise lines. The ship offers a variety of clubs and lounges for children, teens, and adults. There are also a number of restaurants and cafes on board, as well as a casino and spa. Families can also take advantage of the many onboard activities, such as swimming, hiking, and biking.
Families can participate in family-friendly game shows, dance classes, and arts & crafts projects. There is also a kid-friendly pool and water slide for the little ones to enjoy. For those families looking for some quiet time, there is a library and an adult-only pool (called the Solarium).
The Solarium includes a pool, whirlpool, and deck chairs which are placed under a retractable crystal canopy. The Park Cafe venue is also found in the Solarium, so you can grab a bite to eat.
12. Disney Magic
There's something truly magical about a Disney cruise. From the moment you step onboard, you're immersed in the world of Disney, with all the fun and excitement it entails. Themed dining rooms, character meet-and-greets, Broadway-caliber shows, and deck parties are just some of the ways you can enjoy your time on a Disney cruise.
And, of course, there's also the chance to visit amazing destinations like the Bahamas and Mexico. Whether you're a first-time cruiser or a seasoned pro, a Disney cruise is sure to be an unforgettable experience for the whole family. Other cruise lines for families just don't compare to any of the Disney cruises.
Don't forget about Disney's private island, which will surely be the cherry on top of your vacation if you are headed to the Bahamas.
13. Harmony Of The Seas
Harmony of the Seas, part of the Royal Caribbean cruise line, is one of the best cruise lines for families. It has a wide variety of activities and amenities that are perfect for families with kids of all ages. The ship also has a water park, mini-golf course, and multiple pools. There is also a kids club on board that offers age-appropriate activities and entertainment.
14. Celebrity Cruises
Celebrity Cruises offer families a chance to spend quality time together while enjoying all the amenities of a luxury cruise. Families can choose from a variety of staterooms and suites, each designed with comfort and convenience in mind.
Kids will love the Celebrity cruises, pools, waterslides, and kids' clubs, while parents can enjoy the spa, fitness center, Trivia contests, night clubs, and adult-only dining options. With so much to do onboard, families will never be bored on a Celebrity Cruise.
From poolside games and movie nights to dance classes and educational programs, there is something for everyone to enjoy. Families can also take advantage of the ship's many amenities.
FAQs
Is Royal Caribbean or Carnival more kid-friendly
Both are highly popular cruise ships. The Royal Caribbean offers slightly more family-centric facilities but with an upscale feeling and enveloping charm. The Carnival is a cheaper option.
Is Royal Caribbean good for families?
Royal Caribbean has a long tradition of providing great family holidays with an appeal to people from multiple generations.
Which Cruise Line is the most inclusive?
The most exclusive and inclusive cruises are the Regent Seven Seas Scenic, Seabourn Silversea Viking Virgin Cruises & Azamara.
More about our TFVG Author