Nothing is as easy as finding cruise vacations that suit the needs of your family. Even so, you can never go wrong with an Alaskan cruise. Taking a family cruise to the state is something that you've undoubtedly considered.
Alaska is breathtakingly beautiful but also radiates the calmness of nature, which your whole family will love.
If you're planning a leisurely cruise to Alaska, here are 13 of the best cruises to consider.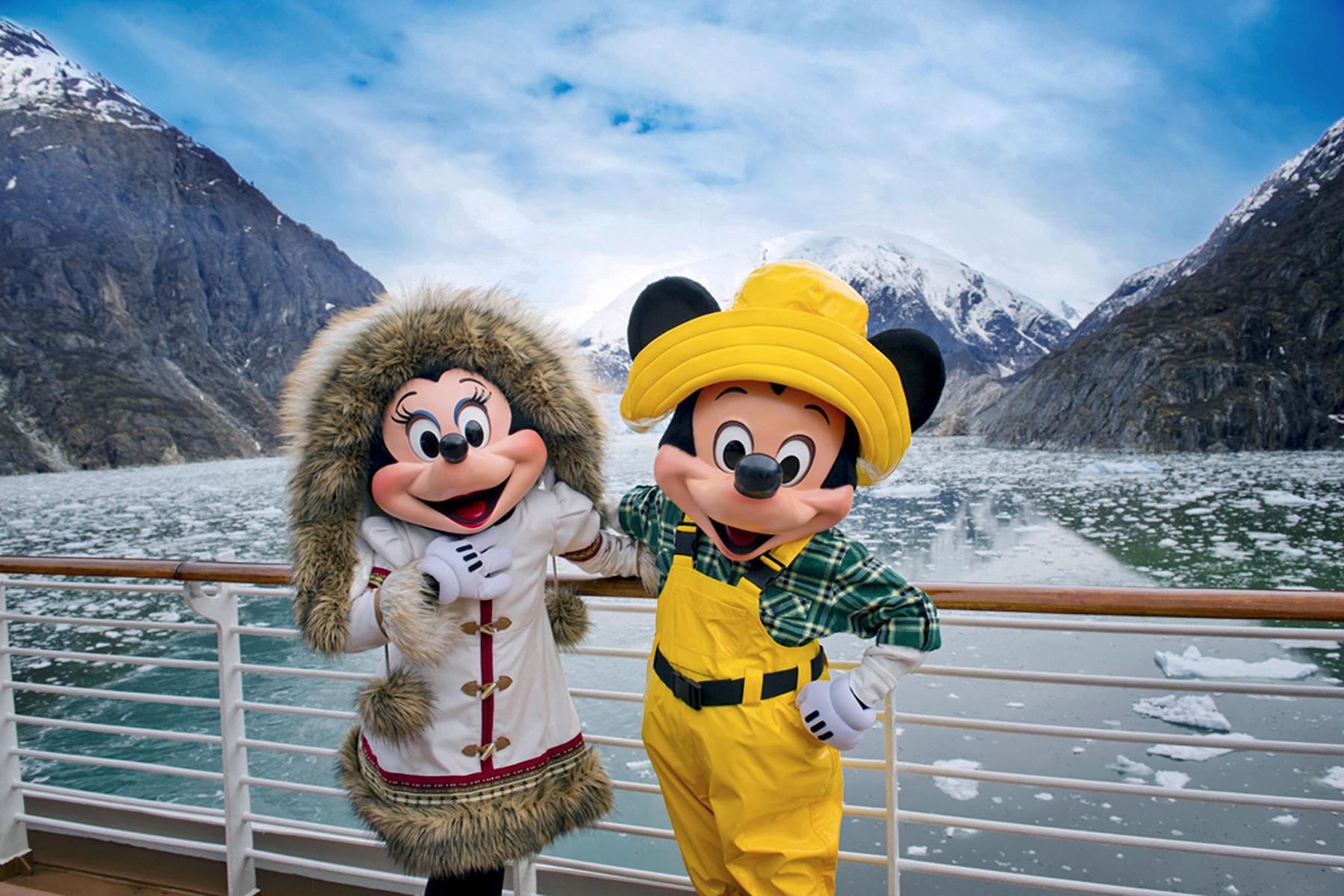 Disney Cruise Line
Many people associate Disney with amusement parks, but the company is also known for its luxurious cruises to different parts of the world. Since it launched in 1998, the Disney Cruise Line has been a game-changer as far as family cruises are concerned. It's no exaggeration to state that each cruise liner in Disney's Alaska fleet delivers the ultimate family cruise.
A Disney Cruise Line Alaska itinerary allows your family to relax and savor the ship. For instance, a typical seven-day cruise gives you two days at sea, three full port days, and a final day at sea. Hence, your family will have ample time to familiarize themselves with the ship, participate in onboard activities, and explore the various ports of call without feeling overwhelmed.
While on the cruise, your kids will have plenty of opportunities to meet lifelike Disney characters, which is perhaps even better than visiting Disneyland. Also, expect lots of themed parties and events that keep the young ones occupied throughout the cruise.
The kids-friendly staff and amenities such as pools and kids' clubs guarantee a fun-filled cruise for the entire family. The large staterooms on Disney's Alaska fleet are also convenient for families.
Princess Cruises
Carnival Corporation-owned Princess Cruises also offers some of the best Alaska cruises for families. The cruise line offers a 10-night round trip cruise from Sam Fransisco, a seven-night roundtrip cruise from Vancouver and Seattle, and a 14-night round trip cruise from Los Angeles.
Princess uses some of its largest ships for the Alaskan cruises, including the Golden Princess, the Emerald Princess, the Ruby Princess, and the Grand Princess.
The Princess cruise ships are ideal for family vacations, thanks to their large staterooms, kids' clubs, lots of dining options, spas, pools, and themed events that will fill your days.
Most itineraries also include excursions to Ketchikan, Skagway, Juneau, and the widely popular Glacier Bay National Park. So, if you're looking for a family cruise that takes you through Alaska's untamed beauty, book a vacation with Princess Cruises.
Holland America Line
Holland America is one of the Alaskan cruise lines allowed to sail through the Glacier Bay National Park. Its ships sail from Vancouver, Seattle, Whittier, and Seward and offer 7-night one-way and round-trip cruises. 
Whichever ship your family hops onto, you'll find lots of activities and day-long entertainment for all ages. So, whether you love golf challenges, lounging by the pool, or even karaoke, you'll find it all on a Holland America Alaska cruise.
Each ship has friendly employees who are out to make your experience special and memorable. The employees' extensive knowledge of Alaska and each port of call is also fantastic. Amenities include the main dining room, casualty dining rooms, specialty restaurants, lounges, and casinos. The ships also feature a kids' club, two pools, spas, and fitness centers.
Most Holland America Line itineraries include cruise calls to Skagway, Glacier Bay National Park, Ketchikan, and Juneau. If you're lucky, your ship may stop at Icy Strait Point and Victoria. Wherever your Holland America cruise takes you, the whole family will have a truly fantastic experience.
Norwegian Cruise Line
Norwegian Cruise Line is renowned for its freestyle cruising experience with fun activities for all ages. It uses four ships for its Alaska cruises, with plans to add an even larger one in 2022.
The cruise line has a dedicated 4,000-passenger ship for Alaskan cruises (the Norwegian Bliss), which offers thrilling amenities including a go-kart track, a water park, water slides, and an open-air tag course.
Besides the larger ships, Norwegian's Alaska fleet includes a smaller ship, the Norwegian Sun, which has fewer than 1,000 staterooms. You can hop onto the ship if you're looking for a leisurely and quiet family cruise. Regardless of the ship you find yourself on, you're guaranteed large rooms and amenities that suit your family's needs.
With Norwegian, you can choose anything from a five to twelve-day one-way or round-trip cruise from Seattle. Besides, your family will experience memorable shore excursions that allow you to learn more about Alaska's wildlife, people, and wildlife.
Itineraries include a trip to the ZipRider zipline, fishing excursions, and whale watching. Family-friendly tours into Alaska's interior can also be organized as part of your itinerary. 
Celebrity Cruises
If you're planning a multigenerational cruising trip to Alaska, Celebrity Cruises will deliver the experience of your lifetime. With three ships dedicated to its Alaskan cruises, Celebrity offers more choices than you'll get anywhere. Whether you prefer round trip or one-way itineraries, you can choose a Vancouver, Seattle, or Seward departure.
Celebrity is renowned for its premium cruising adventures. Its Alaskan fleet visits 12 US and Canadian destinations. Thus, you get the opportunity to spend more time in port than other Alaska liners. Ports of calls include Icy Strait Point, Hubbard Glacier, Juneau, and Endicott Arms & Dawes Glacier.
There are plenty of fun activities for all ages on each ship, including pools, water slides, themed events, and spas. Celebrity Cruises also offers land packages at its ports of call. So, if your family loves the outdoors, you may want to include a trip to the Banff National Park or Lake Louise in your Celebrity Cruises itinerary.
Royal Caribbean International
If you've ever wanted to go on an Alaska cruise that your whole family will enjoy, Royal Caribbean International's Alaskan cruises are the perfect fit. With departures from Vancouver, Seward, and Seattle, Royal Caribbean offers one-way, round-trip, and seven-night cruises with many family-friendly activities and excursions.
Onboard, you'll find everything your family needs to have a fun-filled cruise, from rock climbing and mini golf to wave surfing and ice skating. You'll also come across familiar restaurants such as Johnny Rocket's and Ben and Jerry's.
Royal Caribbean has spacious staterooms designed with family accommodation in mind. These rooms come equipped with large bathrooms, fun bunk beds, and everything else needed to ensure a fun-filled cruise.
A well-attended and equipped kids club with activities for kids as young as six months is available onboard, so you can lounge by the pool without worrying about what the young ones are up to. Furthermore, there's a tween hangout and teen disco for the older kids and a bar for the parents. 
Lindblad Expeditions
If a cruise line partners with the National Geographic Society, you undoubtedly expect adventure when you get onto one of their ships, right? Well, Lindblad Expeditions delivers that and so much more. The cruise line is renowned for its culture and nature-focused Alaskan cruises that are not only memorable but also educational.
When you get aboard with your family, you'll love the host of activities and amenities on offer. For starters, the onboard specialists give lectures and tours to ensure you don't miss out on anything. All ships come equipped with kayaks, so you get to explore places you never imagined.
Inland excursions in your ports of call are included in the cruise fare. Hence, you can spend your days hiking, taking in Alaskan cultures, or even shopping. Unlike the other cruise lines on this list, Lindblad has smaller ships, so no worries about overcrowding. What's more, the environment on the ship is so laid back that you can walk around barefoot.
Carnival Cruise Line
Carnival is one of the largest cruise lines in the world, and it offers some of the best Alaskan cruises for families. The mega cruise line's Alaskan fleet boasts giant waterslides, dedicated entertainment zones for kids, teens, and adults, and poolside movie screens that will make your family cruise one to remember.
Carnival has a dedicated kids program, Camp Carnival, divided into five age groups (2-5, 6-8, 9-11, 12-14, & 15-17). There are also supervised playrooms with plenty of age-appropriate fun activities such as gaming consoles, candy-making machines, and arts and crafts. If you have kids below two years old, Carnival offers reasonably priced day and evening babysitting.
Most Carnival Cruise Line Alaska itineraries include Icy Strait Point, Hubbard Glacier, Seward, Ketchikan, and Juneau. You can also choose to visit historical ports such as Victoria, BC. Wherever your cruise docks or sails to, you're in for a full-filled adventure for the entire traveling group. 
Windstar Cruises
If you've always wanted to go on an intimate Alaskan cruise with your family, there's no better cruise line to choose than Windstar Cruises. Windstar sails the Star Breeze for its Alaska cruises, a family-friendly ship that combines coastal cruises with memorable overland explorations that will leave your family wanting more.
During a typical Alaska cruising season, Windstar offers nine journeys from June to September on four family-centered itineraries. Recently, it has introduced the Scenic Alaska itinerary that takes passengers through the Canadian Inside Passage.
Thanks to Windstar's Signature Expeditions program, your kids get to learn about Alaska's geography, history, and culture from a team of six local experts with insider knowledge.
All meals and non-alcoholic beverages are included in the fare on Windstar Cruises. Itineraries include an 11-night Vancouver to Seward trip with stops at Misty Fjords, Juneau, Sitka, Kenai Fjords National Park, and Wrangell. So, if you enjoy canoeing, catamaran cruising, or even wilderness safaris, book your upcoming Alaskan vacation with Windstar Cruises.
Regent Seven Seas
If you want to experience Alaska in style, there's no better cruise line for you than Regent Seven Seas. Booking your cruise vacation with Regent allows you to sample Alaska's exciting wildlife, majestic glaciers, and charming frontier towns in the utmost luxury. There are plenty of sports and activities to keep the whole family entertained and relaxed during your cruise.
Right from the moment you get on board, you'll love the decently-sized staterooms with spacious bathrooms and closets. If you're traveling in a group, you may want to book a suite so that you have a perfect gathering space for the group. Even so, you're still guaranteed privacy because Regent's Alaska cruiser, the Mariner, only carries 700 passengers.
Tracy Arm Fjord is Regent's Alaska destination. Here, your family will enjoy taking in the majestic glacier-carved cliffs, breathtaking waterfalls, and enchanting views of the Sawyer Glaciers.
You can also book a helicopter trip to the Mendenhall Glacier. Although Regent doesn't offer the amusement park-like amenities you'll find on Disney and other better-known Alaska cruise liners; you're still in for a memorable cruise vacation.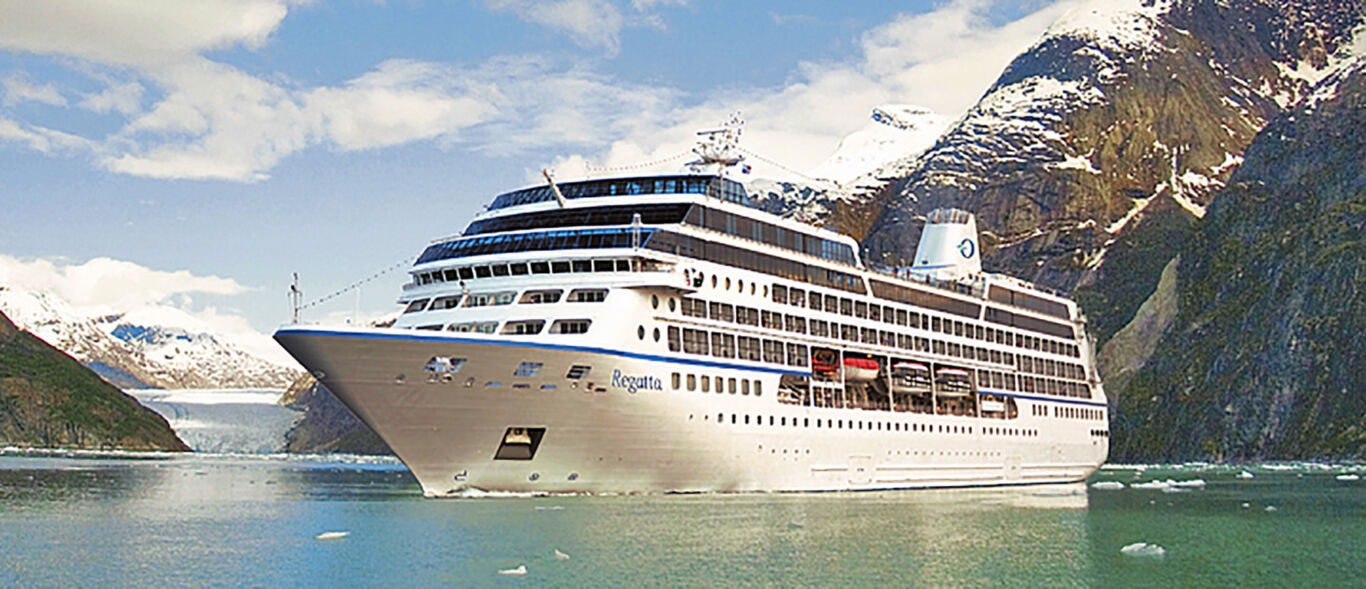 Oceania Cruises
Norwegian Cruise Line owns Oceania Cruises, and therefore, its ships have the same look and feel as NCL's cruisers. However, one thing that sets Oceania apart is the high-end cruise ship experience and gourmet dining on the high seas.
On every Oceania Cruises itinerary, you get the opportunity to embrace your passion for travel while enjoying the ultimate cruise on a small luxurious ship.
Oceania Cruises sails to Alaska during the summer months and takes you on seven to 11-day itineraries through the breathtaking Northwest Passage. The refined yet casually elegant cruises on the Regatta start at Seward or Vancouver and include stops at enchanting towns along the route you'll take.
Regarded as one of the best Alaska cruises for families, Oceania offers a kids-oriented Alaska Explorer Youth Program. The young ones can also choose the Regents Club Mariner Youth Program to learn more about Alaska. The Regatta features four dining venues, a coffee shop, five lounges, a spa, and an outdoor pool where the entire family can unwind during your cruise.
UnCruise Adventures
The name "UnCruise" is undoubtedly the antithesis of the conventional cruise experience. Nonetheless, UnCruise Adventures offers some of the most memorable Alaska expeditions you'll find anywhere.
The cruise line's expeditions are designed to help you experience Alaska's wilderness. The small ships on its fleet take you to places where larger cruisers on this list won't dare to venture.
Whether you board the 84-passenger Safari Endeavour or the 22-passenger Safari Quest, each voyage with UnCruise Adventures is full of surprises for the entire family. The onboard expedition team is always at hand to exp[lain the family-friendly entertainment and adventure options on offer.
Although most ships on the fleet only offer basic staterooms without balconies, your kids won't mind it because there's a lot for them to see and do. The cruise line offers dozens of itineraries in 14-day or seven-day formats, with stopovers in Sitka, Juneau, and the Glacier Bay National Park. 
Cunard
Cunard is one of the oldest cruise liners, and it's easy to see why it offers some of the best Alaska cruises for families. With Cunard, you get the opportunity to sail to Alaska and savor its sights and sounds with a tinge of British style.
The refined experience aboard the cruise line's Alaska fleet is something your whole family will love. Most cruises originate from Vancouver, and you can choose anything from a 10-night to a 19-night cruise.
Cunard mainly uses the 2,000-passenger Queen Elizabeth for its Alaskan cruises. The ship comes with three restaurants, a pool, a spa, and a disco for your nightly entertainment.
On their part, your kids will love the dedicated play area that's fully equipped and staffed. Since Cunard is a British cruise line, a formal night is a norm, so expect to have one during your Alaskan cruise.
To guarantee your family's comfort, Cunard's Queen Elizabeth comes with plenty of accommodation options, including spacious ocean view staterooms, inside staterooms, and even suites. The cruise line's Alaska itinerary includes Prince Rupert, Skagway, Sitka, and the Glacier Bay National Park. 
Six Popular Ports of Call on Alaskan Family Cruises
Alaska is vast and is home to some of the most breathtaking and untouched natural wonders, including volcanoes, glaciers, shorelines, and wildlife. A cruise to Alaska should be considered incomplete if you fail to explore the interior and the ports of call along the route. That said, these are six of the most popular ports of call on Alaskan family cruises:
Skagway
Home to less than 1,000 residents, Skagway is one of the most important ports of call on Alaskan cruises. Despite its small-town charm, it boasts a big-city culture. Skagway is known for its rustic Victorian architecture, violet-spotted fields, and winding wooden railways, snow-capped mountains, and steep hiking trails that you'll love exploring.
During your stopover, you'll enjoy sampling the dense rainforests and reliving the iconic Klondike Gold Rush. The best part of it is that most of these attractions are located close to the cruise ship port. Besides, there are lots of restaurants where you can sample Alaskan cuisines as you wait to hop onto your cruiser to the next port of call.
Juneau
Here, rolling mountains overlook quaint waters below, and it's no surprise that Juneau is one of the most popular ports of call for Alaskan cruises. Most itineraries include this small town, thanks to its proximity to the picturesque Mendenhall Glacier. The majestic Orcas at Juneau are also a sight to behold and make the town a must-visit.
If you love inland adventures, make it a point to sample the trails and mountains around Juneau. The panoramic view atop Mount Roberts, in particular, isn't something to miss if you venture inland. You may also want to visit some of the biggest gold mines in the world during your stopover in Juneau.
Icy Strait Point
If you're a history and culture enthusiast, there's no better way to enjoy your Alaska voyage than booking a cruise that stops at Icy Strait Point. The small charming town is regarded as the home of the rich Alaskan culture.
Here, you can attend a tribal dance or even venture out to the surrounding parks to check out the wildlife. In Icy Strait Point, you'll also find ZipRider, the world's longest zip line.
Ketchikan
Visiting this small Alaskan town, you'll first see the small white boats floating together along the shoreline. Meanwhile, grizzly bears battle the fishermen in search of their next catch of salmon. Dubbed the Salmon Capital of the World, Ketchikan is a favorite port of call for seafood lovers.
Beyond the colorful shoreline, the town invites you to experience Alaska's rich past and present. Also, don't let the opportunity to visit the Misty Fjords National Monument and the Tongass National Forest pass you when visiting Ketchikan.
Sitka
No port of call along Alaska's heralded shoreline radiates Alaskan history better than Sitka. There's so much to do and see in this small seaport. Whether you want to join the New Archangel Dancers in their patterned aprons and crimson skirts in a jingle, or prefer fishing, you'll have it all in Sitka.
At Sitka National Historical Park, you'll have the opportunity to watch seasoned artisans as they weave, bead, carve, and metal-work to create amazing pieces of art that reflect Alaska's culture and history. You can also pay a visit to the famed St. Michael Russian Orthodox Cathedral to marvel at the hand-painted Biblical scenes, glass-stained windows, and captivating interior.
Haines
Arguably, Haines is one of the lesser-known ports of call on Alaskan family cruises, but it isn't any less impressive. Staggering mountains and open roads surround this tranquil town. If you love clicking away, there's no better place to capture lifelong memories of your Alaskan trip than Haines, thanks to the numerous photo-worthy opportunities that abound.
Outside the cruise ship port, you'll get the opportunity to feel the soft, soothing tickle of fur as you get up-close with Alaska's legendary wolves. If you've always wanted to have an encounter with Alaska's furry residents, such as the reindeer, moose, and bears, the Kroschel Wildlife Center is a walking distance from Haines.
If your itinerary allows, don't forget to visit the Chilkat Bald Eagle Preserve to see these majestic birds soaring through the air or resting amidst the bare trees.
More about our TFVG Author
A seasoned traveller, Dad, and avid sports tourist, James foundered The Family Vacation Guide to share his expert vacation experiences- especially when it comes to being a travelling family man.
Featured in Travel articles such as Travel + Leisure, TripSavvy and SFGate, you know you're reading some of the best vacation tips online.