Key West, Florida, is a luxury beach destination known for its stunning tropical views with crystal clear water and powdery, white sand. While the setting is enough to bring vacationers from all over the world to the island, additional perks keep people coming back.
One of these perks is the outstanding breakfast options. If you want a true feel for what Key West has to offer visitors, a dining experience at one of the best breakfast spots in Key West is a must.
Whether you enjoy an omelet with a side of tropical fruit or a pastry that is cooked to perfection, here are 13 of the best spots for breakfast in Key West.
The 13 Best Breakfast Spots in Key West
If you're on the quest to experience the tropics as you've never experienced them before, check out the 13 best breakfast spots in Key West.
1. Blue Heaven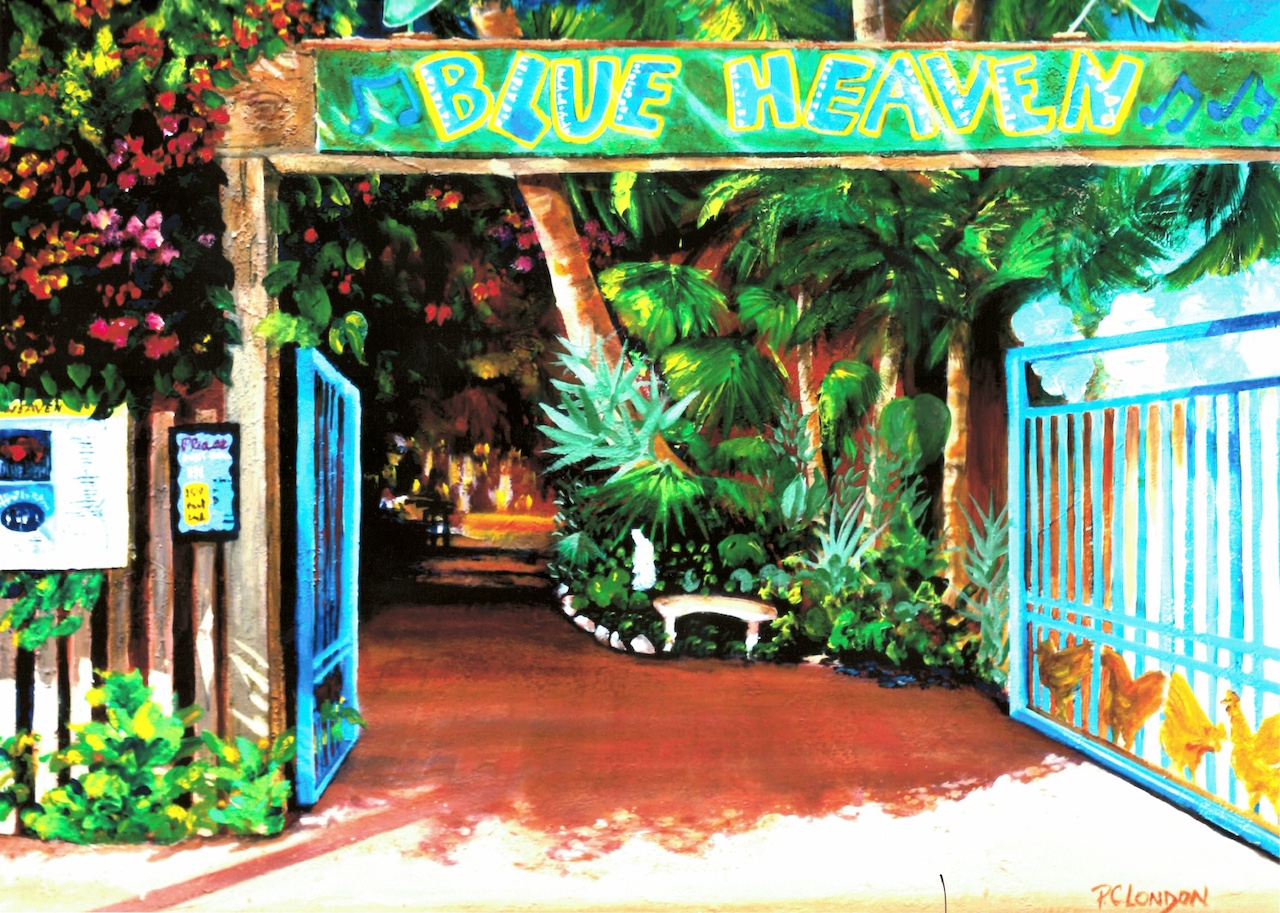 Blue Heaven restaurant is a local landmark that brings in visitors and locals for the local, Caribbean cuisine. The funky setting gives guests a unique and once-in-a-lifetime experience.
While the decor and overall setting of the restaurant are unusual, it proves the perfect destination to enjoy a bite to eat while receiving a unique tropical experience.
Breakfast is served daily until 2:30 p.m. with options ranging from omelets to homemade granola with fresh fruit and yogurt. Benedicts and pancakes also line the breakfast menu with a variety of customizable options.
The Rooster Special and Breakfast Sandwich are also on the menu for a more hearty and balanced breakfast.
If you dine at Blue Heaven on Sunday, you are met with an entirely different breakfast menu with specials like Good Morning Bruschetta, Avocado Omelet, Shrimp and Grits, and Passion Fruit Cashew Cheesecake.
No matter your breakfast dining style, Blue Heaven is here to complete your tropical dining experience.
2. Harpoon Harry's
With a name like Harpoon Harry's, you know you're in for a tropical treat. At this quaint diner, you will be greeted with an impressive breakfast menu and a fully stocked bar with a bartender waiting to create your favorite breakfast cocktail.
Breakfast is served all day, every day, meaning even if you sleep in past noon, breakfast is still waiting for you.
Harry's Special is the standard breakfast dish that comes with two eggs, two pieces of bacon, two sausages, ham, toast, and either home fries or grits. You also have the option to place a simple order of eggs and toast or a more elaborate dish like Corned Beef Hash and Eggs, or Country Po'Boy with the choice of country fried steak or lobster.
House specials like Eggs Benedict or Pork Chops and Eggs, and your favorite breakfast sandwiches like a Cuban Egg Sandwich or Breakfast Croissant are breakfast menu staples.
If you're looking for something lighter, consider ordering the Bagel and Lox Platter or choosing from a wide variety of omelets.
One of the more unique offerings is the Key Lime Pie French Toast, which comes hot off the griddle. Don't forget to order your favorite breakfast beverages like espresso, cafe con Leche, or a Bloody Harry.
3. Breakfast Club, Too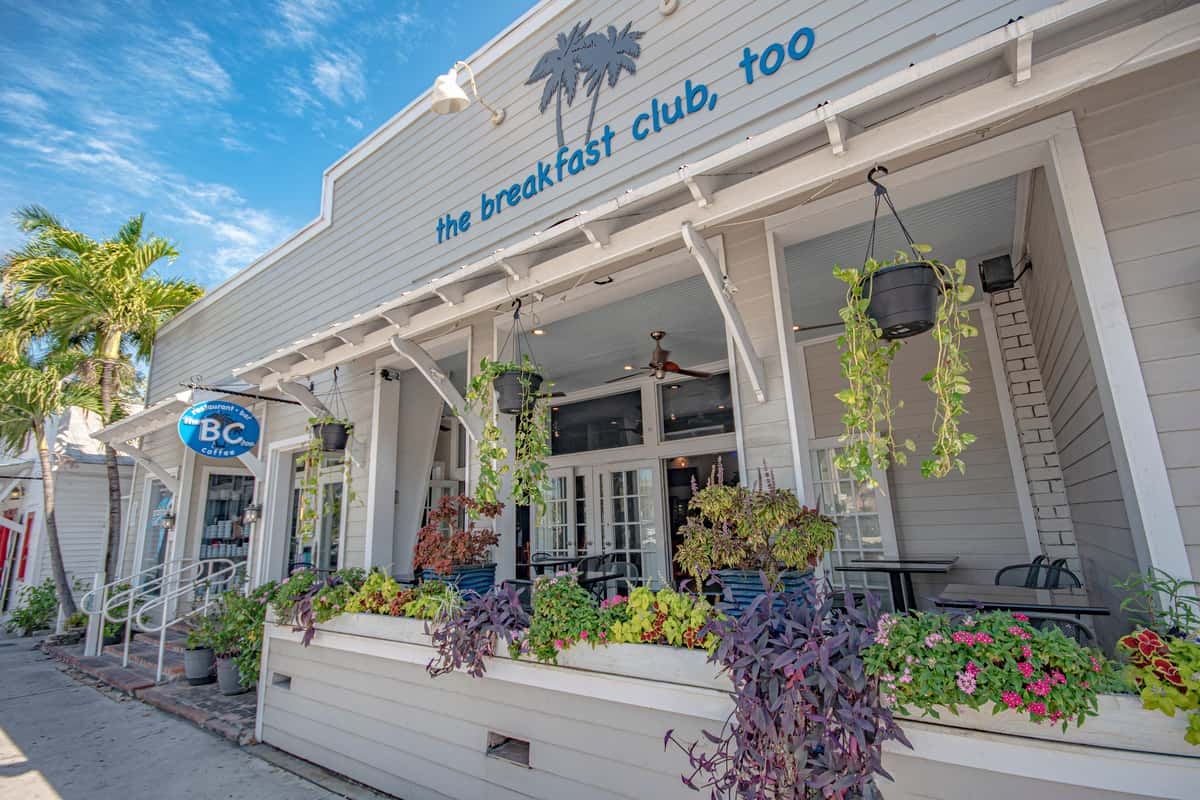 If Bloody Marys are your go-to breakfast cocktail, Breakfast Club, Too should be on your list of breakfast spots to check out in Key West. With its eleven varieties of Bloody Marys, this lively breakfast hangout is a great spot to indulge.
Pickle-infused, spicy, smoky, bacon-flavored, shrimp-inspired, and exceptionally large are only some of the descriptions of the Bloody Marys that Breakfast Club, Too offers. Maybe Bloody Marys aren't your forte.
If so, consider ordering one of the many varieties of mimosas on the breakfast cocktail menu like the Peach Kiss or Pineapple Sunrise. After selecting your cocktail, it's time to find the perfect plate to go with it.
Sweet, salty, and extra delicious are words to describe the breakfast menu at Breakfast Club, Too. The Benedicts are served with seasoned home fries and are available in every variation you can think up.
They vary from veggie to lobster to Cuban, so your taste buds won't be disappointed. BC Rostis is another menu staple as each version is served on a bed of fried potatoes served on a hot cast-iron skillet with sour cream and chives.
Cheddar biscuits and gravy, monster burritos, Lobster & Grits, and Shrimp & Grits are also available. Choose between a variety of omelets or breakfast sandwiches to round out the menu.
If you're looking for a sweet delicacy to pair alongside your spicy Bloody Mary, consider ordering the Pancake Charcuterie Board or French Toast Fondue.
4. Banana Cafe
When you're vacationing in the tropics and you come across a breakfast joint with the name Banana Cafe, you know right from the start that they are serving tropical-inspired dishes you don't want to miss.
At Banana Cafe in Key West, you can expect to find only fresh, French-inspired dining with a variety of crepes and other French delicacies.
The breakfast options at Banana Cafe seem endless as crepes line the menu along with traditional breakfast favorites like omelets, eggs benedict, and Belgian waffles with bananas.
Breakfast crepes like the La Super and Complete are full of breakfast favorites like swiss cheese, eggs, and ham or sausage.
Omelets at Banana Cafe start with three, fluffy eggs and turn into a specialized treatment with options like the Sausage & Tomato Omelet, Fresh Herb & Potato Omelet, Seafood Omelet, and the Garden Egg White Omelet.
Further customize your breakfast with additional sides like breakfast potatoes, avocados, mushrooms, or a banana muffin.
5. Southernmost Beach Cafe
Enjoy the salty air as you dine in the open air at Southernmost Beach Cafe in Key West. Asian and Caribbean-style cuisine is waiting as the fresh ingredients from the Atlantic ocean that is just steps away await you to devour them.
The local flavors are incorporated into the breakfast menu, which means you don't want to miss out on this French-Caribbean bistro.
Corned Beef Hash, Three Little Pigs Omelet, Seafood Omelet, and Avocado Toast Trio are only some of the decadent breakfast dishes you will enjoy at the Southernmost Beach Cafe.
Get a taste of the tropics with the Cuban Benedict and Smoked Salmon or enjoy breakfast staples like Buttermilk Pancakes and Biscuits & Gravy.
If you're looking for something lighter to enjoy, try the Yogurt and Granola. As expected at a beach-front cafe, cocktails are in full swing and range from Rumchata Iced Coffee to refreshing mimosas. You can find one for every meal you'll savor here.
6. Goldman's Bagel Deli
Traditional family recipes are what you will find at Goldman's Bagel Deli in Key West. Serving the local community since 1998, this quick breakfast stop has what you need to enjoy a Jewish, made-from-scratch breakfast during your tropical vacation.
The breakfast menu at Goldman's Bagel Deli is full of baked goods and breakfast sandwiches you don't want to miss. Try a Jumbo Cinnamon Bun, Lemon Pound Cake, or Fresh Baked Muffins and Banana Bread for a quick grab-and-go breakfast.
If you're looking to stay a bit, try one of their many breakfast sandwiches including the Lox Bagel, Breakfast Bagel, or Hot Pastrami Egg Breakfast Sandwich.
Scrambled eggs, omelets, pancakes, and French toast are also available for breakfast. No matter your breakfast cravings, Goldman's Bagel Deli is sure to meet them and impress you. Pair your breakfast order with a delicious cold brew coffee or hot tea.
7. Glazed Donut
Nestled in the heart of Old Town Key West, Glazed Donut is a laid-back coffee shop where you can enjoy the perfect cup of coffee and an out-of-this-world delicious donut.
Made-from-scratch recipes mixed with unique but delicious flavors create a sweet breakfast option for those that want a quick bite to eat.
Traditional donut flavors like Chocolate Lovers, Chocolate Glazed, and Cinnamon Sugar Sprinkled Yum Yum, are only some of the delicacies you will enjoy at Glazed Donut.
In addition to traditional flavors, guests can enjoy unique and tropical flavors like Peach Blessed Dossant, Blackberry Frosted with Artisan Sprinkles, Pineapple Upside Down Brule, and Key Lime Pie.
You can't grab a donut at a coffee shop without getting a cup of some freshly roasted coffee. Home of the Red Buoy Coffee Company, Glazed Donut offers guests specialty coffee from family-owned farms around the world. This makes for the perfect pairing to a homemade and rolled donut.
8. Camille's Restaurant
The most popular time of day at Camille's Restaurant is breakfast time as locals and tourists flock to the beautiful eatery. Friendly staff, fresh ingredients, and cooked-to-order dishes make it a popular dining destination.
Try a unique and tropical take on a traditional breakfast meal when you order the Yellow Corn Cashew Waffles. These special waffles are topped with fresh mangos, passion fruit, and coconut milk sauce for an all-around delicious experience.
Another breakfast favorite is the Bon Appetit Favorite, consisting of French toast with Godiva white chocolate sauce and fresh strawberries. Or try the buttermilk pancakes topped with Captain Morgan Spiced Rum bananas foster sauce.
If you want to keep it light, order the Eggs Galore. Their name doesn't refer to a large portion, but to the variety of ways they can land on your plate, including sunny-side up, poached, basted, or in an omelet. If you have a special egg request, Camille's will whip it up for you!
9. Hot Tin Roof
Take in the ocean-front views as you dine on the open-air patio at Hot Tin Roof. The upscale, Latin-American restaurant is the perfect spot to enjoy a romantic breakfast before you take to the beach to soak up the sun.
Hot Tin Roof serves your favorites like eggs, omelets, and benedicts, along with lighter options like oatmeal, parfaits, smoothies, and smoked salmon on a bagel.
Specialty omelets include Broccolini & Cheddar and Roasted Mushroom & Swiss, while Corned Beef and Noble are the benedict options.
In addition to the breakfast classics mentioned above, Hot Tin Roof provides options directly from the griddle like Rice Crispy-Crusted French Toast, Belgian Waffles, and Sour Cream Pancakes.
Main breakfast dishes include Bagel & Sour Cream, Freshly Baked Croissants, Grill Tomatoes, and Cole's Peace Toast.
Pair your all-star breakfast with a hot cup of coffee like a cappuccino or latte or a chilled adult beverage like a mimosa or Bloody Mary. Don't let the opportunity to dine in style pass you up, make your breakfast reservations at Hot Tin Roof as soon as possible!
10. Cuban Coffee Queen
Enjoy a lively bite to eat with a cup of your favorite coffee at Cuban Coffee Queen. You can taste the authenticity of the traditional Cuban breakfast as you experience a piece of Cuban culture.
Not only can you sit down and eat your breakfast, but you can also take a bite to eat to-go and purchase bags of your favorite coffee at Cuban Coffee Queen.
Breakfast dishes include only the best as the Pan Cubano and Cuban Bagel make your taste buds sing.
If you prefer a more hearty breakfast, try the Cuban Breakfast Burrito that is stuffed with three eggs, American cheese, your choice of bacon, ham, sausage, chorizo, turkey, or pork, and rice and beans.
The coffee menu is more extensive than the breakfast menu, making your drink choice more difficult than your bite-to-eat. Everything from Cafe Con Leche, Cortadito, Bucci, and a Cuban Frappe is available at Cuban Coffee Queen.
11. Moondog Cafe & Bakery
Only a 1-minute walk from Ernest Hemmingway's House in Key West, you will find Moondog Cafe & Bakery. This quaint cafe offers visitors a quiet spot to sit back, relax, and enjoy a fresh, tropical breakfast. The intimate setting makes you feel like you're part of the family and stopping in for breakfast at grandma's house.
The breakfast menu at Moondog Cafe & Bakery is seemingly endless as offerings range from Quiche Lorraine to Breakfast Tacos to Seafood omelets. When you order the Moondog Classic, your plate comes filled with two eggs cooked to order, ham, bacon or sausage, toast, and fries.
Other popular breakfast menu items include Steak & Eggs, Norman's Huevos Rancheros, and Smoked Salmon & Bagel. The Feel Good Bowl is a lighter option and is packed full of delicious vegetables, like red onions, mushrooms, and red peppers.
You can't forget about the breakfast sweets as Moondog Cafe & Bakery has an entire menu section dedicated to the delicacies.
This menu includes The Elvis French Toast, Buttermilk Pancakes, Blueberry-Lemon Quinoa Pancakes, Brioche French Toast, and Mama's Fresh Fruit Granola.
12. Fisherman's Cafe
Only half a mile from Duval Street is Fisherman's Cafe, a casual takeaway window serving up some of the best breakfast in Key West. Fisherman's Cafe gives off extensive beach shack vibes and highlights local garden and seafood ingredients.
Don't let the size of the cafe steer you away as Fisherman's Cafe is a buzzing spot for locals and tourists.
Because the cafe specializes in breakfast sandwiches, you will find a quick bite to eat that you will want more of at Fisherman's Cafe. The El Cubano Breakfast Sandwich is smothered in a black bean spread and topped with swiss cheese, an egg, Cuban pork, and chorizo.
Another popular breakfast sandwich is the Egg & Cheese Sandwich, which is toasted and pressed to ooey-gooey goodness.
Additional breakfast bites include Hill's Cheddar Grits, Buttered Cuban Toast, and Cuban Cheese Toast. Try the unique Sesame Guava Toast that consists of two pieces of pressed Cuban bread topped with sesame seeds and filled with guava and cream cheese.
13. Sarabeth's Key West
The relaxed setting and decadent brunch menu at Sarabeth's Key West keep customers coming back time and time again.
From the extensive wine menu to the sweet and savory brunch options, stop by Sarabeth's Key West restaurant for a meal you won't soon forget.
Served from 8:00 a.m. to 2:00 p.m., brunch at Sarabeth's Key West consists of your favorite sweet breakfast dishes like buttermilk pancakes and French toast to exceptionally cooked eggs and omelets.
A favorite egg dish is the Shrimp and Bacon Omelet. This omelet combines the perfect proportions of salty bacon and flavorful shrimp in a bed of eggs with scallions, herbs, and smoky mozzarella.
Try the Smoked Atlantic Salmon, complete with a toasted bagel, cream cheese, sliced tomato, capers, and sliced onion for a tropical delicacy.
If you're looking for a unique spin on a traditional breakfast dish, try the Lemon Ricotta Pancakes. The light and fluffy pancakes come with fresh and flavorful blueberries for a refreshing breakfast dish.
In addition to the extensive brunch menu at Sarabeth's Key West, guests can enjoy a variety of wine options to create the perfect brunch pairing.
Final Thoughts
If you're in Key West to soak up island life and get a feel for local life, you must check out some of these best breakfast spots.
Whether you're in the mood for a hearty and filling order of Pork Chops and Eggs from Harpoon's Harry's or a light and refreshing Feel Good Bowl from Moondog Cafe & Bakery, Key West is full of surprising breakfast destinations you don't want to miss.
More about our TFVG Author