Whether you're a family of serial water park enthusiasts or are looking for a kid-friendly attraction whilst on a beach vacation in the Sunshine State, Florida offers an unrivaled array of unique and exciting options.
In fact, you probably won't be surprised to learn that Florida is home to more water parks than any other state, alongside the many famous theme parks and other family attractions. You'll even find a number of water park resorts where you can stay on-site.
From water parks owned by big names including Disney and SeaWorld to those designed around nature, you won't struggle to find an option that the whole family will enjoy.
And in this guide, we'll share our recommendations on the 12 best water parks in Florida to help you to plan your vacation in the Sunshine State with kids.
Be sure to also check our our guide to Florida's best things to do with kids for more attraction inspiration.
1. Disney's Blizzard Beach
There are fewer better ways to escape Florida's heat than taking a trip to Disney's Blizzard Beach, where the theme is a melting ski resort. 
With rides like the Slush Gusher that'll have you zooming down a 90-foot water slide framed by snow banks and the Ski Patrol Training Camp where you can balance on a thin ice course, you'll feel like you stepped into a winter wonderland.
If the summer-loving side of you shivers at the thought of visiting Blizzard Beach, you'll be glad to know that aside from Cross Country Creek's ice cave, Disney keeps their water heated at a comfy 80°F.
Location
Located in the Walt Disney World Resort, this water park aptly sits on Blizzard Beach Drive in Orlando.
Find it at: 534 Blizzard Beach Drive, Orlando, FL 32836
Ticket Prices
A one-day pass to Blizzard Beach costs $69 for people ten years and older and $63 for children ages 3 – 9, plus tax. Children under three years old receive free entrance. A $5 per person discount applies if your travels fall under Blizzard Beach's blockout dates.
Blizzard Beach's Website
You can read more about the exciting water activities at Blizzard Beach here.
2. Disney's Typhoon Lagoon
As another Disney masterpiece, Typhoon Lagoon is a must-see for any water park lover; in 2019, it ranked as the most visited water park in the United States.
One of Typhoon Lagoon's most notable attractions is its surf pool, the largest wave pool in North America. But, if endless surfing isn't enough of an adrenaline rush for you, perhaps the Humunga Kowabunga will do it—the 214-foot slide whips you downhill at a 60-degree angle in the dark.
Children under four feet tall will delight at Ketchakiddee Creek's array of water activities, too. It's packed with fun aquatic animal sculptures, mini waterslides, and a water cannon, all with a background of kid-friendly music.
Location
Disney's Typhoon Lagoon sits inside the Walt Disney World Resort on Buena Vista Drive, Orlando.
Find it at: 1145 E Buena Vista Dr, Orlando, FL 32830
Ticket Prices
Typhoon Lagoon has the same price structure as Blizzard Beach—it costs $69 for adults and children ten years and older, $63 for children 3 – 9 years old, and it's free for children under three. They also offer blockout dates with a $5 per person discount.
Typhoon Lagoon's Website
Click here to learn more about Typhoon Lagoon's water attractions.
3. Universal's Volcano Bay
Volcano Bay is nothing short of a Universal Studio masterpiece, making it one of the best water parks in Florida. The volcano-themed water park is home to the Honu of the Honu ika Moana, a raft ride mimicking the massive swells found in the Pacific Ocean.
A trip to Volcano Bay isn't complete without a ride on the Krakatau Aqua Coaster, a water-drenching canoe ride that circles you around inside a volcano before spitting you out into a steep waterfall. Once you catch your breath, head over to Waturi Beach for relaxation time and stunning views over Wave Village.
If you'd like to pack in as many rides as possible, you can add an Express PLUS pass to your regular entrance ticket, which will allow you to skip the line at all of Volcano Bay's rides and attractions.
Location
Volcano Bay sits inside the Universal Orlando Resort on Universal Boulevard, Orlando.
Find it at: 6000 Universal Blvd, Orlando, FL 32819
Ticket Prices
A one-day ticket to Volcano Bay costs $70 for people ten years and up and $65 for children from 3 – 9 years old, plus tax. Children under three can enter for free. Prices may vary according to the season.
Volcano Bay's Website
To learn more about the water rides at Volcano Bay, take a look at their website here.
4. Aquatica
SeaWorld runs one of their three Aquatica water parks in Florida, and it just so happens that the attraction is home to more water slides than any other park in Orlando.
You can't say that you've been to Aquatica Orlando without riding on their new Riptide Race, the tallest dueling racer in the world. Roa's Rapids is another must-do activity, and these sit in the center of the water park.
As you would expect from SeaWorld Orlando, Aquatica lets you observe real marine animals. They have an area where you can see dolphins, loggerhead turtles, tropical fish, and more.
Location
SeaWorld's Florida Aquatica Park is in Orlando, Florida.
Find it at: 5800 Water Play Way, Orlando, FL 32821
Ticket Prices
Children under three years old have free entry. Adults and children three years and older pay a $79.99 one-day entrance fee. Aquatica sometimes runs specials, so be on the lookout for those. You can also add $30 for unlimited meals.
Aquatica's Website
If you're interested in learning more about Aquatica's Orlando water park, visit their website here.
5. Discovery Cove
The SeaWorld-operated Discovery Cove is an excellent fit for people interested in interacting with tropical wildlife and who want to experience the enjoyment of watching dolphins swimming.
During the all-inclusive experience, you'll be able to snorkel with tropical fish and rays at the Grand Reef and feed birds right from your hands. You can also visit the Dolphin Lagoon, where you'll get to touch a dolphin.
When you're ready to give your feet a break, you can float along the Wind-Away River, which has a gentle current that'll take you through a rainforest, cascading waterfalls, and an underwater cave. Adorable otters will also await you at the Freshwater Oasis.
Location
As part of the SeaWorld Parks and Entertainment brand, Discovery Cove enjoys a privileged location on Discovery Cove Way, Orlando.
Find it at: 6000 Discovery Cove Way, Orlando, FL 32821
Ticket Prices
Prices start at $224 per person for a day pass to Discovery Cove. Children two years old and under can enter for free; all other children have the same price as adults. You can also book your ticket with their signature Dolphin Swim package, which starts at $274 per person.
Discovery Cove's Website
For more details on rides and the animals that you can interact with, click here.
6. Rapids Water Park
Boasting 42 water slides and activities, you'll need to plan your route to make sure you hit up all the places you want to see at Rapids Water Park.
To make life easier on you, they divide their rides into thrill rides, family rides, and kid rides. The seven-story speed slides are a favorite among Rapids Water Park thrill ride goers. Families will enjoy the Tubin Tornadoes, which take you across 1,000 feet and 360-degree loops.
Children love the challenges of Criss Crossing, which invites them to jump among toy fruits and icebergs without falling into the water. You can then take a break by floating down the quarter-mile lazy river.
Location
Located in southern Florida, Rapids Water Park is right off I-95 in Riviera Beach.
Find it at: 6566 N Military Trl, West Palm Beach, FL 33407
Ticket Prices
Regular admission for adults and children three years and older is $49.99 on weekdays and $59.99 on weekends and holidays, plus tax. Children two years old and younger enter for free. You can also add on cabana and locker rentals.
Rapids Water Park's Website
If you want to learn more about the exciting activities at Rapids Water Park, check out their website.
7. Buccaneer Bay
Buccaneer Bay is a different kind of water park than the ones we've covered so far; they offer a limited number of rides in a beautiful, natural setting within the Weeki Wachee Spring State Park.
You can ride down two large water slides at this park which will let you out in a natural freshwater swimming hole. Then, when you've gotten your fill of water slides, you can relax on Weeki Wachee's beach, where you can rent snorkeling gear or an inner tube.
We highly recommend the inner tube option, as you can float down a natural lazy river. Keep an eye out for fish—you'll likely see lots of them picking at the sand beneath your tube!
Location
Buccaneer Bay sits in the beautiful Weeki Wachee Springs State Park in Spring Hill, Florida.
Find it at: 6131 Commercial Way, Spring Hill, FL 34606
Ticket Prices
The entrance fee for adults is $13, and the entrance fee for children is $8 from six and 12 years old. Children under five years old enter for free.
Buccaneer Bay's Website
To learn more about the amazing activities inside Weeki Wachee Springs, visit Buccaneer Bay's website.
8. LEGOLAND Florida Water Park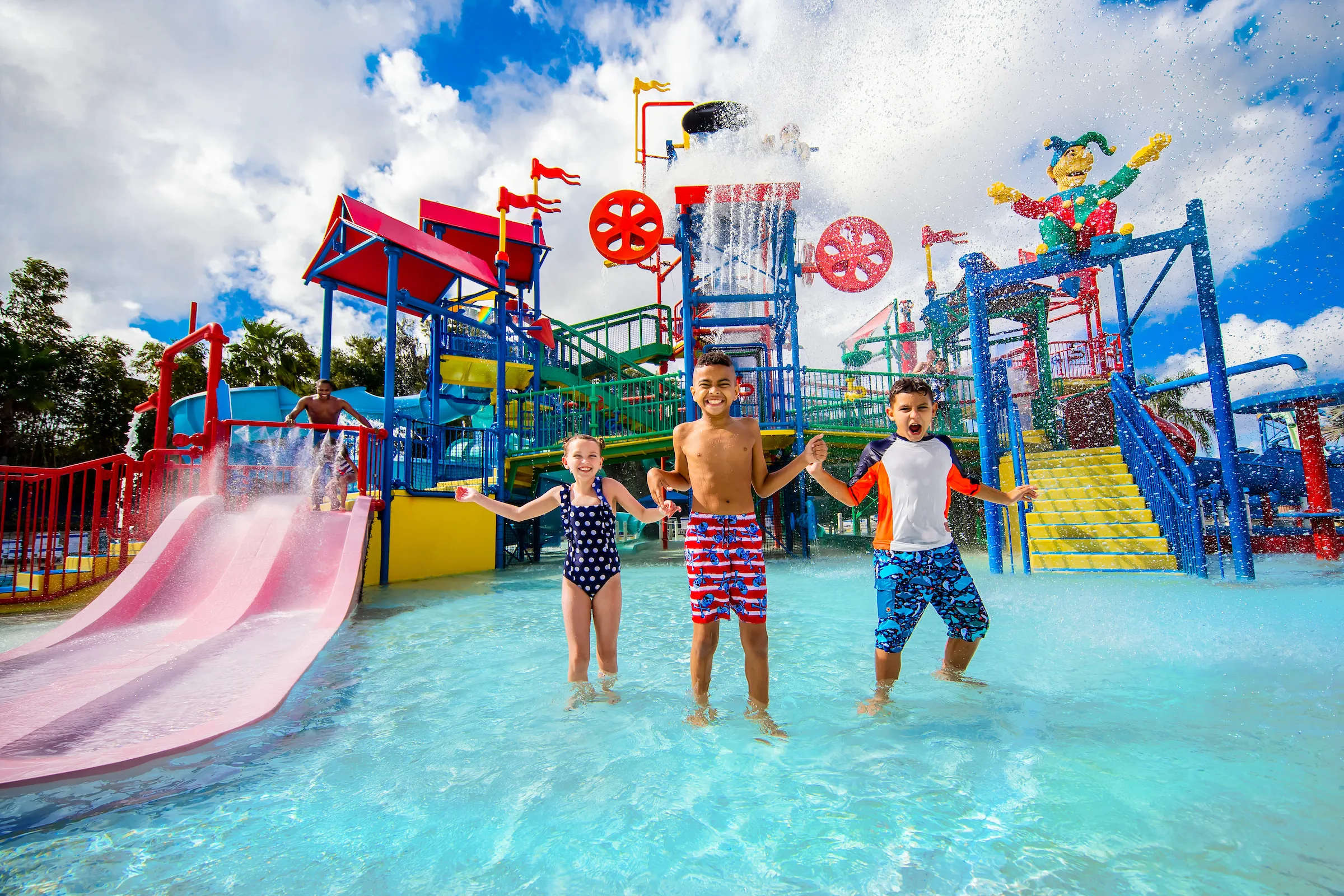 LEGOLAND is one of the best water parks in Florida for people wanting loads of water activities without having to go to Orlando. With 14 water slides and many LEGO play areas, LEGOLAND offers a unique twist to traditional water parks.
All activities at LEGOLAND feature kid-friendly designs, including an interactive Joker Soaker, building a boat out of Legos, and a wave pool.
Between Florida's warm weather and LEGOLAND's seasonally heated pools, they're proud to offer an exceptionally long water park season.
Location
LEGOLAND is in Winter Haven, which is south of Orlando, making it an excellent option for seeing more of Florida during an Orlando-based trip.
Find it at: 1204 Helena Rd, Winter Haven, FL 33884
Ticket Prices
A one-day pass costs $99.99 at the gate, but you'll receive a 10% discount if you purchase your ticket in advance online. The price applies to anyone three years old and up.
LEGOLAND Florida Water Park's Website
If you want to learn more about the 50+ rides and activities at LEGOLAND Florida, take a look at their website.
9. Adventure Island
With 30 acres of land, Adventure Island is home to countless water rides and attractions. It's a SeaWorld site, but it focuses strictly on water park activities without animals.
It can be hard to choose among the many activities at Adventure Island, so we recommend making the Solar Vortex a priority; it was the first-ever dual tailspin water slide in the United States and will get your adrenaline pumping.
If you're traveling with kids, make sure to take them to the Splash Attack, which houses over 50 interactive water toys. Experiencing the bubbling springs at Fabian's Fun Port is another must.
Location
Across the street from Busch Gardens in Tampa on McKinley Drive.
Find it at: 10001 McKinley Dr, Tampa, FL 33612
Ticket Prices
Tickets cost $69.99, although you can often find discounts on Adventure Island's website. You can also add an all-day dining pass for an additional $30. Children under three years old are free. All other children and adults pay the same rate.
Adventure Island's Website
For more details on the many activities that Adventure Island has to offer, click here.
10. Big Kahuna's Water & Adventure Park
Big Kahuna has a water park and amusement park portion, but their water park will keep you busy all day—it has more than 40 water slides and play areas.
The Kowabunga Racer alone can entertain for hours; you can grab three other friends or family members and race down the twisting slide and tubes in a speed mat to see who reaches the bottom first.
Kids and parents alike are sure to enjoy splashing around in Bombs Away Bay, which is like a little tropical oasis. Your kids can also pretend to be pirates at Buccaneer Cove, where they'll get soaked in water and fun.
Location
Big Kahuna is seated in the beachfront city of Destin, in Florida's panhandle.
Find it at: 1007 US-98 East, Destin, FL 32541
Ticket Prices
We recommend purchasing your Big Kahuna tickets online since you'll save a few dollars compared to buying them in person. The cost for anyone over 48 inches is $52.99. Anyone under 48 inches costs $43.99. Senior one-day passes are also available at $41.99 per person.
Big Kahuna's Water & Adventure Park Website
To learn more about what Big Kahuna offers, take a look at their website here.
11. Shipwreck Island Waterpark
If thrilling water rides are your thing, look no further than Shipwreck Island Waterpark.
We could write a whole post about the different rides at this park, so instead, we'll stick with the can't-misses, including the Ocean Motion Wave Pool. The 500,000-gallon pool produces 3-foot waves in 10-minute intervals, mimicking the ocean without the seaweed or sharks.
The Tipping Bucket is another fun activity, and it'll keep you guessing; it dumps 750 gallons of water more than 100 times per day. Children will also want to make a beeline to Tadpole Hole, where fun artificial animals await.
Location
Shipwreck Island Waterpark is in Panama City Beach and sits a short distance back from the coast.
Find it at: 12201 Hutchison Blvd, Panama City Beach, FL 32407
Ticket Prices
A one-day pass at Shipwreck Island costs $46 for people 50 inches and taller. People under 50 inches pay $37 per person. Senior tickets are also available at $32 each.
Shipwreck Island Waterpark's Website
For more details on the fun you can have at Shipwreck Island, you can look at their website here.
12. Sun Splash Family Waterpark
At 14 acres large, Sun Splash is the largest water park you'll find in Southwest Florida. Their water attractions run the gamut from a lazy Main Stream River tube ride to the 457-foot Electric Slide and Power Surge.
People who don't mind heights will likely gravitate to Sun Splash's speed slides, which create a free-fall feeling from 5.5 stories high.
For younger kids, the Pirate's Cove is the perfect place for them to let their imaginations run wild. Once your family is ready for a break, the poolside lounge chairs are a great area to recharge before trying out the Zoom Flume or Cape Fear water tunnels.
Location
Sun Splash Family Waterpark is in Cape Coral, which is in Southwest Florida near Fort Myers.
Find it at: 400 Santa Barbara Blvd, Cape Coral, FL 33991
Ticket Prices
The cost for people ages 13 years and older is $20.95 for a day pass. Children 2 – 12 years old and seniors pay $18.95. If you're a Cape Coral resident, you'll receive a local discount.
Sun Splash Family Waterpark's Website
For more details about the fun attractions at Sun Splash, take a look at their website.
Other fantastic water parks to consider for some family fun
If you're hoping to find some more of the best water parks, our round-up below will be the perfect place to start.
More about our TFVG Author
A seasoned traveller, Dad, and avid sports tourist, James foundered The Family Vacation Guide to share his expert vacation experiences- especially when it comes to being a travelling family man.
Featured in Travel articles such as Travel + Leisure, TripSavvy and SFGate, you know you're reading some of the best vacation tips online.