The Florida Keys are one of America's most beautiful and wild stretches of land. And one of the best ways to explore the sandy beaches and the lush coastline is to go camping. There are dozens of campsites to choose from on the Florida Keys, and telling the good from the bad can be overwhelming.
We've compiled a list of the eighteen best campsites to stay at when you're looking to camp in the Florida Keys—from primitive tent camping where you bring and take everything to luxurious RV resort camping with all the luxuries of a five-star hotel.
No matter where you go and what you choose to do, you'll have a great time at all of these campsites. Whether you're on your own or camping as a couple or family, there are campsites for you all over the Florida Keys in Florida.
The Best Places to Camp in the Florida Keys
Whether you want to enjoy tent camping, a sprawling RV resort, or something in between, you can find the perfect spot to explore the outdoor activities and vistas offered by the Florida Keys.
National parks, state parks, and corporate and private campgrounds all grace this list, and of varying sizes, campsites with hundreds of sites available and camps with fewer than twenty sites. However, no matter what campsite you choose, book early as these campgrounds fill up fast.
Biscayne National Park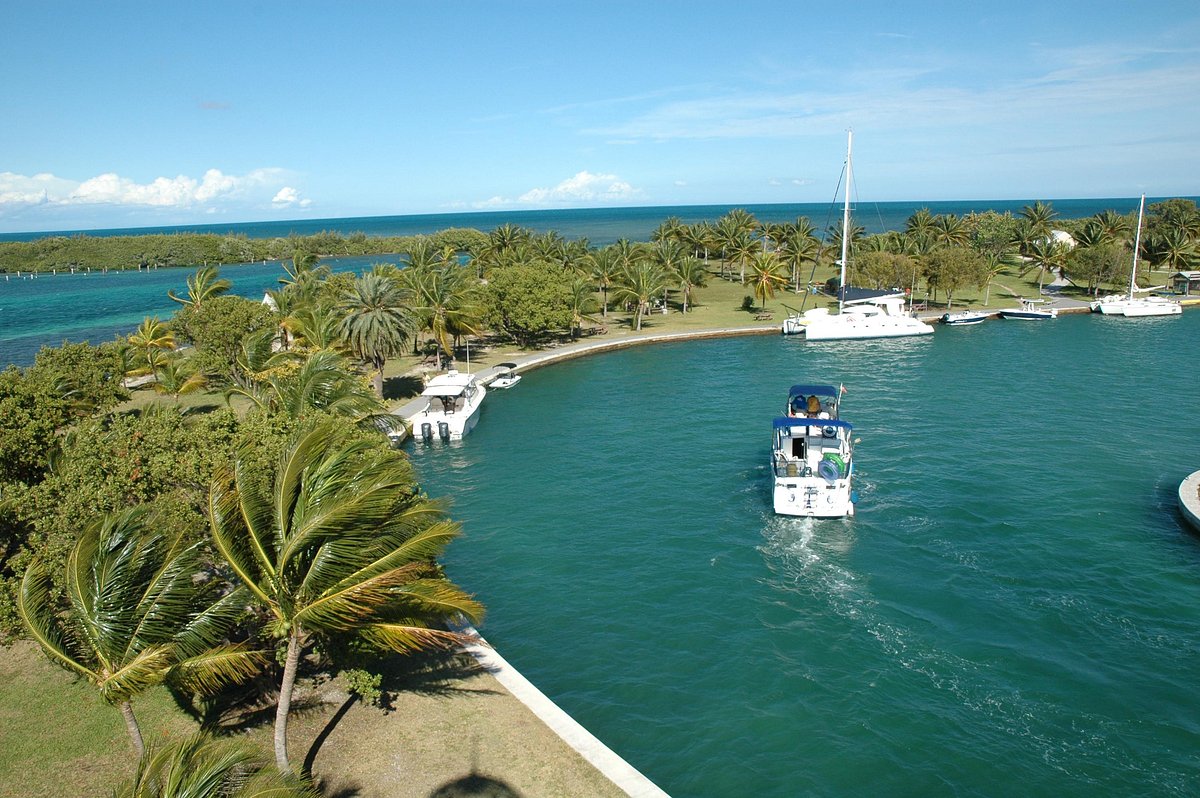 There are two campgrounds at Biscayne National Park, Boca Chita Campground and Elliot Campground. They're located in Boca Chita Key and Elliot Key, respectively, and can only be accessed by boats.
Boca Chita is the most popular of the park's islands, with many attractions and warm beaches for visitors to enjoy. Tent camping only, there are toilets but no running water available, meaning no sinks, showers, or drinking water.
Elliot campground is more hospitable by comparison. Elliot Key is the largest island in the park and includes sinks and cold water showers, with drinking water available. Elliot Key is a great place to base yourself while exploring the rest of the park.
They both have grills and picnic tables available to use. However, you must bring your fuel. And both campgrounds don't take reservations. It's on a first-come, first-served basis. All camping and docking fees are waived between May 1st and September 1st, making this the best place to stay on a budget.
Big Pine Key Resort
This large resort camping area was previously known as the Big Pine Fishing Lodge but has since changed to Big Pine Key Resort. It sits at mile marker 33 in the Middle Keys, a perfect place to stay if you want to explore both the Upper and the Lower Keys in one trip.
They cover 10 acres between the Atlantic and the Gulf and have activities and amenities galore for their customers. While it's an RV resort, it also has primitive sites available for those looking to rough it.
Activities include beach bonfires, game nights, and fishing tournaments. In contrast, they have amenities like a heated pool, a store, outdoor games and courts, hiking trails, a boat ramp, and a fish cleaning station—everything you might need to enjoy a stay in the Florida Keys.
There's also a motel on the premises if you want to explore the Florida Keys while sleeping indoors.
Boyd's Key West Campground
If you want some classic charismatic southern charm, check out Boyd's Key West Campground, located at Mile 5. Boyd's is a family-owned business operating for 55 years and remains one of the most popular campgrounds in the Florida Keys today.
They have sites that suit campers of all stripes, from full hookup RV camping to primitive sites. Their amenities include a tiki bar, pool, boat ramps and pavilions, kayak and paddleboard rentals, game rooms, a store, a park, wifi, a bathhouse, and laundry facilities.
If you and your family want to try out the camping lifestyle, you can rent a trailer for four from the resort to give it a spin. And during the summer, they have tons of activities available!
Dry Tortugas National Park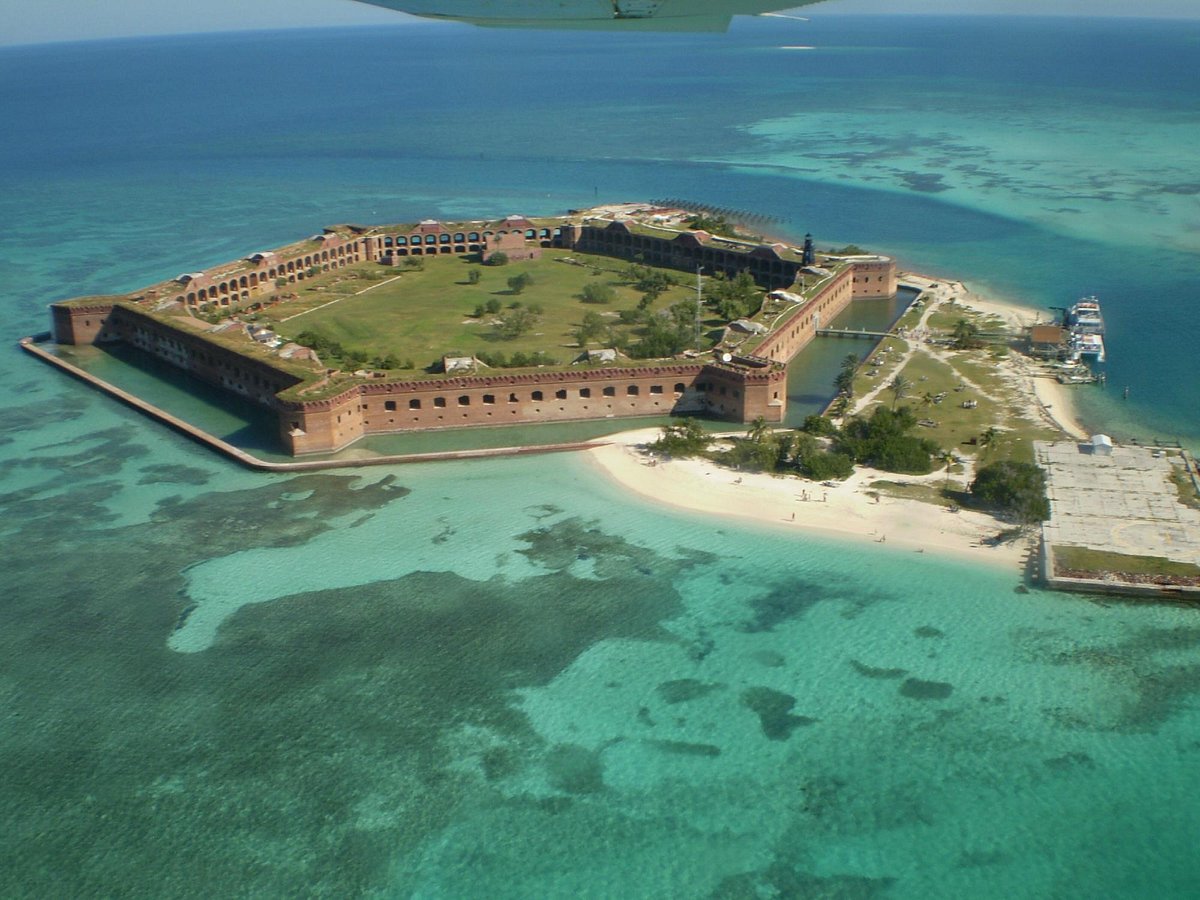 Dry Tortugas National Park is one of the most gorgeous parks. With several islands about 70 miles west of Key West, Dry Tortugas is technically not a part of the Florida Keys, but their proximity allows them onto this list.
You can camp on Garden Key, one of the most beautiful islands chain, with primitive campsites available. There are compostable toilets, but they are cleaned from 10 am to 3 pm every day, but you can use the ferry's facilities. There's no running water, but you are welcome to use the freshwater rinse aboard the ferry when it's on the dock.
Regular campsites are first-come-first-served, with only the large group campsites available for reservations. There's no wifi, cell service, or electricity available, so plan to bring battery-powered devices or your hotspots.
Anything carried onto the island must be carried off, including trash, and pay special attention to your transportation, either with your boat or the public ferry.
Long Key State Park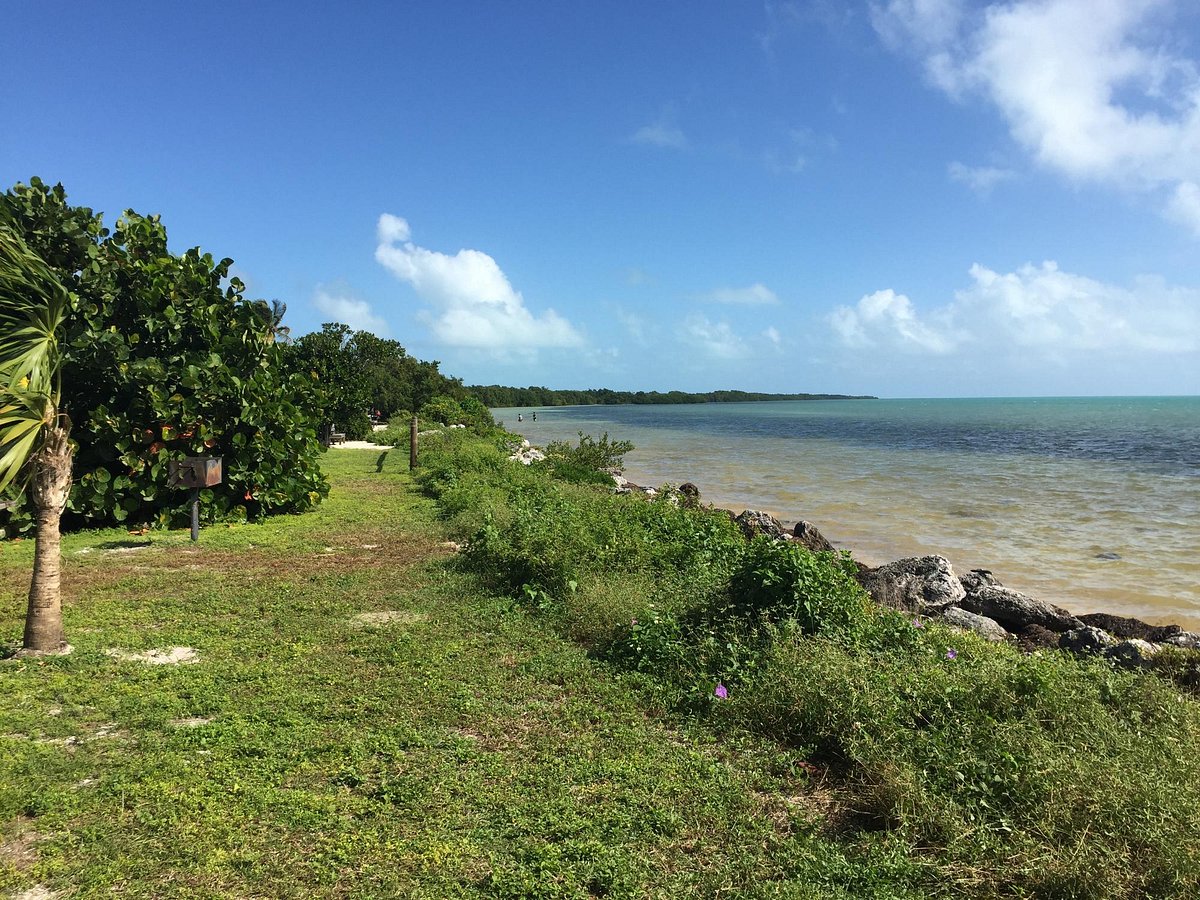 Hurricane Irma wrecked many of Florida's best campsites, and this one was hit hard. Before they had full hookup campsites with oceanfront views, they now only have hike-in tent camping available.
However, that doesn't diminish the natural beauty of the park nor the fun you can have while exploring it. Long Key State Park is a renowned fishing destination where several big-name saltwater anglers have fished for generations.
Each tent site comes with a grill, picnic table, and hammock stand, with no water or electric hookups. However, cold water showers are available in restrooms, and you can rent kayaks from the ranger station. There are two nature trails for you to enjoy and a variety of attractions and activities to enjoy in the park itself.
Sunshine Key RV Resort & Marina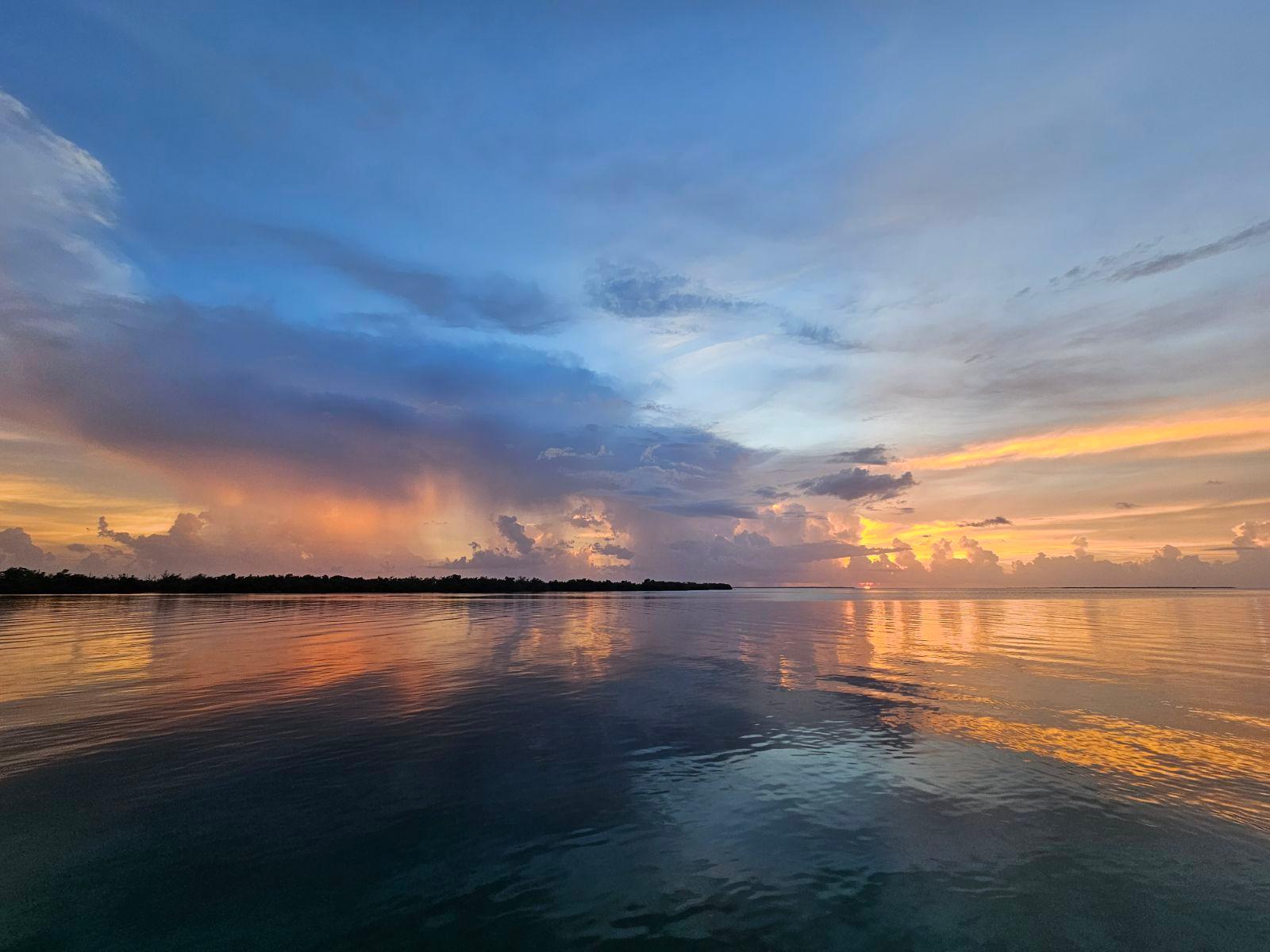 The Sunshine Key RV Resort & Marina includes everything and anything you think your might need while camping, and then some. As one of the only RV-only resorts in the Florida Keys, there's no tent camping available, but they do have cabins available for rent, along with rentable RVs for those who don't want to travel on their own.
They have a swimming pool, beach access, store, restrooms with showers, laundry, boat docks and ramps, a playground, courts for volleyball, basketball, and tennis, a game room, wifi, and kayak and paddleboard rentals.
They have everything and the kitchen sink on Ohio Key, seventy-five acres of pure enjoyment. Located in the Middle Keys, it's a great place to explore the rest of the keys. That is, if you can bring yourself to leave the fun of the resort behind.
Curry Hammock State Park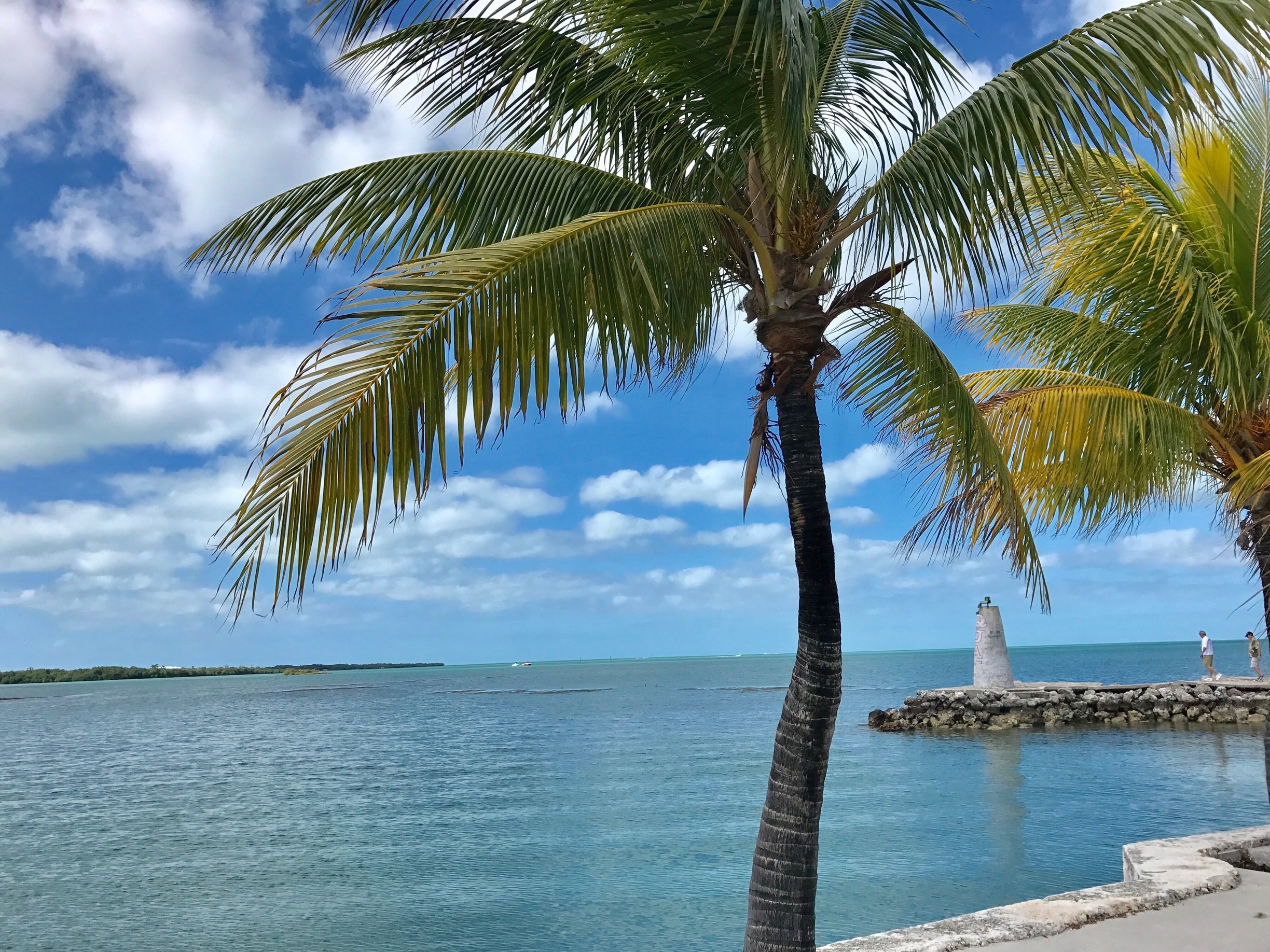 If you're looking to get away from it all, check out Curry Hammock State Park. It's the most extensive stretch of uninhabited land between Key Largo and Big Pine Key, with over a thousand acres to enjoy.
Fishing, kayaking, hiking, and more are available in this park, known for mangrove swamps and great beaches. While this is more of an RV campground, tent camping is available on all sites. However, tent pads are only on sites 1, 2, 4-9, 20, 22-25, and 27. The rest only have gravel available, tolerable with a cot but certainly not preferred.
There are restrooms with hot showers, beach access, a fire pit on the beach (no open flames are allowed on the campsites), and a boat launch (no motorized vehicles allowed) for campers to use at their leisure.
You can also rent kayaks, stand-up paddleboards, and bikes at the ranger station, and there's a nearby trail you can bike or hike.
Geiger Key Marina & Campground
Located just ten miles away from Key West, Geiger Key Marina & Campground likes to take visitors back to the good old days, when the Keys were wilder and camping was more straightforward. However, that doesn't mean they skip on the amenities available for guests.
There are only RV sites available, and tent camping is not allowed because their sites are full hookups, with hot showers, tables, and boat slips available. They don't offer child-friendly facilities like parks or pools, but they have a boat launch for kayaks or paddleboards.
There's also a fantastic restaurant on the premises that offers wonderful dining options for campers and customers alike. Their fresh seafood has been lauded as some of the best in the Keys, and they serve breakfast and lunch as well. If you're lucky enough to be staying on a Sunday, they have the Fish Camp BBQ at 4 in the afternoon, one of the best meals you can ask for.
Bluewater Key RV Resort
Bluewater Key RV Resort is the premier luxury camping spot in the Florida Keys. With tons of amenities and nearby attractions, this resort is the perfect place to get away while keeping all the luxuries of home.
The resort is located just north of Key West and suggests a lot of activities and tours in the nearby area for guests, such as the Shipwreck Museum or Hemingway House. In the campgrounds themselves is a heated swimming pool, beach access coupled with tropical plants and a tiki hut, a clubhouse, a dog park, and more.
It's an RV-only resort, with a 24ft minimum for camping. They also have restrooms and public showers available, and each lot has full hookup, wifi, private tiki huts, outdoor seating, and tropical landscaping. Plenty of sites are available, but no tent camping is allowed.
Key Largo Kampground & Marina
If you're looking for camping in Key Largo, look no further than Key Largo Kampground & Marina. They have a variety of RV sites and a couple of tent sites available to rent with plenty of amenities to keep guests satisfied and entertained.
They have a wide range of sites available, from full hookup to 50, 30, and even 20 amps. They only have two tent sites in general, both with electric. However, they are both gravel, so plan soft bedding ahead of time.
Amenities include wifi, a security gate, laundry, playground, a boat ramp, two bathhouses, and an ice machine. Their marina has fourteen slips for campers to use, and they fill up fast, so book early.
Fiesta Key RV Resort & Marina
Fiesta Key RV Resort & Marina is 28 acres of fun and enjoyment. They have full-service RV areas, rentals, and an on-site hotel you can stay, with plenty of activities and amenities to back them up.
They have a beach bar, tiki restaurant, wifi, pool, basketball courts, a hot tub, volleyball courts, boat ramp and slips, and a beach area for swimming, snorkeling, and fishing. However, one thing they don't have is cable, so don't expect to get the local channels while there.
You won't even have time to notice the lack of television with all the things to do. The resort is located in Long Key, and there are plenty of options for staying there (just not tent camping).
Bahia Honda State Park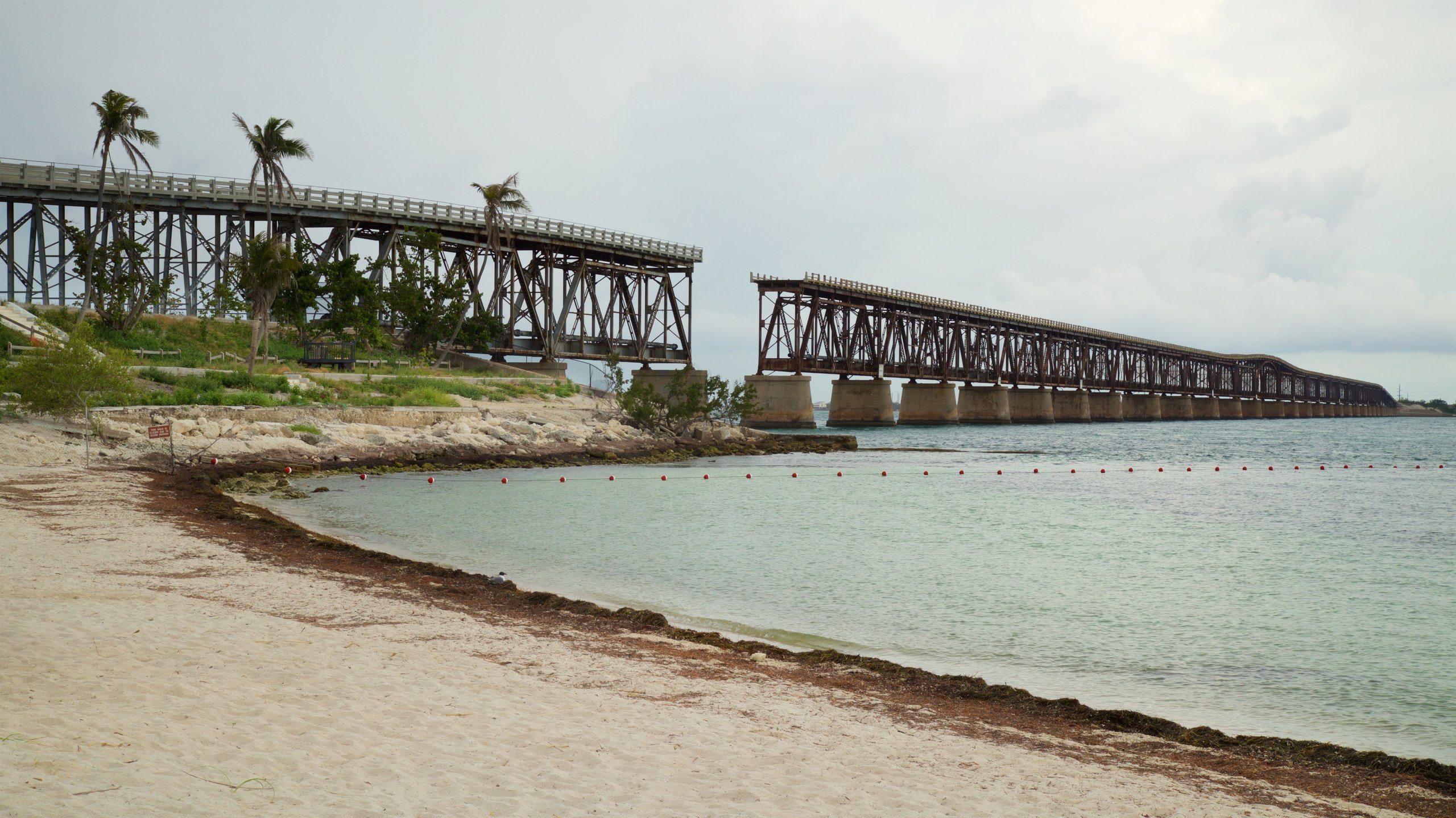 Bahia Honda is one of the most popular state parks in the Florida Keys, and it has one campground that is split into three smaller areas. Sites 1-48 are the Buttonwood campground, 49-72 are the Sandspur campground, and sites 73-80 are the Bayside campground.
The sites can accommodate tent or RV camping. However, they only have gravel and no tent pads.
Buttonwood has sites with electric, water, picnic tables, and grills, and there are restrooms with hot showers.
Sandspur has electricity, water, picnic tables, and grills, but the loop cannot be navigated by larger rigs (max length of 23 ft).
Bayside only consists of primitive campsites with water, picnic tables, and grills. There are small restrooms, but campers need to walk half a mile to Buttonwood to shower.
State parks tend to be cheaper than most campgrounds, so they fill up fast. It's recommended you book your sites well in advance.
Leo's Campground
Just outside of Key West at mile marker 4.5 is a family-owned and operated campground called Leo's Campground. They're smaller than most other campgrounds in the Florida Keys, but that just means they can deliver a more private, customized experience.
There are nine tent campsites and thirty RV campsites, and amenities include a store, concierge desk, bathhouse, laundry, a tanning area, games, and free wifi. While this campground is small, you won't find friendlier service or a more charming area anywhere in the Florida Keys.
They offer tent rental and a vacation house rental on the property if you either want to try roughing it or don't want to camp at all. Leo's Campground is ideally situated a few minutes away from Key West, and the staff is always happy to recommend attractions in the area.
John Pennekamp Coral Reef State Park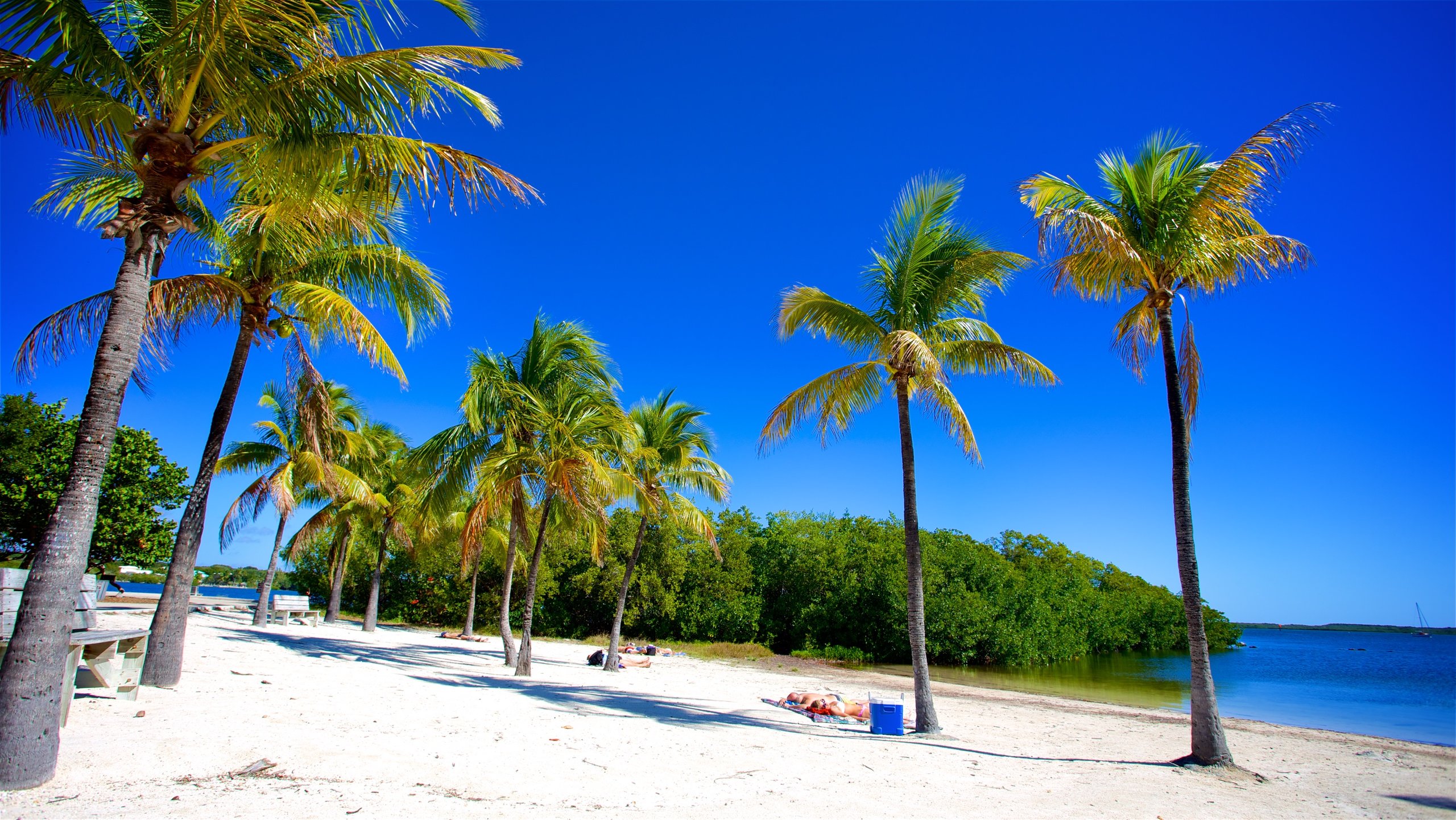 Renowned for being the only coral reef on the continental United States, John Pennekamp Coral Reef State Park is a haven for divers and snorkelers. It's the country's first underwater sea park and attracts thousands of visitors per year.
The state park hosts 47 full-service sites for both tents and RVs. The sites are located close together, so it's recommended you book an even number so you can have more space. Amenities include restrooms with hot showers, grills, and picnic areas. There are also fishing and swimming areas for visitors to enjoy.
There are scuba diving excursions, snorkeling tours, and glass-bottom boat rides for you to see the ocean floor. When you book your campsite, book your tour to see the famous coral reef as well. However, tours and sites are booked fast, so book them early.
Jolly Roger RV Resort
If you want to explore the Florida Keys, location is everything. Marathon, Florida, is a town centrally located in the Keys and is a perfect location to base yourself from. And the best place to camp in Marathon is the Jolly Roger RV Resort.
The resort is family-run, with 160 full-service sites on eleven acres. In addition to full service, the sites are all shaded and grassy, perfect for families to enjoy. Amenities include wifi, cable, a heated swimming pool, a tiki island, a swimming and snorkeling area, a dog park, laundry, bathrooms with showers, a boat ramp and slips, and a fish cleaning station, a store, and ice.
The resort has something for everyone and makes for a perfect weekend or vacation. For those who want to camp but with the comfort of four walls, you can rent two apartments to explore the Florida Keys from the comfort of indoors.
Grassy Key RV Park & Resort
They pride themselves on luxury, with 34 sites available. Grassy Key RV Park & Resort has recently had a remodel. Now all the sites accommodate recreational vehicles and big rigs of all sizes and shapes with full hookup.
This is an RV-only resort, and amenities include wifi, a clubhouse, laundry, a pool, a beach area, a tiki hut, a fish cleaning station, a store, and a kayak and paddle boat launch. They also have a packed schedule of activities and games for guests to enjoy.
Altogether, Grassy Key is the place to go for an upscale camping RV experience in the Middle Keys.
Kings Kamp RV Park, Marina, & Motel
Kings Kamp RV Park, Marina, & Motel is an all-in-one camping getaway. They have sites to suit campers of all kinds and types, from tent camping to RV sites to rooms in their motel. The sites accommodate both RVs and tents, with water, electricity, cable, and wifi at each site. Amenities also include picnic tables, grills, a bathroom with hot showers, and laundry facilities.
Those looking to visit the John Pennekamp Coral Reef State Park can stay at this nearby campground. The marina can easily accommodate camper's boats and is only 200 yards away from the Cross Keys Waterway, which offers access to the park, Florida Bay, and the Atlantic Ocean.
The motel has a variety of rooms for rent, such as rooms with shared bathrooms all the way to entire apartments with two or three bedrooms for large groups. This RV park is ideal for boaters who want to explore the Florida Keys from the water.
Sigsbee Campground
Sigsbee Campground, which is now known as NASKW Campground, is north of Key West and is for active or retired military personnel. Veterans or active service members may make reservations, but it's far cheaper than other campgrounds, and the campground itself is very nice.
They have 90 RV sites with full hookup, and you can also tent camp on these sites. Amenities include grills, sports fields, water sports, ice, laundry, showers, playground, picnic area, beach, golf, snack bar, marina, and car wash.
The campground also has vacation rentals and boat rentals for campers to enjoy. The vacation rentals are not pet-friendly but do come with more amenities than the RV sites depending on their location.
Most people won't be able to take advantage of this incredible campground—but those that can absolutely. It's close to all the attractions of Key West and has tons of amenities for families to enjoy, making it the perfect escape to the Florida Keys.
Camping the Florida Keys
The Florida Keys is one of the most beautiful places in the world to camp, explore, and play. With an abundance of nature and charming towns to discover, the Florida Keys are a treat to see, and anyone lucky enough to camp in such a unique area should do so without a second thought.
When you visit, there are plenty of campgrounds to choose from, campgrounds with fewer than ten sites, tent camping only, no amenities, RV only, and resorts with over a hundred acres. There are national parks, state parks, corporate-owned and family-owned campsites, and campgrounds that help transport you to the past and the true beauty of the wild Florida Keys.
But no matter which campground you choose, how you choose to explore the keys, and how you like to camp, the Keys are a gift that keeps on giving, with an abundance of nature to enjoy and hundreds of islands to discover.
More about our TFVG Author